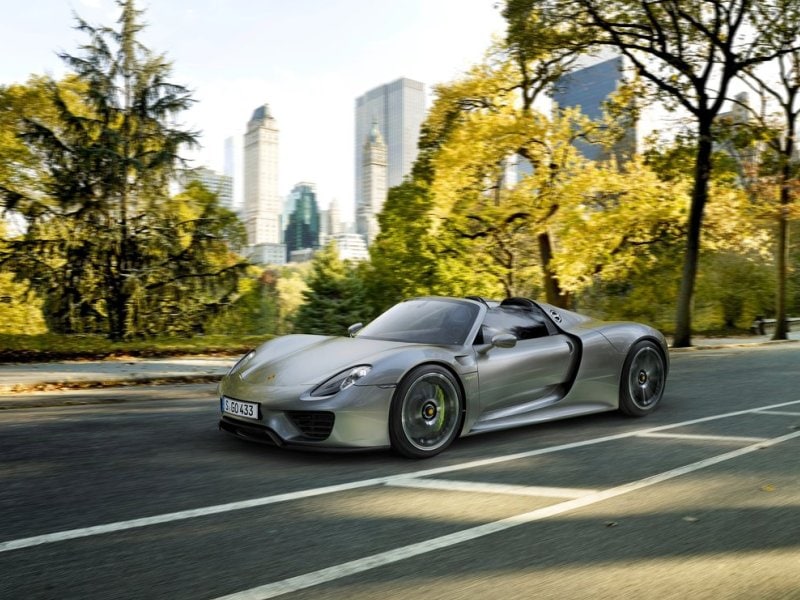 Backed by a distinctive engine note that's music to the ears of all enthusiasts, but only offering room for two, today's top 10 V8 Roadsters deliver a unique open-air driving experience that's as exhilarating as it is expensive: The most affordable choice here starts in the mid $50,000 range, and the least affordable is close to 40 times that amount. 
Of course, that's not the only reason that V8 Roadsters are so rare. Many performance-oriented automakers also have shifted to smaller, turbocharged engines, while a small number of others rely on bigger V12 or V10 powerplants. Then, some brands that do offer V8 convertibles offer them with four-place seating, taking away the intimate setting that's a defining characteristic of the roadster. 
For the real thing—pretty much—read on.
2015 Audi R8 Spyder
No, this product from the four-rings brand doesn't have eight legs: "Spyder/spider" is just European for "roadster," although, in this case, the 2015 Audi R8 Spyder will be the last of its line to qualify as one of the V8 Roadsters. The current R8 lineup does indeed start with a standard 4.4-liter V8, capable of unleashing 430 hp and 317 lb.-ft. of torque; but the next-gen 2016 R8 roster, introduced at the 2015 Geneva Motor Show, will provide V10 motivation across the board.
For now, drivers who act quickly can get into the current version for $129,400, and then they'll be able to go pretty quickly, too. Like from 0-60 in 4.6 seconds, for example, with that sprint performance complemented by a 186-mph top speed. Oh, and the car's top also is fairly fast, retracting in 17 seconds.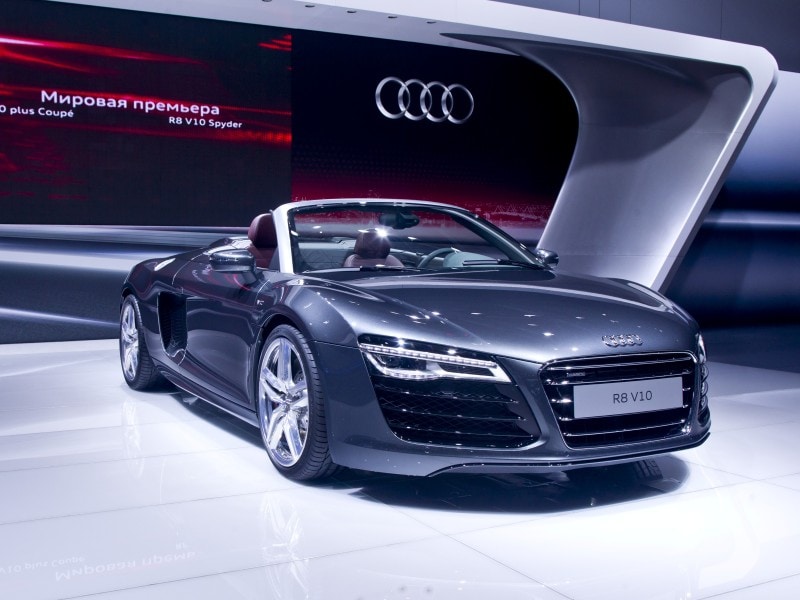 2015 Chevrolet Corvette
The 2015 Chevrolet Corvette coupe is the least-expensive of the V8 Roadsters, thanks to a $55,000 MSRP and the fact that this "coupe" comes standard with a completely removable roof panel. For sticklers, the Bowtie brand also serves up a more traditional Corvette convertible at $59,000, with both sharing a 6.2-liter V8 that makes 455 hp and 460 lb.-ft. of torque right out of the box. Adding on the popular Z51 package bumps output to 460 hp and 465 lb.-ft. of torque, and at that point, drivers can enjoy 0-60 times of 3.8 seconds and a 12-second quarter-mile mark. 
This year, Chevy also has introduced the seventh-gen Corvette Z06, which features the same top configurations as well as a supercharged version of that V8, upping the ante to 650 hp and a similar number of lb.-ft. of torque.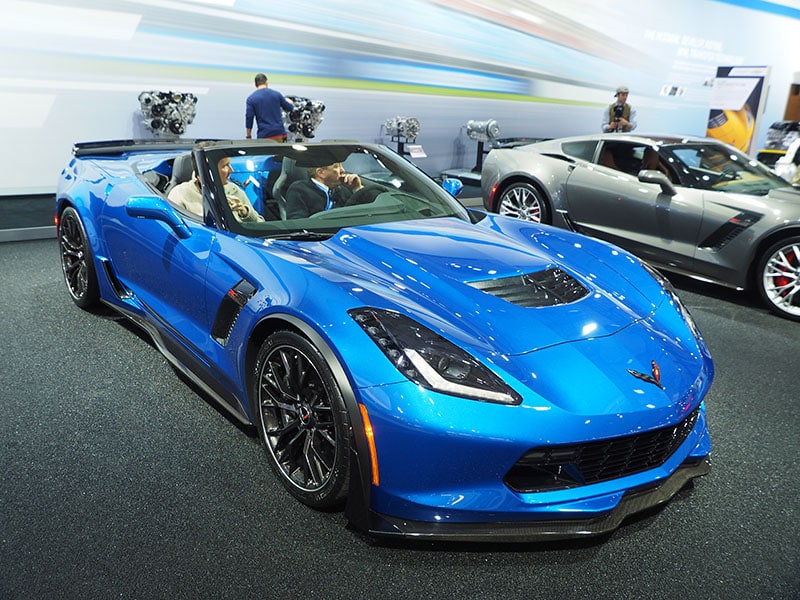 Photo by Megan Green
2015 Ferrari 458 Spider
The 2015 Ferrari 458 Spider distinguishes itself from the rest of the V8 Roadsters not based on engine size, of course, but on engine position. After all, the 458 Spider debuted as the industry's first mid-engine sports car to offer a power retractable hardtop, which folds into a small space located immediately ahead of that powerplant. 
As for the Spider's 4.5-liter V8, its spins out 561 hp and 398 lb.-ft. of torque, speeds from 0-62 mph in 3.4 seconds and can go from a standing start to twice that fast—124 mph—in 10.8 seconds. It also boasts one of the highest top speeds amongst our topless entries, with a terminal velocity of 199 mph. 
(Note: Those who can hold their horses for a while also can wait for the inevitable 488 roadster, sure to follow now that the turbocharged 488 GTB has debuted at the Geneva Motor Show.)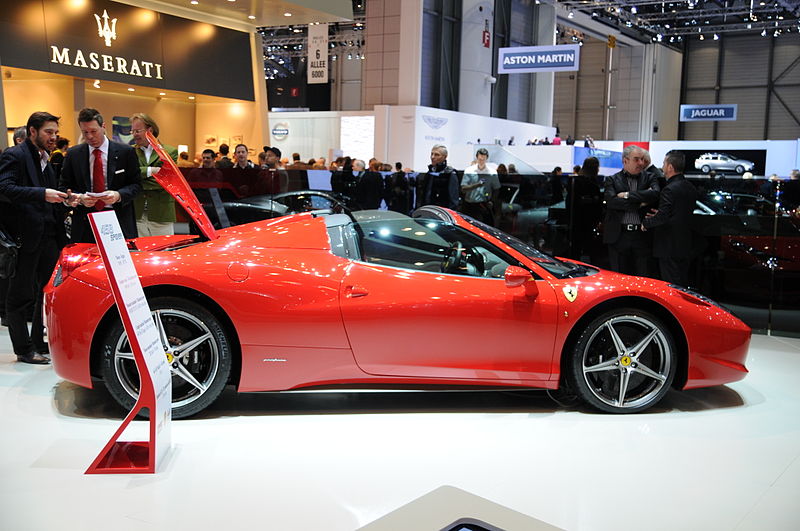 Photo by Autoviva via Wikimedia Commons
2015 Ferrari California T
Readers may expect to find a Ferrari—or two—on our list of favorite V8 Roadsters, but the 2015 Ferrari California does have a surprise inside: the brand's first turbocharged engine since the F40 ceased production in 1992. 
Naturally, the California T—a refreshed California that honors its all-new forced-induction powerplant by letter—has a winner in hand, with a 3.9-liter V8 that reins in 552 hp and 557 lb.-ft. of torque. With that output pushing some 3,800 lbs. of Prancing Horse, riders can run the Euro sprint of 0-100 km/h (62 mph) in as few as 3.6 seconds, then continue on to 200 km/h (124 mph) in a total of 11.2 seconds. 
The car's power retractable hardtop? That hides beneath the rear sheet metal of the car, disappearing in just 14 seconds.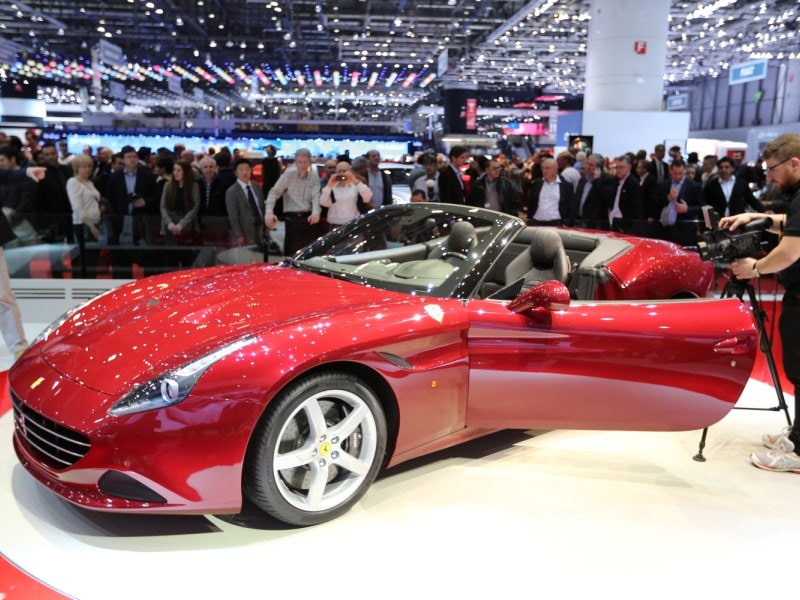 Koenigsegg Agera RS
From the cool climes of Scandinavia come two of the hottest debuts at the recent 2015 Geneva Motor Show, both of which are among the most extreme V8 roadsters ever released.
The Koenigsegg Agera RS is the latest iteration of the Agera hypercar lineup, with an engine guaranteed to deliver warp speed: It's a 5.0-liter twin-turbo V8 that can pump out 1,160 hp and 944 lb.-ft. of torque, and while the automaker has yet to release performance projections for the car, it does promise the RS will be the "ultimate track tool," complete with a highly sophisticated aero setup. In fact, while leveraging an active rear spoiler, as well as a front splitter, front "winglets," side skirts and an underbody flap system, the car sticks to the road at 155 mph with downforce that exceeds 900 lbs.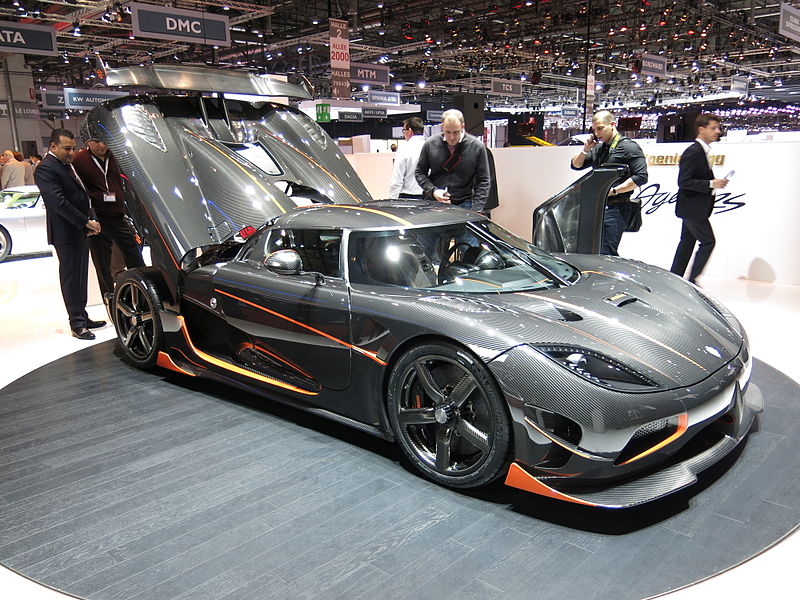 Photo by Norbert Aepli
Koenigsegg Regera
Yes, hybrid power has even come to the V8 Roadsters, although the Koenigsegg Regera is no ordinary hybrid. But then, not much about the Regera is ordinary, as the car combines a 5.0-liter V8, an extremely power-dense battery pack, two electric motors, and an exclusive direct-drive transmission without traditional gears.
It all works together to produce an astonishing 1,500 hp and 1,475 lb.-ft. of torque, with owners able to run the Regera from 0-400 km/h—that's about 250 mph—in fewer than 20 seconds. The car itself "fully robotized," too, taking advantage of the latest hydraulic technologies to provide active front and rear wings and an automatic chassis-control and lifting system, as well as hydraulically operated "Dihedral Synchro Helix Doors"—which, per Koenigsegg, makes getting in and out a "Transformer-like" experience.
Also offering a non-negligible EV driving range, the Regera also will transform your bank account by $1,890,000.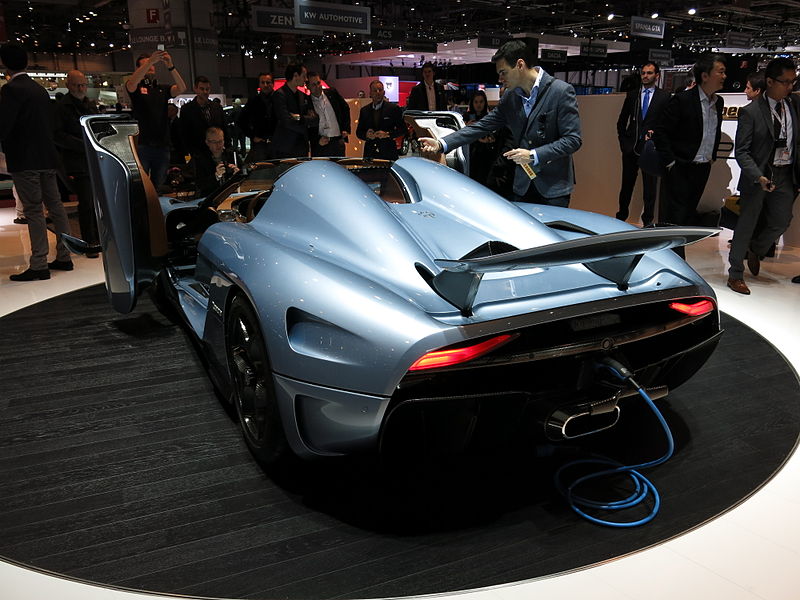 Photo by Norbert Aepli
2015 McLaren 650S Spider
Leveraging a long and successful racing tradition at the highest levels of the sport, McLaren used that prowess to make sure the 2015 McLaren 650S Spider would offer essentially the same performance credentials as the coupe—a scenario that isn't a given, even when supercar makers are involved. McLaren 650S drivers, however, will see a 0-60 time of 2.95 seconds in both body styles. 
On the other hand, the Spider is a tick slower in the quarter mile, covering that distance in 10.6 seconds@138 mph versus the coupe's time of 10.5 seconds@139 mph. And top speed also slips slightly, to a mere 204 mph. 
Not that that should matter when you're toting around a 3.8-liter V8 that tops out with 671 hp and 500 lb.-ft. of torque.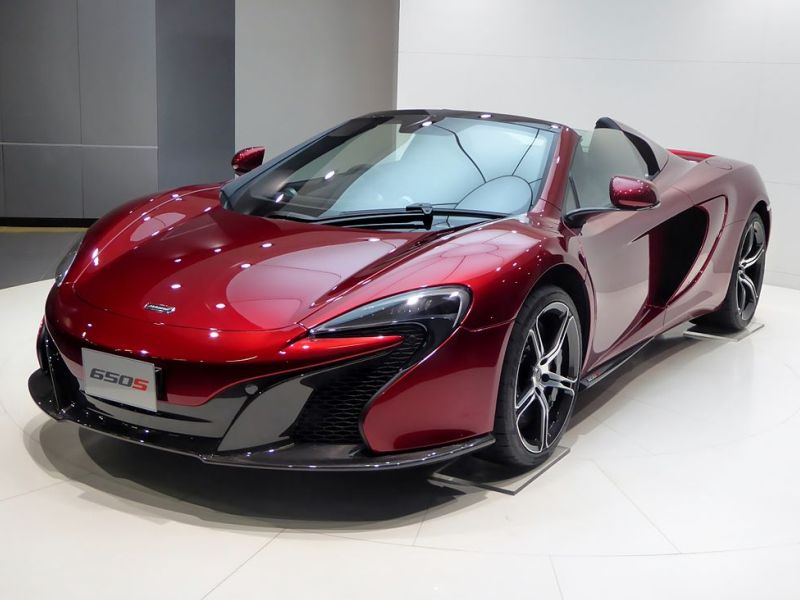 Photo by Autoviva via Wikimedia Commons
2015 Mercedes-Benz SL550/SL63 AMG
The Mercedes-Benz SL-Class offers two different V8 Roadsters, including the flagship of the "regular" roster (the SL550) and the entry-point to the SL AMG duo (the SL63). 
The 2015 Mercedes-Benz SL550 combines ultra-lux M-B amenities, the brand's latest technologies and, at the heart of the matter, a twin-turbo 4.7-liter V8 that forces out 429 hp and 516 lb.-ft. of torque, enough to bring the car's 0-60 benchmark down to 4.5 seconds. 
The 2015 Mercedes-Benz SL63 adheres to the AMG "one man, one engine" principle, with each example's 5.5-liter V8 powerplant handcrafted by a single, dedicated engineer from the Mercedes' AMG performance division. Also featuring biturbo forced induction, that engine packs 577 hp and massive 664 lb.-ft. of torque, which drivers can use to achieve 0-60 runs of 4.1 seconds and an electronically limited top speed of 186 mph.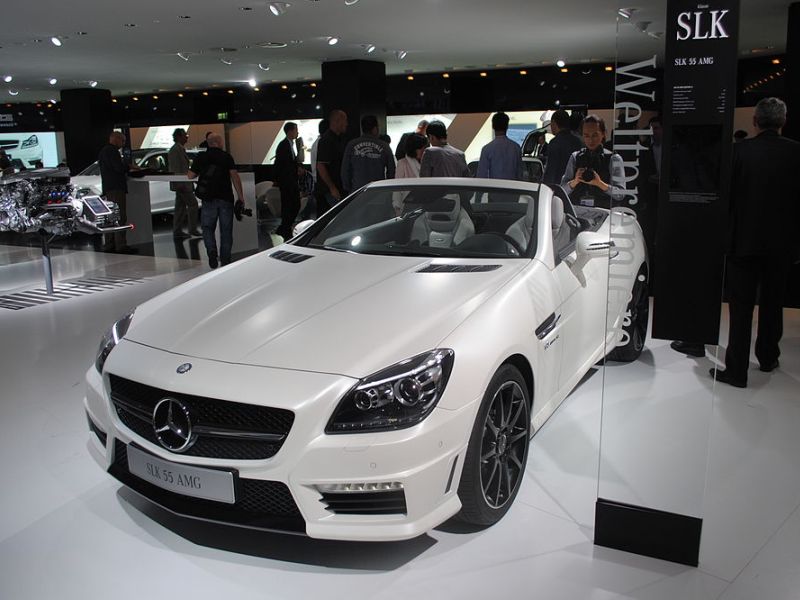 Photo by Autoviva via Wikimedia Commons
2015 Mercedes-Benz SLK55
A veritable bargain among V8 Roadsters, the 2015 Mercedes-Benz SLK55 borrows the big 5.5-liter V8 from the SL63, but sans turbochargers. As a result, although its handcrafted engine still serves up a robust 416 hp and 398 lb.-ft of torque, the SLK55 has an MSRP of a mere $70,900. The car is no slouch when it comes to performance, though, as evidenced by a 4.5-second 0-60 run and a terminal velocity of 186 mph.
This roadster's roof also is rather special. Sure, it retracts completely for the full drop-top driving experience, but even when closed it provides a panoramic view of the sky—or not. With the available Magic Sky Control, it's actually up to the driver, since the clear polycarbonate roof panel can be automatically tinted, via electric current, with a single press of a button.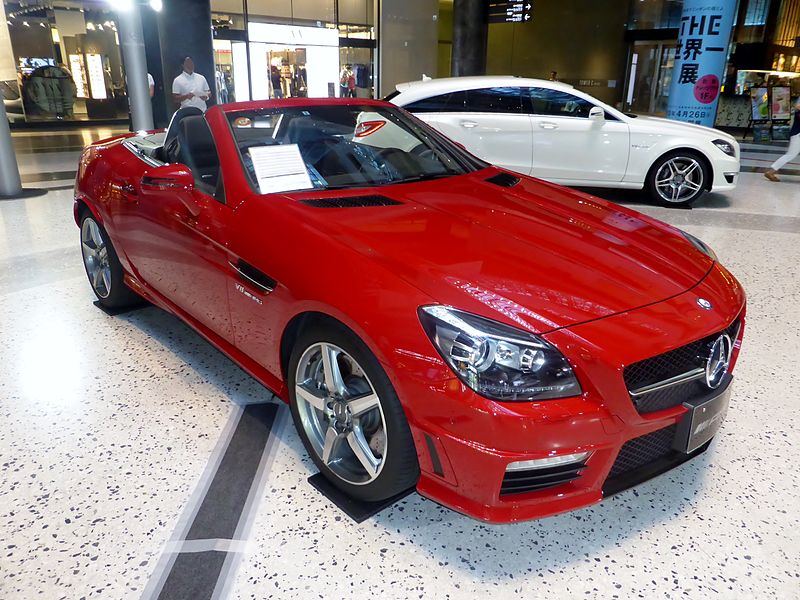 Photo by Autoviva via Wikimedia Commons
2015 Porsche 918 Spyder
A lot of these V8 Roadsters showcase impressive output numbers on paper, but the 2015 Porsche 918 Spyder is equally as amazing on the pavement. Consider: The 918 Spyder recently became only the third production car ever to break a 7-minute lap time at the Nürburgring racetrack, doing the deed in 6:57.
Certainly helping matters is the Spyder's special hybrid propulsion system, integrated a 4.6-liter V8 engine and two permanent-magnet AC synchronous motors, one at the front axle and one assisting at the rear. All told, that setup combines:
·      887 hp and 944 lb.-ft. of torque,
·      0-60 acceleration of 2.5 seconds
·      Quarter-mile runs of 10 seconds @ 145 mph
·      A top track speed of 214 mph
Other important numbers for the Porsche 918 Spyder include an MSRP of $845,000.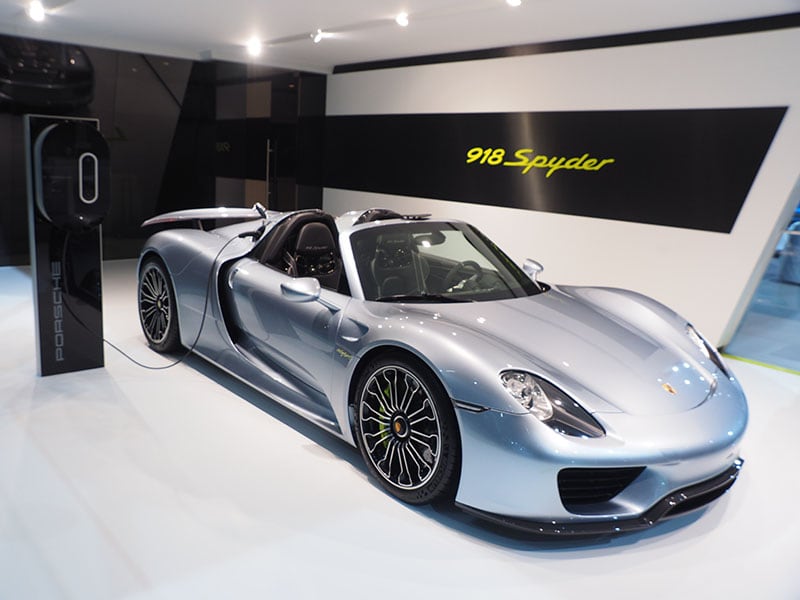 Photo by Megan Green