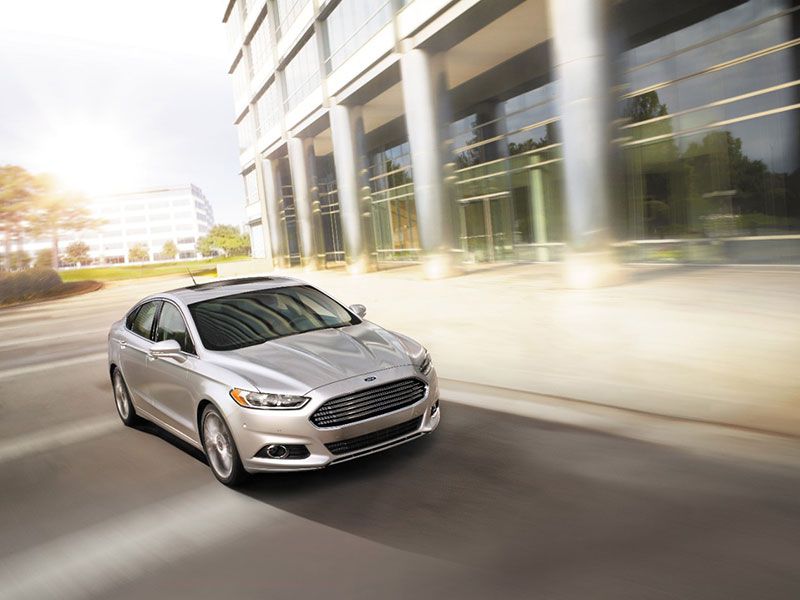 2014 ford fusion ・ Photo by Ford
Gas prices are dropping, but that's no reason to use more fuel than you need to, and buying a used car is an excellent opportunity to find something more efficient. To find the best used cars with the best EPA rating, we focused on 2014 cars. That's because the 3-year mark is common for a first owner to trade in or sell a car, and according to Kelley Blue Book, which tracks used car values, a 3-year-old car has already experienced most of its depreciation. In other words, it's a good time to get a deal, even if 2014 cars aren't necessarily the cheapest. Let's take a look at 10 used cars with high MPG.
2014 Toyota Prius — 51/48 mpg
Really, this should be a given—the Prius has been the class leader in terms of fuel economy for a long time, so it makes sense that it tops Autobytel's list of used cars with high MPG. The midsize 2014 Prius—we're talking about the original, here—makes 134 horsepower from its 1.8-liter inline-4 and electric motor pairing. A continuously variable transmission (CVT) is standard (and this will become something of a theme amongst the vehicles on this list). Though comfort is a priority in the Prius, with high-quality seating and enough room to stretch out, don't expect luxury. The cabin's full of hard plastic finishes, but on the upside, at least they'll wear well.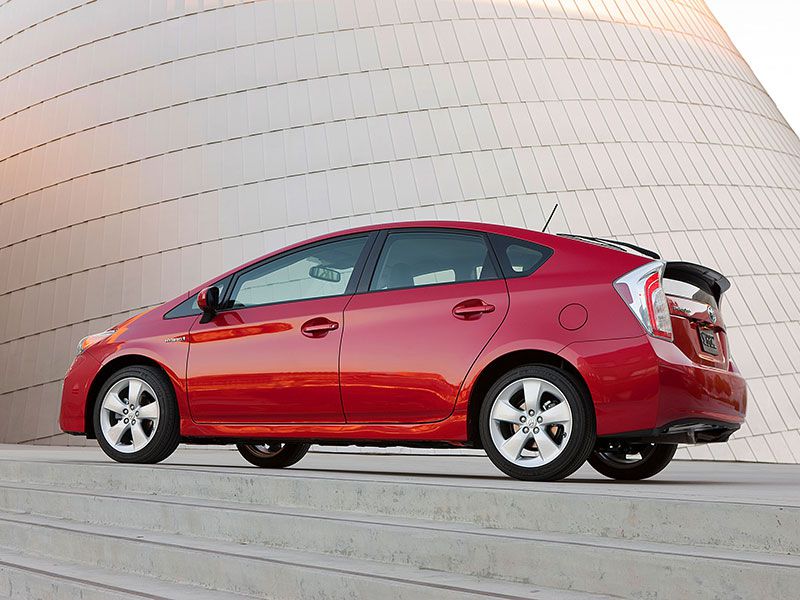 Photo by Toyota
2014 Honda Accord Hybrid — 50/45 mpg
In terms of fuel economy, the 2014 Honda Accord Hybrid is a close second to the Prius in our rankings of used cars with high MPG. But, based on other criteria, the Accord Hybrid may actually edge out the class leader. The Accord Hybrid yields 196 horsepower from its 2.0-liter 4-cylinder and electric motor; a CVT manages the power. This drivetrain provides better acceleration than many drivers might expect from a hybrid, with only a slight fuel mileage penalty compared to the Prius. And, though the 2014 Honda Accord Hybrid is likely to cost a couple grand more on the used market, this sedan has a nicer interior, with better material quality and a larger trunk.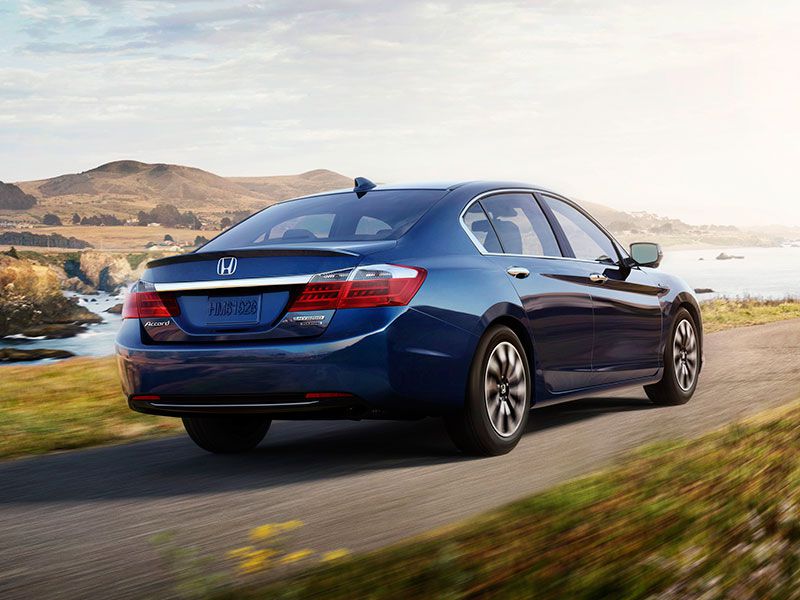 Photo by Honda
2014 Ford Fusion Hybrid — 44/41 mpg
Like the Honda Accord Hybrid, the 2014 Ford Fusion Hybrid is a case of an automaker stuffing hybrid parts into an existing model. And, like the Accord Hybrid, the Fusion Hybrid is a successful effort and one of our favorite used cars with high MPG. The Fusion Hybrid's 2.0-liter 4-cylinder and electric motor make 188 horsepower and come with the requisite CVT. This midsize sedan has good acceleration for a hybrid, but can be slow to pass other traffic. And, because it's based on the regular gas Fusion, Ford already knew the exterior and interior styling would be a hit, which helps make the 2014 Ford Fusion Hybrid a strong option for a used family car.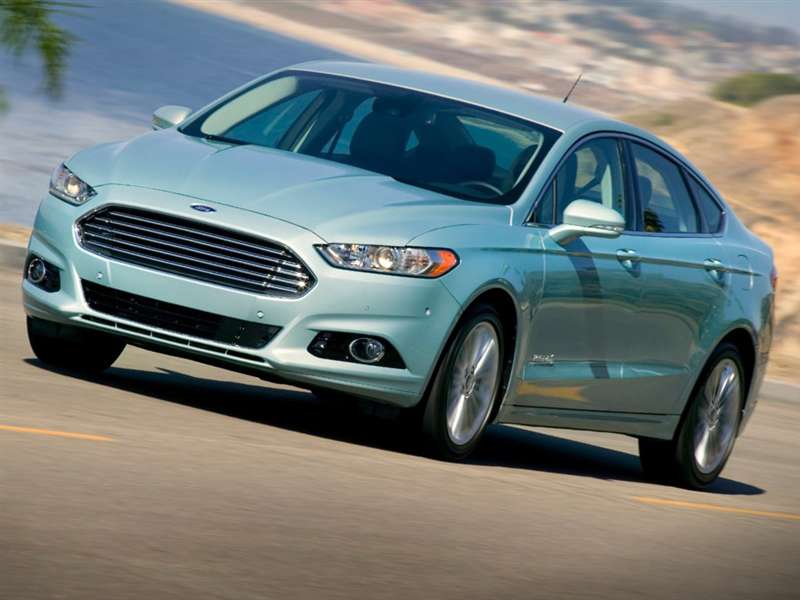 Photo by Ford
2014 Toyota Camry Hybrid — 43/39 mpg
Given the Toyota Prius' total dominance of the hybrid segment, it's a little surprising to find the 2014 Toyota Camry Hybrid near the middle of the pack amongst used cars with high MPG. That said, this midsize sedan offers more power than its competitors from Honda and Ford, which helps explain why it suffers a little in the mileage department. The Camry Hybrid makes 200 horsepower from its 2.5-liter 4-cylinder engine and electric motor, managed by a CVT. To some, that extra power might make up for the slightly less competitive, but still excellent, fuel economy. The basic Camry reimagined as a hybrid is smart, designed to appeal to a slightly different audience than the Prius.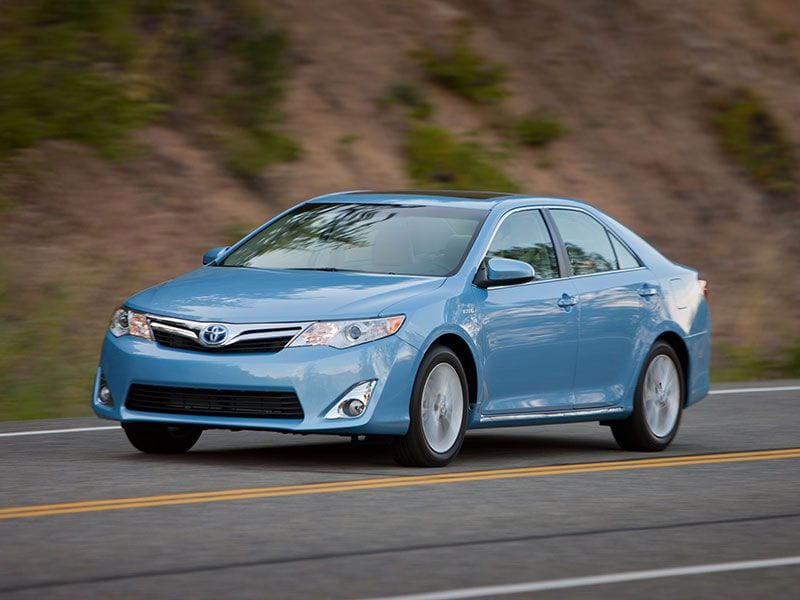 Photo by Toyota
2014 Chevrolet Volt — 35/40 mpg
And now, something a little different. The numbers above show that the 2014 Chevrolet Volt is indeed a used car with good MPG, but the Volt is a plug-in hybrid, which means it can also run solely on electric power for up to 38 miles (depending on conditions) and during that time, earns up to 98 MPG-equivalent. The Volt's electric powertrain makes 149 horsepower; the gas engine, 83. This sedan seats four passengers in more luxe accommodations than we've seen so far. Based on Autobytel editors' research, the 2014 Chevrolet Volt is probably somewhat more expensive than its contemporaries on our list of used cars with high MPG, but that's the price you pay for innovation.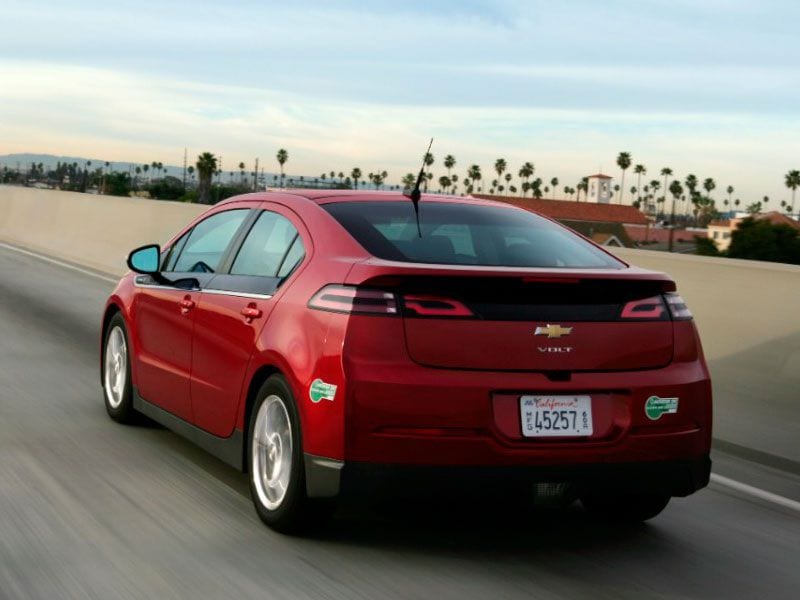 Photo by General Motors
2014 Volkswagen Jetta TDI — 30/42 mpg
Not to prey on Volkswagen owners who have been affected by the company's turbodiesel embarrassment, but now might be a good time to score a bargain on a slightly older model (which can still be sold privately, even though new ones can't). And yes, despite the Dieselgate emissions-cheating scandal, the 2014 VW Jetta TDI is still one of our favorite used cars with high MPG. Turbodiesel cars aren't all bad—they just aren't as clean as VW said they were. While VW sorts out its mess, the fact remains that a preowned 2014 Jetta TDI still returns good mileage, is fun to drive, offers a choice of manual or automated manual transmissions, and is comfortable and affordable.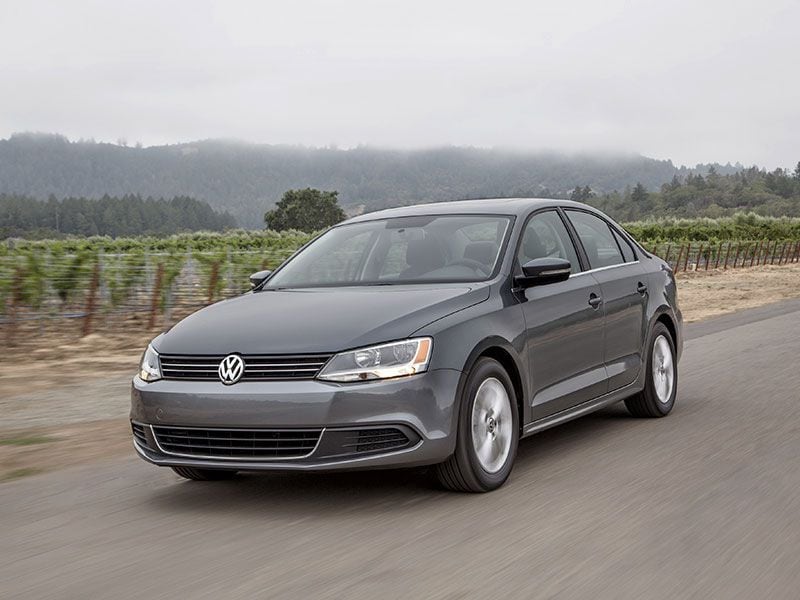 Photo by Volkswagen
2014 Mazda Mazda3 — 30/41 mpg
The 2014 Mazda Mazda3 is available as a sedan or hatchback, although the sedan manages to edge out the hatch in terms of fuel economy. And, even though the Mazda3's just a plain ol' gas car, it handily earns a spot on our list of used cars with high MPG. This compact seats five, and it's amongst Autobytel editors' favorites not just because of its efficiency, but in general. The Mazda3 has great handling and cornering, which makes it fun to drive even without engaging in any fuel-wasting throttle-whomping, and it also has comfortable seats. Mazda redesigned the Mazda3 for the 2014 model year, so a used one will look just like a new one.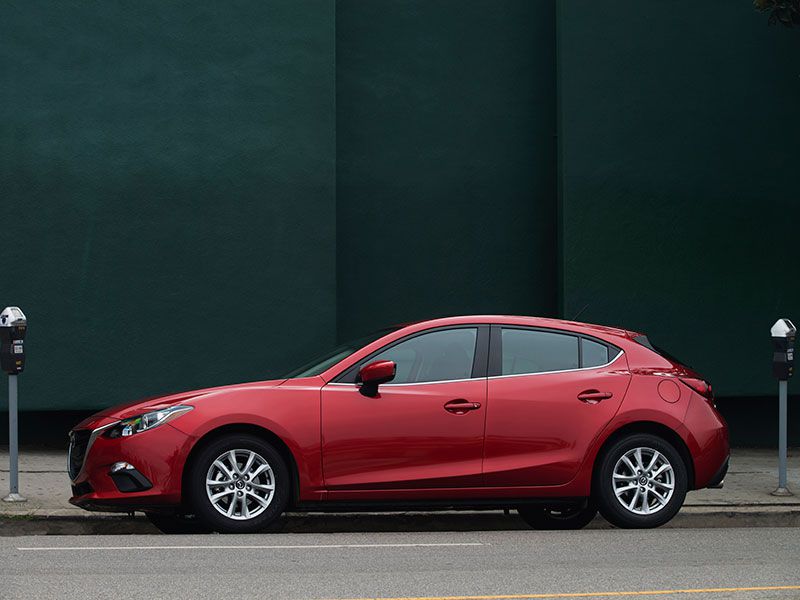 Photo by Mazda
2014 Mercedes-Benz E250 — 28/45 mpg
A big luxury vehicle might be a surprise on a list of the most fuel-efficient used cars, but the Mercedes-Benz turbodiesel's high MPG makes the cut. Look for a rear-wheel drive, E250 BlueTEC trim level of the E-Class sedan—none of the numerous other configurations in the vast E-Class lineup come close. It means sacrificing some horsepower and the tempting 4MATIC all-wheel drive setup, but hey, they all look the same, and the E250 BlueTEC will be just about as comfortable as the other versions, too. The 2014 Mercedes-Benz E250 handles smoothly, and the 195-horsepower turbo engine provides plenty of grunt down low, making this a satisfying bargain luxury commuter.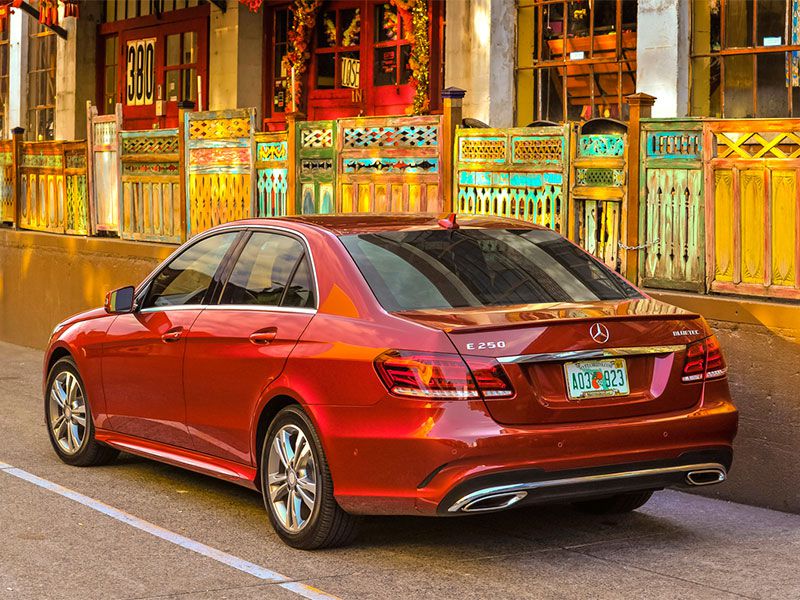 Photo by Mercedes-Benz
2014 Kia Rio — 27/37 mpg
The 2014 Kia Rio is another gas-powered compact car that comes in both sedan and hatchback bodystyles, but unlike the Mazda3, both versions of the Rio get the same fuel economy when equipped with a manual transmission, just enough to include the Rio on our list of the best used cars with high MPG. And, since the Kia Rio is a bargain of a car when brand new, a preowned example is a very good choice for shoppers on a budget who still want strong fuel economy. For a car this size, the Kia Rio's cabin is comfortable and spacious, and its 138-horsepower, 1.6-liter 4-cylinder engine is competitive with other options in this category.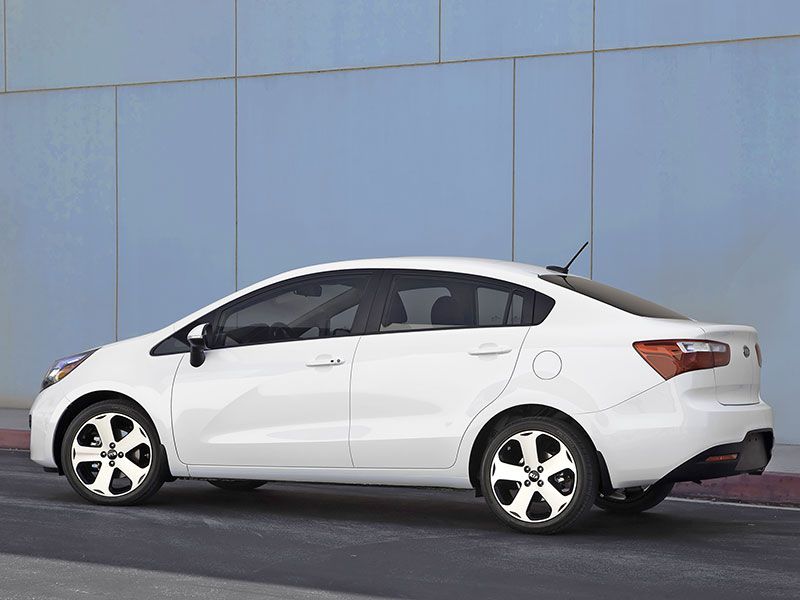 Photo by Kia
2014 Subaru Impreza — 27/36 mpg
Subaru's compact 2014 Impreza sedan comes in just shy of the Kia Rio, taking the last spot amongst the used cars with high MPG. Maybe that doesn't sound all that impressive, but consider this—the Impreza accomplishes that feat even though it comes standard with all-wheel drive, which is a notorious drain on fuel economy. The Impreza is an economical option for buyers who want a safe and efficient all-weather package, but the car does have some drawbacks. Its 148-horsepower, 2.0-liter 4-cylinder engine is known for feeling underpowered at times, and needs to be paired with the optional CVT for the best fuel mileage. But overall, Subaru's least expensive offering accomplishes its goals.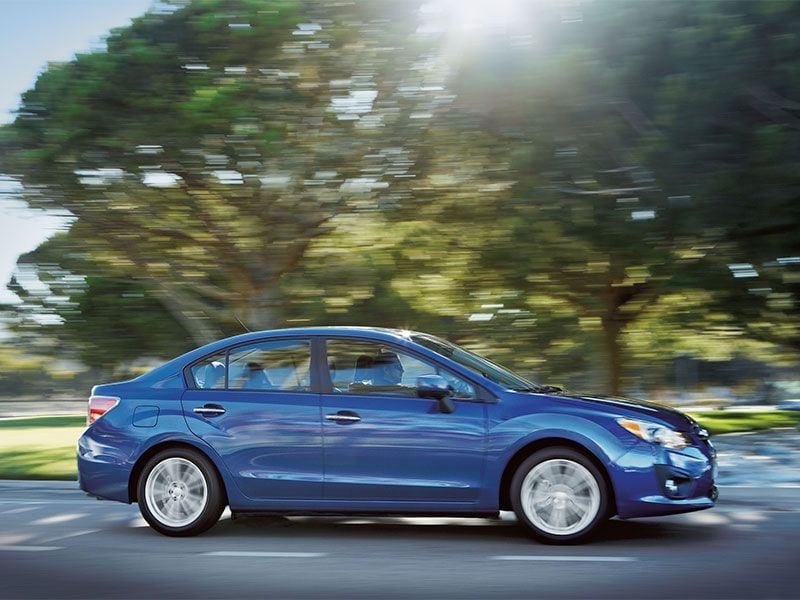 Photo by Subaru