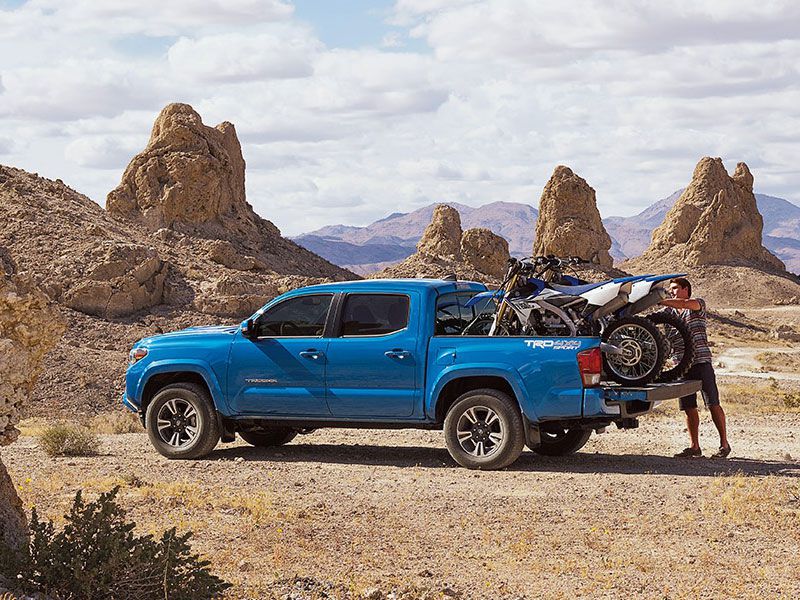 2016 Toyota Tacoma with dirtbikes ・ Photo by Toyota
Driven by a strong economy and relatively low used supply, resale value in the pickup truck segment is among the strongest in the entire automotive industry. Trucks have famously grown more expensive in recent years, but they're also increasingly fitted with premium interiors — long their Achilles heel. Plus, trucks are in high demand as construction has rebounded across the country. That means depreciation won't strike pickup trucks as quickly as most cars, and they'll hold their value longer. This is great news for new pickup buyers, who can justify springing for the new truck knowing its resale value will keep for quite a while. If you're in the market and resale value conscious, here are your best bets.
Toyota Tacoma
It's no surprise that the Toyota Tacoma sits atop our list of trucks that hold their value. In fact, it's one of the most consistent vehicles of any kind when it comes to resale value. The Tacoma is affordable, versatile, and extremely capable off-road. It's also upgraded for 2016, offering new bells and whistles like an upgraded infotainment system. The Tacoma also benefits from a dearth of competition in the market: the Nissan Frontier has low numbers, and the Chevrolet Colorado is only now beginning to appear on used lots. It's too early to tell how well the brand new Honda Ridgeline will hold its value, so for now, the Tacoma is clearly king of the ring.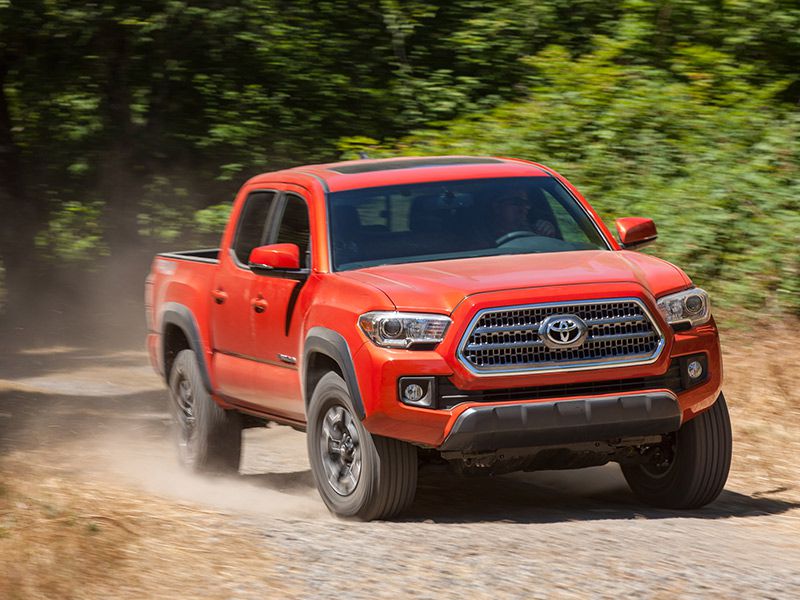 Photo by Toyota
Toyota Tundra
Like the Tacoma, its big brother, the Toyota Tundra, benefits from legendary reliability, and the capability to tow boats and tackle off-road trails. The Tundra's resale success is also due to good old-fashioned comfort: its interior is spartan but roomy, the ride is smooth, and the Entune infotainment system is widely hailed. While the Big 3 duke it out for the sales crown, Tundra owners know their trucks will be in high demand once they're ready to sell. A standard V8 engine and plenty of configuration options certainly help. The Tundra will take a beating and still get the crew to the site, the RV to the campground, or the kids to school. Can't beat that.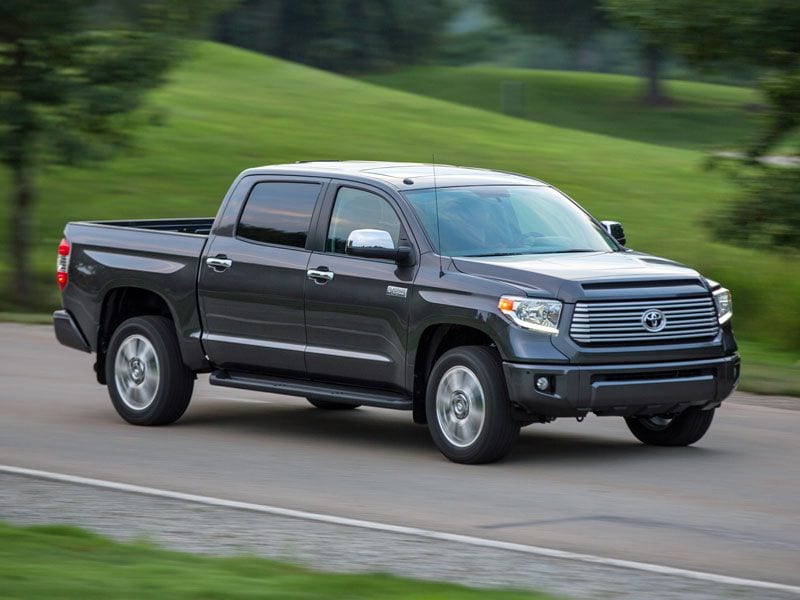 Photo by Toyota
Chevrolet Colorado
Back with a bang, the Chevrolet Colorado is only beginning to make its way to the used marketplace. Buyers are quickly finding their investment pays off. Not only is the Colorado extremely capable and quite a handsome devil, it's also available with a 2.8-liter diesel engine rated up to 31 MPG highway. This makes the Colorado extremely unique, and since such low numbers are coming up for sale, they'll likely be in high demand for some time. Whether you choose the gas or the diesel, the Colorado comes with an expansive bed and great towing numbers, plus a premium interior. We're also struck by its personality: the Colorado doesn't feel like every truck on the market.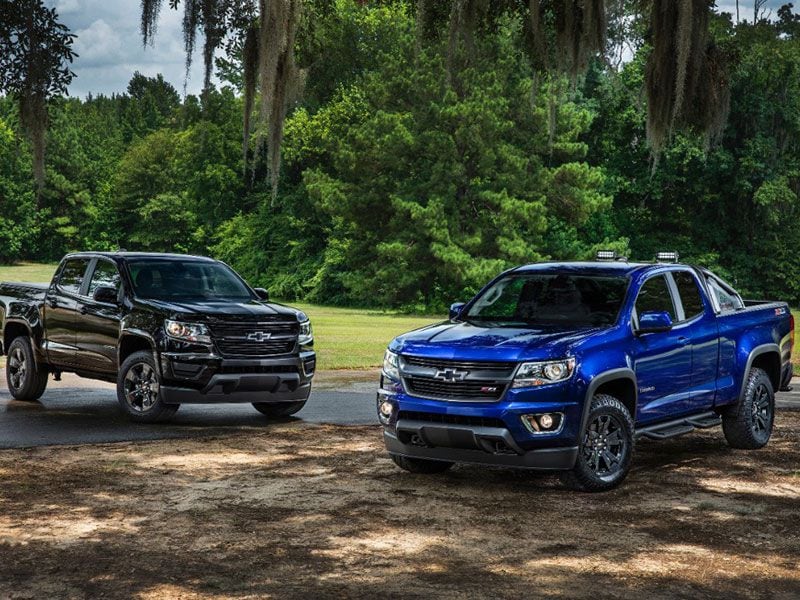 Photo by General Motors
GMC Canyon
If you're looking for something that truly sets itself apart, the GMC Canyon makes a very strong case. Its resale value is consistently high, helped in part by low numbers on the used market since its recent reintroduction, and significantly bolstered by an impressive premium interior that borders on true modern luxury. High-quality materials abound, and the suite of technology available at your fingertips is not only eye-popping but also welcoming and user friendly. Then, of course, you have legendary Chevy capability, no shortage of power, and the same diesel engine option as in the Colorado. But the impressive interior is where the Canyon shines and will keep it among the highest resale values in the country.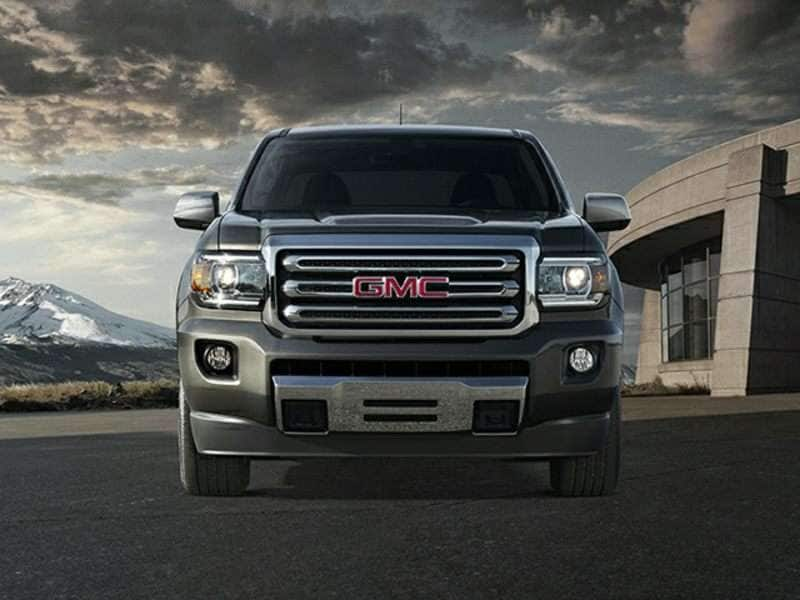 Photo by General Motors
Ford F-150
Any fears about the new aluminum body panels in the Ford F-150 seem to have subsided for now, at least enough to make it one of the most consistently high resale values in the pickup truck segment. After all, lighter weight means greater use of power. So the F-150 boasts extreme towing and hauling capabilities, plus excellent efficiency across the entire range of engine choices. What's more, the F-150 scored very well in safety crash tests, and evokes a phrase not often uttered when it comes to pickups: "nimble handling." While that may not do much on the worksite, it does set the F-150 apart. When it comes to resale value, that matters.
Photo by Ford
GMC Sierra 1500
Once you're into fullsize pickup trucks, impressive towing and capability is going to be a given. What matters is the extra mustard you bring to the table, and the GMC Sierra 1500 has that in droves. For a truck, it's remarkably comfortable, outfitted with a sumptuous leather interior and high quality materials that would feel at home in a European sedan. Expansive and comfortable front seats, which you would think are a given among pickup trucks, shine in the Sierra and elevate the elegance. But the Sierra is far from dainty; its reliability rating is tops in the market and it can reach 420 horsepower. This year, an 8-speed transmission and improved infotainment system are also available.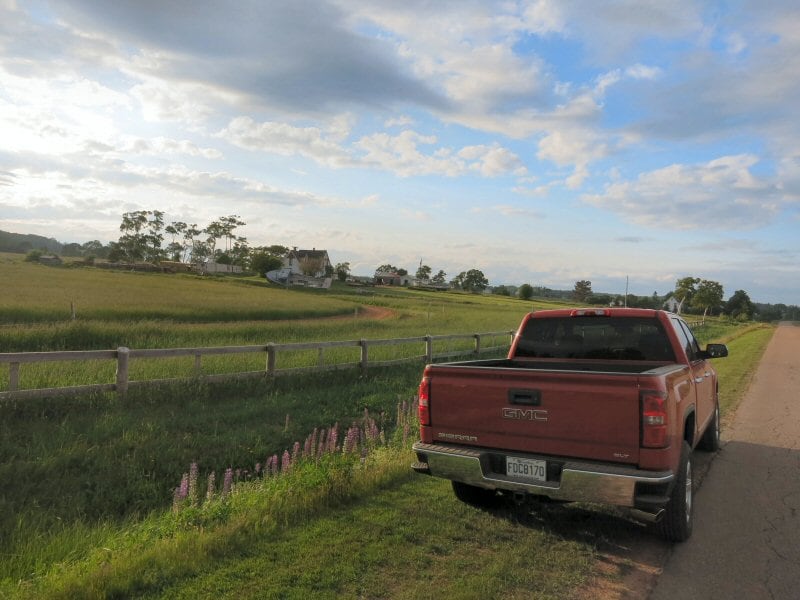 Photo by Benjamin Hunting
Ram 1500
It's about to be replaced by a new and improved version, but the Ram 1500 is currently one of the leaders of the resale value market due to its impressive capability, dramatic looks and undeniable attitude. New ones will likely have even better luck, too — an 8-speed transmission is now standard, producing greater efficiency and power delivery. Rams also have a reputation for keeping their performance well past 100,000 miles, and can come packed with extra features for less than the cost of their base competitors. The 3.0-liter EcoDiesel V6 could pay dividends when it comes to resale value, and the Ram's comfortable cabin and smooth ride quality are strong selling points, as well.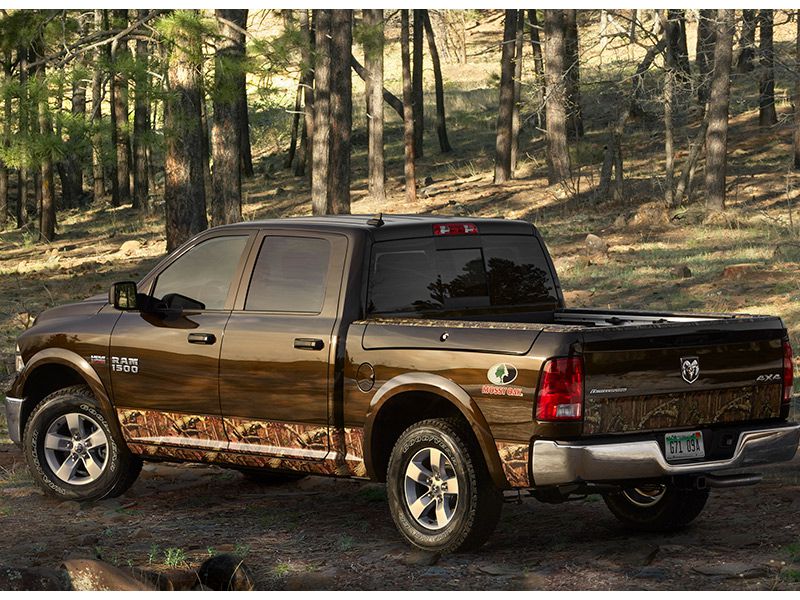 Chevrolet Silverado
Continuing the trend of ultra-modern pickup trucks, the Chevrolet Silverado holds its value thanks to interior quality and high-end technology. Power, towing and overall capability have always been a strength of the Silverado, but it now boasts a cabin that holds its own, too. The ride quality is upscale thanks to a smooth powertrain and great attention to NVH (noise, vibration and harshness), while the base V6 engine offers 305 horsepower and the V8 means serious business at 355 horsepower and 383 lb.-ft of torque. This is a tough class, and Silverado trims can skyrocket in price, leading to significant depreciation. But overall, Silverado dependability carries a lot of weight and keeps the resale value strong.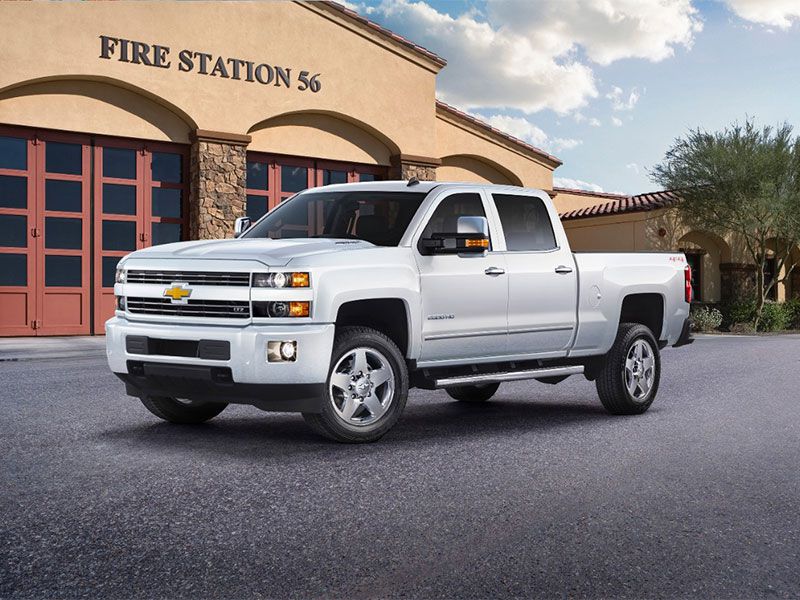 Ford F-350
Guts and muscle never go out of style. As such, the Ford F-350 Super Duty is tough to beat when it comes to resale value. Benefiting from the same aluminum structure as the F-150, the lighter weight allows the F-350 to put its power to good use. With the 6.7-liter turbodiesel V8, the F-350 makes 440 horsepower and a whopping 925 lb.-ft of torque. An aggressive appearance and — let's face it — name recognition make these Super Dutys highly sought after on the used market. Even though the price can quickly climb, an assortment of smart technology delivers bang for the buck that will translate to the next owner, too.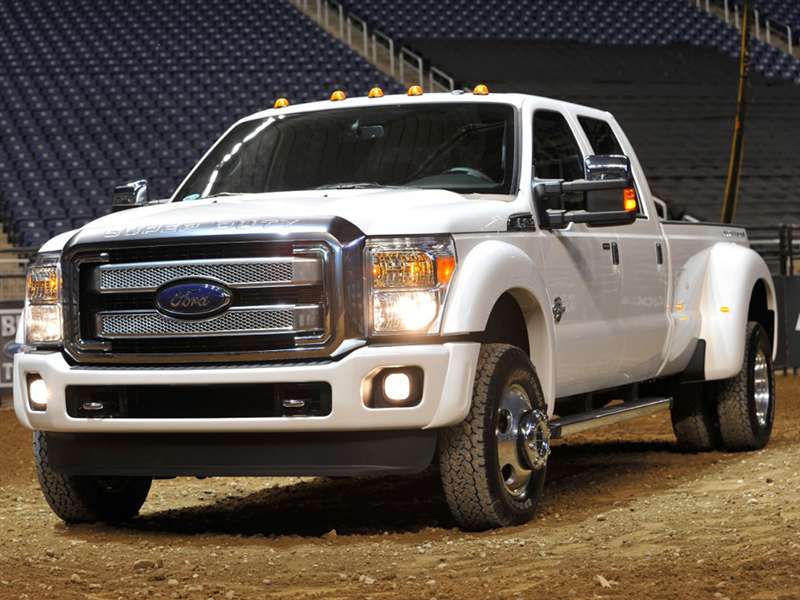 Nissan Frontier
These are difficult times for the Frontier. Badly in need of a refresh — or any attention at all, really — the competition passed the Frontier over long ago. The Frontier makes it onto this list only because its bigger brother, the Titan, suffers an even more dramatic drop in value once you leave the lot. Still, the Frontier has some redeeming qualities: off-road performance is strong, and the V6 engine is plenty capable for a vast majority of everyday towing and hauling jobs. The best thing going for the Frontier is there aren't a lot of compact pickups on the used market, but that will change sooner rather than later as the Colorado and Ridgeline catch up.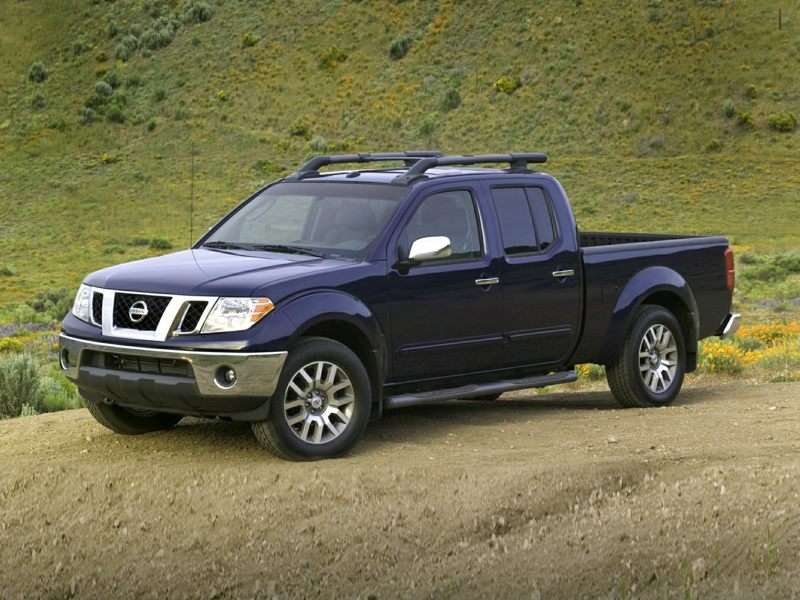 Photo by Nissan