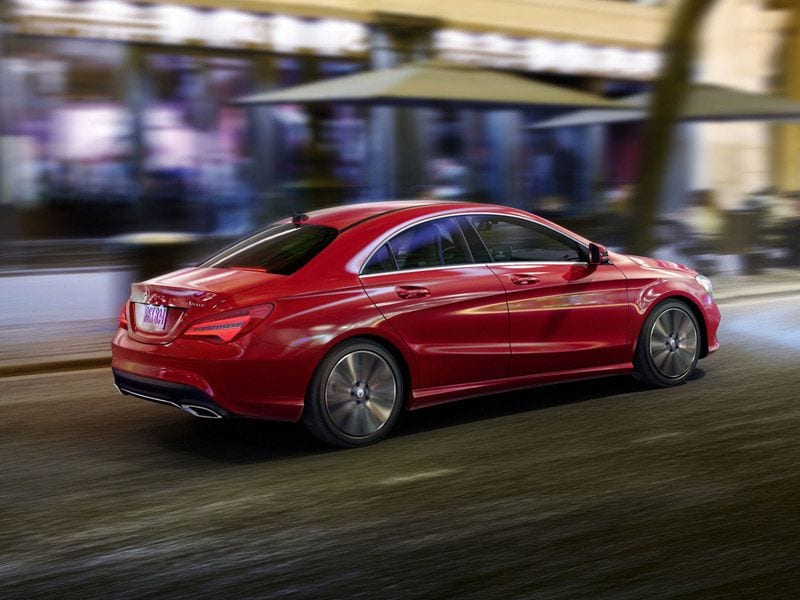 2017 Mercedes Benz CLA class exterior rear angle profile ・ Photo by Mercedes-Benz
Customers suffering from SUV overexposure have come to the right place, as sleek-looking cars provide a sophisticated alternative to the big and bulky style of most sport utilities. These cars are plenty sporty on their own, too, with aerodynamic exteriors that signal speed and excitement. Some also do more than just "signal" their athleticism. A few of these choices more than live up to their looks with high-powered engines, agile suspensions and track-friendly performance. Yet others bring streamlined design to the mainstream, with many affordable brands now offering aero-style cues even for their compacts—which can leverage their wind-cheating shapes for improved fuel economy. With that in mind, here are 10 of the sleekest, slickest cars on the road today.
2017 Ford GT
Expensive supercars also tend to be sleek-looking cars, and the 2017 Ford GT is a stunning example of this. From the front to the back, the Blue Oval boasts that "every slope and shape [of the car] is designed to minimize drag and optimize downforce," while "each surface on the GT is functionally crafted to manage airflow." The result is a shape that both recalls the original Ford GT40 and sets new benchmarks for modern design. Further, the GT is one of those cars that's also incredibly smooth on the track: Backed by a ferocious EcoBoost engine, a racing version won its class at the grueling 24 Hours of Le Mans endurance race in its very first attempt.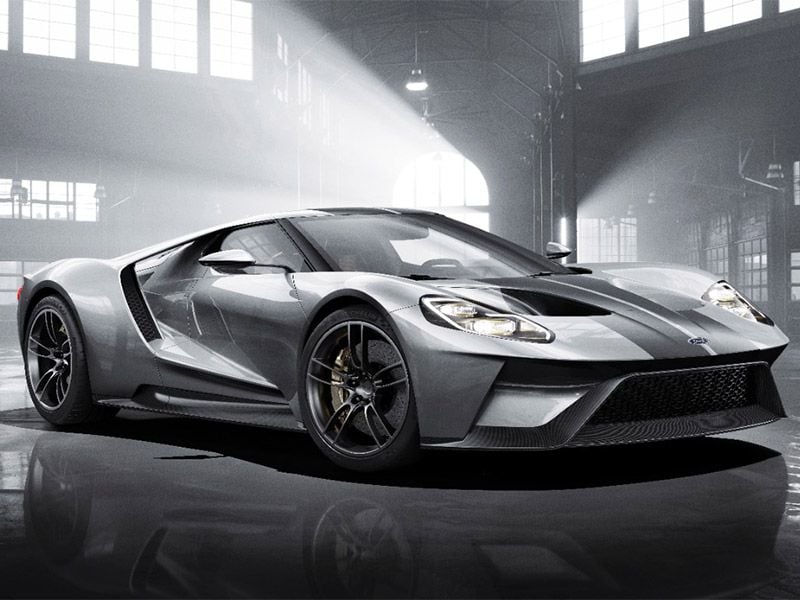 Photo by Ford
2017 Chevrolet Corvette
Though sleek-looking cars are usually known for their aerodynamics, at least one was inspired by hydrodynamics: The "corvette" in the name of the 2017 Chevrolet Corvette refers to a class of small warships that were known for their maneuverability. Of course, the current Corvette is highly maneuverable itself, and it also brings serious firepower to the sports-car fray. But not only does the car's standard V8 kick out 455 horsepower and 460 lb.-ft. of torque, it also enables fuel economy ratings as high as 29 mpg. And for 2017, a new Corvette model joins the fleet. The Corvette GS builds on the glabrous good looks of the car with a racing-derived performance-and-design upgrade package.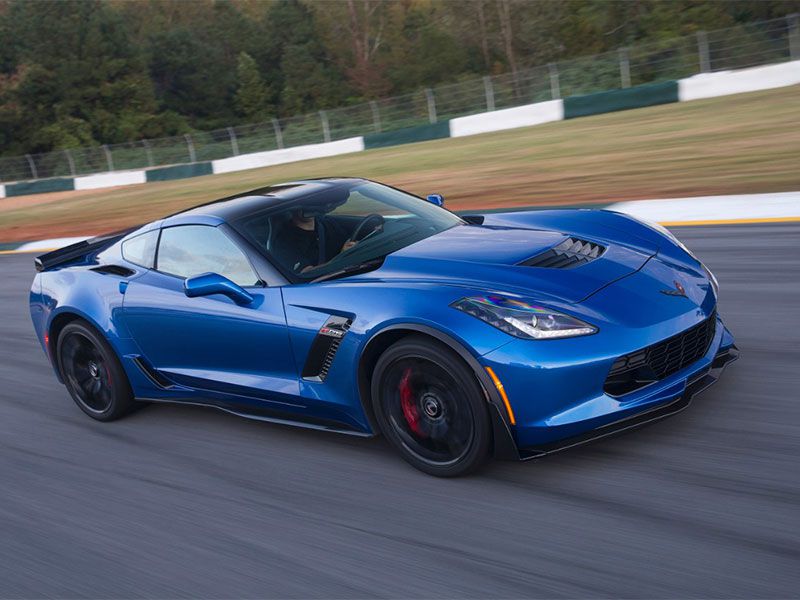 Photo by Chevrolet
2017 Mercedes-Benz CLA-Class
When it comes to sleek looking cars with four doors, the 2017 Mercedes-Benz CLA-Class Coupe makes an impressive style statement in the entry-luxury segment. Don't let the car's "coupe" designation fool you, either. This is a compact German sport sedan that just happens to feature the sort of sweeping, curved lines more often found on expressive 2-door entries. Additionally, Mercedes designers have fine-tuned the CLA's appearance again for 2017, introducing new front and rear bumpers, restyled alloy wheels, and another available exterior finish: Lunar Blue. It's also worth pointing out that the cabin has been enhanced for the 2017 model year as well, complete with a redesign 8-inch infotainment screen, new seat covers and eye-catching chrome-plated controls.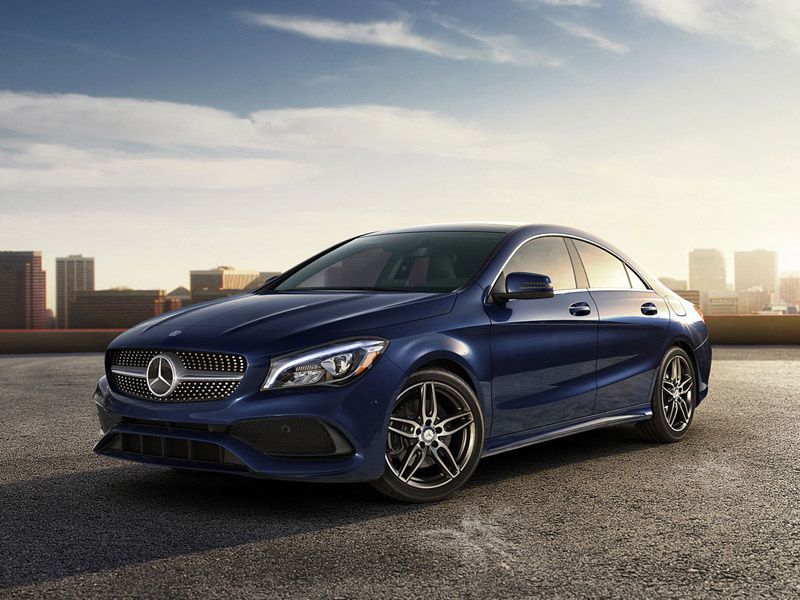 Photo by Mercedes-Benz
2017 Nissan Maxima
One-upping the 4-door coupe is the industry's "4-Door Sports Car." That's the 2017 Nissan Maxima that's part of a new wave of sleek-looking cars from the Nissan brand. A key is the "V-Motion" grille that helps give concept-car design cues to the Maxima and a growing number of other Nissan vehicles. The Maxima also wears the brand's sweptback boomerang-style headlights and what's called a "floating" roof: Thanks to blacked-out pillars all-around, the metal of the roof appears to be unsupported by any structural elements.  Meanwhile, on the road, the Maxima makes the most of a 3.5-liter V6 engine—and a performance-tuned continuously variable transmission—to serve up 300 horsepower and 261 lb.-ft. of torque.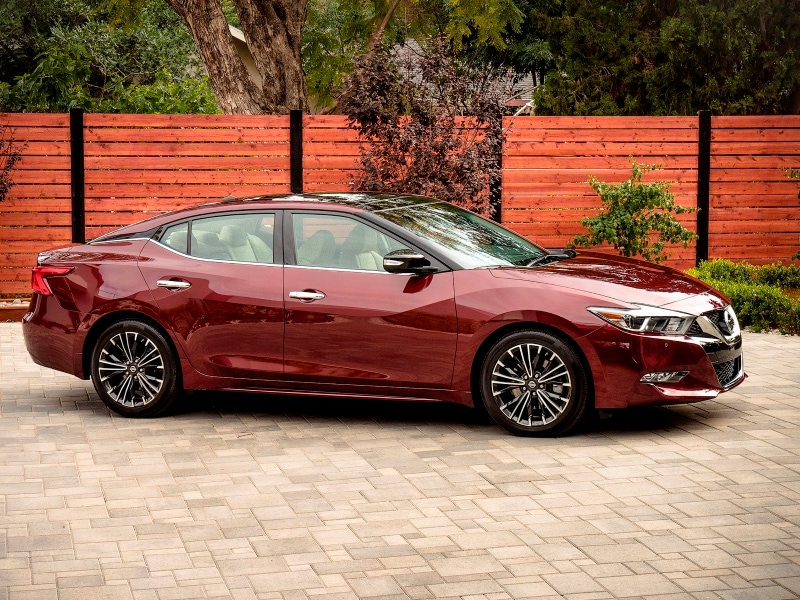 Photo by Nissan
2017 Toyota 86
Sleek-looking cars with rear-wheel drive and athletic reflexes are often fairly expensive, but the 2017 Toyota 86 was designed specifically to deliver those benefits at a practical price. True, it was designed to do so as the Scion FR-S, but now that it's been renamed for the Toyota team, it's also been refreshed to accent its slippery exterior surface. Thus, LED headlamps, daylight running lights and turn signals are all standard, as are redesigned alloy wheels with a dramatic "twisted spoke" appearance. Unchanged are the 86's classic sports-car proportions, including a long front hood and short rear deck that really emphasize its flowing lines. A revised differential then raises output slightly in manually transmissioned models, to 205 horsepower.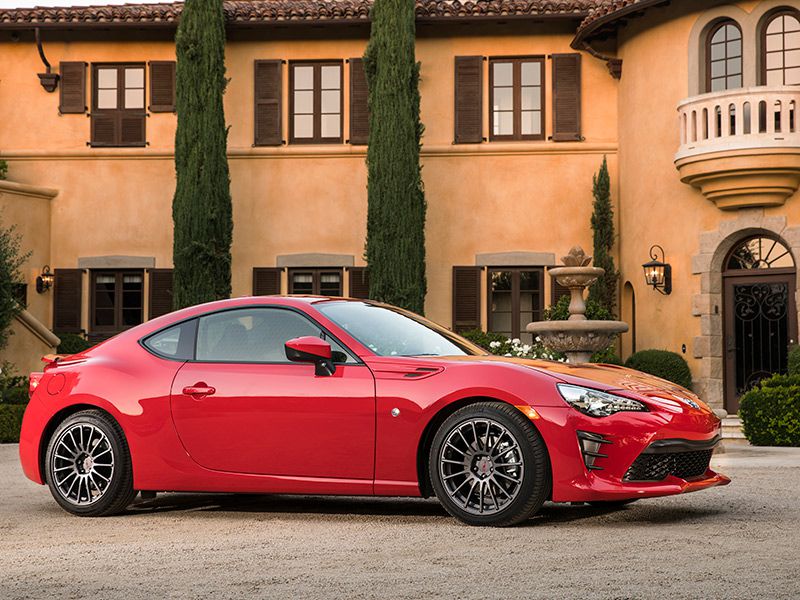 Photo by Toyota
2017 Honda Civic
Designing sleek looking cars for the compact segment can be a challenge, since entries here are, obviously, compact in length. The 2017 Honda Civic sedan, however, is longer, lower and wider than the previous-generation model, for noticeably sleeker proportions. Moreover, the 2017 Civic's aerodynamic shape is set off by flowing lines, prominent wheel arches and a full array of standard and available LED lighting. Honda also has an even sleeker version of the sedan on its way, in the athletic shape of the 2017 Civic Si. The fastest, most powerful Si edition ever, it will match that surge in performance with a "Factory Performance" aero kit that combines front and rear splitters with a rear spoiler and more.
Photo by Honda
Sleek-looking cars: 2017 Kia Optima
Kia has developed quite a reputation for its sleek-looking cars, and the 2017 Kia Optima has raised the bar again. Redesigned for the new model year, the Optima midsize sedan welcomes a new evolution of its "tiger nose" grille, accented by dynamic signature lighting and available LED headlights. Highly detailed, lower-front intake elements also add visual excitement, and in profile, the Optima looks especially long and lithe. Also revised is the Optima's cabin, which relies on a clean, restrained design aesthetic to create a premium environment. Nor are the changes inside merely cosmetic: The re-engineered seating, for instance, was "scientifically designed" for comfort, and the front row—highlighted by a 12-way power-adjustable driver's seat—can be heated and ventilated.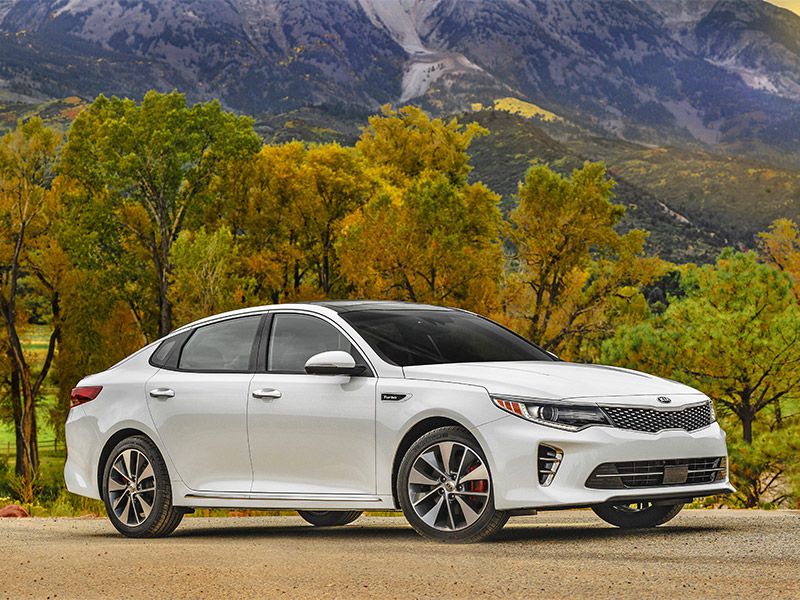 Photo by Kia
2017 Mazda Mazda3
The refreshed 2017 Mazda Mazda3 expands its brand's lineup of sleek looking cars by re-emphasizing the company's "KODO—Soul of Motion" design language. At the front the new Mazda3, that means a restyled, wing-shaped grille that brings out the car's wide, planted stance and low center of gravity. Mazda also debuts LED headlamps for the car, and rolls out a new design for the Mazda3's available 18-inch alloy wheels. Naturally, the automaker also refreshed the cabin of its compact contender, yet the biggest news for the 2017 Mazda3 just may come from the engineering department. An innovative "G-Vectoring Control" system has been added to all models—coupe and sedan—to better manage torque levels for zoomier handling.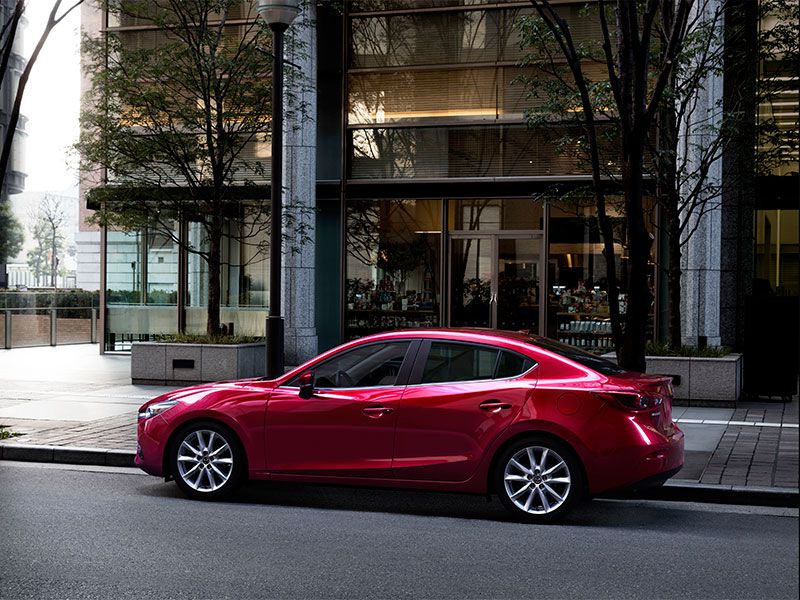 Photo by Mazda
2017 Infiniti Q60
Infiniti's approach to sleek-looking cars is underlined by its "Powerful Elegance" design philosophy and exemplified by the 2017 Infiniti Q60. This all-new sports coupe is a rear-wheel drive performer with a muscular, aerodynamic shape, and after extensive wind-tunnel testing, engineers were able to reduce its coefficient of drag to a slippery 0.28. To put that performance into context-and keeping in mind the lower the number the better—a Ferrari 488 GTB is rated at about 0.32. Q60 models with Infiniti's latest V6 engine also feature active grille shutters that open and close based on driving conditions, for optimum performance. As for that V6, it's a 3.0-liter, twin-turbo unit that can unchain 400 horsepower and 350 lb.-ft. of torque.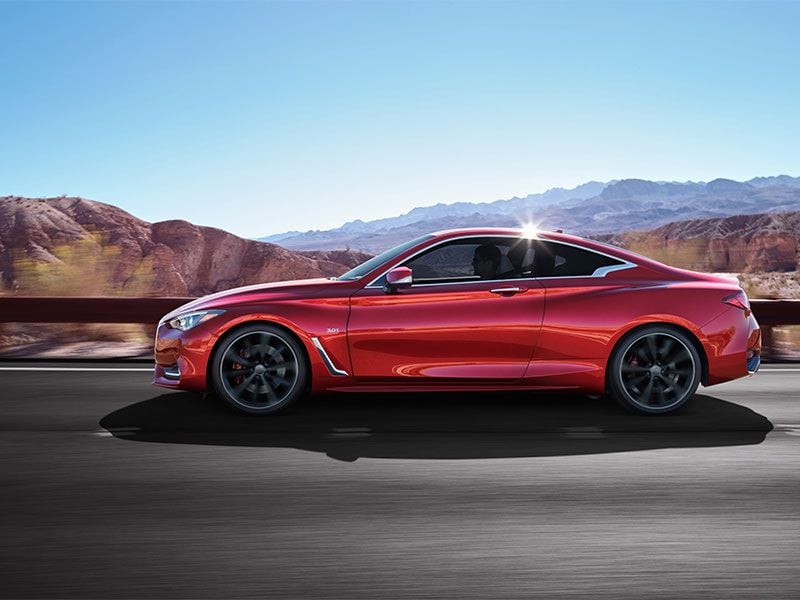 Photo by Infiniti
2017 Buick LaCrosse
Big, beautiful Buicks have long been some of the country's favorite sleek-looking cars, and the 2017 Buick LaCrosse does an admirable job of carrying on that tradition—but with modern-day elegance. Indeed, the car was redesigned for 2017 to be longer and wider than the previous editions, but also lower, to visually stretch its appearance. To be sure, the restyled Buick has a longer wheelbase, too, for an aggressive, "wheels at the corner" stance. The bottom line from Buick's Holt Ware, exterior design director: "It's a sleeker design that looks confident and purposeful. Stretching the wheelbase, lowering the roofline and making it slightly wider creates a dramatic effect that is enhanced by the design's supporting elements, such as the swept headlamps."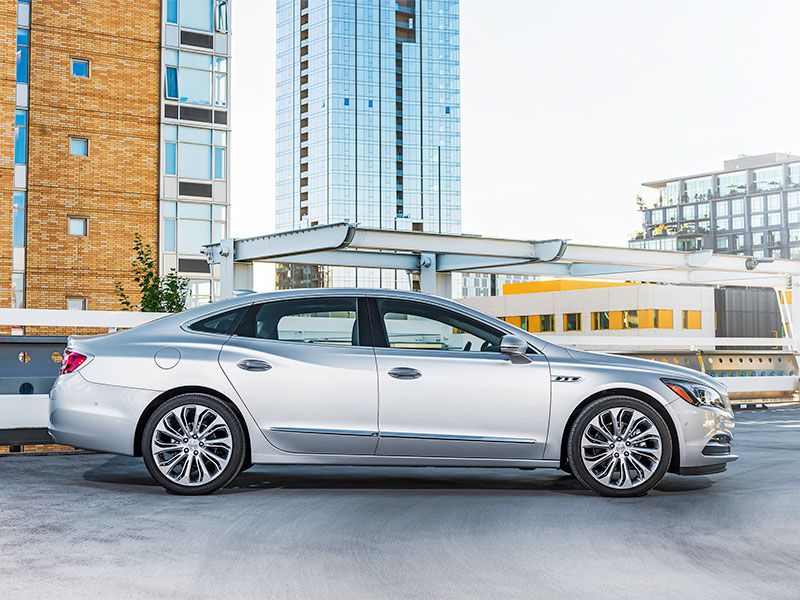 Photo by Buick