2018 BMW 740Le xDrive iPerformance front three quarter ・ Photo by BMW
The 10 top-rated hybrids really have just one thing in common: Like all hybrids, their powertrains feature gasoline engines that gets an added boost of efficiency — and performance — from an electric motor and a high-tech battery pack. But otherwise, hybrids have become so popular that you can find impressive choices from nearly every segment in the industry. Automakers are adding hybrid technology to powerful sports cars, luxurious sedans, practical minivans, popular crossovers and even full-size pickups.
And don't worry, there are also still plenty of high-efficiency hybrid cars available. Several now deliver EPA ratings above 50 mpg. With all that in mind, we're highlighting hybrid vehicles from every one of those categories and more. That means their "top ratings" come in a variety of different categories as well.  
2018 Hyundai Ioniq
The top-rated hybrids for fuel economy used to come from the Toyota Prius family. Today, however, there's a new No. 1 for EPA ratings for cars that don't plug in to the wall: the 2018 Hyundai Ioniq. In its most efficient "Blue" trim, the Ioniq achieves fuel-efficiency grades of 57 mpg in the city, 59 mpg on the highway, and 58 mpg combined. The Prius tops out at 58 city/53 highway /56 combined.
Next, the Ioniq gets strong safety ratings, with a Top Safety Pick recognition from the IIHS. The Ioniq Blue is also nicely equipped. Standard content includes dual-zone automatic climate control, a rearview camera, a 7-inch touchscreen, Android Auto, Apple CarPlay, SiriusXM satellite radio, and HD radio. From a practical standpoint, you'll benefit from 23.5 cubic feet of storage behind the rear seat.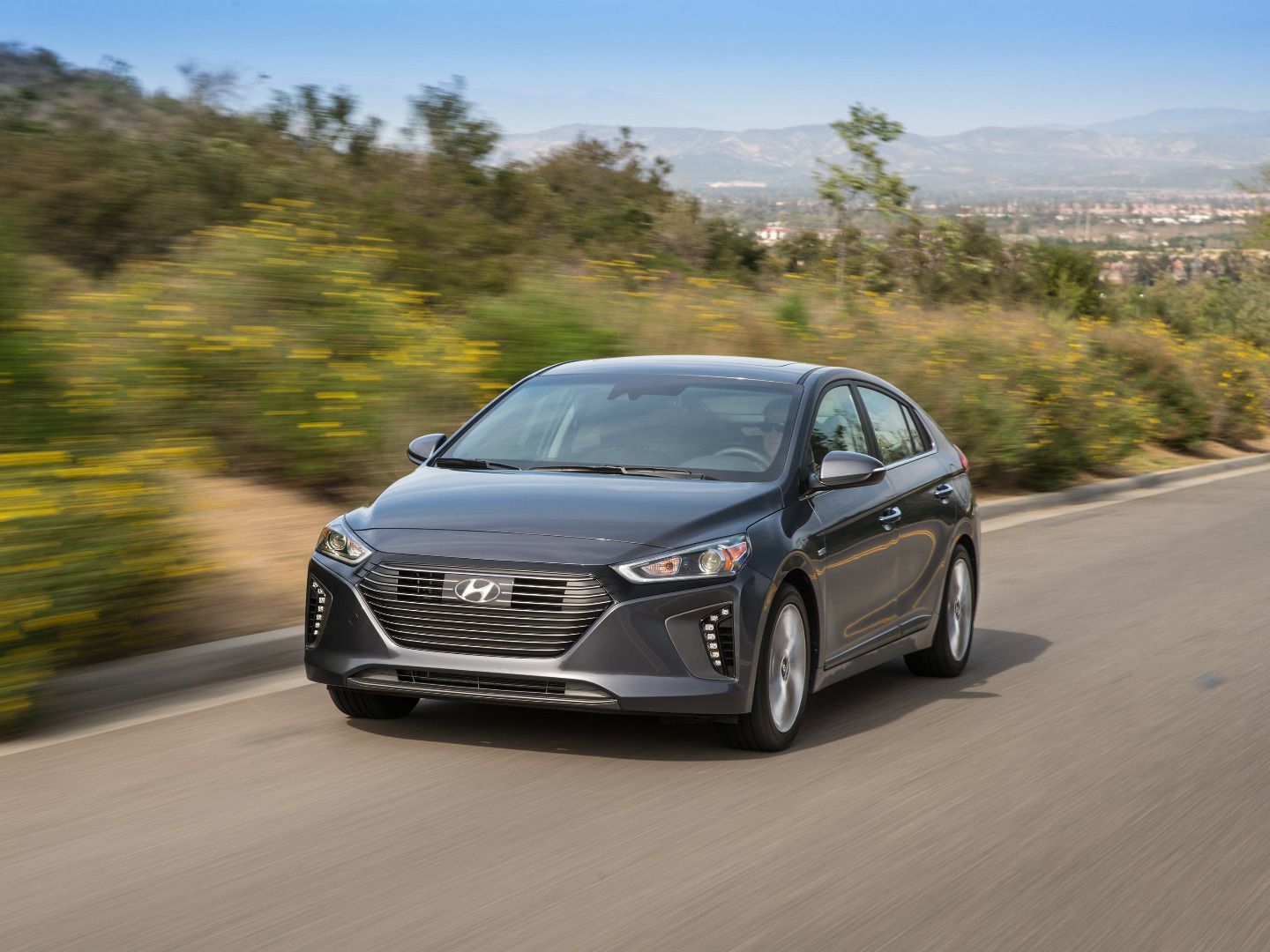 Photo by Hyundai
2018 Kia Niro
The 2018 Kia Niro and Hyundai Ioniq are corporate cousins, which means they do have their share of similarities. For example, both come standard with the same relatively upscale infotainment system. Yet the two also have their differences. If you're looking for the top-rated hybrids for safety, it's the Niro with the advantage.
Kia's compact hybrid crossover has a full Top Safety Pick+ from the IIHS; the Niro's corporate cousin — the Ioniq — didn't snag that extra "+" honor. That's because the Niro received the highest possible "Good" ratings for its headlights, while the Ioniq's were deemed "Acceptable." As for fuel-efficiency ratings, the Niro FE checks in at 52 mpg city/49 mpg highway/50 mpg combined.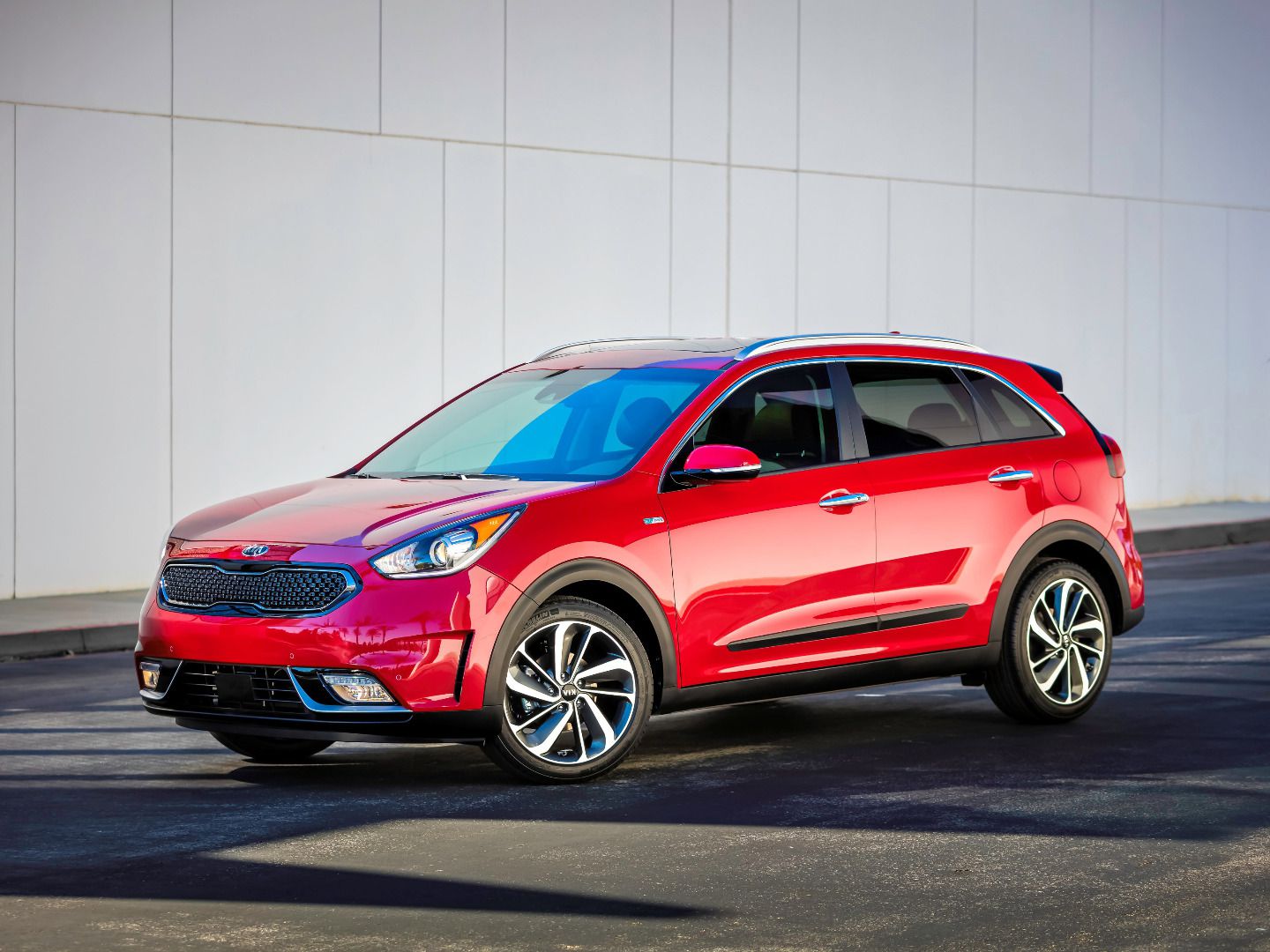 Photo by Kia
2018 Chrysler Pacifica
The top-rated hybrids for families include the 2018 Chrysler Pacifica. If you order the Pacifica's optional plug-in hybrid powertrain, you'll enjoy an all-electric driving range of 33 miles. If you need to go farther, the Pacifica automatically switches over to a conventional hybrid system that's anchored by a V6 engine. You can go another 535 miles with that powerplant at a pace of 32 miles per gallon.
The Pacifica Hybrid also has standard safety technologies like automatic reverse emergency braking, a blind-spot monitoring system, a rear cross-traffic alert, and a rearview camera. Nor are those the only tech highlights for the Pacifica Hybrid. Other family-friendly features offered by Chrysler range from the Uconnect Theater rear-seat entertainment system to an integrated vacuum for quick cleanups.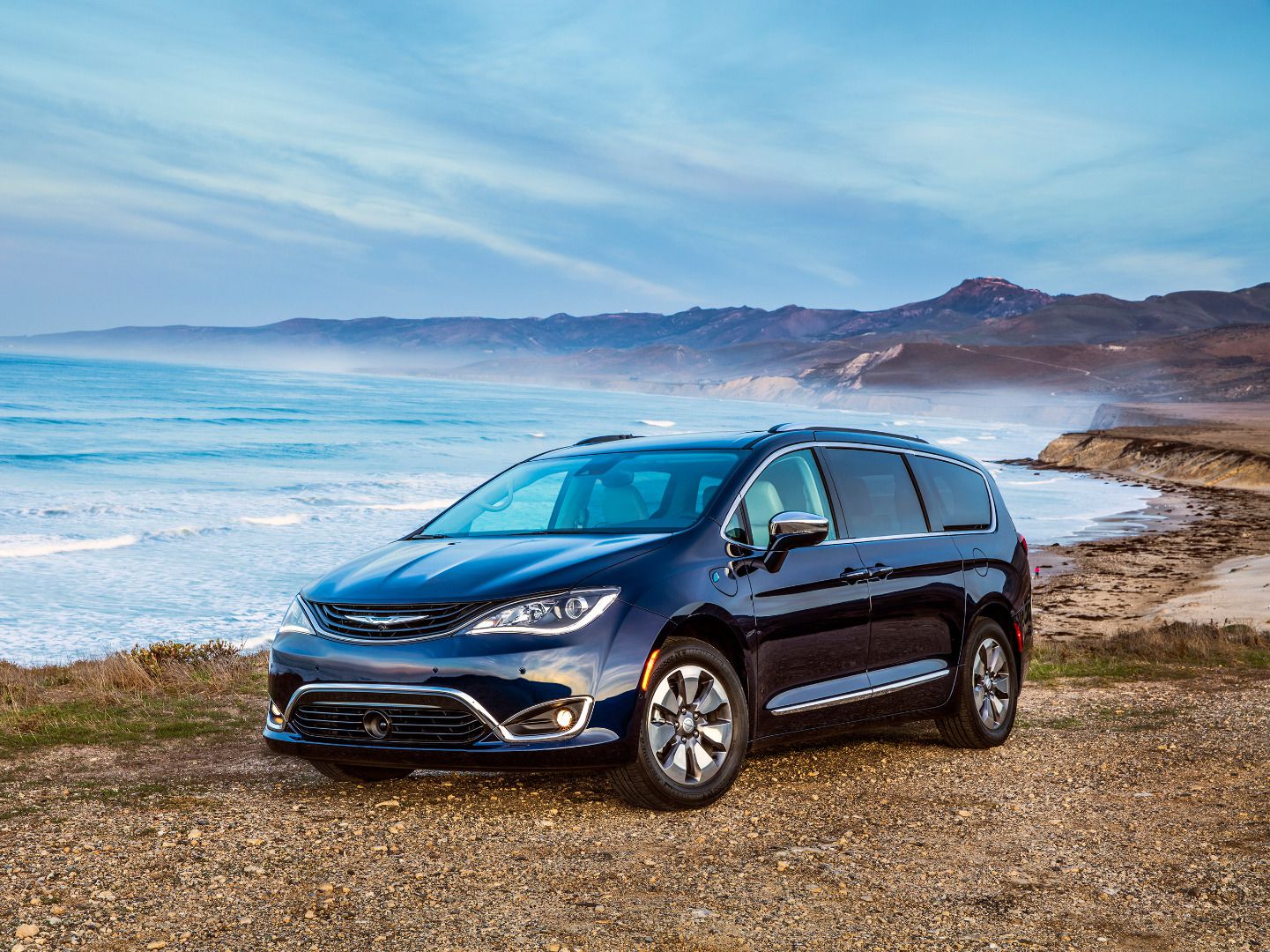 Photo by Fiat Chrysler Automobiles
2018 Acura NSX
The 2018 Acura NSX is among the top-rated hybrids for performance. Of course, just to be clear, the NSX can also outrun most non-hybrids. To live up to that boast, Acura's high-tech supercar provides a sophisticated powertrain that can unleash 573 horsepower and 476 pound-feet of torque.
The setup combines a mid-mounted twin-turbo V6 and three electric motors. The V6 and one motor drive the rear wheels, and the other two are for the front wheels — and to allow for electrically enabled all-wheel drive. To manage that power, a nine-speed dual-clutch automatic transmission is standard and complemented by high-performance brakes. These stoppers are further upgraded by standard Brembo calipers. Also standard are EPA rating of 21 mpg city/22 mpg highway/21 mpg combined.
Photo by Acura
2018 BMW 7 Series
For a flagship-style luxury experience from a hybrid, we suggest the 2018 BMW 740e xDrive iPerformance. It offers all the premium details you expect from the range-topping BMW sedan, including genuine-wood cabin trim, luxurious leather seating surfaces, climate-controlled massage-function front and rear seats, and a comprehensive list of infotainment and safety technologies.
The 740e also serves up the expected levels of BMW performance. Leveraging its hybrid powertrain, the car can dash from 0-60 in 5.1 seconds. The surprising part is that the same powertrain lets you drive 14 miles using electricity alone if you plug it in, then travel an extra 325 miles using both gasoline and hybrid assistance. In that mode, the 740e earns an EPA rating of 27 mpg combined.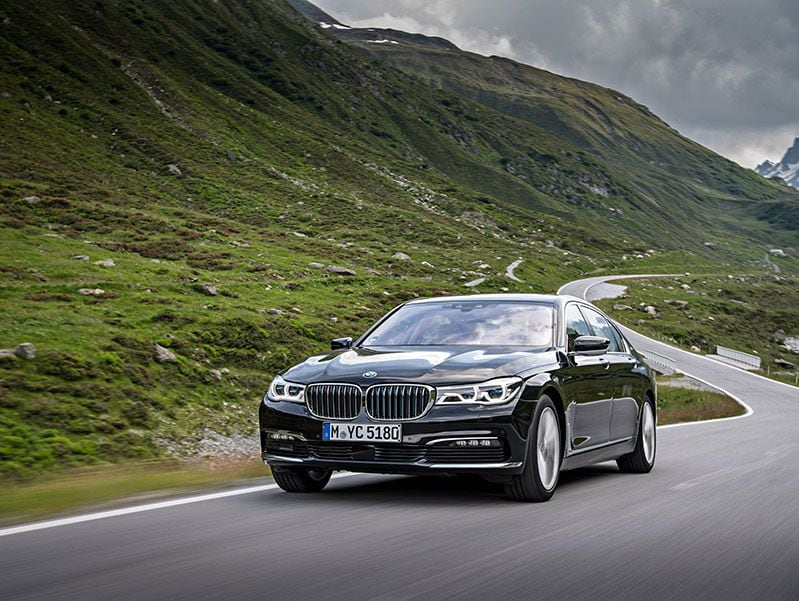 Photo by BMW
2018 Chevrolet Silverado
The 2019 RAM 1500 will no doubt be one of the top-rated hybrids for pickup lovers. But the high-efficiency Ram isn't yet on sale as of this writing, while the 2018 Chevrolet Silverado Hybrid is. As a result, the Chevy earns a place on today's list, and the Ram doesn't.
It also helps that the Silverado Hybrid pairs a robust 5.3-liter V8 with GM's eAssist light-hybrid technology. Working together, that setup supplies a maximum tow rating of 9,400 pounds, a maximum payload of 1,880 pounds, and EPA ratings of 18 mpg city/24 mpg highway/20 mpg combined. These fuel-efficiency numbers represent gains of 12.5 and 4.2 percent compared to the Silverado's non-hybrid 5.3-liter V8.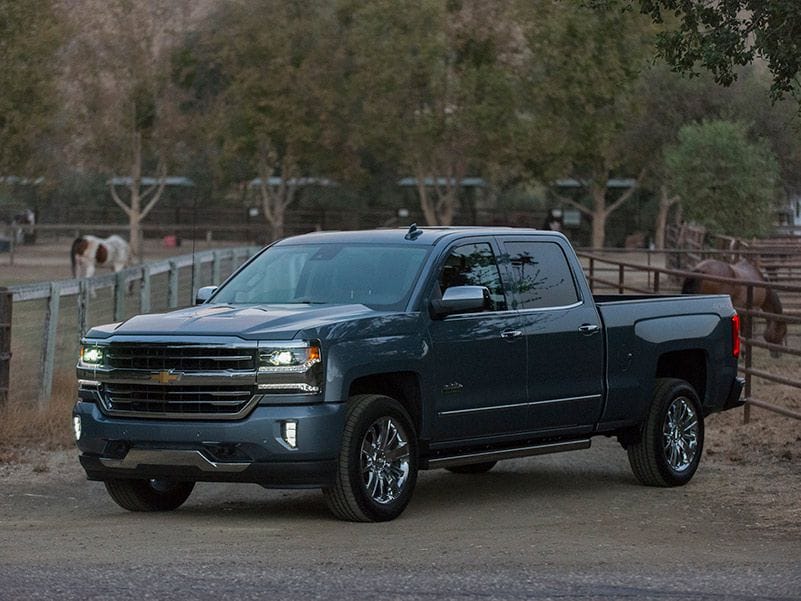 Photo by General Motors
2018 Toyota Prius
Even though it's no longer the most fuel-efficient choice in its segment, the 2018 Toyota Prius remains one of the top-rated hybrids in the marketplace according to at least one team of third-party experts: Accord to Consumer Reports, the Prius has the highest possible ratings for both predicted reliability and predicted owner satisfaction.
It also wears a strikingly modern exterior design, with dramatically shaped headlights, and it serves up many advanced technologies in the cabin. These extend from a standard "Safety Sense" bundle and an optional 11.6-inch infotainment display. Finally, the car's EPA ratings do remain quite high: The Prius Eco can post fuel-economy grades of 58 mpg city/53 mpg highway/56 mpg combined. The Prius is an IIHS Top Safety Pick, too.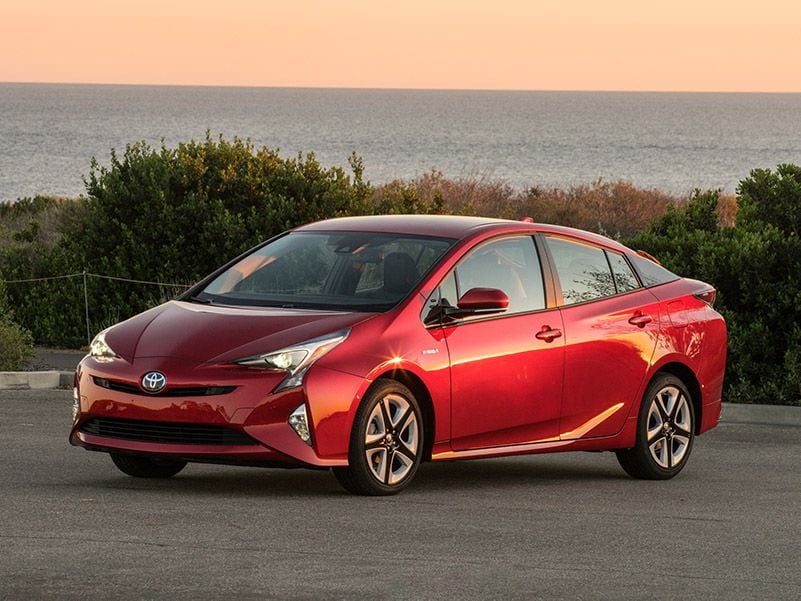 Photo by Toyota
2018 Mercedes-Benz GLE
With its combination of SUV-style capability and European-style luxury, the 2018 Mercedes-Benz GLE 550e 4MATIC stands out among the other top-rated hybrids. For starters, the "4MATIC" in the vehicle's name indicates a standard all-wheel-drive system. The GLE 550e is also designed with a versatile interior that can fit more than 80 cubic feet of gear with the back seat folded. In the front seats, you can relax with heat, ventilation, and a refreshing massage.
Meanwhile, beneath the attractive sheet metal for this mid-size SUV, you've got a dynamic plug-in hybrid powertrain. This setup provides 436 horsepower, 0-60 times of 5.2 seconds, a 10-mile all-electric driving range, and an overall range of 460 miles. The extra distance comes with an EPA rating of 21 mpg combined.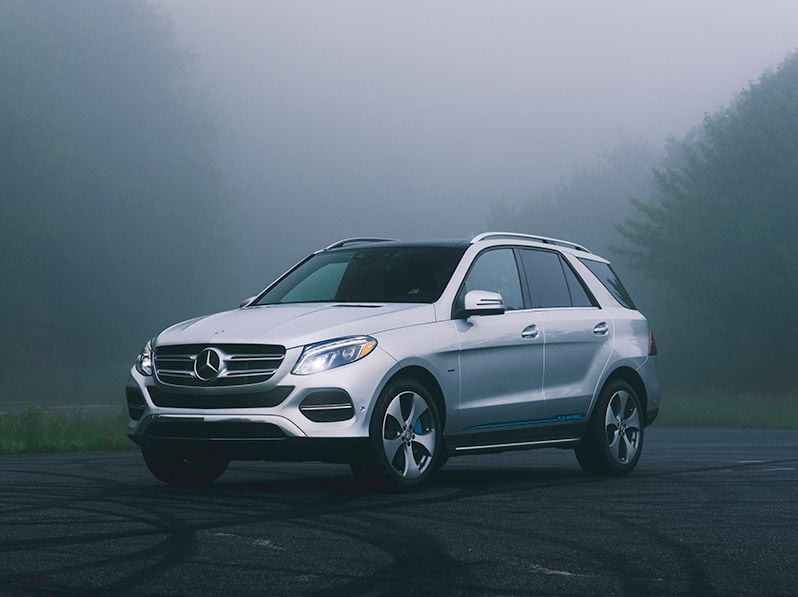 Photo by Mercedes-Benz
2018 Porsche Panamera
Another top-rated hybrid for performance is the 2018 Porsche Panamera — in two different body styles. The Turbo S E-Hybrid sedan and the Turbo S E-Hybrid Sport Turismo wagon are each configured with the same high-powered plug-in hybrid powertrain. This system relies on a twin-turbo V8, an athletic electric motor, and a lithium-ion battery pack for 680 horsepower, a 3.2-second 0-60 time, and a top speed of more than 190 mph.
The system's greener benefits extend to a 16-mile driving range on electricity alone, along with a 22 mpg rating in combined travel with gasoline. When operating in gas-hybrid mode, Panameras can push their overall range to 480 miles. The wagon difference? Almost 46 cubic feet of storage behind the front seats.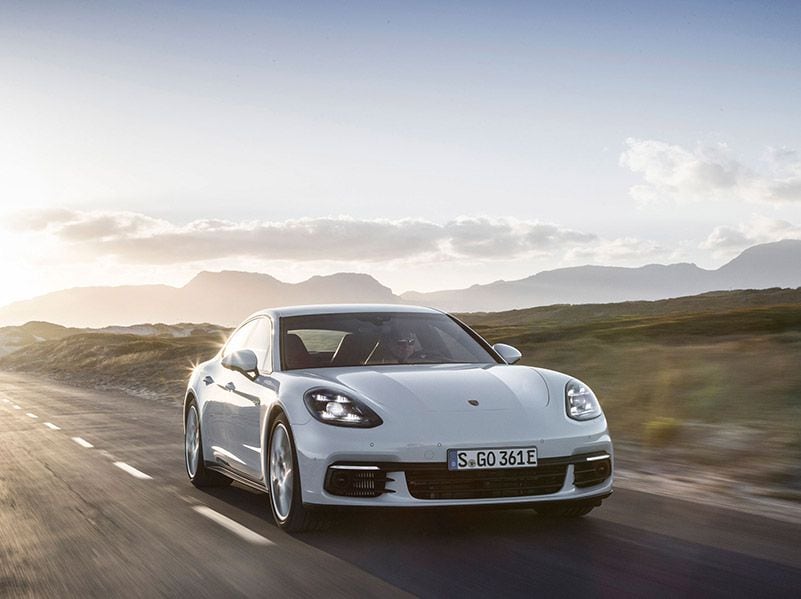 Photo by Porsche
2018 Nissan Rogue
The 2018 Nissan Rogue sits at the intersection of two popular vehicle categories: top-rated hybrids and compact crossovers. In fact, the Rogue is slightly more fuel efficient than its archrival, the 2018 Toyota RAV4 Hybrid. True, the numbers are close, as the Rogue has ratings of 31 mpg city/34 mpg highway and the RAV4 is listed at 34/30. But the Rogue ekes out a 1-mpg advantage in combined driving. It's also worth noting that the Rogue matches its competitor with a Top Safety Pick rating from the IIHS.
To seal the deal, Nissan packs the Rogue Hybrid with technologies. They include standard Android Auto and Apple CarPlay and options like adaptive cruise control, a lane-departure warning, forward emergency braking, pedestrian detection, and a hands-free rear liftgate.
Photo by Nissan