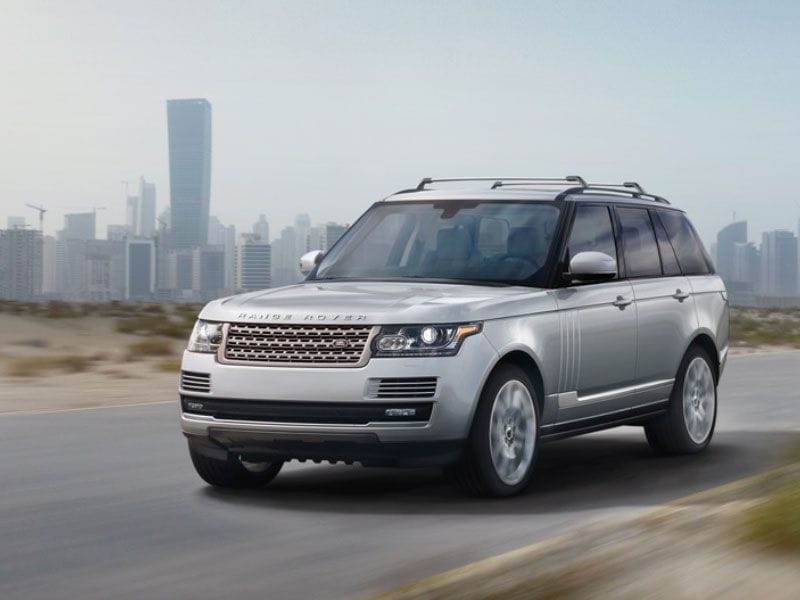 2016 Land Rover Range Rover on road ・ Photo by Land Rover
Sport utility vehicles used to be very agricultural machines with underpowered engines, noisy drivetrains, and utilitarian interiors, but these days, it's possible to get an off-road capable SUV with just as many features as the best luxury sedans. To help you narrow down the field, our expert editors have come up with a list of the 10 top luxury off-road SUVs.
Right up front, we'll tell you that a few of the vehicles come from mass-market brands, but we firmly believe that they compete feature-to-feature with luxury SUVs and should stay on your consideration list when off-road capability and luxury features are high on your list. 
10) 2017 Maserati Levante
If you prefer your SUV to have a bit of Italian flair and you do most of your driving on the road, then the Maserati Levante is what you've been looking for. It can do everything an SUV needs to both on and off the road thanks to its Maserati Q4 intelligent all-wheel drive system and advanced active-air suspension.
Inside, you'll find fine Italian leather and wood or carbon fiber trim. The optional Luxury Zegna Package adds Zegna Mulberry Silk inserts on the seats, door panels, roof lining, sunshades, and ceiling light fixture. As a bonus, when you buy a Levante you can tell your friends that your SUV's engine was assembled by the fine folks at Ferrari in Maranello.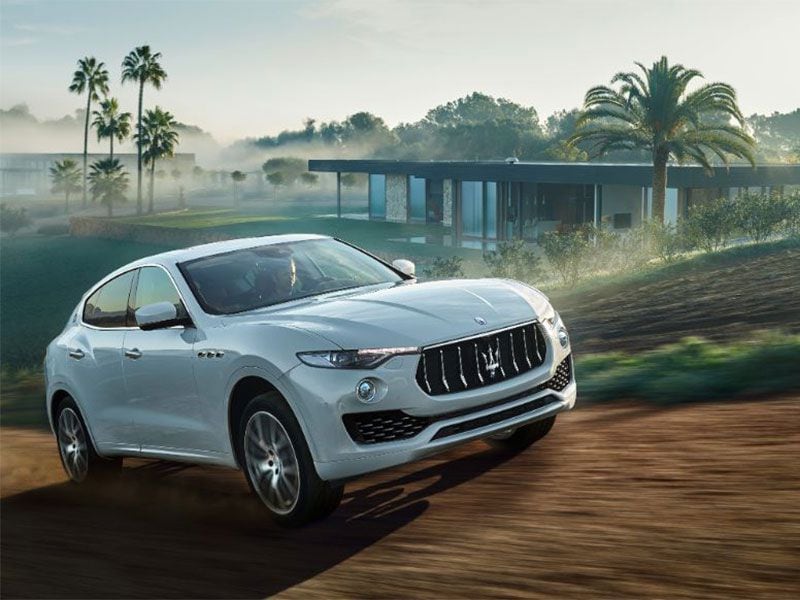 Photo by Fiat Chrysler Automobiles
9) 2017 Porsche Cayenne
The Porsche Cayenne may be one of the least off-road-capable vehicles on our list, but it's not scared of a little mud despite its on-road prowess. For regular off-road excursions, you can even order the optional stainless steel front and rear skid plates.
When equipped with the Premium Package Plus you get automatic dimming interior and exterior mirrors, a moonroof, heated and ventilated 14-way power front seats with memory, heated rear seats and electric sun blinds for the rear windows. Other luxury options include a four-zone climate control system, a panoramic roof system, heat and noise-insulating glass, a heated windscreen, soft close doors and real wood trim. An updated version should arrive in 2018.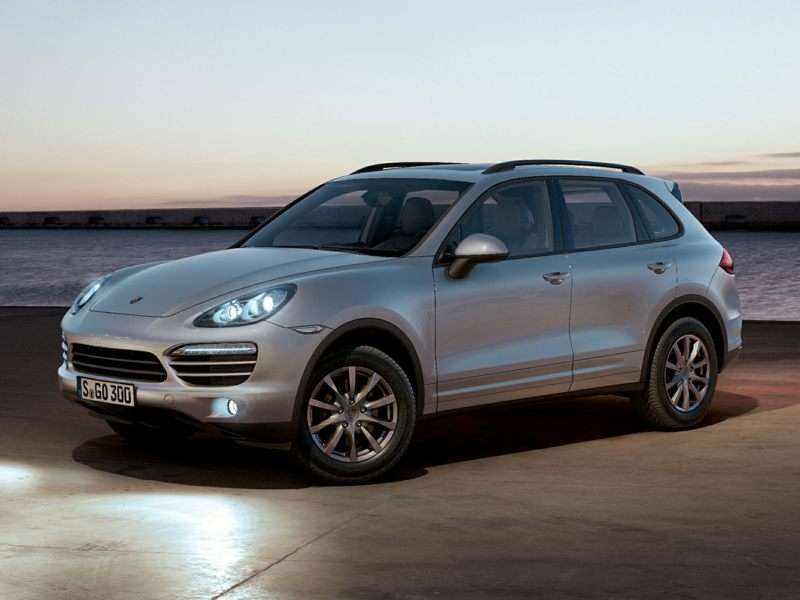 Photo by Porsche
8) 2017 Bentley Bentayga
If your take on luxury off-road SUVs leans more towards luxury than boulder-crawling capability, then the Bentley Bentayga might be the ultimate vehicle for you. The Bentayga has the best ride of any SUV, and the interior is as luxurious and comfortable as anything we've seen.
Unique options include the Event Specification, which includes a tailgate mounted rear-facing seat (which uses the tailgate as protection from the sun and rain), the Activity Specification with double sun visors, electrically operated blinds for the rear side windows, a hands-free tailgate and a power-retracting tow bar. Opt for the All Terrain Specification and you get Drive Dynamics Mode with responsive off-road settings, underfloor protection and a top view camera that helps position the vehicle in tight off-road situations.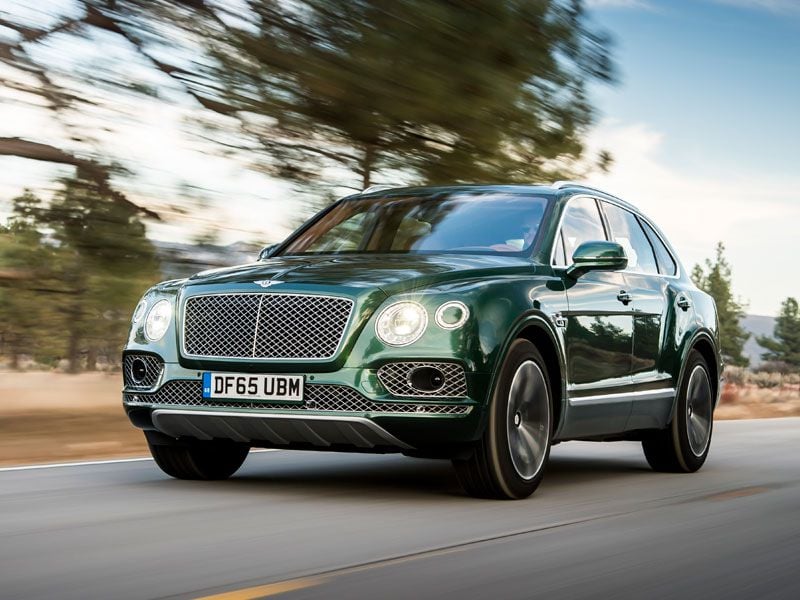 Photo by Bentley
7) 2017 Nissan Armada
When you first step into the Armada you might find it hard to believe that you're in a Nissan. Cabin materials are high-quality and top-of-the-line models get such luxuries as a leather interior, a power moonroof with front tilt and rear slide, heated and cooled front seats, heated second-row seats, an auto-dimming rearview mirror, a windshield wiper de-icer, Intelligent Cruise Control and a 13-speaker Bose audio system.
Four-wheel drive models are quite capable off road thanks to All-Mode 4WD with a two-speed transfer case, an Around View Monitor and a front skid plate. That combination of unexpected luxury and off-road capability make the Armada an appealing option.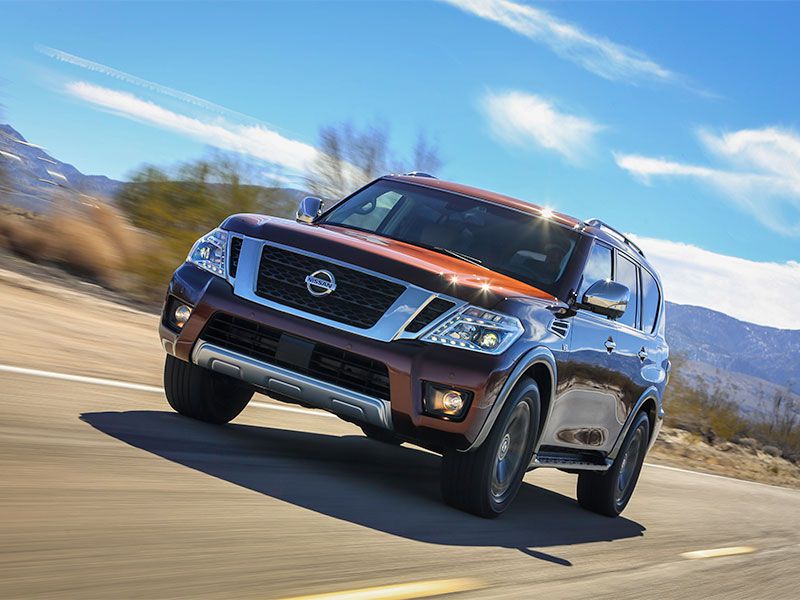 Photo by Nissan
6) 2018 Lexus GX 460
The Lexus GX is closely related to the Toyota 4Runner — which we also considered as one of the 10 best luxury off-road SUVs — so you know it's going to be tough and reliable. Thanks to the soft suspension, the ride is very comfortable but not at all sporty, and there's considerable body lean. While that doesn't sound overly inspiring, it is a great combination for maximizing off-road traction.
Unfortunately, the fancy Lexus bumpers and running boards conspire to reduce ground clearance as well as approach, departure and breakover angles. Top-of-the-line Luxury versions include many luxury accouterments like heated and ventilated front seats and heated second-row seats, a leather interior and real wood trim.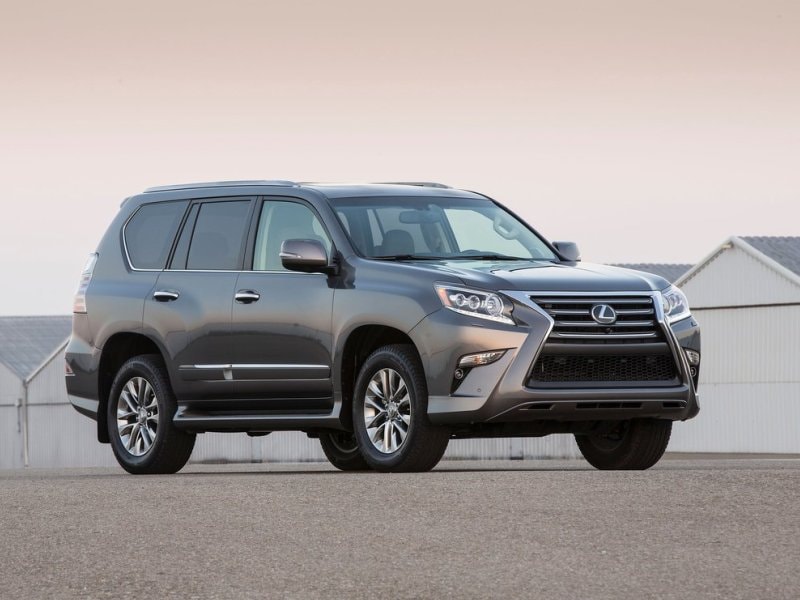 Photo by Lexus
5) 2017 Land Rover Range Rover
The Land Rover Range Rover has long been known as the luxury off-road SUV, but things didn't start out that way. When it was first introduced the Range Rover was a relatively utilitarian vehicle, designed to have good off-road capability, a comfortable ride, pleasant on-road manners and lots of interior space.
Today's version has all that, but now it's also available with all the luxury trappings (including heated and cooled leather seating, real wood trim and rear entertainment) as well as loads of technology that makes driving safer and easier whether you're on or off road (like the Terrain Response system, Hill Descent Control, Lane Keep Assist and Full Park Assist).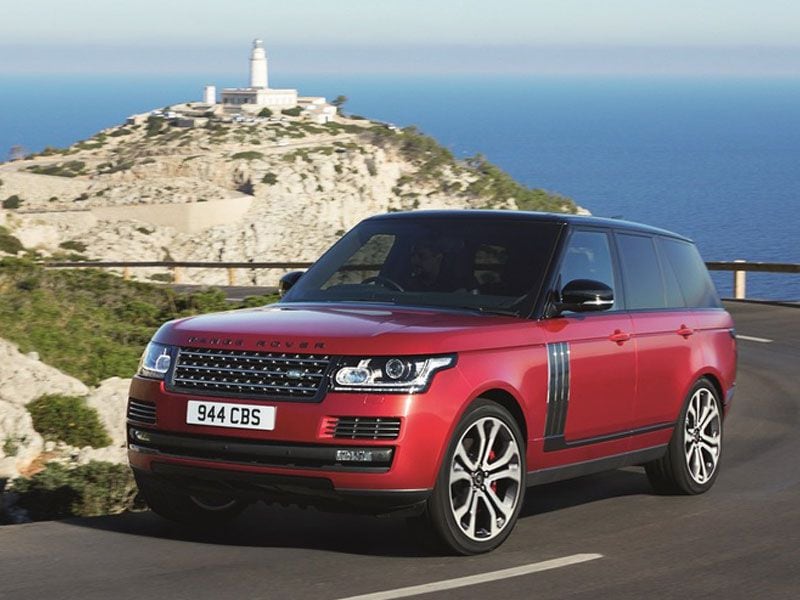 Photo by Land Rover
4) 2018 Toyota Land Cruiser
Toyota's trucks have always had a reputation for being tough, reliable and capable off road, and the Land Cruiser is no exception. The Land Cruiser comes fully equipped with leather seating (heated and ventilated in the front row and heated in the second), four-zone automatic climate control, a 14-speaker JBL Synthesis audio system and a moonroof. There's only one trim level, and the only real option is a rear entertainment system.
When it comes to off-roading there's the Kinetic Dynamic Suspension System that can disconnect the sway bar and adjust the suspension for better wheel articulation, Multi-terrain Select and Crawl Control with Off-road Turn Assist, which make it an impressive off-road luxury suv.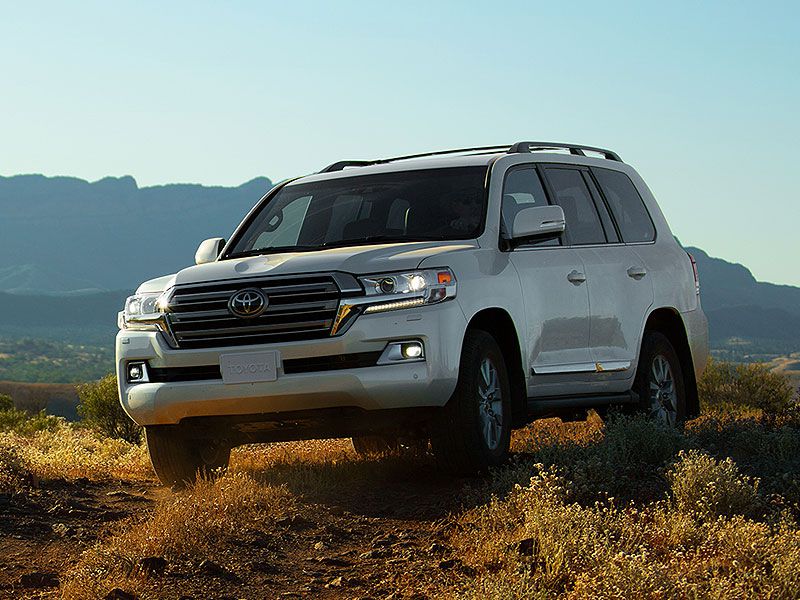 Photo by Toyota
3) 2017 Mercedes-Benz G-Class
The Mercedes-Benz G-Class has been around for nearly 40 years now, and was originally designed as an army vehicle that's been used by militaries around the world. As such, it is extremely capable off road, with features such as an adjustable suspension, a two-speed transfer case and three lockable differentials.
Civilian models are also quite luxurious thanks to real wood trim, heated and ventilated front seats, heated rear seats, a Harman Kardon 12-speaker sound system and an optional rear entertainment system. But it's especially appealing if you do a lot of your driving off road.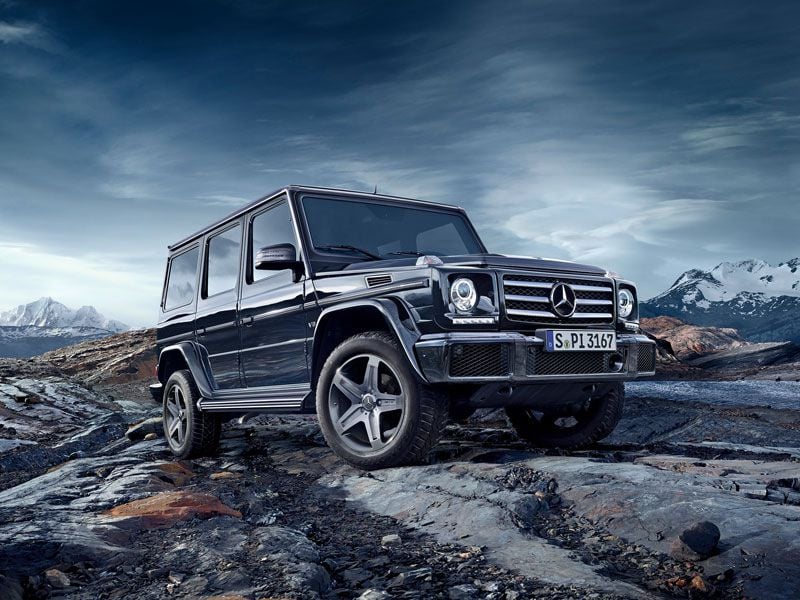 Photo by Mercedes-Benz
2) 2017 Jeep Grand Cherokee Overland
The Jeep Grand Cherokee is available in a number of configurations, ranging from a relatively affordable family hauler to a drag strip machine with 707 horsepower. It's the Overland model that we're interested in, however, with its blend of off-road capability and luxury features. When equipped with the Quadra-Drive II 4WD System and the Off-Road Adventure II package, the Overland comes with skid plates for the front suspension, transfer case, fuel tank and underbody, as well as Selec-Speed Control with Hill Ascent and Hill Descent Control.
We'd add the optional 19 Harman Kardon speakers with subwoofer option and the rear entertainment system, but if you'd rather trade some off-road capability for a bit more luxury, consider the Summit trim level.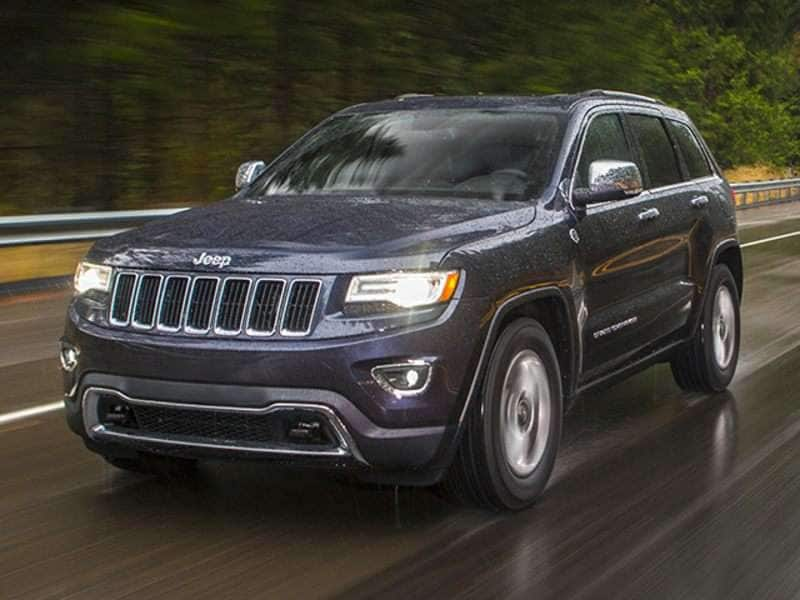 Photo by Jeep
1) 2017 Land Rover Discovery
The Land Rover Discovery is one of the most off-road capable vehicles on our list thanks to a real two-speed transfer case with low range as well as an electronic air suspension, Terrain Response 2 and All-Terrain Progress Control (essentially low-speed cruise control for off-road situations). It's also very capable on the pavement thanks to the aforementioned suspension, a head-up display, park assist, lane keep assist and adaptive cruise control. 
When fully loaded, the Discovery comes with a panoramic roof, a 16-speaker Meridian sound system, rear entertainment, a heated windshield, a four-zone climate control system, and heated and cooled front and second-row outer seats. An interesting feature for outdoorsy types is the optional Activity Key, a waterproof wristband that can take the place of the traditional key fob.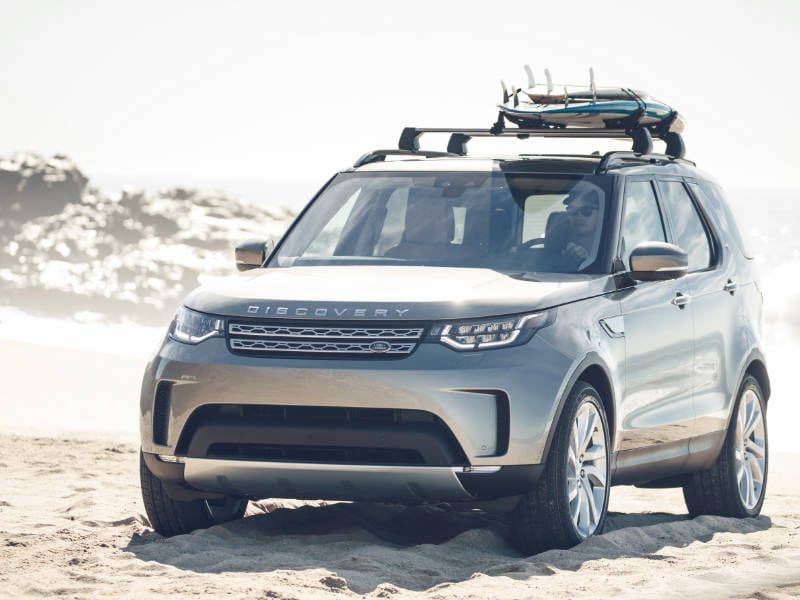 Photo by Land Rover