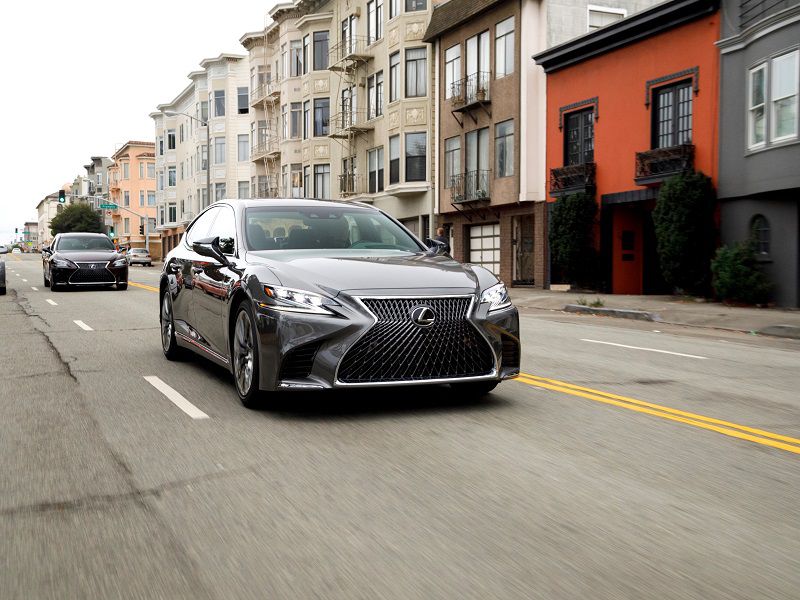 2019 Lexus LS500 Gray Driving Front Three Quarter ・ Photo by Lexus
A warning: This selection of 10 top cars with collision avoidance systems is going to mention strange things like Safety Shield 360, City Safety, and a few other terms. Don't worry. They all essentially mean advanced safety features, but every manufacturer has its own pet way of saying it.
Not only are these cars fitted with collision avoidance technology, but they're really good at other things too. Like offering space, practicality, low emissions, and/or prestige. Our choices include several luxury cars because that end of the market is typically where the innovations happen. Naturally, there are plenty of other vehicles with the same kinds of safety features. We just happen to like these. Let's dive in.
2020 Audi A8
The 2020 Audi A8 full-size luxury sedan is a tech powerhouse with many desirable features. For instance, it offers a predictive suspension that will raise the side of the car when a collision is imminent, enabling the strong lower frame section to bear the brunt of an impact.
But that's not avoiding a collision. To help in that regard, the A8 has a laser scanner, which is a first for the industry. It acts in connection with a front camera and radar to discern what vehicles are around the A8 and how they're behaving. It also "reads" the surroundings for structures, guard rails, etc. And it can even work out whether there's enough room in a garage before entering. The 2020 A8 starts at $86,175.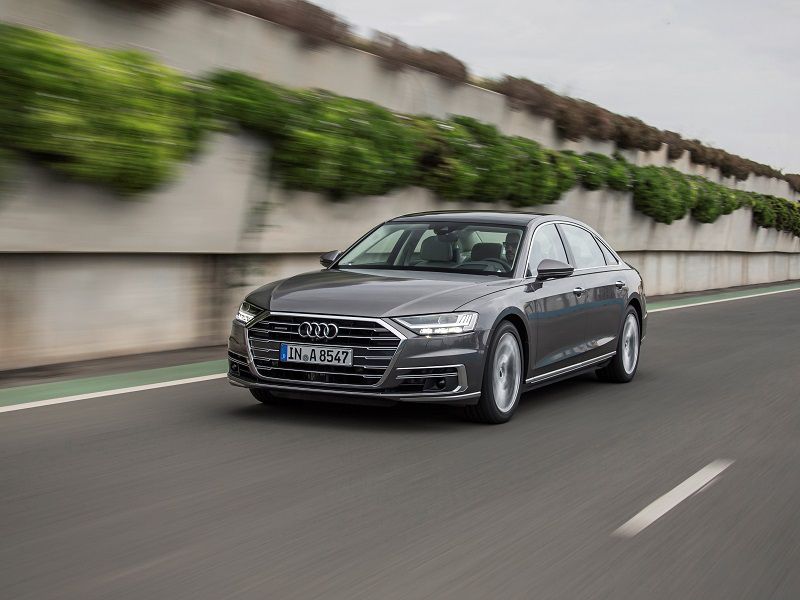 Photo by Audi
2020 Genesis G80
Among the many attractive things about the 2020 Genesis G80 mid-size luxury sedan is that it comes with a lot of equipment as standard, including several safety features.
There's automatic emergency braking with pedestrian detection, blind-spot monitoring with a rear cross-traffic alert and lane-changing assistance, a lane-departure warning, lane-keeping assistance, adaptive cruise control with stop/go functionality, and a driver fatigue monitor — let's not overlook the human dimension to avoiding a collision. That's all in the entry-level 3.8 version starting at $42,550. Go for either of the two higher trims and front/rear parking sensors become standard (they're optional in the 3.8). No wonder the Insurance Institute for Highway Safety (IIHS) makes the G80 a Top Safety Pick Plus.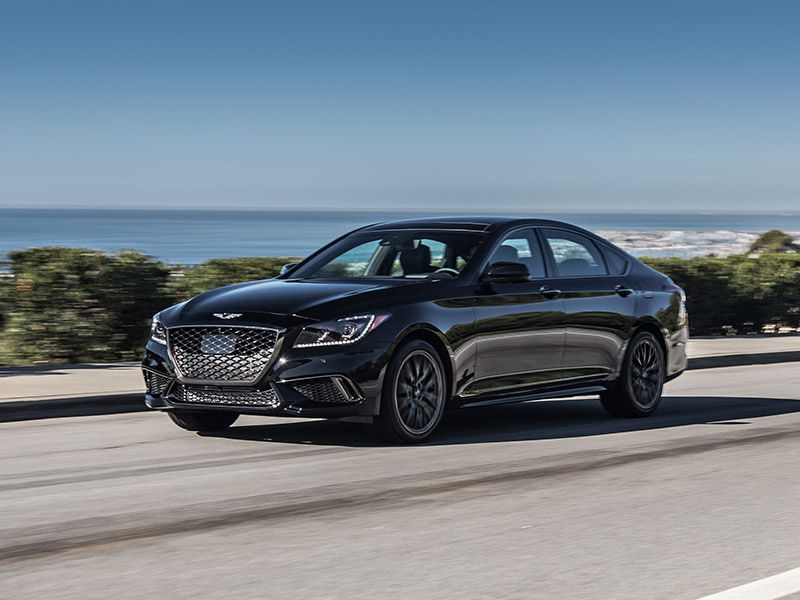 Photo by Genesis
2020 Honda Accord
The 2020 Honda Accord is not just one of the 10 top cars with collision avoidance systems, but one of the all-round best mainstream mid-size sedans. Honda Sensing is the company's umbrella term for the standard-issue collision avoidance technology in the Accord. It includes automatic emergency braking, a lane-departure warning, and adaptive cruise control. Once we reach the EX trim (from $28,700), blind-spot monitoring with a cross-traffic alert joins the inventory of safety features.
The IIHS makes the Accord a Top Safety Pick, stating that its front crash prevention system in a vehicle-to-vehicle situation is "Superior." It's great to have this level of safety in an everyday car, especially one that has many other important aspects well covered — such as comfort, handling, space, convenience features, and resale value.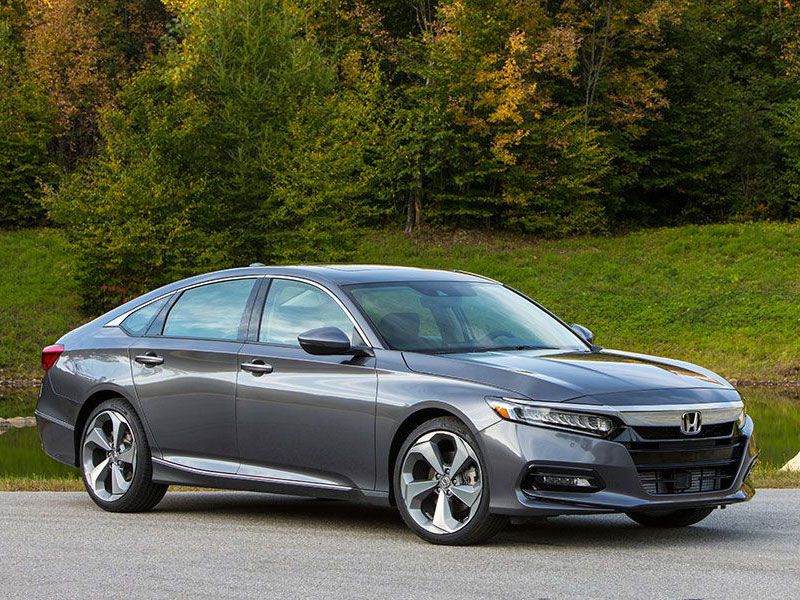 Photo by Honda
2020 Lexus LS
The 2020 Lexus LS is the largest and most luxurious Lexus, available with a regular gasoline engine in the LS 500 (from $76,225) or a gas-electric hybrid in the LS 500h. Even the standard safety equipment means excellent protection, making the LS an obvious entrant for our 10 top cars with collision avoidance systems.
Features include daytime cyclist detection, pedestrian detection in low-light conditions, adaptive cruise control, and active lane tracing (almost self-driving), plus blind-spot monitoring not only with a rear cross-traffic alert but also rear automatic braking. This is all part of Lexus Safety Sense Plus 2.0. Add the Lexus Safety System Plus A option package, however, to enjoy active steering assistance, a front cross-traffic alert (invaluable when turning left at an intersection and vision is limited), and a head-up display.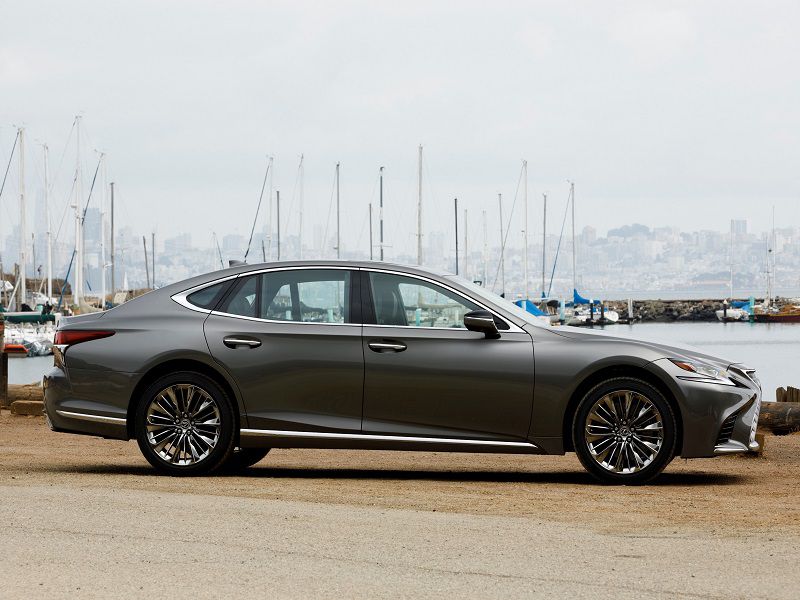 Photo by Lexus
2020 Mercedes-Benz E-Class
The 2020 Mercedes-Benz E-Class luxury mid-size car (with sedan, coupe, convertible, and wagon versions) is available with an amazing amount of safety features. The Driver Assistance Package (costing $2,250) has things like Active Emergency Stop Assist. If, while using the adaptive cruise control, the car senses its driver is no longer in control (for instance, because of a medical emergency), then it will bring itself to a standstill in its lane and unlock the doors, allowing access for first-aid responders.
Evasive steering assistance is also part of the package, along with active steering that even works with vague or non-existent road lines and through curves. It also includes route-based speed adaptation, using map data to anticipate what's coming up (bends, toll booths, etc.) then adjust speed accordingly.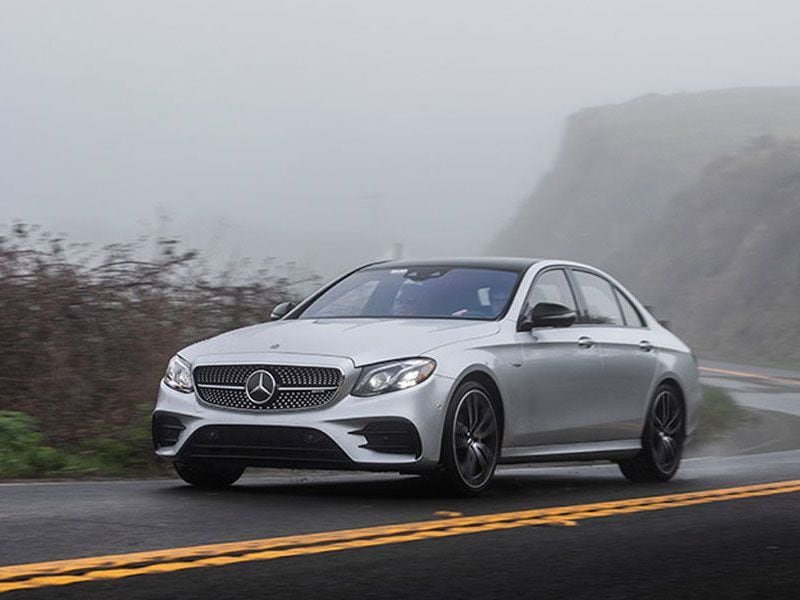 Photo by Mercedes-Benz
2020 Nissan Altima
Nissan puts its advanced safety features and driver aids into two packages. The first, Safety Shield 360, consists of forward collision mitigation with automatic emergency braking, rear automatic braking, blind-spot monitoring with rear cross-traffic alert, a lane-departure warning, and automatic high beams. The second is ProPilot Assist, bringing adaptive cruise control with stop/go and lane centering. It's not self-driving, but definitely a helping hand (and foot), and currently rare in mainstream vehicles.
The 2020 Nissan Altima mid-size sedan makes both packages available, as do other new Nissan vehicles. Safety Shield 360 is standard throughout the range, which begins at $24,995. ProPilot Assist comes on board at the Altima's SV trim level, from $28,775. This generation of Altima was new last year.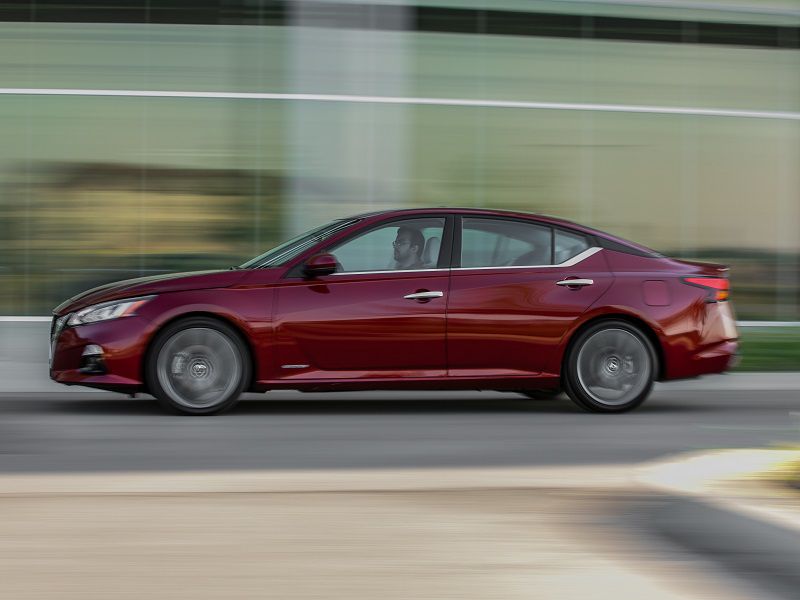 Photo by Nissan
2020 Subaru Outback
Kind of a crossover/SUV, kind of a high-riding wagon with all-wheel drive as standard, the Subaru Outback enters a new generation for 2020. It comes with Subaru's EyeSight driver aids as standard. That means adaptive cruise control with lane centering, driver-focus monitoring, lane-keeping assistance, and forward collision mitigation with automatic emergency braking.
In case it's not clear, adaptive cruise control lets the car move at a pre-set speed, but slows down if another vehicle up front becomes too close, then resumes its original pace when it's clear again. The system can often work right down to a standstill. The new Outback (priced from $27,655) also offers blind-spot monitoring with a rear cross-traffic alert and rear automatic braking, and a head-up display.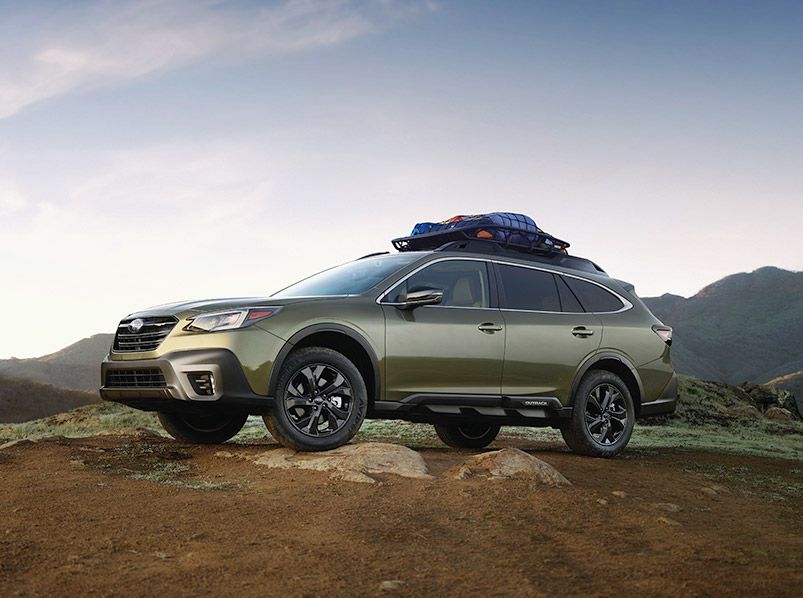 Photo by Subaru
2020 Tesla Model 3
Tesla cars are not only noteworthy for being fully electric and having usable ranges. They also have Autopilot. Despite what the name implies, Autopilot is adaptive cruise control and steering assistance on freeways with clearly marked lines.
Other than that, every Tesla has the usual automatic emergency braking, blind-spot monitoring, and lane-keeping assistance. They also have Emergency Lane Departure Avoidance, which brings the car back into its lane when moving out of it could cause a collision. If buyers wanted something more autonomous, they'd have to choose the Full Self-Driving Capability package. We're mentioning the compact Tesla Model 3 here because it's currently (pardon the pun) the best-selling luxury car. It starts at $35,000 and its maximum range is 325 miles.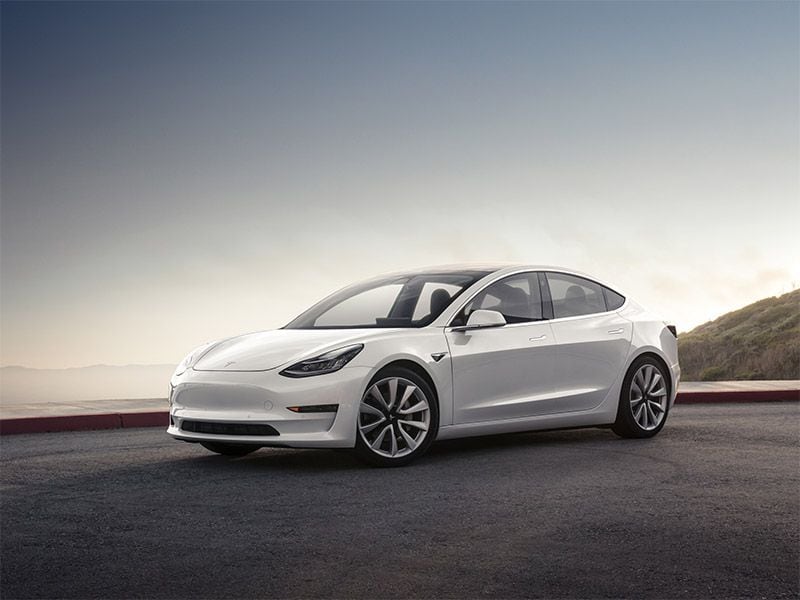 Photo by Tesla
2020 Toyota Camry XLE Hybrid
Sure, any 2020 Toyota Camry mid-size sedan could have worked as one of our 10 top cars with collision avoidance systems, but the XLE Hybrid has an extra trick, which we'll get into shortly. The Camry range in general (starting at $25,380) has Toyota Safety Sense P as standard. This includes forward collision mitigation, automatic emergency braking, pedestrian detection, a lane-departure alert, and radar-based adaptive cruise control. Blind-spot monitoring and rear braking are optional.
What the XLE Hybrid offers (but not the regular gas-only XLE) are adaptive LED headlights that move with the steering and illuminate around corners. Anything that gives drivers even an extra fraction of a second to react might help avoid a collision. The 2020 Camry XLE Hybrid starts at $33,685.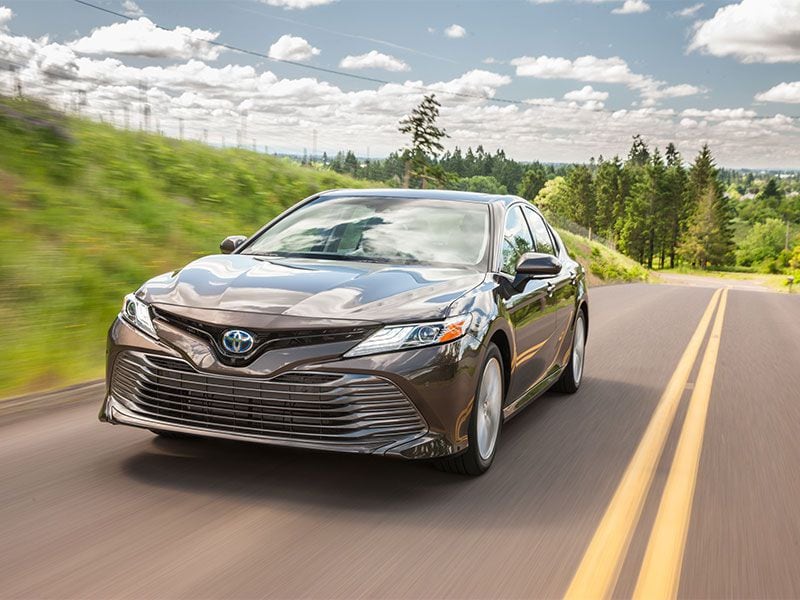 Photo by Toyota
2020 Volvo S90
A few years ago, Volvo issued a mission statement that no one should be killed or seriously injured in a brand-new Volvo by the year 2020. The time has come. All Volvo vehicles now have an array of active safety measures.
One of them is City Safety. This includes forward collision mitigation with automatic emergency braking and pedestrian/cyclist detection, plus automatic braking at intersections if turning against the flow of traffic when it wouldn't be safe to do so. Pilot Assist is also standard in Volvo's S90 large sedan (which starts at $51,545). It's basically adaptive cruise control with steering assistance that works in the stop/go grind of city traffic as well as freeway driving.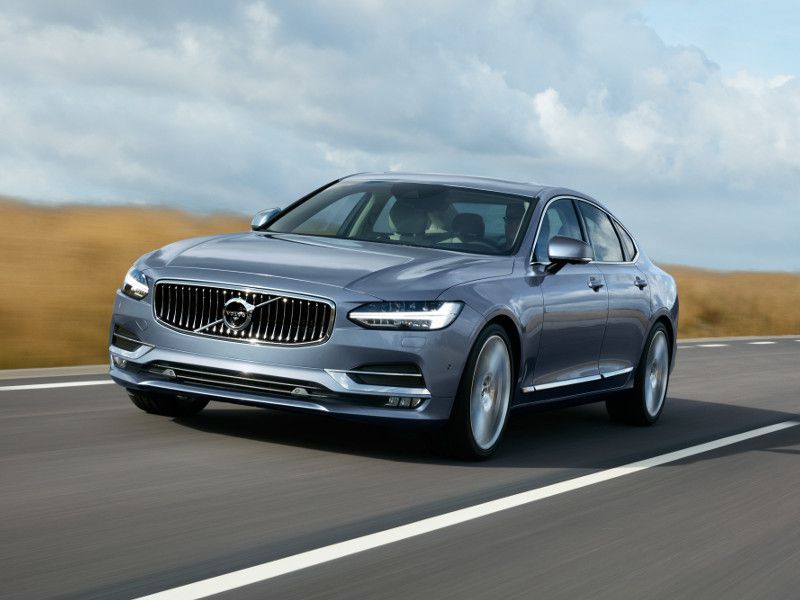 Photo by Volvo