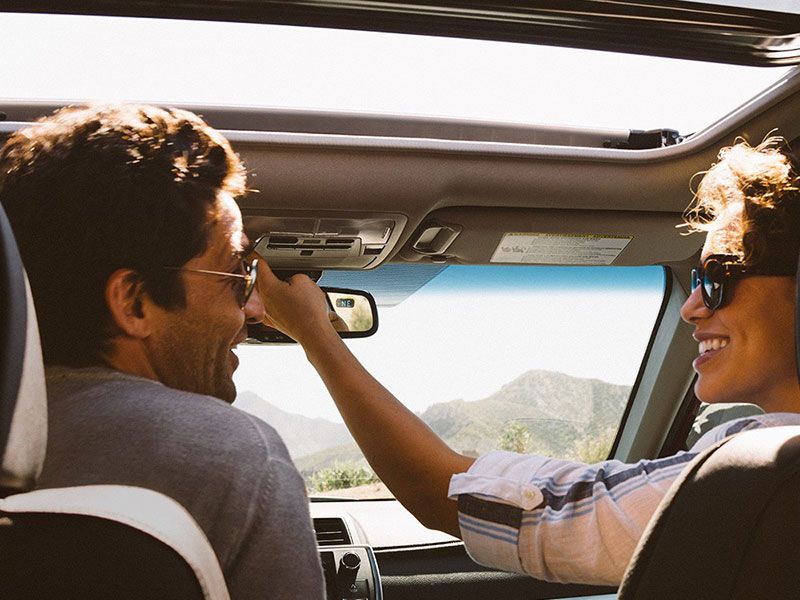 2016 Toyota Camry interior with open moonroof ・ Photo by Toyota
Remember back before air conditioning was a standard feature in nearly every new car? An opening in the roof seemed unbelievably luxurious, and clearly, the appeal hasn't waned. A sunroof is a solid panel that slides back to let in the sun. A moonroof is a glass panel that lets in moonlight (because whomever named the moonroof must have assumed that no one would want to open it at night). We don't know how automakers decide which type of roof to install in a new car, but we know both lend a certain type of ambience to a car. Let's take a look at 10 top new vehicles that feature a moonroof as a standard or an optional feature.
2016 Acura ILX
The Acura ILX is a small luxury sedan that's loaded with premium features, and Acura had the good sense to include a moonroof among the list of standard equipment. The moonroof in the ILX is a small one, placed only over the front seat area, but that's enough to enhance the ambience of the ILX's stylish interior. The ILX's front seats are comfortable, by the way, and with the moonroof overhead, the small cockpit looks a lot more open and spacious. We're glad the 2016 Acura ILX sedan is on our list of 10 new cars with moonroofs primarily for this reason, because it's a great example of how a moonroof can make a car feel more welcoming.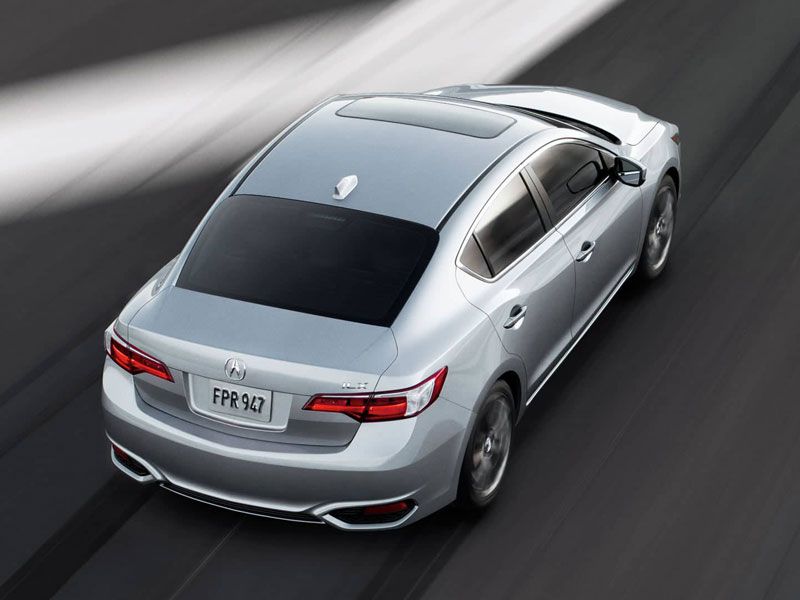 Photo by Acura
2016 BMW X5
The X5 is a midsize offering in BMW's popular lineup of SUVs, and another entry to our list of 10 cars with moonroofs. The standard moonroof in the 2016 BMW X5 is of the panoramic variety, which means that instead of occupying just part of the car's roof, it replaces most of the sheet metal with the coveted glass pane. When the upholstered panel inside the car is open to expose the 2-piece moonroof's glass, passengers are treated to expansive views of the sky. The X5 offers an optional third row of seating, which means way-back occupants might not have full moonroof access, but the backseat of an X5 still isn't a bad place to be.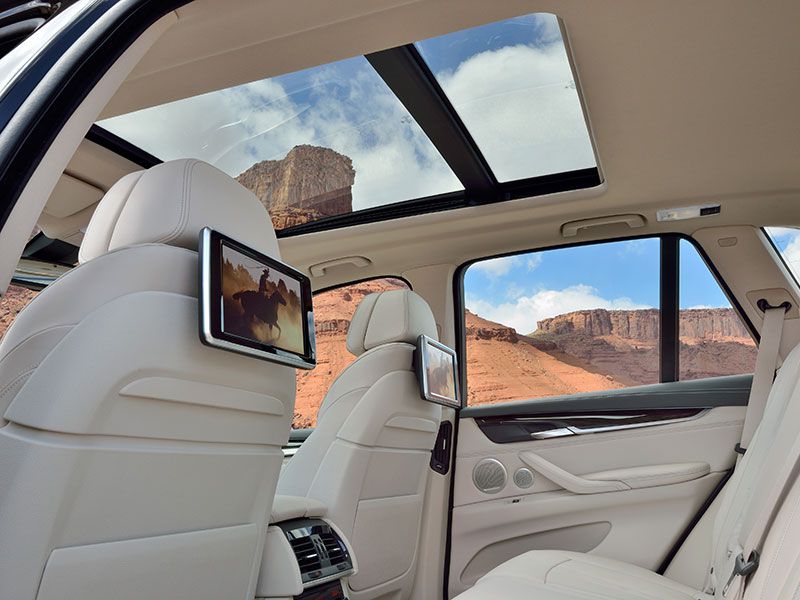 Photo by BMW
2016 Buick Encore
The Encore is a small sport utility vehicle from Buick, and another offering amongst 10 cars with a moonroof for the 2016 model year. In the case of the Encore, the moonroof is an optional feature, and when it's installed, it makes the already upscale cabin feel even nicer. The Encore's moonroof is power-operated and is a small one, freshening up the area over the front seats. Since the Encore is classified as a subcompact, backseat space is tight for adults, and a larger moonroof might have helped it feel more open (even if it wouldn't have helped the legroom situation). Aside from the cramped rear quarters, the 2016 Buick Encore features an upscale cabin with nice materials.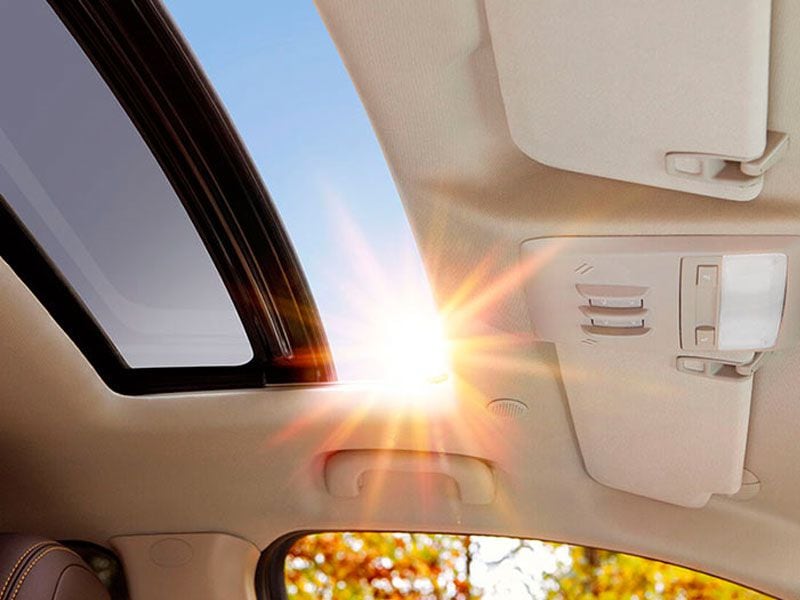 Photo by General Motors
2016 Ford F-150
The current generation of Ford's F-150 fullsize pickup is a game-changer in more ways than one. Much has been said of its lightweight yet strong aluminum construction, which is certainly worth discussion, but it tends to overshadow this truck's other virtues. While focusing on making the 2016 F-150 a capable worker, Ford also wanted to ensure that passengers were comfortable. Ford offers a twin panel moonroof as an optional feature on SuperCrew versions of the 2016 F-150, adding an even airier feel to this already open and spacious truck. While the rear part of the moonroof remains fixed in place over the rear seats, the front panel offers power slide and tilt functionality.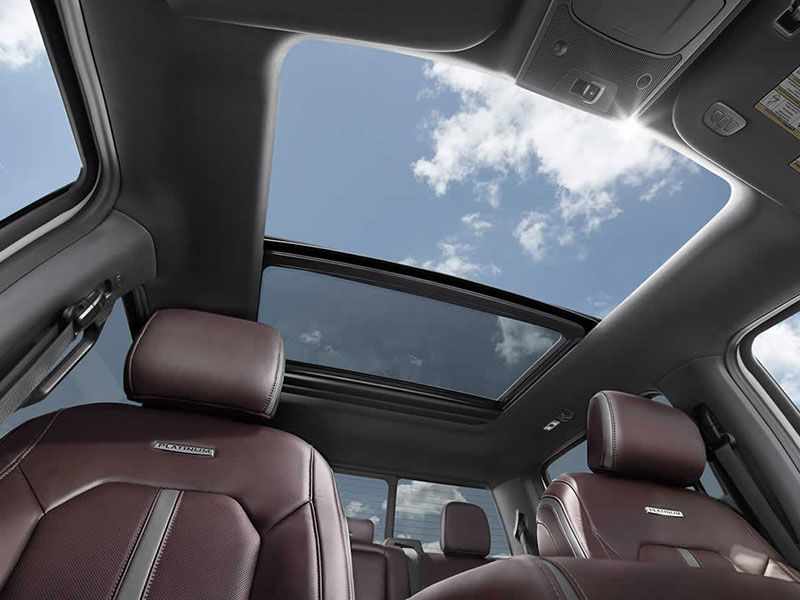 Photo by Ford
2016 Honda Civic
Honda's fully redesigned the Civic lineup for the 2016 model year, bringing welcome changes to both 2- and 4-door models. The interior is one of the elements that helps make the Civic look and feel more expensive than it actually is, which is always a nice bonus for an affordable car. Both versions of the Civic seat five passengers comfortably, with enough space in the back that even most adults won't feel cramped. To help open up the passenger cabin even more, a one-touch power moonroof with tilt comes standard on the Civic EX Sedan and above, and on the Civic LX-P Coupe and above. Honda finishes out the cabin with soft touch materials throughout.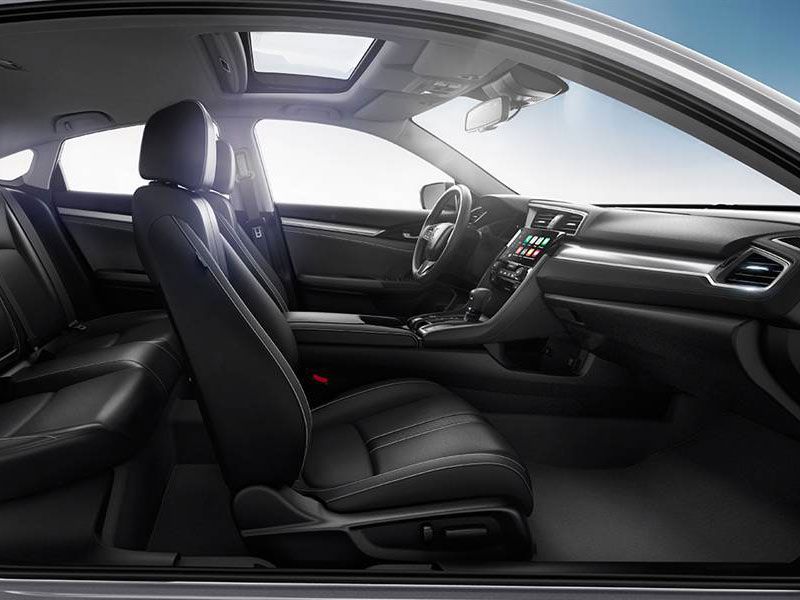 Photo by Honda
2016 Mazda Mazda6
Mazda's stylish and athletic midsize sedan, the Mazda6, is among our favorite cars with moonroofs, and this sliding panel takes advantage of the opportunity to really open up this affordable and family-oriented vehicle. Although the Mazda6's moonroof is an optional feature, it's a wise one—it features one-touch power opening, so it's simple to get some fresh air. The cabin of this 5-passenger vehicle was refreshed for this year, and the base model's standard features include remote keyless entry with push-button start, Bluetooth wireless integration, and a rearview camera. The Mazda6's most desirable features are optional (or standard with higher trim levels) but that's the cost of keeping the base model affordable.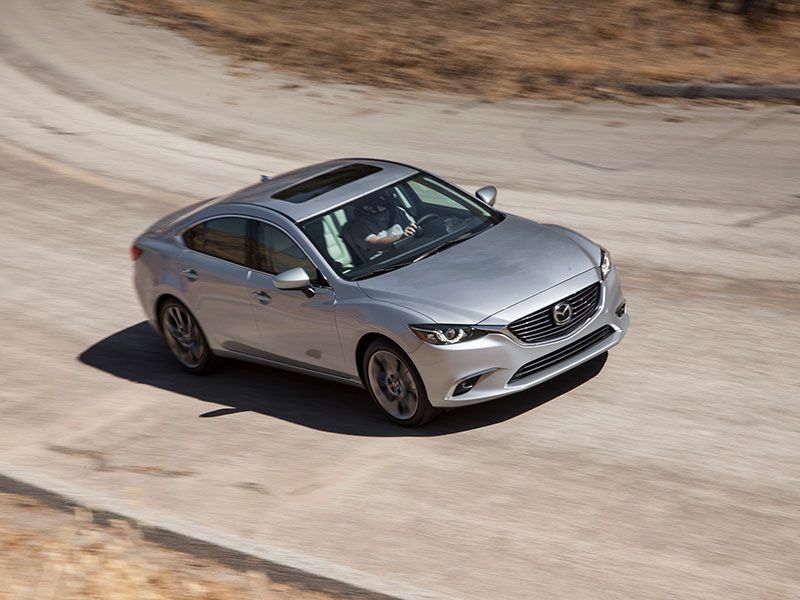 Photo by Mazda
2016 Porsche Panamera
The Porsche Panamera is so opulent that a moonroof should be compulsory… and it is. The 2016 Panamera 4-door sedan joins our list of our 10 favorite cars with a moonroof thanks to its standard tilt and slide panel, which helps accentuate the smoothness and the sereneness of the big luxury car. Despite its size, the Panamera seats just four passengers, by design; each occupant gets a sporty bucket seat to call his or her own, separated by a large center console that offers storage as well as controls for the Panamera's numerous standard and optional technical features. Those features change based on how much you're willing to drop on a new Panamera, but the moonroof is included with every one.
Photo by Porsche
2016 Subaru Forester
The 2016 Subaru Forester is a compact crossover with the aspirations of a true SUV. Subaru markets the Forester and several other vehicles towards outdoorsy-type families, so it makes sense to integrate as much airiness and spaciousness into the Forester's cabin as possible. That said, the 2016 Forester's power moonroof isn't a standard feature on the base model, but is included with charge on higher trim levels. The Forester's moonroof is panoramic, opening up the sky to the backseat passengers as well as the front. and it has both tilt and slide functionality. Standard features of the 2016 Subaru Forester include a rearview mirror, Bluetooth wireless integration, a touchscreen infotainment system, and an all-wheel drive system.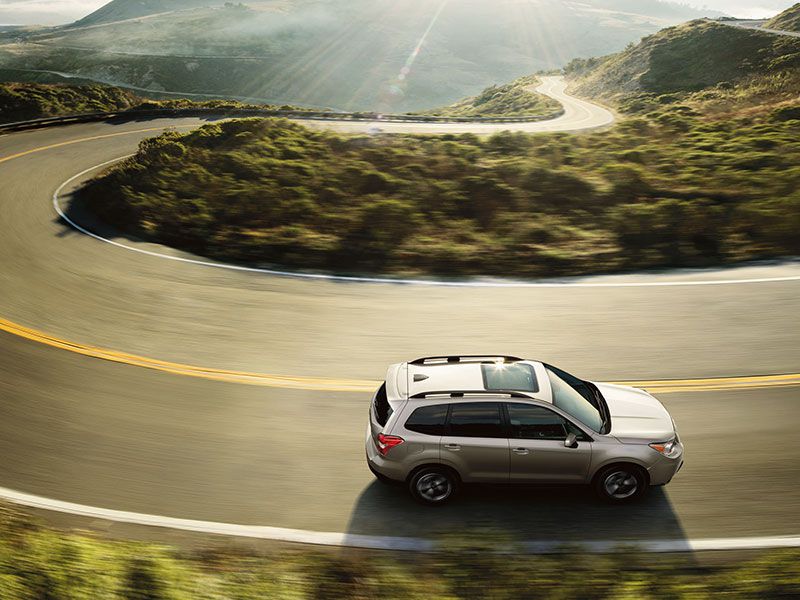 Photo by Subaru
2016 Toyota Camry
Toyota's formidable midsize sedan is known for having one of the most comfortable interiors in the class. Although the 2016 Camry's interior is not especially upscale, it is spacious and comes with plenty of standard features as well as enticing options. The Camry is offered with an optional power moonroof that has tilt and slide functions, plus a one-touch open and close system with jam protection. The moonroof goes a long way toward creating a more luxurious atmosphere inside the Camry. The sunroof option is bundled with front-seat illuminated vanity mirrors and reading lamps for backseat passengers. Standard features in the 2016 Toyota Camry include a rearview camera, Bluetooth wireless integration, and Siri Eyes Free.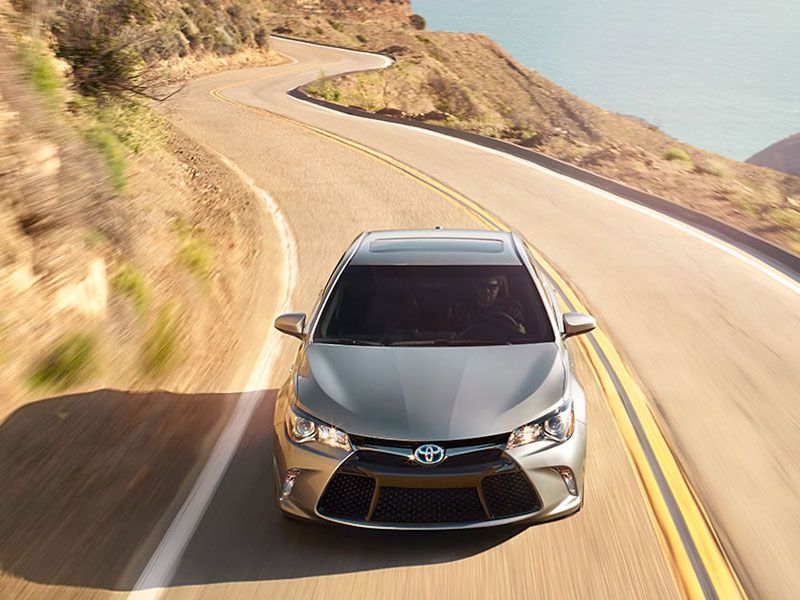 Photo by Toyota
2016 Volvo V60
The 2016 Volvo V60 is a luxury station wagon with seating for five. The driver and front passenger are treated to very supportive states; rear passenger seats are also comfortable, and the V60 offers plenty of headroom for a relaxing ride. A power glass moonroof comes standard in all trim levels of the 2016 Volvo V60, operated by a button in the car's roof console. For extra comfort, Volvo's integrated a sunshade into the moonroof, which keeps the sun's rays from hurting everyone's eyes while still allowing light to filter through and add ambience to this wagon. Along with the standard power moonroof, the 2016 Volvo V60 also includes dual-zone climate control, Bluetooth, and the brand's City Safety system with every model.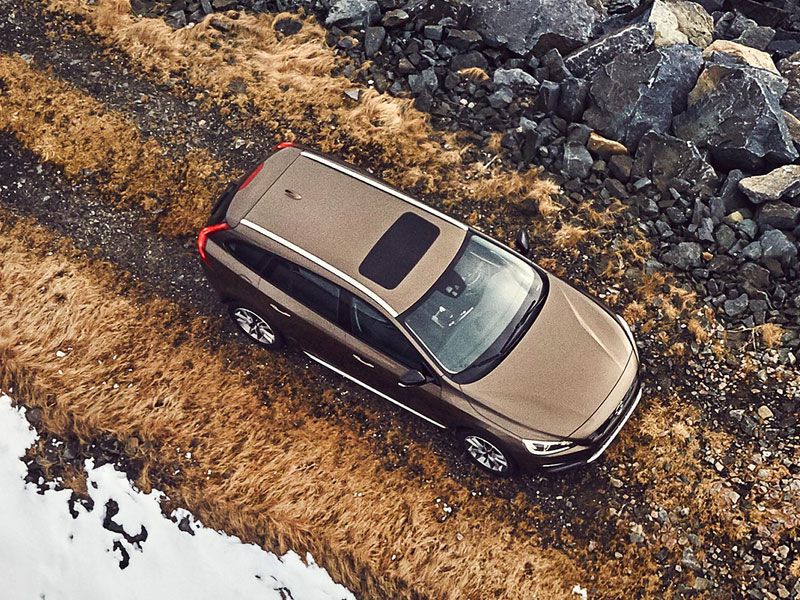 Photo by Volvo