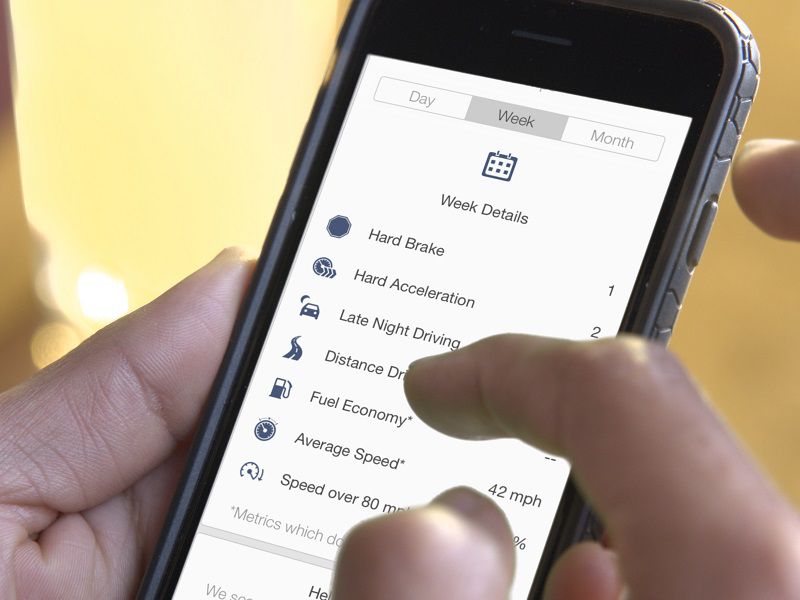 myBuick App ・ Photo by Buick
If one of your main concerns when car shopping is the functionality and features of the various cars' factory-developed smartphone apps — which can include vehicle status, remote lock and unlock, remote start and vehicle location — then we've got you covered whether you're using Android or iPhone. We've also included two of the most popular aftermarket systems in case you want to add the features to a car that lacks them or provides only a substandard system.
None of these keyfob apps are as easy to use as a real key fob, but for situations where you don't have the fob or you're out of range, they can almost be a lifesaver.
10. Audi MMI connect
Depending on the vehicle model, the Audi MMI connect app lets you perform the standard functions such as remote lock and unlock, and also lets you check whether the doors are open or closed. Other features include geofencing, which can be configured to alert you if your car leaves a specified area; Car Finder, which allows you to access your vehicle's location through the MMI connect app; and myAudi Destinations, which lets you easily send destinations to your Audi from your smartphone.
As with any system, we'd recommend verifying device compatibility to ensure that the car will work properly with your particular smartphone. But like all the apps on our list, MMI connect is available for both Android and iPhone users.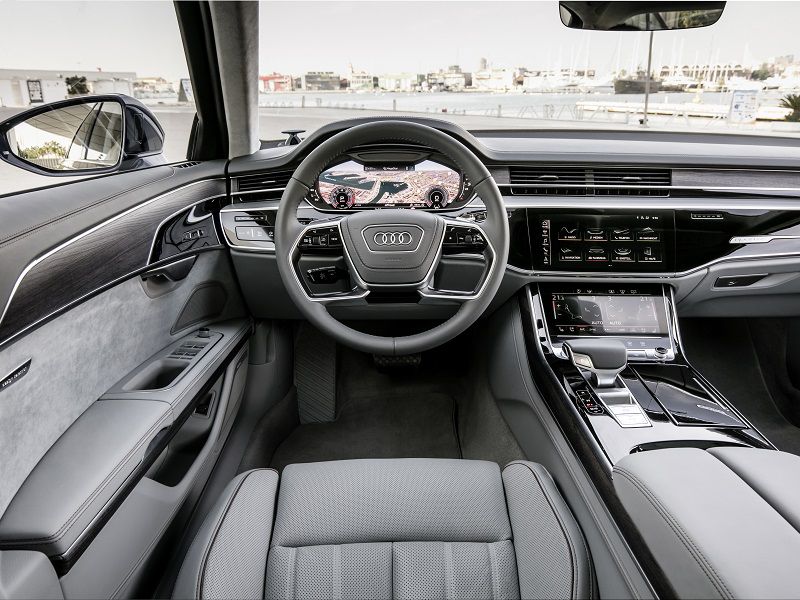 Photo by Audi
9. Hyundai BlueLink
Like most other systems, Hyundai's BlueLink mobile app allows you remotely lock and unlock your car's doors and check their status to make sure they're closed. But unlike most other systems it also allows you to perform the same check on the trunk and hood.
And like some other systems, you can start and stop your Hyundai's engine remotely, but with BlueLink you can also set the engine timer, change the cabin temperature, and, if equipped, turn on the heated steering wheel. If you've forgotten where you've parked, you can flash the lights and honk the horn, or you can locate your car on a map and get directions to it. Best of all, BlueLink services are free for three years when you buy an eligible new 2018 Hyundai.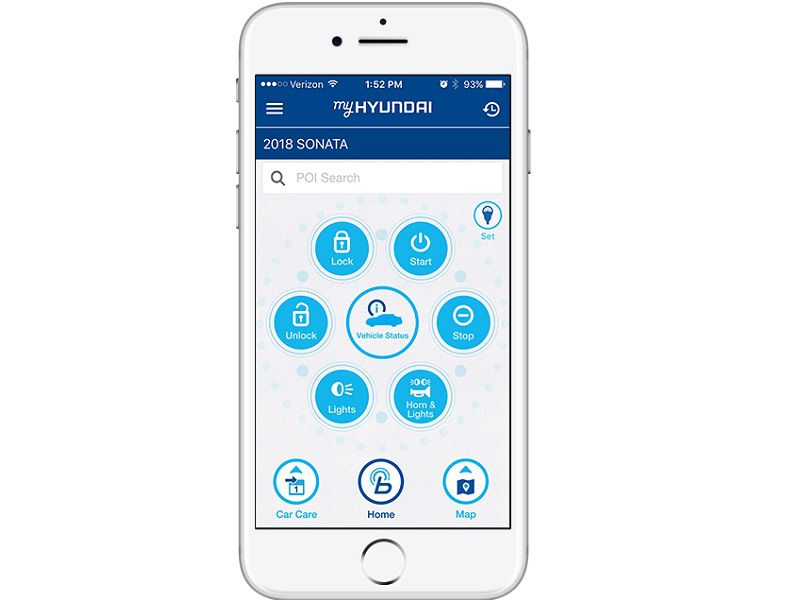 Photo by Hyundai
8. FordPass
FordPass does much more than just control the vehicle — it's Ford's all-in-one app that can be used for things as diverse as scheduling a service visit, finding a gas station, locating and reserving parking spots (and paying for them), and even locating a bike-sharing station.
The FordPass app can also be used to locate your vehicle if you've misplaced it, lock and unlock the doors, start and stop the engine, and even to set a remote start schedule so you don't have to worry about remembering to start your car in the morning. On certain SYNC-equipped models, you can also track your fuel level and get alerts when your vehicle requires attention.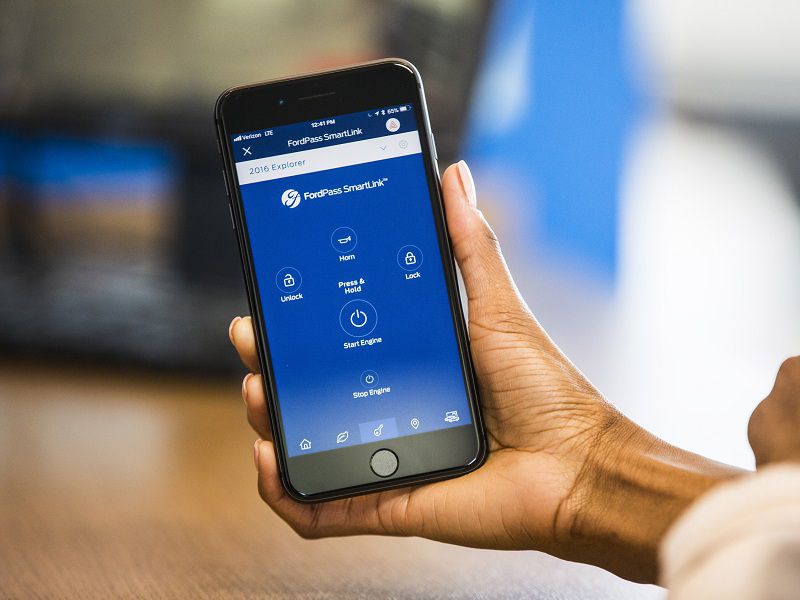 Photo by Ford
7. VW Car-Net Security & Service
VW Car-Net Security & Service is the name of Volkswagen's smartphone app, and when connected to a vehicle equipped with VW Car-Net, it has the standard list of functions such as the ability to locate the car if it's lost, activate the horn and lights, and lock and unlock the doors.
It also has some more advanced features such as the ability to get the status of the doors, windows, trunk, and convertible top; configure speed, boundary, curfew, and valet alerts; view fuel levels and estimated fuel range; and view the odometer mileage. If you have an e-Golf electric car, you can also view the current battery charge level and estimated driving range, choose your desired temperature settings, and select when to start and stop charging.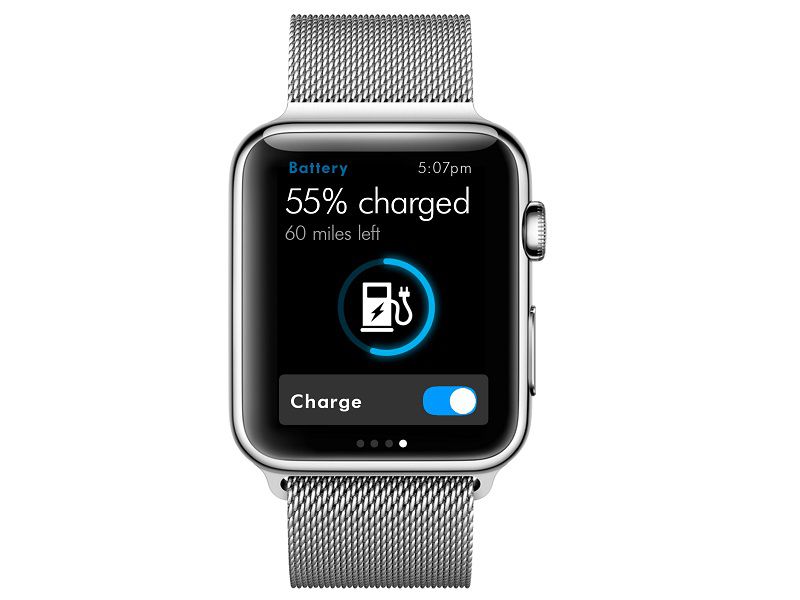 Photo by Volkswagen
6. Kia UVO
Depending on the model and its capabilities, Kia's UVO app is able to perform basic remote features such as locking and unlocking the doors and locating the car (and providing directions to it), as well as some more advanced ones such as remotely starting and stopping the engine and changing the climate control settings.
You can also configure curfew limit alerts, speed alerts, geofence alerts, and valet alerts. And if you have a Kia with an electric drivetrain, you can check your car's charging status, configure a charge schedule, or find a charging station. If you don't have a smartphone that supports the UVO app, you can access many of the features on your computer using Kia's UVO online portal.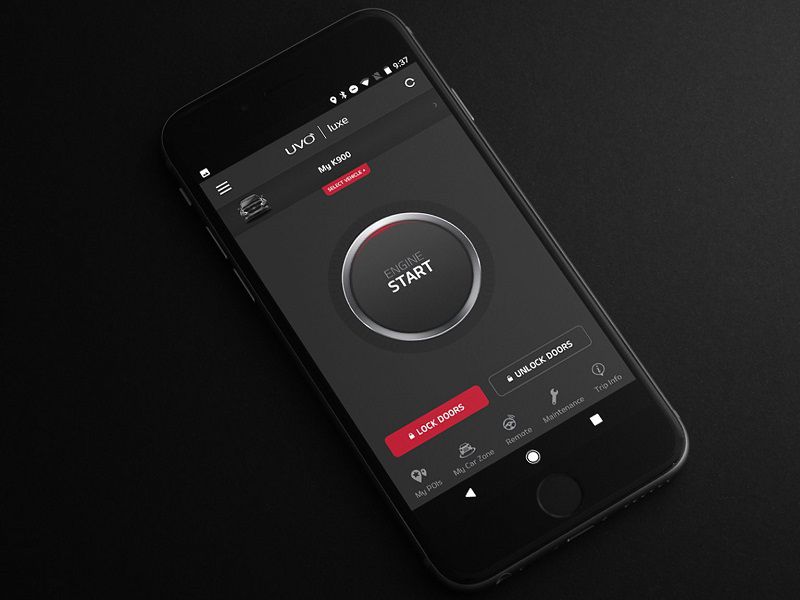 Photo by Kia
5. Delphi Connect
Delphi Connect is a device and app that lets you add smartphone remote functionality to cars that don't have it. Installation is as simple as plugging the device into the OBD-II port that's found in most vehicles starting in the 1996 model year.
Depending on the vehicle, the system lets you use a smartphone app or a web application to access the main functions of your key fob as well as view a vehicle dashboard, driving history, and vehicle location; create geofences and RPM or speed limit alerts; check the health and status of the vehicle (including battery voltage and odometer); and perform real-time vehicle tracking. Some Delphi Connect models even come with a 4G LTE in-vehicle Wi-Fi hotspot.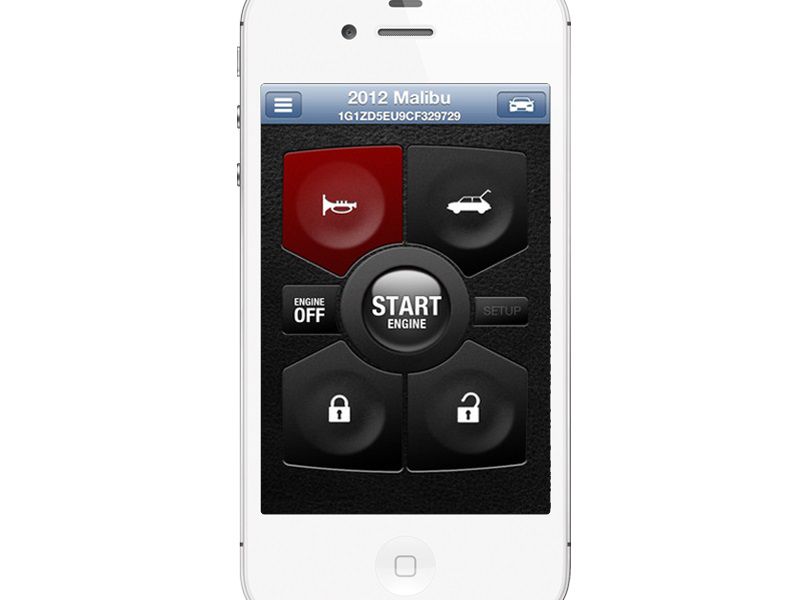 Photo by Delphi
4. myChevrolet / myBuick / myGMC / myCadillac
The myChevrolet, MyBuick, myGMC, and myCadillac apps are all very similar, with only minor changes to distinguish among the General Motors brands. These apps can locate your vehicle, remotely lock and unlock its doors, start and stop the engine, and activate the horn and lights.
You can also send navigation destinations to your car and then make sure you're ready for the trip by checking its fuel level, efficiency, and range as well as its tire pressures and oil life. You can even check on the status of the in-car Wi-Fi or check for recalls. And if you have an electric car or plug-in hybrid vehicle, you can check the battery charge level and charging status and change charge modes.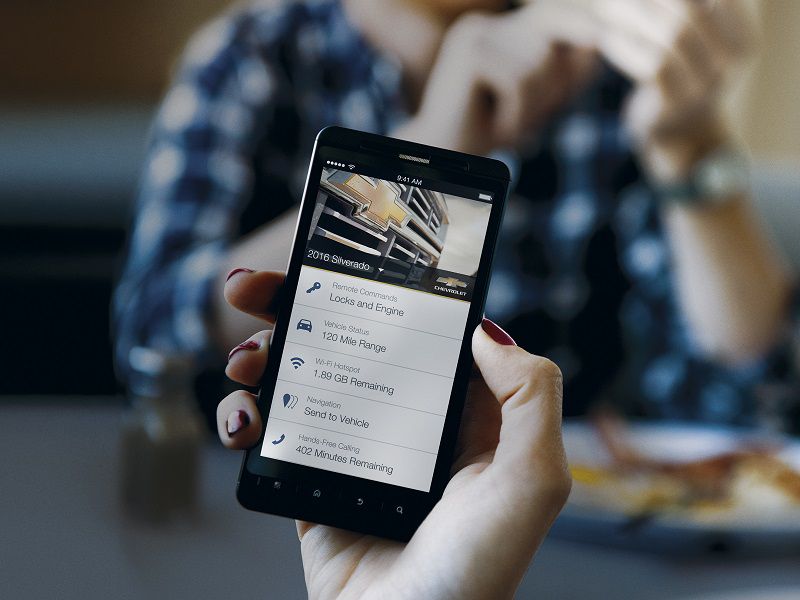 Photo by Chevrolet
3. Viper SmartStart
Available with or without a security system, the Viper SmartStart is a two-way remote car starter that is controlled via the SmartStart app. This allows you to lock and unlock your car, open the trunk, and start or stop the engine from virtually anywhere, as well as check the battery voltage and read OBD trouble codes. When equipped with a GPS module, this app can also be used to locate your car and provide speed and geofencing alerts.
While SmartStart isn't a plug-and-play install (you will most likely need to get it professionally installed), it is by far the most complete Android and iPhone keyfob system available for cars that didn't come with one from the factory.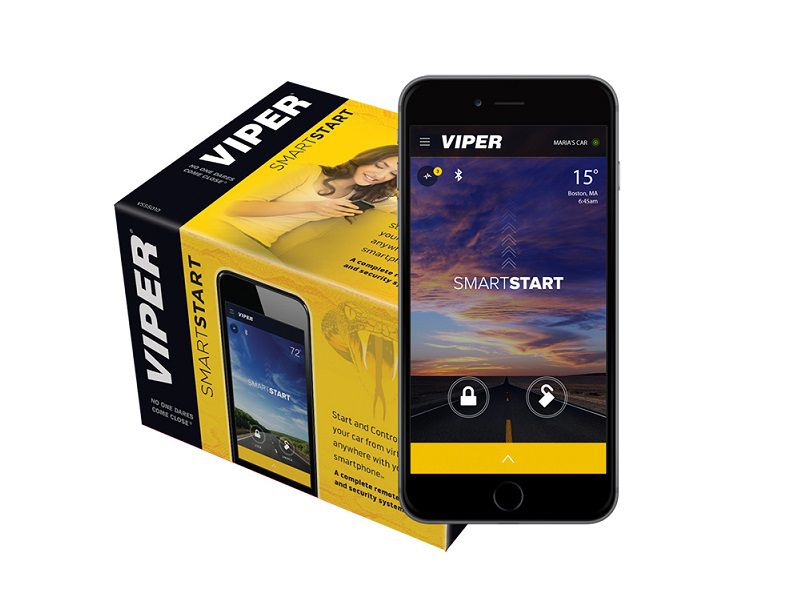 Photo by Viper
2. Genesis Intelligent Assistant
The Genesis Intelligent Assistant allows you to remotely start your Genesis vehicle, check to see if the doors are locked or unlocked, lock and unlock them, and remotely activate the horn and lights. This app can also be used to locate the vehicle, send a destination to the vehicle's navigation (or get a POI from the car), receive departure messages for calendar events, and remotely start and cool or heat your vehicle based on the temperature.
For the ultimate in convenience (making it almost as convenient as the fob itself) the app also supports Android Wear and Apple Watch, allowing you to use your smartwatch to start the car, lock and unlock doors, activate the horn and lights, or set parking meter reminders.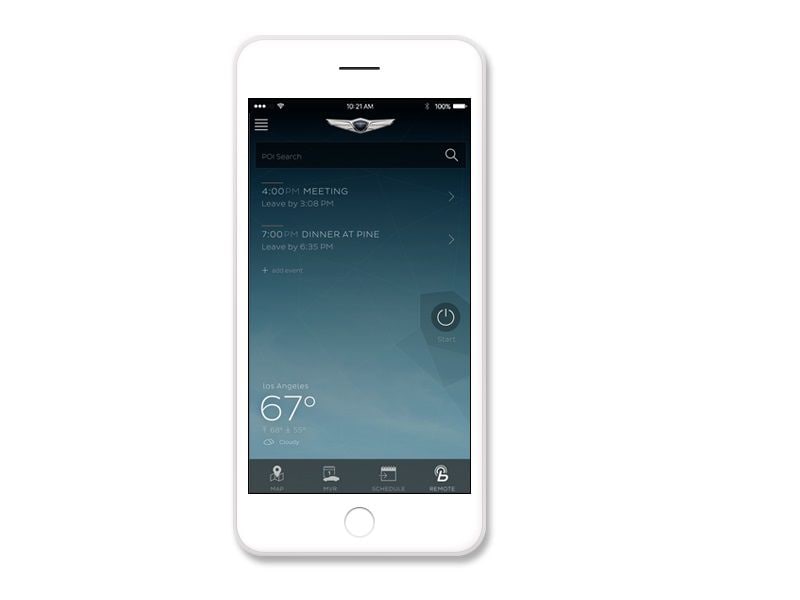 Photo by Genesis
1. Volvo On Call
The Volvo On Call app allows you to control many aspects of your Volvo from your smartphone. You can locate the vehicle on a map; get the temperature at the vehicle; determine the door, lock, tailgate, and window status; check the fuel range, average fuel consumption, odometer and battery level; active the lights and horn (or just the lights alone if you prefer); lock and unlock the doors (and remind you to do so if you forget); and start or stop the engine.
If your Volvo is a plug-in hybrid, you can even control the climate control system. And for a touch more convenience, the app also works with Android Wear and Apple Watch devices, allowing easy wrist-based unlocking of your doors.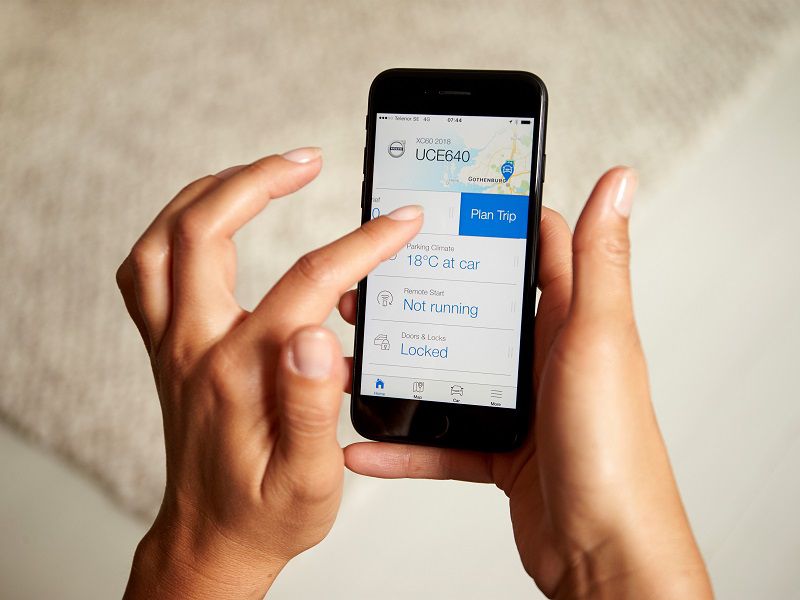 Photo by Volvo