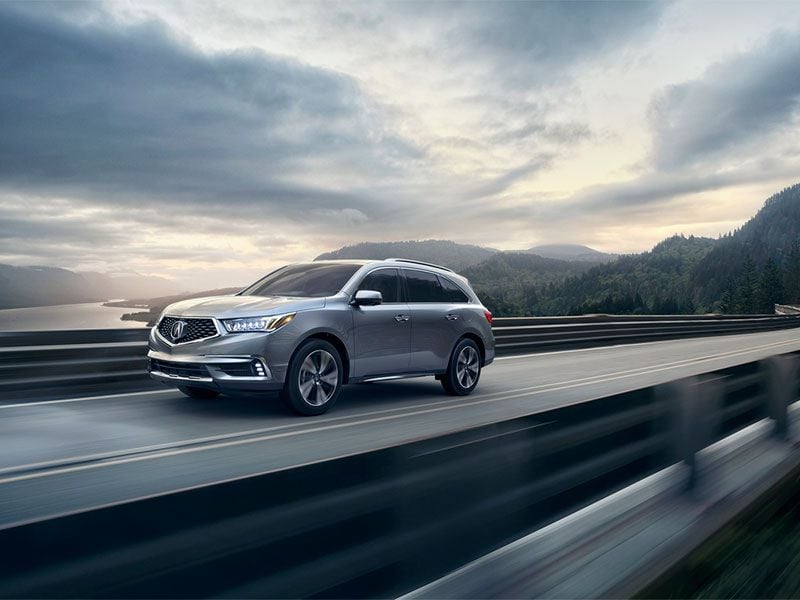 2017 Acura MDX on road ・ Photo by Acura
Filet mignon or lobster? It's always good to have choices, especially when the choices are as wonderful as these top 10 7-passenger luxury SUVs. Here's an array where lavish amounts of equipment and space are often joined by the ability to tackle snow and maybe some rocks, and most certainly make a statement when pulling up outside a 5-star hotel. A few of our selections here can even accommodate eight, or the seating arrangement might include two captain's chairs in the second row and three pews behind them. But the buyer can decide because this is where the big-spending customer is always right. Incidentally, some of these SUVs are on the more rugged side of luxury, but that just makes them cooler.
A few of our selections can even accommodate eight, or the seating arrangement might include two captain's chairs in the second row and seating for three in the way-back. But the buyer can decide because this is where the big-spending customer is always right. Incidentally, some of these SUVs are on the more rugged side of luxury, but that just makes them cooler.
2017 Acura MDX
The MDX has been revamped for the 2017 model year and goes on sale in the summer of 2016. As well as a radical new grille, this premium midsize crossover suv receives advanced safety features (such as adaptive cruise control and lane-keeping assistance) as standard equipment. The engine receives a stop-start feature to save a little fuel, and a new 9-speed automatic transmission joins the team. The MDX is generally considered to have a little more driver appeal than many rivals. It's also seen as offering quite good value for money when taking purchase price and standard equipment into account. Acura makes sure this approach will apply to the 2017 MDX. One more interesting development: a hybrid version is coming soon.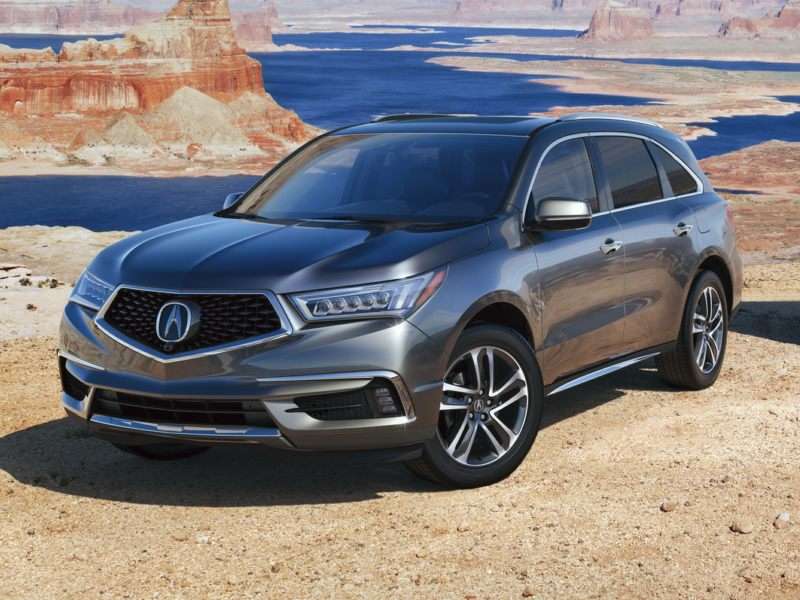 Photo by Acura
2017 Audi Q7
The 2017 Q7 marks the second generation's debut, so there's enough new technology to keep even the geekiest types enthralled, while still offering room for a driver and six close friends. It's also the best part of 700 pounds lighter than the previous generation, so the 333-hp supercharged 3.0-liter V6 has an easier time getting this fullsize SUV to move. The new tech includes a Virtual Cockpit with a display screen taking the place of the traditional instrument cluster, plus many safety features including one that prevents a driver turning left into oncoming traffic, which could be a life-saver at a busy intersection where visibility is restricted.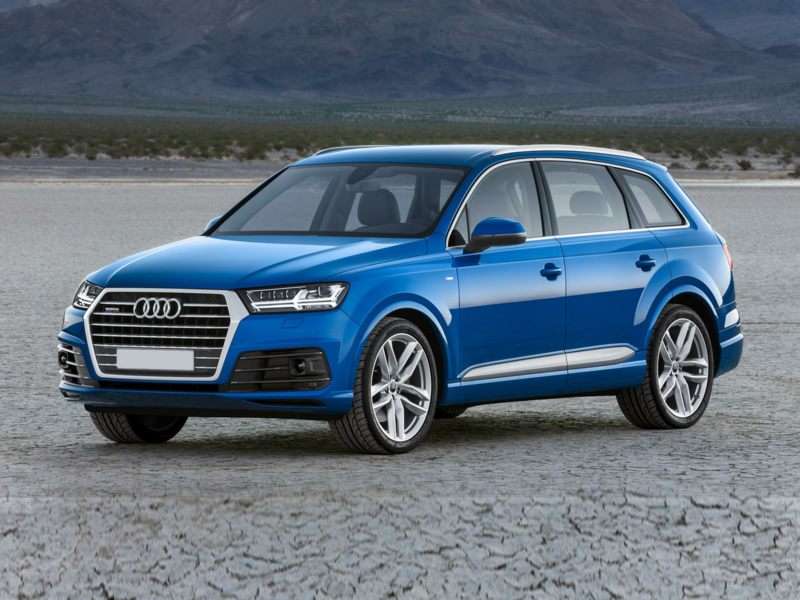 Photo by Audi
2016 Cadillac Escalade
People always say such-and-such is the Cadillac of something-or-other, meaning it's at the top of its class. Well, the Escalade is the Presidential Suite of Cadillacs, a mobile Oval Office — well-appointed, capable, and authoritative. This current generation entered its second year as 2016 rolled around. It comes with just one engine, a 6.2-liter V8 making 420 hp. Even though fuel consumption is probably not a big deal for luxury SUV buyers, it might be good to know that cylinder deactivation and an 8-speed automatic transmission help to achieve an average of 17 MPG. Maximum towing capacity is a mighty 8,300 pounds and there's even a long-wheelbase version, the Escalade ESV.
Photo by Cadillac
2016 Infiniti QX80
The QX80 is undoubtedly huge, yet the styling seems to make it look even bigger. For those who desire a 7-seater luxury SUV with a commanding presence, check this one out. It comes with plenty of standard equipment — like navigation, leather, Bose audio, parking sensors and a 360-degree camera system. Some of the more advanced driving aids are optional, although well worth the extra. Chances are that buyers won't be hindered by budget constraints anyway. The QX80 is propelled by 400 hp from a 5.6-liter V8, towing capacity is 8,500 pounds, and total cargo space is 95.1 cubic feet. It might be a good idea not to go for the 22-inch wheel option, however, since that will affect ride comfort.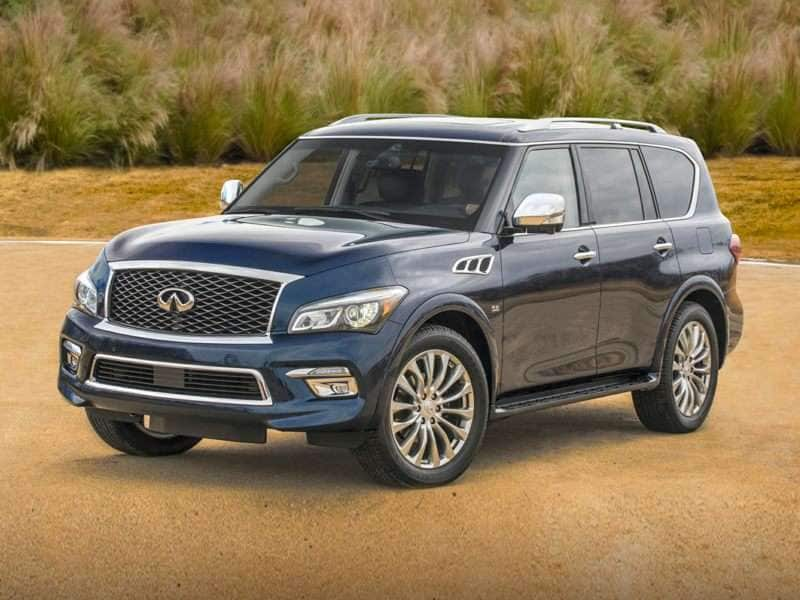 Photo by Infiniti
2016 Land Rover LR4
Range Rover is one of the original luxury SUVs, but it has never provided accommodation for seven. However, its LR4 stablemate has a similarly high degree of classiness, incredible off-road talents and ample space for our requisite septet — despite being categorized as a midsize SUV. That third row of seating is part of the options list, which also entails extended side curtain airbags, extra reading lights, and dedicated heating/air conditioning controls. A 3.0-liter supercharged V6 provides 340 hp and enables the LR4 to tow an extremely useful 7,700 pounds. All-wheel drive is standard and the LR4 has Land Rover's excellent Terrain Response System to make light work of heavy going.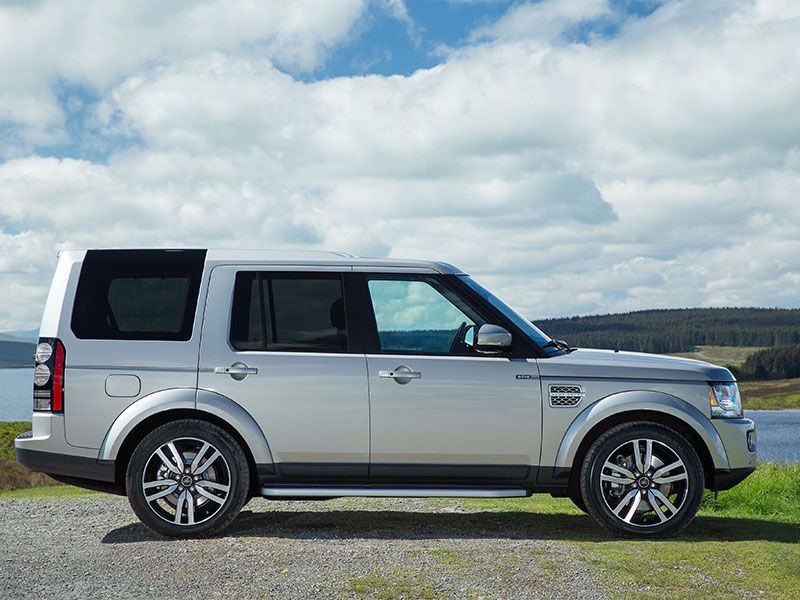 Photo by Jaguar Land Rover
2016 Lexus LX 570
The full-size LX is based on the famed Toyota Land Cruiser, so it comes with serious off-road talents to complement that Lexus luxury ambience and lofty build quality. The LX has only changed slightly and in small increments since the third generation debuted for 2008. An 8-speed automatic transmission arrived in 2016, along with refreshed styling (going big with the company's trademark spindle grille), advanced safety features and updated technology. Equipment levels are generous from the start, with wireless phone charging and a rear seat entertainment system on the options list. There's plenty of competition in this sector, most of it more modern and with better driving manners, but there's something about the LX that still appeals.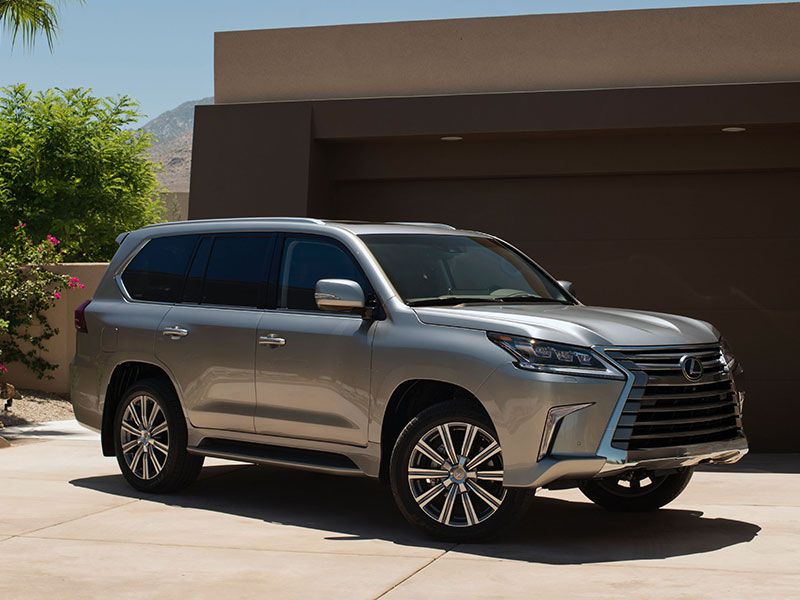 Photo by Lexus
2016 Lincoln Navigator
Don't overlook Lincoln. The Navigator enjoyed an update in 2015, with fresh styling and better power. A new twin-turbo 3.5-liter V6 makes 380 hp along with a muscular 460 lb-ft of torque, which is as good as many V8 engines. The interior is suitably hushed and plush, so occupants would never be reminded that the Navigator is based on a Ford truck. And a comprehensive array of standard equipment includes powered running boards and power-folding seats in the third row, making the Navigator a more tempting proposition when compared with its rivals. In the unlikely event that this roomy 7-seater SUV isn't large enough, there's always a long-wheelbase variant for a massive 128.2 cubic feet of total cargo space.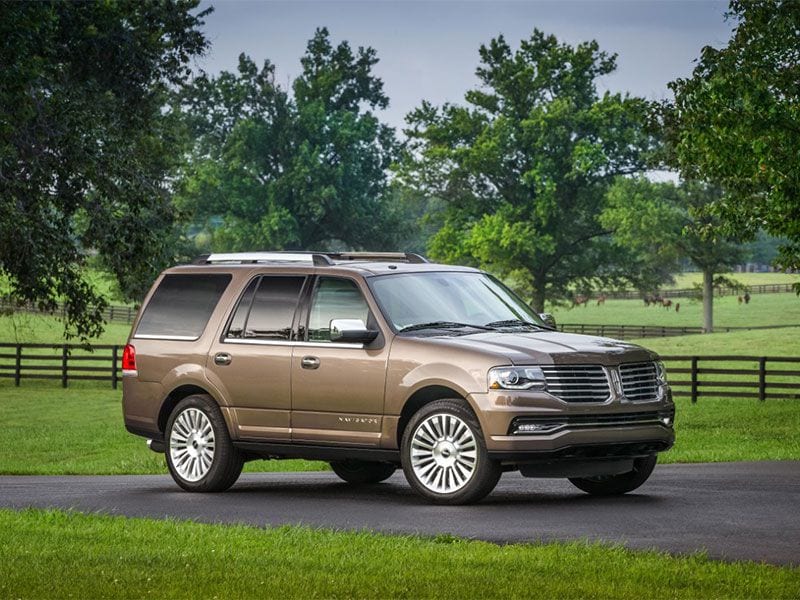 Photo by Lincoln
2017 Mercedes-Benz GLS-Class
What was once the GL-Class is now the GLS. The extra letter came along to remind everyone that this incredibly talented SUV is based on the gorgeously sumptuous S-Class flagship sedan. So that means the same fragranced air ionizing system, among other indulgences; it's the fine attention to detail that accumulates into a really luxurious vehicle. This is a fullsize SUV, capable of stable and serene highway cruising as well as wading through almost two feet of water — thanks to an adjustable air suspension as standard. Engines range from frugal diesel to the sports-car-challenging AMG V8 making 577 hp, and the regular versions have a 9-speed automatic transmission. The GLS is imposing, elegant, well-equipped and roomy.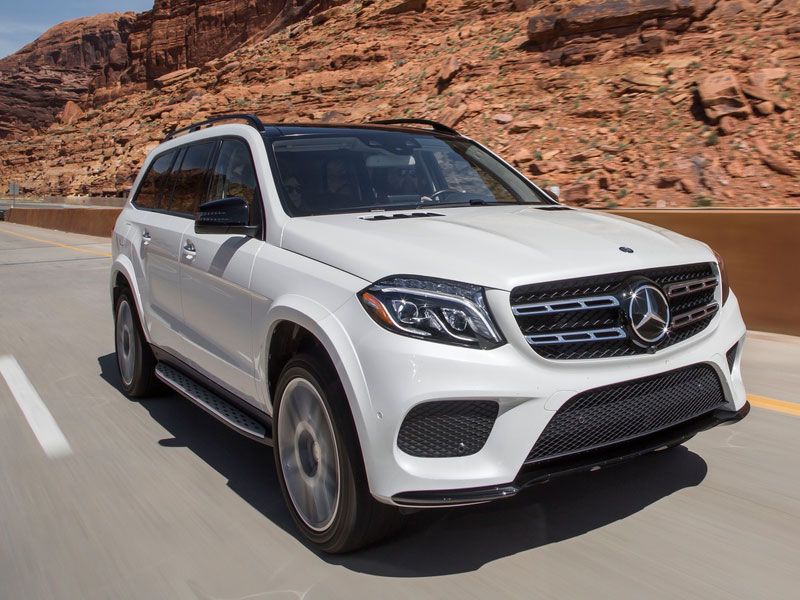 Photo by Mercedes-Benz
2016 Toyota Land Cruiser
It might seem wrong to include a Toyota in a list of the 10 best 7-passenger luxury SUVs, but the Land Cruiser is a law unto itself. Firstly, at around $85,000, it costs about the same as many luxury vehicles. Secondly, not only is it well equipped with sturdy, reliable and field-tested off-road hardware, the Land Cruiser also comes with leather upholstery and a 14-speaker JBL audio system among its long list of standard equipment. The third row is able to fit three at a pinch (making this an 8-seater), but hip room will naturally be more bearable with just two occupants. And another thing: the Land Cruiser is an icon, one of the world's greatest SUVs.
Photo by Toyota
2017 Volvo XC90
All-new for 2016, the XC90 is the midsize SUV jewel in Volvo's crown. Lurking beneath what most people would agree is a good-looking exterior and a welcoming interior is an array of cutting-edge safety systems worthy of the Volvo badge. Buyers at this level expect things like forward collision mitigation and blind spot monitoring, but Run-Off Road Protection is new. If the XC90 careens off the road unexpectedly, its shock-absorbing seats will keep spinal injuries to a minimum. Volvo seats are also renowned for their comfort and support. The company has a target that, by 2020, no one should be killed or seriously injured in a Volvo. The XC90 is part of that goal. It just happens to be luxurious and spacious, as well.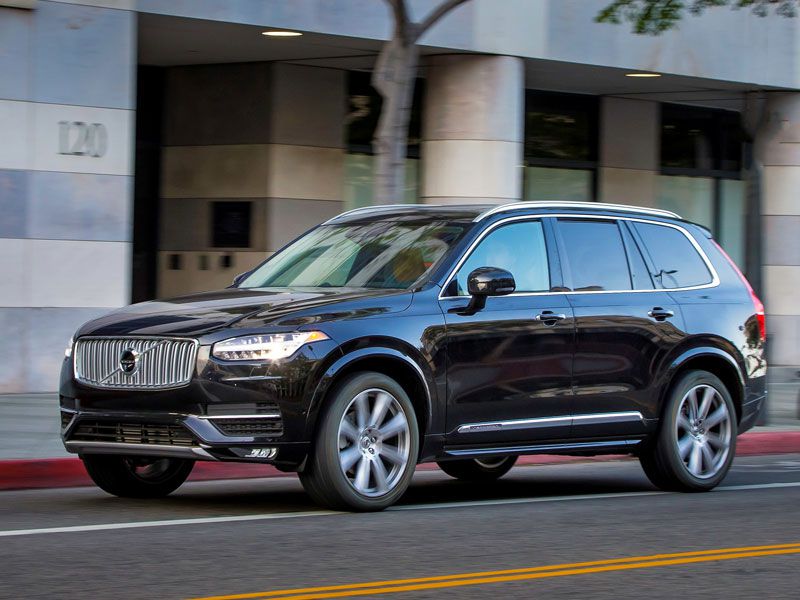 Photo by Volvo