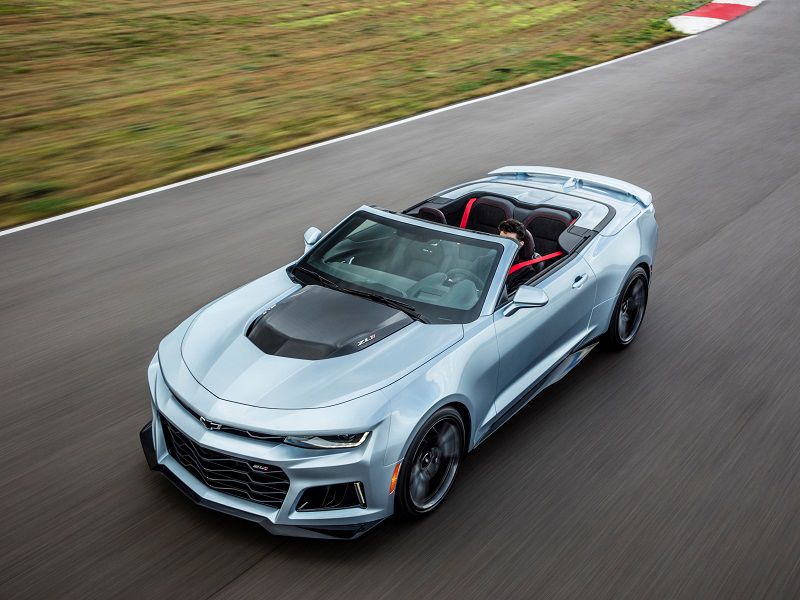 2019 Chevrolet Camaro ZL1 Convertible ・ Photo by Chevrolet
In many ways owning a convertible is more like owning a boat than it is like owning a car. With the exception of fishermen and lighthouse keepers who live on islands, nobody really needs a boat — but a lot of people want one. Ditto for a convertible. You don't need it. (Really, you know you don't.) But you just can't help craving one.
As with a boat, a lot of people are enamored of the joy associated with having a convertible, but they are less than thrilled about all the potential costs and time-wasters that accompany the process. Just as the most cost-effective solution is to have a good friend who owns a boat, so it goes with a convertible as well. Of course, if your friend with the convertible always insists on driving, it dulls the sensation somewhat. Having both owned boats and convertibles, I can tell you straight from the shoulder that if you believe you won't have a great time owning a convertible, that the thrill of the open road in the open air means little to you, then don't buy a convertible. But if you do, here are 10 things you should know about convertibles.
1. They're more expensive than other cars.
A convertible will cost you more than the equivalent coupe or sedan. That is just a given. Convertibles are more complicated to build than cars with a roof, and they literally have more pieces. Plus, they are typically built in much smaller quantities than the average sedan or coupe.
You don't have to major in economics to see what this means. Here is a simple, significant example of how that manifests itself in real terms. The Chevrolet Camaro is available as a coupe and a convertible in a variety of trim levels. The MSRP of the 1LT Coupe is $25,500 while the MSRP of the otherwise identical 1LT convertible is $31,500. That $6,000 difference in suggested retail price is pretty much the minimum premium you will pay for convertible ownership and all the things associated with it, good and bad.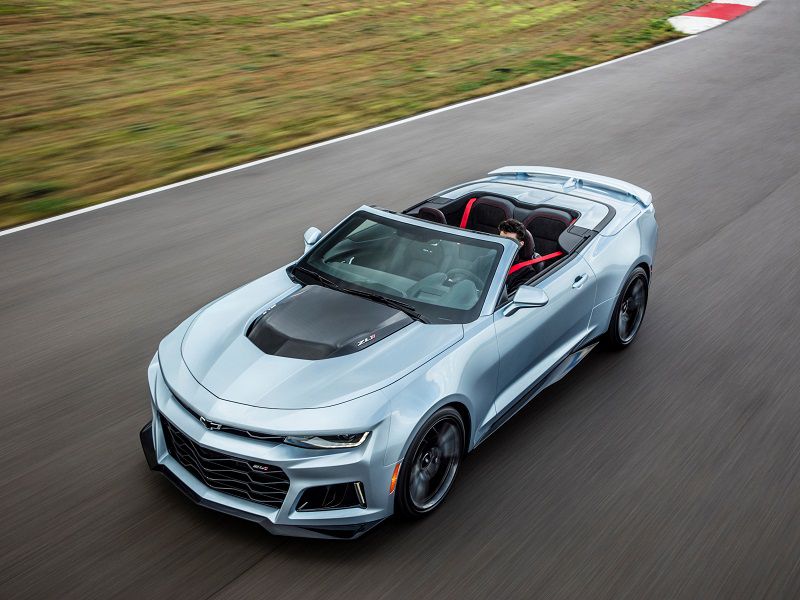 Photo by Chevrolet
2. Maintenance costs more, too.
Along with the higher initial cost of buying a convertible, the owner of a convertible will typically be confronted with higher maintenance and repair costs. The basic reason for this follows the same logic as the prior-stated reasons convertibles are more expensive to buy than coupes. They have more parts, and the parts associated with the top mechanism itself need maintenance and can break down.
These days convertible tops — fabric, vinyl, or folding metal — are well-engineered and not prone to failure, but they have moving parts that fixed-roof vehicles just don't have. Further, owners who have never had a convertible before often don't realize that the tops need special care and maintenance. If you don't give your car's convertible top a little extra TLC (tender loving care), it can cost you.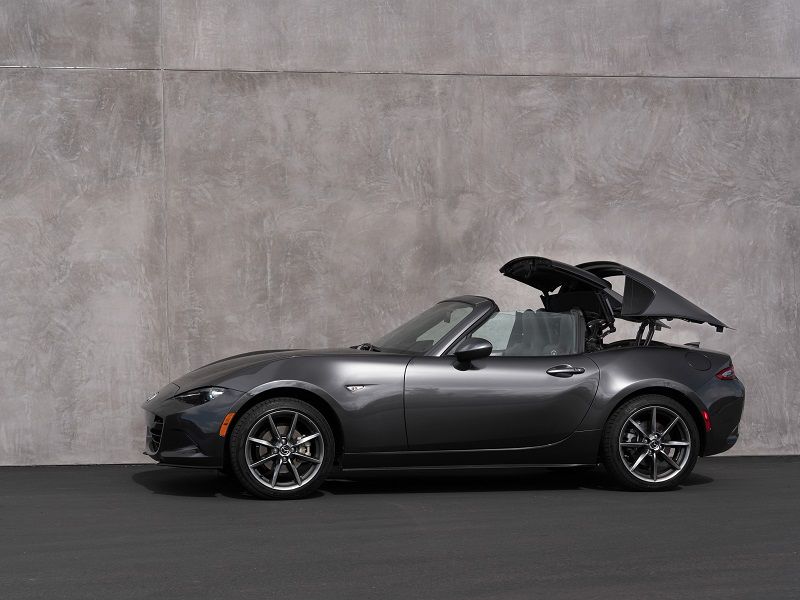 Photo by Mazda
3. There's less passenger and cargo space.
Those of us who have lived with convertibles over the years have become accustomed to the fact that their vehicles most often have less interior space than the equivalent fixed-roof two-door. Sometimes the difference is very obvious and substantial, while other times it is not a giant issue.
One obvious place where convertibles typically demonstrate less interior space is in the back seat areas. Often, the convertible top mechanism intrudes into the rear seat area, limiting shoulder and hip room. This can turn what in a coupe is a three-person rear seat into a two-person bench or a pair of individual seats. Rear headroom can also suffer. Then there is trunk space and access. The presence of a convertible top can intrude into the cargo area when you drop the top and necessitate a smaller trunk lid.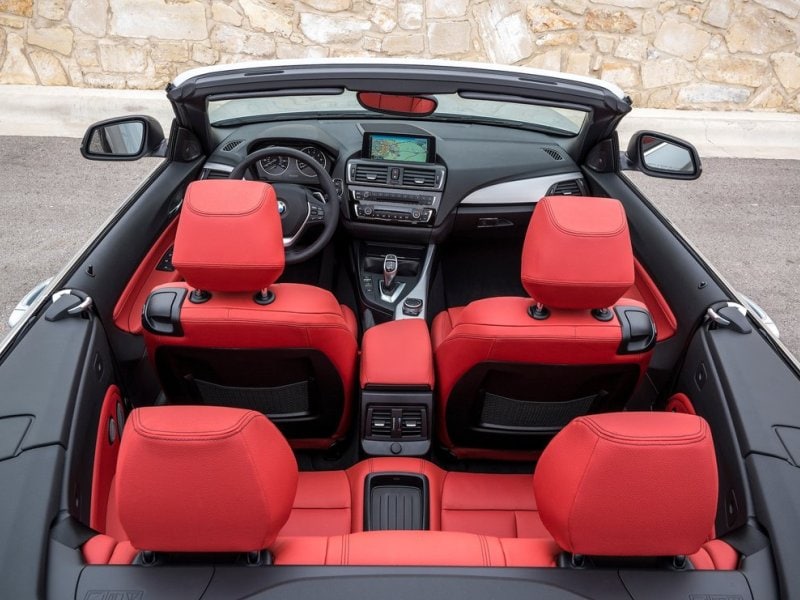 Photo by BMW
4. Convertible tops can leak.
Okay, we might as well admit it — convertible tops can leak. Now today's convertible tops are exceptionally well-designed and are much less prone to leaks than those of years gone by. Seals at the windshield header and around the side windows are much better than before. But convertibles can still leak.
Persistent leaks can, in turn, lead to interior damage. Areas that are most affected are things like dashboards and armrests. Other interior trim might be damaged as well, and you certainly don't want your interior carpet to be perpetually soggy because that can lead to other problems like mold and odor. A convertible top that leaks is particularly vexing because such leaks are often hard to diagnose and fix. Water isn't always getting in immediately above the damaged area, for instance.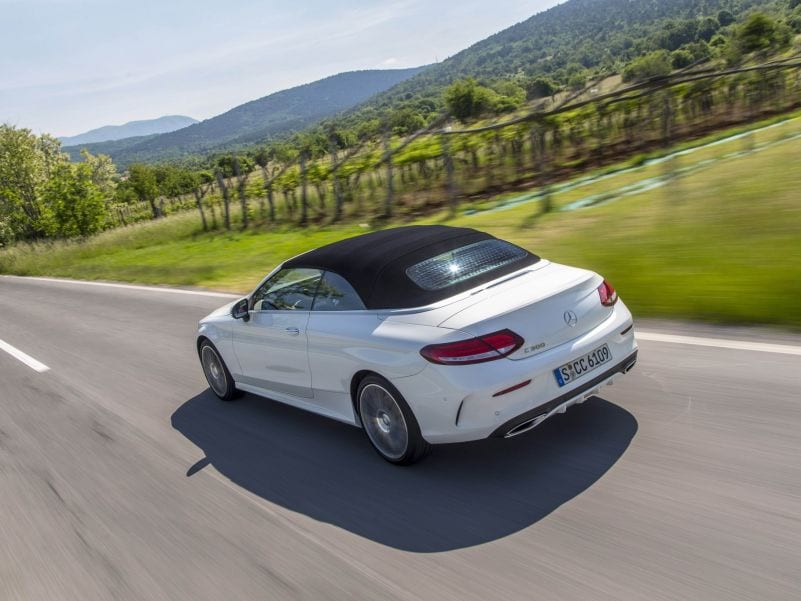 Photo by Mercedes-Benz
5. Visibility is different from a convertible.
Up to now, all the things you need to know about convertibles have been negatives. But when it comes to visibility a convertible offers both negatives and positives.
On the positive side, a convertible whose roof has been folded away offers unmatched 360-degree visibility. That, of course, is one of the convertible's special charms. You aren't simply riding through the landscape; you feel you are a part of it in a very visceral way. You will see things from a convertible you would never see in a fixed-roof car. But with the top up, things change markedly. A car with a convertible top typically has a much smaller rear window than a coupe or sedan. Additionally, the side windows are often smaller than on a fixed-roof car and the blind spots are consequently larger.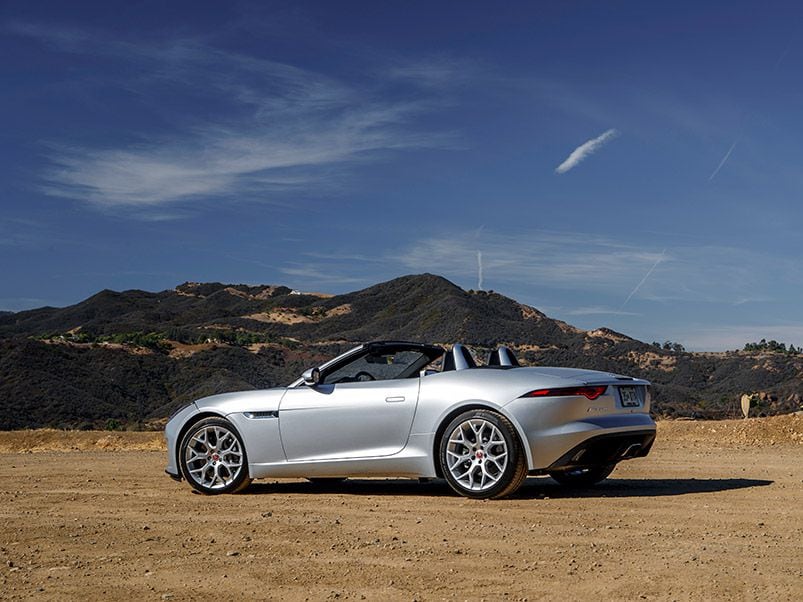 Photo by Jaguar Land Rover
6. It's like having two cars in one.
In the early days of the motorcar, many vehicles were "open cars," which meant they were essentially open to the elements. Many of them had no roof at all, while others had a rudimentary roof that kept some rain out but that allowed rain and wind to blow into the car from the sides.
The convertible provided the answer to this problem. A convertible essentially could be converted from an open car into a "closed car" like a sedan or coupe, by deploying the folding top and rolling up the side windows. (Most "open cars" and "roadsters" had no side windows at all.) So a convertible can offer the joys of an open car with some of the convenience and comfort of a coupe, and today's convertibles with folding metal roofs do that extremely well.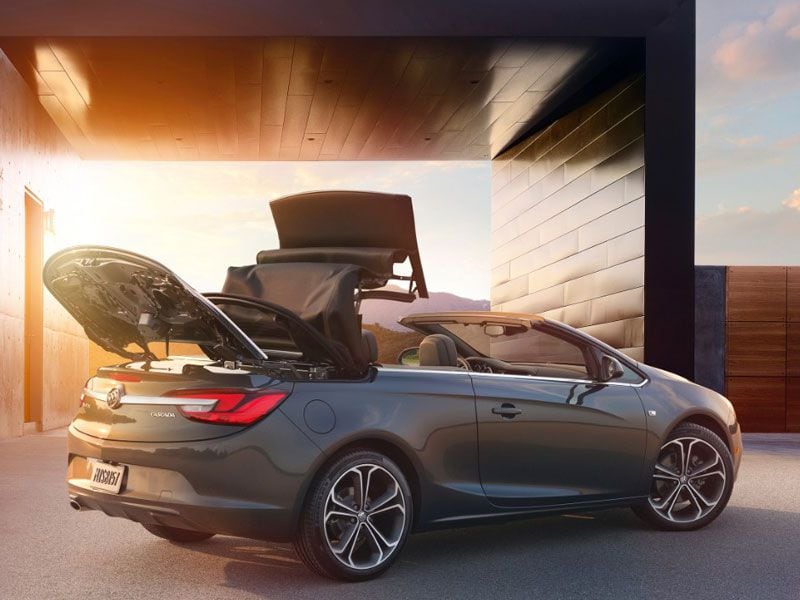 Photo by General Motors
7. Safety has improved.
The safety of convertibles has improved significantly over the past few decades. In bygone days, a rollover crash in a convertible had very dire consequences, but now many convertibles have very sturdy windshield headers and roll-bars that make those situations much less life-threatening. Further, modern convertibles can be equipped with a broad array of driver-assist and safety technologies.
Security, though, is more of a mixed bag. If you have a soft-top convertible, it is not too difficult for a thief to cut the top and get inside the vehicle. The good news is that many convertibles have lockable interior storage places that at least make it harder for thieves to gain access to your stuff. One good tactic is to use the trunk to store your stuff and make certain the trunk can't be opened using a lever or switch in the interior of the car.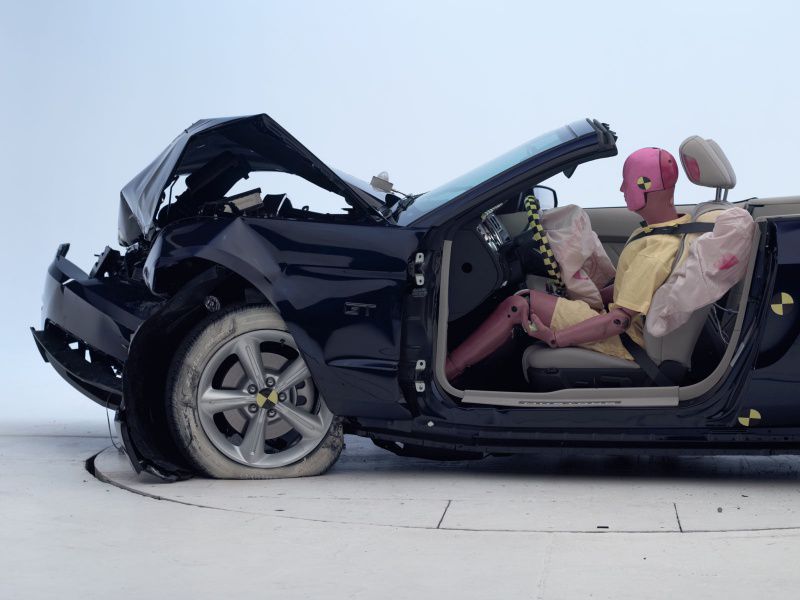 Photo by Insurance Institute for Highway Safety
8. Insurance costs more.
The just-mentioned security issue is one reason that convertibles often cost more to insure than a similar closed coupe. A bigger reason is that they cost more to buy and thus cost more to fix if they are in an accident. It is much less time-consuming and requires much less skill to do bodywork on a damaged sedan or coupe than to repair a crash-damaged convertible.
As we've said, the convertible top mechanism is a big collection of parts that must operate in unison, so repairing it is a big job — probably bigger than installing the convertible top in the factory where the car was originally built. If the body of the car is in any way "tweaked," getting the top to deploy correctly without leaks can be a painstaking process.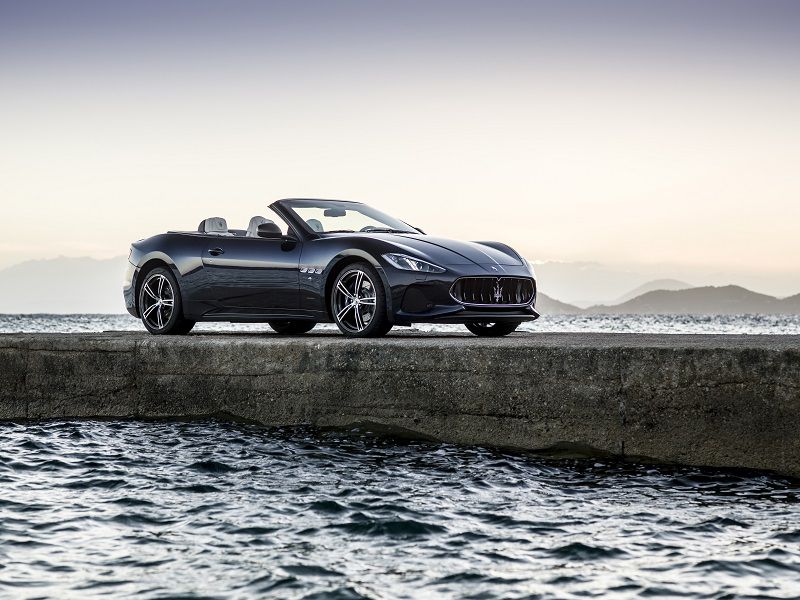 Photo by Maserati
9. Convertibles are less rigid and quiet.
Convertibles have come a long way toward matching the quiet and comfort of a closed car, but some still have a distance to go. Since a fixed roof adds rigidity to the typical coupe, a convertible needs to replace this rigidity in another manner.
Often, the lower portion of the vehicle's body at the rocker panels receives stiffening through the addition of material. If the convertible lacks proper rigidity, it will shake and vibrate more, adding to the possibility of interior noise. And though convertible top construction has gone a long way toward addressing noise issues through added insulation and better sealing, a soft-top convertible will never have the sound insulation properties of a closed car. Again, convertibles with folding metal tops typically do a better job of transforming themselves into coupes than soft-tops do, but they have their issues as well.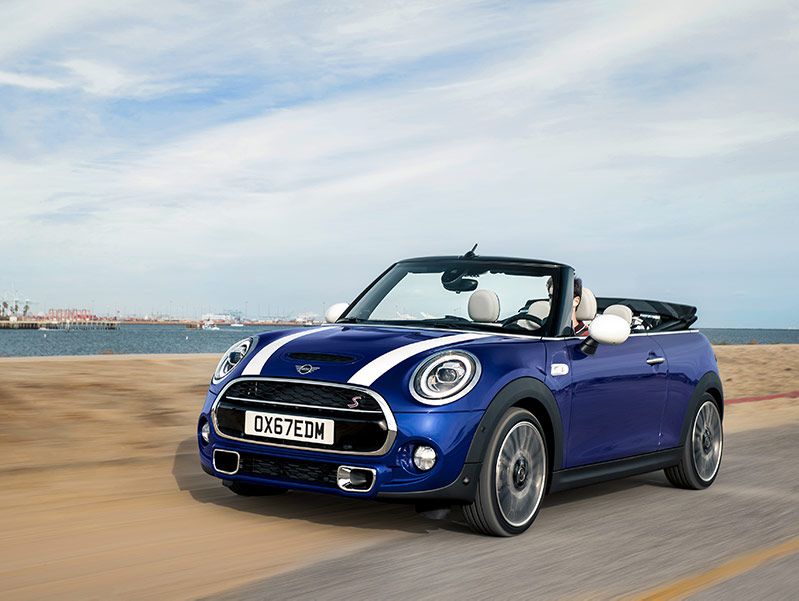 Photo by MINI
10. They're more than transportation.
After reading the previous pages, you might well wonder why anyone buys and owns a convertible. And the answer to that conundrum is similar to the discussion we had about boats earlier in this piece.
Yes, a convertible has negatives. It costs more to buy, maintain, and insure. It isn't as roomy as an equivalent coupe, and it has safety and security issues. It might be a little noisier and a bit less comfortable as well. But the reason people still buy and own convertibles in the fact that they absolutely love the experience of driving them. Zipping down a curvy mountain road with the top down and the smell of honeysuckle wafting around you is worth all the hassles. So is driving at 7 mph in a local parade with the Homecoming Queen and King perched carefully in the back waving to the gawkers on the sidewalk. A convertible is more than transportation, and as long as we seek that from our cars, convertibles will have their place.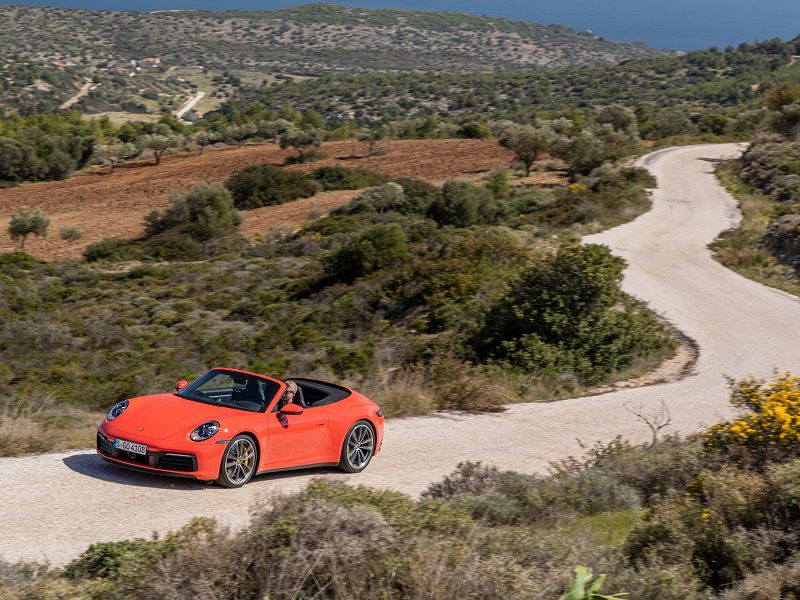 Photo by Porsche