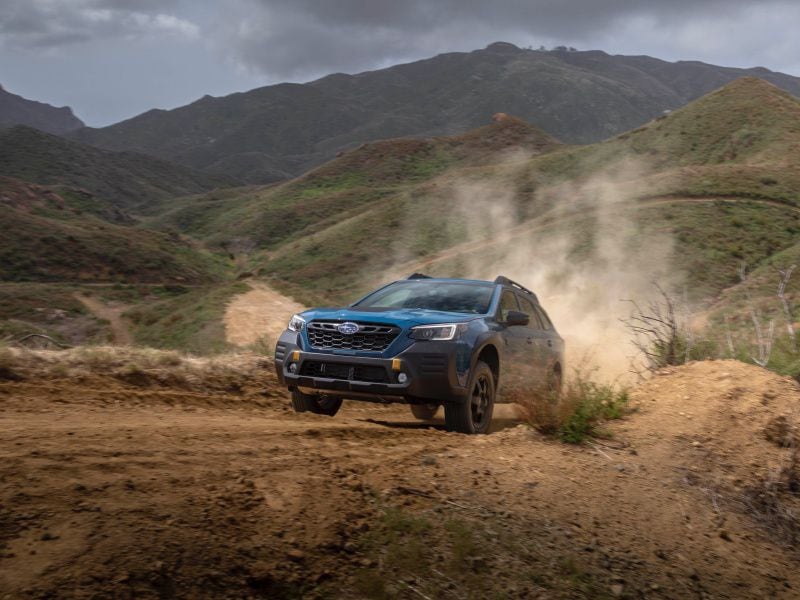 2022 Subaru Outback Wilderness ・ Photo by Subaru
Subaru has a new and improved Wilderness family of SUVs coming, and the 2022 Outback Wilderness is the first one to arrive. With a raised suspension, drivetrain enhancements, and other off-roading goodies, the new Outback Wilderness is the most capable off-roader Subaru has ever built, and for now, it has few peers in its class.
Better yet, the 2022 Outback Wilderness goes on sale in time for your summer-of-2021 road trip, slotting into the current Outback lineup between the Onyx Edition XT and the Touring XT. If you like to play guessing games, this suggests a base price of less than $40,000, including destination charges to ship it from Subaru's Lafayette, Indiana factory to where you live.
Does this sound compelling? If so, you need to know these 10 things about the new 2022 Subaru Outback Wilderness.
An Overlanding Look With Factory Warranty, Tuning
Subaru owners are already modifying their vehicles with lifted suspensions, knobby tires, and black wheels to get the trendy overlanding look. In the process, though, they could be voiding their warranty coverage and goofing up the calibration of the EyeSight safety and driving assistance technologies.
Subaru wants to solve this, and the Wilderness trim is the answer.
In addition to a lifted suspension fitted with long-travel shocks, the 2022 Subaru Outback Wilderness features exclusive matte-finish 17-inch aluminum wheels. They're wrapped in all-terrain Yokohama Geolander tires with raised white-outline lettering that recalls the original 1996 Outback. Rugged body cladding makes the crossover suv ready for action, and the standard roof rack is rated to hold 700 pounds, making it perfect for rooftop tent camping.
Better yet, Subaru supplies a full-size spare wheel and tire with the Outback Wilderness. It's stored under the SUV's cargo floor.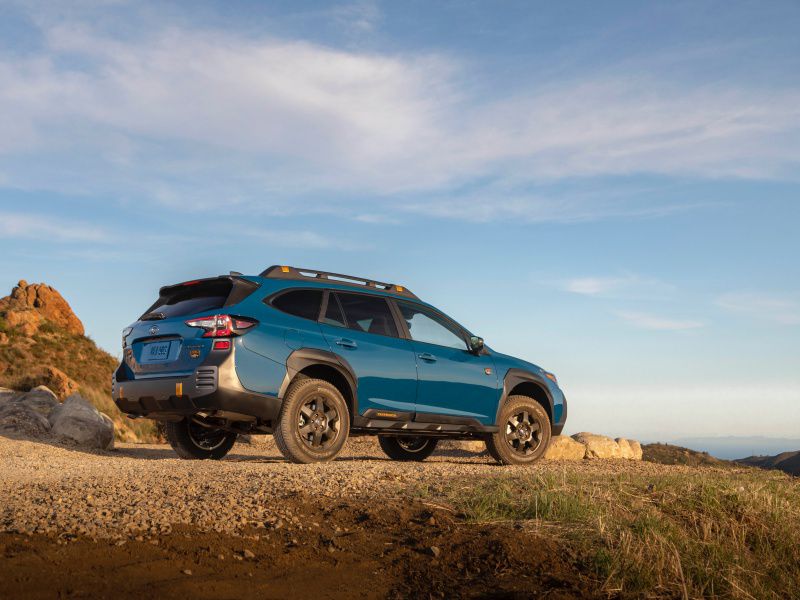 Photo by Subaru
Distinctive Design Details
In addition to its taller stance and off-roader look, the 2022 Subaru Outback Wilderness features additional design details that set it apart from other Outback models.
For example, restyled front and rear bumpers improve approach and departure angles. The wheel arch trim is thicker with a more dramatic design, and the lower body trim is bolder with a more purposeful appearance. Subaru also installs a unique grille with a hexagonal mesh pattern, and the taillights have a similar look to them. A matte-black hood graphic cuts down on glare, and the typical chrome window surrounds are black for this model.
Subaru says the Outback Wilderness will come in most of the standard Outback colors. An exclusive hue called Geyser Blue takes its inspiration from Subaru's rally heritage and U.S. National Parks. Anodized copper accents and special Wilderness badges further identify this version of the Outback as unique.
Photo by Subaru
Turbocharged Power
Because the new 2022 Subaru Outback Wilderness is a member of the Outback XT family of models, it has a turbocharged engine that supplies plenty of power. Better yet, turbocharged engines perform better at elevation, and if you buy the Outback Wilderness, chances are you're going to be heading to higher ground.
The turbocharged 2.4-liter 4-cylinder delivers 260 horsepower at 5,600 rpm and 277 lb.-ft. of torque between 2,000 and 4,800 rpm. Subaru estimates that it will get 22 mpg in the city, 26 mpg on the highway, and 24 mpg in combined driving. It can tow up to 3,500 pounds when properly equipped.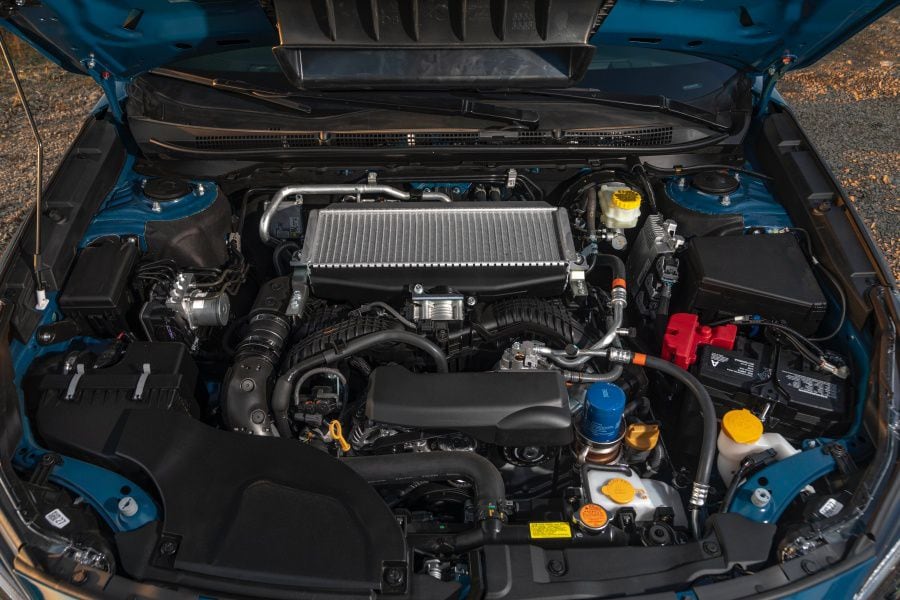 Photo by Subaru
Drivetrain Improvements Add Capability
Subaru pairs the turbocharged engine with a continuously variable transmission (CVT) and its Active Torque Split all-wheel-drive (AWD) system. This AWD system continuously adjusts the distribution of engine power as conditions require. The company's dual-mode X-Mode traction assist system is also standard.
For the 2022 Subaru Outback Wilderness, the automaker modifies the CVT to improve low-end torque at the wheels. As a result, Subaru says the Outback Wilderness can climb a 40-degree, gravel-strewn hill. Upgrades also enhance the way X-Mode operates when transitioning from low speeds under 25 mph to higher speeds over 25 mph.
Carrying over from the standard Outback, the Wilderness has an automatic vehicle hold function, a hill descent control system, and brake-induced active torque vectoring technology. Drivers can also manually choose between Snow/Dirt and Deep Snow/Mud X-Mode settings, and a new roll-angle indicator is part of the X-Mode system's data display.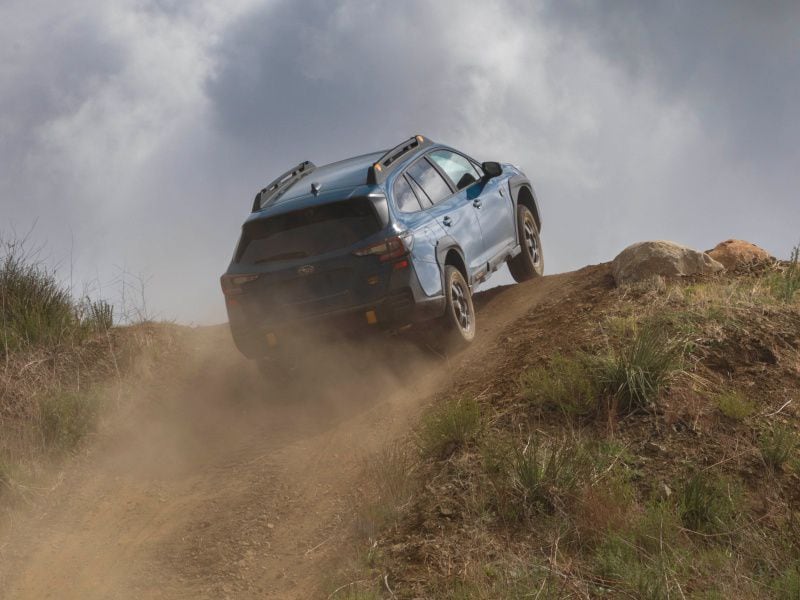 Photo by Subaru
Improved Clearances and Angles
Thanks to its reworked suspension and styling modifications, the 2022 Subaru Outback Wilderness boasts improved ground clearance and better approach, breakover, and departure angles. The vehicle's track is slightly wider, too, thanks to its exclusive wheel design.
With 9.5 inches of maximum ground clearance, the Outback Wilderness beats all of its crossover suv competitors. This measurement also represents a substantial increase over the standard Outback's 8.7 inches of clearance.
Additionally, the revised bumper designs, combined with the raised suspension, improve the approach angle from 18.6 degrees to 20 degrees, and the departure angle from 21.7 degrees to 23.6 degrees. The breakover angle is enhanced, too, rising from 19.4 degrees to 21.2 degrees.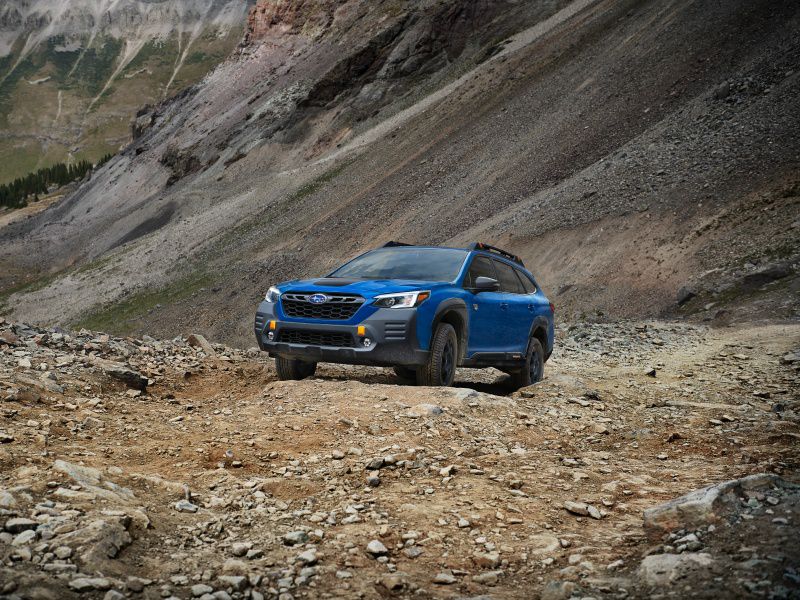 Photo by Subaru
Standard and Optional Underbody Protection
Given these increases in clearances and the Outback Wilderness's mission to improve upon the standard Outback's off-roading capabilities, it's only natural that Subaru would provide access to comprehensive underbody protection. After all, you can't tempt your customers with added ability only to have them ruin their vehicles when sampling it.
To this end, the new 2022 Subaru Outback Wilderness has a standard front skid plate. If you're buying one for its capabilities and not its looks, you can add accessory skid plates to protect the engine, transmission, fuel tank, and rear differential. Subaru says these will cost about $600, plus labor for dealership installation.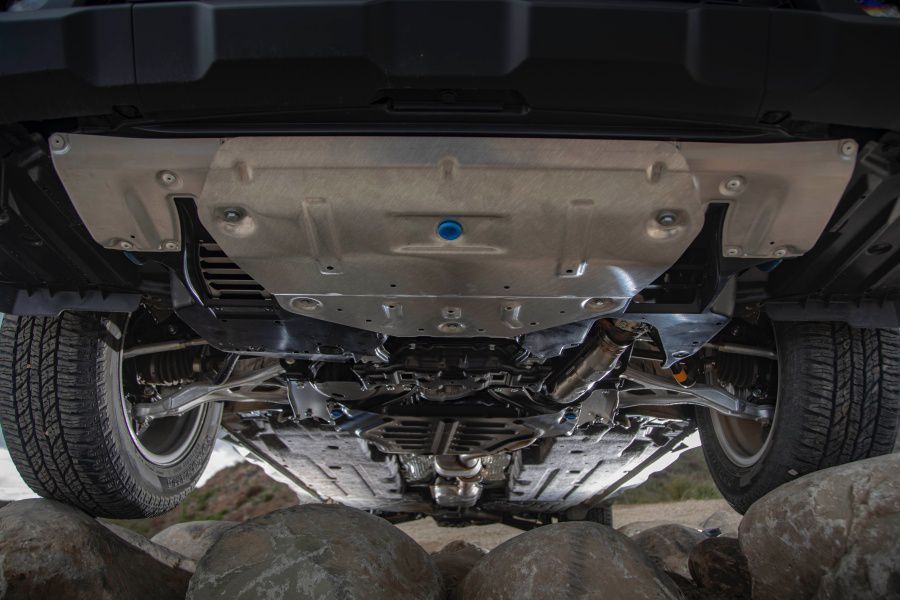 Photo by Subaru
Water-resistant and Waterproof Interior Materials
Assuming that you're going to take the 2022 Subaru Outback Wilderness on adventures that involve snow, rain, and mud, the automaker outfits the interior with water-resistant and waterproof materials.
For instance, the seats are wrapped in Subaru StarTex, a synthetic leather that resists water damage. Rubber all-weather floor mats are standard for this model, as well as a waterproof rear cargo mat. Subaru also coats the Outback Wilderness's rear seatbacks with waterproof material.
So, go ahead and get dirty. You won't ruin your Outback Wilderness's interior.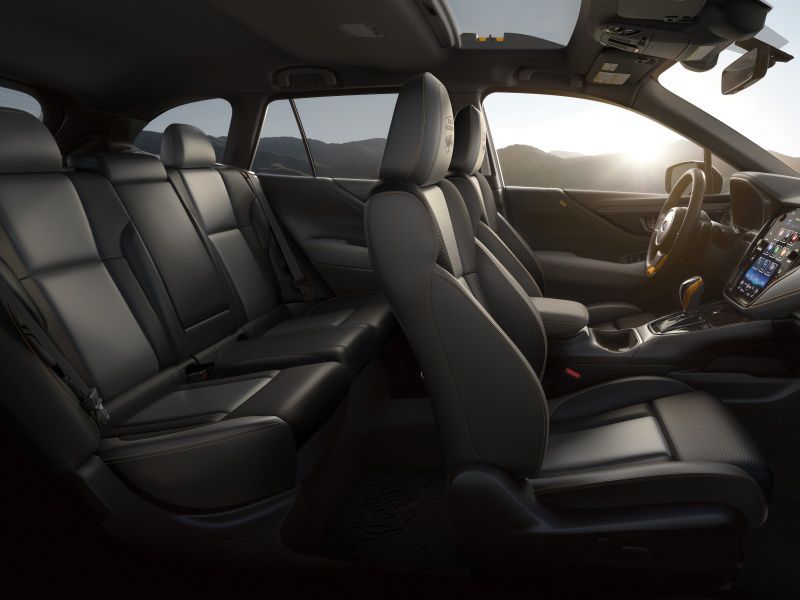 Photo by Subaru
Standard StarLink Infotainment and Connected Services
Every 2022 Subaru Outback Wilderness comes with the company's StarLink infotainment system. This model has an 11.6-inch touchscreen display, mounted portrait-style on the dashboard, and incorporating the vehicle's climate controls.
Standard features include Bluetooth, Apple CarPlay, Android Auto, HD Radio, and SiriusXM satellite radio. Upgrades include navigation, premium sound, wireless device charging, and a rear-seat entertainment system including two iPads and wireless headphones. Over-the-air software updates keep the StarLink infotainment system fresh over time.
Subaru also offers a long list of connected services for the Outback Wilderness, including automatic crash notification, SOS emergency calling, a Wi-Fi internet hotspot, remote engine starting with climate system pre-conditioning, a vehicle location service, safe teen driving alerts, and more. Some of these StarLink connected services are free for a specific period, while others cost extra immediately or not long after you buy the vehicle.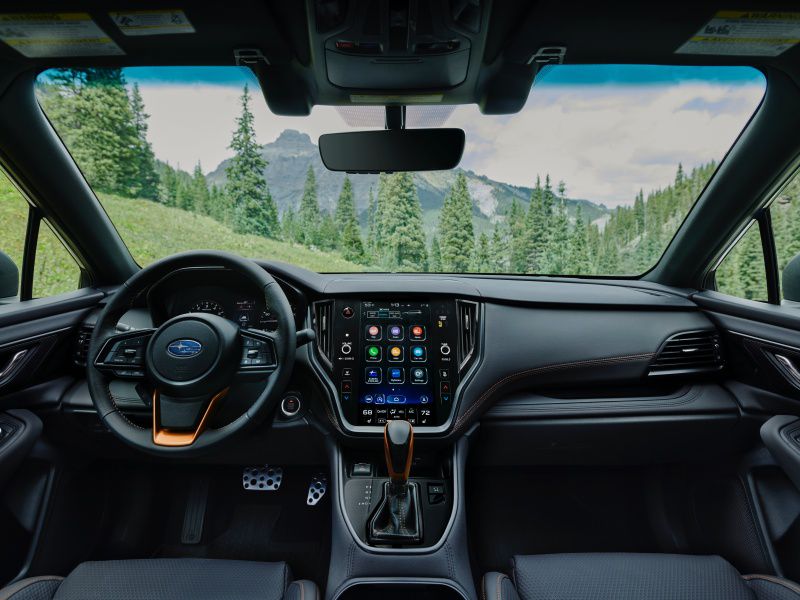 Photo by Subaru
Standard EyeSight Safety Systems
EyeSight is standard on the 2022 Subaru Outback Wilderness, equipping the SUV with a long list of advanced driving assistance systems. They include forward-collision warning, automatic emergency braking, lane-departure warning, and lane-keeping assistance. Additionally, a blind-spot warning system with rear cross-traffic warning is also standard.
If you're looking for a more relaxed drive to wherever it is that you're going, the adaptive cruise control and lane-centering system provide Level 2 driving assistance. It does, however, require that you keep your hands on the steering wheel and your eyes on the road.
Because Subaru makes the Outback Wilderness, the automaker ensures that EyeSight is properly calibrated for the car's modifications. Owners who customize their vehicles themselves can create problems with EyeSight's operation and functionality.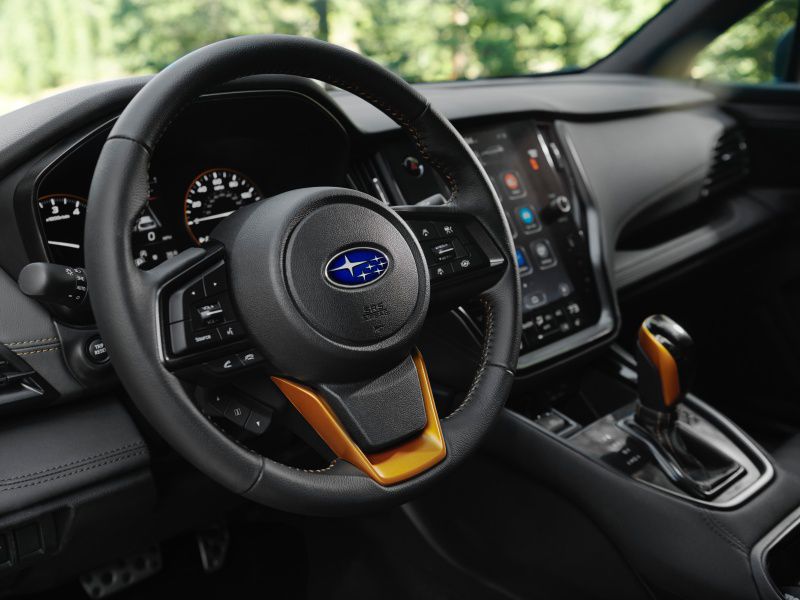 Photo by Subaru
Customization Opportunities Galore
Speaking of customization, Subaru supplies a robust catalog of accessories for all of its vehicles, including the new 2022 Outback Wilderness.
From floor, seat, and cargo area protection to a variety of trailer hitch and roof racks and attachments, Outback owners can tailor the Wilderness to specific lifestyles and preferences. You can even get a CD player if your music collection is on physical discs rather than stored in the cloud.
And if you've got a big, furry friend along for the ride, a cargo separator can keep a wet, muddy dog out of the passenger compartment.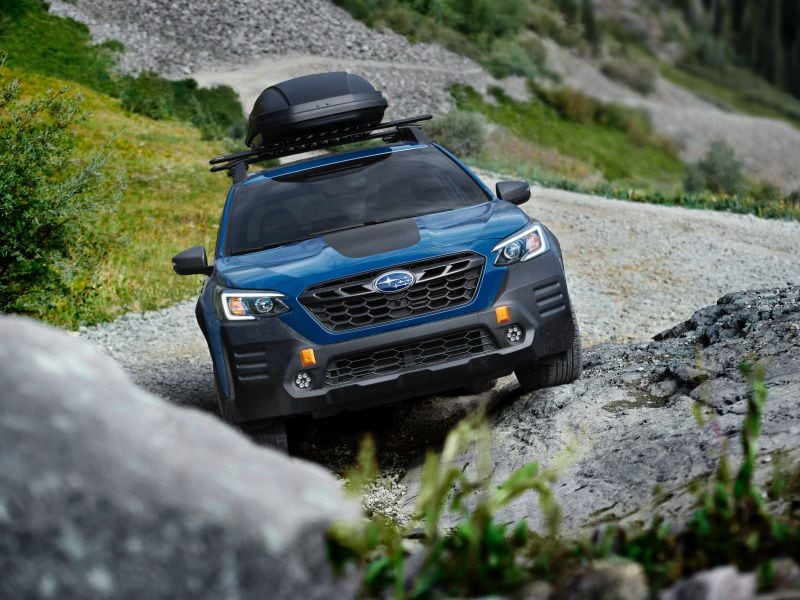 Photo by Subaru