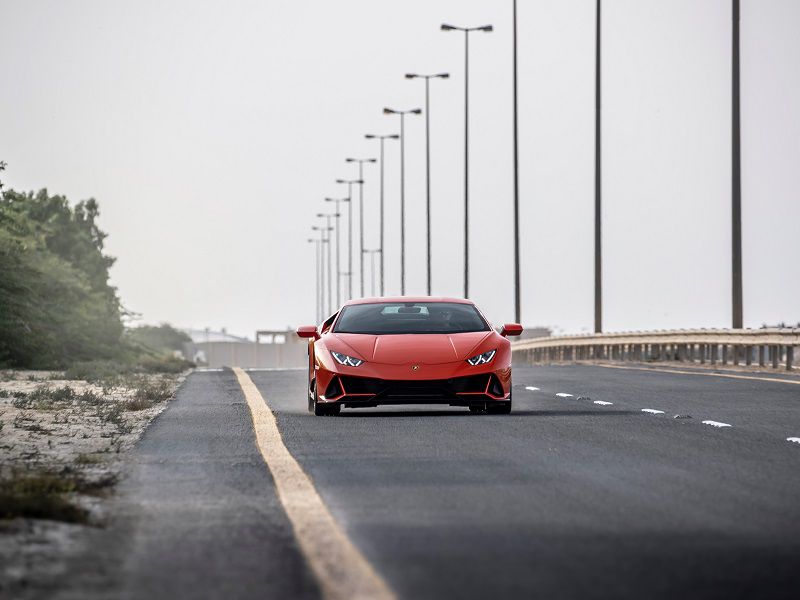 2020 Lamborghini Huracan Evo Orange Braking Front ・ Photo by Lamborghini
As its name suggests, the 2020 Lamborghini Huracán Evo Coupe is an evolution, a mid-life revamp. Whereas the original model had 602 horsepower, this one boosts its naturally aspirated 5.2-liter V10 to 631 hp. There have also been styling tweaks, fresh colors, the addition of rear-wheel steering, and something called LDVI.
The Huracán is Lamborghini's entry-level supercar. The Aventador is bigger and badder, in a good way. And the Evo Coupe is the least expensive Huracán. Nevertheless, this car is wonderfully powerful, perfectly poised, crazy quick, well-equipped, and utterly desirable. Here are 10 things you need to know about this freshly updated Lamborghini. 
1. It's gorgeous.
This is subjective, yes. But judging by the reaction of so many people we've witnessed when behind the wheel, the Huracán Evo coupe is a visual winner. Its chief designer was Filippo Perini — not a household name, but his resume includes work for Alfa Romeo and Audi. He was also involved in the Lamborghini Urus SUV/crossover's styling. Mentioning Perini is quite newsworthy, as he's been head-hunted by Genesis.
The Huracán Evo is seriously sleek and sharp. It makes the Gallardo, its predecessor, look rather plain. That is a real feat of design. It doesn't have those scissor doors for which Lamborghini is famous, but no one should care. And they would have added weight.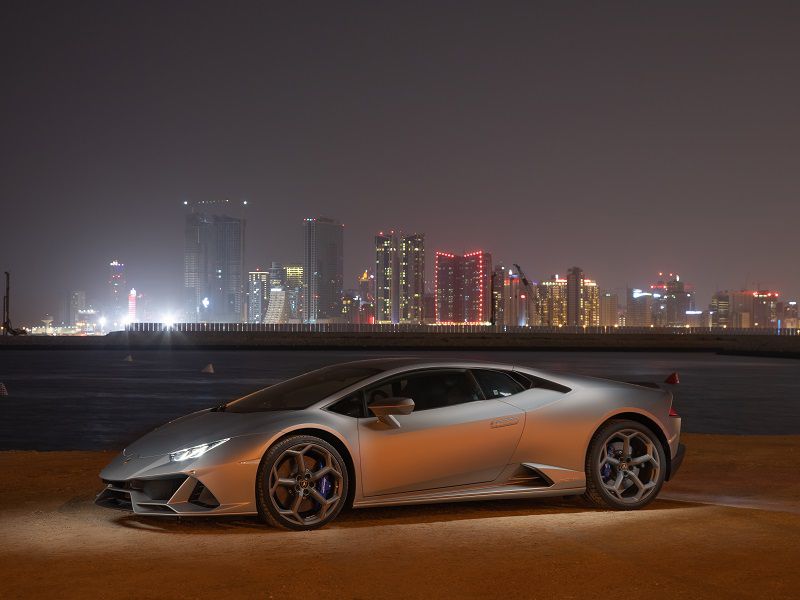 Photo by Lamborghini
2. It's amazingly fast.
The speed and handling characteristics really add up to a tale of two Huracáns. Both of them are supremely quick, but only one of them is really accessible on public roads. And even then there should be a high degree of restraint, since it can zip from standstill to 60 mph in just 2.9 seconds.
The "other" Huracán is only accessed on a track, where the driver can see what's around the corner, safe in the knowledge that no one is coming the other way. And the top speed of 202 mph might be approached on a straight section. The 631-hp Huracán also allows for some seriously high cornering speeds, thanks in part to torque-vectoring all-wheel drive and all-wheel steering.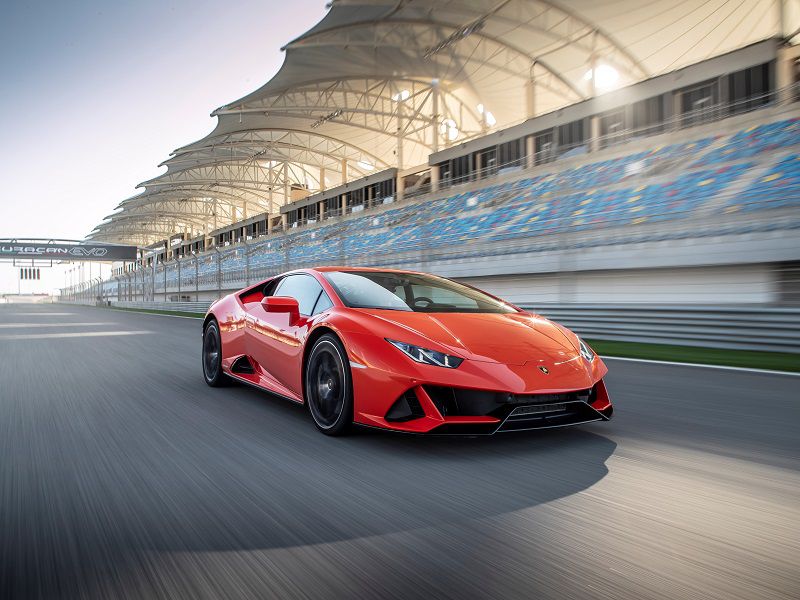 Photo by Lamborghini
3. It sounds awesome.
Driving modes are Strada (Italian for street), Sport (take a wild guess), and Corsa (Italian for track). In Strada mode, the Huracán is civilized, only offering up a growl during bursts of acceleration.
Sport mode is when the spine starts to tingle. The exhaust barks louder, and there are little explosions on the overrun and downshifts, making the driver feel that this civilized machine has suddenly become wilder. In Corsa mode, it seems like any muffling has been bypassed. If a loud, thunderous, intense, metallic exhaust sound could be described as beautiful, it's this. To be honest, we never once turned on the stereo system of our test car. The engine sounds were music enough.
Photo by Lamborghini
4. The brakes are fantastic.
Going fast is, of course, thrilling. Not being able to slow down in time is most definitely not. Fortunately, carbon ceramic brake discs are standard in the 2020 Huracán Evo Coupe. Some manufacturers charge quite a bit extra for this kind of braking system, so it's good to see more justification for this Lamborghini's not-inconsiderable price.
The braking action is confident, progressive, and strong, while also full of feel. Being able to attenuate the pressure or just apply a deft touch is a welcome trait. And because the discs are carbon ceramic, they're not prone to getting too hot and fading. These are the perfect stoppers, in a road car or a track car. It just so happens that the Huracán is both.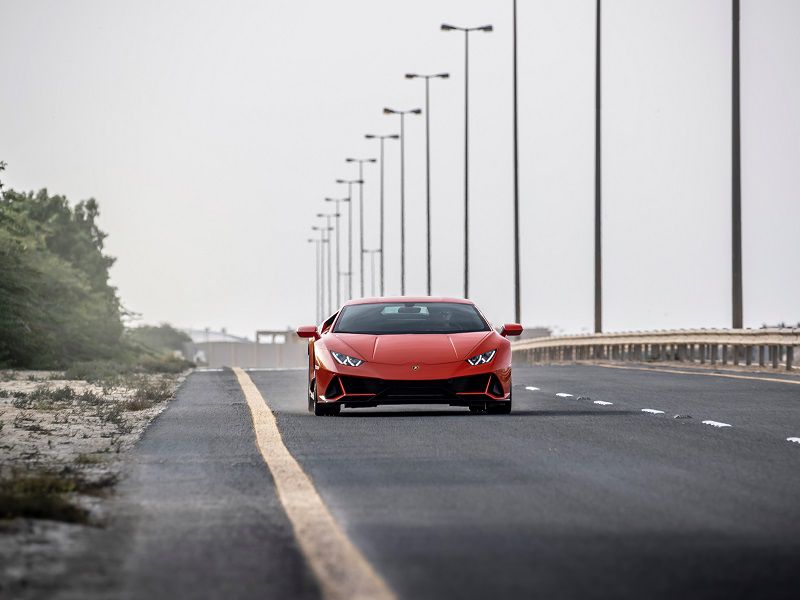 Photo by Lamborghini
5. It's pricey.
Price is an essential ingredient of our 10 things you need to know about the 2020 Lamborghini Huracán Evo Coupe. No new Lamborghini could be described as a bargain. But the starting price of $270,969 also includes a great deal of exclusivity, and the Huracán is still built at the company's traditional factory in Sant'Agata, northern Italy.
At this level of expenditure, it may not matter that the options are similarly stupefying. The admittedly gorgeous Arancio Xanto pearl-effect paint (a kind of burnished orange) of our test car is $14,000. We could probably do without the heated/power-adjustable seats ($3,200), but they are surprisingly comfortable as well as super-supportive.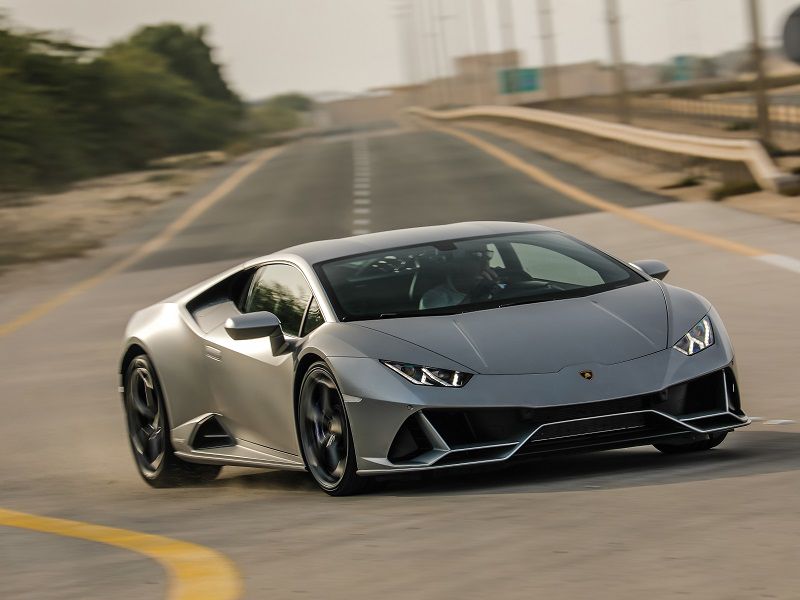 Photo by Lamborghini
6. It has LDVI.
Also known as Lamborghini Integrated Vehicle Dynamics (or Lamborghini Dinamico Veicolo Integrata if you want to get all Italian about it), the LDVI system monitors a wide range of information that includes driver input, which driving mode is selected, and what the conditions are like. Another source of information is the Lamborghini Piattaforma Inerziale (LPI) that's a conglomeration of sensors and gyroscopes.
LDVI then, in the space of around 20 thousandths of a second, tweaks various systems such as throttle response, gearchange times, steering, and active suspension settings to suit the moment and anticipate what the driver will want next. It's kind of revolutionary, but also not in the least bit heavy-handed. It just makes you think you're a better driver than you probably are.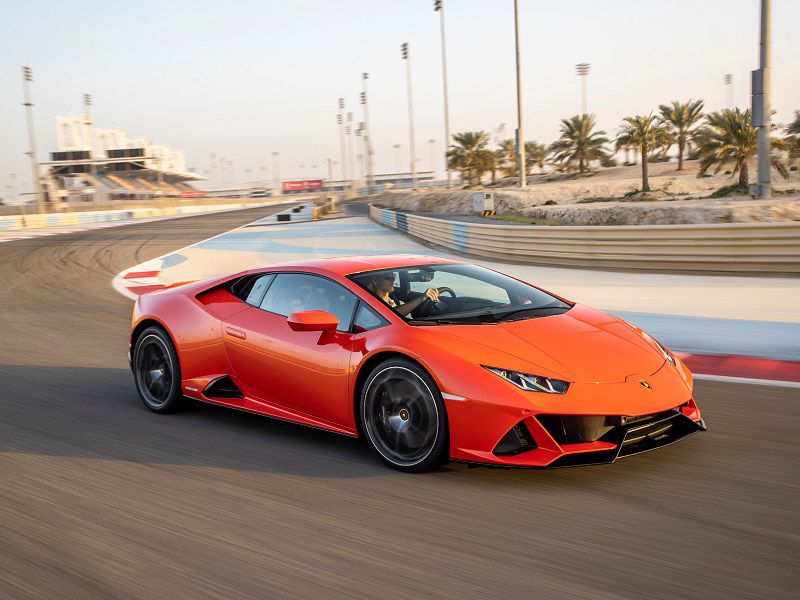 Photo by Lamborghini
7. Don't worry about luggage space.
This is one of those 10 things you need to know about the 2020 Lamborghini Huracán Evo Coupe that goes under the usual supercar radar. The Huracán's cabin has space for two, plus their cellphones and sunglasses. Granted, the latter go in the door pockets; a dedicated holder would have been nice. But perhaps Lamborghini thinks its clients are the type who wear sunglasses all the time.
The rear section is taken up with that glorious V10 engine. A small storage area beneath the hood might take a small soft bag containing a change of underwear and a couple of toothbrushes. But, for a fee (naturally), Lamborghini will transport an owner's luggage to their destination. So that long weekend in Monterey can still be enjoyed to the fullest.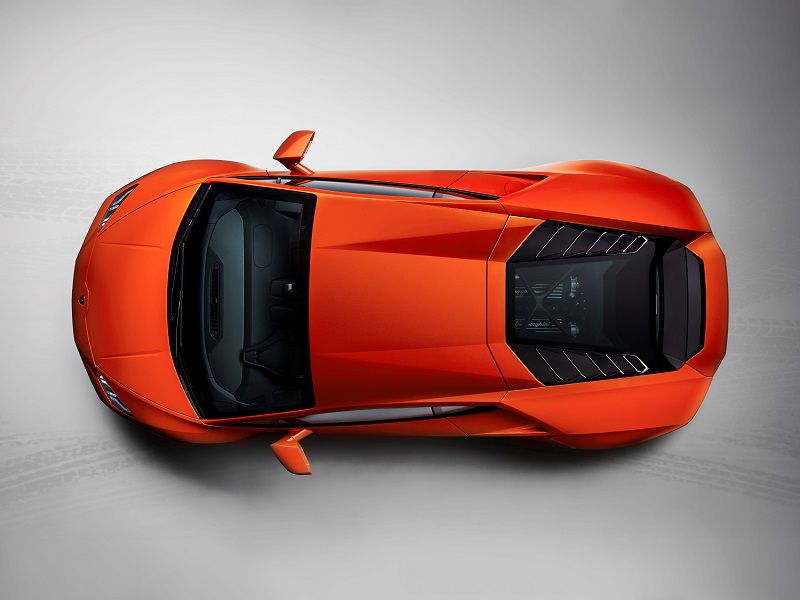 Photo by Lamborghini
8. There's some road noise.
Road noise is only to be expected when those fabulous 20-inch alloy wheels are wearing wide 245/30 tires up front and even wider 305/30 rubber at the rear. This is the most fundamental aspect of all that incredible grip the Huracán enjoys, which is why every supercar has wide tires. If anyone wants to let someone else drive so they can take a nap, then perhaps they'd be better off in a genteel, relaxing Lexus. For the enthusiast, the sound of tire against tarmac is part of the territory.
Admittedly, it could get a little wearing if someone used their Huracán for regular commuting, but that's highly unlikely. Someone who owns a Lamborghini probably has at least a couple more cars in their garage.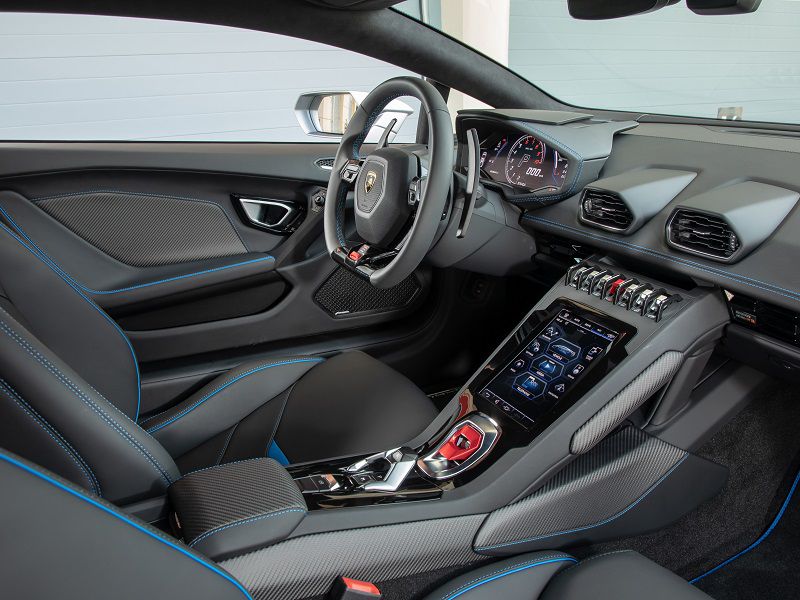 Photo by Lamborghini
9. The 2020 Huracán rides low, but there's a remedy.
This is a supercar, where driving capabilities are enhanced by a low center of gravity and superior aerodynamics. The front lip could become a casualty of misjudged inclines, unseen curbstones, or that little ramp leading up to gas stations (which Lamborghini drivers will be visiting frequently).
For $4,000, a nose-lifting system should ease the worries considerably. We'd say it's a must-have option. It saves the time, trouble, and expense of taking the car to a Lamborghini dealership for repairs — which would probably work out to far more than $4,000.
Photo by Lamborghini
10. Even this 'entry-level' version feels incredibly special.
Of all the 10 things you need to know about the 2020 Lamborghini Huracán Evo Coupe, this might be the most important. Some traditionalists might think that features such as an adaptive magneto-rheological suspension, variable-ratio steering, torque vectoring, and rear-wheel steering will get in the way of a pure driving experience. But they don't. Instead, they enhance. The sound, rush, and feel are all undiluted.
Just dropping into the driver's seat is a thrill. In the center console, an engine start/stop button is behind a flip-up cover. There's no shift lever. Putting the seven-speed dual-clutch transmission into gear is done by clicking up on the right-hand shift paddle. Release the electronic parking brake, check the surroundings — and go.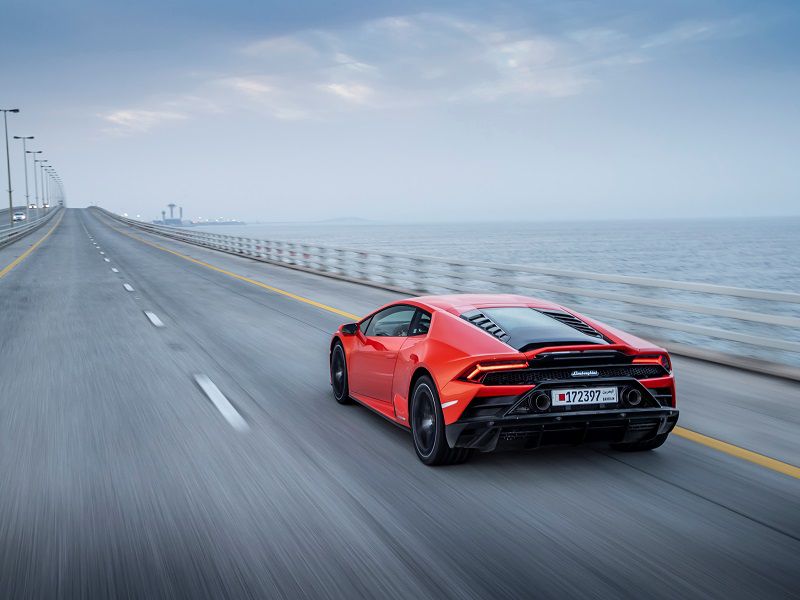 Photo by Lamborghini