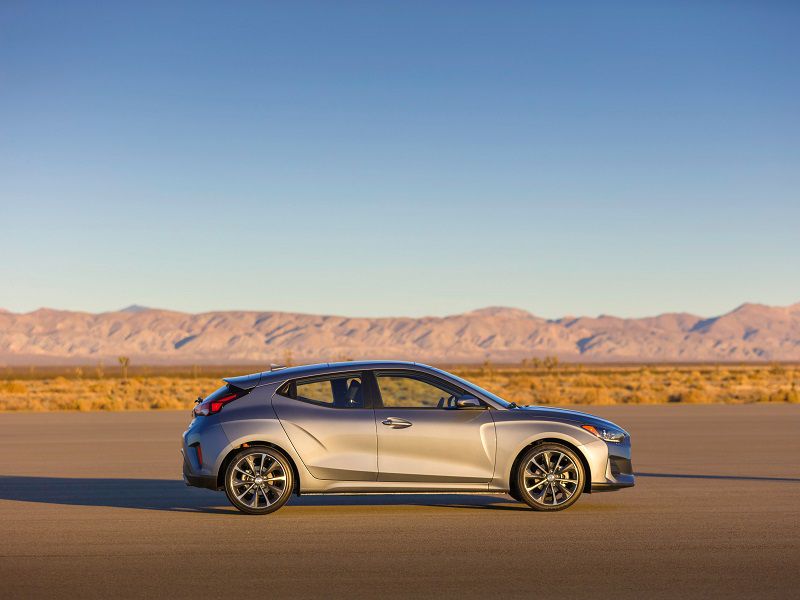 2019 Hyundai Veloster Profile Silver Desert ・ Photo by Hyundai
There aren't many cars on the market that are truly unique. For better or worse, mass-production cars conform to tested formulas; they are designed and engineered to appeal to the widest possible audience within their respective classes. That's what makes the 2019 Hyundai Veloster so interesting — it's a quirky sport compact in an age when quirks have been virtually ground out of existence beneath the heel of conformity.
The Veloster enters its second generation in 2019, following the first generation that began in the 2012 model year.  The new vehicle has received a total makeover, from exterior design to interior design, powertrain, chassis, and technology. Here are 10 things to know about the redesigned 2019 Veloster.
1. The Veloster is a sport compact sedan, coupe, and hatchback — all at the same time.
Unlike just about every light-duty vehicle currently produced (besides a few commercial vans), the Veloster has a single door on the driver's side and two forward-hinged doors on the passenger side — an asymmetrical layout that makes it both a sedan and a coupe, depending on which side you approach it.
This unique arrangement has several advantages. As a driver-centric vehicle, it makes getting in and out of the operator's position easier. For drivers who occasionally carry more than one passenger, the curb-side two-door layout also makes sense. The front-seat passenger doesn't have to exit the vehicle to allow second-row passengers entry or exit. Factor in the hatchback at the rear, and the Veloster's utility and convenience expands even further.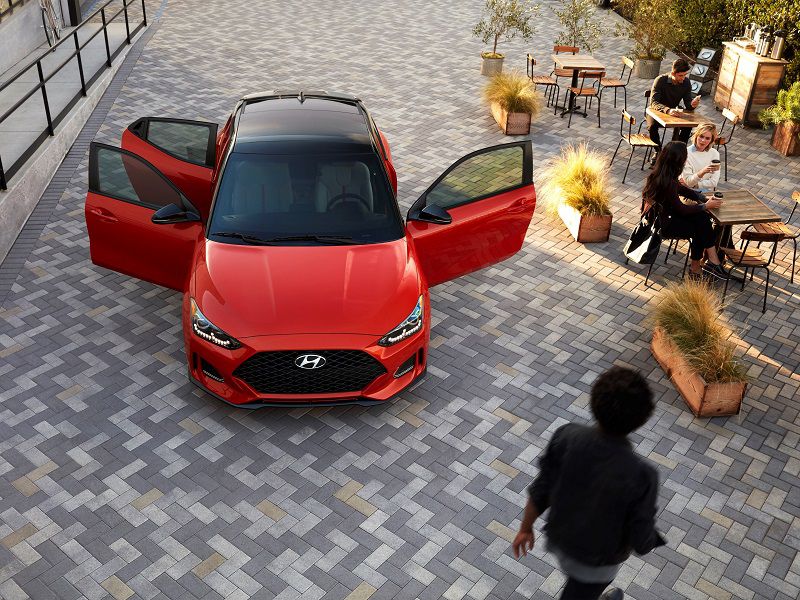 Photo by Hyundai
2. In countries with right-hand drive, the Veloster's configuration is reversed.
The Veloster is a global vehicle that will be sold in multiple markets across the world. In countries where they drive on the left and the steering wheel is on the right (right-hand drive), the interior design will be reversed — and so will the side-door configuration. Those markets will have one big door on the right and two smaller doors on the left.
That means new Velosters sold in the U.K., India, Japan, Australia, New Zealand, Indonesia, and many other countries will be mirror images of the U.S. and South Korea version. Who knows, maybe some enterprising car customizer will get their hands on a pair of left-hand drive and right-hand drive Veloster models to create a pair of pure coupe and sedan examples someday. Stranger things have happened.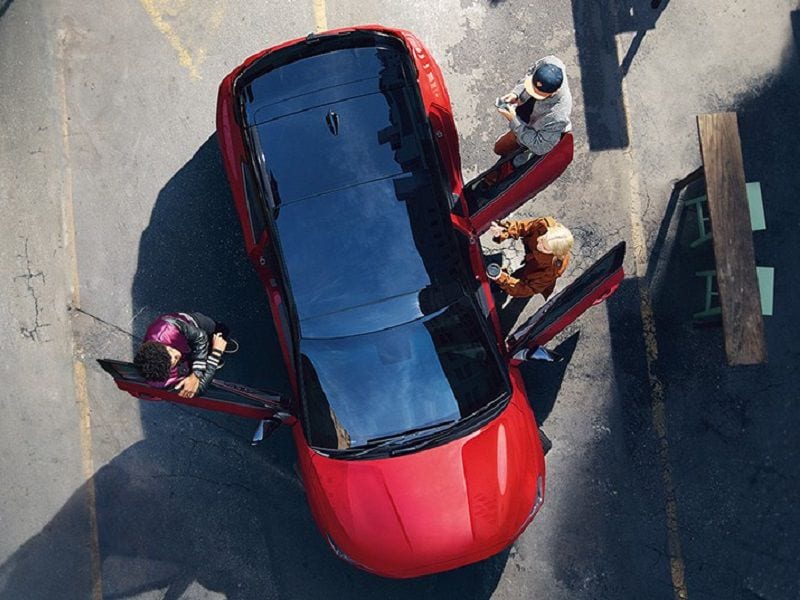 Photo by Hyundai
3. The Veloster will be available with two engine choices at launch.
Two of the Veloster's trim levels, 2.0 and 2.0 Premium, will come with a naturally aspirated (non-turbo) 2.0-liter inline four-cylinder engine with direct injection and variable valve timing. The 2.0 will be tuned to produce 147 horsepower and 132 lb-ft of torque. The remaining three trim levels — R-Spec, Turbo, and Turbo Ultimate — will get a 1.6-liter turbocharged direct-injected four-cylinder engine that pumps out 201 hp and 195 lb-ft of torque.
The EPA estimates the 2.0-liter Veloster can achieve 25 mpg city/33 mpg highway/28 mpg combined with a manual transmission, or 27 mpg city/34 mpg highway/30 mpg combined with an automatic transmission. The turbo Veloster is rated at 26 mpg city/33 mpg highway/29 mpg combined with a manual transmission/28 mpg city/34 mpg highway/30 mpg combined with an automatic transmission.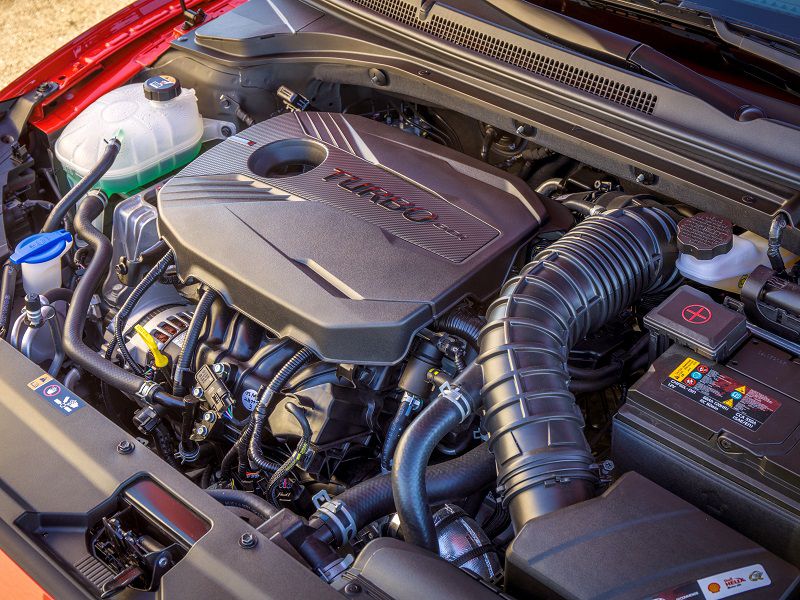 Photo by Hyundai
4. Hyundai's latest telematics system, next-generation Blue Link, makes its debut as an available feature on the Veloster.
As cars continue to get more sophisticated, connectivity has become a buzzword. Hyundai's system is called "Blue Link," and the Veloster has been tapped to debut the next generation. It will be included as a standard feature on all but the base 2.0 model, and it comes with three years of complimentary service.
With Blue Link's LTE cellular connection, owners can remotely turn on their car and its climate control, lock or unlock the doors, and locate the vehicle. Other features include Enhanced Roadside Assistance and Stolen Vehicle Recovery. The system works via buttons on the rearview mirror, through a web portal, and smartphone app. You can even use Amazon Alexa and Google Assistant, and some features can be controlled with apps on the Apple Watch and Android Wear platforms.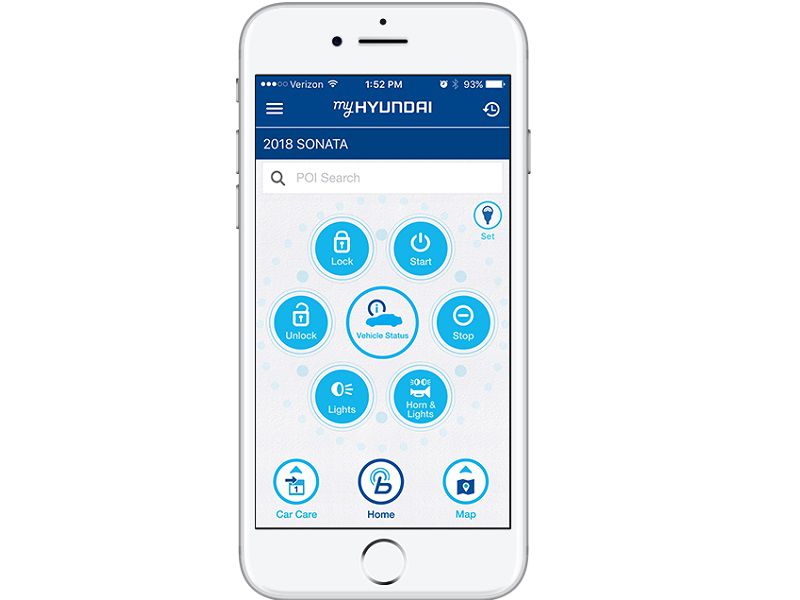 Photo by Hyundai
5. The Veloster uses its brakes to provide torque vectoring.
Torque is the twisting force that spins your wheels. If you can adjust how that force is distributed during cornering, handling can be improved. In normal operation, an equal amount of torque goes to each side of the car. Torque vectoring lets more torque operate on the outside wheel in a turn than on the inside wheel, essentially pushing the car into the turn.
The Veloster's torque vectoring system subtly applies the brake on the inside wheel when the vehicle detects the need, tipping the balance of force toward the outside wheel. This results in an improved "hugging" sensation, and better handling, and it's a simple, elegant solution to a complex handling issue.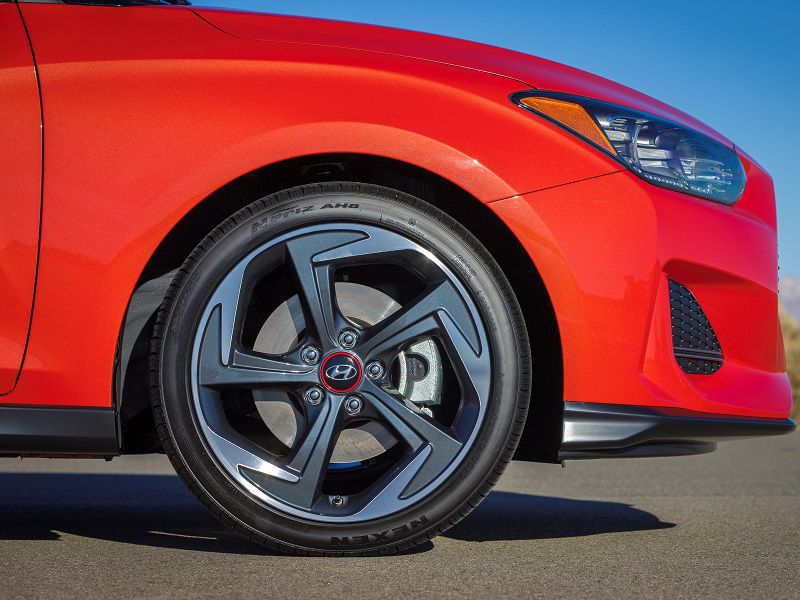 Photo by Hyundai
6. The Veloster's luggage compartment has more capacity than you'll find in some crossovers.
Hatchbacks shine over notchbacks when it comes to cargo handling. Despite its sleek roofline, the Veloster has a big 19.9 cubic-foot luggage compartment behind its rear seat, bigger than most other sport compacts, including the Volkswagen GTI (17.4 cubic feet), MINI Cooper (8.7 cubic feet), and Fiat 500 (7.0 cubic feet).
The Veloster even outdoes some popular subcompact crossovers, including Toyota C-HR (19.0 cubic feet), Chevrolet Trax (18.7 cubic feet), Jeep Renegade (18.5 cubic feet), and MINI Clubman (17.5 cubic feet).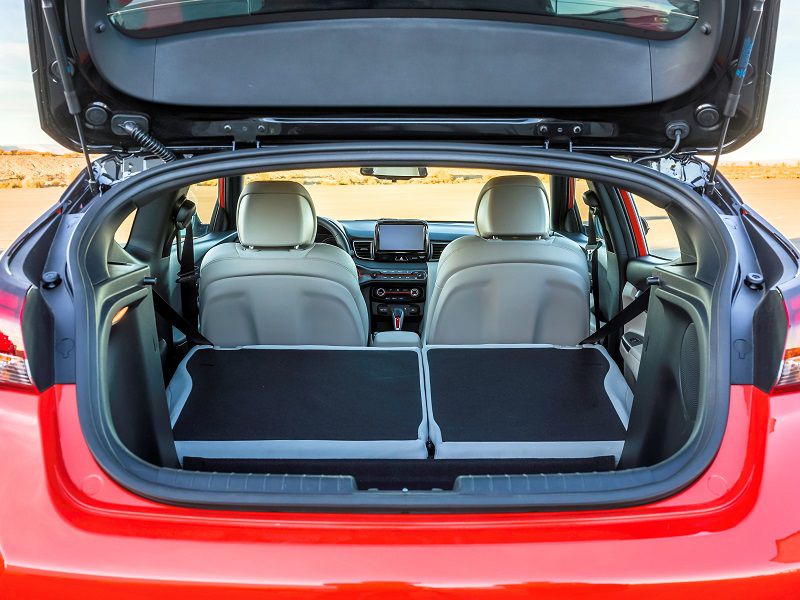 Photo by Hyundai
7. The Veloster comes with a choice of three transmission options – including a six-speed manual.
A sport compact worth its designation must have an available manual transmission, even if fewer and fewer buyers choose this option. At least that's what we think. Hyundai offers a six-speed manual that can be selected with either engine choice, in every trim but 2.0 Premium and Turbo. A conventional six-speed automatic transmission with paddle shifters comes with the 2.0 Premium (it's optional on 2.0 base model), while a trick seven-speed dual-clutch automatic transmission (DCT) is standard on the Turbo and optional on the Turbo Ultimate.
A DCT is a popular option for engineers seeking super-fast gear changes in a compact package. The DCT in the Veloster is supplemented with paddle shifters to let the driver choose shift points, though the transmission does a great job shaping the drive in Normal, Sport, or Smart driving modes.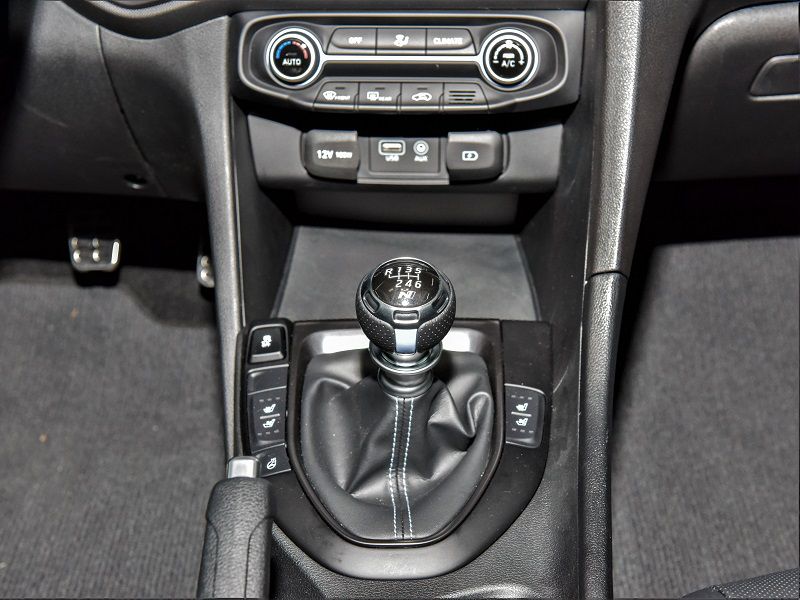 Photo by Hyundai
8. The Veloster has four advanced safety systems that use a single front-facing camera.
Hyundai has made a serious commitment to safety over the years, packing its vehicles with ever-increasing levels of standard and available safety features. The Veloster comes with a passel of them, but the most impressive might be the advanced systems that share a single front-facing camera to achieve their safety goals. Prime among them is an automatic braking system, which can apply the brakes when the camera detects an imminent frontal collision.
The same camera helps to trigger standard lane-keeping assistance and optional automatic high beams and a driver attention warning. The lane-keeping system uses the camera to find road markings and can steer the Veloster back into its lane if it senses drift. The attention system watches for driving characteristics to detect driver fatigue, and warns the driver to take a break.
Photo by Hyundai
9. The Veloster's suspension system has been upgraded for improved handling.
The new Veloster suspension system is fully independent, swapping the torsion bar rear of the first-generation model for a new multi-link system. A beefier 24-mm stabilizer bar is fitted to the front MacPherson-strut suspension, while the rear gets a 15-mm stabilizer bar. The Veloster's front steering knuckles are made from aluminum and are 10.6 lbs lighter than the outgoing car's units, and the aluminum rear suspension carrier contributes to an 8.4-lb reduction in unsprung weight over the previous system.
Unsprung weight is mass that is between a car's shocks and the ground — wheels, tires, and certain suspension parts. Reducing unsprung weight improves handling, and engineers often celebrate seemingly minor reductions because they can deliver dramatic improvements in how a car acts over bumps and around curves.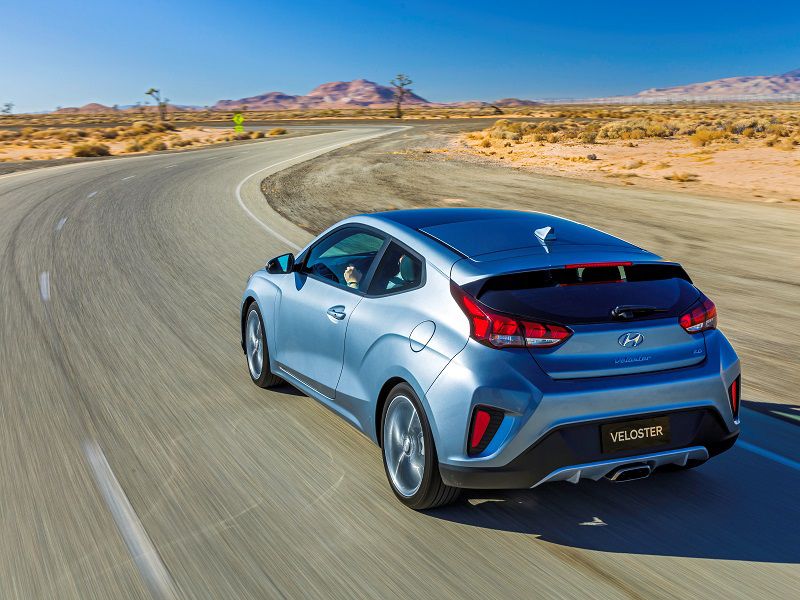 Photo by Hyundai
10. The Veloster N will be launched later this year, debuting Hyundai's performance designation.
At this year's North American International Auto Show in Detroit, Hyundai confirmed the rumors that it would be launching an "N" performance trim level. Many pundits expected this trim level to debut on the Elantra because that's the model that Hyundai has been backing on racetracks.
Instead, the Veloster is slated to be the first N model, which will make its bow sometime later this year. Hyundai's N is set to chase after BMW's M, Cadillac's V, Mercedes-Benz's AMG, Ford's SVT and other in-house performance divisions that apply performance and styling enhancements and improvements to existing models.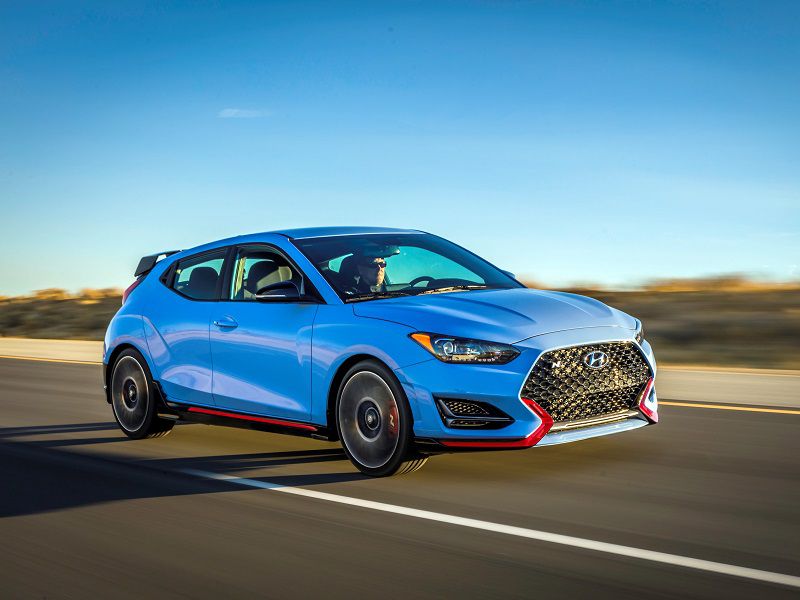 Photo by Hyundai