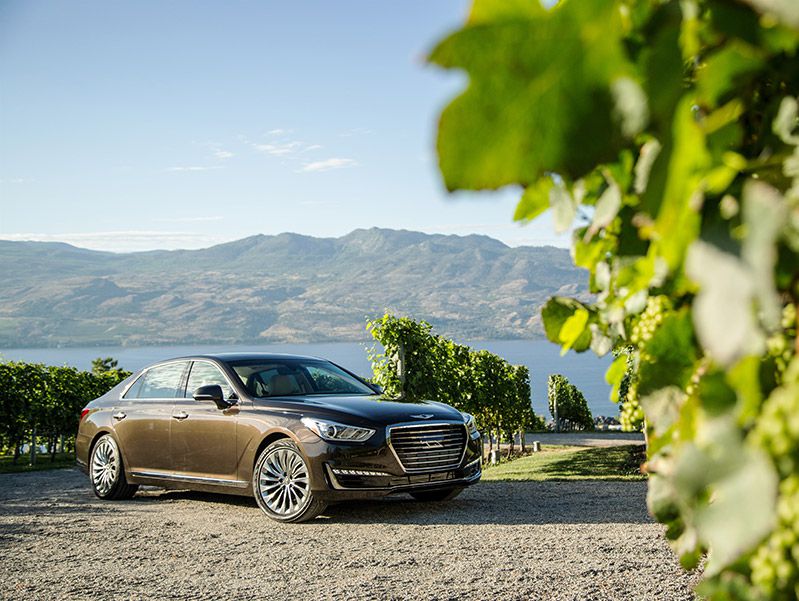 2018 Genesis G90 ・ Photo by Genesis
Most luxury car shoppers hear the name Genesis and they think of the popular 1980's pop band fronted by Phil Collins. The group's catchy and often vexing hits like Sussudio and In Too Deep remain incessant easy listening.
But Genesis is also America's newest luxury automotive brand. Launched just last year as the luxury arm of Hyundai (much like Lexus is to Toyota and Infiniti is to Nissan), Genesis offers a quickly expanding line up of sedans and soon SUVs. The 2018 Genesis G70 sports sedan will launch later this year, while the G80 sedan and the largest Genesis, the 2018 Genesis G90, are on sale now. Genesis has also teased an SUV model called the GV80, which is expected to inspire a production model in the near future, and the brand says that it will launch six new Genesis models by 2021.
The 2018 Genesis G90 is the company's flagship. Like all Genesis models the full-size luxury sedan, which competes with the Mercedes-Benz S-Class, BMW 7 Series and Audi A8, is built in South Korea. Read on to learn 10 things you need to know about this brand new luxury sedan.
1) It's got more power than a BMW 740i.
Genesis offers the 2018 G90 in two models, the 2018 Genesis G90 3.3T Premium and the G90 5.0 Ultimate. The G90 3.3T Premium is powered by a twin-turbocharged 3.3-liter all-aluminum V6 with variable valve timing, direct fuel injection and a variable intake system. It's the same engine used in the Kia Stinger GT sports sedan, and it puts out 365 hp at 6,000 rpm and 376 lb-ft of torque at just 1,300 rpm. That's more power than you get in a BMW 740i.
The 2018 Genesis G90 5.0 Ultimate is powered by an all-aluminum and silky smooth naturally aspirated 5.0-liter V8 that makes 420 hp at 6,000 rpm and 383 lb-ft of torque at 5,000 rpm. Both engines are backed by a perfectly tuned 8-speed automatic transmission, and both models are available with rear-wheel drive or all-wheel drive for an additional $2,500.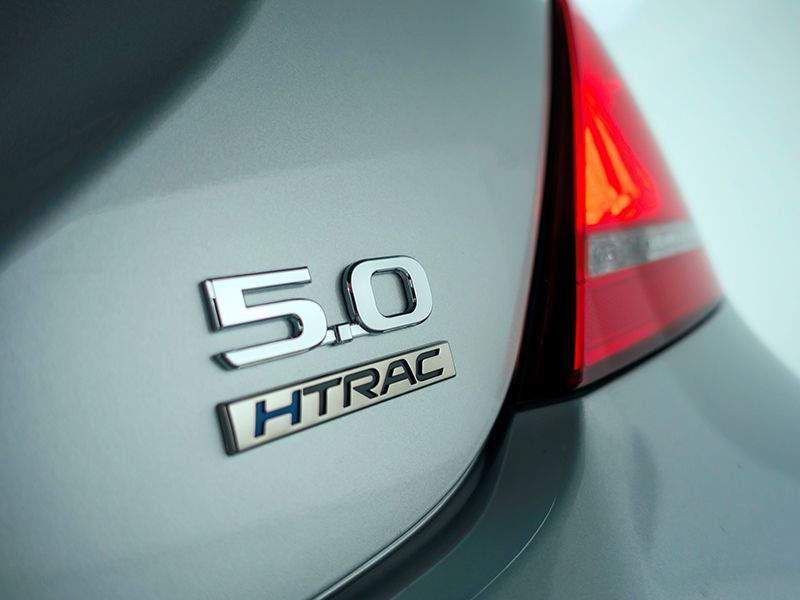 Photo by Genesis
2) It gets fair fuel economy.
Although the 5.0-liter V8 packs significantly more punch, it doesn't use significantly more fuel. The Genesis G90 3.3T Premium is rated by the EPA to achieve approximately 17 mpg city and 24 mpg highway with either rear or all-wheel drive. Not bad for a powerful full-size luxury sedan that weighs over 4,600 lbs. For comparison, the 2018 BMW 740i is rated at 21 mpg city and 29 mpg highway with rear-wheel drive.
The Genesis 5.0 Ultimate weighs about 120 lbs more, and its V8 is a bit more thirsty. Its EPA ratings are 16 mpg city and 24 mpg highway with rear-wheel drive and 15 mpg city and 23 mpg highway with all-wheel drive. In mixed driving, we averaged 20 mpg in our rear-wheel drive test car.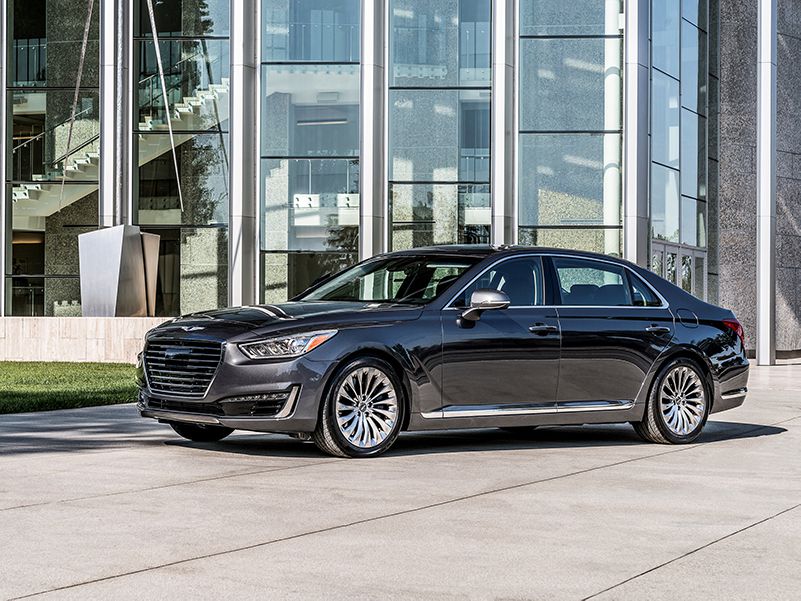 Photo by Genesis
3) Adjustable suspension is standard.
Every 2018 Genesis G90 comes standard with Intelligent Drive Mode, which allows the driver to choose between four settings to tune the sedan for the driving conditions and the driver's mood. The settings are Eco, Smart, Sport, and Individual.
Each setting modifies the responsiveness of the sedan's transmission and throttle, alters the suspension, the steering, and the stability control. The vehicle defaults to the Smart setting every time you start the engine. It's adaptive and adjusts in real time to conditions and your driving style. Eco maximizes fuel economy, while Sport dials up the powertrain's response, stiffens the suspension and adds weight to the steering. The Individual mode allows you to create your own profile and choose your favorite settings for each.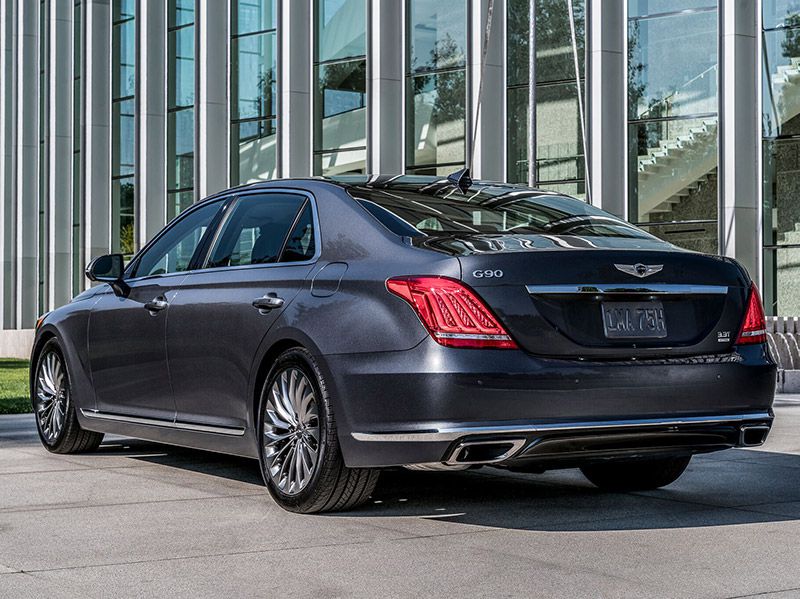 Photo by Genesis
4) You've got a smorgasbord of high-tech driver aids.
Genesis says the G90 sedan has the most comprehensive set of standard safety features in the premium luxury class. We're not sure if that's true, but the G90 does come with an incredibly long list of standard high-tech driver aids.
Every 2018 Genesis G90 comes with Automatic Emergency Braking with Pedestrian Detection, Driver Attention Alert, Smart Blind Spot Detection with Rear Cross-traffic Alert, Lane Change Assist, Lane Keep Assist, Lane Departure Warning, and Smart Cruise Control with Stop/Start. Additionally, the G90 sports full LED headlights with dynamic bending light and high beam assist. Inside, you'll find a multi-view camera and a haptic steering wheel to warn you of danger. There are also front and rear parking sensors that work with the handy multi-view camera.
The new Genesis G90 has also been awarded Top Safety Pick+ status by the Insurance Institute for Highway Safety.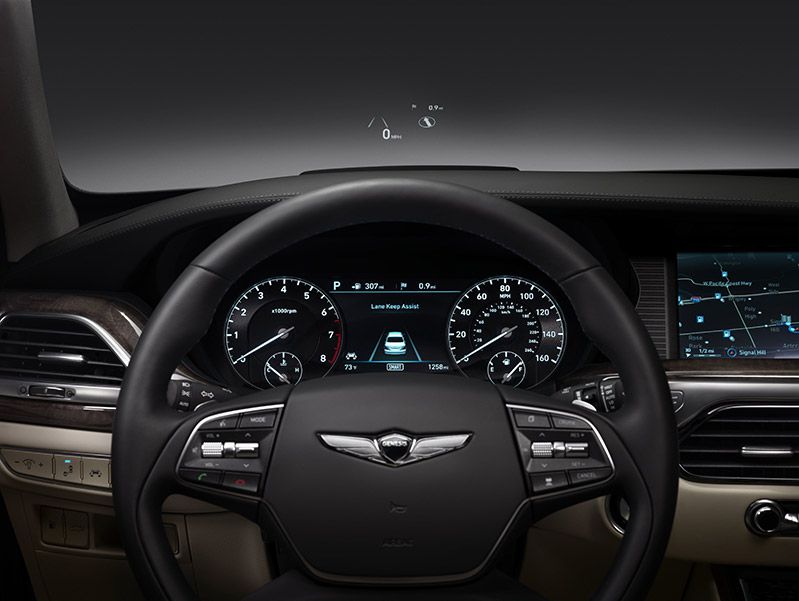 Photo by Genesis
5) There's massive legroom in back.
The G90 is a big car. It is 204.9 inches long, 75.4 inches wide and it rides on a 124.4-inch wheelbase. That's a couple of inches shorter than a Mercedes S-Class or a BMW 7 Series, but the Genesis is wider than those German sedans, and its wheelbase is as long as the Mercedes.
That adds up to massive rear seat space. The Genesis G90 seats three in back easily, and its 37.8-inches of rear legroom is long enough for the Lakers. Yes, the BMW, the Mercedes and the Audi A8 offer even more, but the Genesis has more rear headroom than the Benz.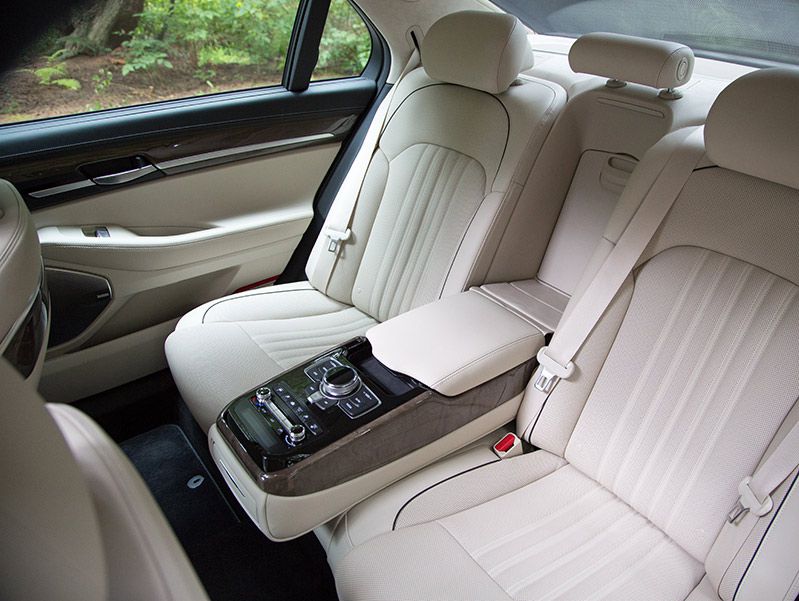 Photo by Genesis
6) The Ultimate trim lives up to its name.
The 2018 Genesis 5.0 Ultimate costs just $3,500 more than the 3.3T Premium model, but its additional list of equipment is considerable. Aside from the larger and more powerful V8 engine, the Genesis 5.0 Ultimate also offers the additional rear seat luxury that turns the sedan into a true executive express.
Both G90 models get power close doors, rear window sunshades and rear air conditioning vents. Standard rear seat features on the G90 5.0 Ultimate also include heated and ventilated power-adjustable rear seats which recline and have memory, rear seat illuminated vanity mirrors, and a rear seat entertainment system with two 10.3-inch HD monitors. And the controls for these features are housed in a beautifully finished rear console that folds down.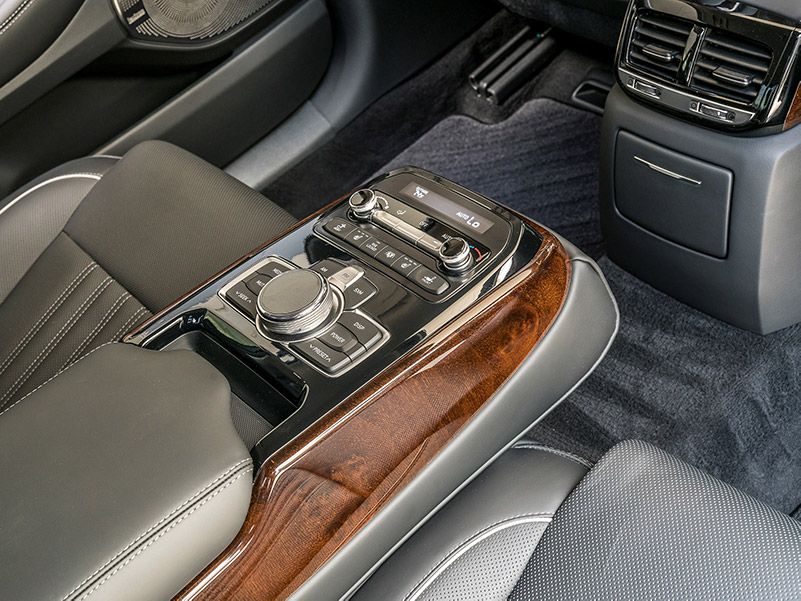 Photo by Genesis
7) The G90 wowed my Jaguar loving neighbor.
My long-time neighbor Al is on his umpteenth Jaguar XJ in a row, and his wife drives a Maserati GranTurismo. Cool couple. But Al doesn't look at other cars. He likes his Jags, so I was surprised when I got a text from Al asking if he could come over to check out the 2018 Genesis G90 sitting in my driveway.
He was blown away by it. "It looks fantastic," Al says as he circles the car. "It looks expensive." Once inside the Genesis, Al was sold. "It's beautiful in here. This nav screen is huge." It's 12.3 inches I tell him. One of the biggest in this class. "It's nicer in here than my Jaguar," he says moving to the back seat. "And I can't believe the rear seat. It's like a limo."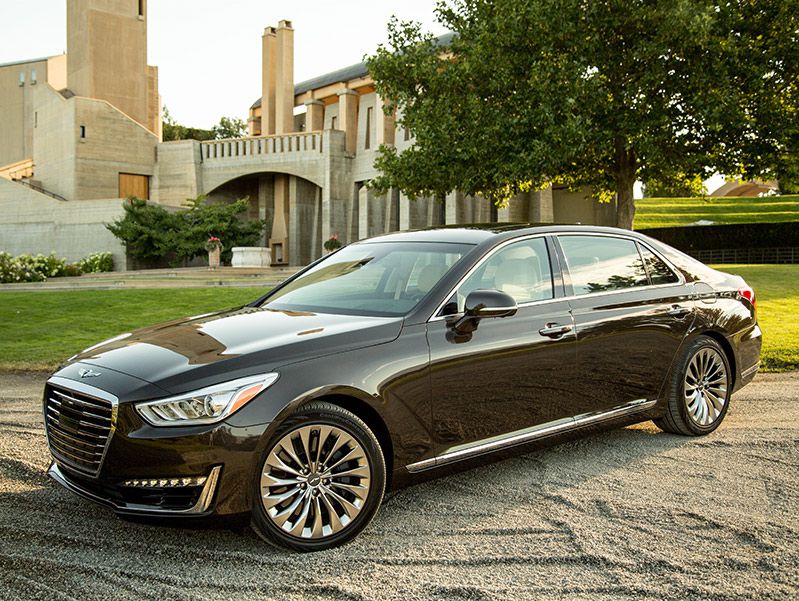 Photo by Genesis
8) It's $20,000 cheaper than a Mercedes S-Class.
Prices for the 2018 Genesis G90 start at $69,325 including $975 for freight and handling. That's $21,570 less than a Mercedes S450. Jump up to a G90 5.0 Ultimate and the price goes up to $72,825. But the V8-powered Mercedes S550 cracks the $100,000 threshold.
The BMW 7 Series is a bit less expensive than the Mercedes, but it still costs an entire Hyundai Accent more than the Genesis G90. The BMW starts around $84,000 for the 740i and over $97,000 for the V8 powered 750i.
Here's the thing, if an alien came down from outer space and I had to explain to him why the BMW and Mercedes cost so much more than the Genesis it would be impossible.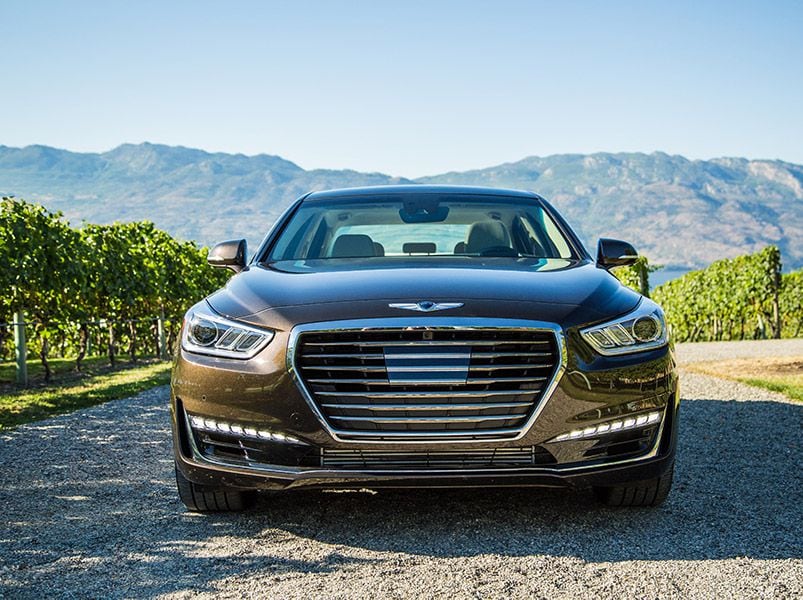 Photo by Genesis
9) The Dealer Network is coming online.
In 2017 Genesis sold 20,594 sedans. These vehicles were all sold by certain Hyundai dealers participating in the launch of the Genesis brand. But this will soon change. In January Genesis announced the formation of a dedicated dealer network to sell and service existing and future Genesis models.
The official statement said, "Throughout the remainder of 2018, Genesis will build the network to around 100 retailers covering all of Genesis' defined key luxury markets. While initially the new network will conduct business from temporary and/or shared facilities, over the next three years new Genesis standalone facilities will be constructed to further enhance the overall ownership experience." Expect standalone stores in larger urban markets first including Los Angeles, New York, and Chicago.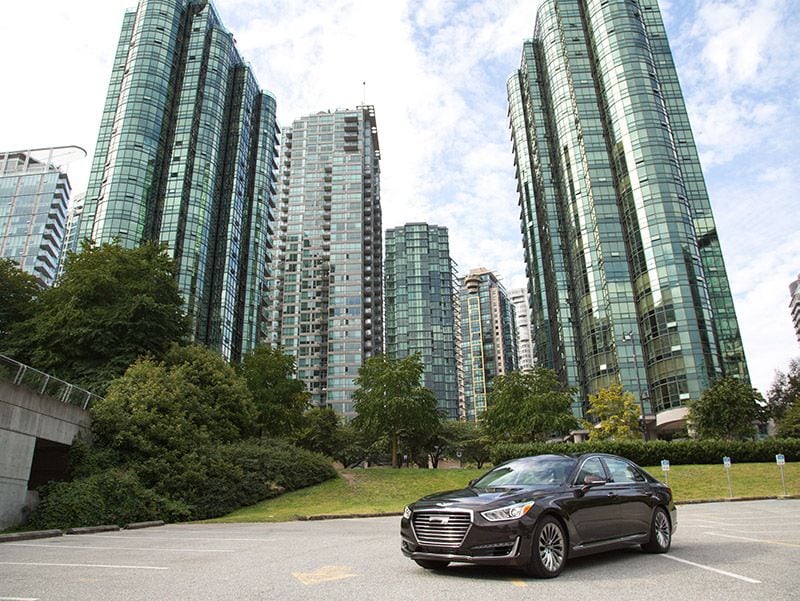 Photo by Genesis
10) The Virtual Guide app replaces a traditional printed owner's manual.
The days of flipping through a paper owner's manual the size of War and Peace is still common, but it's also so last century. Genesis has taken the G90's owner's manual digital, creating an augmented reality guide to the luxury sedan that can be accessed on any smartphone or tablet. Genesis has created a clever Genesis Virtual Guide app, which users launch on their device. The app allows them to select their vehicle and then drill down to the G90's engine, interior, exterior or instrument cluster. There are also helpful videos explaining many of the sedan's features and functions. When users want more information, they can hold their smartphone or tablet camera in front of the area of the car, which launches additional helpful visuals. Welcome to the future.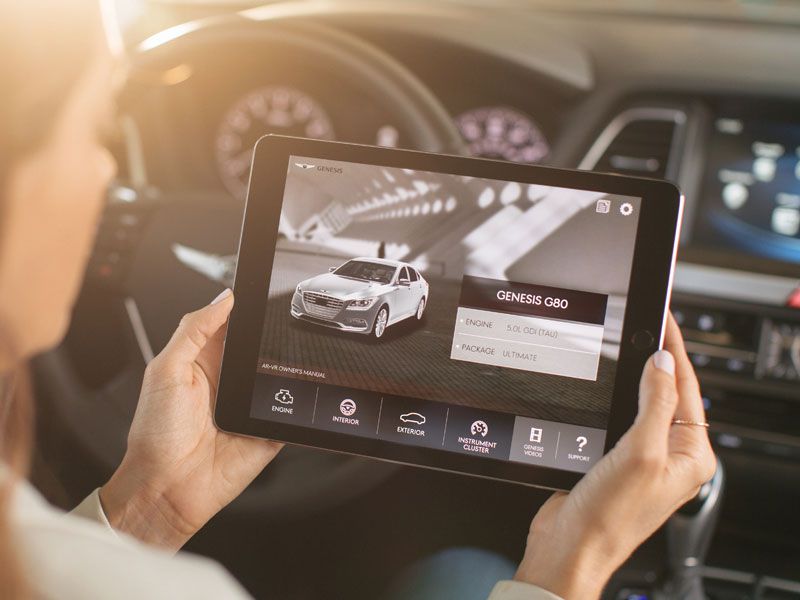 Photo by Genesis