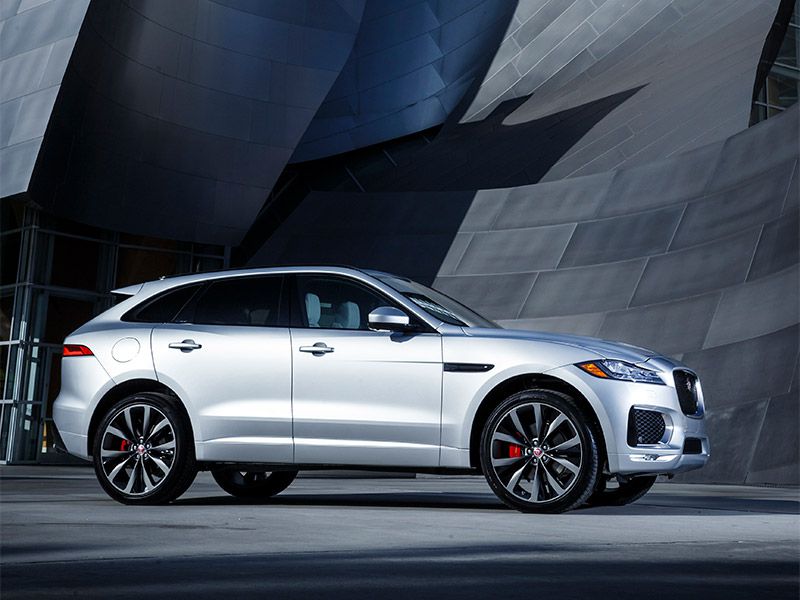 2017 Jaguar F PACE exterior profile ・ Photo by Jaguar Land Rover
The 2017 Jaguar F-Pace has arrived. It's a premium compact SUV crossover that competes with the Audi Q5, BMW X3, and Lexus NX. As for American competitors, the Lincoln MKC starts off a little less expensive but doesn't match up in terms of space. Or there's the larger, new-for-2016 Lincoln MKX, which has pricing is similar to the Jaguar F-Pace. While everyone has their own taste, it's obvious that Jaguar has devoted considerable time and talent to making the new F-Pace distinctive and attractive. Read on as we outline the 10 things you need to know about the 2017 Jaguar F-Pace.
1) The 2017 Jaguar F-Pace is totally new.
It's not a new generation of an existing model. Nor a mid-life revamp. It's completely fresh and the first crossover suv Jaguar has ever created. Which might prompt some misgivings about bugs which need to be fixed. But this is not a smartphone updated operating system. The amount of thought, expertise, and development that's gone into the F-Pace is clearly apparent. For one thing, the basic platform is already used for Jaguar cars, and the intelligent all-wheel-drive system was intended for the company's whole range. The packaging—providing space for people, hardware and cargo—is ingenious. Then there are the details, many of which we'll be mentioning here.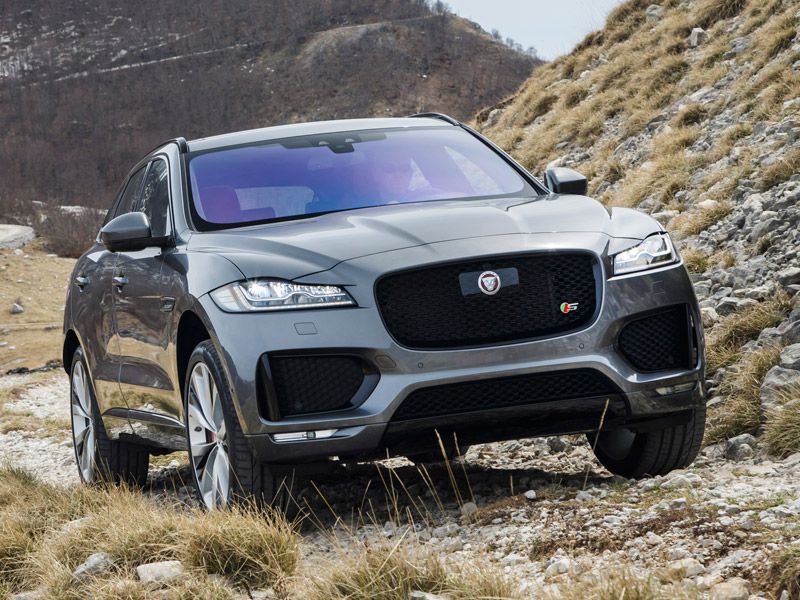 Photo by Jaguar Land Rover
2) The 2017 Jaguar F-Pace offers sports car power.
Jaguar's sports car is the F-Type, which has a 3.0-liter V6 supercharged entry-level engine. Supercharging is a bit like turbocharging—it's a way to make more power. This V6 engine is also in the top two versions of the F-Pace, with either 340 horsepower or 380. Torque (332 lb.-ft.) stays the same. Most people will be happy with 340 hp; it's energetic enough. But that extra 40 hp is fun if the budget allows. The F-Pace range starts off with a 2.0-liter  turbodiesel inline-4 with 180 hp and a very respectable 317 lb.-ft. of torque. No fuel-economy figures yet, but they should please those who want to minimize consumption. All versions of the new 2017 Jaguar F-Pace use an 8-speed automatic transmission.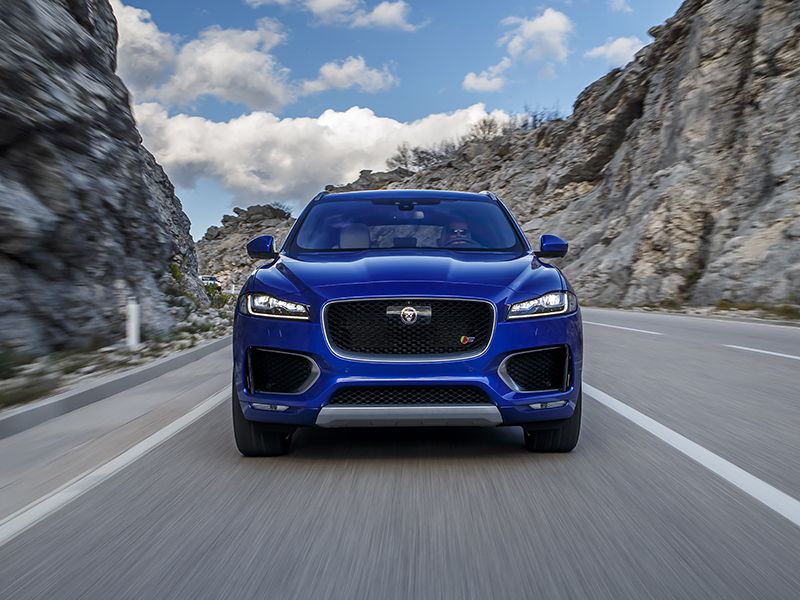 Photo by Jaguar Land Rover
3) The 2017 Jaguar F-Pace: Made of Aluminum
Well, not completely. There's also glass, rubber, high-strength steel, and even a generous portion of silicon chips. But there's a lot of aluminum, and not just in the body panels. Some suspension parts, for example. What this does is keep the overall weight from growing too lardy (with benefits in fuel consumption and performance) while bringing the center of gravity lower than it is for the run-of-the-mill crossover. So even though the F-Pace has that beloved elevated driving position, it doesn't feel tall and awkward.
Photo by Jaguar Land Rover
4) The 2017 Jaguar F-Pace drives like a… Jaguar.
Although Jaguar has been reborn in recent years when ownership passed from Ford to Tata (in 2008), there's still one essential trait that has threaded through every one of its cars. And that's a luxurious ride quality cleverly combined with a sporty character. Jaguars don't go in for stiff springs and spine-jarring firmness. No one would be surprised if "smooth and supple" was the company's motto. But there's a subtle precision that comes to the fore whenever a Jaguar is pushed a little harder. The F-Pace has this attribute, enhanced by that relatively low center of gravity and the wide track (the distance between the wheels at each axle) that imparts a feeling of stability.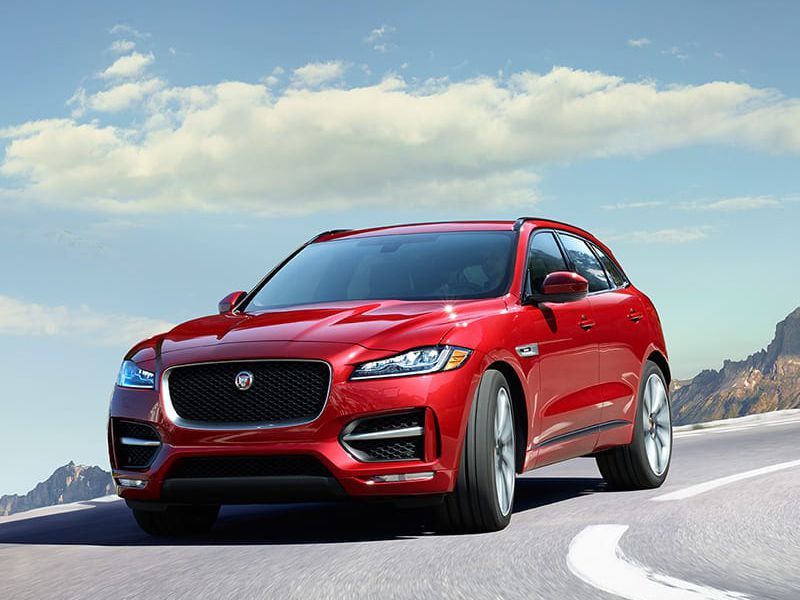 Photo by Jaguar Land Rover
5) The 2017 Jaguar F-Pace enjoys generous passenger space.
Another advantage of the F-Pace's width is abundant shoulder room. It means occupants in the rear seats are located further out to the sides, so the traditionally useless middle seat can now function as it should. If we take the (excellent) BMW X3 as a yardstick, where rear legroom is 36.8 inches and rear headroom is 39.1 inches, the F-Pace comes with 37.2 and 37.5 inches, respectively. In the real world, it means an adult male of average build can be comfortable enough for a long trip. Among the options is a powered recline feature for the rear seats.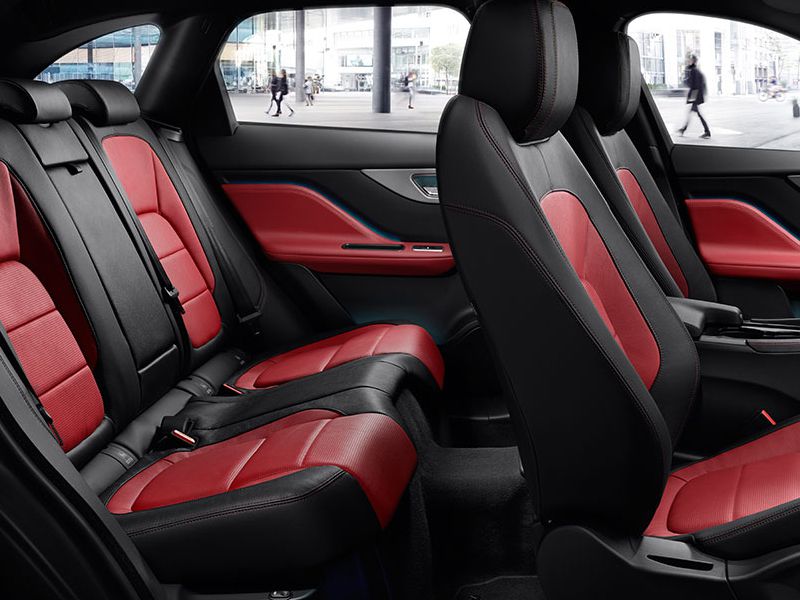 Photo by Jaguar
6) The 2017 Jaguar F-Pace has plenty of cargo space.
The F-Pace has the clear advantage over the BMW X3 and the Audi Q5 with 33.5 cubic feet of cargo space when the rear seats are up (X3: 27.6, Q5: 29.1). And 63.5 cubic feet when they're folded down (X3: 63.3, Q5: 57.3). For even more convenience, the load floor is quite low and those seats fold down completely flat. One other nice touch: The removable floor covering in this area is carpeted on one side (for a touch of class and some sound insulation) while the other side is rubberized and washable.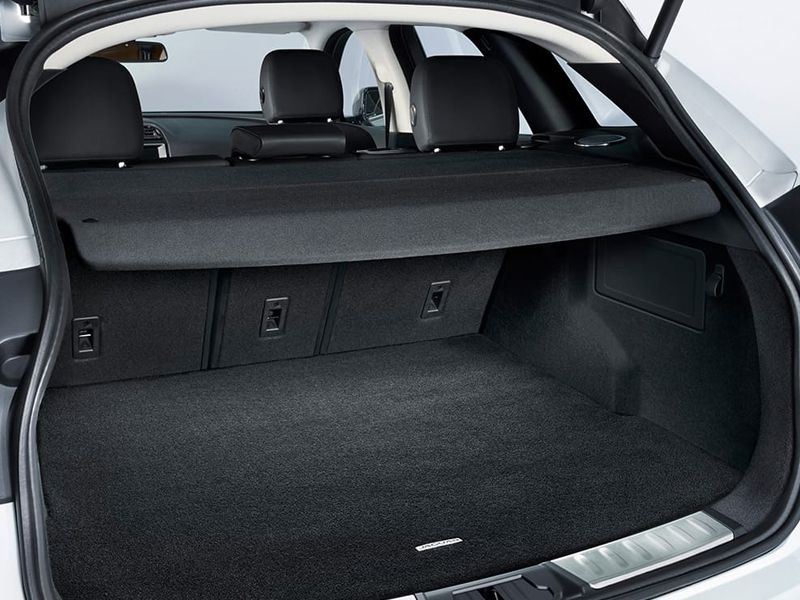 Photo by Jaguar Land Rover
7) The 2017 Jaguar F-Pace's activity key is an industry first.
It looks like one of those wearable fitness devices with its rubbery wrist strap. And in a way, it is. The optional Activity Key is a method of locking the F-Pace, allowing the owner to then go surfing, scuba diving, kayaking, or anything else that might cause a regular key fob to become wet and therefore wrecked. Just leave the usual key in the vehicle, touch the J of the rear Jaguar badge with the Activity Key and the F-Pace is secured, with all other keys deactivated. Reverse the process to revert to the "normal" state. It doesn't use a battery, either. So that's another thing not to worry about.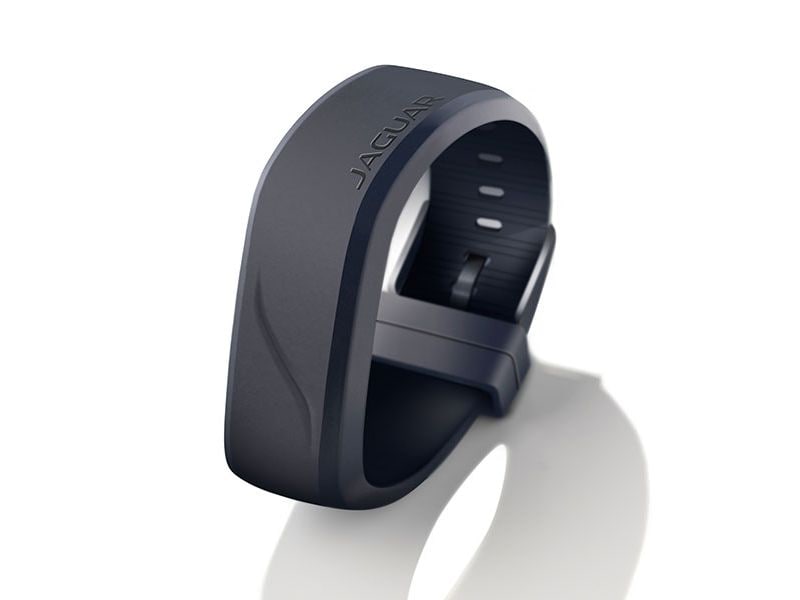 Photo by Jaguar Land Rover
8) The 2017 Jaguar F-Pace starts at…
The F-Pace diesel, the 20d, starts at $41,985. Trim levels then go up to Premium, Prestige and R-Sport. When the 340-hp V6 is specified, the base model is priced from $43,385, with trims echoing those of the 20d. This model is called the 35t (yes, logic suggests the name should be 30s, but that's marketing for you). The 380-hp engine is only available in range-topping S trim level, which starts at $57,695. All models come with all-wheel drive as standard, plus alloy wheels, panoramic sunroof, and a powered tailgate. And since this is an all-wheel-drive vehicle, there's some expertise from Land Rover (Jaguar's sister company): All-Surface Progress Control. It takes care of throttle and gearing, leaving the driver to concentrate on steering.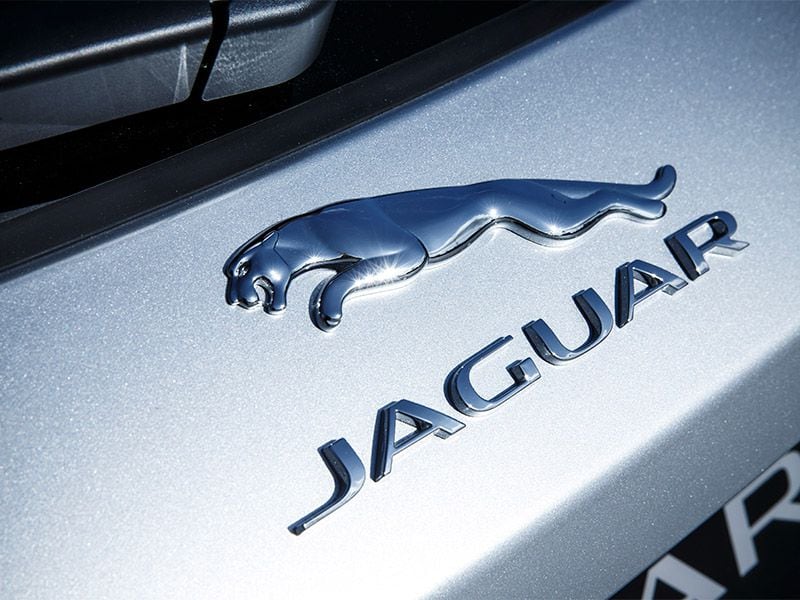 Photo by Jaguar Land Rover
9) The 2017 Jaguar F-Pace: Extensive Options
Basic models start out with 18-inch alloy wheels, but as the trims become posher, those wheels grow bigger, up to 22 inches. Other optional features include a self-parking function that works in parallel and perpendicular spaces, surround-view camera system, head-up display (which uses laser light instead of LED, making it visible even when wearing polarized sunglasses), 4-zone automatic climate control, and a heated windshield. A TFT/LCD instrument cluster is optional in Prestige, R-Sport, and S trims. Also, check out the Jaguar InControl Touch infotainment setup with navigation, Wi-Fi, 17-speaker/825-watt surround-sound system, and a 10.2-inch touchscreen.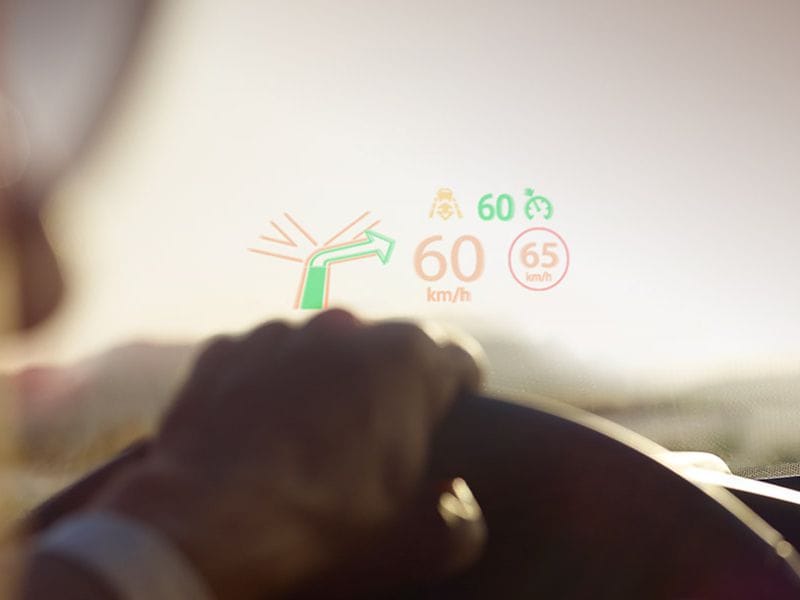 Photo by Jaguar Land Rover
10) The 2017 Jaguar F-Pace: It sees, beeps, and brakes.
Most of the current electronic driving aids that have now become obligatory in premium vehicles—such as lane-keeping assistance, blind spot monitoring and parking sensors—are available in the F-Pace. But to obtain them all requires going for the most expensive model. Even then, some cost extra, like adaptive cruise control with automatic emergency braking and traffic sign recognition.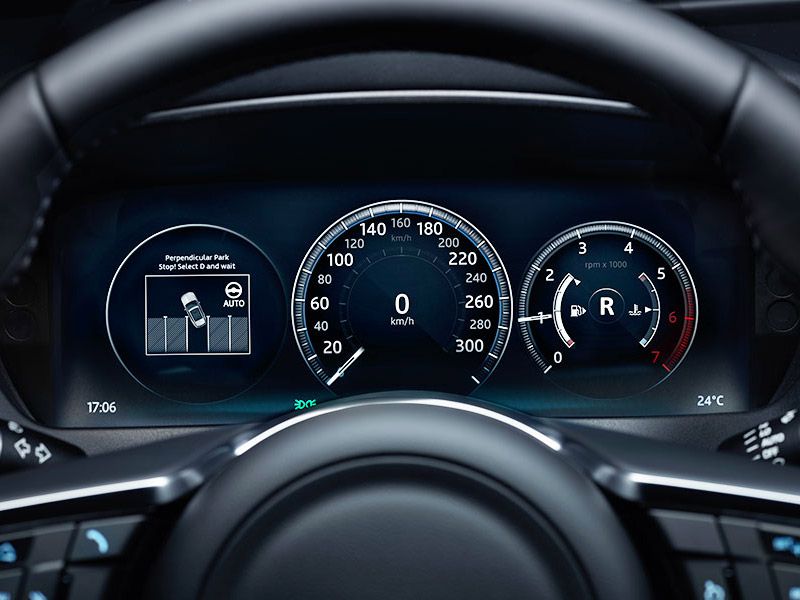 Photo by Jaguar Land Rover