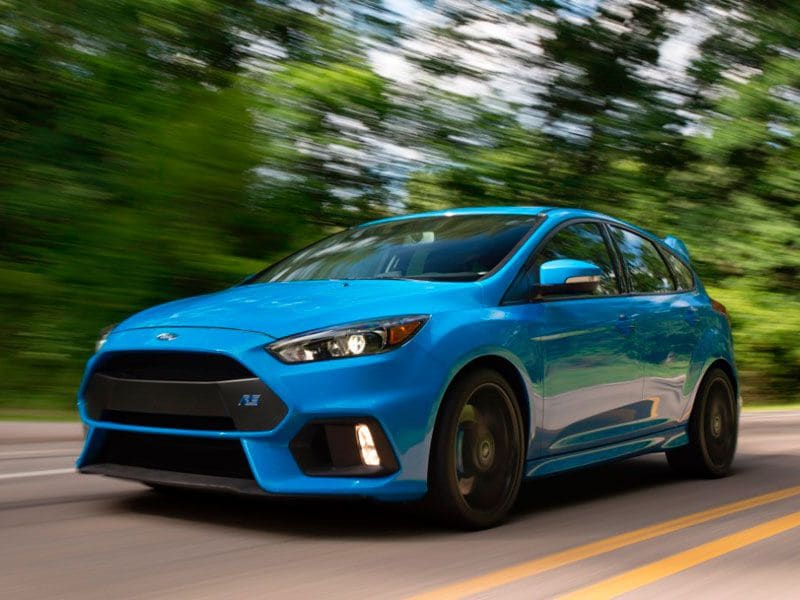 2016 Ford Focus RS ・ Photo by Ford
The Ford Focus is an affordable compact car that was introduced in North America for the 2000 model year; famously, the Focus was available in Europe for a year or so before that, which contributed to the car's early mystique. Ford designed the Focus primarily for the European market as a replacement for the Escort, though a few changes were necessary to bring the car across the Atlantic. The early Ford Focus immediately gained popularity within the motorsports community, which has helped inspire and guide the car's evolution.
The Focus, now in its third generation, has gradually and steadily improved its performance, though American enthusiasts have always eyed the edgier European offerings with envy. When the third generation of the Focus was introduced for the 2011 model year, the two continents' offerings were more closely aligned. The 2016 Ford Focus has undergone only a few significant changes in recent years, although this year's lineup features a highly-anticipated new member of the family.
1) The 2016 Ford Focus is available as a sedan and a hatchback.
The 2016 Ford Focus is a member of the car's third generation, with a lineup that's been wisely trimmed down to a 5-door hatchback and a sedan. (Earlier Focus lineups featured variants such as a station wagon and a 3-door hatchback, which proved to be unpopular or redundant.) Both bodystyles seat five passengers and offer similar aesthetics, and both provide average passenger and cargo space for the compact car class. However, the Focus sedan models are generally reserved for entry-level and lower trim levels, while the higher-performance offerings are available exclusively in hatchback form. Hatchbacks tend to be popular in motorsports, especially in rallying, so that association lends the Focus a little extra credibility. Meanwhile, shoppers who want an attractive and affordable compact car should be satisfied with the Focus sedan's styling, comfort, performance, and equipment offerings.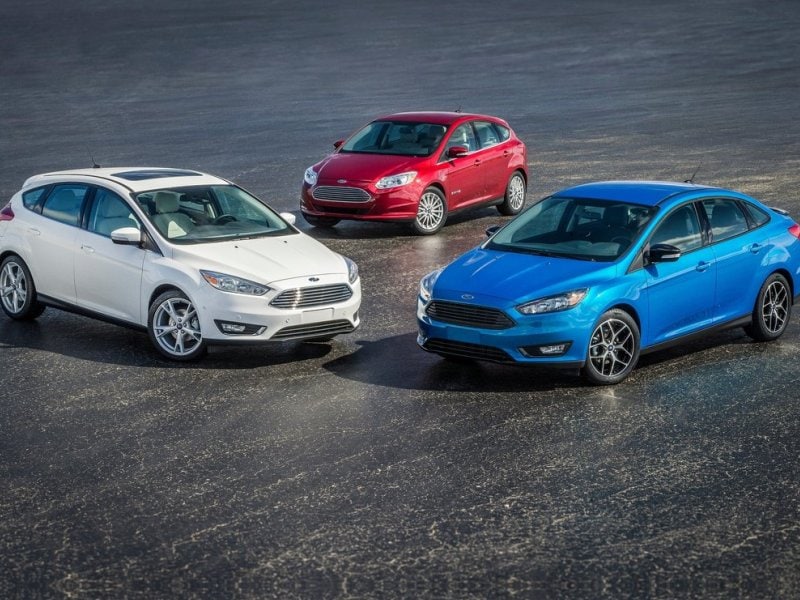 2) Ford updated the infotainment system this year.
The 2015 Ford Focus offered the MyFord Touch infotainment system, which was polarizing, at best. Though last year's refresh updated the MyFord Touch system and made it easier to use, the tough and ever-increasing competition in the compact car class meant that the Ford's weaknesses were scrutinized, and despite the improvements, this optional infotainment system was still one of the weak spots in the Focus cockpit. It's worth noting that while the 2016 Focus got very few updates (since last year's refresh was fairly comprehensive), the infotainment system was one of them. Ford got rid of MyFord Touch in the 2016 Focus and (in models equipped with the optional 8-inch touchscreen) replaced it with the latest version of the brand's SYNC 3 infotainment system. SYNC 3 is easier to learn and responds faster to users' commands, representing a significant improvement for this year's model.
3) The automated manual transmission is not the Focus' strong point.
We're fans of fun-to-drive cars at Autobytel, and generally recommend a car's manual transmission when the option exists. Not only does the 2016 Ford Focus offer a couple different row-it-yourself gearboxes (a 5-speed manual paired with the base engine and a 6-speed manual in higher trims) this car's known for being fun to drive. Instinct says to order up a manual transmission and have a blast. We know, though, that a manual isn't really an option for everyone, especially people who need a Focus primarily for a long, densely-packed commute. Unfortunately, the base model's 6-speed automated manual, which paired with the 2.0-liter 4-cylinder engine, is sort of clunky. It shifts slowly and tends to have particularly poor communication with the engine while driving at low speeds, meaning that the car doesn't aways behave predictably.
Potential buyers who plan to order a Focus with an automatic transmission should consider upgrading to a turbocharged 1.0-liter 3-cylinder model, which offers a more traditional, smoother-operating 6-speed automatic. As a bonus, a Focus thusly-equipped will enjoy a slight boost in fuel economy over the base model.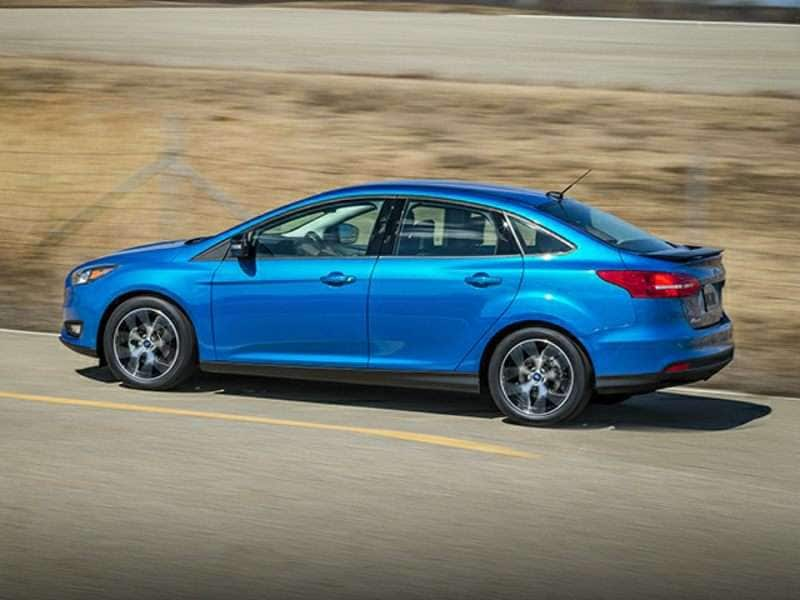 4) Six trim levels are available this year.
The 2016 Ford Focus' wide range of trim levels means that there's a Focus for every budget. The base model Focus S sedan starts at an MSRP of $17,225, which is a competitive price for a well-equipped compact car. The Focus sedan is also available in SE and Titanium trim levels, which offer a more comfortable cabin, more premium features, and additional safety equipment. Those who prefer the sporty looks and extra cargo space of a hatchback will find that the Focus hatch starts at the SE and Titanium trim levels (no S is available with the hatch). The Focus hatchback also offers variety with the Electric trim, which comes powered by an electric drivetrain, and the high-performance ST and RS trims.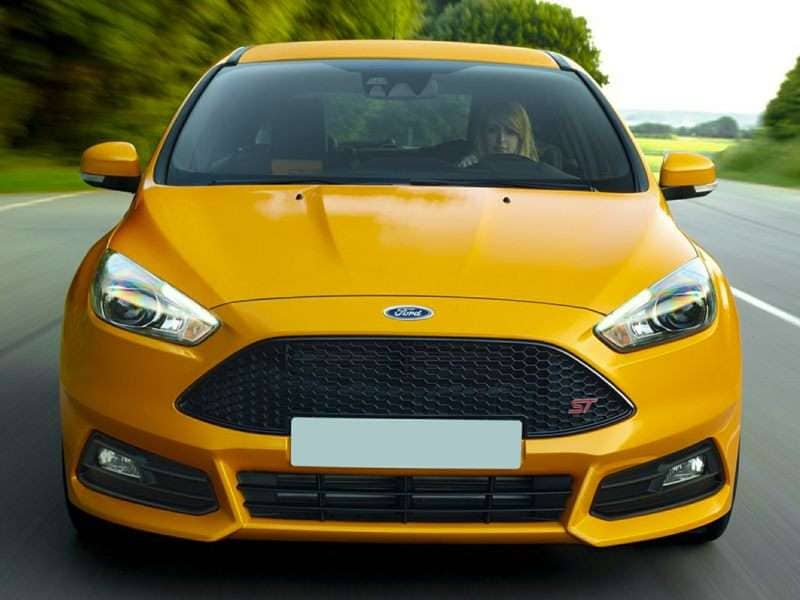 Photo by Ford
5) The Focus Electric is a fun-to-drive EV.
This bold assertion could use a little clarification. That is, the 2016 Ford Focus Electric is about as fun as an electric car can get. 
The Ford Focus Electric made its United States debut in 2011, and was initially available only in limited numbers in certain areas. It's now more widely available, helped along by the increasing popularity of rival electric compact cars. The 2016 Ford Focus Electric makes 143 horsepower from its electric motor, has a range of up to 76 miles on a full charge, and earns 110 city/99 highway mpg-equivalent. Though the Focus Electric might not be as recognizable as certain competitors that were designed to be electric cars from the ground up, the Focus has its own benefits. The Focus Electric offers strong handling (although not quite as strong as the regular gas versions) and accelerates quickly off the line, making it a fun alternative to other EVs on the market.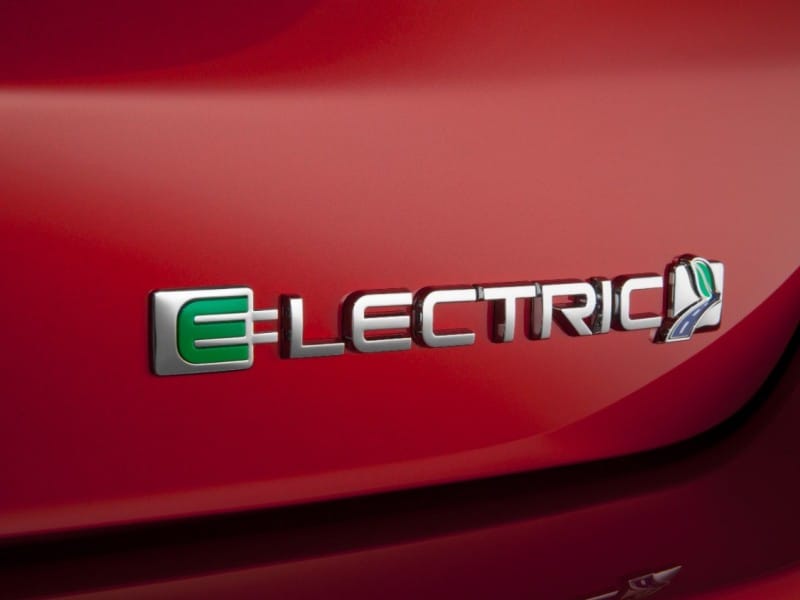 6) The Focus ST is a bargain.
For a long time, the Ford Focus ST was the highest-performance option in the lineup, packing a punch of 252 horsepower and 270 lb-ft of torque into a little hatchback package. The Focus ST comes powered by an EcoBoost 2.0-liter turbocharged 4-cylinder engine, paired with front-wheel drive and a six-speed manual transmission. Those who are shopping better-equipped versions of the Focus would be remiss in not test-driving the ST, considering its MSRP is less than a thousand bucks more than the 160-horsepower Titanium hatchback.
When the Focus ST made its debut for the 2013 model year, it quickly attracted enthusiasts thanks to its unique styling touches and aura of Euro-esque exclusivity. Such qualities are subjective, but also reminiscent of many of history's greatest hot hatches. Suffice it to say, those who can't spring for this year's top-of-the-line Focus (and it's understandable) should be content with a Focus ST.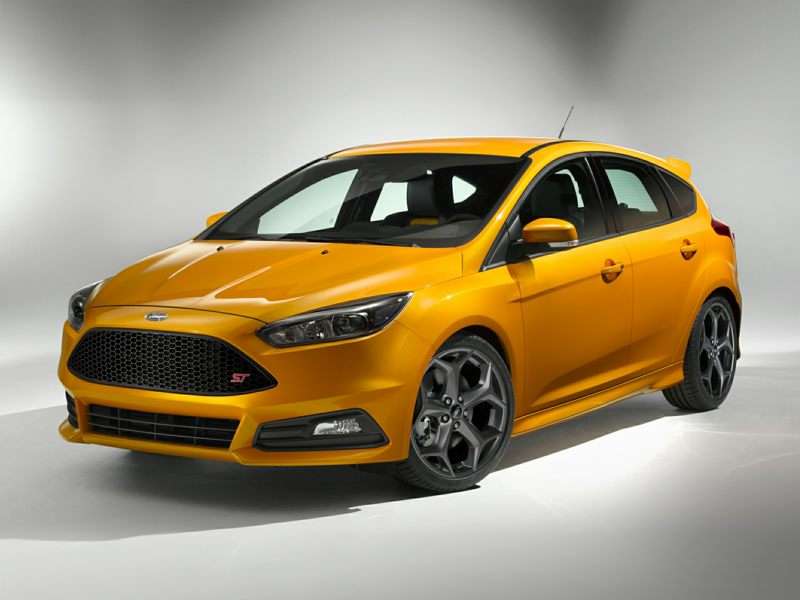 Photo by Ford
7) We finally get the Ford Focus RS.
All those feel-good comments on the previous page, about history's greatest hot hatches and European exclusivity and unique styling? We stand by our statement that those who can only spring for a Focus ST should be satisfied. But, of course, we were hinting at the arrival of the Focus RS.
"RS," which stands for "Rally Sport," has adorned Focus models for almost as long as Europe has had a Focus. And, of course, Americans admired it from afar with envy. We got our own performance Focus models every now and then (the 2003 Focus SVT remains an enthusiast favorite) but many Ford fans spent years wondering why the Blue Oval couldn't bring the good stuff home to America. And now it's here.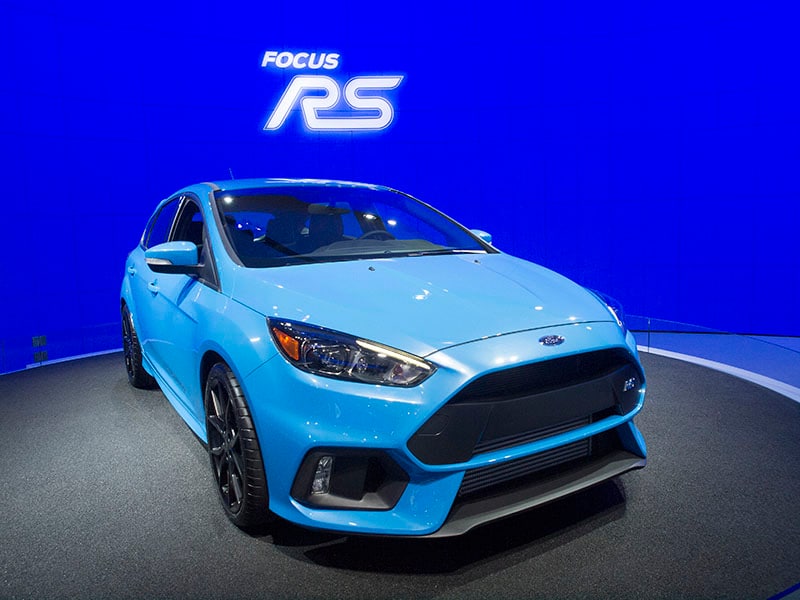 Photo by Megan Green
8) Ken Block helped develop the Focus RS.
Ford's excellent at bringing experts on board, and when the time came to put together the latest Focus to bear the RS badge, the company enlisted the help of none other than Ken Block. Ken Block is a motorsports professional who's spent the last few years of his racing career surrounded by Focuses and Fiestas, though this is the first time he's helped a major auto manufacturer develop a car for mass production. In a press release from Ford, Block stated that one of his most important decisions with the Focus RS was the addition of its all-wheel drive system. Block also influenced the car's styling, and helped test it on both sides of the Atlantic.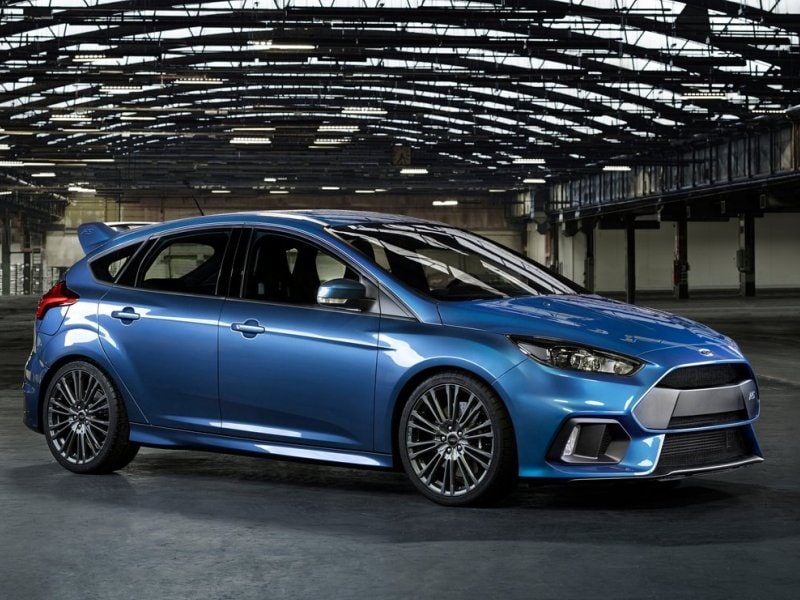 Photo by Ford
9) The Focus RS' engine is derived from the Mustang.
Before pony car loyalists start bemoaning the corruption of the Mustang or some such nonsense, there's another important thing that must be said about the Focus RS' drivetrain: it's more powerful. For the Focus RS, Ford looked at the EcoBoost engine lineup and selected the 2.3-liter turbocharged 4-cylinder unit that powers the 2016 Mustang EcoBoost. The Mustang version puts out 310 horsepower and 320 lb-ft of torque, though, while the Focus RS' was tuned to 350 horsepower and 350 lb-ft of torque. Though these cars have a lot in common, they behave completely differently. The Focus RS is quicker to rev than the Mustang, and produces completely different exhaust notes.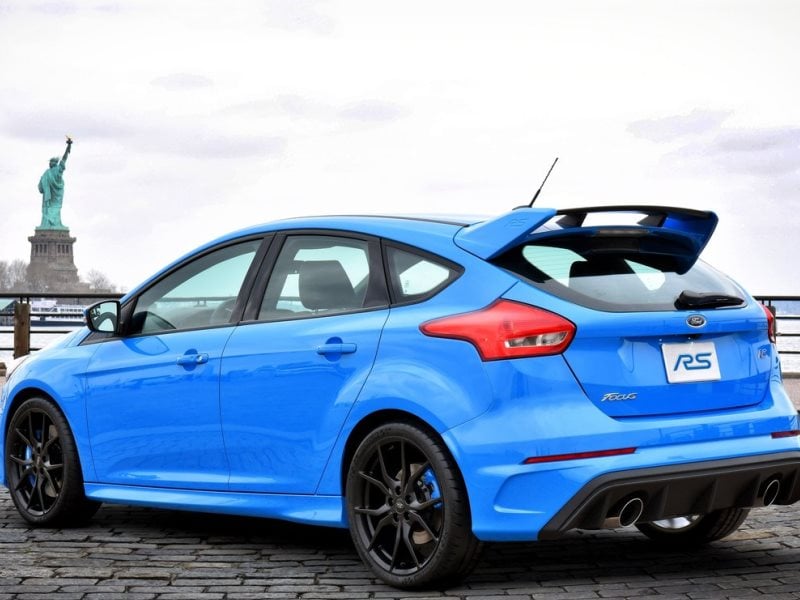 10) The Ford Focus RS costs more than some luxury cars, and is (arguably) worth it.
Or, another way to look at it: The 2016 Ford Focus RS costs more than twice as much as the base Focus. Or, it costs $10K more than the Mustang from which it borrows a drivetrain. Okay, it's hard to justify an MSRP of $35,900 on a car that was originally designed for affordability, but the Focus RS represents a significant evolution in the hot hatch segment. It can sprint from 0-60 in 4.7 seconds. It's European in origin. We whined for it. We got it. In all of its 350 horsepower, all-wheel drive, torque-vectoring, drift mode-equipped glory.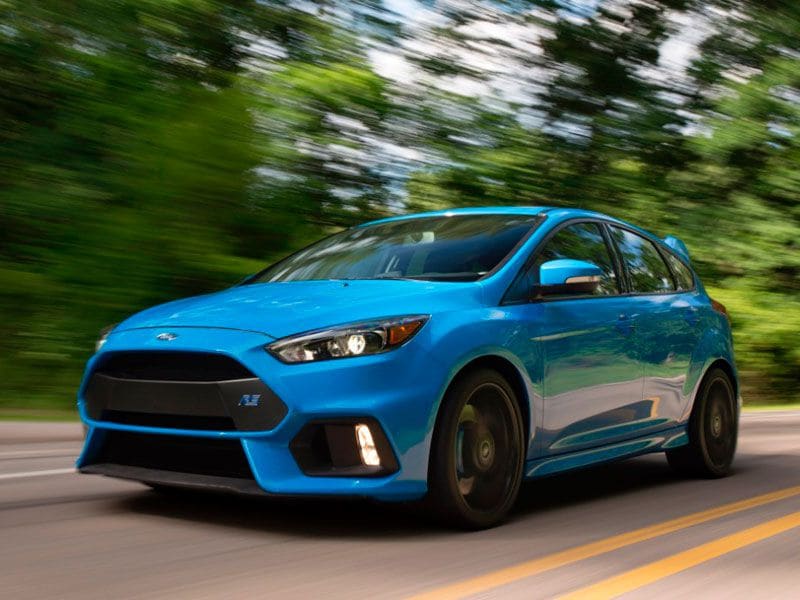 Photo by Ford