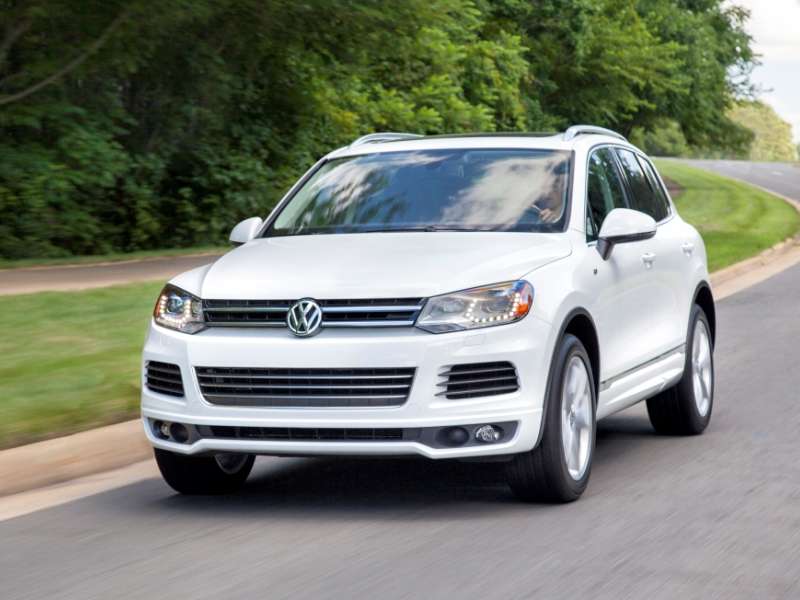 The 2014 Volkswagen Touareg is perhaps one of the most misunderstood mid-size SUVs on the market.  Although it bears a VW badge on the grille there is little doubt that the Touareg is aimed at the luxury crowd, given its raft of available features, its premium ride, and its upscale pricing.  The Volkswagen Touareg might suffer a bit from underexposure when compared to its Audi Q     7 platform-mate, but it's a solid choice for families seeking comfortable, high end daily transportation.
Let's take a look at 10 things you need to know about the 2014 Volkswagen Touareg.
01. The 2014 Volkswagen Touareg Is A Mid-Size SUV
The 2014 Volkswagen Touareg catches a lot of SUV shoppers by surprise, as the German brand isn't well known in the United States for building large vehicles.  The mid-size Volkswagen Touareg might not offer monstrous proportions, but it manages to bridge the gap between traditional mid-size models and larger fare with its understated, yet still-muscular styling and tall ride height.  It also helps that Volkswagen has paid attention to the details of the Touareg's exterior styling, elevating it above the blander looks of the brand's compact Tiguan SUV while retaining its conservative charm.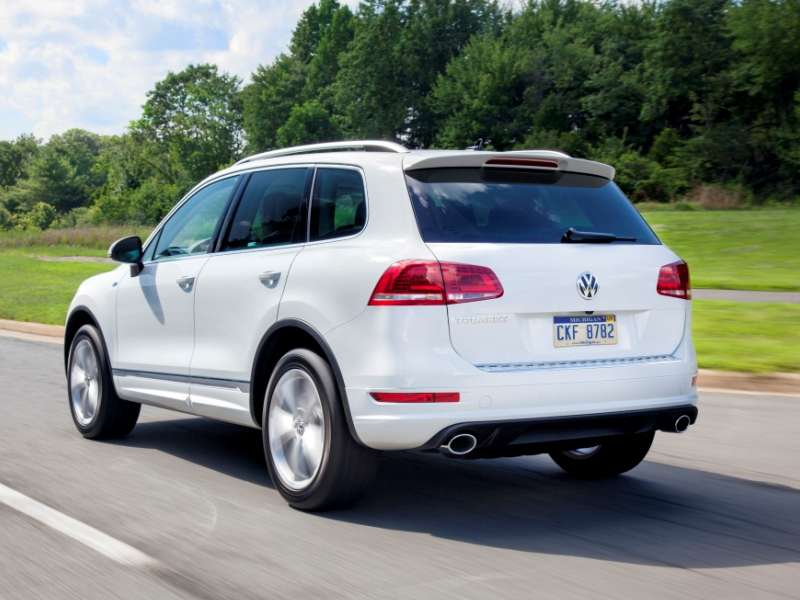 02. The 2014 Volkswagen Touareg Offers Expansive Interior Room
Volkswagen has resisted the temptation to add a cramped third row of seating at the rear of the mid-size SUV, which means that the 2014 Volkswagen Touareg's five-passenger arrangement ensures comfortable accommodations for all.  High class trim surrounds the Volkswagen Touareg's occupants, and the sliding rear seat allows for just over six inches of travel front or rear to help accommodate taller passengers or longer cargo.  In the event that it becomes necessary to stuff the SUV to the brim with gear, the Touareg's rear seat folds forward to expand its 32 cubic feet of hauling capacity to a total of 64.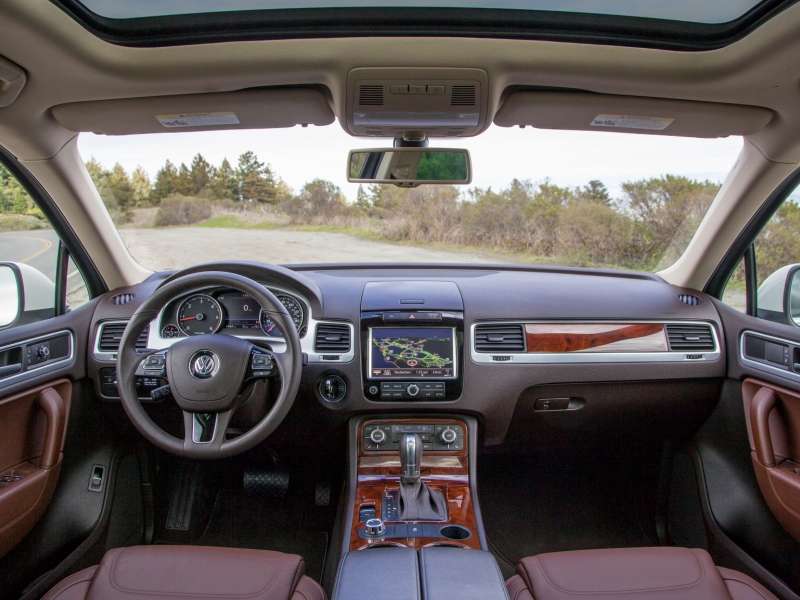 03. The 2014 Volkswagen Touareg Features V-6 Power
The 2014 Volkswagen Touareg is initially offered with a 3.6-liter V-6 under the hood.  This unit has been tuned to provide 280 horsepower and 265 lb-ft of torque, which puts it in good company when compared to other base model mid-size SUVs in its class.  An eight-speed automatic transmission is standard with the six-cylinder engine, and the V-6 Touareg's fuel economy is listed at 17-mpg in stop and go driving and 23-mpg on the highway.  All-wheel drive is also included free of charge with the base model, adding extra traction in foul weather.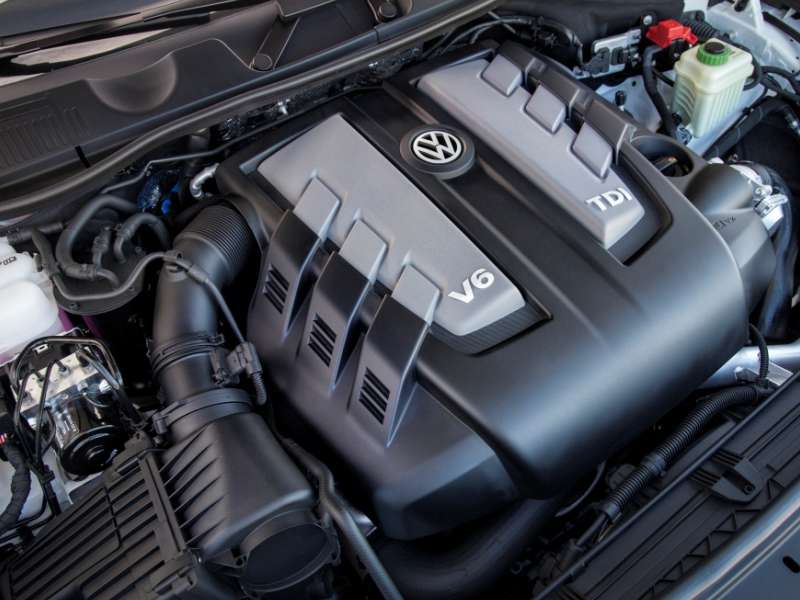 04. The 2014 Volkswagen Touareg Can Be Had With A Diesel Engine, Too
The 2014 Volkswagen Touareg counts a turbodiesel drivetrain as its first under-the-hood upgrade.  240 horsepower are squeezed out of the diesel engine's six cylinders, and the 3.0-liter mill also generates an exceptional 406 lb-ft of torque.  Like the gas-powered V-6, the turbodiesel Touareg features full-time all-wheel drive as well as an eight-speed automatic transmission.  Unlike the entry-level model, however, its fuel mileage rating is much improved: the turbodiesel engine sees 20-mpg around town and 29-mpg during highway cruising.  This sparkling performance can be attributed to the much more efficient combustion cycle of a diesel motor, which gives up almost nothing from a power perspective when compared to the SUV's 3.6-liter mill.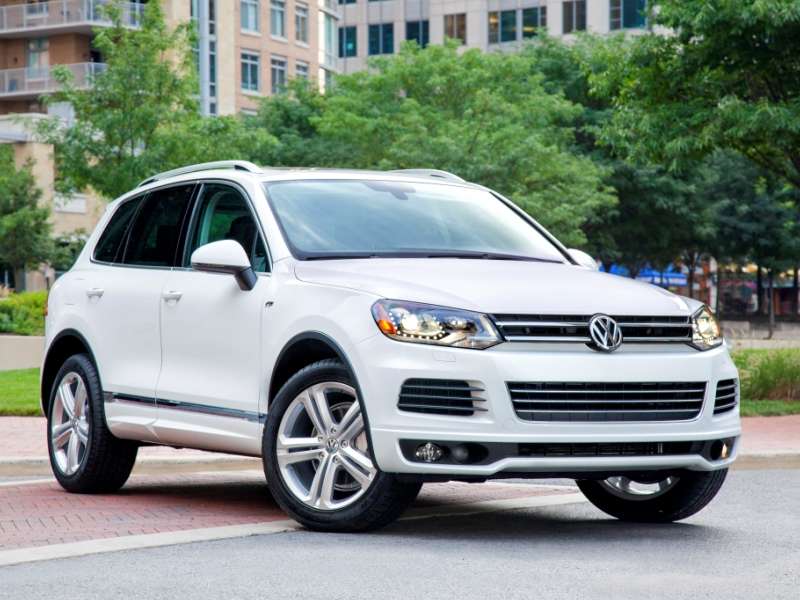 05. The 2014 Volkswagen Touareg Is Also Available In A Hybrid Model
In a slightly unusual turn of events, the 2014 Volkswagen Touareg's most expensive drivetrain option is a hybrid that actually turns in less frugal fuel mileage figures than the SUV's turbodiesel mill.  A closer look at the Volkswagen Touareg Hybrid's mechanical details clears things up right away, as its 3.0-liter V-6 engine is supercharged and matched with a single electric motor to produce 380 horses and 428 lb-ft of twist.  It's a fair question as to why Volkswagen decided to build a performance-first hybrid version of its mid-size SUV, but it's hard to argue with the speed and power of the end result.  The fuel mileage might be lower than the TDI, too, but it's still a solid 20-mpg city and 24-mpg highway.  All-wheel drive and an eight-speed automatic transmission remain standard with the Hybrid edition of the Touareg.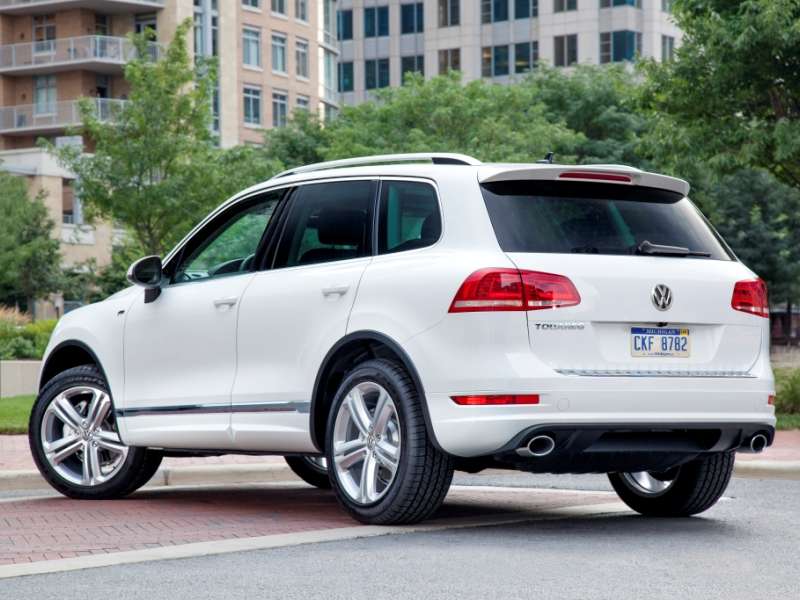 06. The 2014 Volkswagen Touareg Offers Three Plus One Distinct Trim Levels
The 2014 Volkswagen Touareg's model lineup can be boiled down to three trim levels, which, in typical VW fashion, are modified by way of drivetrain and options package selection.  The base Sport model features HID headlights, dual automatic climate control, a power tailgate, imitation leather seating, Bluetooth connectivity, heated seats with power adjustments, and a touchscreen audio system.  The Lux trim adds a navigation system, real leather upholstery, a panoramic sunroof, and 19-inch rims, while the Executive trim crams in a heated steering wheel, snazzy wood trim, seat heaters for second row occupants, a louder stereo system, and a keyless entry and ignition feature (as well as 20-inch rims).  There's also the Hybrid model, which isn't exactly a trim, but it does modify the Touareg Executive's list of equipment to include LED tail lights, parking sensors, wheels that are one inch smaller, and a power adjustable steering column feature.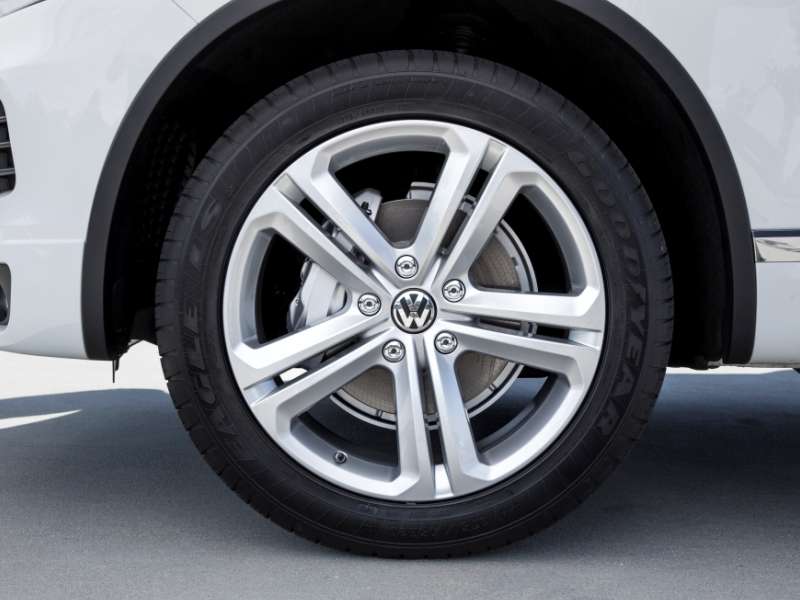 07. The 2014 Volkswagen Touareg Provides Several Options
Volkswagen might try to disguise its optional equipment as separate trims at ordering time, but it's fairly easy to separate marketing from reality when putting together a version of the 2014 Volkswagen Touareg that offers the features that you are looking for.  The Volkswagen Touareg Sport can be customized with a navigation system (that also facilitates the installation of a rearview camera), while a roof spoiler is available with all versions of the Touareg.  A number of exterior accessories design to change the look of the SUV can be selected, but those who want to go whole-hog are better off with the R-Line edition of the Volkswagen, which is positioned as being a step above the Lux trim and which adds to that model by way of special R-line badging, 20-inch wheels, a stiffer suspension system, LED taillights, and sportier trim.  It also deletes the hands-free tailgate feature, so keep that in mind when making your decision.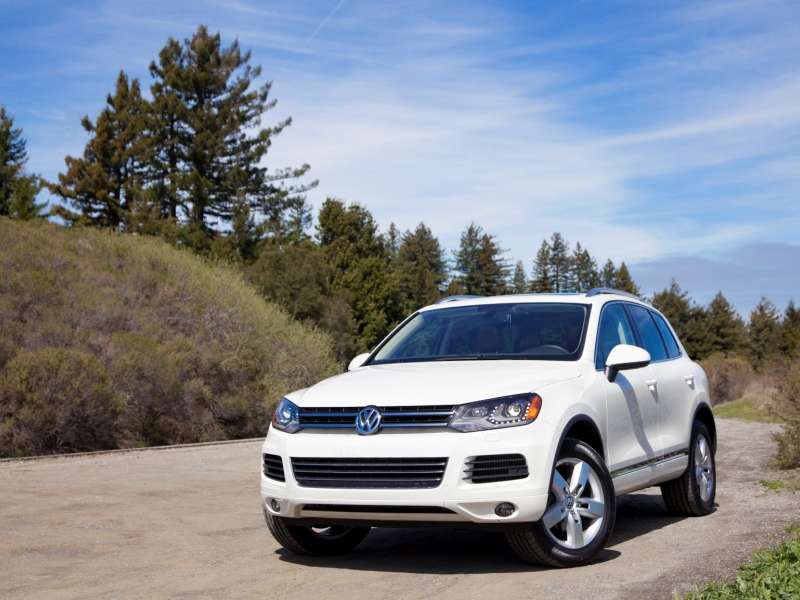 08. The 2014 Volkswagen Touareg Delivers Practical Utility
Once upon a time, the Volkswagen Touareg was positioned as an off-road capable machine that could trail break with the best of them.  Those days are now gone, and the 2014 Volkswagen Touareg has matured into a pavement-oriented SUV that offers a lighter weight and a more comfort-oriented suspension system.  Its all-wheel drive system is there to help handle snow, ice, and rain, but don't expect it to deal with anything rougher than driving across an uneven, grassy field.  Another aspect of the Touareg's practical personality is its tow rating.  All of that turbodiesel torque - not to mention the Hybrid's prodigious power - really comes in handy when hooking the SUV up to its 7,700 lbs of maximum trailer weight.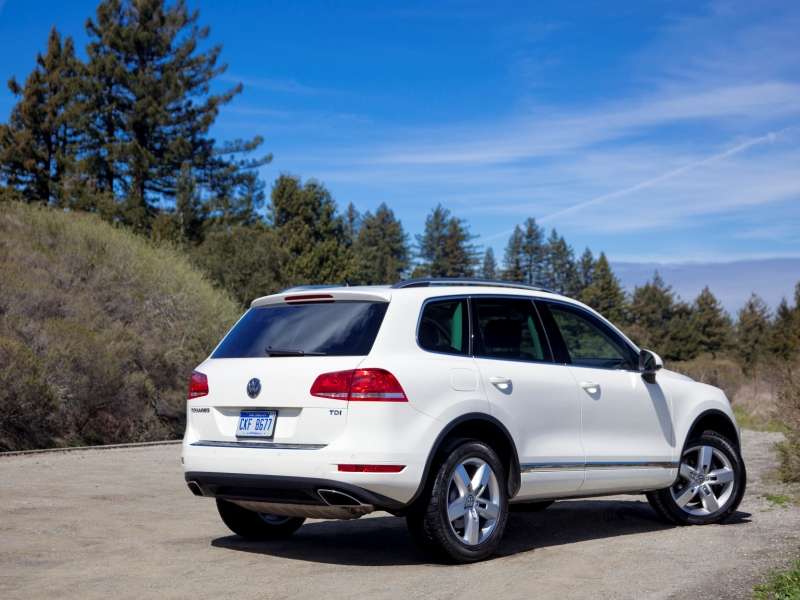 09. The 2014 Volkswagen Touareg Doesn't Feature Advanced Safety Gear
If there's one area that the 2014 Volkswagen Touareg comes up short in when compared to the its competitors, its when taking a look at its active safety features.  Specifically, it doesn't have any - no blind spot monitoring system, no lane keeping option, and no forward collision warning.  This isn't to say that the Touareg is in any way unsafe, as it does come with dual forward airbags, side impact airbags for those riding up front, side curtain airbags, and electronic stability control and traction control.  It just can't match the gee-whiz factor of so many of its peers when it comes to advanced electronic safety equipment.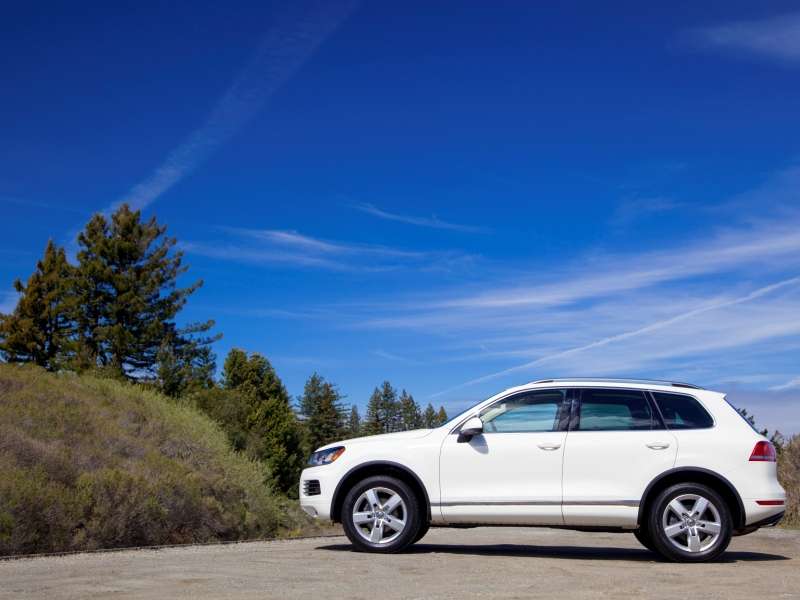 # 10. The 2014 Volkswagen Touareg Is Priced For Premium SUV Shoppers
If there was any doubt that Volkswagen was targeting the 2014 Volkswagen Touareg at luxury suv shoppers, it's instantly dispelled when examining its pricing structure.  Getting behind the wheel of the most affordable Volkswagen Tiguan Sport model costs $43,995, and if you had your heart set on the Hybrid then be prepared to shell out $64,170.  By contrast, a base Jeep Grand Cherokee starts at $28,795.  Volkswagen is looking to take on BMW and perhaps even corporate cousin Audi in the fight for Touareg customers, which might have some buyers looking elsewhere for more affordable, yet similarly-equipped SUVs.