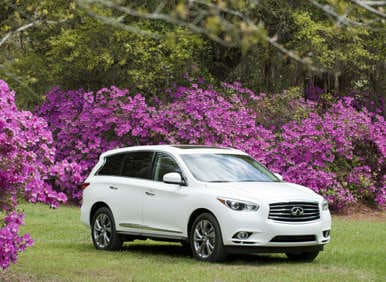 It has been a very long time since Infiniti has unveiled a front-wheel drive platform intended for American drivers, but in many ways the new 2013 Infiniti JX makes a lot of sense.  Tired of seeing buyers who had outgrown its other crossovers move on to competitors when looking for a three-row design that was smaller than the truck-based QX56, Infiniti has rolled out a seven-passenger mid-size family vehicle that maintains the brand's reputation for cutting edge technology and styling.
Let's take a look at 10 things you need to know about the 2013 Infiniti JX.
01. The 2013 Infiniti JX Is A Fresh Design
The 2013 Infiniti JX rides on an all-new platform that shares most of its mechanical details with the recently redesigned Nissan Pathfinder.  For the very first time Infiniti is offering a crossover vehicle that features front-wheel drive as its base drivetrain layout, but even more important is the fact that the Infiniti JX's platform has been put together with comfort and not all-out performance or hardcore utility in mind.  This places the crossover smack dab in the middle of the market sweet spot for families seeking a practical daily driver that can absorb rough pavement with ease and deliver reasonable fuel mileage as a commuter.
The 2013 Infiniti JX also offers fairly bold styling for the mid-size crossover segment, with a prominent, jutting grille leading the eye back along smooth door panels broken up by a top crease and a lower chrome accent.  The rear of the JX features wrap-around taillights and a spoiler integrated into the vehicle's liftgate, adding additional visual length to the gentle rearward slope of its roofline.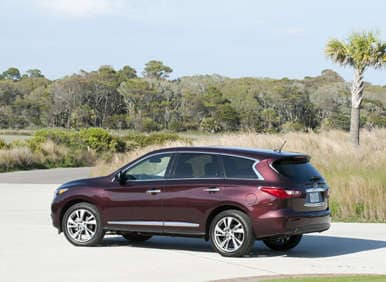 02. The 2013 Infiniti JX Can Seat Seven Passengers
The 2013 Infiniti JX bests both the compact Infiniti EX and mid-size Infiniti FX crossovers by adding a third row of seating that allows it to accommodate seven instead of just five passengers.  As mentioned in the introduction, this plugs a significant hole in the Infiniti lineup that was bleeding loyal customers to rivals such as Acura and Audi in search of a roomier SUV option.  The second tier of seating features a bottom cushion that flips up when the seatback is pushed forward in order to provide as much entry-room as possible for those relegated to the rear-most quarters, and that same row can also move ahead as much as six inches in order to balance out legroom throughout the cabin.  When it comes time to haul cargo instead of people, the JX is capable of transporting up to 76.5 cubic feet of gear.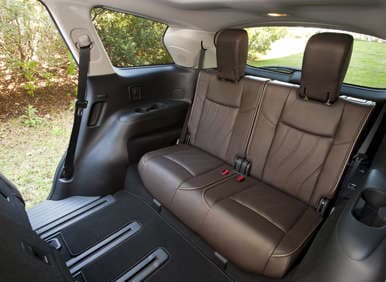 03. The 2013 Infiniti JX Provides A Single Engine Option
The 2013 Infiniti JX keeps things simple in the engine bay, offering up a well-mannered version of the brand's ubiquitous VQ-series 3.5-liter V-6.  The six-cylinder unit is rated at 265 horsepower and 248 lb-ft of torque, sent to the front wheels in the vehicle's base model or all four wheels if optional Intelligent All-Wheel Drive is ordered.  The somewhat heavy JX is capable of returning fuel mileage rated at 18-mpg in stop and go driving and 24-mpg on the highway, with all-wheel drive sapping a single mile per gallon from the cruising figure.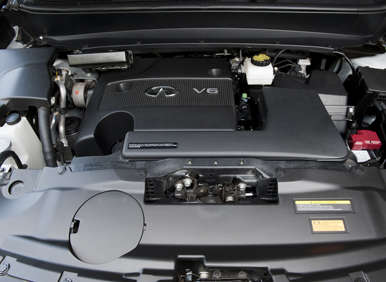 04. The 2013 Infiniti JX Offers An Advanced Transmission
The 2013 Infiniti JX is the first vehicle from the luxury automaker to come equipped with a continuously-variable automatic transmission.  CVTs are a technology that parent company Nissan does well, and the Infiniti JX offers Infiniti Drive Mode Selector which allows for those behind the wheel to custom tailor the characteristics of the gearbox to better meet driving conditions.  Infiniti Drive Mode Selector can be set to Sport, Snow (which dials down throttle response to help reduce wheel spin), Standard and Eco.  The latter feature actually sees the JX's throttle pedal pushing back against the driver's foot if it is determined that acceleration is too aggressive (when paired with the vehicle's Eco Pedal feature).  'Manual' shifting by way 'virtual' stepped gear ratios is also offered by the crossover's CVT.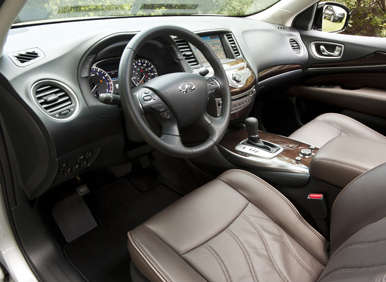 05. The 2013 Infiniti JX Is Sold In One Trim Level
Although Infiniti divides the 2013 Infiniti JX across front-wheel and all-wheel drive models, from a features perspective the crossover comes in a single trim level.  Standard equipment for the Infiniti JX is generous and includes three zones of automatic climate control, heated power leather seats, a sunroof, HID headlights, 18-inch wheels, a rearview camera, a multimedia control screen, iPod and USB interfaces and a power liftgate.  The JX also comes with heated mirrors, fog lights, keyless ignition and LED tail lights and a second row of seating that the automaker claims can be tilted forward for rear access even with a child seat installed.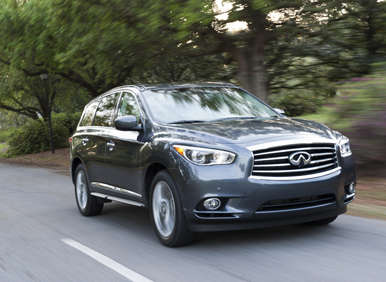 06. The 2013 Infiniti JX Can Be Had With A Number of Options Packages
As with most Infiniti offerings, the 2013 Infiniti JX is available with a wide array of optional features grouped into packages.  The Premium package is the most far-ranging as it includes a hard drive-based, voice-controlled navigation system (that comes with an eight-inch touchscreen), the AroundView Monitor (a 360-degree video look at the area immediately surrounding the crossover), a Bose stereo system, memory features for the vehicle's seats and a number of other conveniences.  The Theater package installs two LCD screens that are paired with wireless headphones in order to keep rear seat riders entertained, while the Deluxe Touring Package adds 20-inch rims, an air purification system, ventilated front seats, seat heaters for second row occupants, rain-sensing wipers and a moonroof for those riding out back.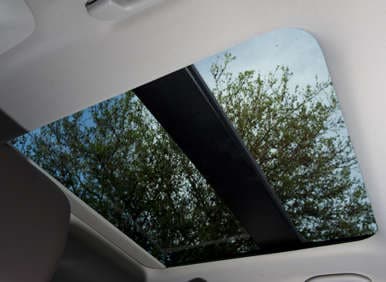 07. The 2013 Infiniti JX Features High Tech Safety Equipment
Two additional options packages can be had with the 2013 Infiniti JX that are designed to enhance the safety of those riding in the crossover.  The Driver Assistance Package features an adaptive cruise control system that can automatically brake the Infiniti JX if a forward collision is deemed imminent, as well as a blind sport warning system, back-up assistance and Active Trace Control, which engages the vehicle's brakes individually to help maintain corner stability.  The Technology package adds a lane departure warning system that can actively keep the JX between the lines by judiciously braking one side of the vehicle or the other as well as a blind spot warning system that incorporates an intervention feature that pulls the vehicle out of danger should its indicator chimes and lights be ignored.
08. The 2013 Infiniti JX Is Available With Infiniti Personal Assistant and Infiniti Connection
The 2013 Infiniti JX's Premium package also includes a subscription to the Infiniti Connection service and Infiniti Personal Assistant. 
Infiniti Personal Assistant provides new Infiniti JX owners with 24-hour access to a team of professional live personal assistants at the push of a button. Callers will receive assistance with the answer to any question or will perform tasks on their behalf. Every new Infiniti vehicle comes with 4 years of unlimited access to Infiniti Personal Assistant.
Infiniti Connection is a telematics service that can automatically contact emergency personnel and provide the vehicle's location in the event of a collision, as well as facilitate roadside assistance and keep track of maintenance schedules.  Owners of the JX can additionally use Infiniti Connection to remotely lock or unlock their doors, be notified of the crossover's alarm being tripped and track the vehicle if it is stolen. 
Infiniti Connection also comes with advanced navigation assistance as well as a connection to the Infiniti Personal Assistant service that will help owners answer questions on almost any subject as well as facilitate a wide range of tasks.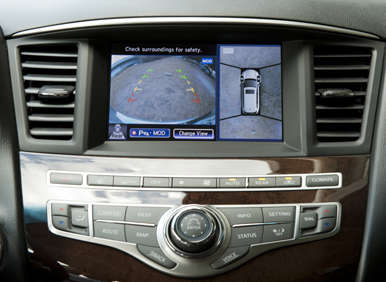 09. The 2013 Infiniti JX Is Very Comfortable To Drive
The 2013 Infiniti JX is essentially the first offering from the brand to prioritize daily driving comfort over performance, which means it is sprung softer than other crossovers built by the brand (like the Infiniti FX, for example).  While the Infiniti JX might not provide a sporty ride, it does pamper driver and passengers with a suspension system that coddles without asking for too many sacrifices in terms of dynamics.  The JX moves through corners with composure, braking is confident for a heavy, three-row vehicle and acceleration from the V-6 engine is linear even with the continuously-variable automatic transmission calling the shots.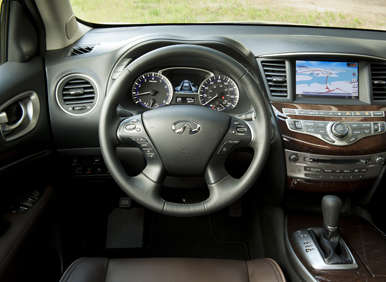 10. The 2013 Infiniti JX Is Nicely Priced
The 2013 Infiniti FX starts at an MSRP of $40,450.  For a vehicle with such a surprisingly satisfying level of standard equipment this is an attractive entry point.  When broadening the scope to examine the Infiniti JX's immediate competition, the vehicle's asking price becomes that much more intriguing.  The Acura MDX, which offers three rows of accommodations, starts at an MSRP of $43,030 while the Audi Q7 ups the ante to $46,250.  Throw in price comparisons with offerings from Land Rover, BMW and Mercedes-Benz and it quickly becomes apparent that the Infiniti JX makes sense from a value as well as a comfort and practicality perspective.