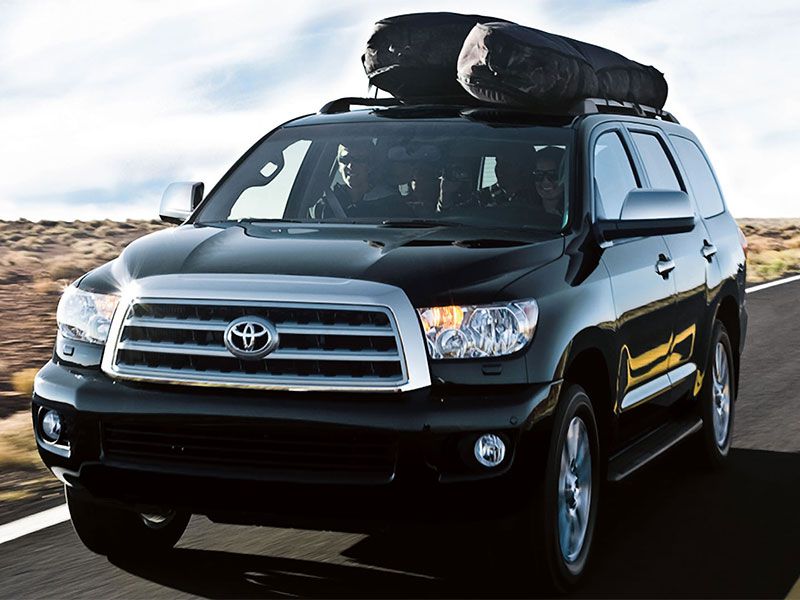 2016 Toyota Sequoia roofracks
A roof rack may seem unnecessary on an SUV, since most body-on-frame sport-utility vehicles are big enough to hold plenty of cargo on the inside. However, even in the most massive three-row SUVs, those seats cut into overall cargo capacity. Consider: One of the longest sport-utilities on the market can carry more than 130 cubic feet of cargo when its second and third rows are folded. But if you fill those seats with people, interior storage space is reduced by 67 percent. Therefore, you'll often need to store your stuff outside the vehicle, on a roof rack. Here, Autobytel identifies our 10 favorite SUVs that come from the factory equipped with these handy roof-storage racks.
2016 Chevrolet Tahoe and Suburban
Like most SUVs with roof racks, the 2016 Chevrolet Tahoe and its extended-length counterpart—the Chevy Suburban—start with standard luggage-rack side rails on top, but the Bowtie brand also brings some premium appeal in the upper-range LTZ trims. In those models, the side rails wear bright chrome trim, which complements other lux exterior-design cues like standard 20-inch polished-aluminum wheels, bodycolor moldings, chrome-accented assist steps and high-intensity discharge headlamps; black roof rails are standard for all other trim, levels. Of course, in all cases, the rails can be combined with crossbars and a variety of other roof-mounted cargo-management accessories, including kayak, bike, and luggage carriers. Nor do any of those features interfere with the vehicles' standard mobile Wi-Fi hotspots, 4G LTE connectivity, and smartphone-integration technologies.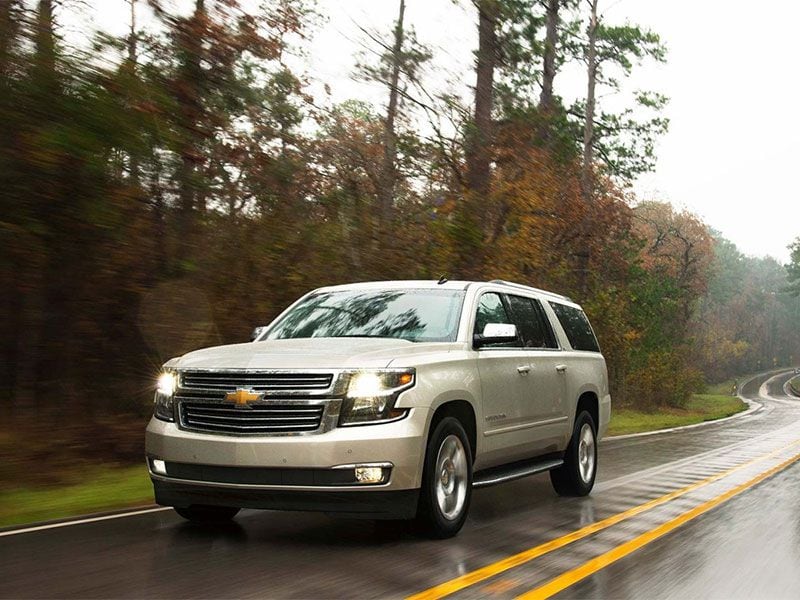 2017 Nissan Armada
For the new model year, the 2017 Nissan Armada now leverages the same underpinnings as the Nissan Patrol, a global sport-utility vehicle with a world-class reputation for toughness. As a result, the Armada has one of the most robust overhead weight ratings of any SUVs with roof racks, thanks to rails capable of handling up to 220 lb. There are increased output ratings for the Armada's V8 engine, too, with the 2017 edition providing a best-in-class 390 horsepower—an increase of 23 percent versus last year's Armada V8. On the other hand, the Armada's new look is modern and refined, in everything from its bold V-Motion grille and standard chrome trim to its bodycolor exterior accents and dark-finish roof rails.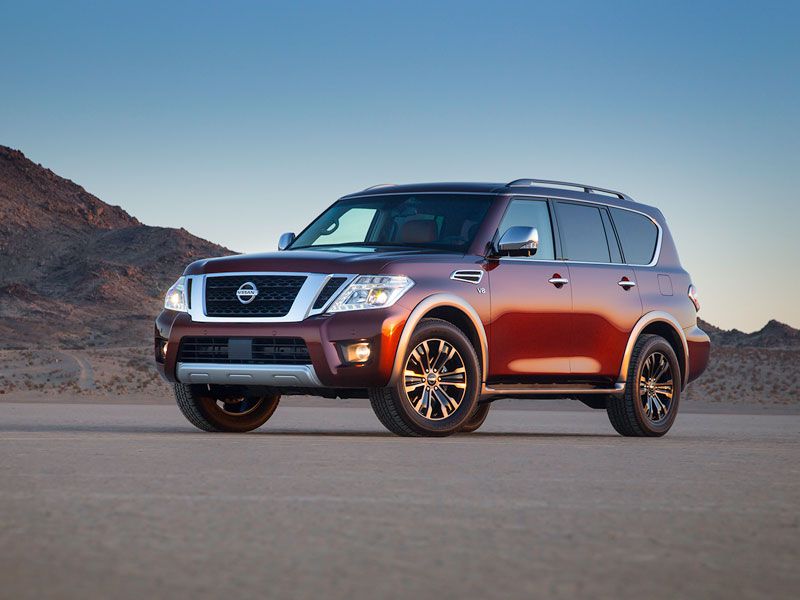 Photo by Nissan
2016 Ford Expedition and Expedition EL
It's common for SUVs with roof racks to have different types sfor different trims, and the 2016 Ford Expedition is a perfect example. The entry XLT trim has black luggage-rack side rails and black luggage-rack crossbars, while upper-level grades, such as the Expedition King Ranch and Expedition Platinum, pair the black crossbars with chrome side rails. The Expedition EL follows the same tactics, but in an extra-long package that brings extra storage space inside: The standard Expedition tops out with 108.3 cubic feet of cargo capacity, and the EL raises the bar to 130.8. With all seats in use, the EL has a rear cargo hold that can handle 42.6 cubic feet, versus 18.6 for the standard Expedition.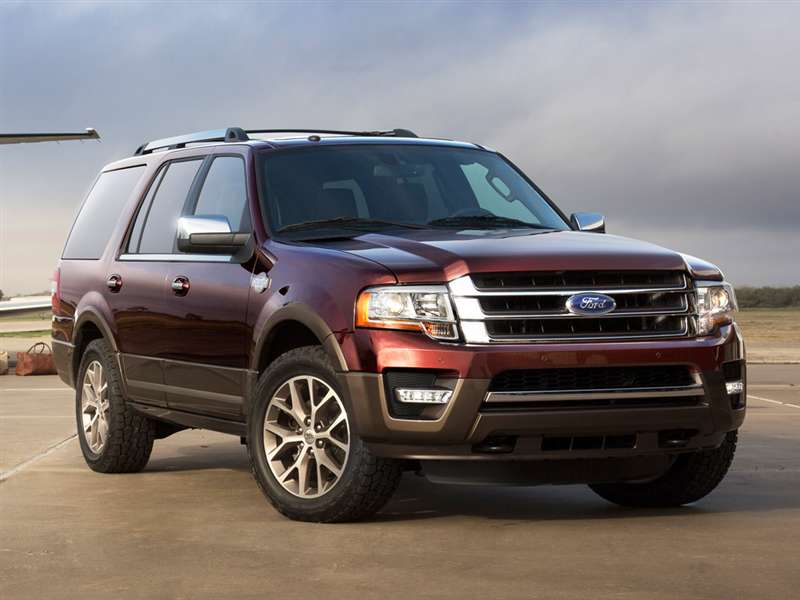 2016 Toyota 4Runner
Engineered as a rough-and-ready alternative to the brand's crossover lineup, the 2016 Toyota 4Runner has the same rugged body-on-frame construction as domestic SUVs with roof racks, and it's got its own roof-rack system as well. That said, the 4Runner's setup features a dash of style up top, since it furnishes silver-painted rails with either silver endcaps (SR5 and Limited) or black caps (Trail and TRD Pro). Actual crossbars are extra—as they often are for SUVs—but here the automaker helps out by bundling them in a Convenience Package from Toyota Genuine Accessories: In the mix with the bars are a chromed exhaust tip and alloy wheel locks, although they're also available as a standalone add-on.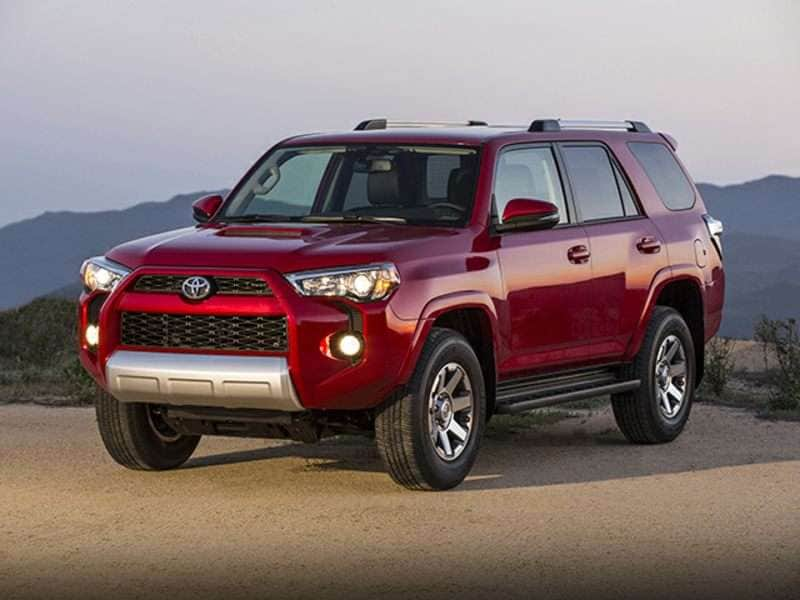 Photo by Toyota
2016 Cadillac Escalade and Escalade ESV
Among the most luxurious SUVs with roof racks are the 2016 Cadillac Escalade and the super-sized Escalade ESV. As the latest evolution of the iconic Escalade family, these striking sport-utilities boast big bright grilles and a blazing bevy of exterior LED lights, so it's no surprise that their standard roof rails have an eye-catching chrome finish. Black crossbars—like the black-tie accents of a sophisticated tuxedo—also are available, as is a new set of 22-inch wheels with a seven-spoke design, painted finish, and chrome inserts. To be clear, the Escalade is indeed ready for work, and Cadillac offers quite a collection of cargo-management accessories to bolster those chromed-out roof rails, including a hard cargo container, a ski rack, and a bicycle holder.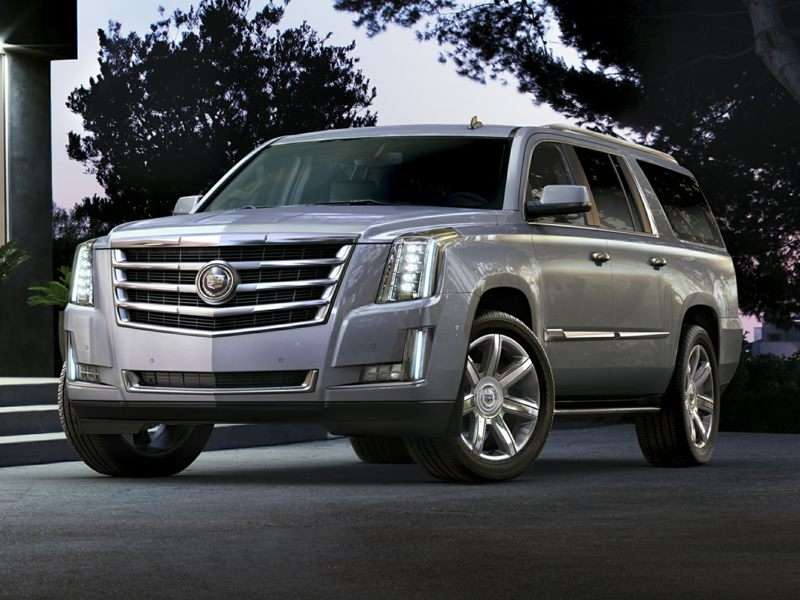 Photo by General Motors
2016 Infiniti QX80
The 2016 Infiniti QX80 is the ultra-lux version of the Nissan Armada, which means its standard roof rails have a more premium appearance. So, to better compete against other upscale SUVs with roof racks, the hardware on the QX80 Limited—side rails and crossbars both—is set off by a dark chrome finish that matches the vehicle's grille surround, its foglight frames, and the distinctive side vents on its hood. Beneath that hood is Infiniti's V8, a 400-horspower engine with 413 lb.-ft. of torque. That gives this give leather-laden cocoon of luxury an impressive 8500-lb. towing limit.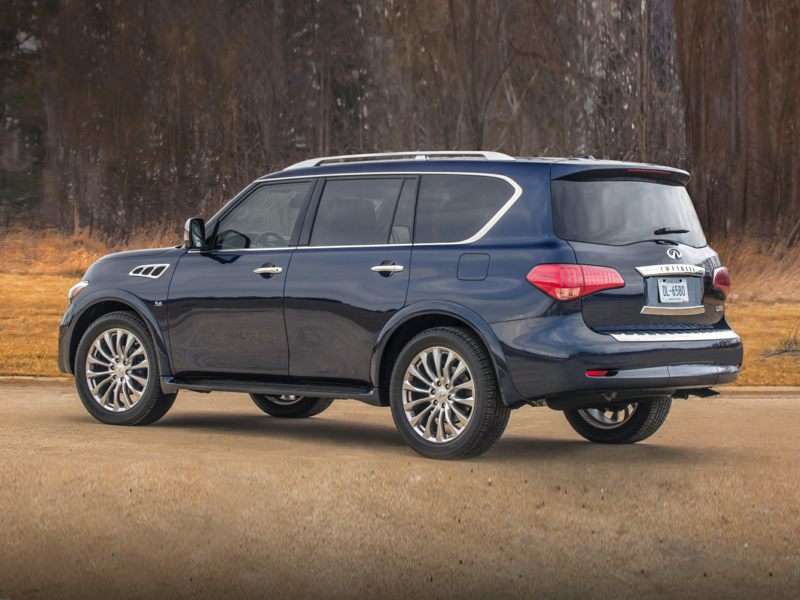 Photo by Infiniti
2016 Lincoln Navigator and Navigator L
Meanwhile, the Ford Motor Company's premium brand has partnered with Thule to enhance its SUVs with roof racks: The 2016 Lincoln Navigator and the lengthened Navigator L come standard with chrome side rails, black crossbars and black end caps, but customers with active lifestyles also can order licensed Lincoln cargo accessories that are made by Thule, one of the top names in the business for kayak carriers, ski/snowboard carriers, and various storage boxes. It's a great way to build on the Navigator's impressive interior space and ideal if you want to avoid damaging the Lincoln's luxurious cabin. After all, the Navigator's interior showcases lots of rich leather, even in the heated second-row captain's chairs; it would be a shame to have to fold them away for extra storage.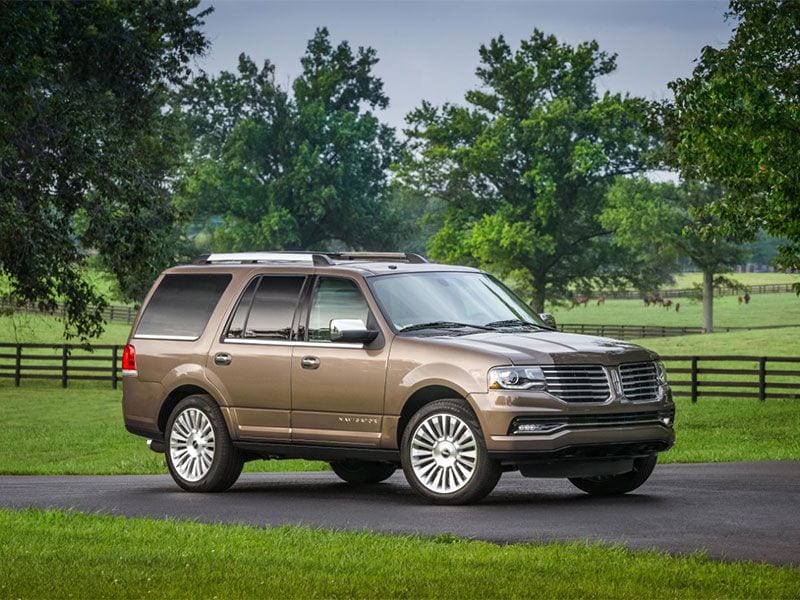 Photo by Lincoln
2016 GMC Yukon and Yukon XL
GMC is known for both its Professional Grade positioning and its Denali premium vehicles, and the brand's SUVs with roof racks are perfect examples of both. Roof rails are standard on all 2016 GMC Yukon and Yukon XL sport-utilities—the latter being the nameplate's long-wheelbase models—and crossbars are available to support a range of roof-rack accessories. Customers who opt for the range-topping Denali models welcome chrome-accented luggage rails. Of note, GMC is offering some new options for 2016. Yukon infotainment systems, for instance, add smartphone-integration to their previously standard mobile Wi-Fi service, while a hands-free, power-opening liftgate has been made standard for the SLT model. Finally, from the safety department, lane-keeping assistance and IntelliBeam headlamps make their debut.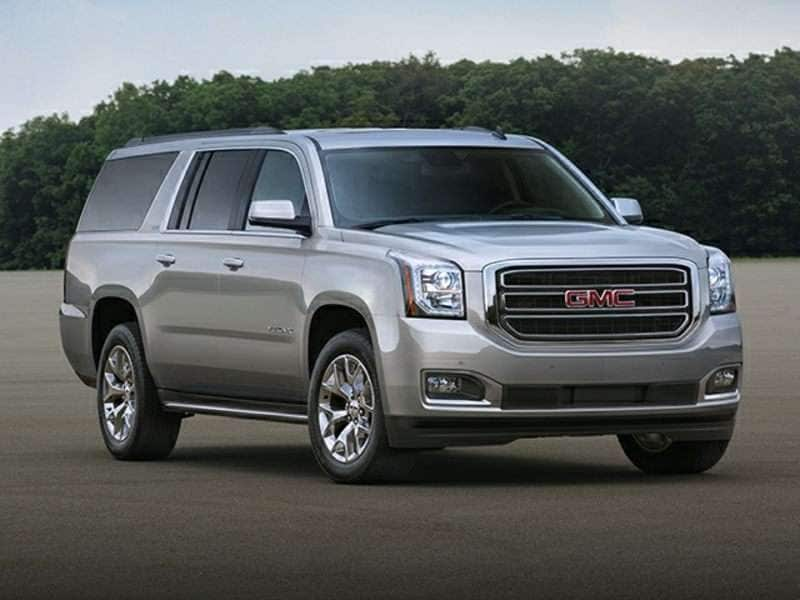 Photo by GMC
2016 Toyota Sequoia
If you're shopping for SUVs with roof racks, you're likely a customer who needs that sort of resource for family-sized adventures. In that case, you also need a vehicle like the 2016 Toyota Sequoia. This is Toyota's fullsize three-row sport-utility, backed by seating for eight and standard versatility enhancers that include not just a roof rack, but eight-occupant seating and a trailer hitch that's directly integrated into the Sequoia's tough steel frame—and enables owners to pull up to 7400 lb. A transmission tow/haul mode and trailer sway-control improve pulling performance. The Sequoia pulls its own weight in terms of infotainment, too. Entune technology is standard, and navigation, JBL audio, and the Entune App Suite are all available.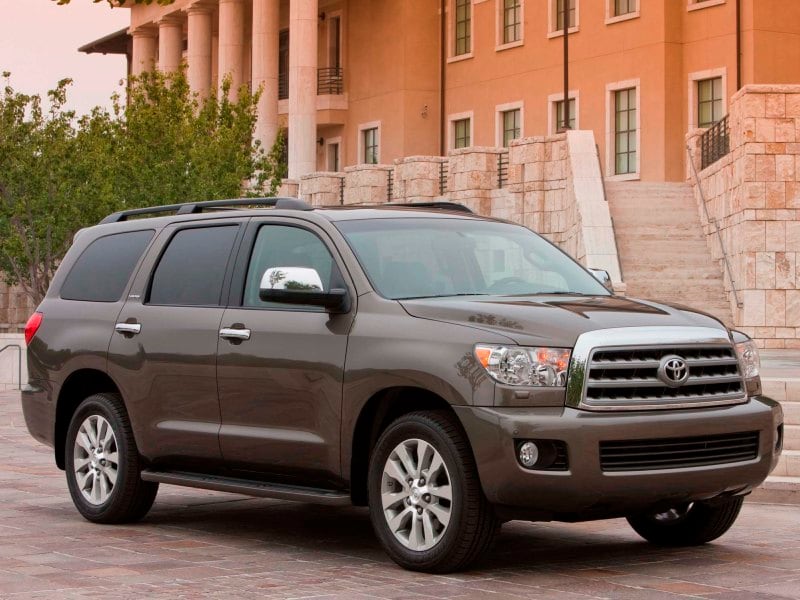 2016 Lexus GX 460
The 2016 Lexus GX 460 is, as you might guess, a premium vehicle with an impeccably tailored cabin. Standard equipment includes 10-way power-adjustable front seats, a nine-speaker Lexus audio system, and even a powered moonroof. But can an SUV with a sliding moonroof even have a roof rack? Yes, it can. And the GX also proves you can have roof racks with full-time 4-wheel drive, crawl control, a Kinetic Dynamic Suspension System and other serious off-road gear without sacrificing Lexus-like levels of luxury that includes Mark Levinson surround-sound audio, heated and cooled seating, and a comprehensive Driver Support Package of active safety measures.
Photo by Lexus