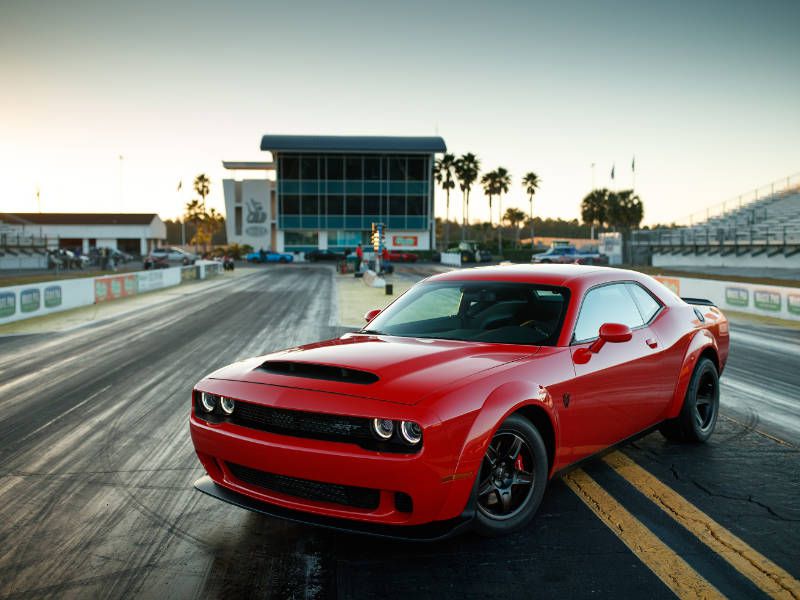 2018 Dodge Challenger Demon RaceTrack 3 4 ・ Photo by Dodge
Our list of 10 special edition muscle cars focuses on entries from the Big Three, with some notable tuners included for posterity. If there's one thing that most muscle car enthusiasts agree upon, it's that true muscle comes from Detroit. Whether you're cruising Sunset, Woodward, or Kingsley and Ocean, traditional muscle cars are purely an American thing. No one does affordable high-horsepower performance like Ford, General Motors, and FCA. While some of our greatest brands are all but memories, the great tradition of American Muscle and special editions continues to roll after more than fifty years.
2018 Corvette Z06
Blame the 2018 Chevrolet Corvette Z06's "Big Nasty" nickname on its gnarly LT4 supercharged 6.2-liter V8 power plant for starting off this list. With 650 hp on tap, it's the most powerful engine ever fitted to a production Corvette. The coupe starts at $80,490, while the convertible comes in at $84,490. Tick the Z07 option box and you'll be rewarded with a factory-estimated 0-60 mph time of just 2.95 seconds and a 10.95-second quarter-mile. Factor in lateral acceleration of 1.2g and a remarkable 60-0 braking distance of 99.6 feet and you're squarely in supercar territory at a special edition muscle car price. Sure, it's not a Ferrari, Bugatti, or Lamborghini -- but the nearest Chevy dealer is within spitting distance and this one might fit your budget.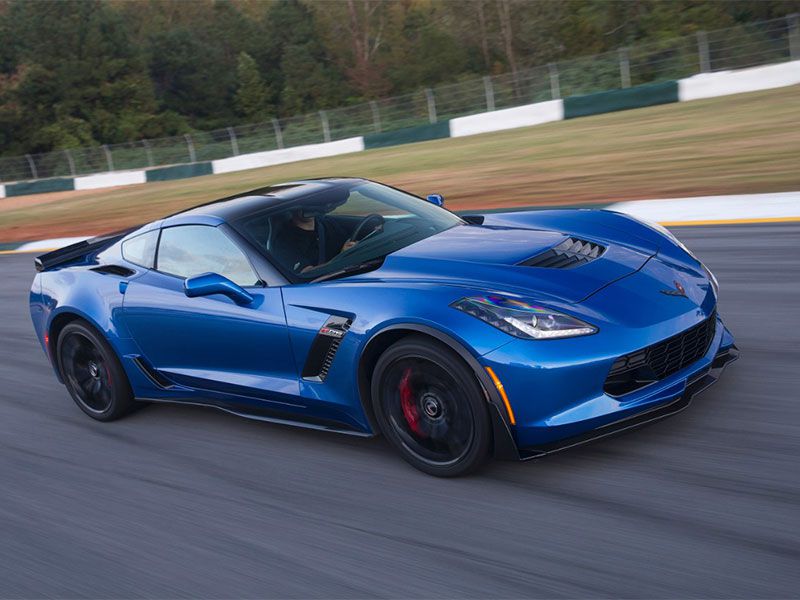 Photo by Chevrolet
2018 Camaro ZL1 1LE
The 2018 Camaro ZL1 1LE earned its moniker as "ultimate track-day Camaro" by deploying an array of components engineered to deliver faster lap times. The 1LE keeps it glued with optimized aerodynamics that include a carbon fiber rear wing and front fascia tweaks, adjustable Multimatic DSSV dampers, wider and shorter alloy wheels wrapped with Goodyear Eagle F1 Supercar 3R tires, and an overall weight reduction of 60 pounds over the standard ZL1. A 650-hp supercharged LT4 engine should put fear in the heart of Shelby GT350R pilots, as the 6-speed manual transmission with Active Rev Match eases shifting stress. Needless to say, the ZL1 1LE is the farthest thing from a paint-and-tape special edition muscle car.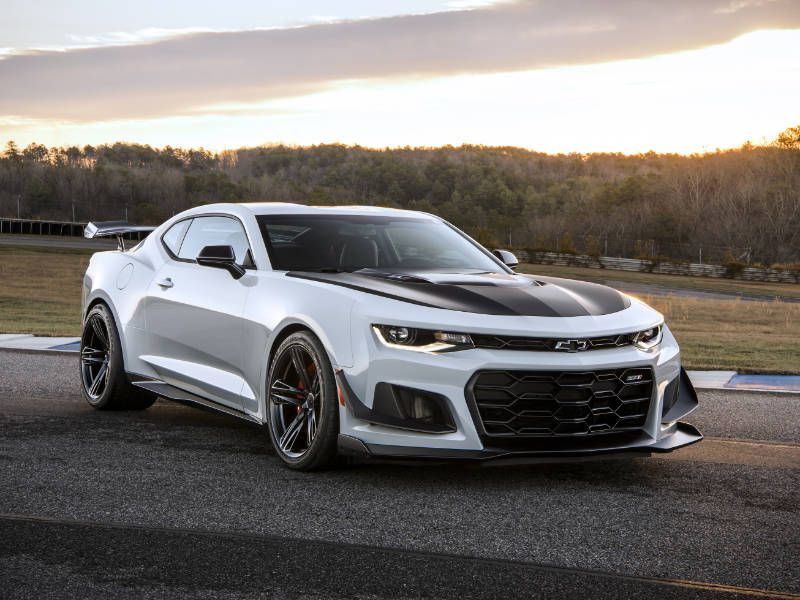 Photo by Chevrolet
2017 Ford Mustang Shelby GT350/GT350R
The Shelby Mustang is the longest-running special edition muscle car, with a history that dates all the way back to 1965. There are two versions of the 2017 Shelby Mustang available: the GT350 (MSRP: $56,145) and the track-focused GT350R (MSRP: $63,645). Both are powered by a 5.2-liter flat-plane crank V8 engine mated to a 6-speed TREMEC manual transmission. Brembo brakes haul it down with 6-piston calipers up front and 4-piston calipers at the rear. The GT-350R's more aggressive front splitter and rear spoiler keep the car glued at competition speeds. Weight reduction measures include carpet, rear seat, spare tire, air conditioning, and audio system deletes. Because Racecar.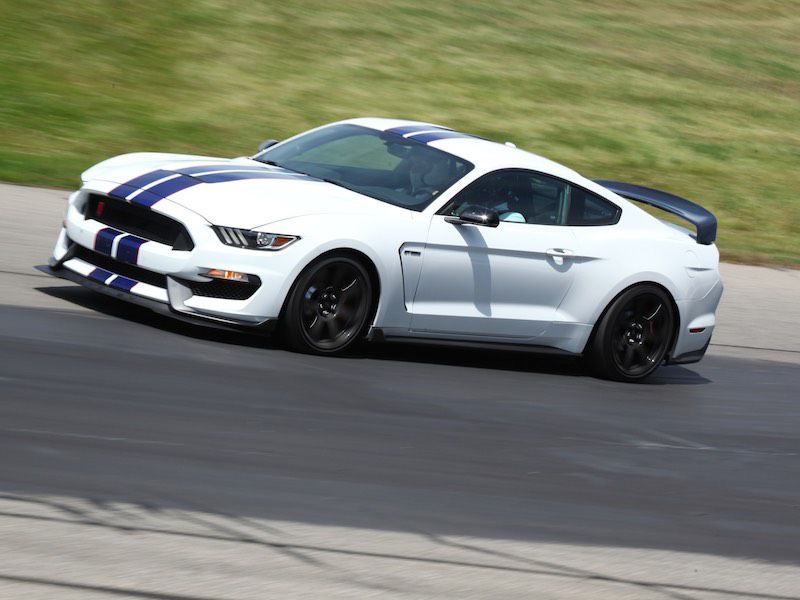 Photo by Ford
2017 Ford Mustang RTR
The 2017 Ford Mustang RTR is the brainchild of Formula Drift champion Vaughn Gittin Jr. and is targeted at a younger generation of muscle car enthusiasts. All RTRs feature LED grille lighting, aero kit, graphics, and lowering springs. The RTR Spec 1 ($7,950 over donor cost) rides on 19-inch Tech 7 wheels, wrapped with Nitto 555G2 tires. Spec 1 EcoBoost RTRs deliver 315 hp, while GTs produce 435 hp. The Spec 2 ($11,995) adds adjustable shocks and struts, sway bars, and an axle back exhaust with performance calibration. Spec 2 EcoBoost RTRs produce 345 hp, while GTs crank out 460 hp. The Spec 3 RTR ($20,995) takes it to the limit with a RTR/Ford Performance supercharger and intercooler for a whopping 670 hp.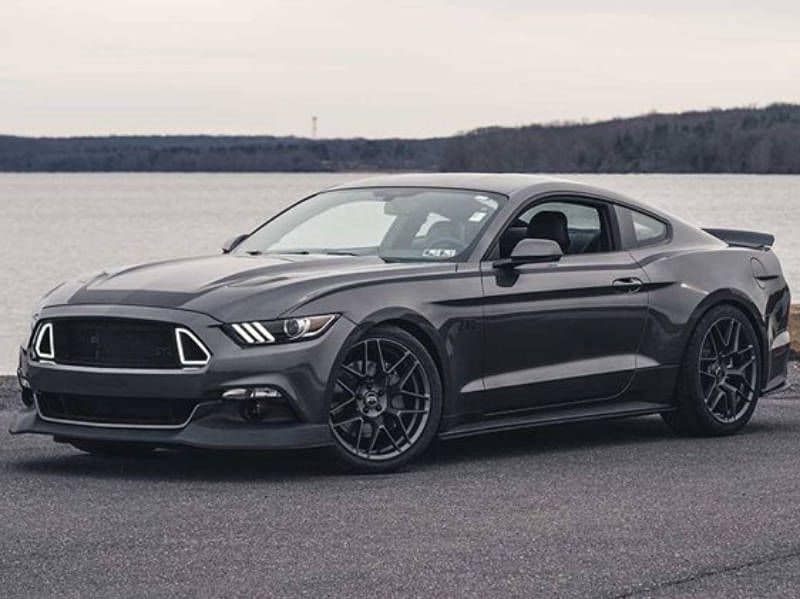 Photo by RTR
2017 Ford Mustang Roush P-51
Roush Performance billed the 727 hp 2017 Ford Mustang Roush P-51 as "the most powerful American pre-titled car ever built," although it has since been eclipsed by the Dodge Demon. The P-51's mighty Roush Eaton TVS supercharged Coyote 5.0-liter V8 can be mated to either to a 6-speed manual or automatic transmission and is piped through an active exhaust system. Handling benefits from three-way adjustable coilovers, with 19-inch Weld wheels wrapped in Continental ExtremeContact Sport tires at the corners. Handmade carbon fiber exterior bits set the exterior apart from the crowd. The interior is finished in supple Amaretto Tuscany leather, with distinctive pedals and shifter knob. The Roush P-51 starts at $42,500 over the cost of the Mustang GT and is covered by a 3-year/36,000-mile warranty.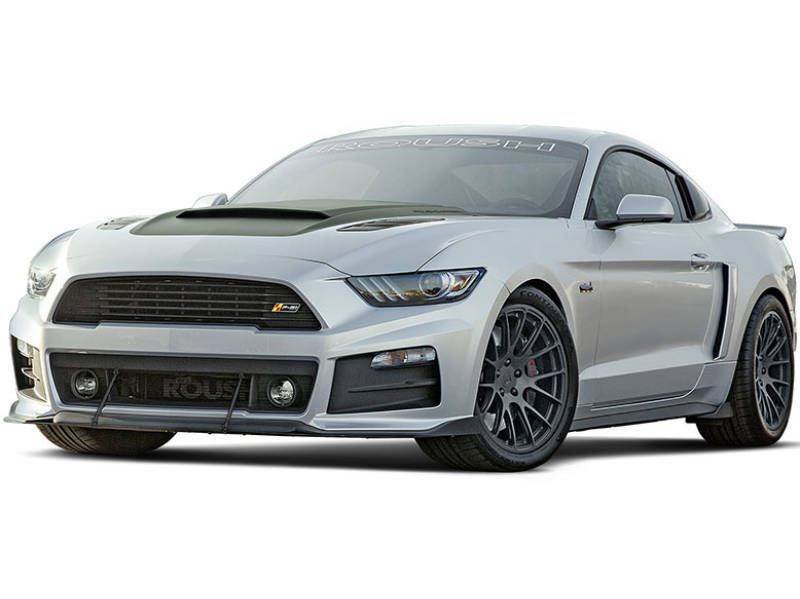 Photo by Roush
2018 Dodge Challenger SRT Demon
The build-up to the 2018 Dodge Challenger SRT Demon's reveal at the 2017 New York Auto Show stoked enthusiast interest for weeks on end. When the tarp was finally pulled off at an epic event - appropriately held in Hells Kitchen, Vin Diesel led the sermon for the Brotherhood of Muscle. A starting price of $84,995 gets you a 808-hp beast. Add the optional Demon Crate kit for $1 and you'll bump it up to 840 hp, to yield a quarter-mile time of just 9.65 seconds. Dodge bills the 0-60 mph time of 2.3 seconds as the world's fastest, and the 1.8 acceleration g-force as the world's highest for a production car. While the Big Three have released track-only special edition muscle cars before, there's never been a street legal monster like the Demon.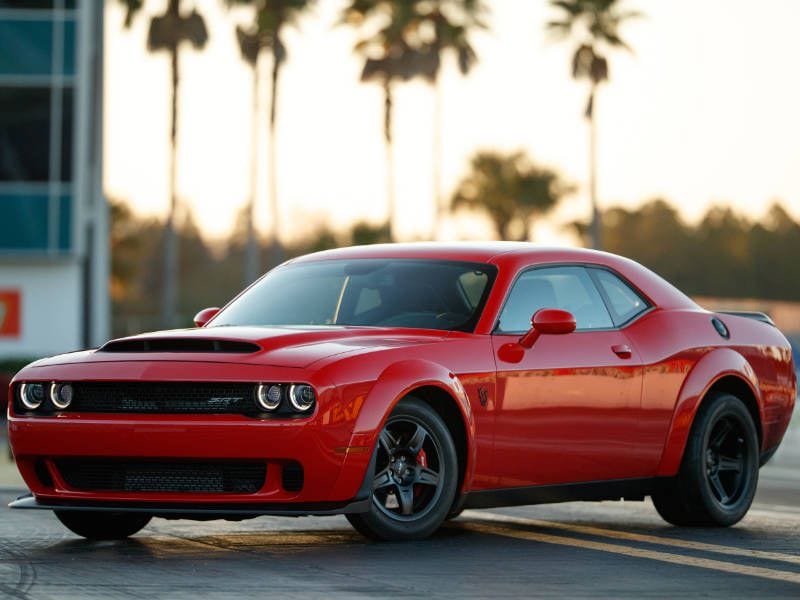 Photo by Dodge
2017 Dodge Charger SRT Hellcat
With an unfathomable 707-hp supercharged 6.2-liter HEMI V8 under the hood, the 2017 Dodge Charger SRT Hellcat leapt to the front of the pack of factory special edition muscle cars when first unleashed in the 2015 model year. A modest starting price of $67,645 cracks the dollar-per-horsepower threshold, ensuring Dodge's ultimate four-door muscle car status as a legendary performance bargain. Experienced Hellcat pilots should be able to shave a few tenths off Autobytel's best 0-60 mph time of approximately four seconds. If 707 hp isn't beastly enough, Hennessey Performance offers a HPE1000 Supercharged Upgrade that cranks output up to 1012 hp, with a 2.8 second 0-60 mph time, with a quarter-mile in a blistering 9.9 seconds.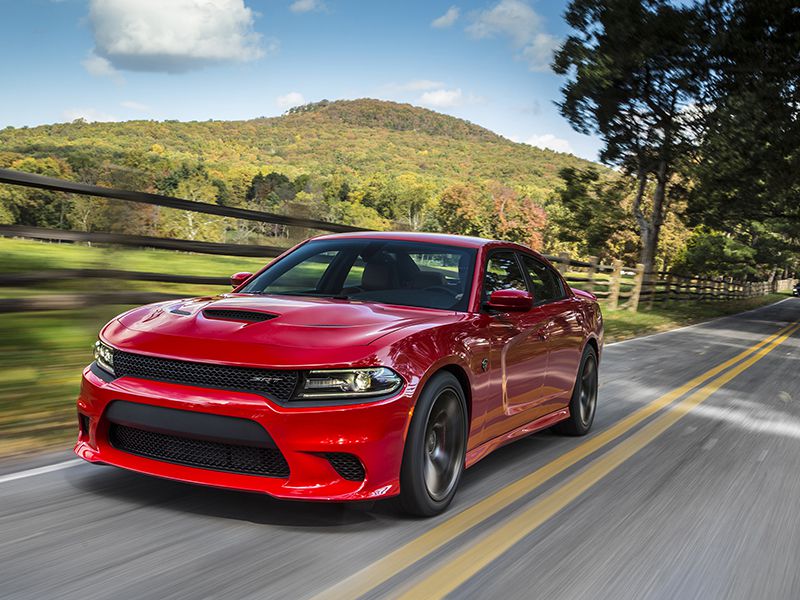 Photo by Dodge
2018 Jeep Grand Cherokee SRT Trackhawk
The 2018 Jeep Grand Cherokee SRT Trackhawk answers a question that enthusiasts have been asking since the launch of the SRT Hellcats. Yes indeed, the 707-hp supercharged 6.2-liter HEMI will fit under the hood, and it's fabulous. The SRT Trackhawk stomps the current Grand Cherokee SRT - which is motivated by a naturally aspirated 6.2-liter HEMI, which puts out a conservative (by comparison) 475 HP. The Grand Cherokee SRT Trackhawk's 0-60 mph time drops down to 3.5 seconds, while the quarter-mile time fall to a mere 11.6 seconds, with a blistering top speed of 180 mph. Jumbo Brembo brakes (the largest ever for Jeep), haul the Trackhawk down from 60-0 in just 114 feet.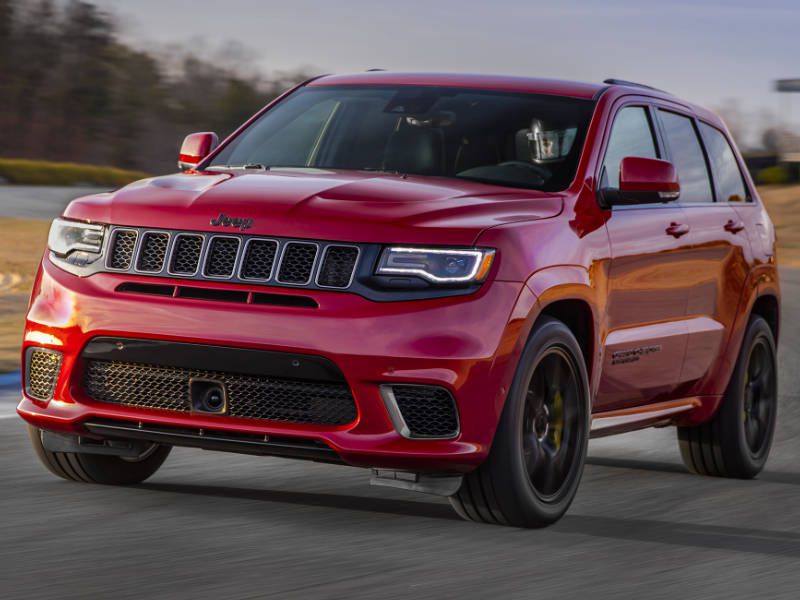 Photo by Jeep
2017 Cadillac ATS-V
America's first luxury brand delivers something that Ford and Mopar can't match with the 2017 Cadillac ATS-V: A winning combination of sporting luxury, in both coupe and four-door sedan layouts. This is a special-edition muscle car like no other. The ATS-V's 464 hp twin-turbo V6 is well suited for tuning, and is offered with either a 6-speed TREMEC manual or 8-speed automatic transmission. The manual features Active Rev Match, No-lift shifting, and launch control -- not what you'd expect in a Cadillac. Brembo brakes and Magnetic Ride Control suspension haul it down while keeping it smooth and glued. Hankering to kick it up a notch? Hennessey Performance offers an HPE550 upgrade that bumps the ATS-V's twin-turbo V6 up to 550 hp.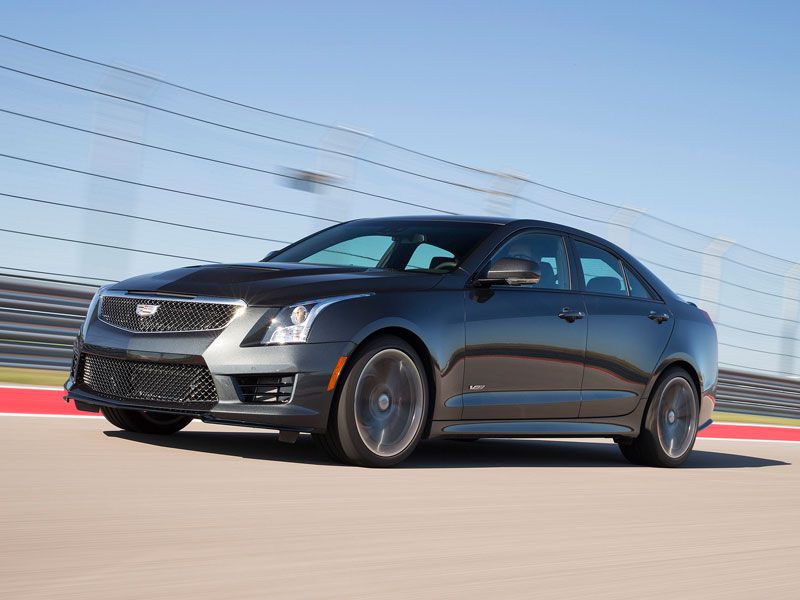 Photo by Cadillac
2017 Cadillac CTS-V
The 2017 Cadillac CTS-V is a truly magnificent beast, offering unparalleled American luxury and performance. The CTS-V's supercharged 6.2-liter V8 engine delivers a whopping 640 hp, with a 0-60 mph time of 3.7 seconds and a top speed of 200 mph. An eight-speed automatic with Performance Algorithm Shifting delivers smooth and rapid gear changes. Like the ATS-V, the CTS-V is equipped with Magnetic Ride Control and Brembo brakes. Drop the appropriate coin with Hennessey Performance and they'll up supercharged V8's output up to 1000 hp, dropping the 0-60 mph time to 2.9 seconds, and the quarter-mile down to 10.5 seconds, with a top speed of 220+ mph.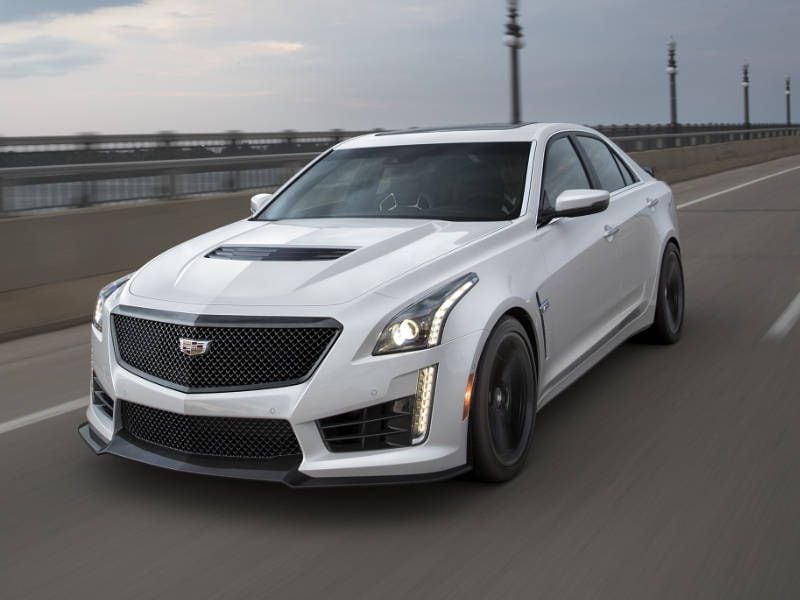 Photo by Cadillac