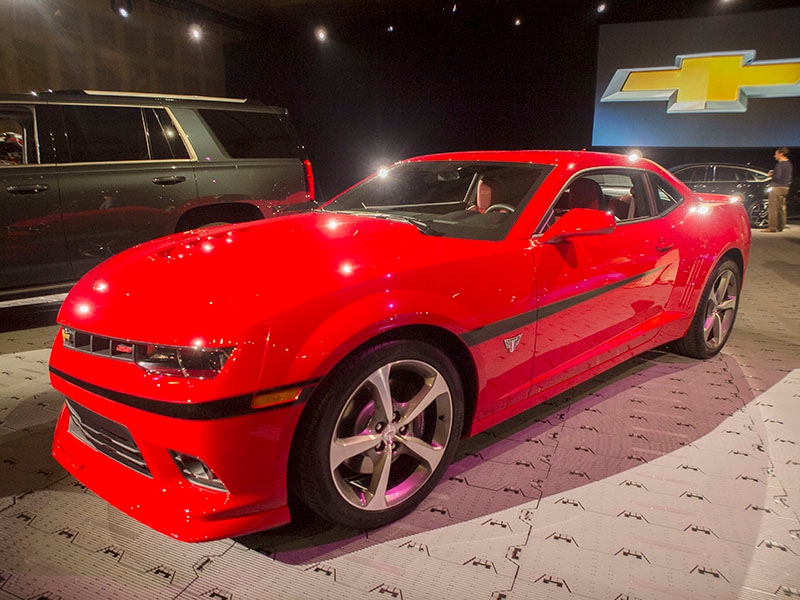 2015 Chevrolet Camaro Commemorative Edition ・ Photo by Megan Green
With the all-new 2016 version fast approaching, now makes a perfect time to look back at the top 10 special edition Camaros of the fifth generation, which helped kick off the modern-day muscle-car craze back in 2009. These are the cars that helped Chevy sell more than 500,000 fifth-gen Camaros during that generation's life-cycle—from model-year 2010 through model-year 2015—while also winning a lifetime's worth of awards. In fact, the fifth-gen Camaro's long list of honors ranges from winning the World Car Design of the Year trophy in its rookie season to capturing the "Motor Trend" Best Driver's Car title of just last year.
And while the current model will soon be gone from dealerships, these limited edition Camaros will make a lasting impression on collectors, backed by some wild appearance packages and plenty of performance.
The all-new 2016 Chevrolet Camaro will debut at a special public event on May 16, 2015, in Detroit, and go on sale soon after. 
2010 Camaro TRANSFORMERS Edition
Although it wasn't quite ready for the re-boot of the "Transformers" franchise in 2007—when a muscle-car concept played the role of "Bumblebee" on the silver screen—the first of our special edition Camaros took a star turn in the sequel, "Transformers: Revenge of the Fallen." Naturally enough, the car was known as the 2010 Chevrolet Camaro TRANSFORMERS Edition and wore the iconic black-and-yellow livery with pride, also boasting "AUTOBOT" shield graphics inside and out, a rally-stripe package in high-gloss black, and "TRANSFORMERS" logos on the sill plates and integrated within its hood stripes.
Then, after helping kick off the new Camaro in high style, while also helping kick some Decepticon butt, Chevy rolled out a 2012 "Transformers" edition for the third film, further adding 20-inch black-painted wheels and a distinctive rear spoiler to the mix, along with all the content from that year's Rally package.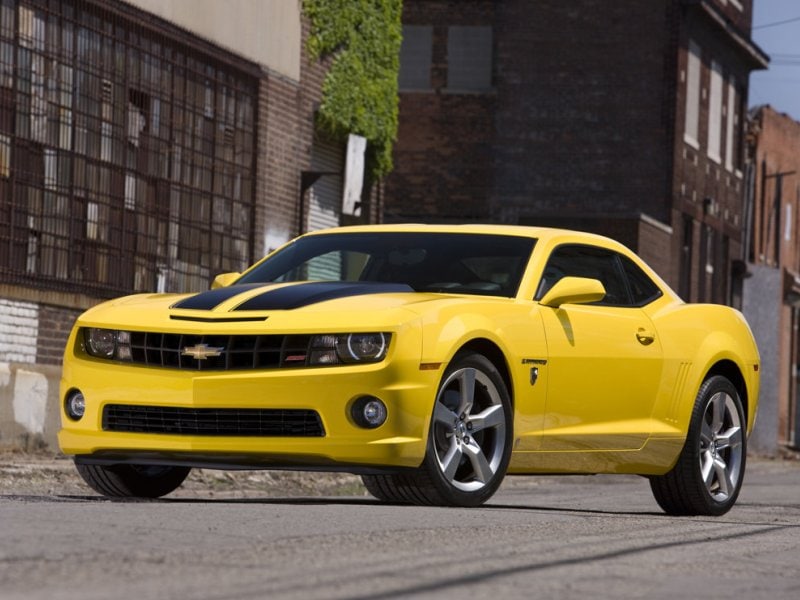 2010 Camaro Indy 500 Pace Car
The 2010 Camaro didn't just bring the Bowtie muscle-car back to the street, it also brought it back to the track, starting with another of our favorite commemorative edition Camaros: the 2010 Indy 500 Pace Car.
Based on the 400-hp Camaro SS and packing a standard six-speed automatic transmission and 20-inch polished aluminum wheels, the production pace-car replicas were limited to 200 units, each of which was finished in a blistering Inferno Orange exterior color and matched by a similarly shaded heritage-style grille and engine cover. Additionally, dual Pearl White stripes ran right down the middle of the car, and owners also enjoyed specific "Indy 500" door decals, embroidered headrest logos, and front-fender badges.  
The actual pace car was driven by Robin Roberts, then-anchor of "Good Morning, America," and represented just the fourth time a Camaro had set the pace at the greatest spectacle in racing.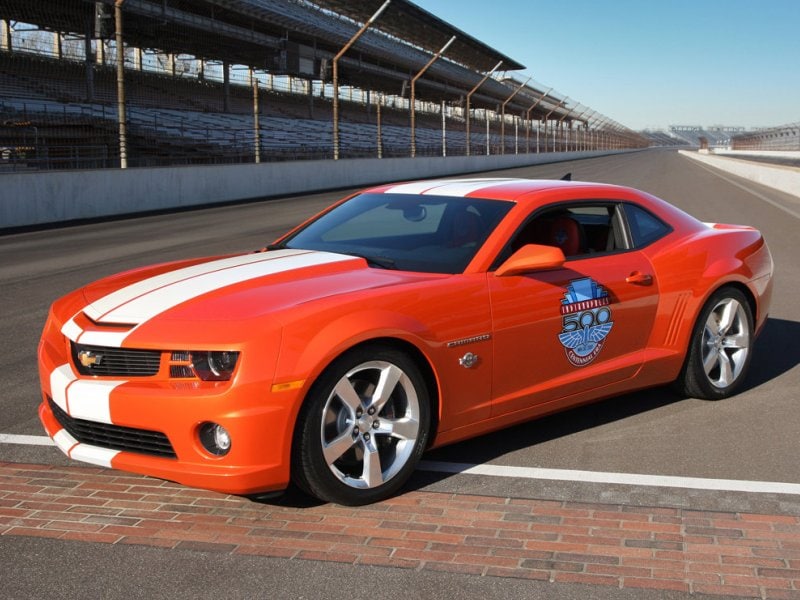 2011 Camaro Convertible Indy 500 Pace Car
The Camaro completed its third consecutive year as the Indy 500 pace car in 2011, though retail models were extremely hard to come by. Indeed, Chevrolet released just 50 matching "festival cars" for sale that year, including one that was auctioned to support the David Foster Foundation for families with children awaiting organ transplants.
All were part of a prominently heritage-based event—it honored the 100th anniversary of both the race and Chevrolet itself—with each giving a noticeable design nod to the Camaro pace car of the 1969 Indy 500. More to the point, the vehicles were dressed in a Summit White exterior with bold, full-length orange racing stripes and commemorative door graphics, as well as an orange leather interior, embossed Indy 500 logos for the front-seat headrests, and the full range of upgrades offered in the Camaro 2SS with RS package.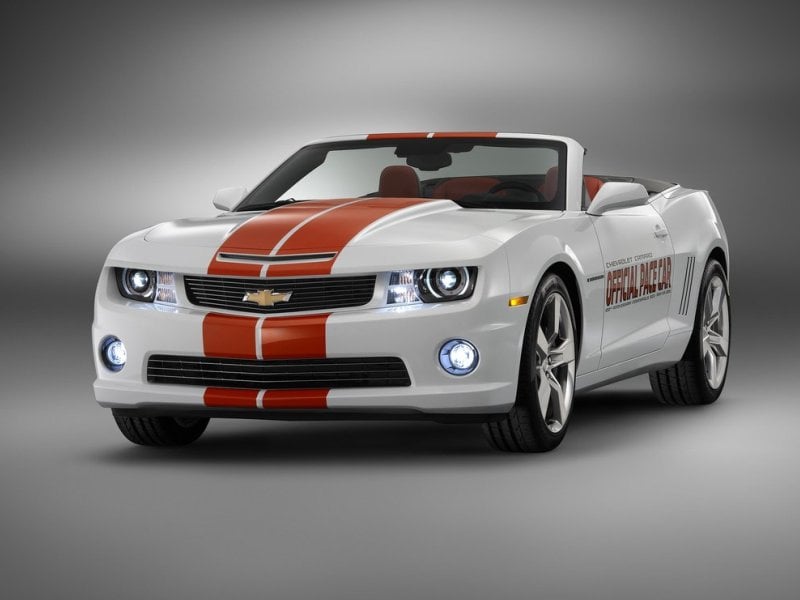 2011 Camaro Convertible Nieman Marcus Edition
Christmas 2010 was an especially festive occasion for 100 lucky Camaro owners, as they were the only ones able to get their hands on a 2011 Chevrolet Camaro Convertible Nieman Marcus Edition. A signature highlight of that year's "Christmas Book" from the high-end retailer, the high-performance Camaro was only available through a special telephone-reservation process and sold out in a mere three minutes.
As for Camaro's unique holiday package, it was based on the Camaro SS Convertible, but gift-wrapped in an exclusive tri-coat metallic finish described as "Deep Bordeaux." Faded-back rally stripes provide a sophisticated complement to that exterior, as does an amber leather cabin environment that also ties into the exterior with the same Deep Bordeaux color used for interior accents.
Also notable: The Nieman Marcus edition rode on massive, model-exclusive 21-inch polished aluminum wheels and Pirelli P-Zero tires, backed by Brembo disc brakes.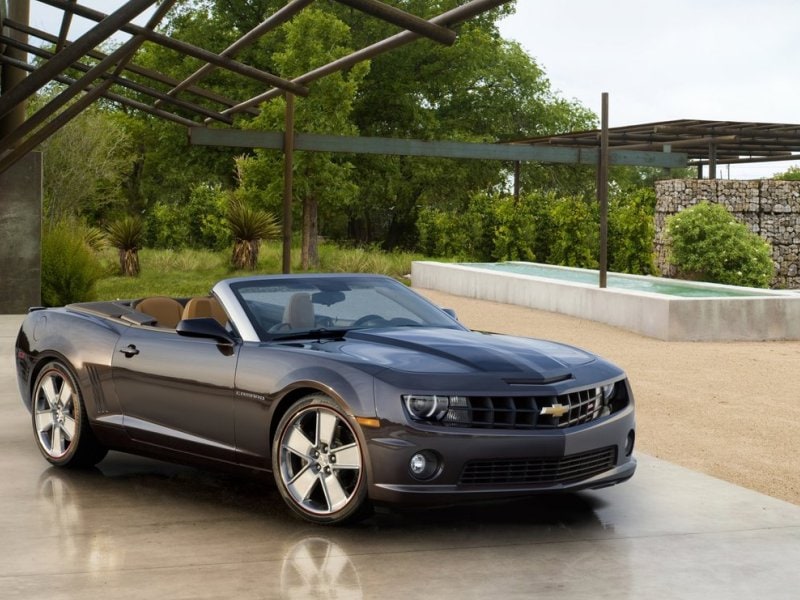 2011 Camaro Dealer-built Duo
The original generation of muscle cars often saw local dealerships put their own personal spin on the Bowtie brand's entry, digging into the GM parts catalog to create special edition Camaros of their own. So it was no surprise that when Chevy reinvented the Camaro for its fifth generation, some of today's dealers did the same.
For example, the 2011 model year brought the debut of both the DeNooyer 454 and the NeSmith "Storm."
The former was the brainchild of New York's DeNooyer Chevrolet, which partnered with Redline Motorsports to offer custom Camaros with a 454-cubic-inch crate engine—and outputs of 520 hp and 530 lb.-ft. of torque. Meanwhile, NeSmith Chevrolet, working in Georgia with Jen Jac Restorations, ginned up the Storm by swapping in an LS9 V8 engine that had been liberated from a Corvette ZR1.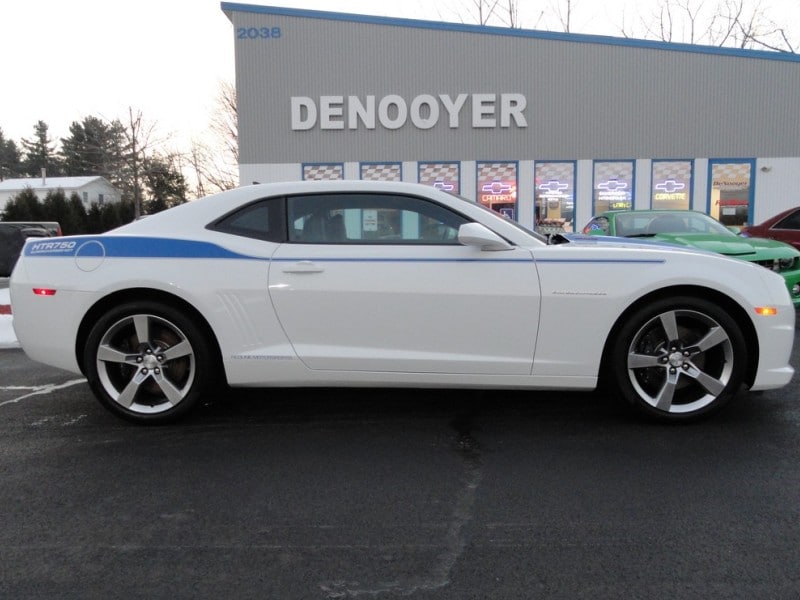 Photo by DeNooyer Chevrolet
2012 Camaro 45th Anniversary Edition
The fifth-generation Camaro was refreshed significantly for the 2012 model year, welcoming a new, more powerful standard V6 engine—combining 30 mpg and 323 hp—as well as an available FE4 hot-handling suspension upgrade and, to celebrate 45 years of Camaro, an appropriately named anniversary package.
Offered in coupe and convertible models, in up-level 2LT and 2SS trims, the resulting 45th Anniversary Camaros were distinguished by Carbon Flash Metallic exteriors that had been accented by red and silver rally stripes, "45th Anniversary" badging and logos, dark silver 20-inch wheels and some tasteful accents to the exterior lighting, e.g., dark silver fog-lamp and taillamp bezels, taillamp lenses borrowed from the Camaro RS and HID headlamps.
Inside, owners will find a Jet Black cockpit that's highlighted by white red, white and blue contrast stitching throughout, with a white instrument panel and door inserts, and multiple anniversary logos, delivering a refined final touch.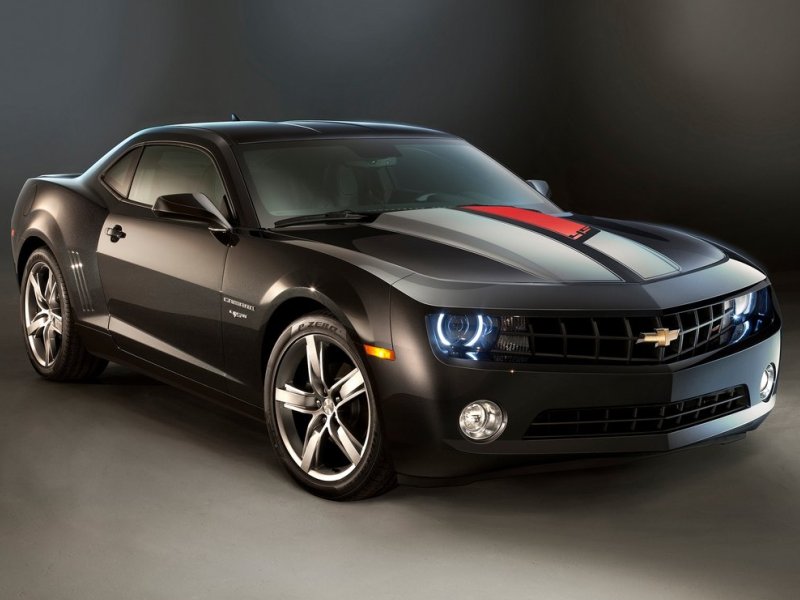 2012 Chevrolet COPO Camaro
Paying homage to the 69 originals built in 1969 under the auspices of the Chevy Central Office Production Order (COPO) program, the 2012 COPO Camaros also were limited to just 69 units—while being limited to the drag strip, too.
That's because the COPO cars were specifically designed to run in the NHRA's Stock Eliminator and Super Stock classes, providing racers with a turn-key, track-shredding dragster that doesn't happen to be highway legal. Needless to say, the COPO cars are configured slightly differently from the street-friendly counterparts, particularly when it comes to powertrains: Chevy offered owners three ways to live life a quarter-mile at a time, including a naturally aspirated 7.0-liter V8 and a similarly cylindered 5.3-liter engine that can be boosted by 2.9- or 4.0-liter superchargers.
The final example of the 2012 COPO run, a unique Inferno Orange convertible, raised $400,000 for charity at a 2013 Barrett-Jackson auction.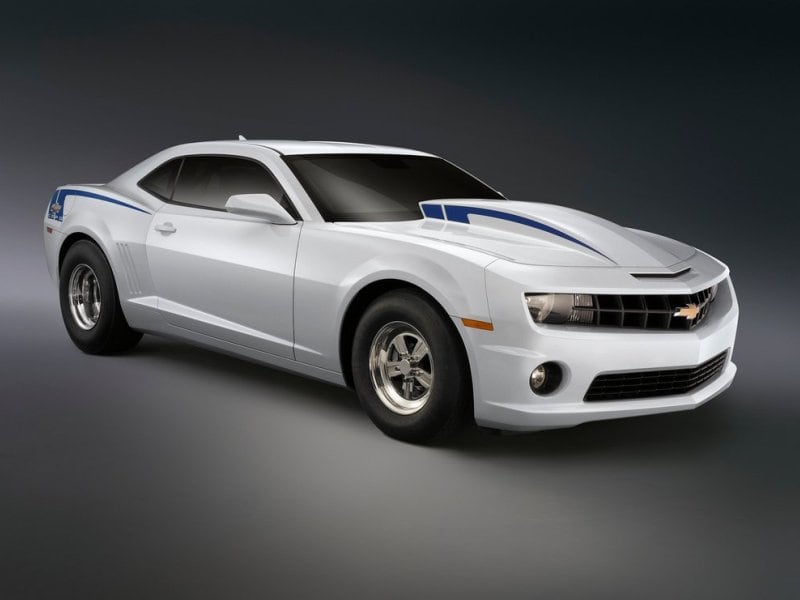 2013 Camaro Hot Wheels Edition
Sure, Mattel has manufactured many die-cast versions of the Chevy Camaro over the past year, yet 2013 was the first time that that partnership went the other way—at least in terms of production vehicles. Chevrolet actually had brought a Hot Wheels Camaro concept to the 2011 SEMA Show, but the 2013 version was the first ever sold to the public.
As you might guess, designers went all in to bring this car to life, deploying key appearance features from the hi-po Camaro ZL1 and blending them with Hot Wheels highlights like a Kinetic Blue exterior finish, a full ground-effects package, some nifty grille and decklid logos, and, capping it all off, hallmark Hot Wheels-style 21-inch wheels, set off by a red outline stripe.
The Hot Wheels Camaro also was just one of a handful of fifth-gen special editions available with the lineup's standard V6 engine.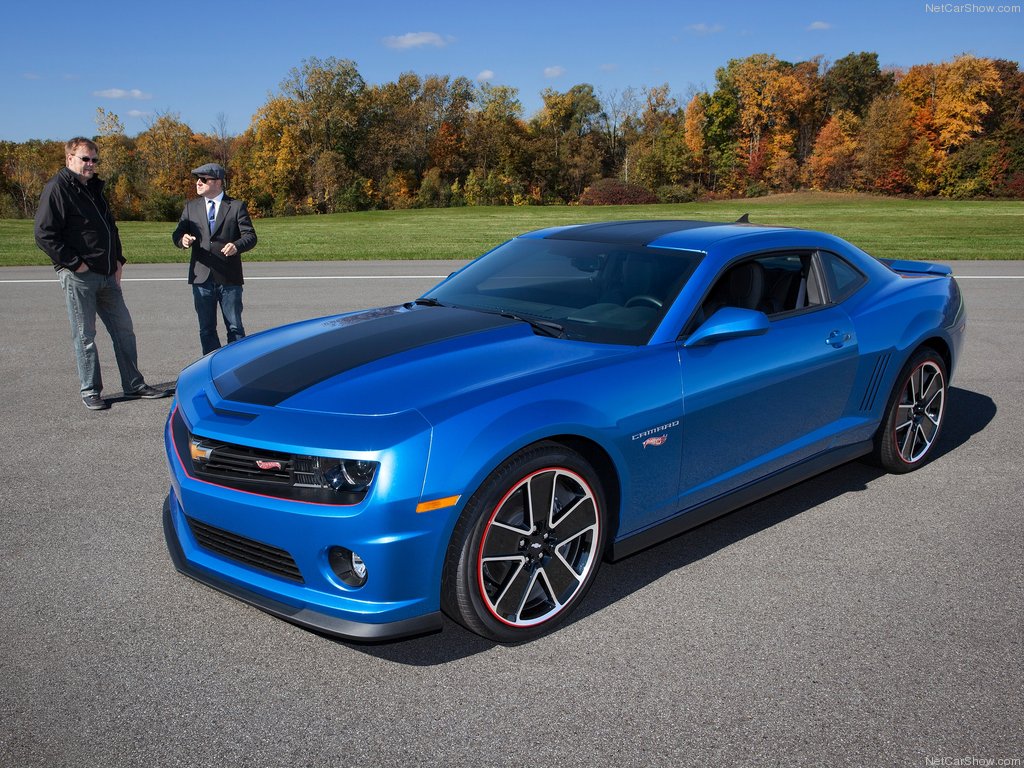 2014 Camaro Z/28.R
Checking off yet one more box on the fifth-gen Camaro's revival was the Z/28.R that marked the return of the nameplate to big time road racing in this country. Nor did folks have to wait long before the current Camaro's first win, since that occurred in just the second race of the 2014 IMSA Continental Tire sports car Challenge, at Sebring International Raceway in Florida.
And while the Z/28.R isn't quite street legal, there is a Camaro counterpart that is: The production Z/28 was engineered in tandem with the racecar, with both sharing a surprisingly wide range of high-performance hardware—including Brembo carbon-ceramic brakes and a 7.0-liter LS7 that produces 505 hp and 481 lb.-ft. of torque, helping the car establish itself as the most track-capable Camaro to ever hit the public roads.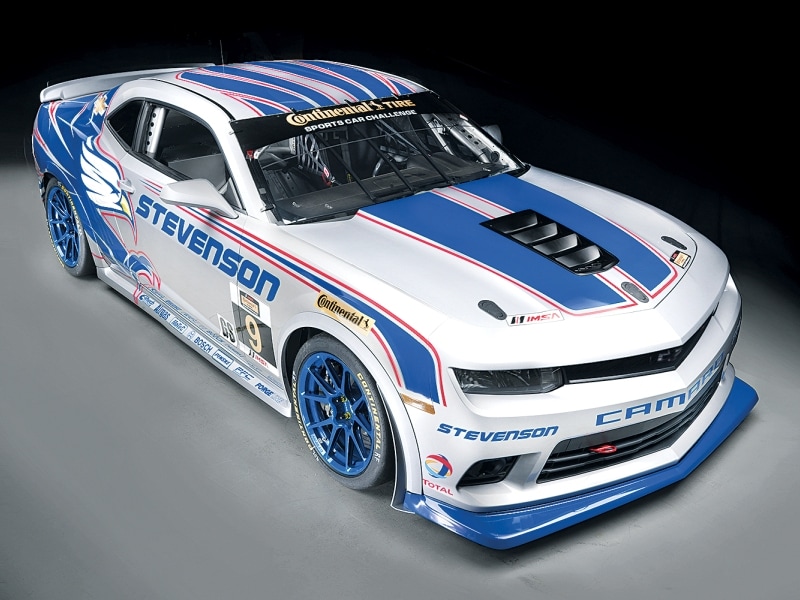 2015 Camaro Commemorative Edition
The last of the line, and the final one of the fifth-gen special edition Camaros, is the 2015 Commemorative Edition that was first shown at the 2014 SEMA event and goes on sale this spring.
There's the usual array of logos and badges, of course, but what truly sets this Camaro apart from the crowd is its Adrenaline Red interior. Offered only on the 2015 Camaro Commemorative Edition, this cabin theme sports two-tone leather seating surfaces—combining Adrenaline Red and black—with a red-on-red leather-and-stitching look for the steering wheel, shift knob, shifter boot, door-trim armrest and center-console lid, Also, that just-mentioned steering wheel is a flat-bottomed racing-style affair, to complete the athletic look of the car, and is further set off by Commemorative sill plates, a specific 20-inch wheel design, and a special striping setup that will be unique to the model.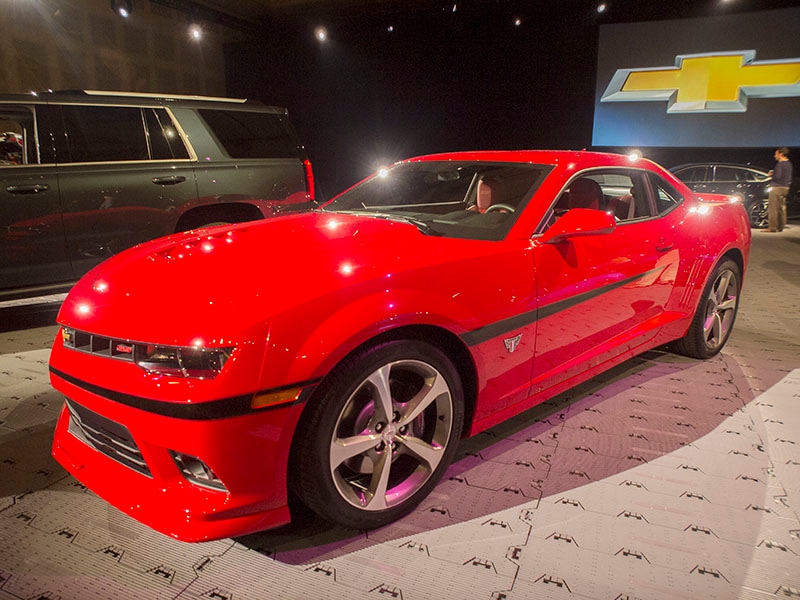 Photo by Megan Green