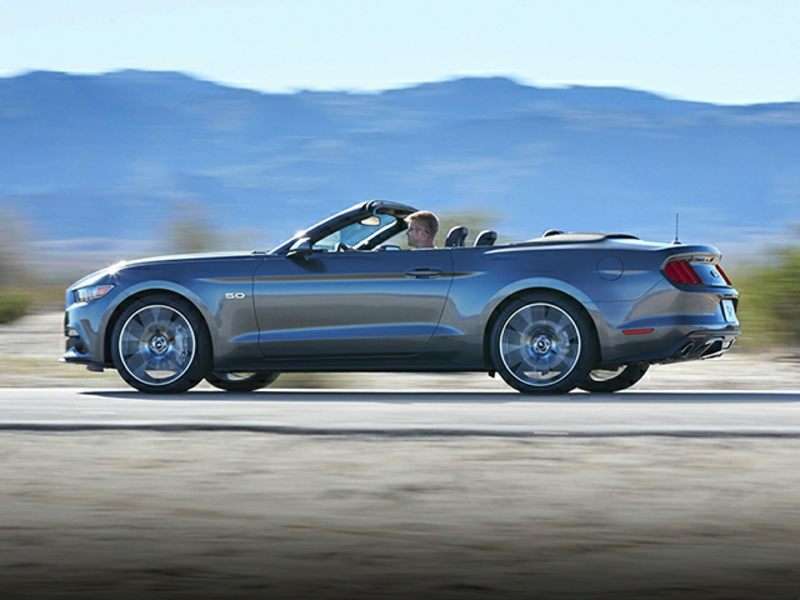 2016 Ford Mustang GT Convertible ・ Photo by Ford
All convertibles fall into two categories: hard tops and soft tops. It's understandable that some people have a preference for a hard top, since a metal roof will always provide more security than cloth, and it also offers the comfort of better insulation in bad weather. Soft tops, though, offer a more distinctive and, arguably, more attractive look (while some hard tops look like oddly-proportioned coupes). Usually, a soft top convertible will be less expensive than its hard top variant, which might be appealing for someone who needs to stretch the budget a bit to indulge in the sensation of open-air motoring. Let's take a look at 10 of the best soft top convertibles on the market.
2016 Mazda MX-5 Miata
Mazda switches it up from time to time, and has offered the MX-5 Miata in the past with removable hard tops alongside the classic soft top. The latest generation of the Miata will soon be available with a fancy new power-retractable hard top, which we can't wait to drive. But for now, the fully redesigned 2016 Miata is for sale outfitted only with a traditional, manual-folding cloth top, which keeps the car simple and, frankly, makes it all the more lovable. Mazda's timeless two-seat roadster is one of the most fun-to-drive affordable cars out there, whether the convertible top is up or down, thanks to its peppy engine and incredibly agile handling.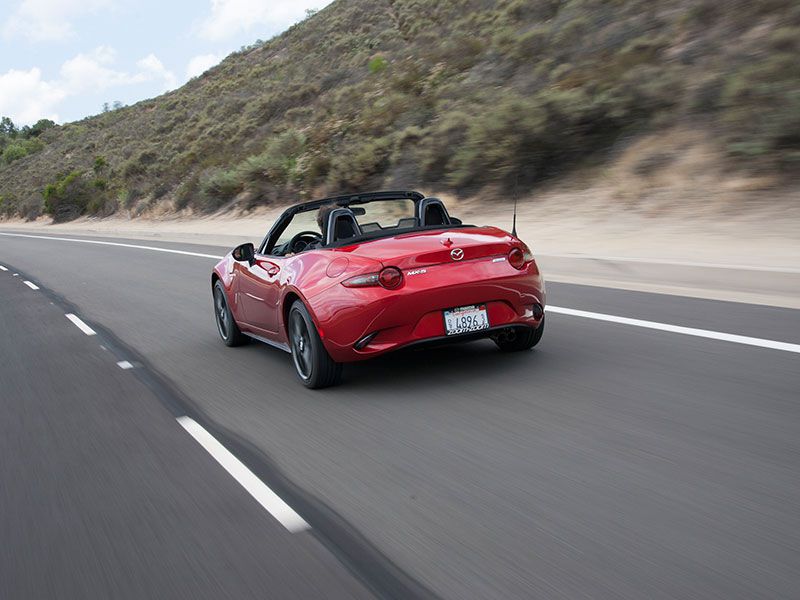 Photo by Mazda
2016 Porsche Boxster
The 2016 Porsche Boxster is another take on the classic roadster silhouette (albeit a more lux, powerful, and expensive one than the Miata). The Boxster's soft convertible top is power-operated as a standard feature, and with a simple push of a button, the driver can let the roof down while driving at speeds of up to 31 mph—unlike competing vehicles that require the driver to suffer the indignity of waiting until the car's at a full stop. The Porsche's high-end features don't stop there. The seats in this soft top convertible are supportive yet supremely comfortable, an intuitive infotainment system ensures all vital info is easy to find, and four powerful engines are on offer.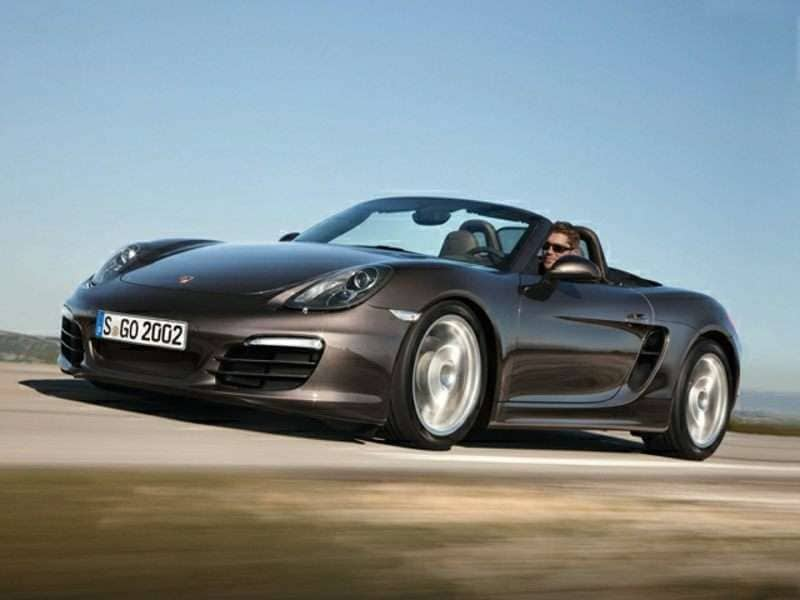 Photo by Porsche Cars North America
2016 Chevrolet Corvette
Though the 2016 Chevrolet Corvette's more affordable base model is a coupe with a removable roof panel, the soft top convertible version adds extra fun to this V8-powered muscle car. The low-slung shape of this aggressively styled vehicle looks great with the roof folded down, although it's perhaps best left to drivers who enjoy the attention of envious onlookers. The long list of standard equipment includes a rearview camera, which helps alleviate some of the inconvenience of the low visibility caused by the convertible top. And, despite the space required to house the power-folding top and its components, the 2016 Chevy Corvette offers the benefit of above-average cargo dimensions for a convertible sports car.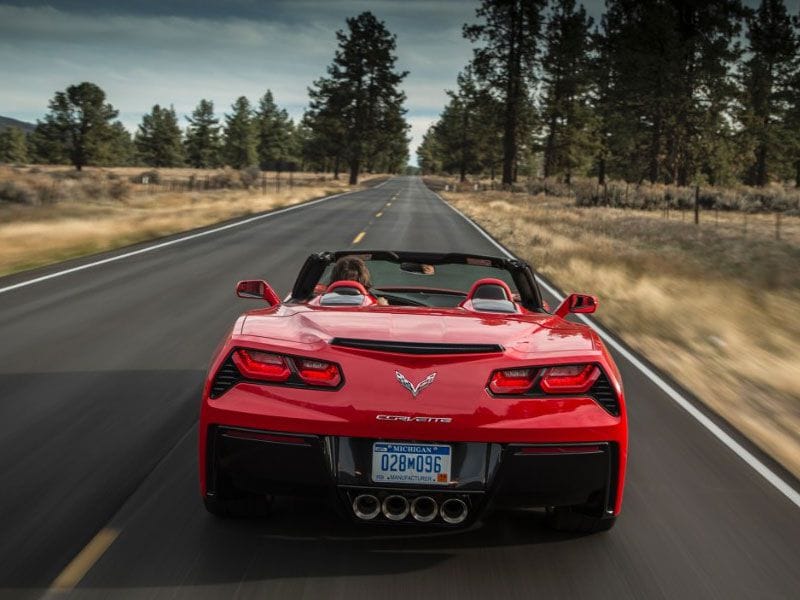 Photo by General Motors
2016 Ford Mustang
Ford's latest Mustang is also offered as a soft top convertible alongside the classic coupe, and it's a popular option for this affordable sports car. The Mustang offers several different engines, including a fuel-efficient, 4-cylinder turbocharged EcoBoost, increasing its appeal as a sports car for the masses. Additionally, this convertible seats four passengers, making it more functional than some of the others on this list. A rearview camera comes standard on the 2016 Mustang, and the included Track Apps lets weekend warriors keep tabs on improvements in their lap times. The Mustang's soft top features power folding and closing functionality, but the latch is manual, which shouldn't be too much of a drawback for most shoppers.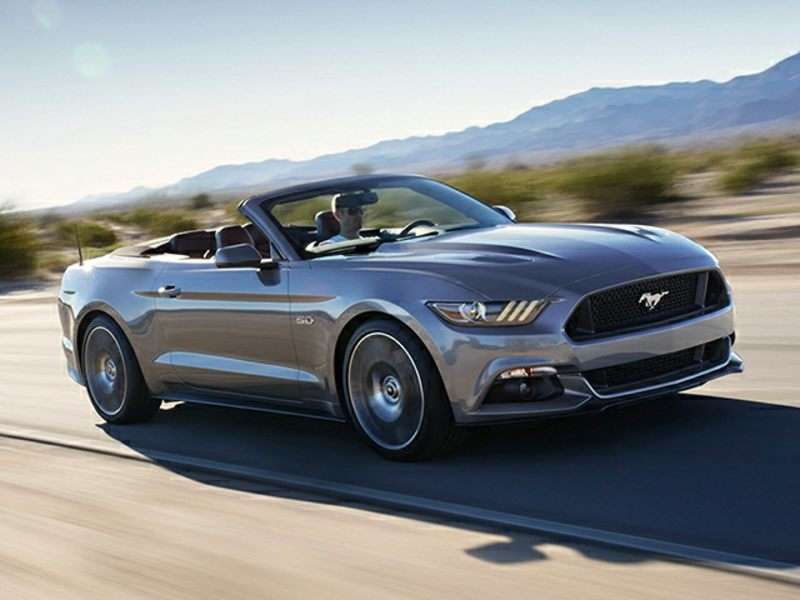 Photo by Ford
2016 BMW 2 Series
BMW's 2 Series is a compact luxury coupe and convertible lineup that represents one of the brand's most affordable points of entry. As such, the base model 2 Series has a relatively affordable MSRP, although soft top convertible options start at several thousand dollars more and the higher-performance models have a significant price premium. The 2 Series is sleekly styled, and the car's overall proportions are well suited to the drop-top configuration whether the roof is closed or open. For 2016, BMW made sport seats standard, so the driver and front passenger get plenty of support. However, those in the 2 Series' small backseat area may feel a little claustrophobic, especially when the roof is closed.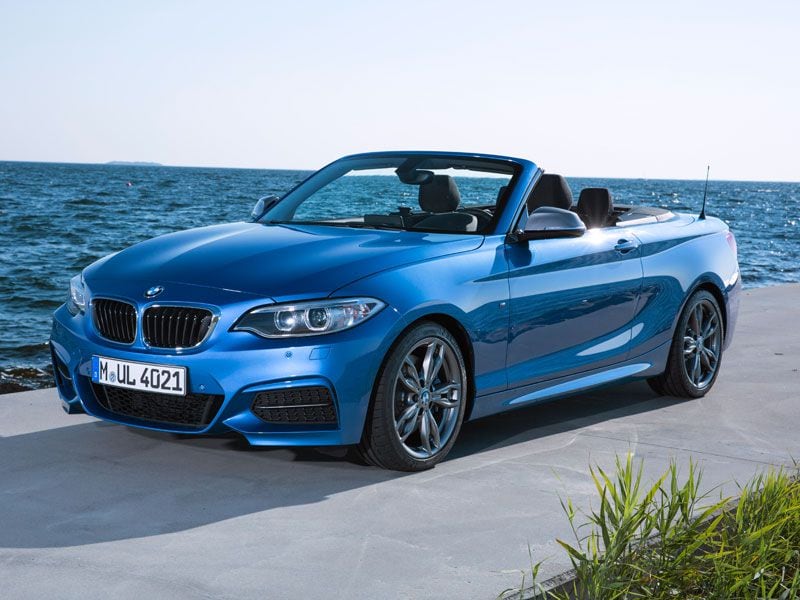 Photo by BMW
2016 Mercedes-Benz E-Class
The Mercedes-Benz E-Class lineup is so extensive that it's easy for our desired configuration to get a little lost. In addition to a soft top convertible (the Cabriolet), the 2016 E-Class is also available as a coupe, a sedan, and a sporty station wagon. It's a testament to Mercedes' designers that the E-Class' combination of styling elements looks so consistently good across such a diverse model lineup. The four-passenger convertible is only available in a couple of the E-Class' higher-end trim levels, which bring in the choice between two powerful twin-turbo engines. This upscale Benz convertible also offers backseat passengers a bit more space than rival two-door drop-tops.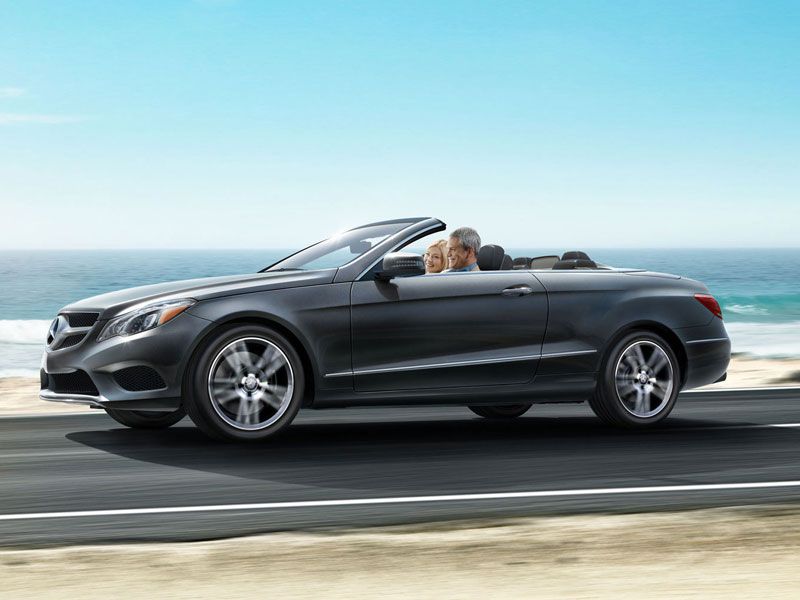 Photo by Mercedes-Benz
2016 Volkswagen Beetle
The Volkswagen Beetle has been available as a soft top convertible since its early days of mass production—and of course, given the Beetle's history, that's a long, long time. While the 2016 Beetle's styling makes some obvious nods to its retro roots, it also has a charm all its own, and it looks just as good with the top down as it does up. It's not the fastest or most luxurious soft top convertible we're considering here, but it's one of the least expensive, making the 2016 VW Beetle a really good option for shoppers who want a drop-top on a budget, or who expect to drive around with adult passengers in the backseat.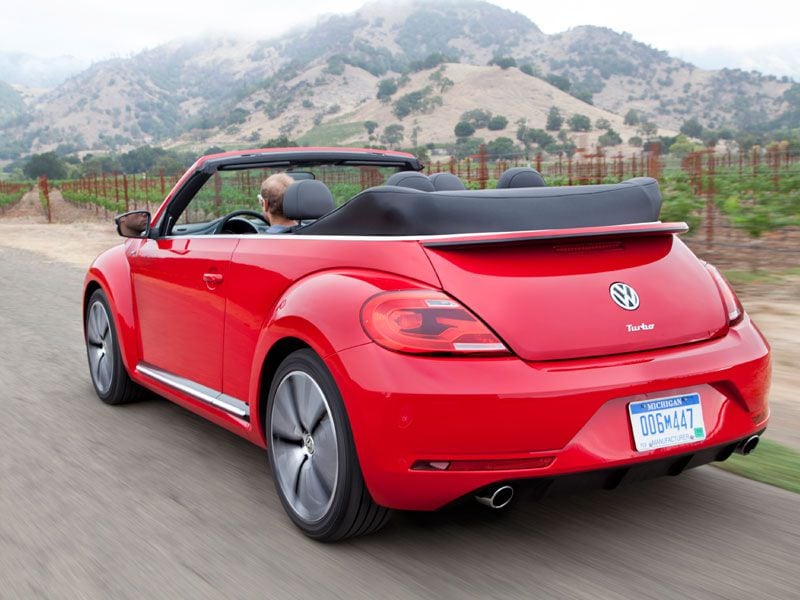 Photo by Volkswagen
2016 Buick Cascada
Buick's Cascada is a new entry for the 2016 model year, and it's one of the few soft top convertibles on this list (alongside the Miata and Boxster) that exists as such without being offered in a solid roof configuration. In other words, Buick designed the Cascada exclusively as a convertible, and got lots of details right on the first try. The Cascada is a compact luxury option that seats four, and is intended for comfort—there's no pretense of sportiness, even though its turbocharged engine yields plenty of power. The Cascada's generous list of standard equipment includes leather seats, a rearview camera, and a power-folding top that can be operated at speeds up to 31 mph.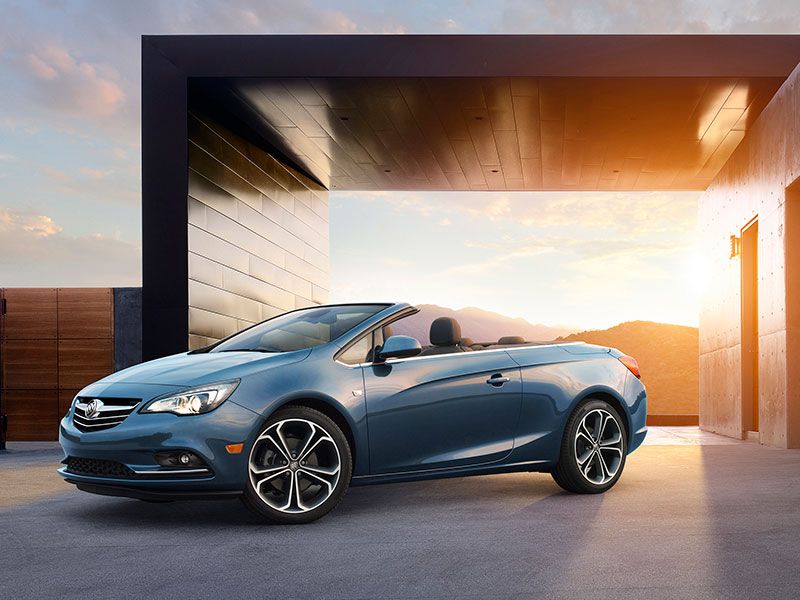 Photo by General Motors
2016 FIAT 500c
Some readers might take issue with calling the 2016 FIAT 500C a soft top convertible, and that's okay. But FIAT calls it one, and we're going with that. The 500c is a version of FIAT's 500 compact hatch featuring a folding cloth panel that slides along the roof rails. This arrangement enables its occupants to vary the extent of their sun exposure, and it also keeps the car fairly simple, eliminating the need for complicated mechanical components to fold or store the soft top. The affordable 2016 FIAT 500c is available in the same trim levels as the regular 500, including the high-performance Abarth model. It seats four passengers and comes in a palette of cheerful colors.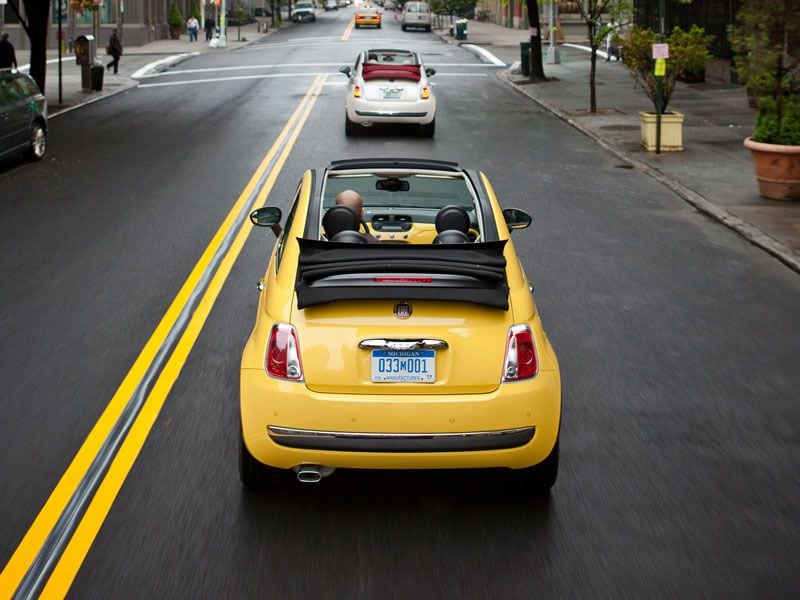 Photo by Fiat Chrysler Automobiles
2016 Audi TT
The Audi TT's been redesigned for 2016, and we're glad that Audi kept the soft top convertible model in the lineup. Though the coupe version seats four, the convertible reduces seating to just two, but we advise you to make the most of the time with your passenger instead of worrying about the ones who couldn't tag along. Audi includes its quattro all-wheel drive system standard with the TT, and the available turbocharged engines provide good power and acceleration. The TT also provides plenty of high-tech features. Trunk space in the TT convertible is above average, and since the folded soft top rests on the back deck, cargo capacity isn't compromised when the roof is open.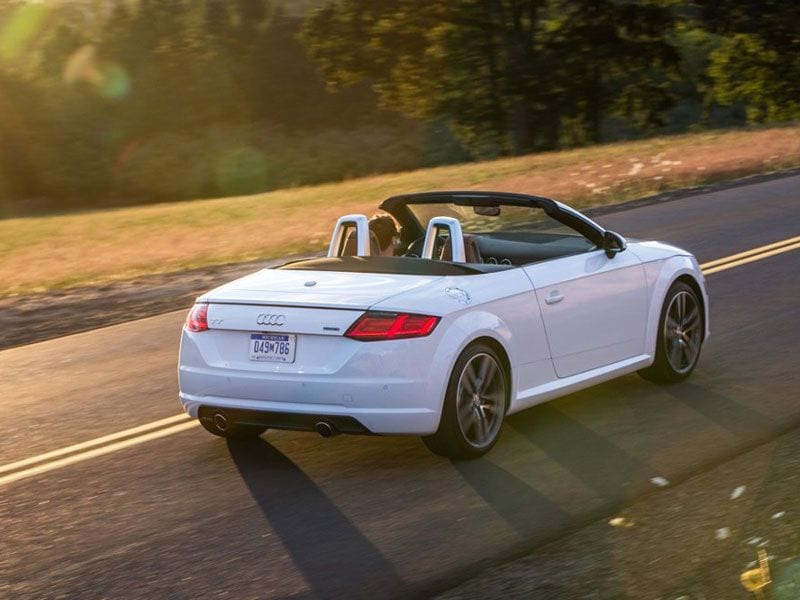 Photo by Audi