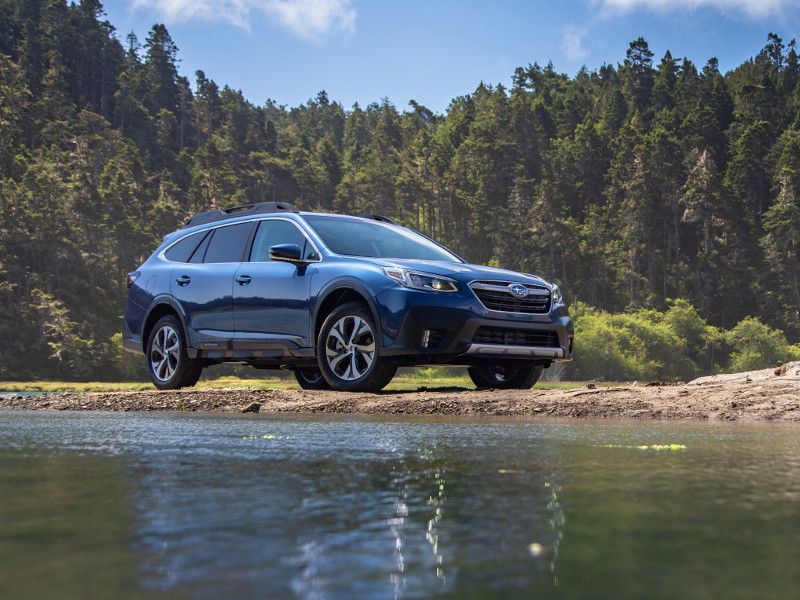 2020 Subaru Outback ・ Photo by Subaru
Today, small SUVs represent the hottest segment of the automotive marketplace. Best-selling crossovers like the Honda CR-V and Nissan Rogue combine the high seating position and ample cargo space of a traditional SUV with the fuel-efficiency, comfort, and value of a car, all at affordable prices.
But if you're assuming that an SUV can handle your trailer, don't be so sure. Many popular models (including the CR-V and Rogue) are rated to tow less than 2,000 pounds, and many more offer higher towing capabilities only with certain engines, trim levels, and options packages. So if you need to tow 2,000 pounds — a small U-Haul trailer; a trailer with a jet ski, motorcycles, canoes, or a snowmobile; or a small camping trailer — you'll want to see the SUVs we've rounded up. Our selections range from tiny but mighty subcompacts all the way up to a few bigger and fancier SUVs that provide unexpected bang for your towing buck. Here are 10 small SUVs for towing 2,000+ lbs without breaking the bank.
1. 2020 Ford EcoSport
The 2020 Ford EcoSport is one of the smallest SUVs you can buy today. This subcompact crossover measures just 161 inches long — nearly 2 feet shorter than a Honda CR-V — and it starts at a mere $19,995.
Even so, it's rated to tow up to 2,000 pounds. The EcoSport was designed for third-world markets where even little SUVs have to be tough. So if you choose the optional all-wheel-drive system, paired with a 166-horsepower 2.0-liter four-cylinder engine, you get more towing capability than many larger crossovers. So equipped, the EcoSport still sets you back just $21,590. And even the base model, with a tiny 1.0-liter three-cylinder, can pull 1,400 pounds. The EcoSport isn't the most refined, luxurious, or spacious little SUV you can find, and its EPA-estimated 25 mpg is worse than many larger crossovers'. Still, you won't find a more affordable way to tow 2,000 lbs.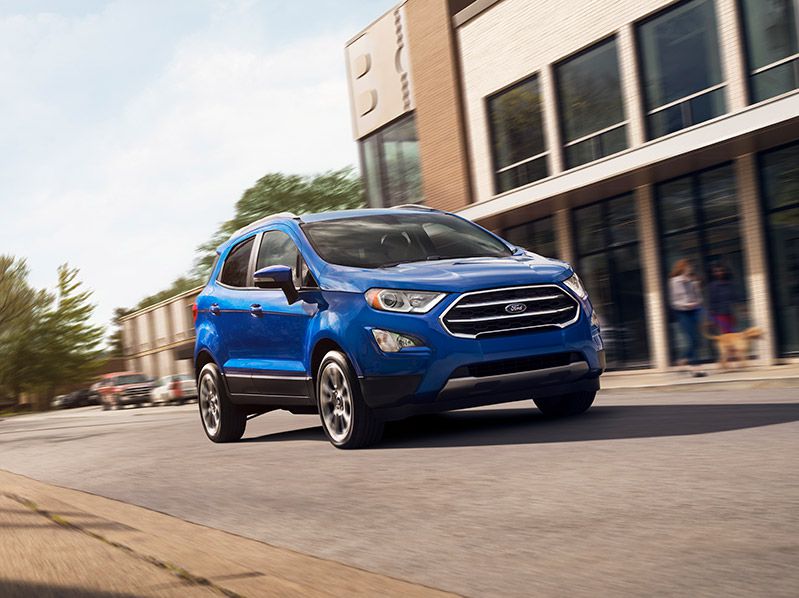 Photo by Ford
2. 2020 Hyundai Tucson
The 2020 Hyundai Tucson is a size larger than the EcoSport, in the traditional compact crossover class. But while many models in this segment use sophisticated fuel-saving turbocharged engines, most Tucson models use a robust naturally aspirated 2.4-liter four-cylinder that sends 181 horsepower through a conventional six-speed automatic transmission.
Once you've upgraded past base models' underpowered 2.0-liter engine, a 2.4-liter Tucson is rated to tow 2,000 lbs. So equipped, the Tucson is a strong bargain at $25,950, thanks to its generous feature content, long warranty, and three years or 36,000 miles of free scheduled maintenance. It also boasts a comfortable, well-finished cabin and a smooth, quiet ride. Gas mileage is disappointing at 25 mpg with front-wheel-drive or 23 mpg with all-wheel-drive, but that's a common theme among small SUVs that can tow at least 2,000 lbs.
Photo by Hyundai
3. 2020 Jeep Cherokee
Jeep is best known for its off-road capability, but the 2020 Jeep Cherokee is also pretty handy with a trailer. Much of the credit goes to optional engines that are unusually powerful for a compact crossover, including a 3.2-liter V6 that makes 271 hp and tows up to 4,500 lbs. Even if you have a lighter trailer, the extra capability will ensure you aren't pushing your little SUV to its limit.
The Cherokee starts at $25,840 with a 2.4-liter four-cylinder engine that's rated to tow 2,000 lbs. And you can get the mighty V6 for as little as $28,925. EPA ratings for the V6 Cherokee are 23 mpg with front-wheel-drive and 22 mpg with all-wheel-drive. You can also spend more for a 270-hp 2.0-liter turbocharged four-cylinder that averages up to 26 mpg yet still tows 4,000 lbs. When equipped with one of the upgraded engines, the Cherokee is quick and quiet, making it feel upscale for a small SUV, but it has surprisingly little cargo room.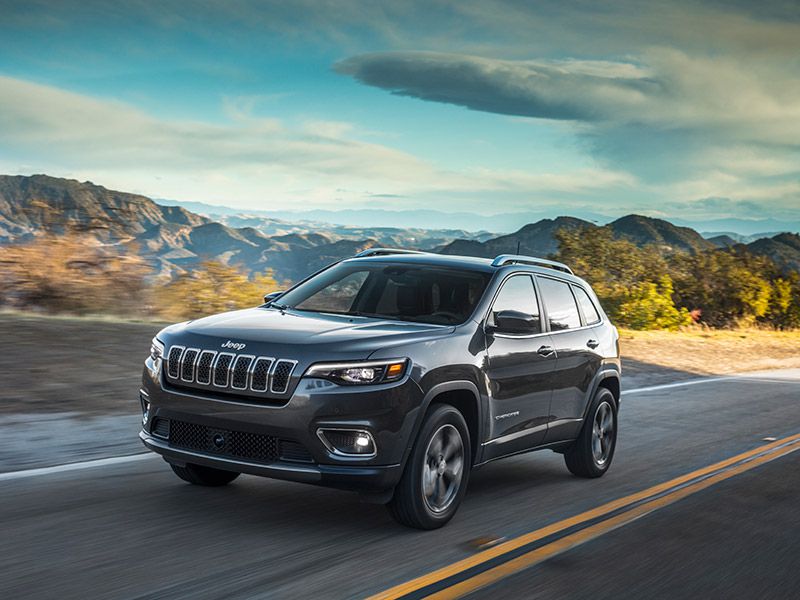 Photo by Fiat Chrysler Automobiles
4. 2020 Chevrolet Equinox
The 2020 Chevrolet Equinox is a refined, classy-looking compact crossover that can tow 3,500 lbs when equipped with its optional 2.0-liter turbocharged four-cylinder engine, which provides 252 horsepower. The base 1.5-liter four-cylinder, which starts at $23,800) manages just 1,500 lbs.
Once you add the 2.0-liter engine, the Equinox starts at $30,000 and gets an EPA-estimated 25 mpg with front-wheel-drive or 24 mpg with all-wheel-drive — albeit on pricier premium fuel. The Equinox is particularly comfortable, quiet, and user-friendly, and newly added standard safety features make it a better value for the money than before. You can get slightly richer interior materials and more cargo space on some competing crossovers, though. If you like the Equinox but want more truck-like styling, consider its mechanical cousin: the 2020 GMC Terrain.
Photo by Chevrolet
5. 2020 Ford Escape
The Ford Escape is newly redesigned this year with improved fuel economy and a more car-like design. But Ford didn't forget about towing capabilities. Even the base engine — a 180-hp 1.5-liter three-cylinder — is rated to tow 2,000 lbs. And like the Equinox, it offers a turbocharged 2.0-liter four-cylinder engine that makes 250 hp and is rated to tow 3,500 lbs.
Upgrading from the 1.5-liter to the 2.0-liter Escape pushes the base price from $24,885 to $33,050. (Most of that price premium is additional luxury features; the engine accounts for a $2,285 jump.) The three-cylinder Escape manages an EPA-estimated 30 mpg with front-wheel-drive and 28 mpg with all-wheel-drive, while the AWD-only 2.0-liter hits 26 mpg — on regular-grade fuel, too. Whichever engine you choose, the Escape delivers a pleasant driving dynamics and up-to-date infotainment, but it has some downscale interior materials and middling interior spaciousness.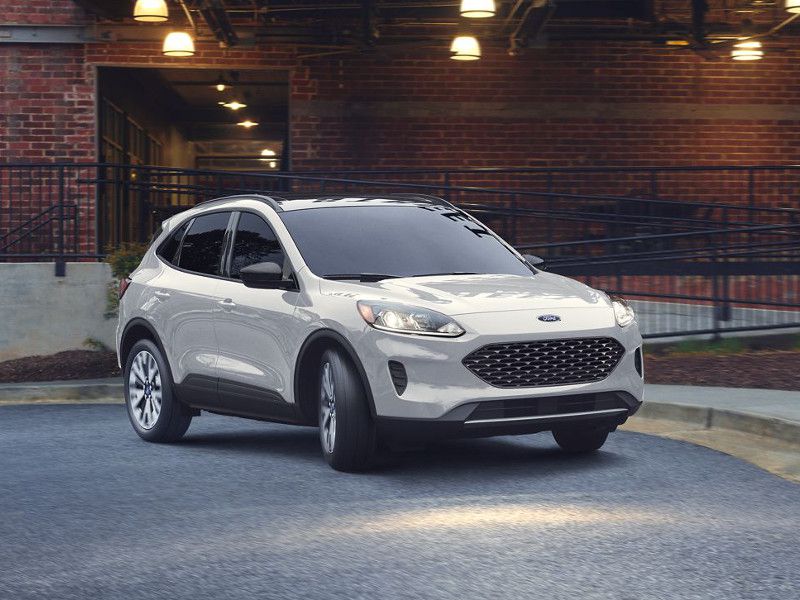 Photo by Ford
6. 2020 Toyota RAV4
We've just gone over a series of small crossovers that need an upgraded engine to tow more than 2,000 lbs. And that's not the case with the 2020 Toyota RAV4. Instead, a heavier-duty cooling system and suspension boosts the RAV4's off-road-focused trim levels — the Adventure and TRD Off-Road — from other models' 1,500-pound towing capacity to a hearty 3,500 pounds.
Every gas-powered RAV4 (a hybrid and plug-in hybrid are also available) uses a 203-hp 2.5-liter four-cylinder engine and an eight-speed automatic transmission. It's not as quick, smooth, or quiet as the turbos in several of the best small SUVs for towing, but it's more fuel-efficient. The EPA estimates that the Adventure will average 28 mpg in mixed driving while the TRD Off-Road will manage 27 mpg. The latest RAV4 generation also boasts rugged styling that suits its capabilities, along with more agile handling than before, though the previous generation had a roomier interior. RAV4 prices start at $25,950, but to tow more than 2,000 pounds, you'll have to spend at least $33,055 for the Adventure or $35,280 for the TRD Off-Road.
Photo by Toyota
7. 2020 Volvo XC40
What's this? You're here for an article about affordable small SUVs that can tow, and here we are with a luxury model? Well, as you've noticed, many mainstream automakers only provide a higher towing capability after you've upgraded to a bigger engine and/or higher trim level. And the 2020 Volvo XC40 offers 3,500 pounds of towing capability even on its base model, as long as you add a $1,045 dealer-installed towing hitch with electronic trailer-stability assistance.
The XC40 starts at $33,700 with lots of luxury features as standard equipment, making it a more affordable option even than some mainstream-brand small SUVs once you need to tow at least 2,000 lbs. And it also brings a more upscale driving experience and interior, plus respectable fuel economy: 27 mpg with front-wheel-drive (and a 187-hp 2.0-liter four-cylinder) and 25 mpg with all-wheel-drive (and a 248-hp 2.0-liter). This is technically a subcompact crossover, but there's enough room for four adults to sit comfortably and carry a decent amount of cargo.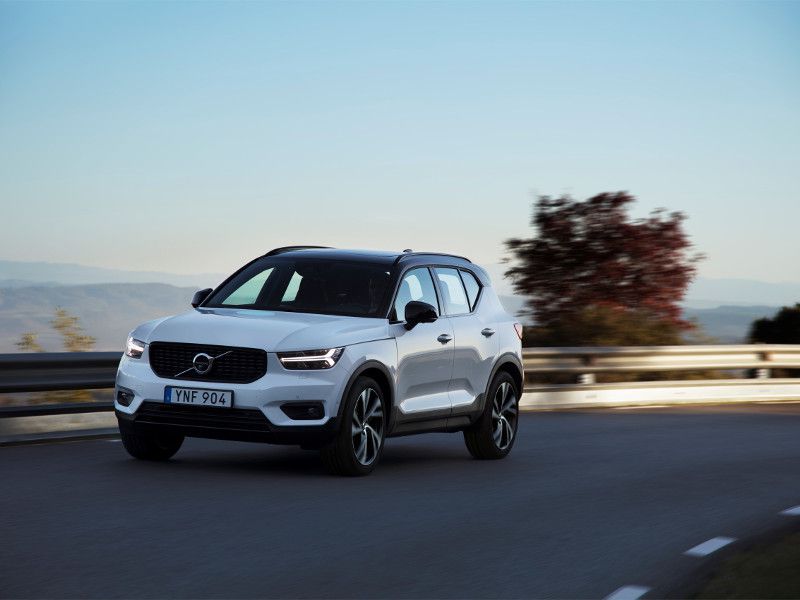 Photo by Volvo
8. 2020 Land Rover Discovery Sport
The 2020 Land Rover Discovery Sport is another decently priced luxury compact crossover with a healthy towing capacity. With a 246-horsepower 2.0-liter four-cylinder engine and a maximum trailer weight of 4,409 lbs, it can out-tow all the other small SUVs for towing on our list except the Jeep Cherokee.
The Discovery Sport shares its styling with the larger, more expensive Discovery, but it brings Land Rover elegance and capability to a starting price of just $37,800. But while it's roomy — even with room for an optional third-row seat — it trades on-road polish for off-road capability. And prices can rise fast. Still, if you go easy on the options, this is a fairly affordable small SUV that looks like it cost quite a bit more, all while towing a good-sized trailer.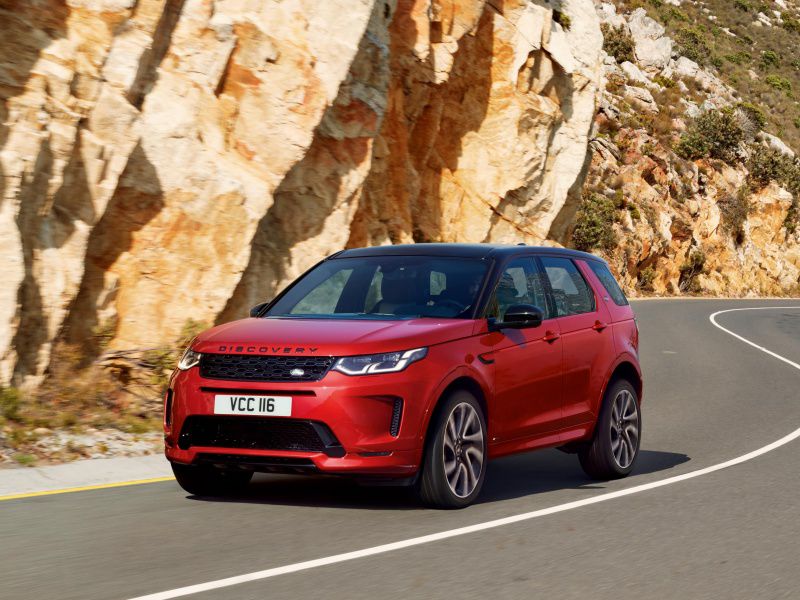 Photo by Land Rover
9. 2020 Subaru Outback
We're going to round out our list of 10 small SUVs for towing with two slightly larger models that offer lots of capability for the money. If you're interested in a compact SUV because you're interested in an affordable price, rather than because you prefer a smaller vehicle, then these choices should pique your interest.
The first is the 2020 Subaru Outback, which is newly redesigned this year with improved performance, fuel economy, ride, handling, interior decor — and towing capability. This mid-size crossover, which is essentially a Subaru Legacy station wagon with more ground clearance, starts at $26,645. The base model has a 2.5-liter 182-hp four-cylinder engine and can tow 2,700 pounds, an available turbo hits 260 hp and can tow 3,500 lbs. Luxury models with the turbo start at $34,895. That's in line with the compact models on our list, while fuel economy is even better: 29 mpg with the base engine and 26 mpg with the turbo.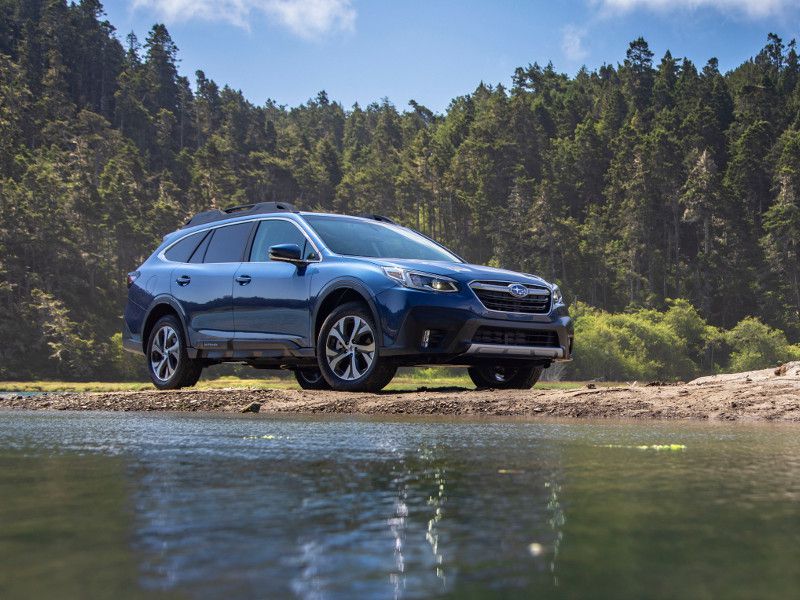 Photo by Subaru
10. 2020 Honda Passport
Another relatively affordable but highly capable mid-size crossover is the 2020 Honda Passport. This is essentially a Honda Pilot eight-passenger crossover with 6 inches lopped off the back to create a more stylish and agile five-passenger vehicle.
But it keeps the Pilot's big-crossover capability, just in a tidier package. Its big 280-horsepower 3.5-liter V6 helps the Passport tow 3,500 pounds with front-wheel-drive and 5,000 pounds with all-wheel-drive. As long as you're looking for mighty towing and ample interior space without lots of high-end features, the Passport costs less than many of the compact crossovers on this list. A base model is $31,990 with FWD and $33,990 with AWD.
Photo by Honda