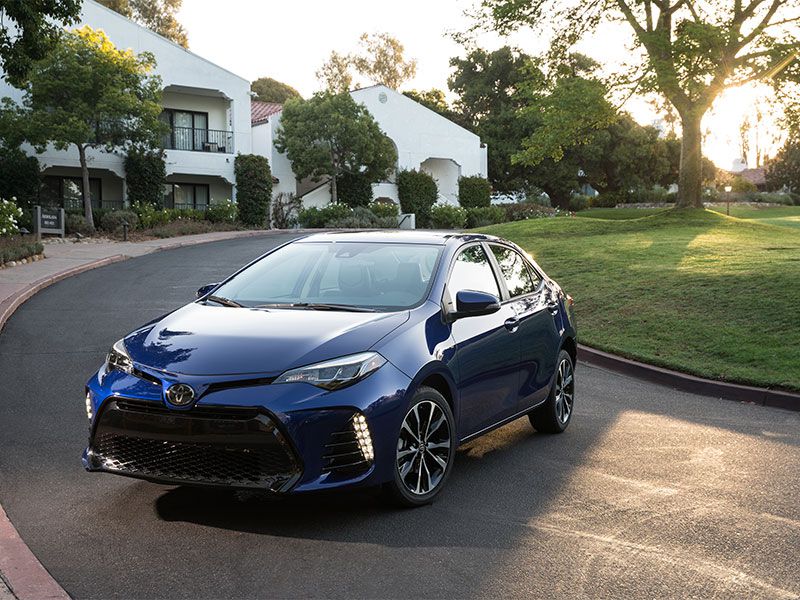 2017 Toyota Corolla SE ・ Photo by Toyota
Although a lot of vehicles now boast high-tech driver-assistance features, the safest sedans in the country do more than that. They also deliver the kind of carefully engineered construction that can stand up to severe crash testing. In fact, only sedans that offer both benefits were considered for today's gallery, which means they needed both a five-star overall safety rating from NHTSA and a Top Safety Pick+ designation from the IIHS.
Those trusted groups take into account physical crash-test performance across a wide range of different scenarios, and the IIHS further evaluates each vehicle's front-crash prevention technology and its headlight performance. Of course, as you'll see below, our safest sedans — picked primarily from the mainstream, for more customer appeal — can supply a wide range of other advantages, too.
2017 Kia Forte
The list of safest sedans from the compact segment starts off with the 2017 Kia Forte, which earns the highest possible IIHS scores for all crashworthiness tests as well as for its headlights and crash-prevention technology. Customers should keep in mind that the Forte's Top Safety Pick+ rating only applies to cars built after March 2017 and does require some options.
Luckily, much of those required features are bundled together in the Premium Plus Package. This package provides not just driver-assistance measures like autonomous emergency braking and adaptive high-intensity discharge headlights, but also lux cues like heated and ventilated front seats, a power sunroof and an upscale infotainment system. That setup brings a 7-inch touchscreen, voice recognition, navigation and Android Auto/Apple CarPlay smartphone integration.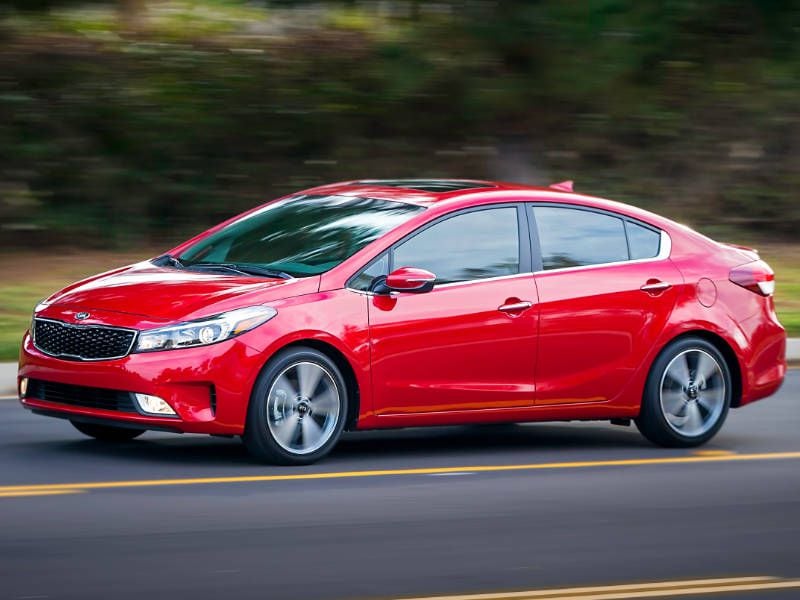 Photo by Kia
2017 Mazda Mazda3
The 2017 Mazda Mazda3 matches the Kia Forte in all IIHS categories except headlight performance, where the zoomier Mazda received an "Acceptable" grade. To be sure, that's still quite an accomplishment, as a recent round of testing — for midsize suvs — saw only two out of 37 vehicles receive "Good" grades. Eleven failed completely.
With that in mind, and with Mazda's i-Activsense bundle on board, the Mazda3 clearly stands out as one of the safest sedans in the country. As for exactly what that package covers, owners will enjoy automatic high beams, lane-departure warning, lane-keeping assistance, adaptive cruise control and forward emergency braking. Available separately are a dedicated forward-braking system for low-speed, city-type scenarios plus a blind-spot monitor with rear cross-traffic alert.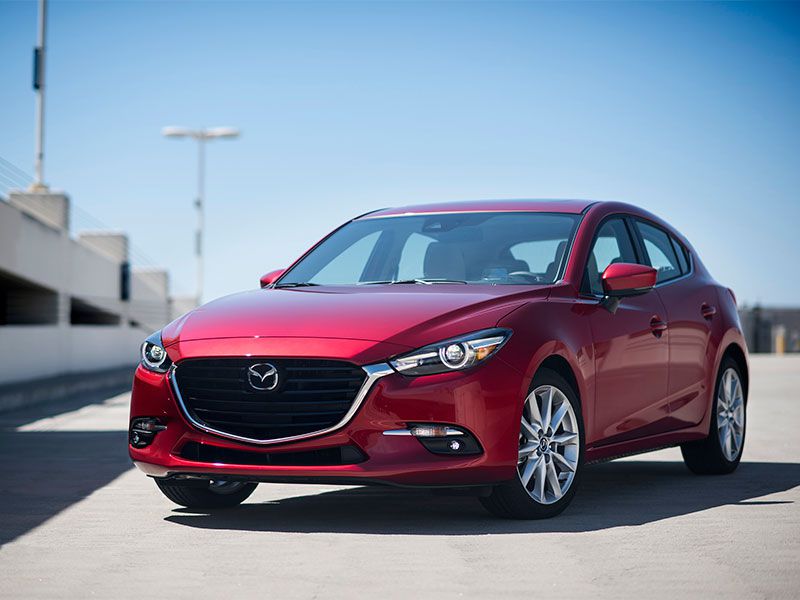 Photo by Mazda
2017 Subaru Impreza
Subaru's safe sedans bring a unique advantage: Even the compact 2017 Subaru Impreza comes standard with symmetrical all-wheel drive, providing a major boost in traction and driver confidence. It's also worth noting that the Impreza not only brought home the highest grades in all IIHS tests — including for headlights — but additionally received five-star ratings in all three individual NHTSA crashworthiness tests. Many rivals that scored five stars overall still came up a bit short specifically for frontal- or side-impact protection or rollover resistance.
Another key selling point here is the segment's first automatic reverse-braking system, which can be complemented by the optional EyeSight safety package with adaptive cruise control, pre-collision braking, lane-departure and lane-keeping assistance.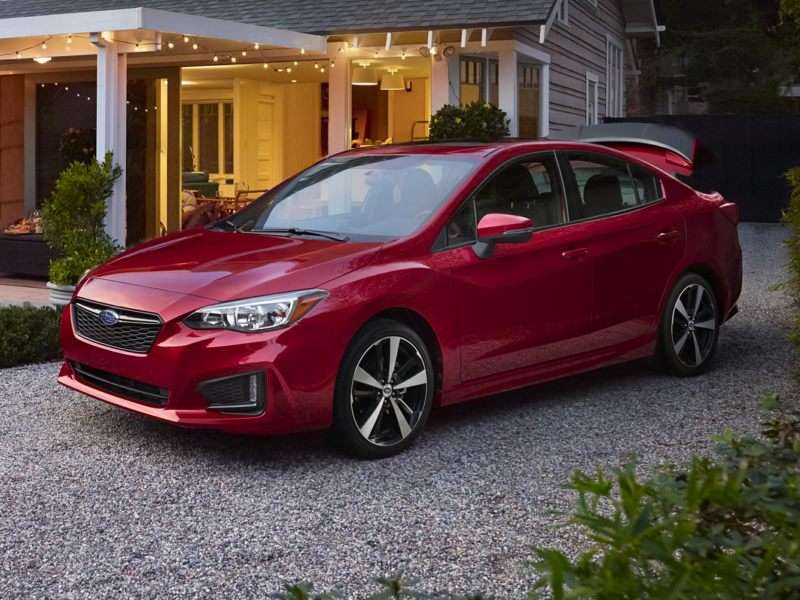 Photo by Subaru
2017 Toyota Corolla
Meanwhile, even as compared to the safest sedans from rival automakers, the 2017 Toyota Corolla showcases an especially high level of standard occupant-protection technology. For example, all Corolla models come straight from the factory with the Toyota Safety Sense P package as standard content — not an extra-cost option. That setup incorporates a pre-collision system with adaptive cruise control, automatic high beams, lane-departure alert with steering assistance, and a pre-collision system with automatic forward braking and a dedicated pedestrian-detection function.
Also, the Corolla does meet our criteria for IIHS and NHTSA performance, with top overall grades in both programs. Drilling down deeper into the results, however, shows that the Corolla's five-star overall performance includes four stars in two of the individual evaluations.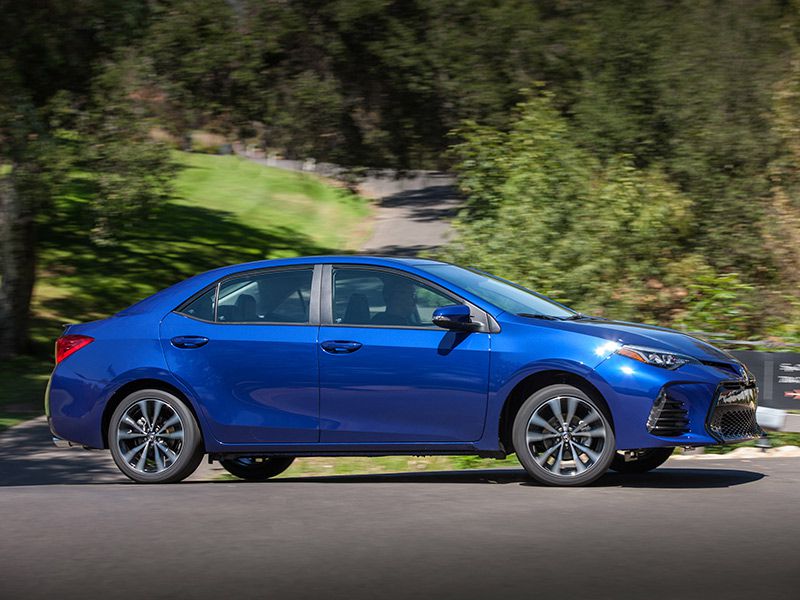 Photo by Toyota
2017 Volkswagen Jetta
The compact 2017 Volkswagen Jetta offers shoppers a touch of European style in addition to a high level of safety. LED daytime running lights, 16-inch alloy wheels and two-tone seats are all standard. But so is a rearview camera system, and for 2017 VW expanded availability of its forward collision warning, automatic emergency braking and adaptive cruise control systems. Parking sensors, a blind-spot monitor, and rear cross-traffic alert are additional options.
Customers also should be aware that a crucial difference between the Jetta and its hatchback counterpart — the Volkswagen Golf — is that the sedan can pass the IIHS headlight test. Thus, the Jetta picks up a full Top Safety Pick+ award to go with its top NHTSA rating.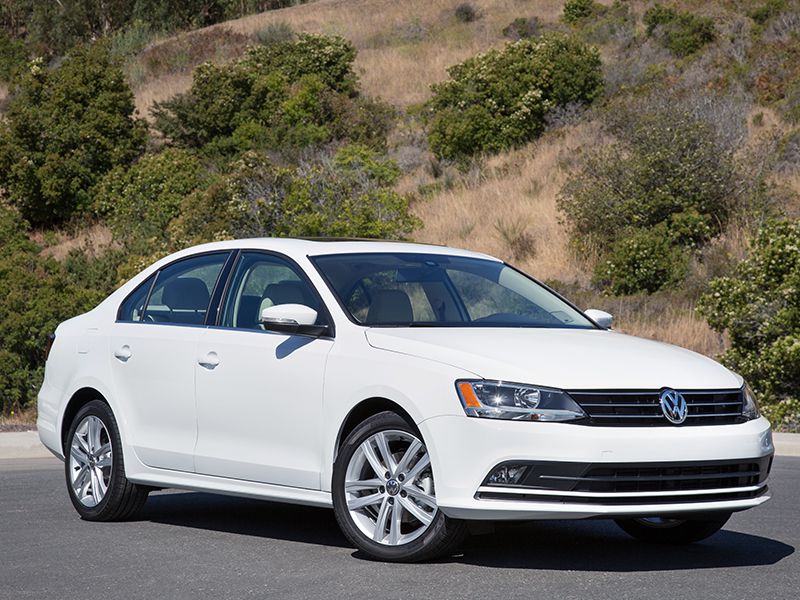 Photo by Volkswagen
2018 Nissan Altima
The safest sedans from the midsize segment, like the 2018 Nissan Altima, can furnish their own occupant-protection benefits. The Altima's include standard newly standard predictive forward collision warning, which can "look" two vehicles ahead to monitor traffic conditions. That setup is one of the many here to earn a "Superior" grade for front crash-prevention technologies, and the Altima checks in with our necessary NHTSA and IIHS overall ratings, too.
Shoppers also should check out the Altima's standard rearview camera and automatic emergency-braking setups, along with optional features such as a 360-degree "AroundView" monitor, a blind-spot monitor, adaptive cruise control and rear cross-traffic alert. Plus all that can be wrapped up in Nissan's new Midnight Edition package for a bold blackout-style appearance.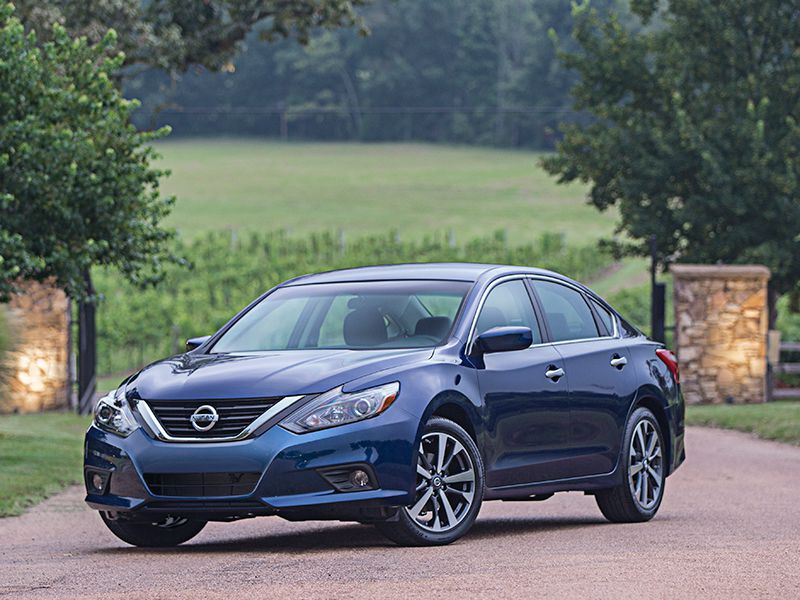 Photo by Nissan
2017 Honda Accord Hybrid
If you're cross-shopping the safest sedans with the most fuel-efficient sedans, the 2017 Honda Accord Hybrid makes an impressive choice. For one thing, it secured the necessary Top Safety Pick+ certification from the IIHS and five-star overall NHTSA score. Certainly helping matters is that the Accord can be ordered with Honda Sensing technologies like adaptive cruise control forward collision warning, lane-departure warning, collision-mitigation braking and road-departure mitigation. Honda's LaneWatch blind-spot camera also is on the options menu.
Standard, though, is a next-gen two-mode hybrid powertrain that serves up EPA ratings of 49 mpg city/47 mpg highway/48 mpg combined — a big step up from the gas-only version of the Accord sedan.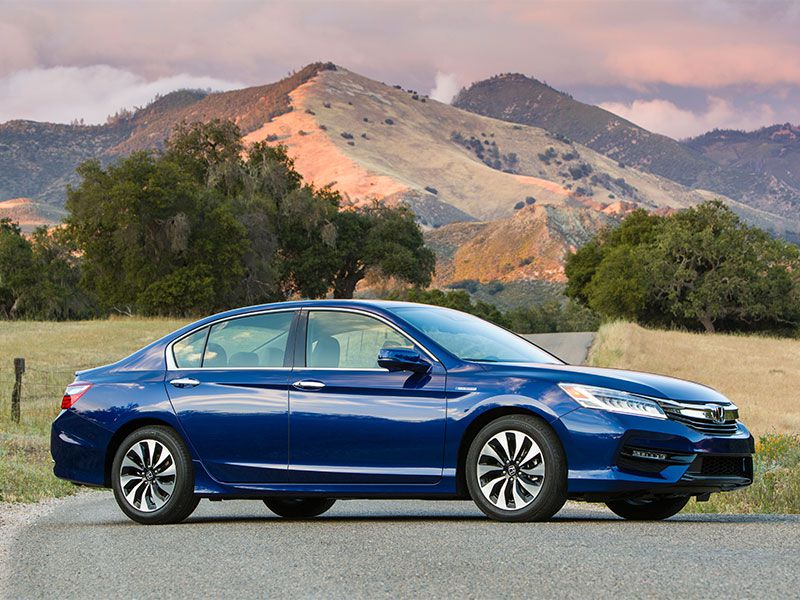 Photo by Honda
2017 Lincoln Continental
Moving up to the safest sedans from the luxury brands, the 2017 Lincoln Continental is a new and highly competitive choice for customers. More specifically, the Continental combines a five-star overall NHTSA score with the best possible rating in all IIHS testing. Lincoln also supports those grades with leading-edge safety tech such as adaptive cruise control, lane-departure and lane-keeping systems, a blind-spot monitor, rear cross-traffic alert, and a pre-collision system with automatic braking and pedestrian detection.
Bolstering the Continental's premium credentials: ultra-lux cues like available 30-way power-adjustable "Perfect Position" front seats. These thrones can provide a refreshing massage, heating and ventilation functions, and extra-supple leather surfaces.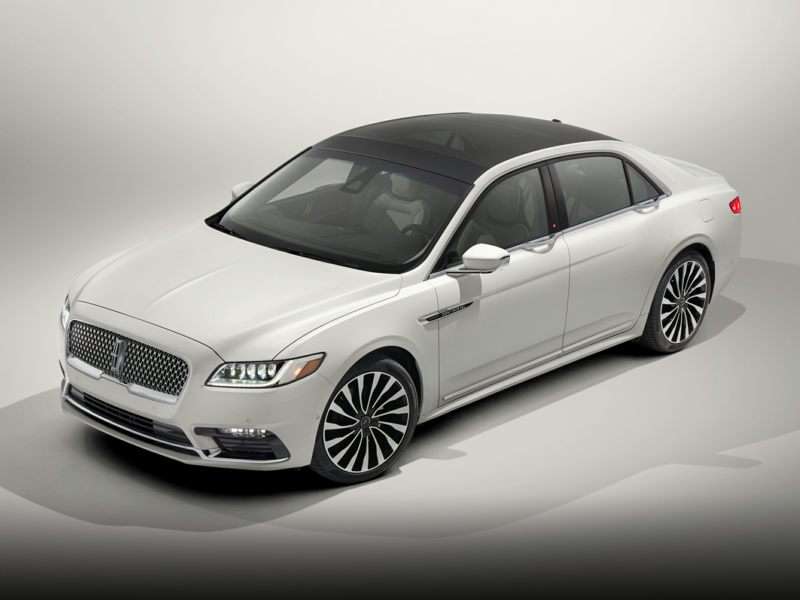 Photo by Lincoln
2017 Mercedes-Benz E-Class
The 2017 Mercedes-Benz E-Class also is included in the highest echelon of our safest sedans, backed by the highest possible grades in all IIHS and NHTSA subtests — and some of the industry's most cutting-edge occupant-protection gear.
Now, this premium sedan does indeed have typical safety systems, from adaptive cruise control to a blind-spot monitor to automatic emergency braking. But in the E-Class, that automatic-system also can detect crossing traffic, not just traffic ahead of the vehicle. Similarly, the Mercedes lane-keeping functionality is enhanced by crosswind assistance and Steering Pilot technology. The latter feature actively helps drivers stay on track "even if the [lane] lines are unclear or nonexistent, as they can be during road construction."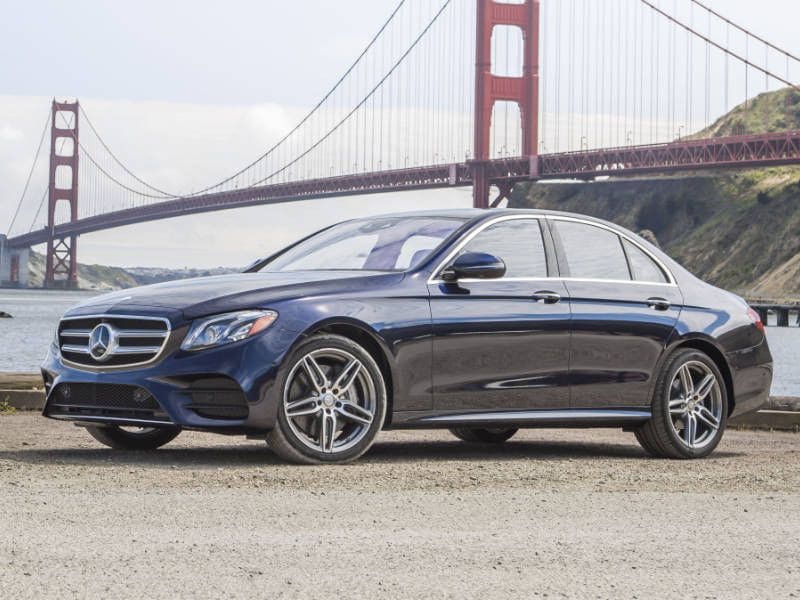 Photo by Mercedes-Benz
2017 Volvo S60
It's probably no surprise that we finish up our list of safest sedans with a Volvo, since that automaker has a long and rich history of safety innovation. But what you may not expect is that we opt for the 2017 Volvo S60 instead of the award-winning S90 flagship. The reason? Despite its range-topping status, the S90 isn't able to pass the IIHS headlight test, so it receives a "regular" Top Safety Pick certification; the S60 raises the bar with the coveted "+" rating.
Regarding safety technologies, the S60 helps drivers with adaptive cruise control, lane-keeping assistance, adaptive xenon headlights, and forward collision warning with automatic braking and dedicated pedestrian- and bicyclist-detection functions.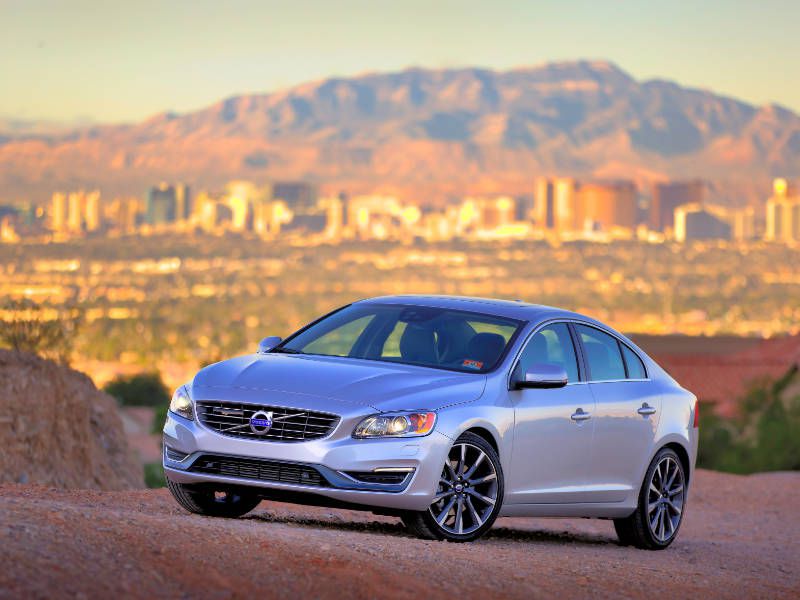 Photo by Volvo