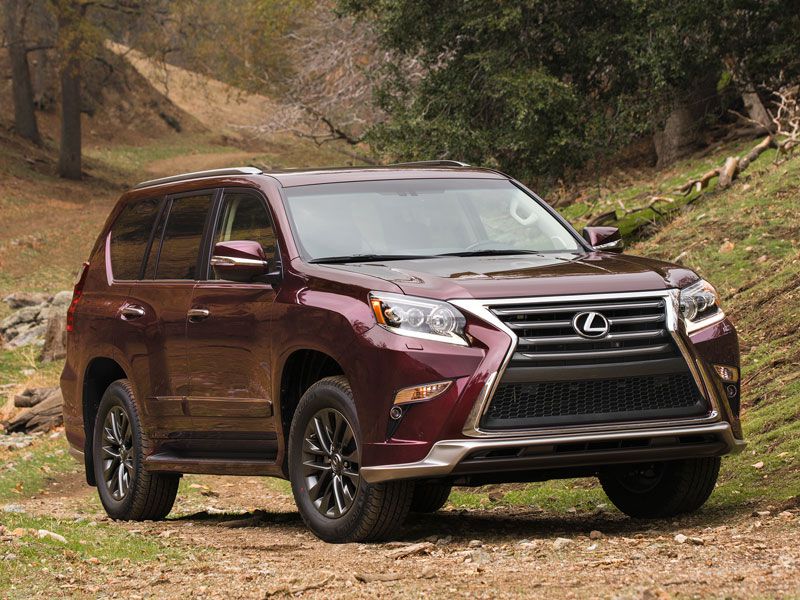 2017 Lexus GX 460 Sport Design Package ・ Photo by Lexus
Want to tackle the trails in style? A purpose-built, off-road focused luxury 4x4 SUV differs from a cushy, all-wheel drive luxury crossover. When the going gets rough, form needs to follow function.
Our list of the ten most rugged luxury off-road SUVs features a select group of highly competent vehicles that combine creature comfort with serious 4x4 capability. If you're traveling far off the beaten path, it's imperative to choose a worthy steed and equip it properly. Low-profile tires are inappropriate for serious off-roading; competent luxury 4x4s have tires with tall sidewalls to deal with extreme conditions. If you're going rock crawling, your ride shouldn't be rolling on 22-inch chrome wheels.
2017 Land Rover Range Rover
Land Rover towers above all other luxury suv manufacturers, with a full line of highly capable and truly elegant off-road machines. Now in its fourth generation, the top-of-the-line Range Rover starts at $85,650, with five trim levels that peak with the spectacular SVAutobiography Dynamic, at $179,995. The Range Rover's drivetrain technology includes four-mode Terrain Response to ensure traction in all conditions and speeds, along with hill descent control, and All-Terrain Progress Control for slow-speed crawling (under 18 MPH). A full gamut of creature comforts are also offered in the cabin, including optional massaging seats. If you need to wade through two feet of water in total luxury, the Range Rover is tough to beat.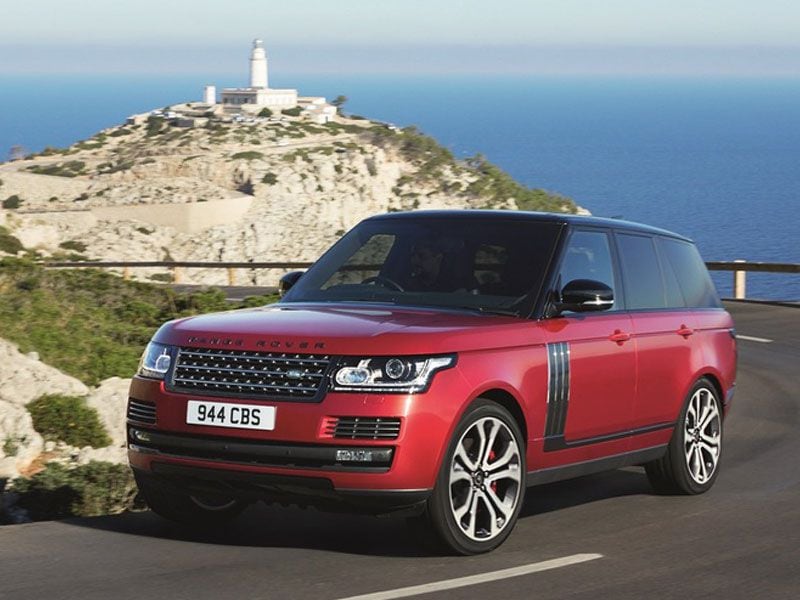 Photo by Land Rover
2017 Mercedes-Benz G-Class
The 2017 Mercedes-Benz G-Class, AKA "the G-Wagen" is unique among rugged luxury off-road SUVs, with a class-exclusive triple locking differential setup and a boxy exterior that looks like nothing else on the road.
The G-Wagen has been in production for well over three decades but has only been officially available in America since 2002. With a starting MSRP of $122,400 for the G550, exclusivity is assured. Interior trim choices are extensive, and as one would expect, the materials are top-shelf. Want to go big? The outrageous range-topping  biturbo V12-powered AMG G65 ($220,400) delivers a staggering 621 hp and 738 lb-ft of torque.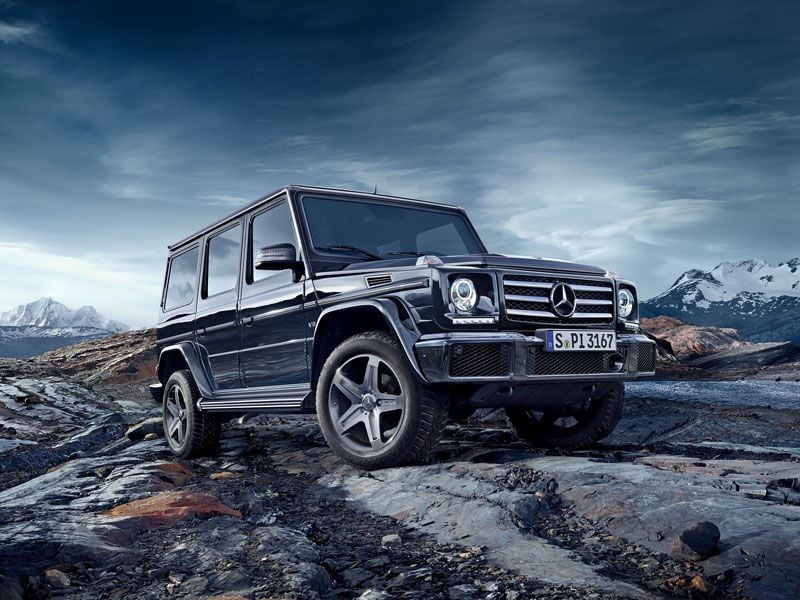 Photo by Mercedes-Benz
2017 Toyota Land Cruiser
The venerable Toyota Land Cruiser is one of the most rugged luxury suvs on the market. It's luxurious, but not ostentatious, with a purposeful cabin that features perforated leather upholstery, seat heating in the first two rows, ventilation in the front buckets seats, and four-zone HVAC. Nothing else delivers the same blend of refinement and pure off-road competence. Multi-terrain Select and Crawl Control allow the Land Cruiser to tackle the toughest trails with ease, with accommodations for eight passengers. While the current Land Cruiser ($84,775) sells in limited numbers here in America, older models are highly sought after and resale value is strong. Land Cruisers are held on to like family heirlooms.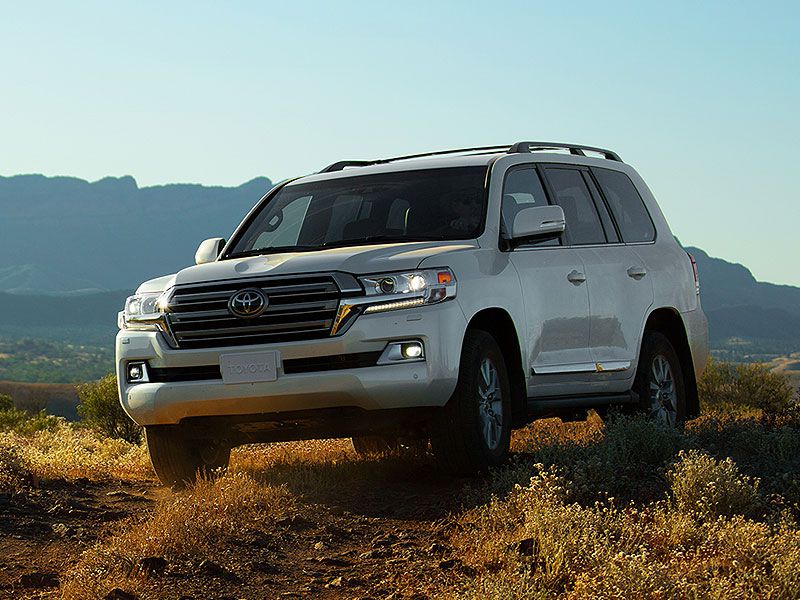 Photo by Toyota
2017 Lexus LX 570
The Lexus LX 570 is based on the legendary Toyota Land Cruiser platform. With a base price of $89,880, it's a reasonably priced upgrade that wraps the Land Cruiser's powerful 4x4 capabilities in elegant sheet metal. While the trademark Lexus spindle grille and dramatic front fascia are the most prominent exterior changes, it's the well-appointed cabin that brings it all home. Three leather upholstery choices are available: black, parchment, and cabernet. A trio of authentic wood trim choices is available as well. Choose the Luxury option package ($1,190) to add semi-analine perforated leather upholstery, with heated and ventilated seats, in the first two rows. The dual-screen rear-seat entertainment option package ($2,005) features two massive LCD screens to keep the kids happy.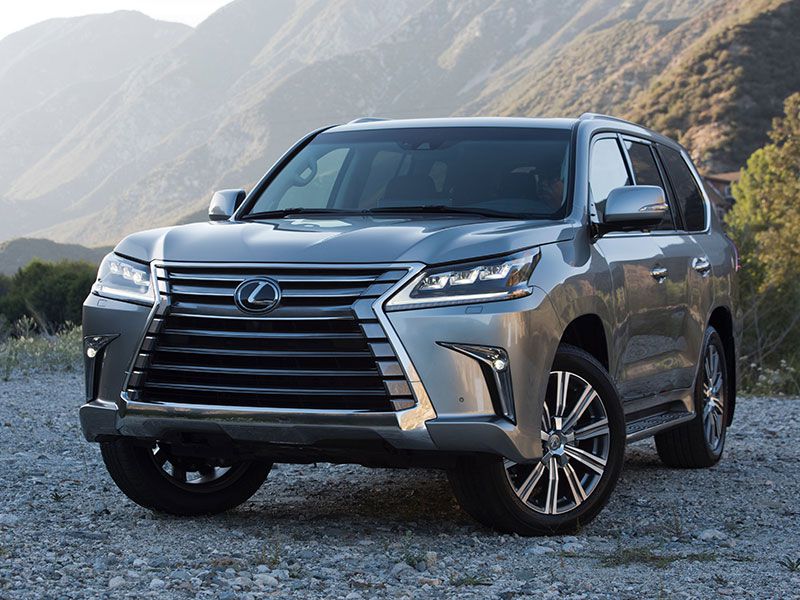 Photo by Lexus
2017 Land Rover Range Rover Sport
The smaller Range Rover Sport entered its second generation in the 2014 model year and is one of the most off-road worthy entries in the Land Rover lineup. With a starting MSRP of $65,650, the 2017 Land Rover Range Rover Sport includes Terrain Response and All-Terrain Progress Control to tackle every condition, both on and off-road. Half a dozen trim levels are offered, topping out with the exquisite Autobiography at $94,450 and the high-performance SVR at $111,350. You'll want to stick with the less expensive models for off-road use. The base SE is offered with supercharged 3.0-liter V6, as well as a fuel-efficient 3.0-liter turbodiesel V6. The luxurious cabin can be fitted with optional third-row seats to accommodate the kids when necessary.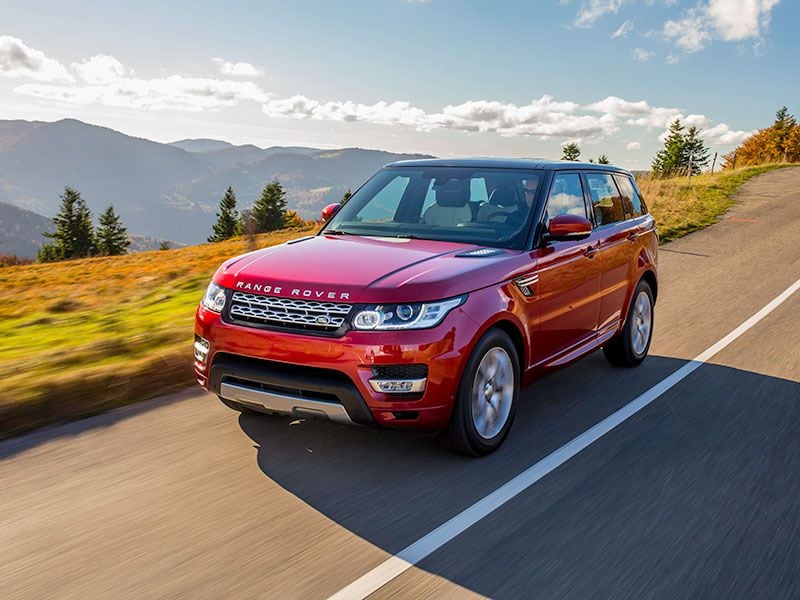 Photo by Jaguar Land Rover
2017 Lexus GX 460
The three-row 2017 Lexus GX 460 is marketed as the Toyota Land Cruiser Prado overseas and shares its platform with the highly capable Toyota 4Runner. Three trim levels are offered, with the base starting at $51,680, and the well-appointed GX 460 Luxury topping out at $63,380.  Off-road performance is ensured with full-time 4WD, crawl control, downhill assist control, and a kinetic dynamic suspension system that releases the front and rear stabilizer bars for better articulation when necessary on difficult trails. The GX 460's cabin is luxurious and versatile, with second-row captains chairs, semi-analine perforated leather upholstery, and a power-folding fold-flat third row. 2010 marked the GX 460's last major redesign, with a cosmetic update in 2013.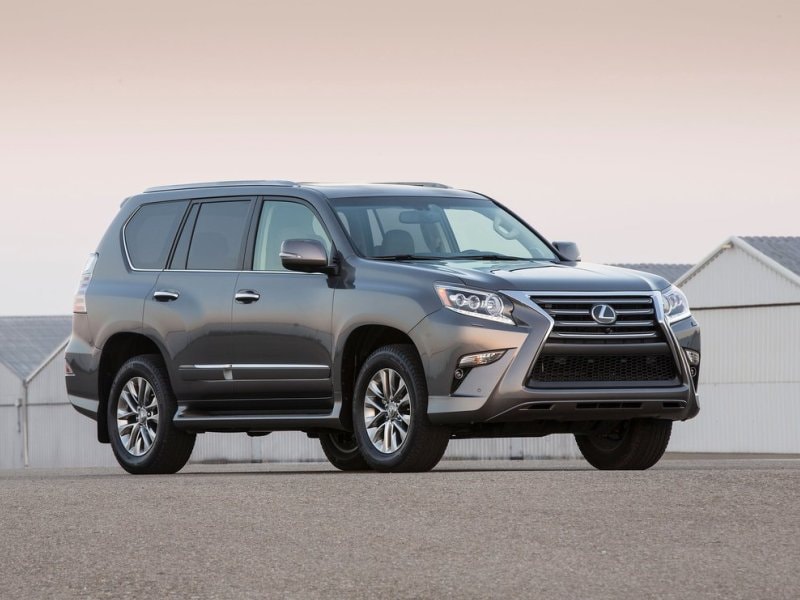 Photo by Lexus
2018 Lincoln Navigator
The new 2018 Lincoln Navigator is a wild card among rugged luxury suvs. 2018 marks the most radical changes yet, with an aluminum body and an advanced terrain management system - based on technology from the unstoppable Ford F-150 Raptor. While the Navigator is among the largest of the luxury body-on-frame 4x4 barges, the 450-hp twin-turbocharged 3.5-liter V6 can power through any obstacles. Seven distinct drive modes cover every possible condition on- or off-road. Hill descent control and hill ascent assist will be offered, as well. The Navigator's cabin is positively cavernous and the seating is truly superb. The 2018 model is expected to arrive in the fourth quarter of 2017, with a starting MSRP of $72,055.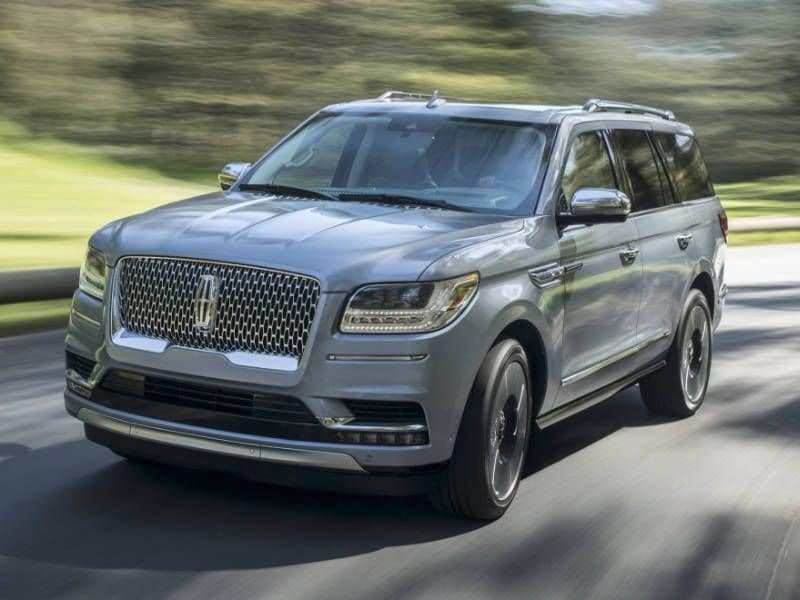 Photo by Lincoln
2017 Cadillac Escalade
While the 2017 Cadillac Escalade's traditional body-on-frame architecture is decidedly rugged, this is not the type of luxury suv you'd want to take off-roading. Pricing starts at $77,590 for the four-wheel-drive base model. The Escalade's forte is executive transport, and the extended-length ESV version's luxurious cabin provides ample legroom in all three rows, with nearly forty cubic feet of cargo space behind the third row, making it the ideal ride for winter trips to the mountains. The 4WD system includes four-high and four-low, along with a heavy duty locking rear differential. The top-of-the-line Escalade 4WD Platinum's interior is spectacular, with leather appointments throughout, massage seats up front, and an integrated center console cooler.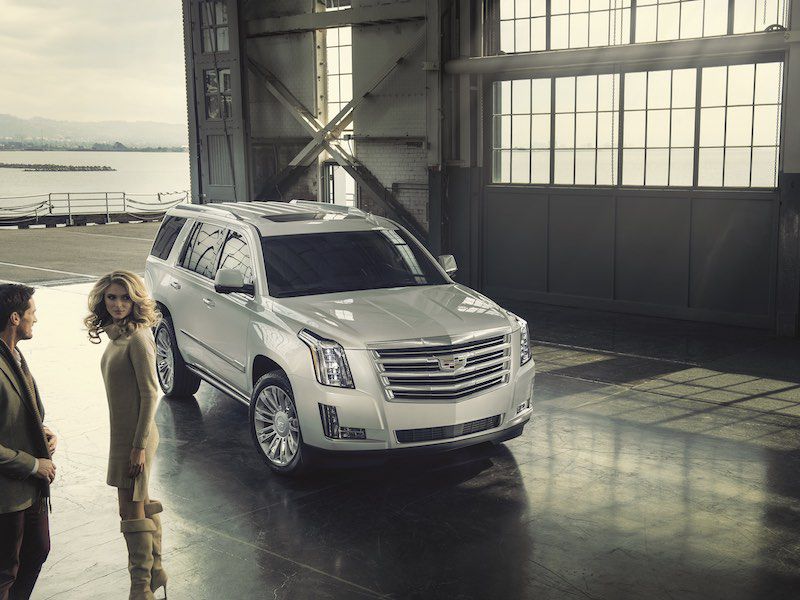 Photo by General Motors
2017 Infiniti QX80
The three-row 2017 Infiniti QX80 SUV is based on the legendary Nissan Patrol (which is marketed as the Armada here in the USA). It defines rugged luxury when equipped with four-wheel-drive (4WD) in Infiniti trim. Five models are offered, but only three are equipped with 4WD, starting with the base model at $66,950. The range-topping Limited model's ($89,450) exquisite cabin is accented with gorgeous open pore matte finish ash wood and upholstered in sumptuous truffle brown leather with distinctive quilting. The QX80's All-Mode 4WD drivetrain includes 4-low and 4-high settings, as well as snow and tow modes. While hill-start assist is standard, the QX80's off-road capabilities are eclipsed by Land Rover and Lexus.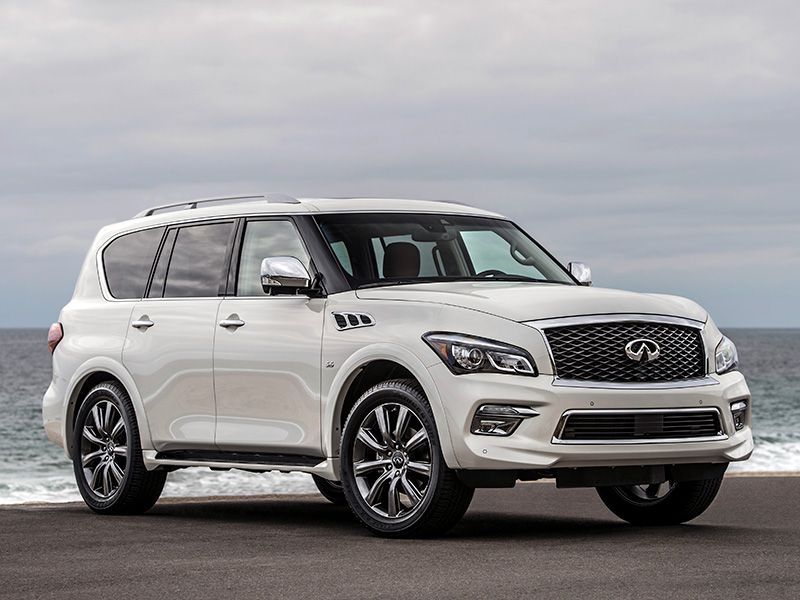 2017 Land Rover Discovery
The 2017 Discovery completes Land Rover's trifecta on our list of rugged luxury suvs. You'll get where you're going in total comfort with a luscious cabin and a full gamut of off-road tech, including a two-speed transfer case, All-Terrain Progress Control for low-speed crawling, electronic air suspension for enhanced articulation, and Terrain Response 2 for multiple driving modes. Need to tow a boat or a pony off the beaten path? Choose the 3.0-liter turbodiesel engine for a whopping 443 pound feet of torque and a combined EPA rating of 23 mpg. The 22.5-gallon fuel tank lets you venture far between fill ups. With a starting MSRP of $49,990, the 2017 Discovery fills a sweet spot for the adventurous.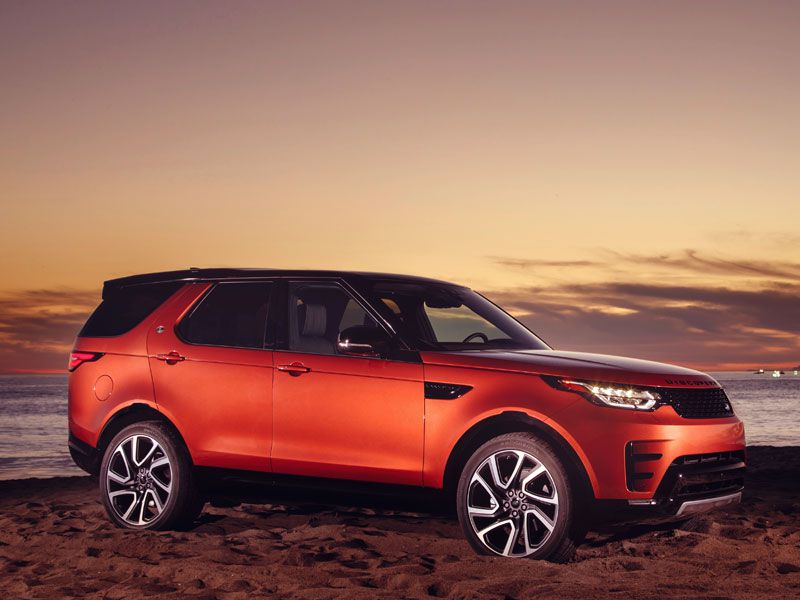 Photo by Land Rover