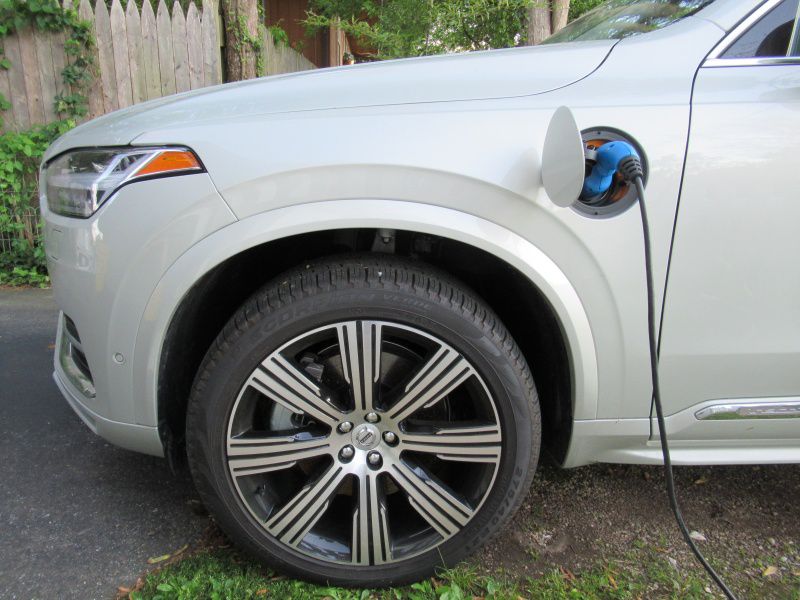 2020 Volvo XC90 T8 plug-in hybrid PHEV charging ・ Photo by Brady Holt
When you want to save gasoline but aren't ready to take the plunge into a fully electric vehicle, a hybrid is a natural choice. Hybrids use a mix of electricity and gasoline, which means you have an eco-friendly choice but can always quickly refuel at any gas station.
But which hybrid to buy? If you're interested in a luxury sedan, wagon, or crossover SUV, Volvo has a lineup of appealing plug-in hybrid models. Let's discuss 10 reasons you should consider a Volvo hybrid.
1. You can choose among five different Volvo hybrid vehicles.
Volvo has a hybrid version of nearly every vehicle it sells — five vehicles in total. The model range of Volvo hybrids includes the S60 compact luxury sedan, V60 compact luxury wagon, S90 mid-size luxury sedan, XC60 compact luxury crossover, and XC90 mid-size luxury crossover.
Starting with the 2021 model year, Volvo renamed its electrified vehicles as Recharge. Its hybrids are all called Recharge Plug-In Hybrid, in contrast with fully electric models that are called Recharge Pure Electric.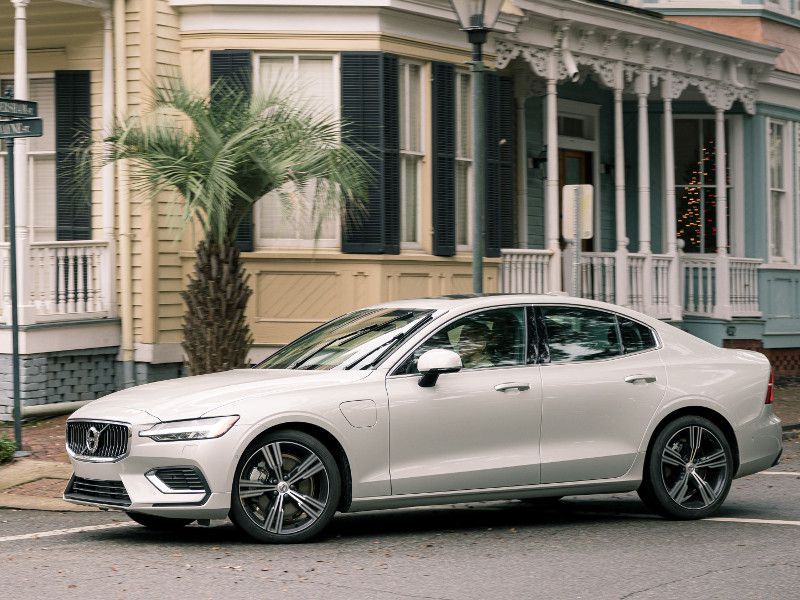 Photo by Volvo
2. Volvo's hybrids save you money on fuel.
Even though Volvo's hybrids are luxurious and powerful, they can cut your fuel usage. Each of them includes electric motors that can assist with acceleration to reduce the amount of gasoline that the gas engine needs to burn.
The EPA estimates that the S60 Recharge, V60 Recharge, and S90 Recharge each get an EPA-estimated 30 mpg in mixed driving, while the XC60 Recharge and XC90 Recharge SUVs get 27 mpg. That's about a 5 mpg improvement over the most comparable gas-only versions of each vehicle. So we're not talking about Toyota Prius mileage. However, Volvo offers you a path to turbocharge your fuel savings under the right circumstances, which we'll talk about on the next page.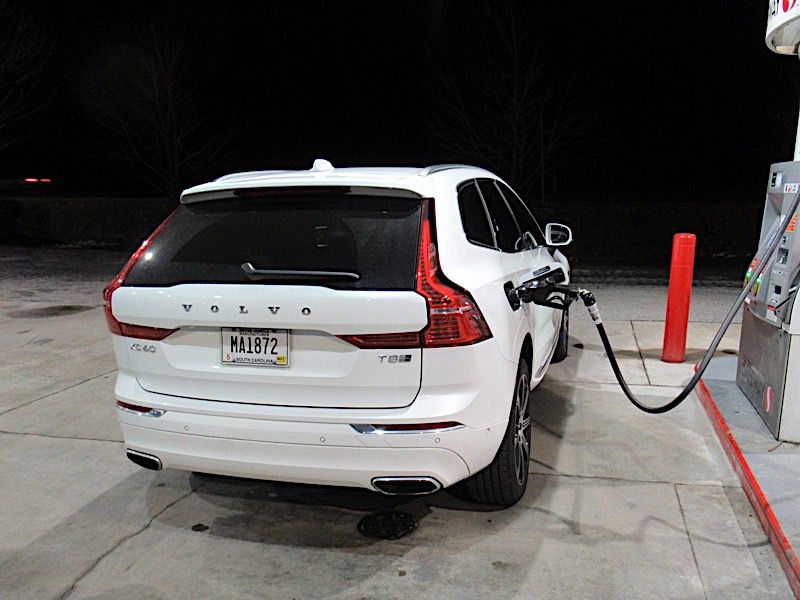 Photo by Brady Holt
3. Plug them in to get around gas-free.
Unlike a Prius, every Volvo hybrid is a plug-in hybrid electric vehicle (PHEV). That means you can either drive it around like a regular hybrid — which is when you get your EPA-estimated 27 mpg or 30 mpg, depending on the model — or you can plug them in to the electric grid to fill up their batteries.
Once you've recharged a Volvo PHEV, you can travel an EPA-estimated 18 to 22 miles (depending on the model) using only electricity. The gasoline engine will turn on if you accelerate hard or sometimes if you drive fast on the freeway, or once the electric range is used up. If you frequently drive less than 20 miles per day, you'll rarely need to burn any gasoline at all — yet you'll never have to worry about being stranded if you can't reach the power outlet or car charger in time.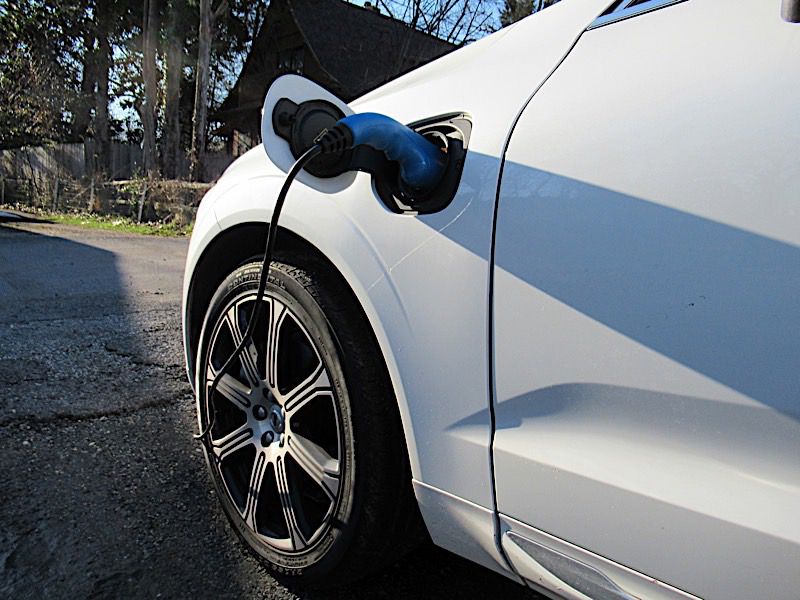 Photo by Brady Holt
4. Volvo's hybrids are turbocharged, supercharged, and electrified.
All five Volvo hybrids use the same powertrain, and it's quite a thing. It starts with a turbocharged 2.0-liter four-cylinder gasoline engine, the same as you'll find in base 250-horsepower T5 editions of the Volvos. Then Volvo adds the supercharger that boosts the T6 models up to 316 horsepower.
But what really gives these hybrids their kick — as well as their fuel savings — are the two electric motors. With a combination of turbocharging, supercharging, and electrification, the Recharge Volvos (also called T8) produce a total output of 400 horsepower and 472 lb-ft of torque. That's more than many sports cars, and sure enough, the result is sports-car-like acceleration. Even the XC90 SUV can reach 60 mph in less than 5 seconds in some hands. Obviously, you won't see the highest possible electric range and best possible gas mileage if you regularly make full use of this performance. But Volvo's hybrids aren't just more economical than their gas-only counterparts; they're faster and more powerful, too.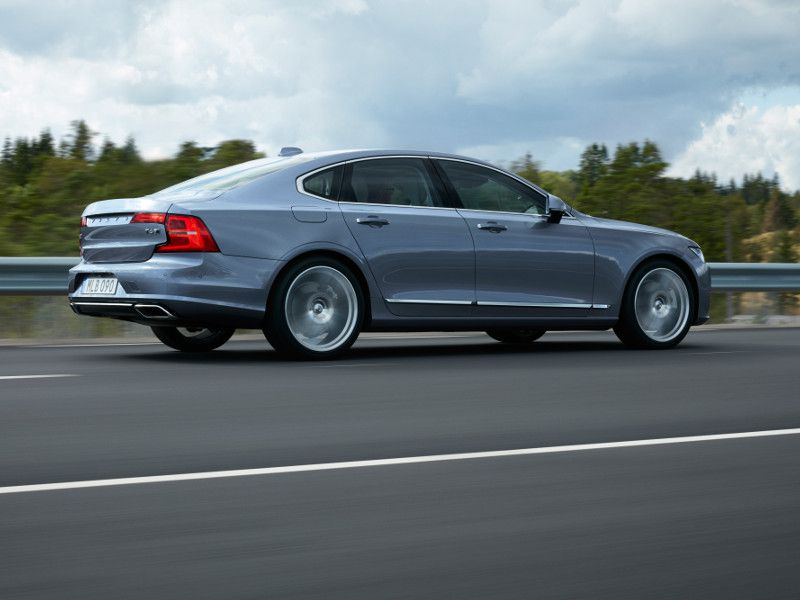 Photo by Volvo
5. All-wheel drive comes standard.
One of the Volvo hybrids' electric motors is mounted at the rear of the vehicle. That means every Volvo hybrid comes standard with all-wheel drive.
On many vehicles, all-wheel drive not only costs extra, but also burns extra fuel. The fact that it's a built-in advantage to all five of the Volvo hybrids is another valuable perk. You'll appreciate the extra traction of all-wheel drive in slippery weather and when you try to accelerate hard; a 400-horsepower two-wheel-drive vehicle can easily spin its tires before launching successfully from a stop.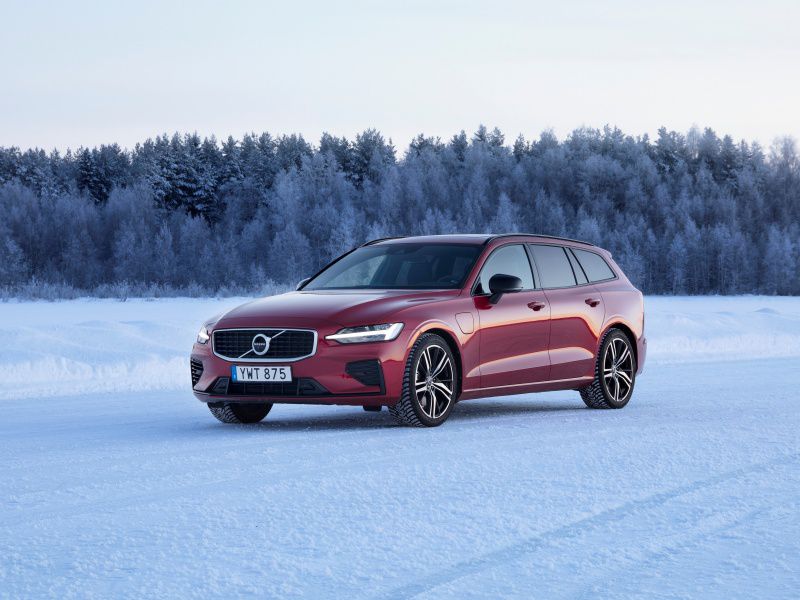 Photo by Volvo
6. Volvos are renowned for their elegant designs.
Once upon a time, Volvos were boxy, stodgy, and dull. The latest models have won consistent acclaim for their elegant simplicity, providing beauty without being overly aggressive, busy, or bland. These are graceful vehicles that will age well.
Volvo introduced its current design language on the 2016 XC90, and five years later, this SUV still looks fresh. The XC60, XC90, and V60 all wear slim, vertically oriented taillights that run up alongside the rear windshield, a brand hallmark since the 1990s. And all of Volvo hybrids have slim headlights astride a confidently upright grille, which looks upscale without approaching gaudiness like some luxury vehicles. While the Volvo XC40 Recharge, a fully electric vehicle, blocks off its grille with plastic, Volvo hybrids do still have a gas engine that needs air to flow in. That means they have traditional grilles. In fact, if you didn't notice the charging port on the driver's-side front fender, you'd never recognize one as anything but a regular Volvo. That's bad news if you want an electrified vehicle that stands out, but great if you love how regular Volvos look.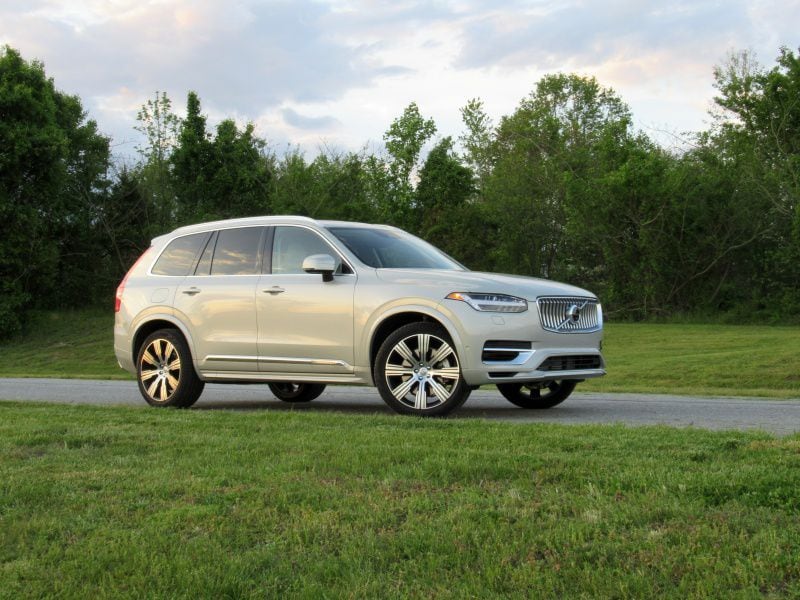 Photo by Brady Holt
7. Volvo interiors combine beauty with technology.
As infotainment screens grow in size and complexity, some automakers have struggled to incorporate them into vehicle interiors. Volvo was an early adopter of the big touchscreen, and its stylists created a beautiful cabin with a 9-inch vertically oriented screen at the center of the dash.
There's no tacked-on feel here — it's the dominant element of the dashboard, with the dash flowing around it, yet Volvo's rich materials and gentle curves keep it from feeling sterile. We especially like the slim vents that run alongside the screen in all Volvos but the XC90, the oldest model with this design scheme. Volvo has also repeatedly updated the hardware behind its infotainment system, addressing early concerns about sluggish performance. You can now get competitors with even bigger and more sophisticated screens, but the Volvo system still holds its own while looking great. Like the exteriors, Volvo hybrids mostly share their interior designs with gas-only models.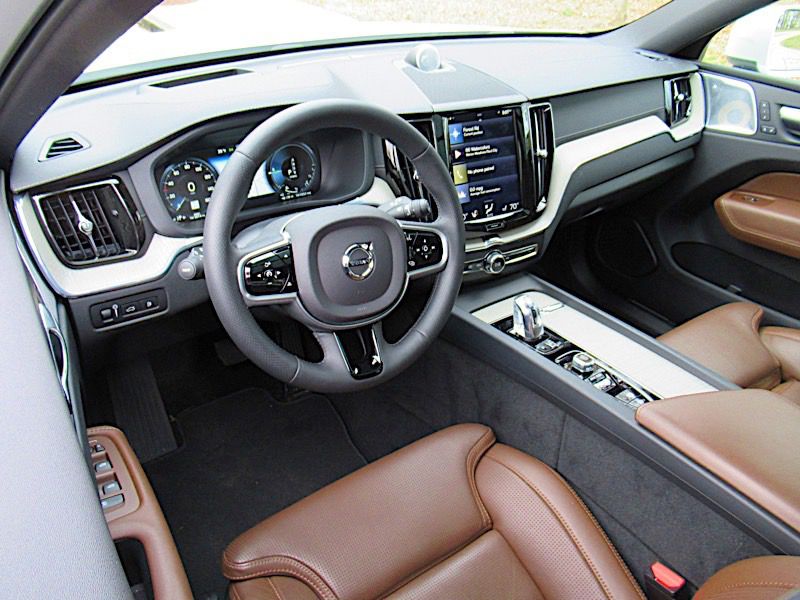 Photo by Brady Holt
8. Each Volvo hybrid rides smoothly yet is decently fun to drive.
We already talked about the wildly quick acceleration you'll enjoy in any Volvo hybrid. But the rest of the driving experience is worth discussing, too.
True, Volvo doesn't make either the sharpest-handling or the smoothest-riding luxury vehicles in the world. But each model strikes an agreeable balance between the two qualities. Even the SUVs handle with respectable composure, and even the sporty S60 sedan avoids being too stiff. We've had some test vehicles with huge alloy wheels that create stiffer rides than the base editions, and we'd recommend a careful test drive before accepting that penalty.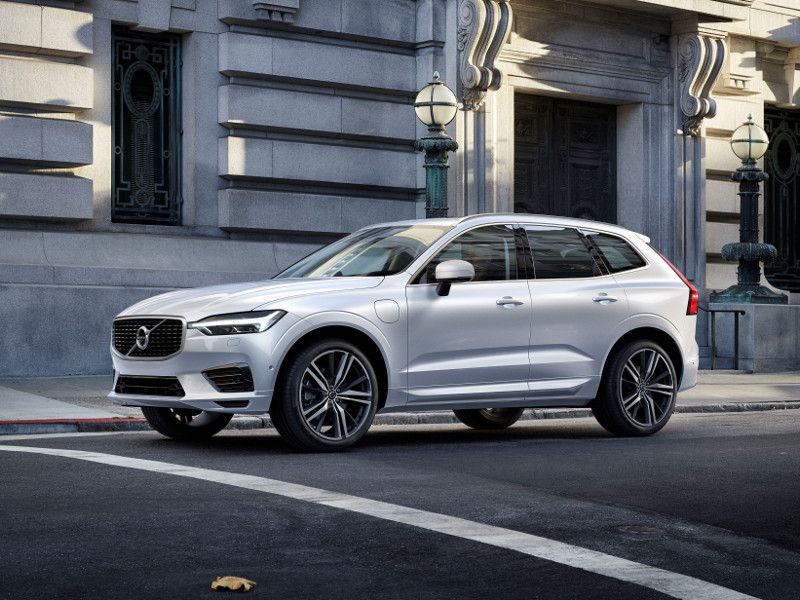 Photo by Volvo
9. Volvo's hybrids are roomy, comfortable, and practical.
Volvo has come a long way from its boxy family-focused station wagons, but even the more stylish modern Volvos know how to be functional. And Volvos have famously comfortable front seating.
The compact S60 and V60 don't have extra-roomy backseats or huge trunks, but their relatively upright shapes yield more headroom than sleeker competitors. And the V60 drives as well as the S60, but with a useful 51 cubic feet of cargo space. The S90 is a big sedan with a long wheelbase, designed for markets where the owner is chauffeured in the backseat, though we'd appreciate a bit more foot space under the front seats. The XC60 has a roomier cabin than most competing compact luxury SUVs, while the mid-size XC90 has a relatively usable third-row seat.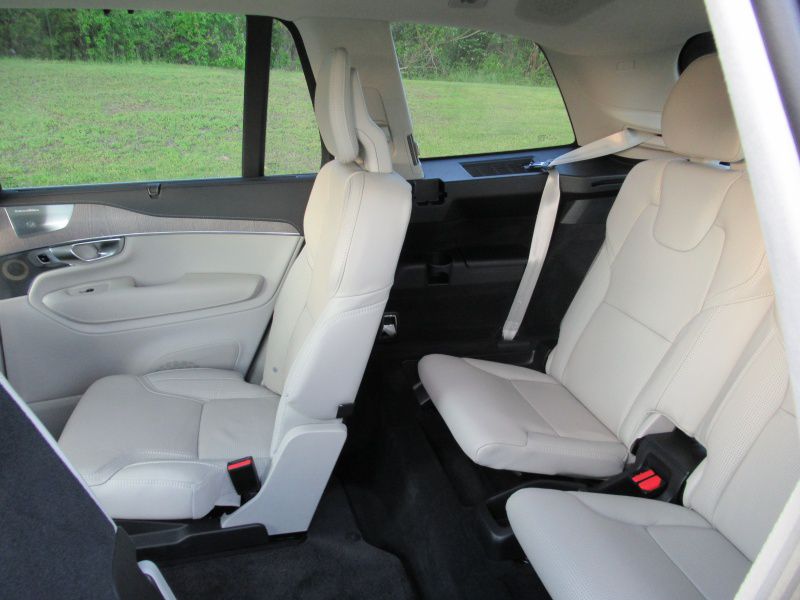 Photo by Brady Holt
10. Uncle Sam will help you buy a Volvo hybrid.
Depending on the model, it costs roughly $10,000 to upgrade from a base T5 Volvo to the plug-in hybrid. That's pretty steep, and it's tough to recoup that difference just from fuel costs. But remember that Volvo hybrids also sit at the top of the performance ladder. It also costs roughly $5,000 to upgrade from the T5 engine to the T6, creating three evenly spaced tiers of performance. Lastly, some Volvos come standard with front-wheel drive instead of the hybrids' all-wheel drive. 
Plus, to take the sting out of the higher price, plug-in vehicles — including Volvo hybrids — are eligible for federal tax credits. The credits are based on the capacity of a car's electric battery; all current Volvo hybrids use the same battery and thus receive the same tax credit: $5,419. That means that, depending on the model, you could essentially get a free upgrade from a T6 to a hybrid. That means superior acceleration along with better fuel economy, plus the chance to avoid gasoline entirely for up to 22 miles at a time. Who wouldn't consider such a deal?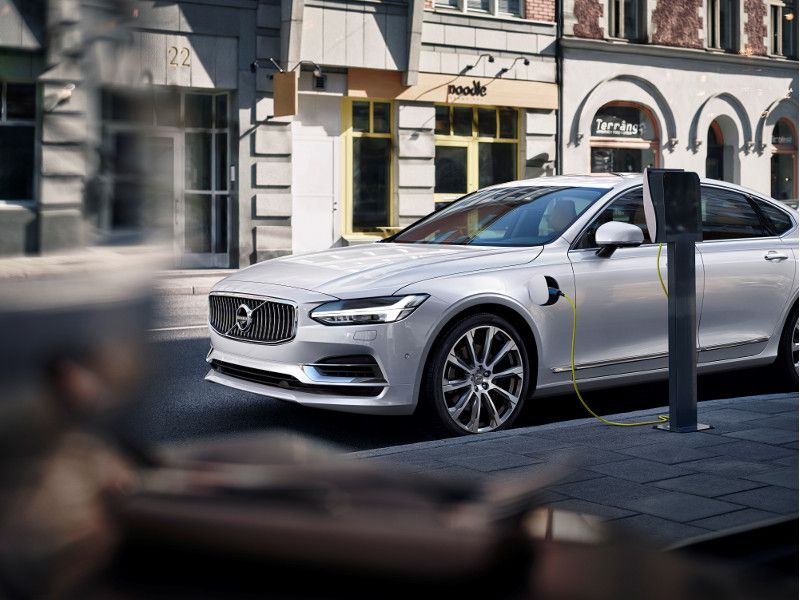 Photo by Volvo