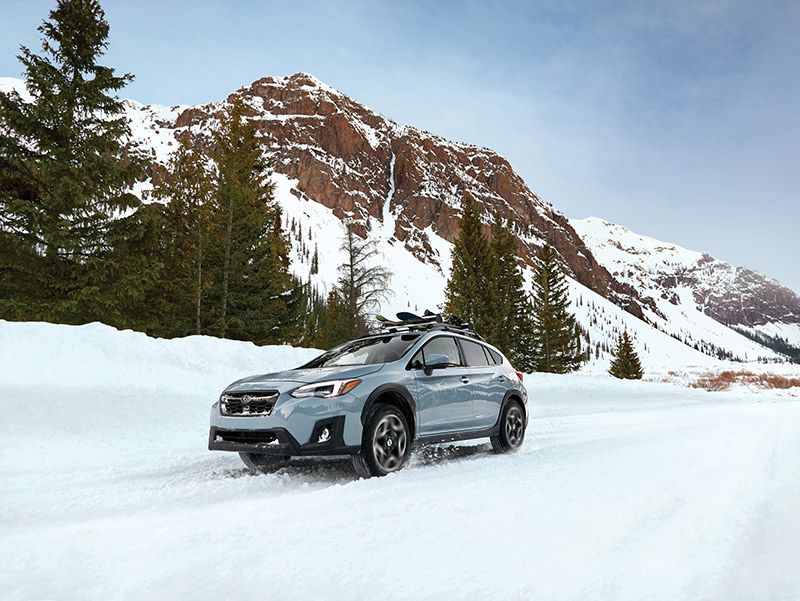 2020 Subaru Crosstrek front three quarter snow ・ Photo by Subaru
Winter is a wonderful time of year — unless you need to drive when snow and ice cover the roads. It may be possible to avoid the weather by staying home, but sometimes driving in the snow simply cannot be avoided. That's when you need a vehicle that can handle the mess.
The go-to choice for most people who live where the snow flies is something with all-wheel drive. Not every car offers it as an option, however, which limits your choices. If you go with a Subaru, though, you'll find standard all-wheel drive on every vehicle in the lineup except the BRZ sports coupe. Here are 10 reasons why Subaru's all-wheel drive is great in winter weather.
1. All-wheel drive is standard on nearly every Subaru.
You found the perfect car. It fits your needs and your budget, but there's a problem: It doesn't offer all-wheel drive. Subaru takes care of that problem by offering all-wheel drive as a standard feature on every vehicle in its lineup except for the BRZ. The BRZ is a sporty coupe with rear-wheel drive, so although it might be nice to have all-wheel drive as an option, it's not exactly the kind of car most people drive in winter weather.
That still leaves you with seven different options within the Subaru lineup from which to choose. These include the 2020 Subaru Legacy sedan, the rugged Subaru Outback, and the family-friendly Subaru Ascent with room for up to eight passengers.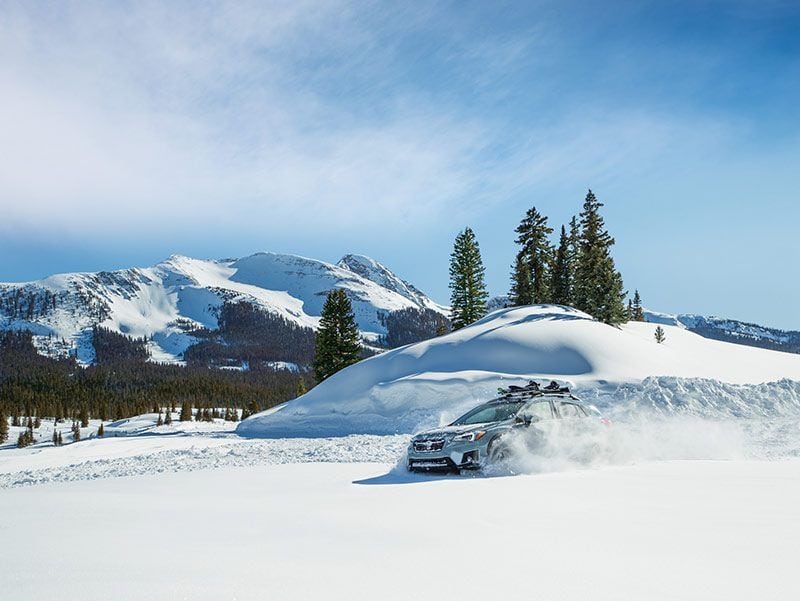 Photo by Subaru
2. Subaru has symmetrical all-wheel drive.
While all-wheel drive is found on lots of vehicles, only Subaru features what it calls Symmetrical All-Wheel Drive. It's not just a fancy marketing term, either. Every Subaru features a horizontally opposed engine, which means the engine is symmetrically laid out in a straight line. 
This approach maximizes the potential of the all-wheel drive system by helping all four tires find better grip. Creating a lower center of gravity with more balanced weight distribution makes a Subaru handle better no matter road conditions, but especially in winter weather.
Photo by Subaru
3. It's always ready.
If you're planning on heading off-road and tackling more rugged terrain, then you know you're going to need all-wheel drive. When you're out on paved roads and suddenly hit an unseen patch of snow or ice, it's a surprise you might not be prepared to handle. That's when full-time all-wheel drive can be the difference between staying in control or getting up close and personal with a snowbank.
Subaru's Symmetrical All-Wheel Drive is always there doing its job regardless of road conditions. The system constantly monitors the road surface and reacts accordingly. There's no button to push to turn it on, so the benefits of all-wheel drive are there all the time.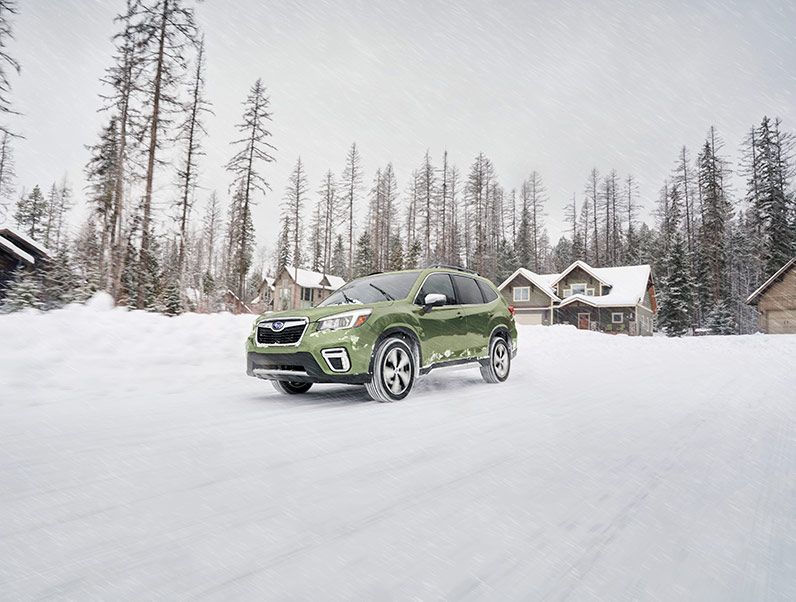 Photo by Subaru
4. Symmetrical all-wheel drive reduces tire wear.
Tires eventually wear out and need to be replaced, but uneven tire wear can have you replacing tires more often. In an all-wheel drive vehicle, it's recommended you replace all the tires at once. Even if only one tire has wear, you should still replace all four tires, which is hard on the budget.
Symmetrical All-Wheel drive can help lengthen the time between expensive replacements. The balanced weight distribution provided by Subaru's all-wheel drive system makes it more likely that your tires will wear evenly. Even wear on all four tires means you're only looking at replacements when all four wear down, rather than having to replace them all when just the tires that bear more weight show wear.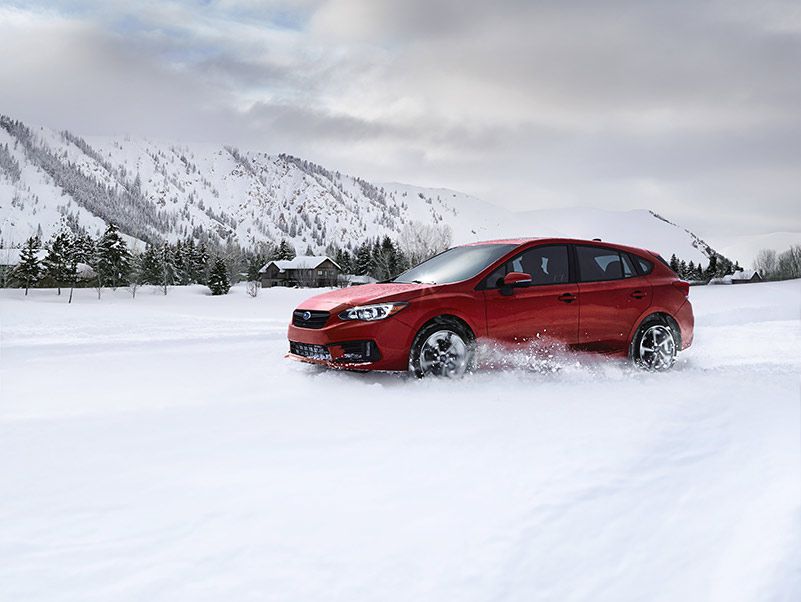 Photo by Subaru
5. Power goes to all four wheels for better traction.
Subaru Symmetrical All-Wheel Drive sends power to all four wheels at once, all the time. It's not a part-time system, so you don't have to worry about turning it off or on when road conditions deteriorate. While power is evenly distributed to the wheels in most conditions, that changes once things get slippery.
The instant any one wheel hits a slick section of the road, the system shifts power away from that wheel and directs it instead to the wheels that are gripping the road. It doesn't require an actual loss of traction to redirect power. This keeps your Subaru more firmly under control and makes it less stressful driving in winter weather.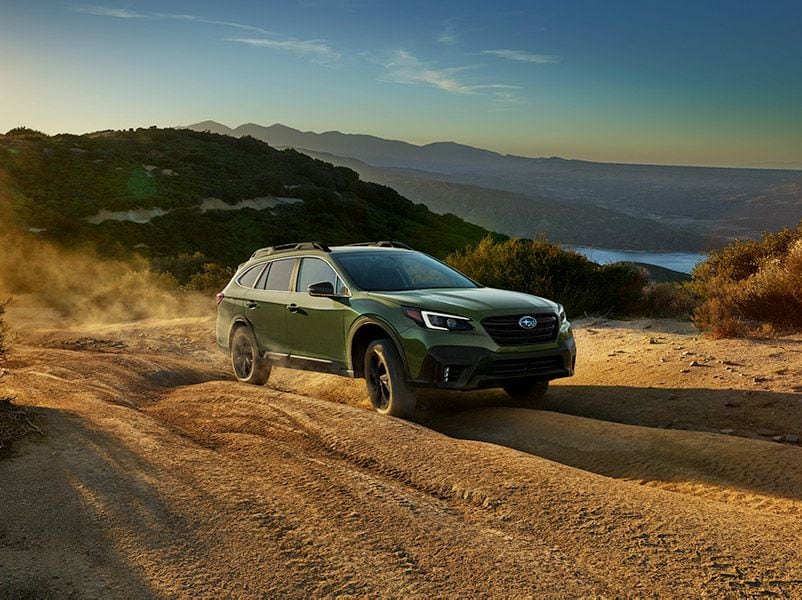 Photo by Subaru
6. Subaru's Symmetrical All-Wheel Drive is more efficient.
Cars are complicated machines with lots of moving parts and ever-increasing amounts of technology, from infotainment systems to advanced safety features. All-wheel drive systems are also complicated, but the Symmetrical All-Wheel Drive in a Subaru provides a simplified design. Many cars are built with two-wheel drive and then modified to make all-wheel drive an available feature. 
Adding all-wheel drive requires adding extra components, which creates a less efficient system. Since Subaru builds its cars with all-wheel drive right from the start, there's no need to modify the existing system with extra parts that reduce efficiency and create a less responsive system.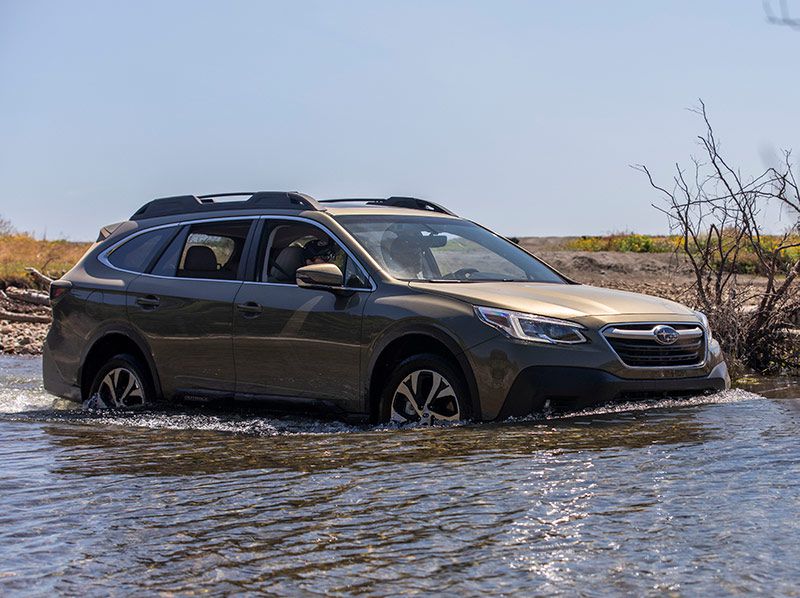 Photo by Subaru
7. Balanced weight distribution equals better control.
Providing power to all four wheels is what makes all-wheel drive a must-have in the snow. Rather than the rear wheels pushing the front forward or the front wheels pulling the rear along for the ride, every wheel works to move the car through the mess. This provides better control since it reduces the chance of losing traction when the roads are covered in snow and ice.
In Subarus, the engine is centered and lower to the ground and the transmission is moved more toward the center of the vehicle. This keeps a Subaru more balanced and improves handling in every situation.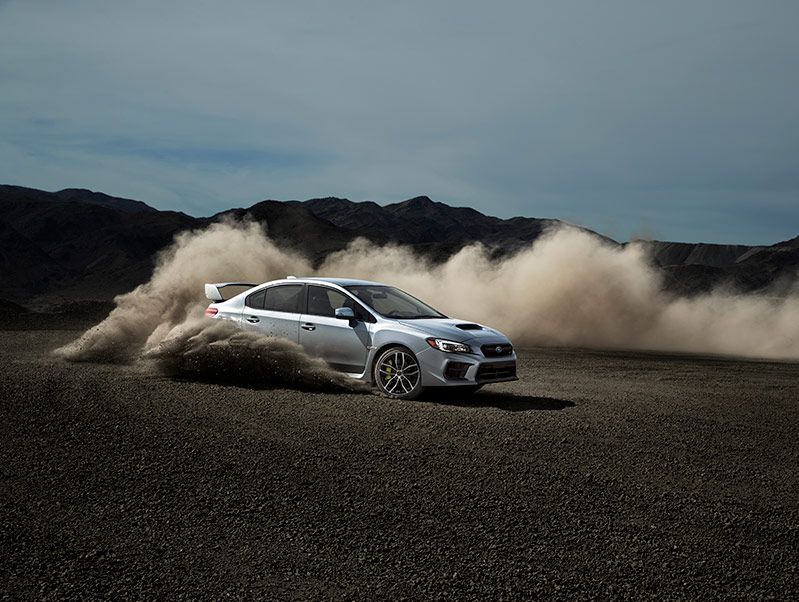 Photo by Subaru
8. Traction improves no matter what the weather.
Snowy weather is the obvious time when all-wheel drive makes the trip easier. When there's snow on the road, the system helps your tires maintain traction, and better traction means better control for the driver. However, that's not the only time all-wheel drive is a benefit. Wet roads from rain or even melting snow can also be a hazard where all-wheel drive once again will help you stay in control of your car.
Ice is yet another hazard of winter driving, and it's one you sometimes don't see until it's too late to react. Subaru's Symmetrical All-Wheel Drive detects potentially slick surfaces and adjusts the power to the wheels that grip before it even has a chance to slip.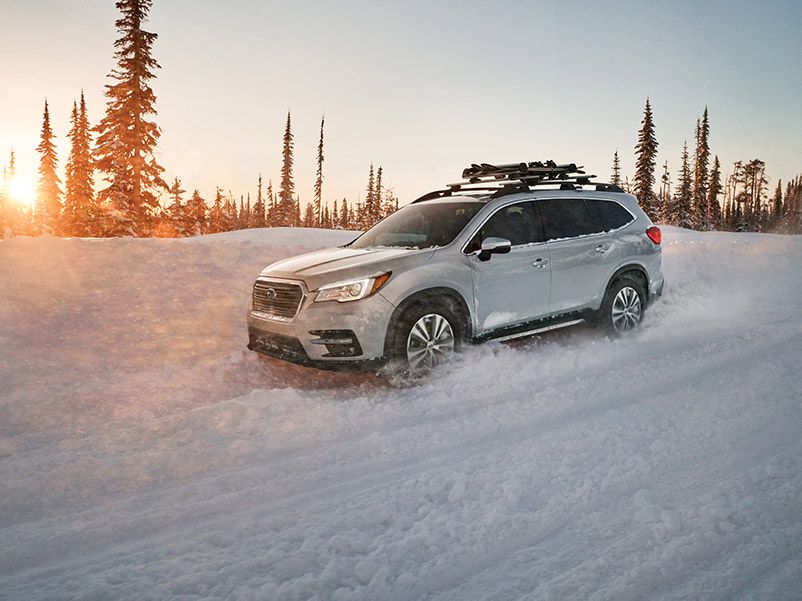 9. X-Mode boosts capability further.
As good as Symmetrical All-Wheel Drive is, Subaru made it even better with the addition of X-Mode. When conditions are especially challenging, whether it's winter weather or an off-road adventure, X-Mode enhances the all-wheel drive system. It adjusts the engine throttle and transmission shift points to deliver power more smoothly and provide optimal torque. It also improves the all-wheel drive system by raising the front/rear coupling force to maximize traction.
Activating X-Mode also engages Hill Descent Control, so you don't need to use the brakes on steep slopes and risk locking them up. Whenever you want to use X-Mode, all it takes is the press of a button, so it's easy to engage at a moment's notice.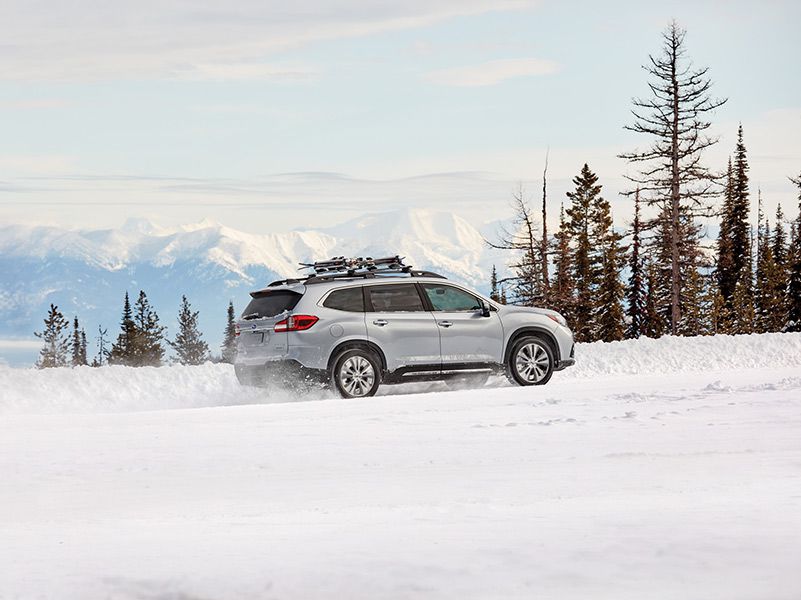 Photo by Subaru
10. The system is tailored to each Subaru.
While it's uniformly called Symmetrical All-Wheel Drive, there are four different versions of this system depending on the vehicle you purchase. The reason the systems differ is that Subaru offers a variety of transmissions in its vehicles. That means tweaking the all-wheel drive system slightly for each transmission. 
In particular, Subarus with manual transmissions feature a viscous center differential all-wheel drive system, and the performance-focused WRX STI gets a multi-mode driver's control center differential. Regardless of which is found in your Subaru, it gives you the enhanced capability of symmetrical all-wheel drive tailored to suit your vehicle's powertrain.
Photo by Subaru