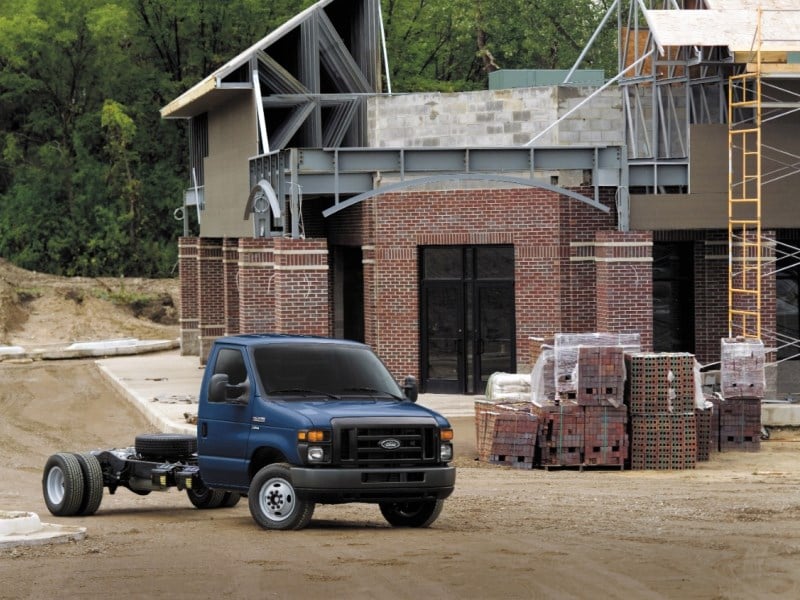 Tracing its roots back to the groundbreaking 1961 Econoline, the E-Series Ford full-size van will be the last of the line. The Blue Oval's commercial customers are transitioning to the new Euro-style Transit, itself the bigger sibling to Ford's popular Transit Connect. But while those next-gen Transit models are certainly marvels of modern engineering, let's not forget that the E-Series still had enough advantages to score more than 100,000 sales just last year, and it's on track for about 45,000 deliveries during this one, even with Ford stopping production. Luckily, though, dealers haven't stopped selling the E-Series, with a few still lurking on lots and able to provide plenty of benefits yet today.
Mighty Motivation
Commercial vans are workhorses, piling up thousands and thousands of miles each year without missing a beat—or that's the expectation, anyway. In the real-world, not all full-size vans can deliver the durable drivetrains needed to meet those expectations like the E-Series Ford. In fact, the E-Series serves up three engine options that get the job done, highlighted by a robust 6.8-liter Triton V10 that can count on 305 horsepower and 420 lb.-ft. of torque, with that output routed through a five-speed TorqShift automatic transmission. Ford furnishes two V8 choices, too, including a 4.6-liter unit—rated at 225 horsepower and 286 lb.-ft. of torque—and an upsized 5.4-liter version with 255 horsepower and 350 lb.-ft. of torque. Also notable: The E-Series also meets commercial customer demand with an engine-prep package that allows the 5.4-liter V8 and the V10 to run on either liquid petroleum gas or compressed natural gas.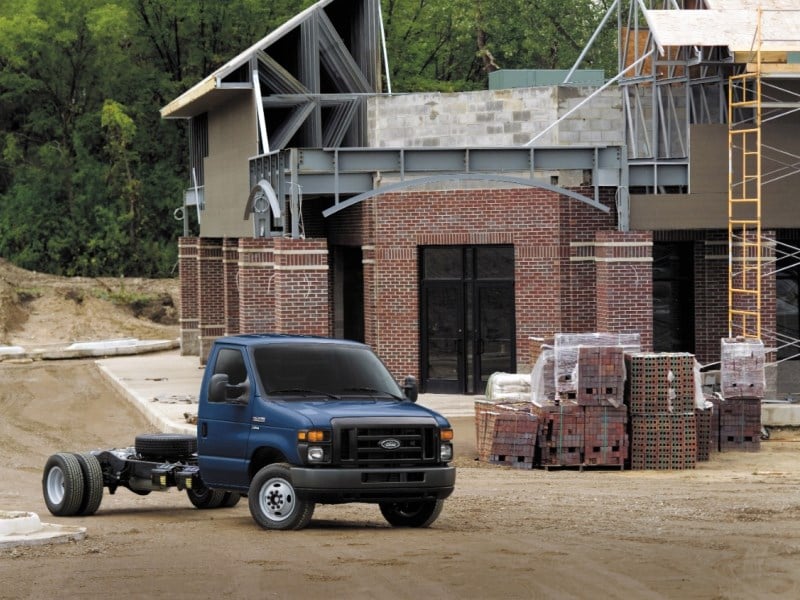 Tools for Towing
Commercial vans often are called on to do double duty. That is, both transporting cargo or passengers inside and pulling a trailer. And it's in that last role that the E-Series Ford really shines. Now, it's not that the E-Series is short on cargo space; it isn't, as will be detailed below. But the big deal with the Blue Oval's traditional full-size van is its traditional body-on-frame construction. It's the same sort of foundation that underpins full-size pickups like the F-Series, and it enables truck-style towing capabilities of up to 10,000 lbs. in the E-350 Super Duty when configured with the V10 engine. But even the V8 units can pull up to 8,000 lbs. Further, Ford furnishes a dedicated tow/haul mode and an optional integrated trailer-brake controller, tying that latter technology into the same anti-lock braking system that serves up superior stopping power for the van.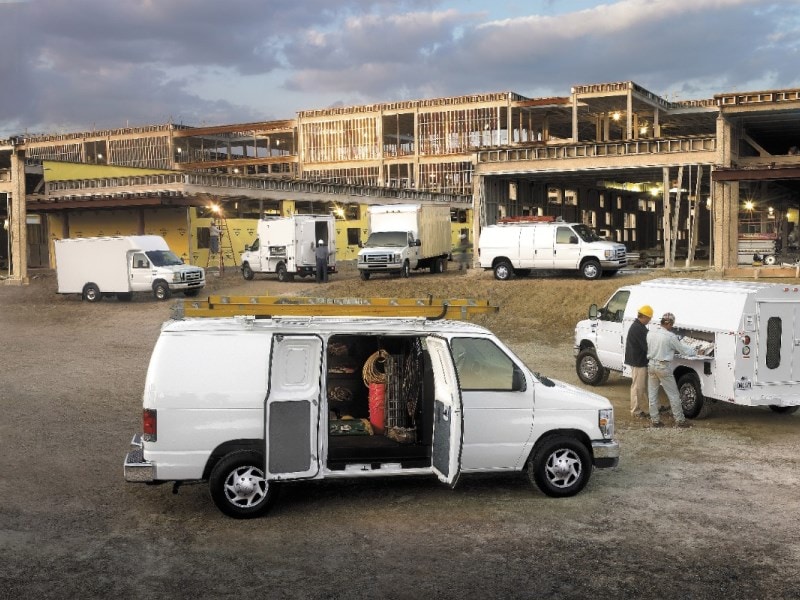 Payload and Cargo Capacity
Customers also choose full-size commercial vans when they want a self-contained cargo hold that keeps things safely away from bad weather or sticky fingers, something that can't be said of a pickup bed, for example. That cargo space in the E-Series Ford, of course, is capacious. At its peak, in the extended-length E-Series van with a 236.4-inch footprint, owner can stuff the vehicle with 278.3 cubic feet of gear; the regular length E-Series supplies 237.8 cubic feet. All that stuff is easy to get to as well, since Ford's full-size van can be ordered with either sliding or swing-out side doors, along with rear cargo doors that can open to nearly 180 degrees. In terms of actual payloads, the E-Series again comes up strong by providing 3,260 lbs. worth in the E-150, then upping the ante to 4,050 in the E-350.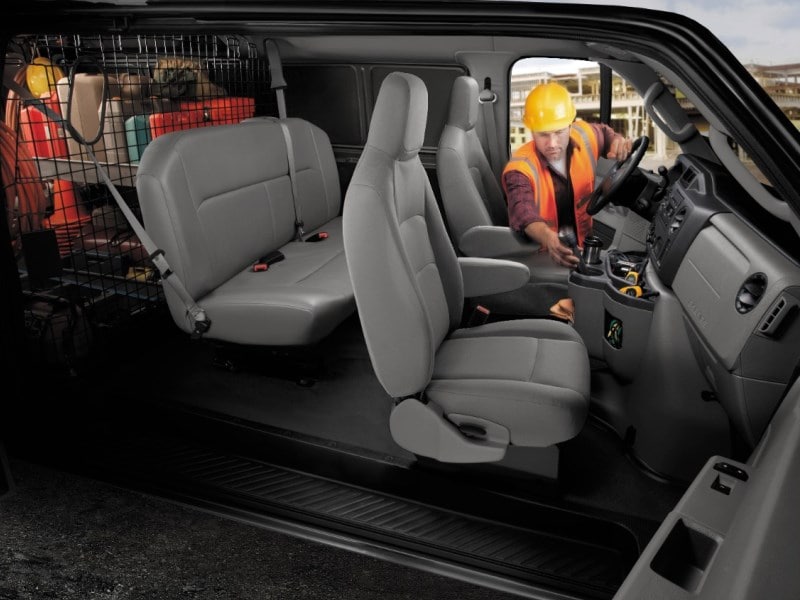 Traditionally Tough-looking Style
Let's face it: it's going to take some time to get used to the face of the Ford Transit, and perhaps the appearance of the rest of the vehicle as well. The E-Series Ford, on the other hand, carries a surprising reputation for van-design excellence, starting with the previously mentioned 1961 Econoline. Perhaps ironically, that vehicle borrowed its cab-over body-style from contemporary European vehicles and was no doubt as distinctive back then as the Transit's Euro-looks are now. But for the second-gen vans, Ford set the pace with a new look that has gradually evolved into a familiar, truck-like style that owners have come to know and love. For the current E-Series Ford, that means cues like a particularly vertical and aggressive front grille, along with an available chrome upgrade that can be extended to the center caps of its aluminum wheels and its front and rear bumpers.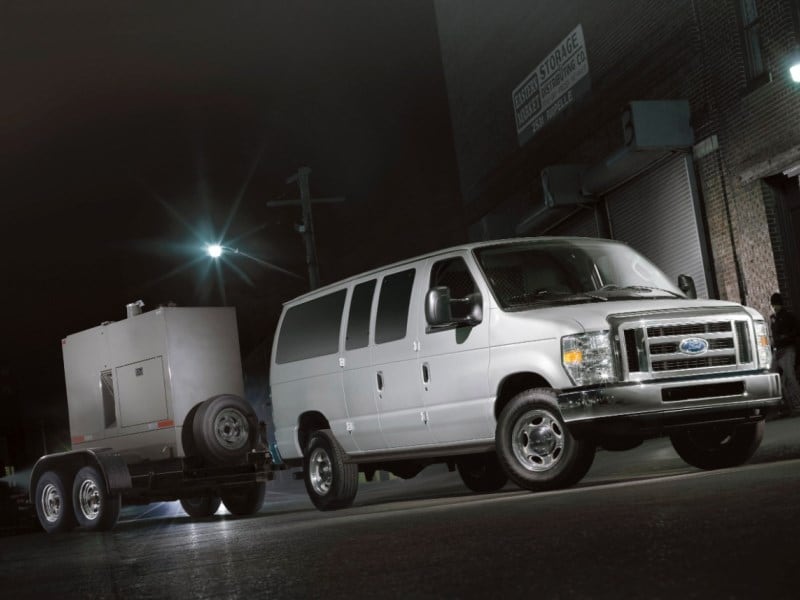 Modern-day Conveniences and Equipment
Although there's no getting around the somewhat dated origins of the E-Series Ford, it's also important not to push things too far in that direction. Thus, like many Blue Oval products, the E-Series supplies Ford SYNC technology, complete with the SYNC AppLink feature. The former helps drivers keep their hands on the wheel/eyes on the road with voice control over Bluetooth hands-free calling and audio streaming, among other functions, while the latter raises the infotainment bar with a variety of smartphone-style apps like Pandora Internet radio. SYNC also works with the van's available in-dash navigation system, which in turn brings a six-month trial for SiriusXM Traffic and Travel Link. Further infotainment features include six-speaker audio, SiriusXM Satellite Radio, HD Radio and a USB port. Meanwhile, for commercial owners, the E-Series can be equipped with the Crew Chief telematics and diagnostics technology to track a wide range of fleet-friendly data.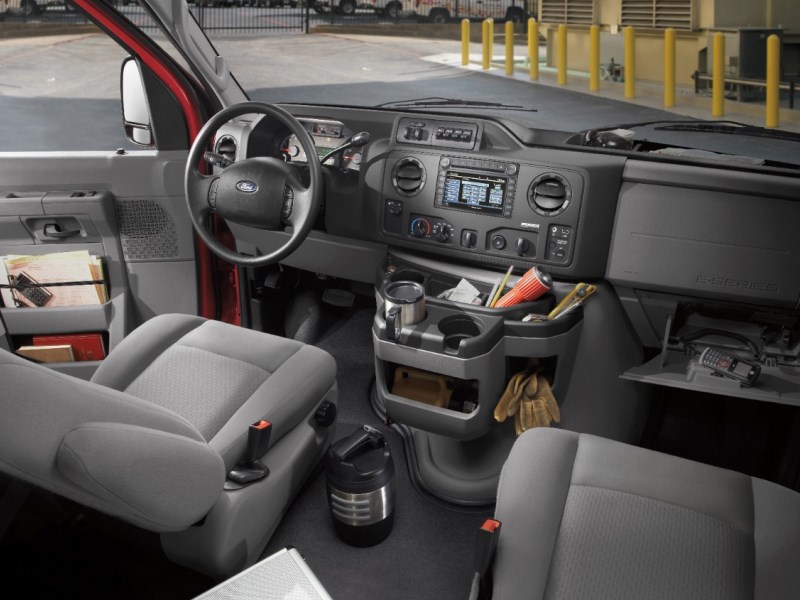 Standard Safety Features
Another 21st-century amenity found in the E-Series Ford is a rearview camera system, which is especially helpful whether the van is backing up to a loading dock or maneuvering in a crowded parking lot. For trailering purposes, the display also includes a distance guide and centerline that greatly simplifies the hitching process. Moving out on the road, the E-Series is protected by features like standard AdvanceTrac with Roll Stability Control. This sophisticated electronic stability control system can adjust braking force to the vehicle's wheels to both keep it traveling on its intended path and to minimize the potential for rollovers in certain driving scenarios. As for that braking system, it's a four-wheel anti-lock setup that's complemented by additional standard occupant-protection measures like airbags for the driver and front-seat passenger, reverse-sensing tech, three-point safety belts for all seats, a tire-pressure monitoring system and anti-intrusion side-door beams.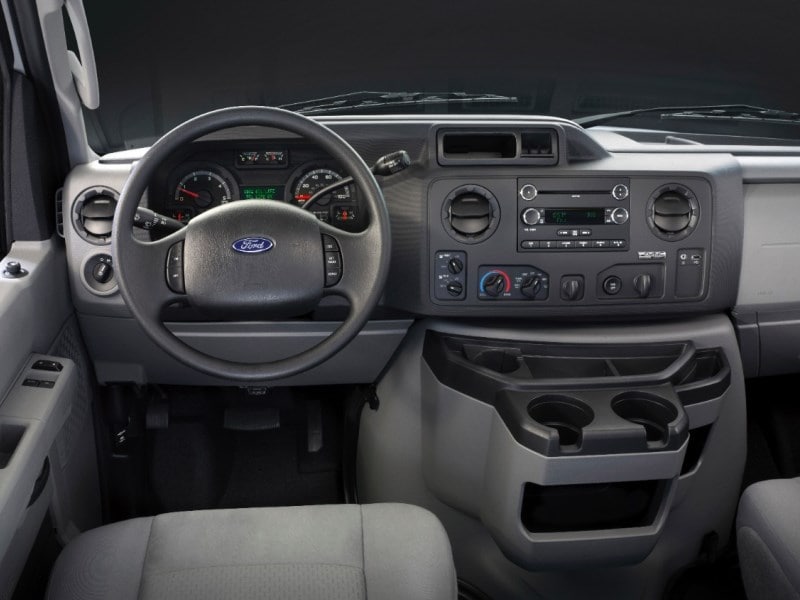 Rows and Rows of Room and Comfort
Despite being better known as a cargo carrier, the E-Series Ford is equally adept at transporting people. Naturally, that includes catering to the driver and front-seat passenger with 42 inches of headroom—more than found in most full-size pickups—and premium comforts such as leather trimmed seating, a leather-wrapped steering wheel, and a six-way power-adjustable driver's seat. The second row also can be configured for comfort, with leather-trimmed captain's chairs, and it doesn't stop there. 
Ford additionally furnishes E-Series models with seating for 7, 8, 11, 12 and 15 passengers, across up to five rows. Two leather, two cloth and one vinyl interior theme are available, and so is a versatile Crew Van package. Engineered for mixed cargo/passenger usage, this configuration leverages two rows of seating for up to five occupants, then adds a separate rear cargo space, with a metal-mesh bulkhead dividing the two zones.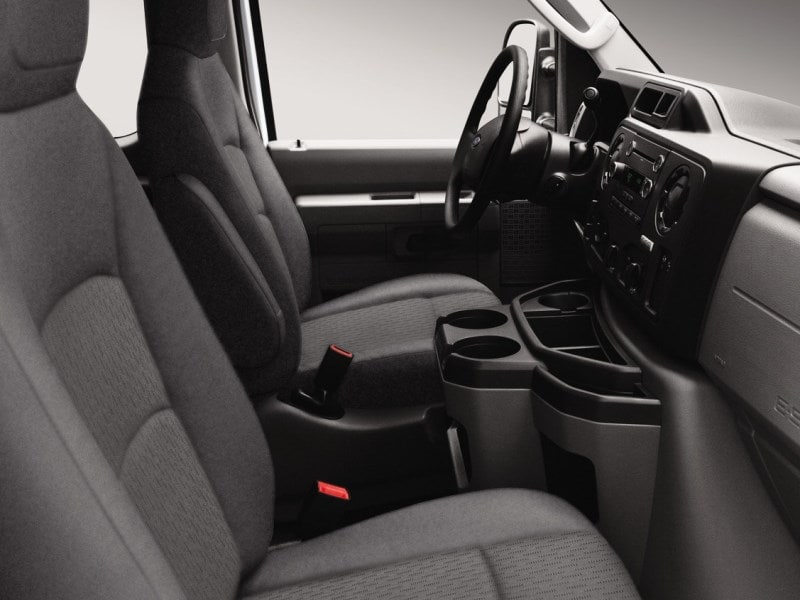 Perfectly Fit for Upfitting
Beyond the basics of the E-Series Ford, the Blue Oval provides numerous ways for owners to customize the vehicle for specific work applications. For instance, the company has numerous factory upfit packages incorporating fully installed shelving, drawers, cabinets, lockable bins and more, including packages tailored for general contractors, electrical contractors, appliance repair, plumbing and HVAC (heating, ventilating and air conditioning). With those bundles, owners can welcome ship-thru ladder racks, wire spool racks and tank racks, too. Moreover, there are four user-definable, pre-wired upfitter switches mounted on the instrument panel within comfortable reach of the driver; Ford also can modify the wiring beneath the hood of the E-Series for power take-off functionality. E-Series van-atics also should remember that all that's strictly from Ford. The independent aftermarket for the E-Series is backed by decades of experience with one of the best-selling vans of all time.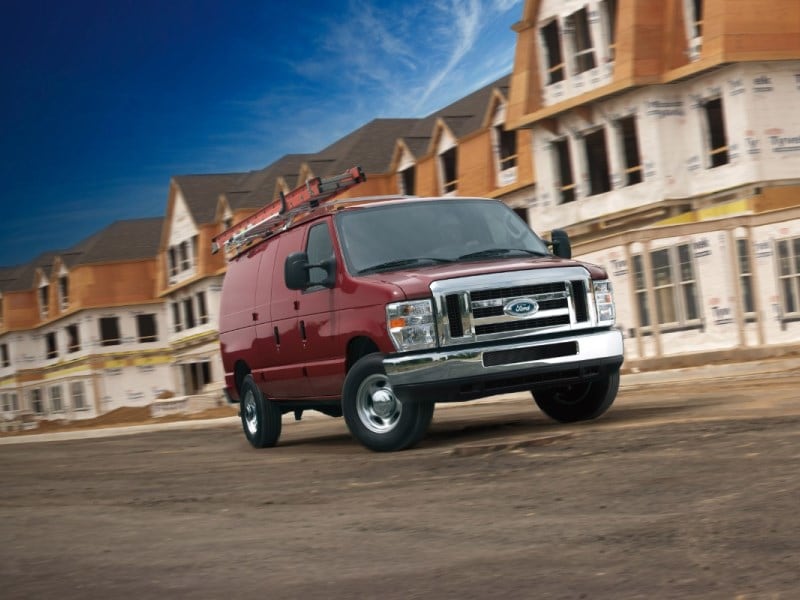 Made for Mobility
The E-Series Ford also deserves a shout-out for its commitment to the mobility market. As part of the automaker's official mobility initiative, the E-Series can be adapted to meet specialized requirements for all kinds of owners, thanks to available equipment like hand controllers, automatic door openers, power-assist seats, steering devices, dedicated restraints for wheelchairs, and many different lifts. It's also worth noting that Ford is eager to help here, offering assistance in finding qualified upfitters and vehicles, which include not just the E-Series, but also cars like the Fusion and Mustang. Indeed, the Blue Oval puts its money where its corporate mouth is by providing rebates and incentives for adaptive equipment. More information about Ford's extensive mobility efforts can be found here: www.FordMobilityMotoring.com.
Cut to the Cutaways
Finally, let's also acknowledge that for the E-Series Ford, the reports of its death have been slightly exaggerated. It's true that the E-Series van is on its way out, but three versions of the E-Series cutaway are still on the commercial menu for the 2016 model year. Cutaways, for the curious, are sold with full cabs but with stripped-down chassis from the bulkhead backward, so that owners can install different work packages for different kinds of jobs. Ford satisfies this demand with the 2016 E-350 in single- and dual-rear-wheel configurations, the E-450 kitted out with dual rear wheels, and factory prep packages for ambulances, motorhomes, school and shuttle buses, and other applications. Also in the mix are key benefits like SYNC and Ford Telematics technologies, and the standard and only engine is the big V10, for maximum capability combined with the ability to run on compressed natural gas or propane (when properly upgraded).