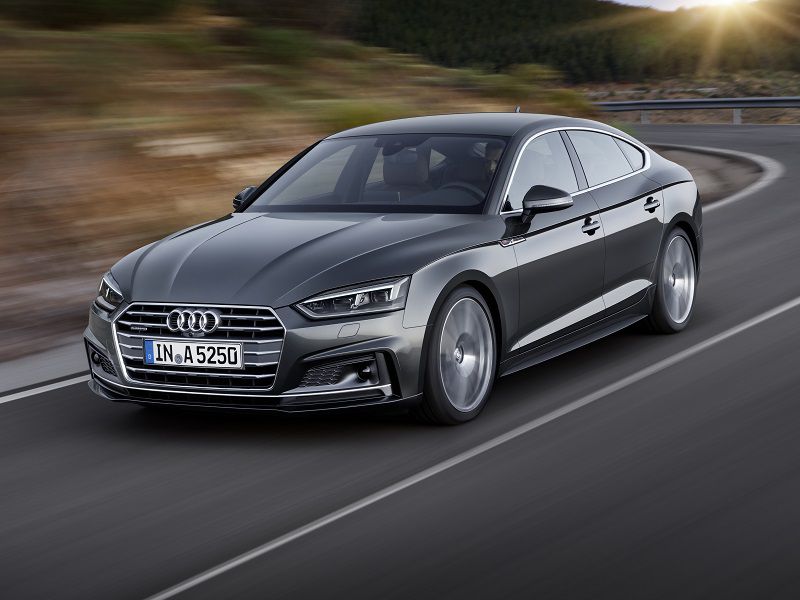 2019 Audi A5 Sportback Gray Front Three Quarter ・ Photo by Audi
Buying a reliable small car is an easy bet these days when you do your homework and pay attention to the basics. A little money goes a long way in 2019, with a list of standard features that'll knock your socks off. Choose a proven ride, and you'll have a splendid relationship with a minimum amount of trouble, as long as you follow the regular maintenance schedule.
Our list of the most reliable small cars relies on results from the J.D. Power 2019 Vehicle Dependability Study (VDS), which focused on 2016 models after three years of service. We've included the top 10 small cars with the strongest recent history of reliability, across a range of classes and prices.
2019 Chevrolet Sonic
The subcompact 2019 Chevrolet Sonic returns to the list of the most reliable small cars, capturing the top spot over the competing Hyundai Accent and Nissan Versa, as Chevrolet moves up two spots to fourth on the brand list. The rise in General Motors reliability is a brilliant achievement that flies in the face of those who continue to doubt the quality of American vehicles.
The Sonic features a spunky 138-horsepower 1.4-liter turbocharged four-cylinder engine, with the choice of four-door sedan and five-door hatchback models. The base LS sedan starts at $15,420, while the hatch starts at $18,020. A Wi-Fi hotspot is standard, along with Apple CarPlay and Android Auto smartphone integration. Factory options include a sport suspension and exhaust system.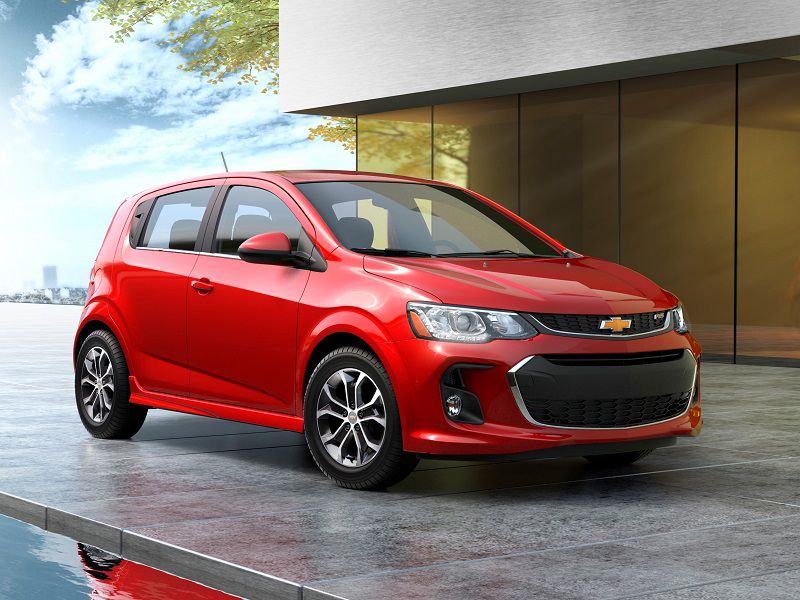 Photo by Chevrolet
2019 Hyundai Accent
The 2019 Hyundai Accent is new to the list, as it rides the corporate wave, with a continued strong showing from Hyundai overall. The Accent starts at just $14,995 for the base SE model and represents an excellent value, not only for reliability but for safety features as well. The Insurance Institute for Highway Safety rates the 2019 Hyundai Accent a Top Safety Pick when fitted with optional front-crash prevention technology and specific headlights in the Limited trim level ($19,080).
Apple CarPlay and Android Auto are standard in the SEL ($16,345) and Limited. All trim levels are equipped with a 138-horsepower naturally aspirated 1.6-liter four-cylinder. The Accent is affordable and dependable, with attractive styling that rises far above its sticker price.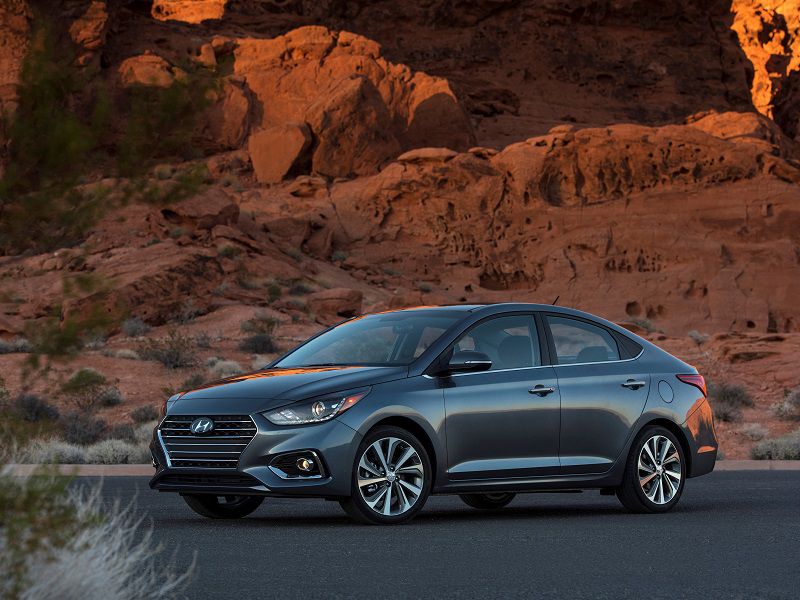 2019 Nissan Versa
The 2019 Nissan Versa sedan lands on the list of most reliable small cars once again, a feat all the more remarkable considering its starting MSRP of just $12,460 for the base Versa S trim level with a five-speed manual transmission.
Of course, the base model lacks many things we take for granted (like power windows and locks, along with cruise control), but if you need dependable transportation on an extremely tight budget, it's well worth a look. Step up to the range-topping Versa SV Special Edition ($16,890) to gain alloy wheels, fog lights, and Apple CarPlay and Android Auto. All models share a 109-horsepower naturally-aspirated 1.6-liter four.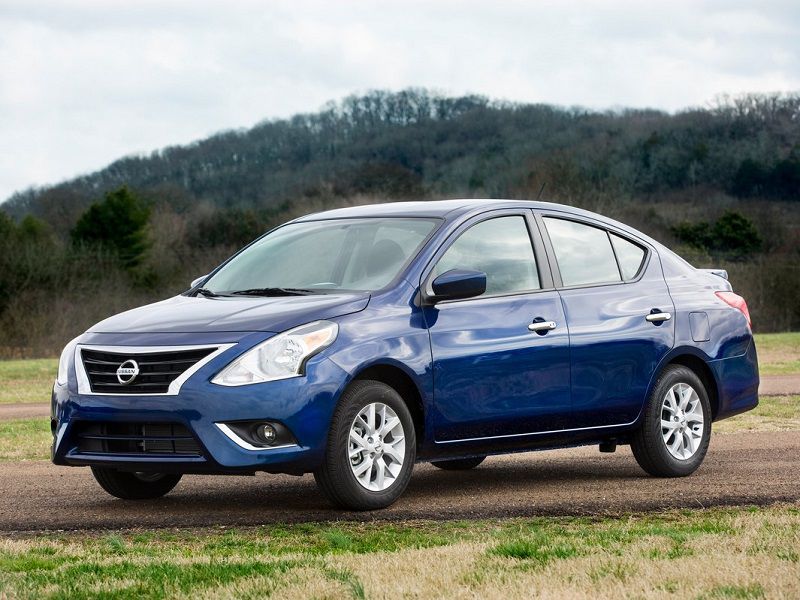 Photo by Nissan
2019/2020 Toyota Corolla
Toyota is the highest ranked mass-market brand when it comes to dependability, with a legendary record of reliability, so it's not surprising that the compact Corolla is one of the 10 most reliable small cars for 2019. The company is shaking things up with a redesigned 2019 Corolla five-door hatchback ($19,990) and 2020 Corolla four-door sedan ($19,500) that's already on dealer lots. There's also first-ever Corolla Hybrid sedan ($22,950), with an EPA-estimated 53 mpg city / 52 mpg highway.
These are the slickest Corollas to ever hit the street, and the safest, too. The Toyota Safety Sense 2.0 package comes standard on every new Corolla, with an impressive list of technology. The Insurance Institute for Highway Safety rates the 2019 Toyota Corolla Hatchback a Top Safety Pick when equipped with specific headlights.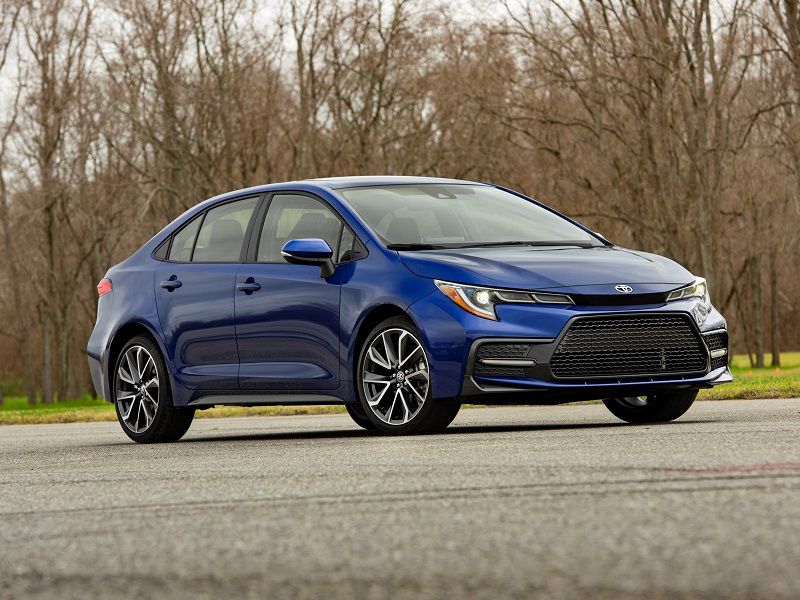 Photo by Toyota
2019 Chevrolet Cruze
Looking for a solid deal? The 2019 Chevrolet Cruze is a compelling choice, with compact four-door sedan and five-door hatchback variants. An optional 1.6-liter turbodiesel engine delivers 31 mpg city / 48 mpg highway, making the Cruze the most fuel-efficient entry on our list of reliable small cars on the open road. (The base 1.4-liter turbocharged engine delivers 30 city / 38 highway.)
Sadly, the 2019 model year will be your last opportunity to buy a brand-new Chevrolet Cruze in America, as General Motors has ended production at the Lordstown, Ohio manufacturing plant which built the Cruze domestically. The Cruze will stay in production in China and Argentina, however. If gas prices continue to rise and consumer preferences change, it might return to our shores.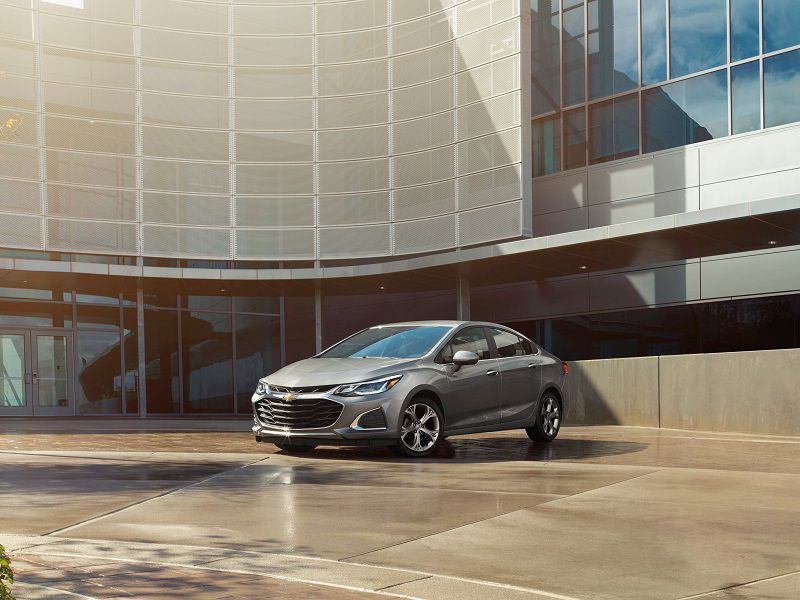 2019 MINI Cooper
The MINI Cooper captures a top spot at the highest ranked compact sporty car for reliability, which might be a surprise to some, considering MINI's history. Dependability is up significantly at MINI, however, with the company rising from below industry average in 2018 to land in the sixth spot overall in J.D. Power's brand ranking.
MINIs are anything but one size fits all. An extensive list of trim and option choices allow owners to do something different. Retro styling, go-cart handling, ease of parking, and a remarkably roomy cabin make the MINI Cooper an excellent choice for the city, suburbs, and countryside alike.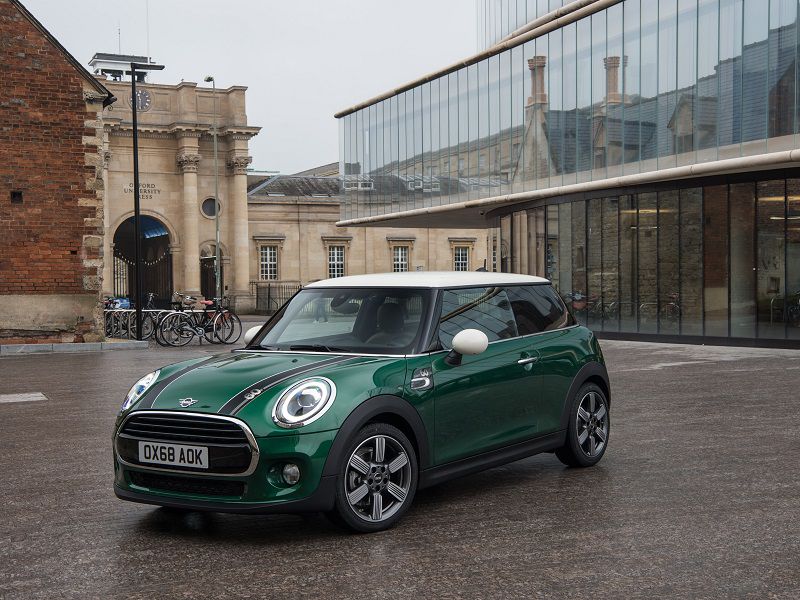 2019 Mazda MX-5 Miata
For those hankering to drop the top and mash the gears on a spirited run down a twisty road, the Mazda MX-5 Miata is always near the top of the list, whether you choose the soft-top convertible or "retractable fastback" RF model. A starting MSRP of $25,730 makes the Miata ragtop quite the compelling buy and the stunning RF at $32,345 a bargain-basement exotic.
Rewarding to drive? That's core to the Mazda DNA. Reliability is the icing on the cake, with a naturally aspirated 2.0-liter Skyactiv four delivering 181 horsepower, sans any turbocharger worries. Affordable rear-wheel drive roadsters are a rarity these days. We hope the Miata will always stick around (with a manual transmission, of course).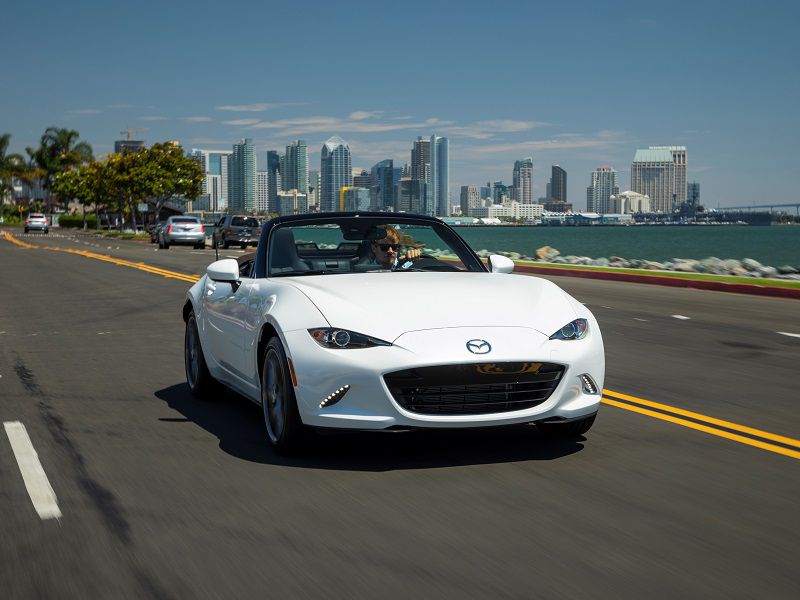 Photo by Mazda
2020 Kia Soul
The boxy Kia Soul returns to the list of the most reliable small cars, earning the top spot for compact multi-purpose vehicle (MPV) with an eye-catching redesign for 2020. You don't have to be a 6-foot-tall hamster to appreciate the Soul's roomy interior and generous cargo capacity. When it's time for that monthly trek to Costco, the Soul will handle nearly anything you throw at it.
A starting price of just $17,490 for the base Soul LX makes it one of the best bargains on four wheels. All trim levels are fitted with a 147-horsepower naturally aspirated 2.0-liter engine, except for the top-of-range GT Line Turbo, which sports a 201-hp turbocharged 1.6-liter engine. The Insurance Institute for Highway Safety rates the 2019 Kia Soul a Top Safety Pick when equipped with optional front crash prevention and specific headlights, though the redesigned 2020 model hasn't yet been tested.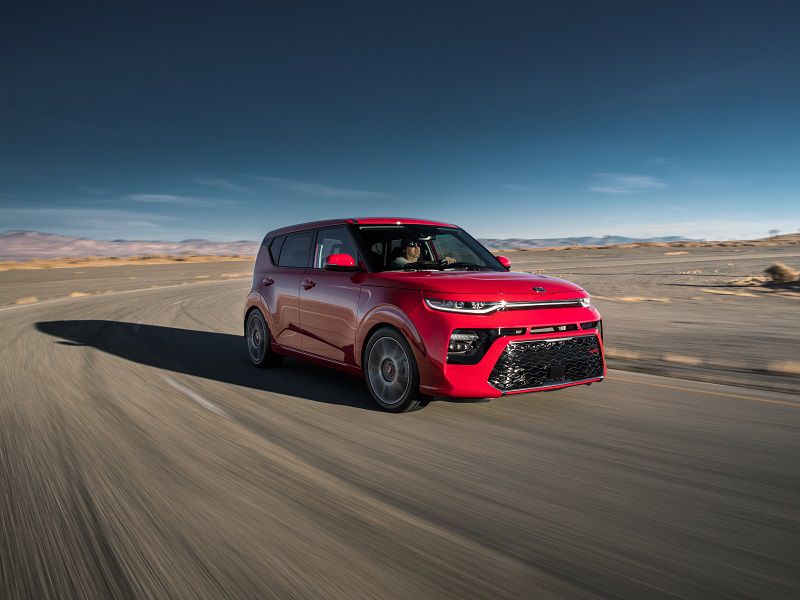 Photo by Kia
2019 Lexus ES
It comes as no surprise that the Lexus ES sedan makes a repeat performance as the most dependable compact premium car, as Lexus reigns as the most reliable brand in the J.D. Power Vehicle Dependability Study eight years running. The 2019 ES benefits from a stunning redesign along with Apple CarPlay (at long last) and is offered in seven trim levels, including the brand new ES F-Sport.
The base model starts at $39,600. Opt for the ES 300h Hybrid's ($41,410) brilliant combination of luxury, technology, and fuel-efficiency, with an EPA rating of 43 mpg city / 45 mpg highway. The 2019 Lexus ES earns the Insurance Institute for Highway Safety's Top Safety Pick+ award when equipped with specific headlights.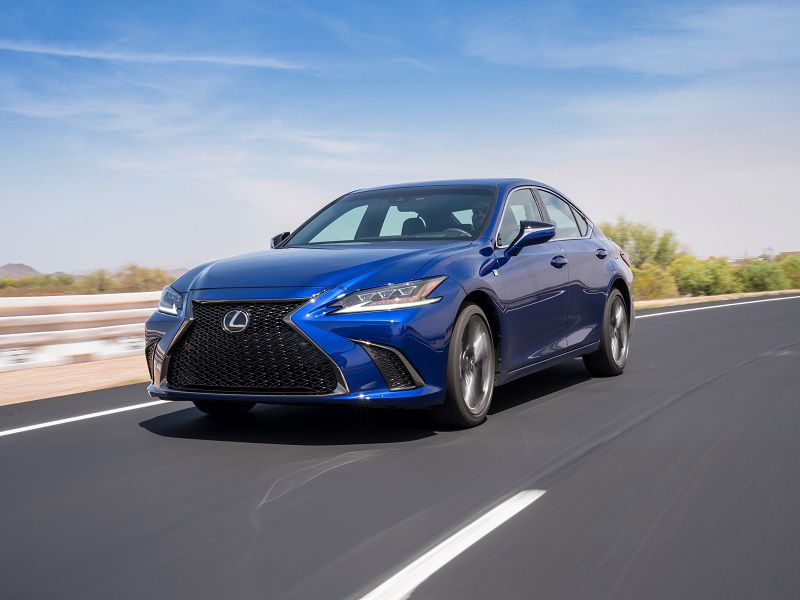 2019 Audi A5
In the battle for the most dependable premium compact, the 2019 Audi A5 lineup (a coupe, convertible, and five-door liftback) slots in behind the Lexus ES and ahead of its own A4 sedan stablemate.
The A5's stunning windswept exterior, standard Quattro all-wheel-drive, and the Audi Virtual Cockpit digital dashboard set it apart from the crowd. The base A5 Premium ($44,200) includes Apple CarPlay and Android Auto support. You'll need to opt for the mid-level Premium Plus ($48,600) or Prestige ($52,300) trim levels to gain the Virtual Cockpit. Prestige adds all the bells and whistles, including a heads-up display and a 755-watt 19-speaker Bang & Olufsen sound system.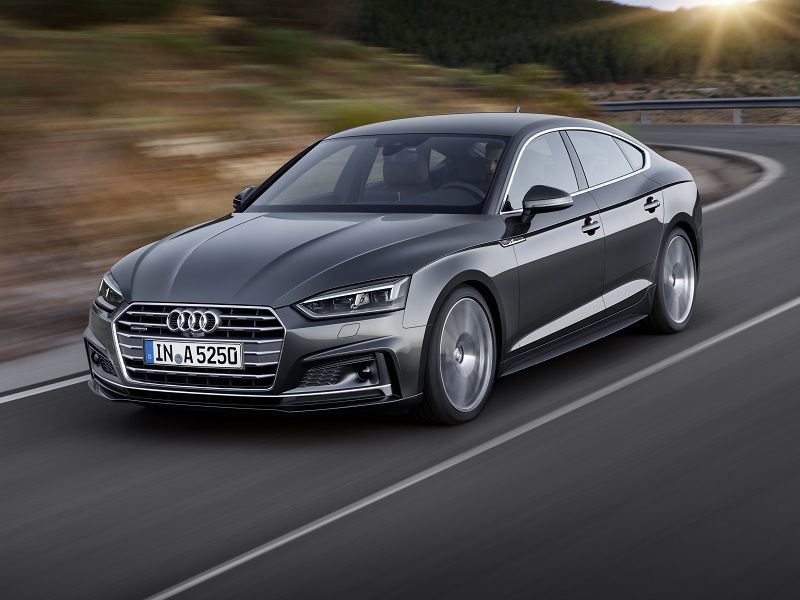 Photo by Audi