Jaguar F-Type Convertible exterior rear angle on road ・ Photo by Jaguar Land Rover
Sports cars are great, and enjoying all that power in the open air might be one of the only known ways to improve on the situation. As much as a sports car conveys a position of power and prestige, having the option to open the roof heightens the experience. People who are shopping for the most powerful, most expensive cars probably aren't concerned about practicality, but there's something about buying a car that can't be fully enjoyed except in optimal climate conditions. Either you don't care that this fabulously expensive item can't be used all the time, or, you live somewhere that it can. Plenty of luxury cars and sports cars come as convertibles, while others are only available as a drop top. Let's take a look at some of the most powerful convertibles available for the 2016 model year.
1) 2016 Audi R8 Spyder V10
(2015 Audi R8 Spyder pictured; official photos of the 2016 model are not yet available.)
The Audi R8, which is based on the Lamborghini Gallardo, has a reputation as one of the most easy-to-drive exotic cars available. The 2016 Audi R8 is revised for this model year and all versions gain updated styling, although Audi stayed true to the spirit of the previous generation. In other words, the new and improved R8 won't alienate old fans. LED headlights and an updated grille distinguish the front, but most visible changes took place in the cabin. Only the coupe version of the 2016 R8 is available at launch, but for maximum enjoyment, wait for the 2016 R8 Spyder V10 to be released later this year. This drop-top version of the R8 borrows a 540-horsepower 5.2-liter V-10 engine from Lamborghini and is capable of achieving the 0-to-60 sprint in just four seconds.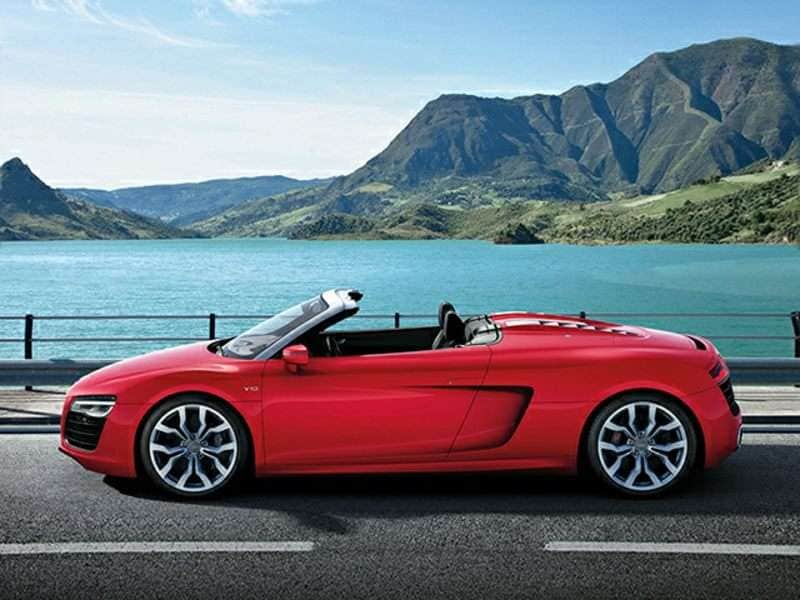 2) 2016 Jaguar F-TYPE R
Jaguar's F-TYPE R convertible provides all of the brand's best attributes in an exciting open-air package. The 2016 Jaguar F-TYPE R yields 550 horsepower courtesy of its 5.0-liter supercharged V-8, and though most of the car is modern and futuristic, a simple six-speed manual transmission is a welcome and appreciated gesture. All-wheel drive keeps the F-TYPE R firmly planted and a host of electronic drivability enhancements provide a customized ride. These features include systems such as instinctive cruise control, configurable dynamic mode, and an active differential. For extra aerodynamic benefits, Jaguar used touches such as sleek and stylish retractable flush-mounted door handles. Switchable sport exhaust lets the driver play with the auditory note, and a host of safety features ensures the Jaguar comes to a stop as well as it takes off.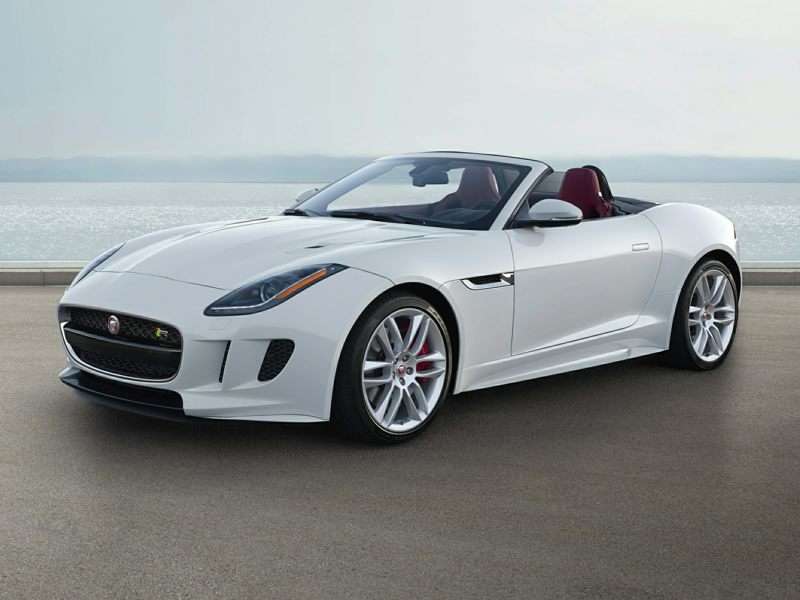 Photo by Jaguar
3) 2016 BMW M6
The 2016 BMW M6 convertible pumps out 560 horsepower and 500 lb-ft of torque. It's a good thing these numbers are impressive, because although the M6 was just revised for this model year, the technical specs have carried over from 2015. That's fine, because when a twin-turbo 4.4-liter V-8 puts all its power to the rear wheels, most drivers would already be testing their limits. The V-8 is paired to a seven-speed dual clutch transmission, which helps propel the 'vert to 60 mph in just under four seconds. Speed is electronically limited to 155 mph, although the drivetrain is actually capable of much more. Potential buyers who are considering a 2016 BMW M6 should note that although the power is the same as 2015, the updated model offers updated styling and a more generous menu of equipment.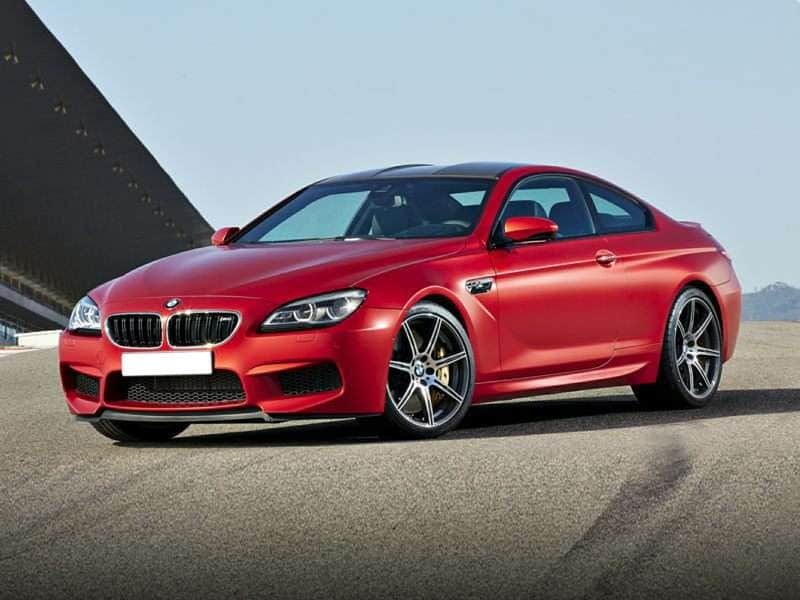 Photo by BMW
4) 2015 Aston Martin Vanquish Volante
The 2015 Aston Martin Vanquish Volante can attribute its top-ten performance specs to its light weight and massive engine, which is a time-tested recipe for an impressive car. What we have here is an already-noteworthy Vanquish with a convertible roof (where the "Volante" comes from) and it's got a few exclusive perks, such as an all-new eight-speed automatic transmission that actually helps the Vanquish Volante achieve faster speeds than the manual unit found in other Aston Martin vehicles. Aston Martin also took care to ensure the convertible roof didn't sacrifice any of the Vanquish's structural integrity, thus providing perfect handling on par with the coupe. Boasting 568 horsepower and 465 lb-ft of torque from a 5.9-liter V-12 engine, the Aston Martin DBS Volante is capable of a top speed in the range of 201 mph.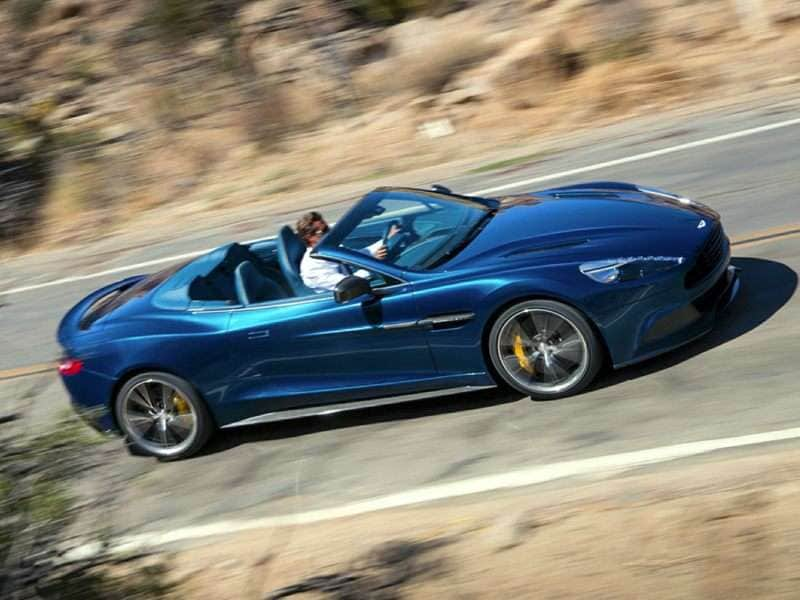 5) 2016 Mercedes-Benz SL65 AMG
Mercedes-Benz is good at building very nice sedans and SUVs and even a station wagon every now and then. When a Mercedes-Benz model takes on an AMG badge, to represent the company's tuning partner, the result is usually outstanding. The 2016 Mercedes-Benz SL65 AMG uses a Mercedes-Benz SL65 hardtop convertible, already top-of-the-line, as the basis for a hand-built pure sports car. The 2016 SL65 AMG is motivated by a biturbo 6.0-liter V-12 engine that makes 621 horsepower and 738 lb-ft of torque, sent to the rear wheels with the aid of a seven-speed automatic gearbox. The 2016 Mercedes-Benz SL65 AMG isn't one of the most exotic cars on this list, and a casual observer may easily confuse it for the more common SL65, but exclusive taste must be cultivated.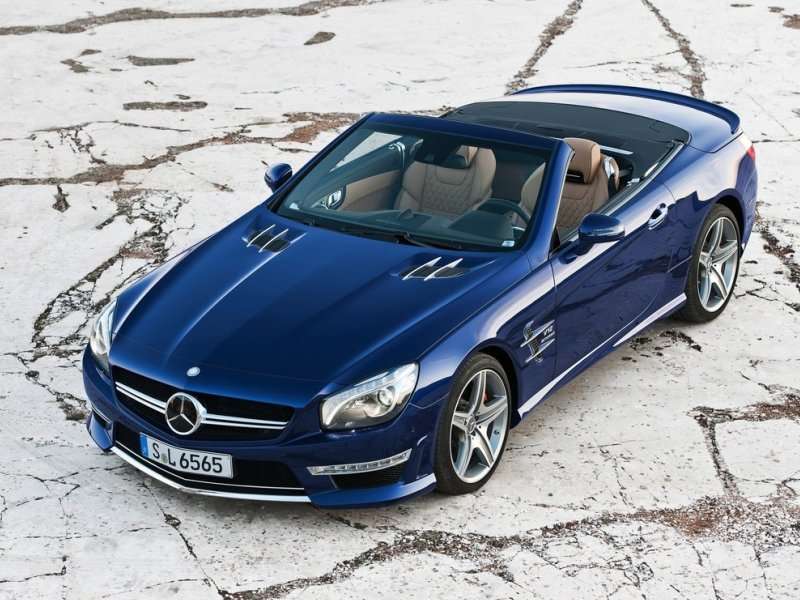 6) 2016 Bentley Continental GT Speed Convertible
It takes quite a car to achieve recognition as one of the fastest convertibles in the world, as well as one of the most luxurious. The 2016 Bentley Continental GT Speed Convertible is quite a car, indeed. Like the regular Bentley Continental GT Speed, which is like an insanely glitzy hotel lobby packed into a very large and very fast coupe, the Continental GT Speed Convertible specializes in offering things that many people wouldn't even know that they want. However, most car buyers want to go fast, and the 2016 Bentley Continental GT Speed Convertible does that quite well, thanks to a twin-turbocharged 6.0-liter 12-cylinder engine that produces 626 horsepower and 685 lb-ft of torque. Despite the Continental GT Speed Convertible's considerable heft, the eight-speed automatic transmission helps achieve a four-second 0-60 sprint time.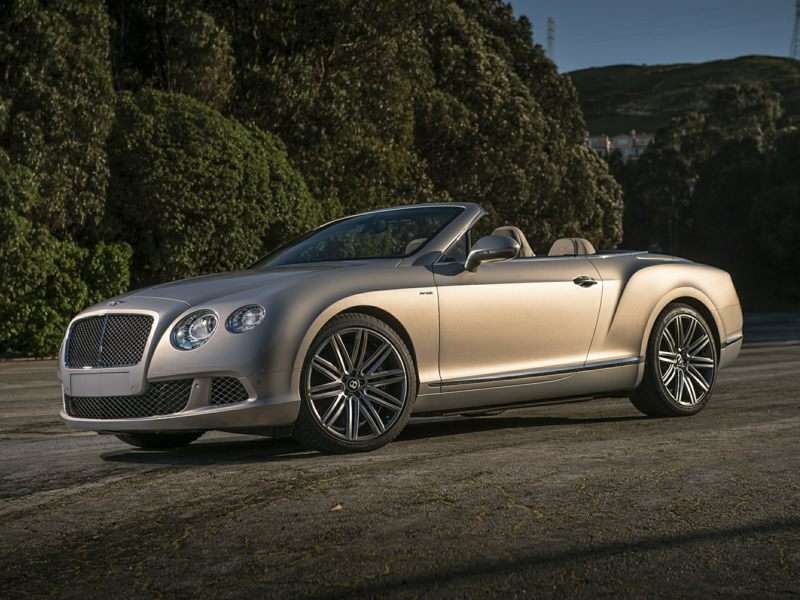 7) 2016 Chevrolet Corvette Z06
Chevrolet's Corvette Z06 has definitely and impressively earned a place as the exclusive domestic vehicle on this standout list of imported performance convertibles. That's thanks to the 2016 Chevy Corvette Z06 convertible, which marks the first time in recent memory that the most powerful available Corvette has been available in convertible form. Chevrolet markets the Corvette as a muscle car that offers something for almost everyone, and it's true that the basic Corvette comes nowhere near the rarefied air shared by most of the cars on this list. That said, the 2016 Corvette Z06 has exclusive styling and a lot of additional features. The 650-horsepower supercharged V-8 displaces 6.2 liters and makes 650 lb-ft of torque, fed to the rear wheels through a seven-speed manual or an eight-speed automatic gearbox. Zero to 60 is achieved in three seconds.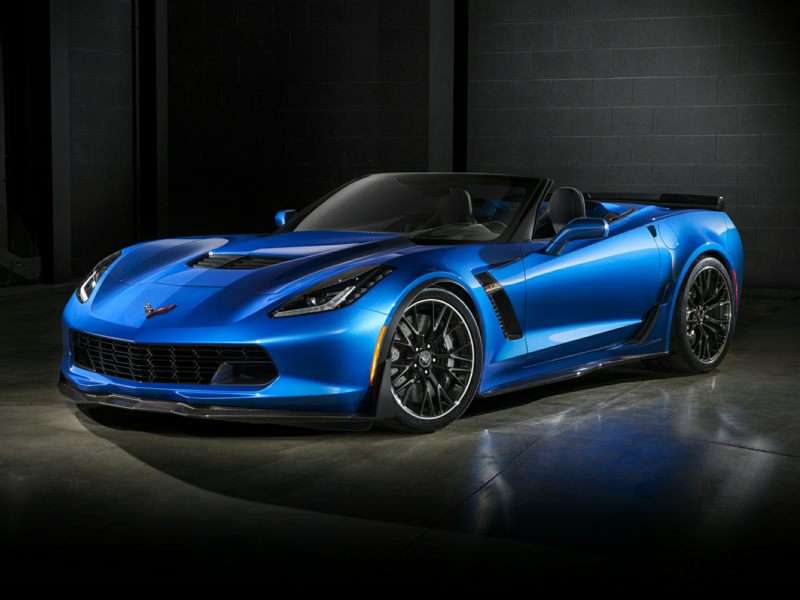 8) 2016 Ferrari 488 Spider
The 2016 Ferrari 488 Spider doesn't look much different than the 488GTB coupe, but this convertible's retractable hardtop is deceiving. Retractable hardtops are known for adding unwanted weight (they're bulkier than fixed-roof material and require a considerable amount of extra machinery, although Ferrari claims this hardtop is lighter than a soft top version would be). The 488 was lightweight to begin with, though, so it's okay. The 2016 Ferrari 488 Spider is powered by a 3.9-liter twin-turbo V-8 that provides 661 horsepower and 561 lb-ft of torque, paired to a dual-clutch seven-speed automatic transmission. The 488GTB coupe, with its identical drivetrain, can hit the 60-mph mark from a stop in just three seconds flat, and the Spider should achieve a similar feat. On, and that heavy hardtop? It opens in just 14 seconds.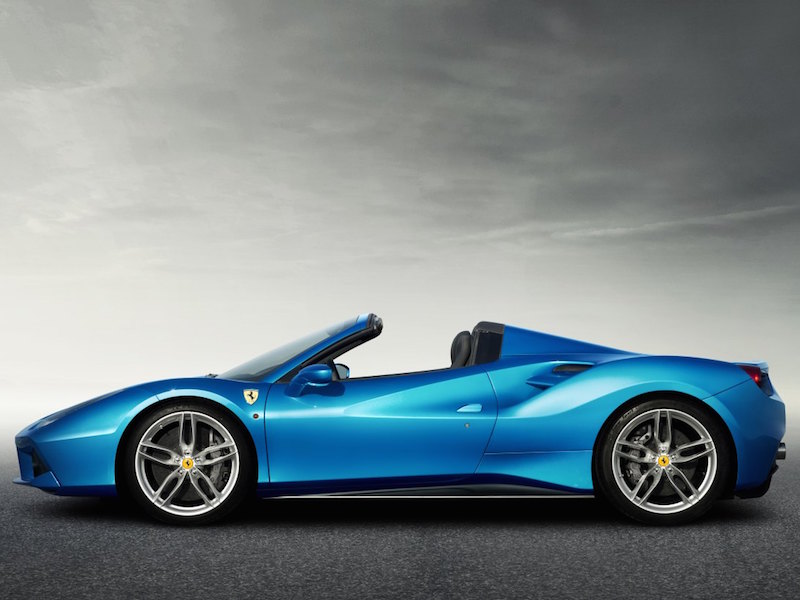 Photo by Ferrari
9) 2016 Lamborghini Aventador SV Roadster
Remember way back at the beginning of this list, when we talked about the Audi R8 Spyder's relationship to the Lamborghini Aventador? Well, here it is, although we couldn't go with just any Aventador, of course. Here we have the 2016 Lamborghini Aventador SV Roadster, which disregards the V-10 it shares with its Audi cousin in favor of a 6.5-liter V-12 that makes 740 horsepower and 509 lb-ft of torque, and is paired to a seven-speed automated manual transmission. The 2016 Aventador SV Roadster is all-wheel drive and seats two lucky passengers. It's worth noting, too, that the regular Aventador SV, with its top speed of 217 mph, weights 110 pounds more than the Roadster — usually the opposite is true, and it may benefit the Roadster's performance. Lamborgini plans to make just 500 examples of the Aventador SV Roadster.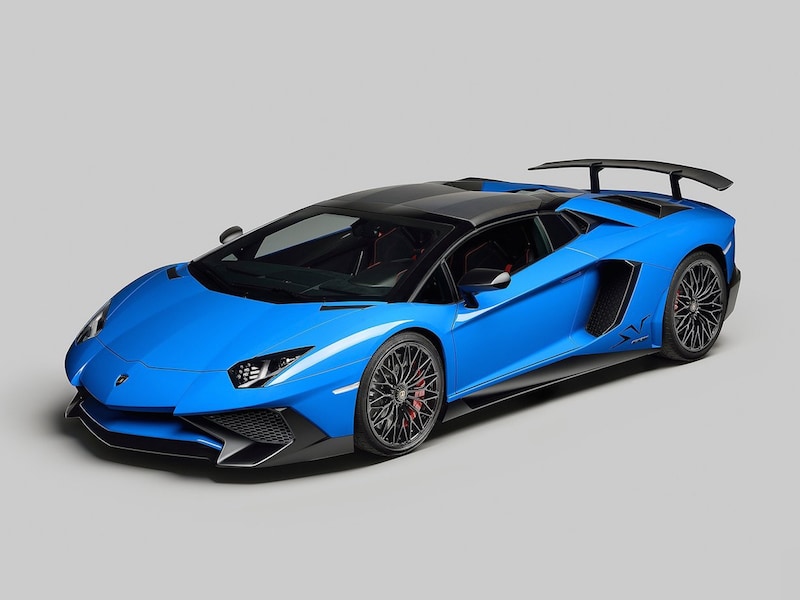 Photo by Bugatti
10) 2016 Bugatti Veyron Grand Sport Vitesse La Finale
For your consideration, the 2016 Bugatti Veyron Grand Sport Vitesse La Finale, the fastest convertible in the world. If you don't speak Bugatti, the important parts are that it's an 1138-horsepower Veyron. And it's one of a kind because it's the final Veyron Bugatti will ever build. Of course, it's sold already, but so it goes. This Veyron gets from the starting line to 60 mph in less than two and a half seconds, courtesy of its 8.0-liter W-12 engine that's boosted by four turbochargers and supported by four fuel pumps. A seven-speed transmission and all-wheel drive round out the Veyron Grand Sport Vitesse La Finale's drivetrain. Bugatti programmed the Veyron to hit up to 255 mph with the convertible top closed and a bit less when it's open, but even 233 mph in open air sounds like plenty.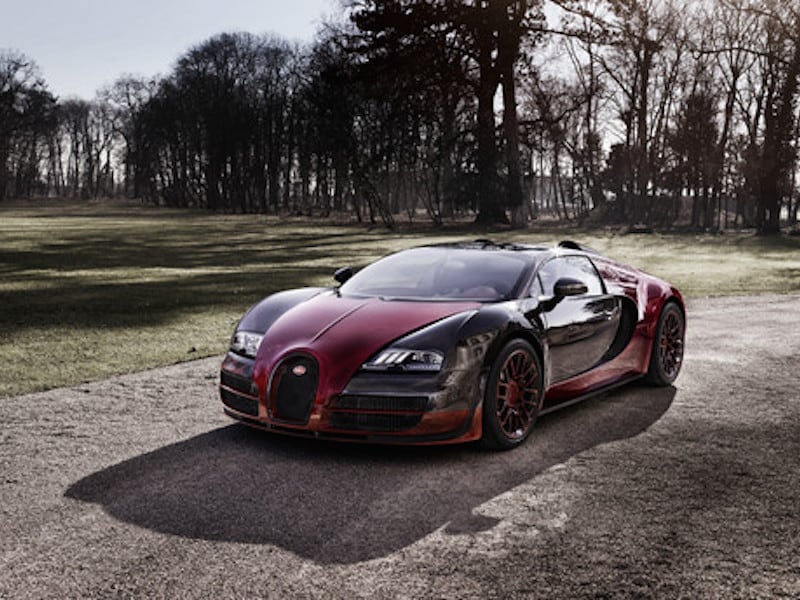 Photo by Bugatti