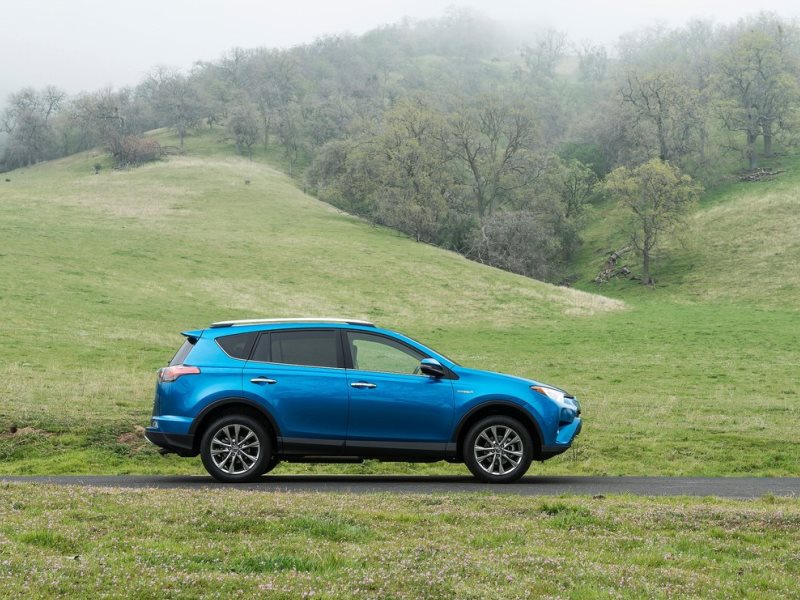 Even as the average transaction cost for a new vehicle now tops $33,000, there are still quite a few good bargains available for well under that mark. For example, the most economical SUVs in the country all have MSRPs of less than $21,000, and most of them are fairly economical when it comes to fuel costs, too. As a result, these choices combine versatility and value in a way few other vehicles can.
Honda HR-V
The most economical SUVs do tend to be the smallest, yet the 2016 Honda HR-V—despite a footprint that's just 9 inches longer than that of the Honda Fit—can handle up to 58.8 cubic feet of cargo with its rear seats folded down. More important for our purposes, though, is that the HR-V is priced from a mere $19,115, complete with everything owners need for their daily-driving duties. Thus, standard equipment includes a multi-view rear camera, Bluetooth for handsfree calling and audio streaming, filtered air conditioning with rear-seat heater ducts, a multi-function steering wheel, and a 160-watt audio system with four speakers and USB connectivity. The HR-V also provides thrifty fuel economy grades of up to 28 mpg city/35 mpg highway/31 mpg combined, and at that rate, this compact crossover also saves owners some $350 per year in annual fuel costs (compared to the average new vehicle).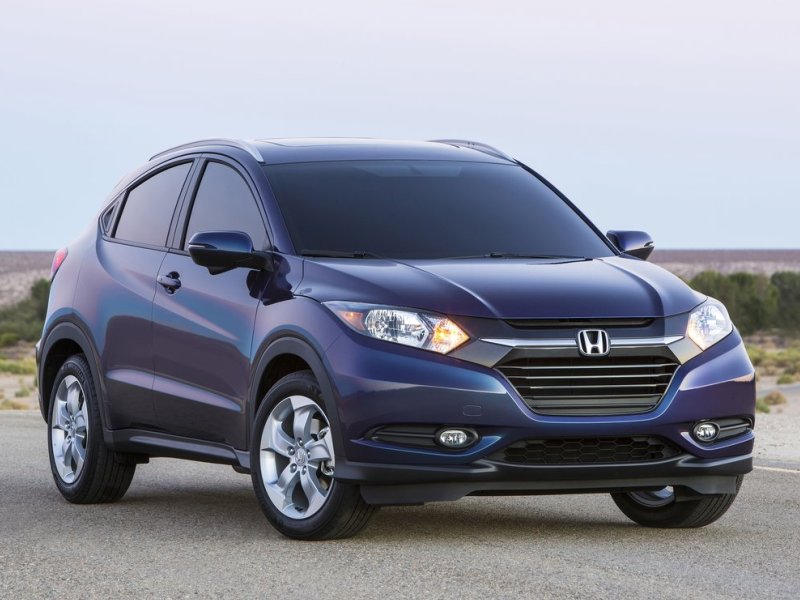 Photo by Honda
Chevrolet Trax
While the 2016 Chevrolet Trax truly distinguishes itself in the technology department, thanks to its standard three-month/3-gigabyte data trial for OnStar's 4G LTE connectivity and mobile wi-fi hotspot. But even with that significant customer advantage, the Trax remains one of the most economical crossovers in the marketplace. Consider: The vehicle's starting sticker price is $20,300, and that includes not only the just-mentioned tech benefits but also a Chevy MyLink infotainment setup, a 7-inch touchscreen, a rearview camera, a climate system with in-cabin air filter and rear-seat heat vents, and a powerful 1.4-liter turbo engine. That unit delivers 138 hp and 148 lb.-ft. of torque for a significant increase in twisting power as compared to its naturally aspirated rivals. At the same time, the Trax is backed by a standard six-speed automatic transmission for EPA ratings of 26 mpg city/34 mpg highway/29 mpg combined.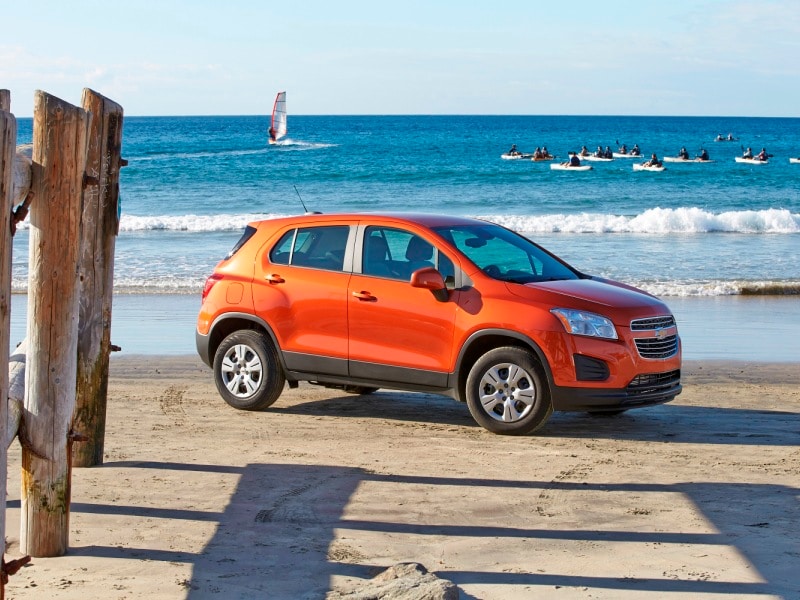 Mazda CX-3
The 2016 Mazda CX-3 serves up the athletic proportions—and driving experience—that one expects from the Zoom-zoom brand, but it's also unexpectedly economical. Indeed, the price of admission to the CX-3 roster is $19,960, and its stellar fuel-efficiency numbers come with relatively brisk performance. The difference-maker here is the CX-3's 2.0-liter, four-cylinder engine, since it supplies outputs of 146 hp and 146 lb.-ft. of torque, but it's also good for EPA grades of 29 mpg city/35 mpg highway/31 mpg combined. As for the interior of the CX-3, that's good for hauling both people and gear: Premium cloth seating is standard, and with the 60/40 split rear seats both folded, there's 44.5 cubic feet of cargo space. Moreover, like its rivals, the CX-5 furnishes a high level of standard content that ranges from a MazdaConnect infotainment system to a six-speaker, USB-enabled audio system to push-button start.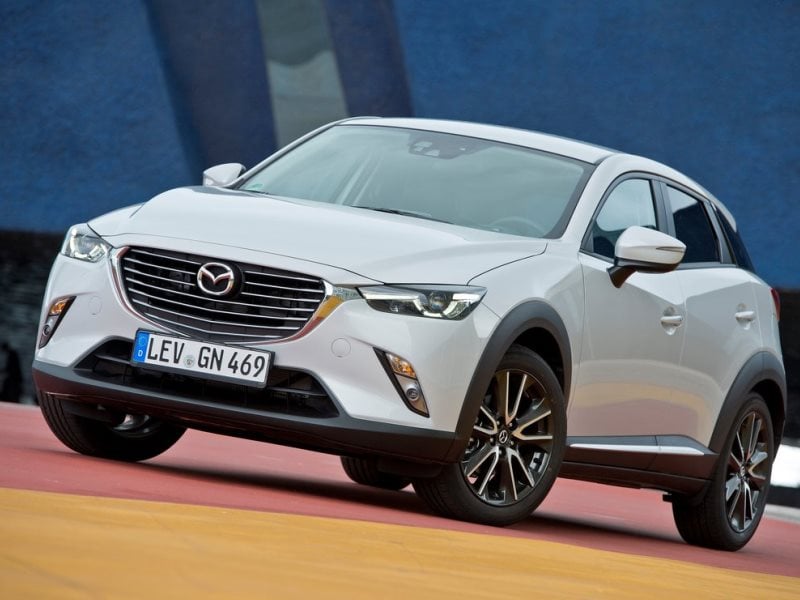 Jeep Patriot
For vehicle buyers on a strict budget, the 2016 Jeep Patriot is the "best-priced SUV in America," according to its brand—and with an MSRP of $17,295, it's one of the most economical SUVs in America as well. That's because even though Jeep does offer a trail-rated, four-wheel-drive Patriot with all the brand's expected capability, the entry model is in a more fuel-friendly front-wheel-drive configuration that can return EPA scores of 23 mpg city/30 mpg highway/26 mpg combined. Further, for 2016, the lineup's leadoff hitter adds Uconnect hands-free technology to go with already standard content such as premium cloth bucket seats, four-speaker audio, rear-seat heat ducts, fog lamps and roof rails. The Patriot also rates highly for cargo, with 63.4 cubic feet of space available behind the front seats. Shoppers should be forewarned, however, that air conditioning isn't standard here, and neither are power locks, windows or outside mirrors.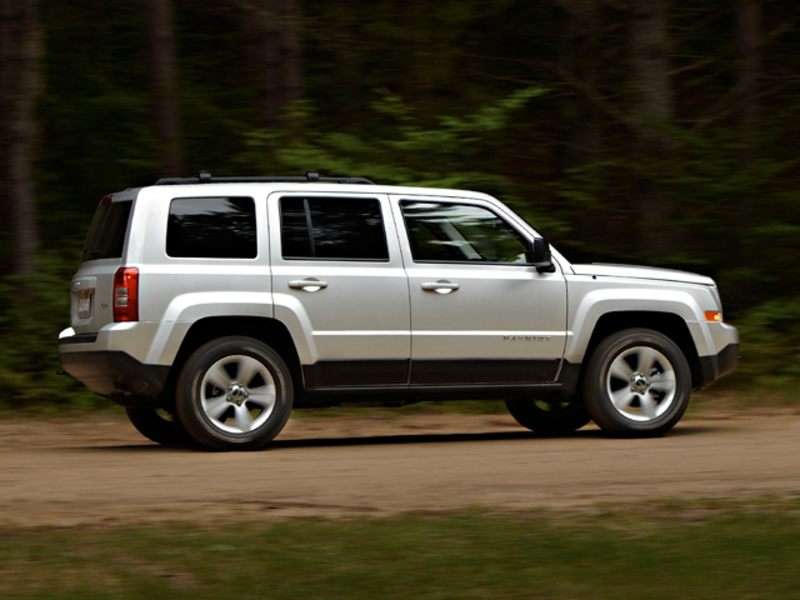 Jeep Renegade
A little smaller than the Jeep Patriot, and a bit more expensive, the 2016 Jeep Renegade also happens to be a lot newer. In fact, the thoroughly modern Renegade made its debut for the 2015 model year as the brand's next-gen subcompact SUV. But despite its more refined ownership experience, the Renegade qualifies as one of the most economical SUVs at least partly by staying air-conditioning-free at its starting price of $17,995.
What owners do receive are items like power windows, USB-enabled audio with steering-wheel-mounted controls, a height-adjustable cargo floor and a capless fuel-filler system. In terms of fuel costs, the Renegade offers two engines capable of 31 mpg. Standard is a 1.4-liter turbo with a six-speed manual transmission, 160 hp and 184 lb.-ft. of torque; the alternate powertrain pairs a naturally aspirated 2.4-liter unit with a nine-speed automatic for 180 hp and 175 lb.-ft. of torque.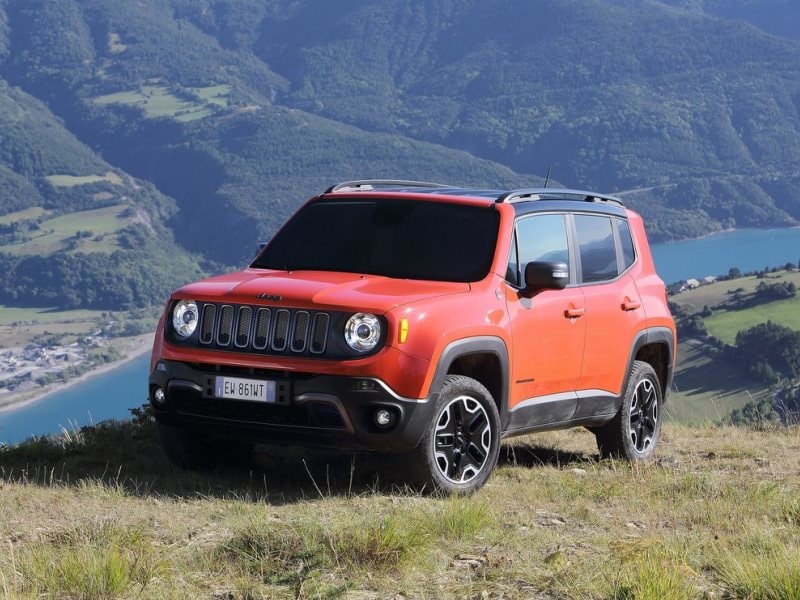 Photo by Jeep
Fiat 500X
The 2016 FIAT 500X leverages the same basic platform as the new Jeep Renegade, but there's not much else basic about it. After all, the 500X features Fiat's signature approach to styling, albeit highlighted by the rugged design cues of a modern-day crossover. True, "economical" may not be the first word you think of when you think of Fiat, but with an MSRP of $20,000, the 500X easily represents one of the most economical SUVs currently available to customers. It's also worth noting that, although they share the same powertrains, the Fiat is more fuel-efficient than its Jeep cousin, capping off its EPA marks with a standard line of 25 mpg city/34 mpg highway/28 mpg combined. Nor do folks have to sacrifice standard content with the 500X, as it comes fresh from the factory with air conditioning, USB-enabled audio with steering-wheel controls, power windows, heated outside mirrors and more.
Dodge Journey
Customers looking for the most economical SUVs can still choose from a number of old-school entries that trade off some next-gen refinements for current value. Take the 2016 Dodge Journey: Although its underpinnings are a bit long in the tooth by automotive standards, the Journey is positioned as the most affordable crossover in the United States, and Dodge squeezes out even more value for the 2016 model year. Yes, the starting price of a Journey does rise by $200, but the new MSRP of $20,895 is for a Journey SE, instead for the now-discontinued AVP edition. And compared to last year's SE, this year's is $2,600 cheaper, with no loss of standard content. That means owners enjoy dual-zone air conditioning, power locks/windows/heated mirrors, six-speaker touchscreen audio with remote USB port, push-button start, and 17-inch wheels. On the versatility front, the Journey showcases 67.6 cubic feet of cargo space.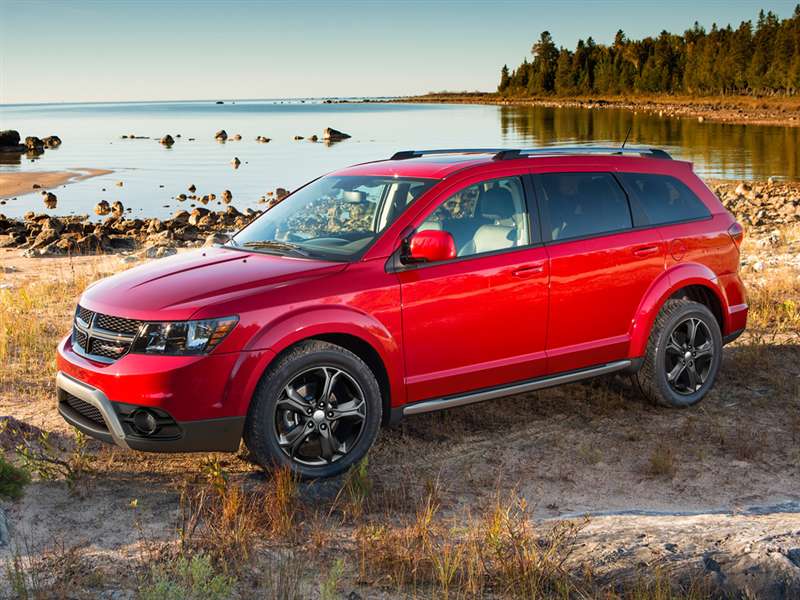 Nissan Rogue Select
With the next-gen Nissan Rogue firmly established as the brand's top small crossover, it can be easy to forget that the previous generation was pretty good, too—and that it's also still on sale as the 2015 Nissan Rogue Select. Priced from $20,150, the Rogue Select is $2,890 less expensive than the Rogue proper, as well as $100 less than the much smaller Nissan Juke. Additionally, the Rogue Select is equipped as a credible daily driver right out of the box, providing a/c, four-speaker audio with an iPod interface, keyless entry, and power windows, door locks and exterior mirrors. Where the Rogue Select does show its age somewhat is at the fuel pumps, where its EPA ratings of 23 mpg city/28 mpg highway/25 mpg combined compare to a line of 26 mpg city/33 mpg highway/28 mpg combined for the more up-to-date powertrain of the Rogue.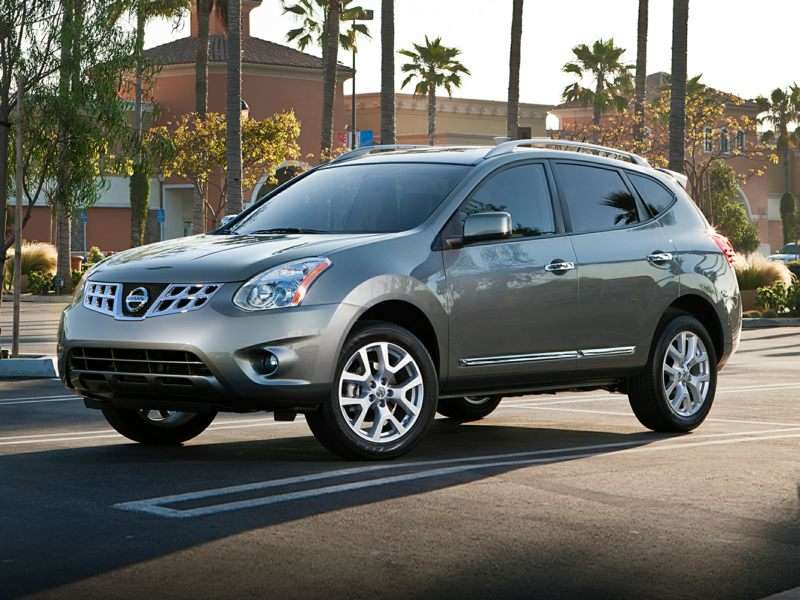 Mitsubishi Outlander Sport
It takes about one glance at the window sticker of the 2015 Mitsubishi Outlander Sport to see why sales of this subcompact crossover continue to rise: Said sticker indicates both a sub-$20K MSRP—of $19,595—and a robust list of standard equipment.These aren't solely the essentials, either. The Outlander Sport sports those, of course, but it also features Mitsubishi's FUSE hands-free technology with USB port, a multi-function steering wheel, 18-inch alloy wheels, and a leather-wrapped steering wheel and shift knob. Mitsubishi also makes much of the warranty coverage for the Outlander Sport, so that even though it's one of the most economical crossovers for today's consumers, it also delivers the confidence of a 10-year/100,000-mile powertrain warranty, a seven-year/100,000-mile anti-corrosion warranty and a fully transferable new-vehicle limited warranty with five-year/60,000-mile coverage, and all that's complemented by a five-year/unlimited-mileage roadside-assistance plan.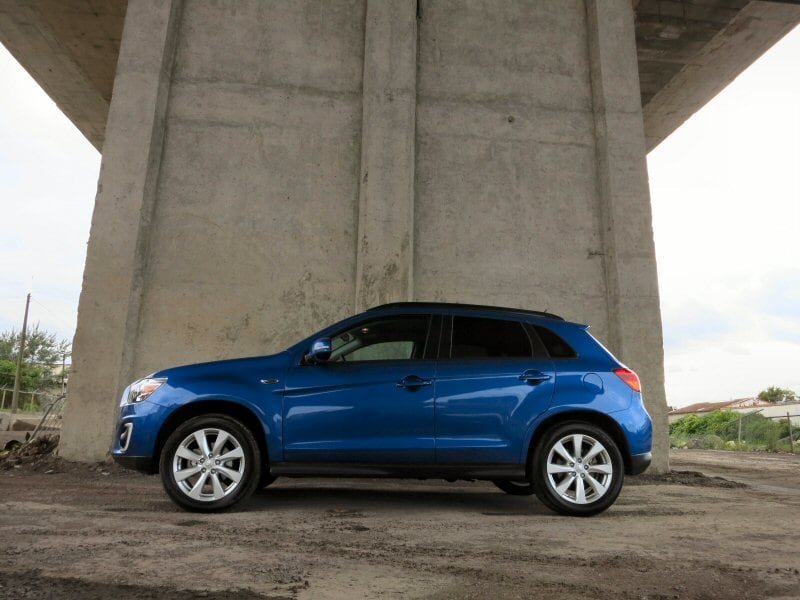 Photo by Benjamin Hunting
Toyota RAV4 Hybrid
To be clear, the 2016 Toyota RAV4 Hybrid is unlikely to be one of the most economical SUVs based on cost, since it will no doubt be priced well north of the base 2015 model, which opens at $23,680. But Toyota's latest hybrid model should set new standards for fuel economy: Bill Fay, Toyota group vice president and general manager, said the hybrid would lead the segment "by far" when it debuts later this year. What's particularly notable about that claim is that it comes with the RAV4 hybrid also boasting standard all-wheel drive, courtesy of an electric motor that can power the rear wheels only as necessary for traction, thereby saving gas. Toyota hasn't released actual fuel-economy ratings for the RAV4 Hybrid yet, but some clues come from its Lexus corporate cousin, the NX Hybrid that touts an EPA line of 35 mpg city/31 mpg highway/33 mpg combined.