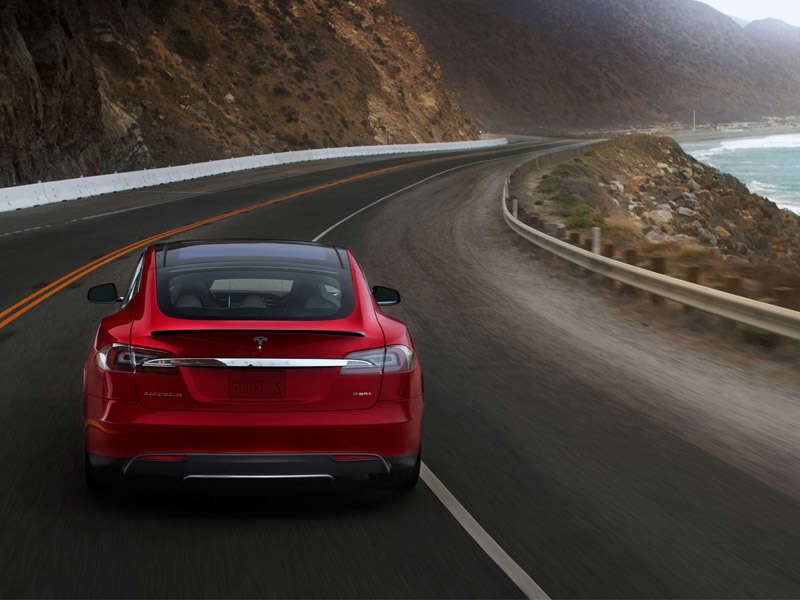 Red Tesla Model S Performance, fastest of the four door electric vehicle ・ Photo by Tesla
Frankly, when it comes to the longest range EVs, there's Tesla and then there's everyone else; Tesla's two current models serve up EPA travel ranges that exceed 250 miles on a single charge, and they also have access to the company's nationwide network of "Superchargers" for free and fast charging. It's just that those vehicles are at least twice the price of EVs from traditional automakers, putting them out of reach of many customers. The upcoming Chevrolet Bolt is expected to change that, with Chevy-style pricing and a 200-mile EV range, but before then, you may be shocked at just how practical it can be to own one of the following vehicles.
2016 Tesla Model S
To get into the longest range EVs in the country, you've got to think outside the box. That's because it's not the traditional automakers that fill that need, but Tesla Motors, with vehicles such as the 2016 Tesla Model. A full-sized luxury sedan with an MSRP of $70,300—before a $7,500 federal tax credit—the Model S does look fairly traditional from the outside. But it packs a pair of high-tech electric motors and a 70 kWh battery pack, which combine for 234 miles of all-electric, rear-wheel-drive travel range. And that's the entry-level Model S. Upgrading to an all-wheel-drive, 90 kWh battery setup, for an MSRP of $88,300, extends the car's all-electric driving range to an EPA-certified 294 miles.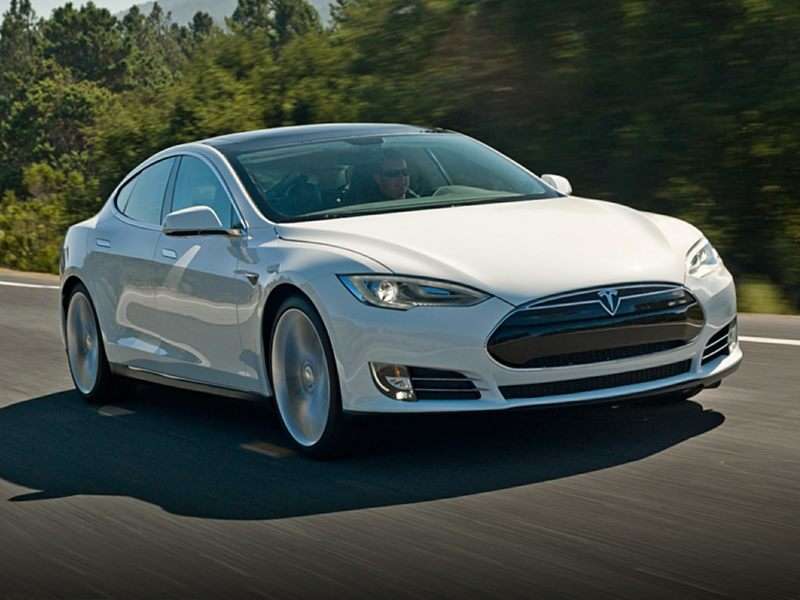 Photo by Tesla
2016 Tesla Model X
The 2016 Tesla Model X is the brand's electric take on the modern day crossover, complete with all-wheel drive, three-row seating for up to seven adults, up to 77 cubic feet of storage and even a 5,000-lb. tow rating. Of course, along with its impressive versatility, the Model X also boasts an all-electric driving range of up to 257 miles. As with the Model S, that top range requires the optional 90 kWh battery pack; yet even with the standard 75 kWh battery capacity, the Model X is EPA rated for 237 miles of EV driving. Another similarity between Tesla's longest range EV is their premium pricing. The Model X starts at $81,800—although that's before any tax incentives.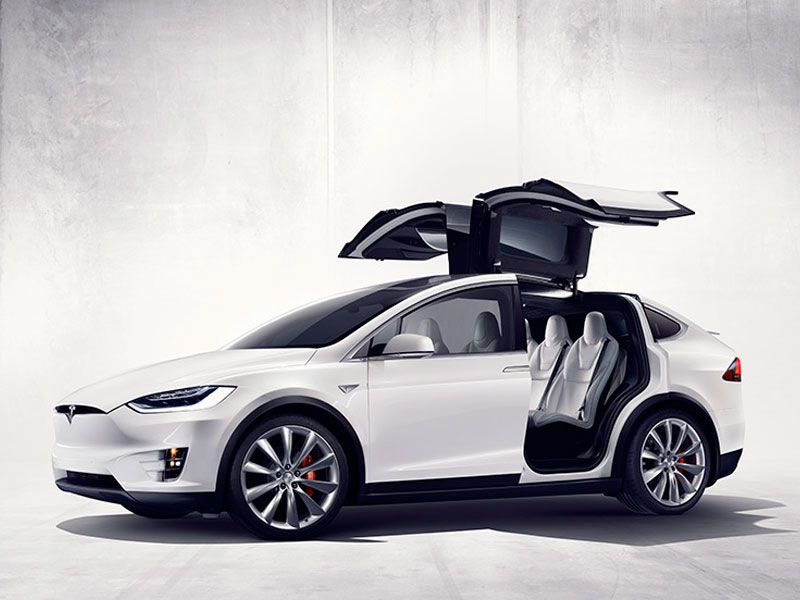 Photo by Tesla
2016 Nissan LEAF
The longest range EVs from the rest of the industry have a much sharper focus on pricing, and the 2016 Nissan LEAF is a case in point. The least-expensive LEAF is $29,010. Not only is that more than $40,000 below the entry point for the Model S, it also works out to a post-tax-credit cost of just $21,510—bringing EV driving in range of many more drivers. On the topic of range, however, the LEAF's standard 24 kWh battery can take it 87 miles according to the EPA, which is a bit off the pace set by Tesla. On the other hand, Nissan's newly available 30 kWh setup does stretch its EPA certified travel distance to 107 miles.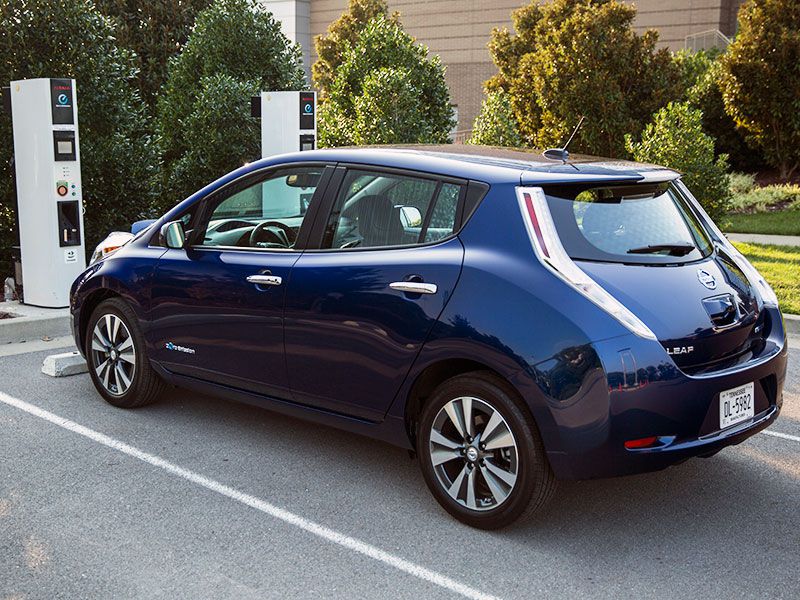 2016 Kia Soul Electric
With a bit less range than the LEAF, and a lot more funkiness, the 2016 Kia Soul Electric also showcases a slightly different approach to batteries than the other longest range EVs. Kia continues to use the proven lithium-ion chemistry, but according to the company, the electric Soul's batteries are "more energy dense" compared to those in most other EVs. Further, they benefit from polymer packaging and a notably slim design. It all adds up to a 93-mile driving range for Kia's stylish EV. But when you do the math for purchase costs, remember that the Soul Electric's MSRP of $31,950 features two standard charge ports, including one with DC fast-charging capability.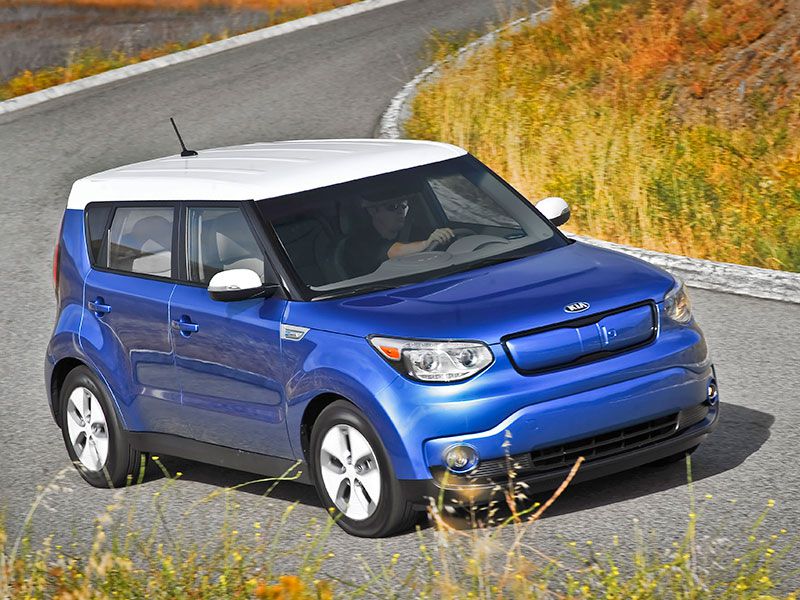 Photo by Kia
2016 Mercedes-Benz B-Class
It's not often that Mercedes engineering takes a back seat to another automaker, yet the 2016 Mercedes-Benz B-Class electric vehicle—the B250e premium compact hatch—is backed by electric-drive technology borrowed from Tesla. As a result, owners enjoy a quiet, powerful driving experience, highlighted by 0-60 acceleration of 7.9 seconds and an all-electric travel range of 87 miles on a single charge. True, that range isn't exactly Tesla-like, but that's because the B250e is configured with a smaller, 28 kWh battery. M-B makes up for that by furnishing Mercedes-level luxury features for what's still one of the nation's longest range EVs. Among those lux cues: two real-wood interior trim choices and a Harman Kardon sound system for audiophiles.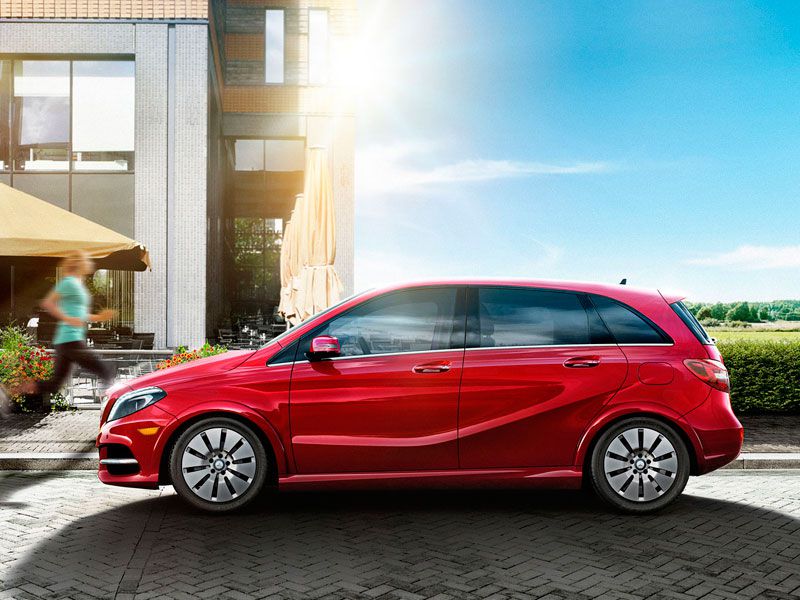 Photo by Mercedes-Benz
2016 Fiat 500e
Despite having an electric propulsion system instead of a peppy four-cylinder gas engine, the 2016 FIAT 500e naturally has the same city-sized dimensions as its traditionally powered counterpart. With that in mind, the brand positions the electric Fiat as one of the longest range EVs for urban drivers: the EPA range rating for the 500e is 84 miles, but its maker reports a "city driving range typically greater than 100 miles." Fiat indicates that the switch to electric power provides some noticeable improvements in driving dynamics, too, thanks to the 500e's stiffer structure and more balanced weight distribution. Finally, the car's sophisticated "blended braking" system does its share by combining the feel of traditional stoppers with EV-style regenerative braking.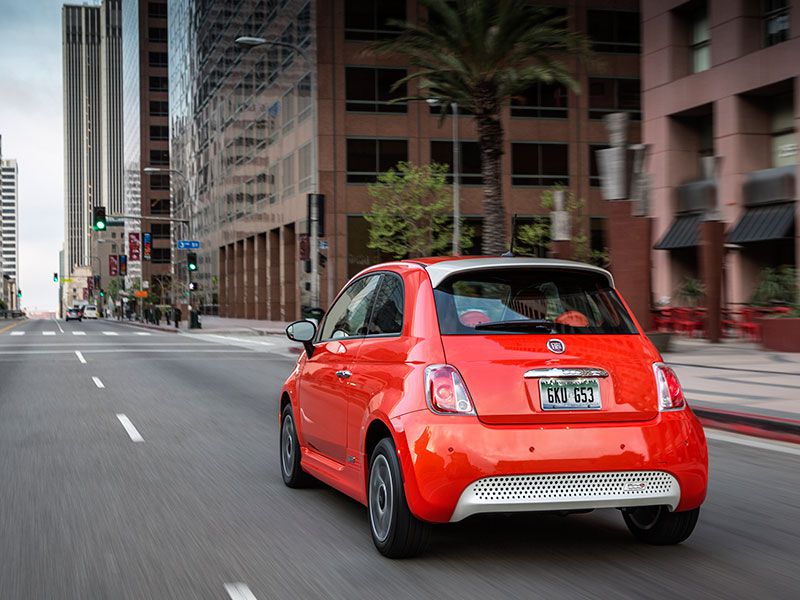 Photo by FCA Media
2016 Volkswagen e-Golf
Like the current longest range EVs from Fiat, Chevy and BMW, the 2016 Volkswagen e-Golf has an EPA travel rating in the low 80s, with a range of 83 miles, to be exact. Yet the VW stands out from that crowd in a number of ways, including in terms of pricing. For example, the new-for-2016 e-Golf SE trim was launched specifically as a high-value opportunity for EV customers, and it fills that role with an MSRP of $28,995. Then there's the vehicle's actual efficiency performance. The brand claims the e-Golf is No. 1 in its class for combined EPA ratings, based on its ability to achieve 116 MPGe—and that's based on ratings of 126 MPGe city and 105 MPGe highway.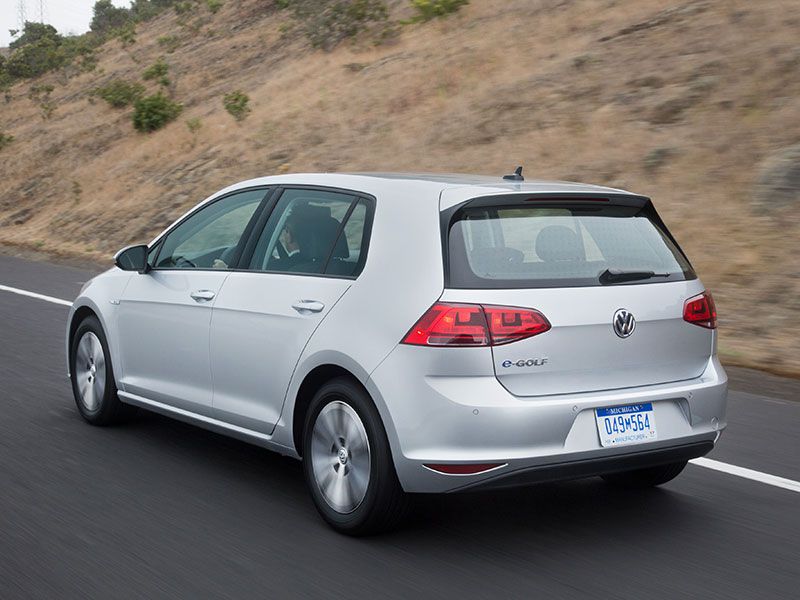 2016 Chevrolet Spark EV
Until the Bolt goes into production at the end of this year, the Bowtie brand's longest range EVs are the 2016 Chevrolet Spark EV and the Volt. And because the Volt also carries a range-extending gas engine, it's the Spark in the spotlight here for relying solely on electricity. Indeed, the Spark EV shines with even better EPA ratings than the bigger Golf. Chevy's sub-subcompact checks in with an EPA line of 128 MPGe city/109 MPGe/119 MPGe combined, as well as a total driving range of 82 miles. It also rates highly for affordability. The MSRP for the Spark EV opens at $25,995—including mobile Wi-Fi—which means a post-tax-credit cost of $18,495.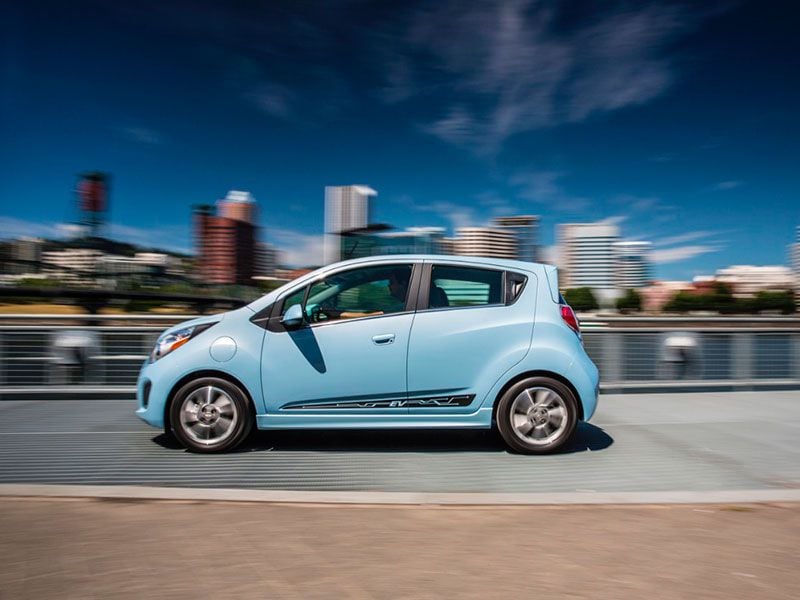 Photo by General Motors
2016 BMW i3
Autobytel experts also remind shoppers that the longest range EVs aren't necessarily the most efficient ones. Consider the 2016 BMW i3. The EPA has certified this premium hatchback as capable of 81 miles of all-electric driving on a single charge, meaning it does trail quite a few other electric entries (while still supplying more than enough range for most owners). Where the i3 has its advantage is that it takes less electricity per mile to travel that distance: the i3 EV is certified at 137 MPGe city, 111 MPGe highway, and 124 MPGe combined. That said, when the updated i3 drops for the 2017 model year, BMW promises a bigger, 33 kWh battery and a "114-mile combined range under everyday conditions."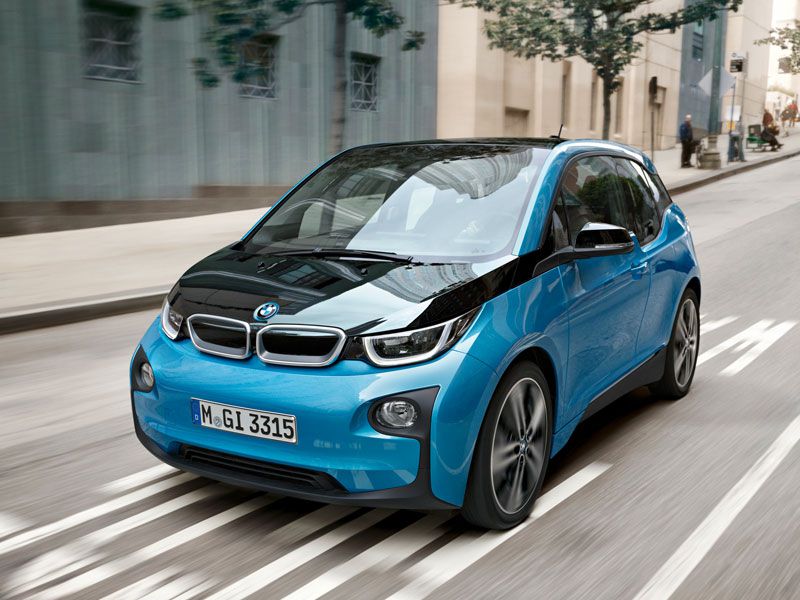 Photo by BMW
2016 Ford Focus Electric
The Blue Oval's popular compact hatch was a pioneer when Ford first rolled out an electric version, and at that time, it qualified as one of the country's longest range EVs. Well, that range, of 76 miles, not only hasn't changed in the years since then, it's also pushed the 2016 Ford Focus Electric to the back of the pack here. That's not a problem for the majority of most commuters today, yet for tomorrow, in the 2017 Focus Electric, credible rumors point to a range extension to 100 miles.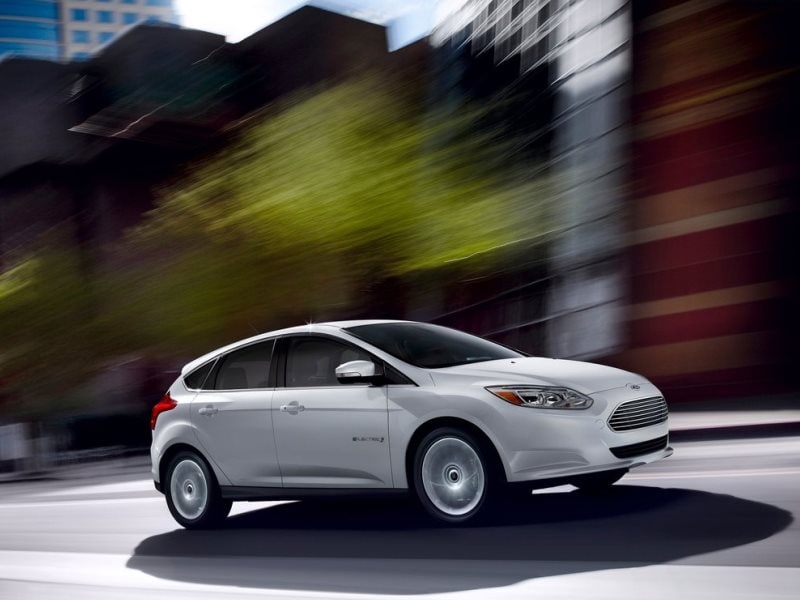 Photo by Ford