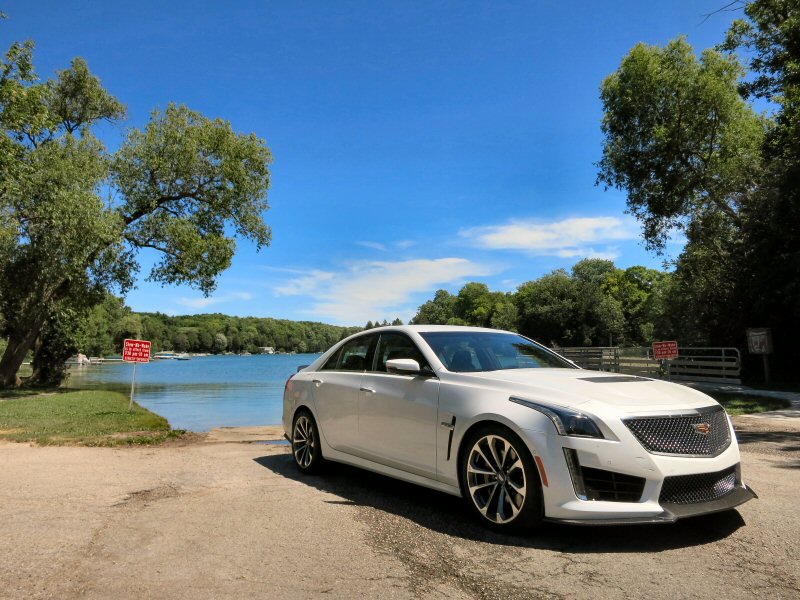 2016 Cadillac CTS-V front 3/4
The world's fastest sedans let you satisfy your need for speed without asking you to shrink your lifestyle down to fit inside the cabin of a tight 2-door coupe or convertible. Although European brands continue to dominate the list of the fastest sedans available, American automakers have gradually stepped up their game so that they, too, can boast pavement-scorching, yet still practical rides. There's quite a selection of ultra-quick 4-door automobiles out there, so we put together this list of 10 of the fastest sedans available for 2015.  Let's take a quick look at what each of them brings to the table.
2016 Tesla Model S — 2.8 seconds
Four trim levels of the lauded electric luxury sedan are available this year, and Tesla's not messing around with any of them. Each trim level increases the car's total electric range, as well as its top speed and acceleration capability — in other words, the fastest version of the Tesla Model S is also the most efficient. The base model is limited to 130 mph and a 5.5-second 0-60 time, which is nothing to sneer at. But buyers who are willing to shell out quite a bit more cash can get a version of the sedan that's even faster than it looks. The top-of-the-line P90D trim of the Model S has a top speed of 155 mph and can hit the 60-mph mark in just 2.8 seconds with the optional Ludicrous upgrade.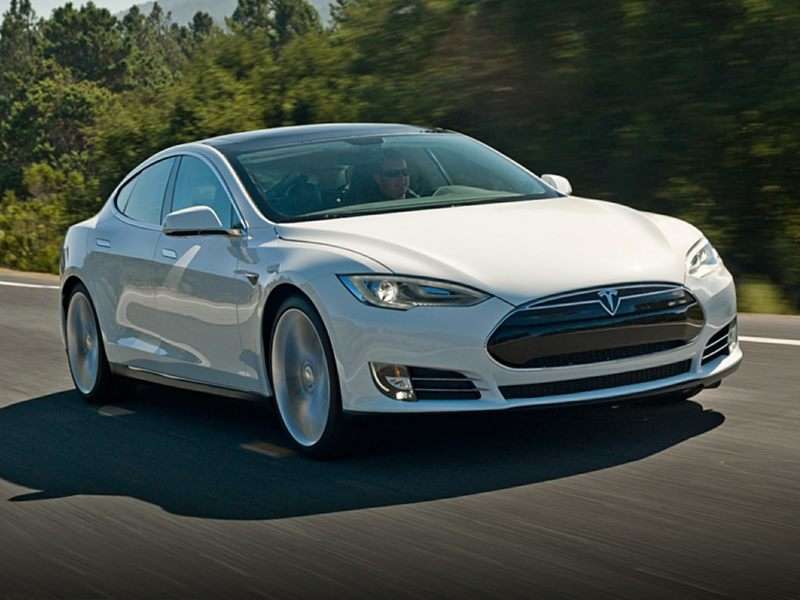 Photo by Tesla
2016 Mercedes-Benz E63 AMG S 4MATIC — 3.5 seconds
The 2016 Mercedes-Benz E63 AMG S 4MATIC's all-wheel drive system is so adept at managing the 577 horsepower and 590 lb-ft of torque from its twin-turbo 5.5-liter V8 engine that it hits 60 mph in an incredible 3.5 seconds once launch control has been activated. This puts the E63 AMG S 4MATIC on the same footing as dedicated sports cars like the Porsche 911 Turbo and Chevrolet Corvette Stingray, and easily helps the German luxury car earn a spot among this year's fastest sedans.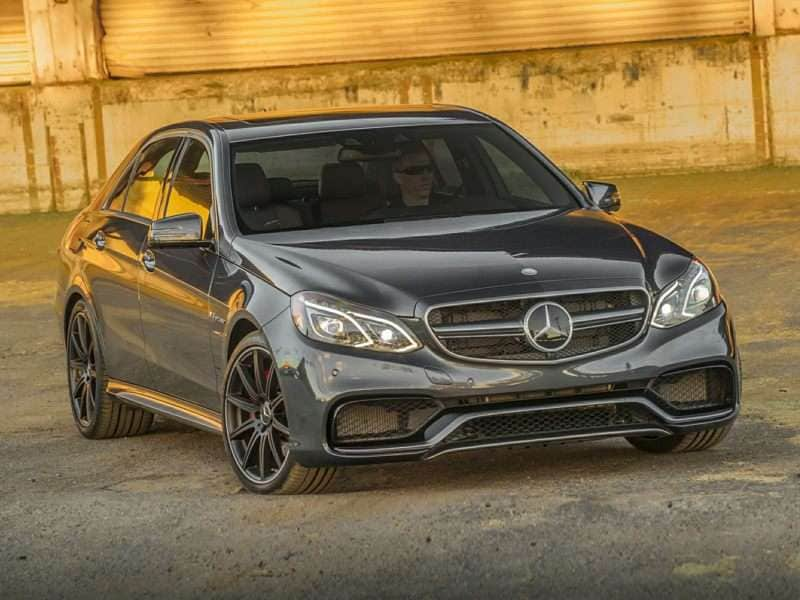 2017 Jaguar XF-S — 5.1 seconds
The sophisticated 2017 Jaguar XF-S boasts a 380-horsepower V6 engine that makes use of a supercharger in order to squeeze out 332 lb-ft of torque from a 3.0-liter block. An 8-speed transmission comes standard with the XF-S, which helps propel the car to 60 mph in 5.1 seconds. This version of the Jaguar XF also features an exclusive bodykit to help the car stand out from its more subdued siblings.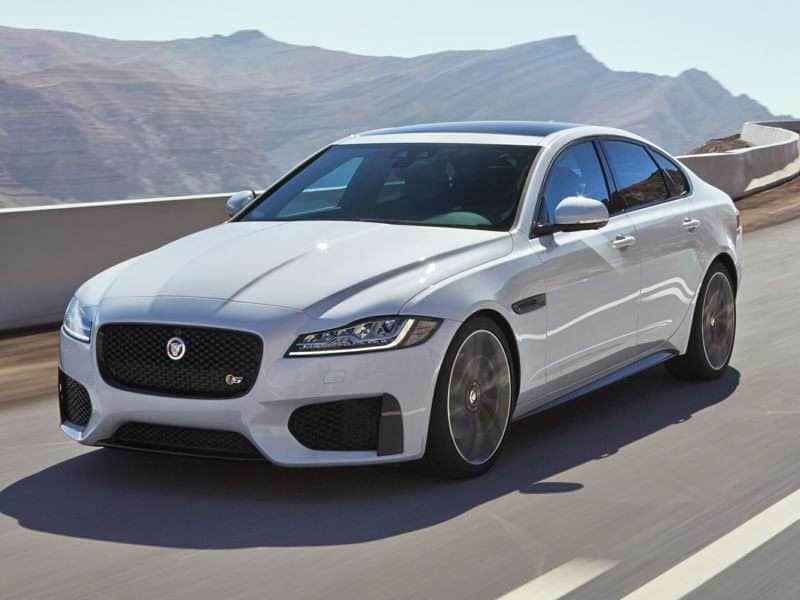 Photo by Jaguar Land Rover
2016 Aston Martin Rapide S — 4.2 seconds
The 2016 Aston Martin Rapide S also counts itself amongst the number in the 550-horsepower club, but it uses 12 cylinders rather than eight to reach this pinnacle of fast sedan supremacy. Featuring a sloped roofline that suggests a coupe rather than a traditional box, the Aston Martin Rapide S's aeronautical fuselage also features 2+2 seating. Assisting the Rapide S in its 4.2-second dash to 60 mph are the 630 lb-ft of torque produced by its 6.0-liter V-12, which are corralled by its 8-speed automatic transmission.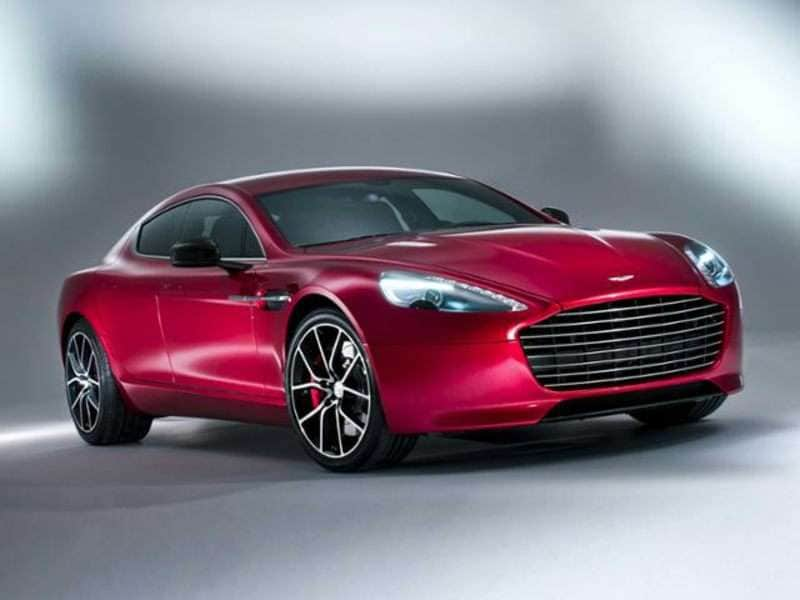 2016 Cadillac CTS-V — 3.6 seconds
The updated 2016 Cadillac CTS-V benefits from a supercharged 6.2-liter V8 that can be counted on to produce 640 horsepower and 630 lb-ft of torque, numbers that are good enough to launch the rear-wheel drive sedan to 60 mph in a lightning-like 3.6 seconds. Though this year's version of the Cadillac CTS-V greatly outperforms last year's, it's unfortunate that Cadillac decided to do away with the standard manual transmission — this uncommon option made the CTS-V an even more appealing entry on our list of the fastest sedans.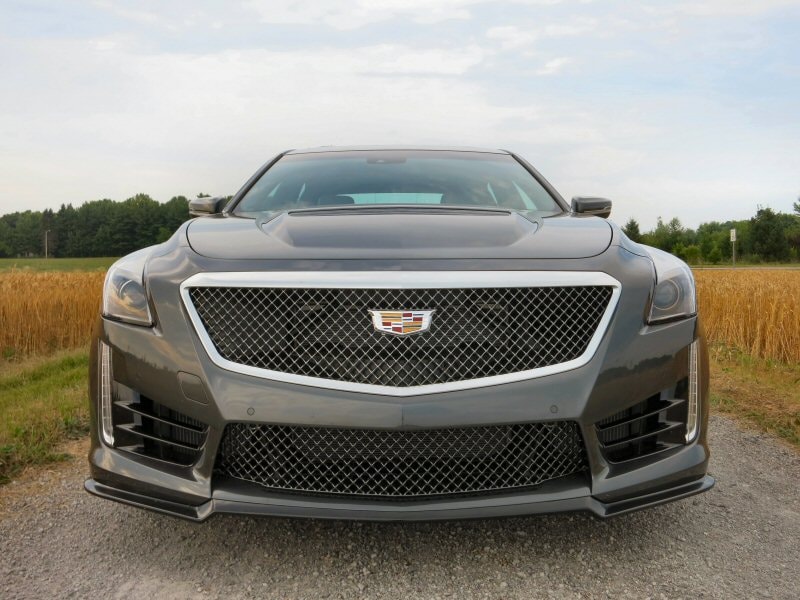 Photo by Benjamin Hunting
2016 BMW M5 — 4.5 seconds
The 2016 BMW M5 is the car that the CTS-V was originally conceived to compete with, as this midsize luxury model set the bar for supersonic sedans. The BMW M5's delectable chassis is anchored by a 4.4-liter V8 engine that has been outfitted with not one, but two turbochargers that together produce 560 horsepower and 500 lb-ft of torque. Transmission-wise, the M5 is outfitted with a 7-speed automated manual that offers split-second shifting on the way to a 4.5-second 0-60-mph time, but traditional sport sedan fans will be pleased to know that a 6-speed manual gearbox is also on the order sheet for the BMW.
Photo by BMW
2016 Audi RS7 — 3.7 seconds
The 2016 Audi RS7, like the Aston Martin Rapide S, is another sedan in coupe's clothing, wearing its sleek hatchback styling to stand out from the usual crowd of super fast contenders on the 4-door scene. Equipped with quattro all-wheel drive right out of the box, the Audi RS7 comes by its 560 horsepower and 516 lb-ft of torque by way of a 4.0-liter V8 engine paired with two turbochargers. All versions of the car come with an 8-speed automatic transmission, and the RS7 achieves 60-mph in a startling 3.7 seconds, placing it in the upper echelon of sport sedans.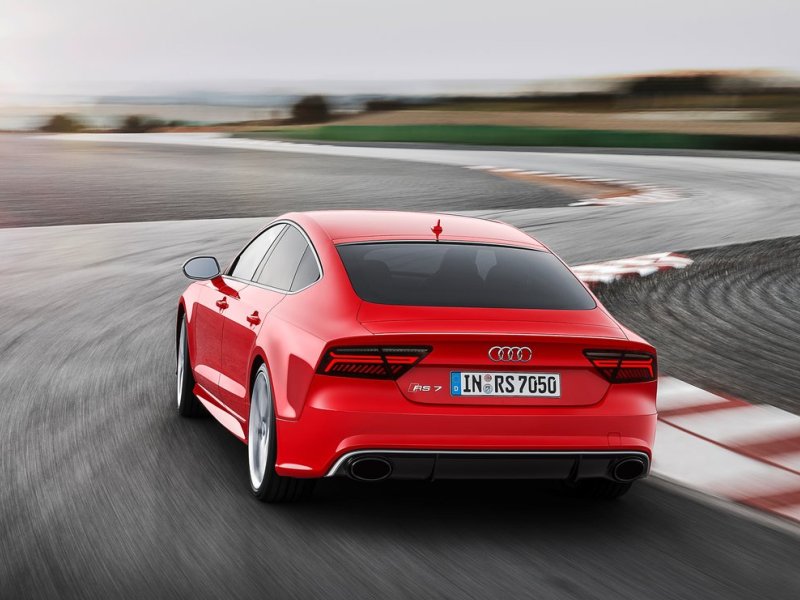 2016 Dodge Charger SRT Hellcat — 3.7 seconds
Until Tesla added a new top-of-the-line trim to the Model S this year, the Dodge Charger SRT Hellcat claimed the title of most powerful sedan in the world — by way of a 6.2-liter supercharged Hemi V8. It still looks (and sounds) good in second place, though. The Dodge Charger SRT Hellcat blasts down the road with the authority of 707 horsepower and 650 lb-ft of torque, numbers that would have been unthinkable outside the front row of a NASCAR race just a few short years ago. An 8-speed automatic transmission handles the gear shifts for the super-Charger, which will make the journey to 60 mph flash by in 3.7 seconds, a number made all the more impressive by the car's lack of all-wheel drive.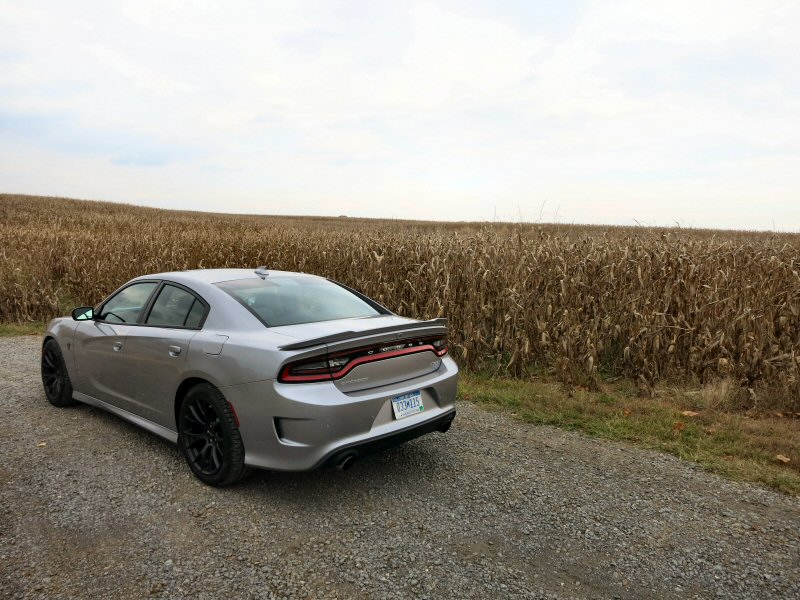 Photo by Benjamin Hunting
2016 Jaguar XJR — 4.1 seconds
For those seeking a larger version of what the Jaguar XF-S brings to the party, there's no need to look any further than the Jaguar XJR. The Jaguar XJR fullsize sedan makes 550 horsepower from the big 5.0-liter supercharged V8 underneath the long bonnet of the British automaker's flagship. If so desired you can even purchase a long-wheelbase version of this high-powered monster, which is perfect for anyone who would prefer that their chauffeur unleash the XJR's 502 lb-ft of torque. An 8-speed automatic transmission is included with the Jaguar, and 60 mph arrives in a scant 4.1 seconds with the right pedal floored.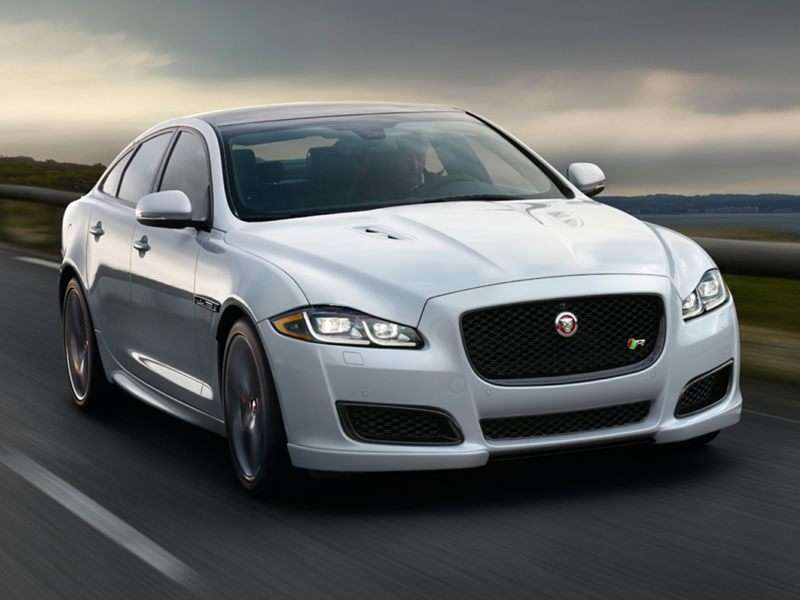 Photo by Jaguar
2016 Volvo S60 Polestar — 4.7 seconds
Below the top tier of the world's fastest sedans are a significant number of very fast, near-equal contenders for next-in-line status. Of these, the 2016 Volvo S60 Polestar is one of the most intriguing. Showing a different side of Swedish engineering, the Volvo S60 Polestar was developed in conjunction with the racing shop whose name it wears, and it features a 345-horsepower, 3.0-liter inline 6-cylinder engine.  A turbocharger helps the unit produce 369 lb-ft of torque, and standard all-wheel drive and a 6-speed automatic transmission conspire to turn in a 0-60-mph time of roughly 4.7 seconds.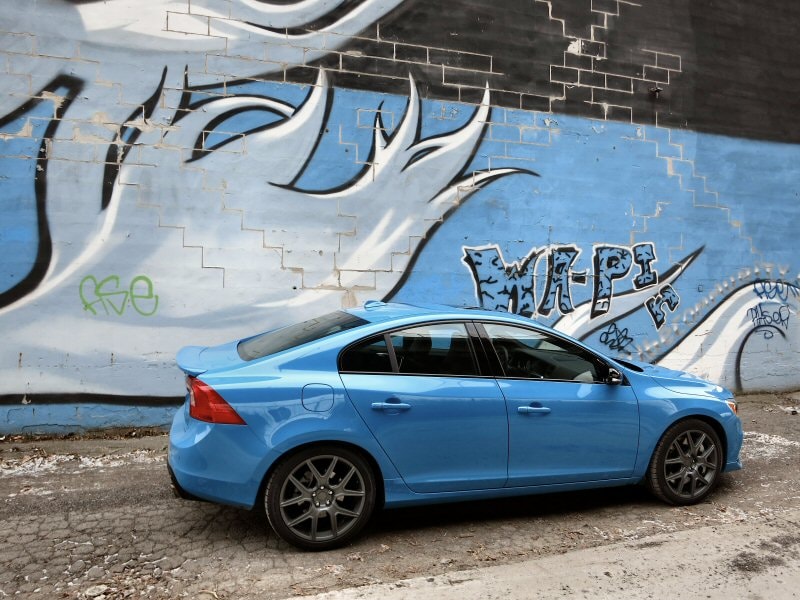 Photo by Benjamin Hunting