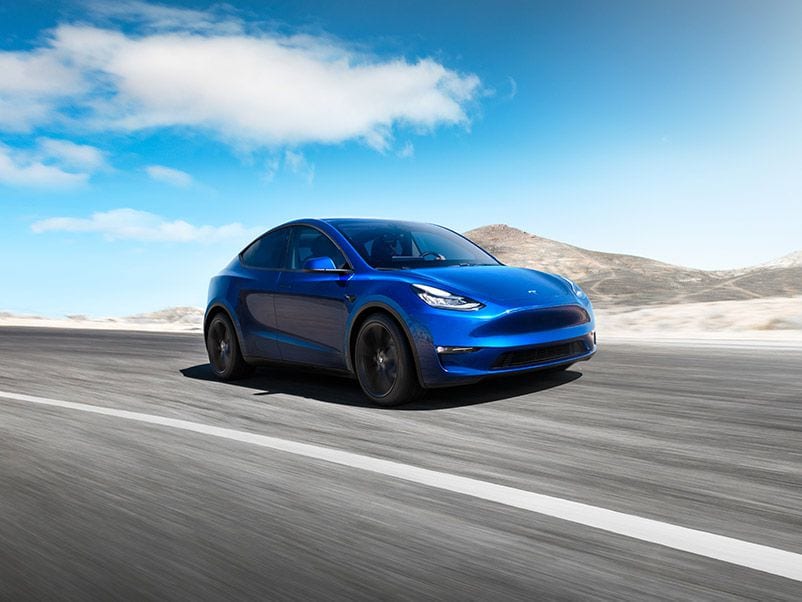 2020 Tesla Model Y front three quarter ・ Photo by Tesla
It's relatively easy to see what a new SUV will cost. You can Google the sticker price and get a selection of online quotes from dealers in a few clicks. But as the miles click by, some SUVs will cost more than others to keep on the road.
Today, we've rounded up 10 of the cheapest SUVs to maintain. We've looked for benefits that include mechanical simplicity, rather than complex, intricate engineering solutions; small wheels and tires rather than pretty plus-sized ones that will cost a fortune to replace; standout fuel efficiency on regular-grade fuel; perks like free scheduled maintenance and a long warranty; and high reliability grades from third-party experts. We've also made sure to include a variety of SUV sizes, capabilities, brands, and price points — not just a list of 10 little crossovers — so that you can find an affordable-to-maintain vehicle that's right for your needs. We've ordered our list approximately based on the vehicles' typical selling prices. Note that unlike many "cost to own" computations, we're not factoring in depreciation costs; cars do lose value over time, but that's not a maintenance expense that's coming out of your pocket to keep your SUV running.
1. 2020 Hyundai Venue
Hyundai leads off our list of the 10 cheapest SUVs to maintain thanks to the company's longtime plus-size warranty — 10 years or 100,000 miles on the engine and transmission, five years or 60,000 miles on most other components — plus a newly announced perk: three years or 36,000 miles of free scheduled maintenance at your dealer. Nobody has a longer warranty, and nobody but a luxury brand offers a longer period of zero-cost maintenance. And all of Hyundai's SUVs sell at the opposite of luxury prices, perfect for cost-conscious consumers.
For today's article, we're singling out the brand's newest, least expensive, and most fuel-efficient model: the 2020 Hyundai Venue. This subcompact crossover won't meet some buyers' idea of an SUV, since it doesn't offer all-wheel-drive. But its elevated seating position and relatively useful interior space are just what many SUV buyers are looking for. What's more, the Venue starts at just $17,350 and gets an EPA-estimated 32 mpg in mixed driving.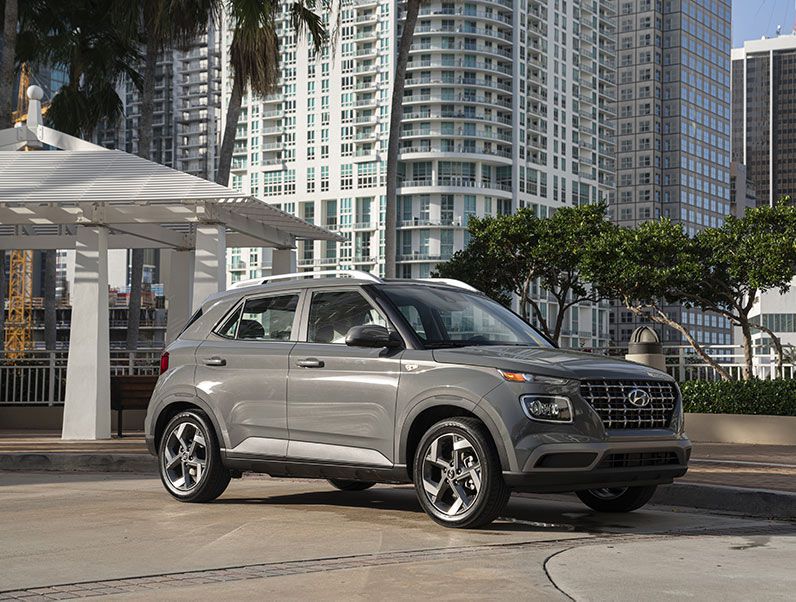 Photo by Hyundai
2. 2021 Kia Seltos
Kia doesn't share Hyundai's new free maintenance, but the Korean carmaker's corporate cousin offers the same warranty: five years or 60,000 miles bumper to bumper plus 10 years or 100,000 miles on the engine and transmission. That's a long time before you need to absorb repair costs bigger than oil changes and new tires. 
As a leading value in the brand's lineup, the all-new 2021 Kia Seltos is a subcompact crossover that looks and feels more sophisticated than most of its competitors — and more like a true SUV than a slightly elevated hatchback. It's priced from $21,990 and gets EPA ratings as high as 31 mpg in mixed driving. Enthusiasts might pick the optional turbocharged engine that's paired to a dual-clutch transmission, but most Seltos models use a tried-and-true 2.0-liter four-cylinder with 146 horsepower and a continuously variable automatic transmission. That's simpler equipment that also costs less and gets better gas mileage than the fancy turbo engine.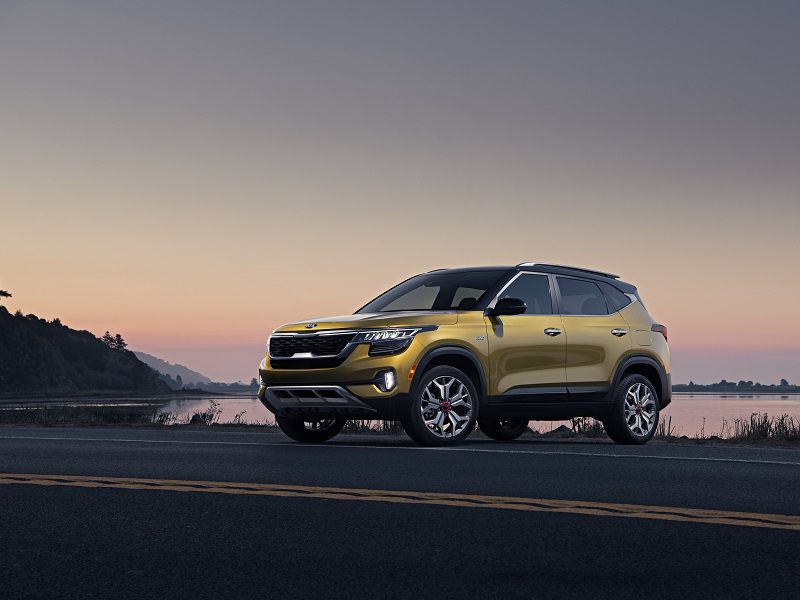 Photo by Kia
3. 2020 Nissan Rogue
Another high-value fuel-efficient SUV is the 2020 Nissan Rogue, one of America's best-selling vehicles. Priced from $25,300, the Rogue is a compact crossover that's been around for a while and is a master of simplicity.
In addition to a proven 2.5-liter four-cylinder engine, it brings user-friendly controls and standout interior spaciousness for its class, along with lots of standard safety features. The Rogue isn't as posh or as quick as some of its newer, flashier competitors, but it's a leader when it comes to steady, reliable value. Just don't confuse the Rogue with the Rogue Sport model, which has a similar name and similar styling — but less space, less power, and lower fuel economy.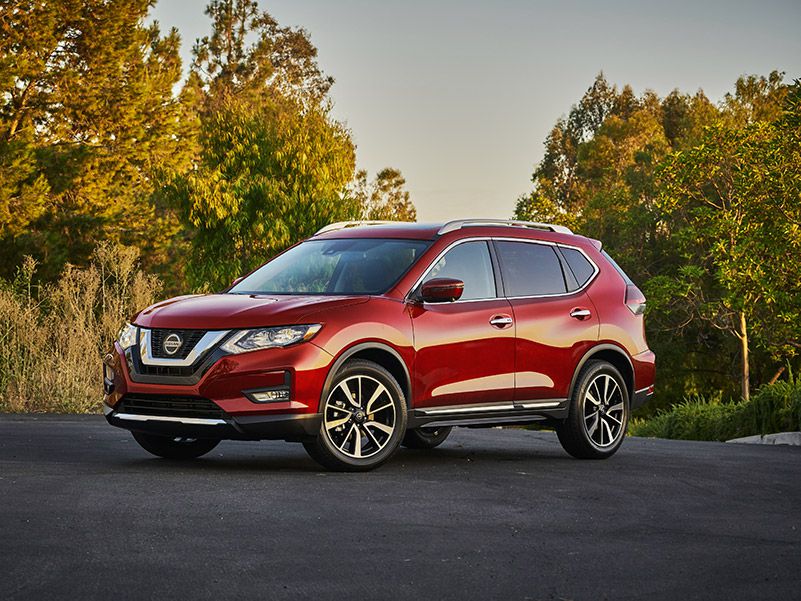 Photo by Nissan
4. 2020 Toyota RAV4
Like Hyundai, Toyota offers a period of free scheduled maintenance — in this case, two years or 25,000 miles. That takes the bite out of the early period of your ownership experience. The company's best-selling RAV4 compact crossover also keeps costs down with EPA ratings as high as 30 mpg in mixed driving with its gasoline-only engine, which is among the best scores in its class. What's more, there's no dual-clutch or continuously variable transmission (CVT), just an eight-speed conventional automatic.
You can get a RAV4 with a CVT, but it's part of a powertrain change that reduces your costs of operating the vehicle. We're talking about the gas-electric Toyota RAV4 Hybrid, which boosts mileage to a fantastic 40 mpg. What's more, Toyota has proven that its hybrid technology is phenomenally reliable. The 2020 RAV4 starts at $25,950 with a gasoline engine and $28,350 with the hybrid powertrain.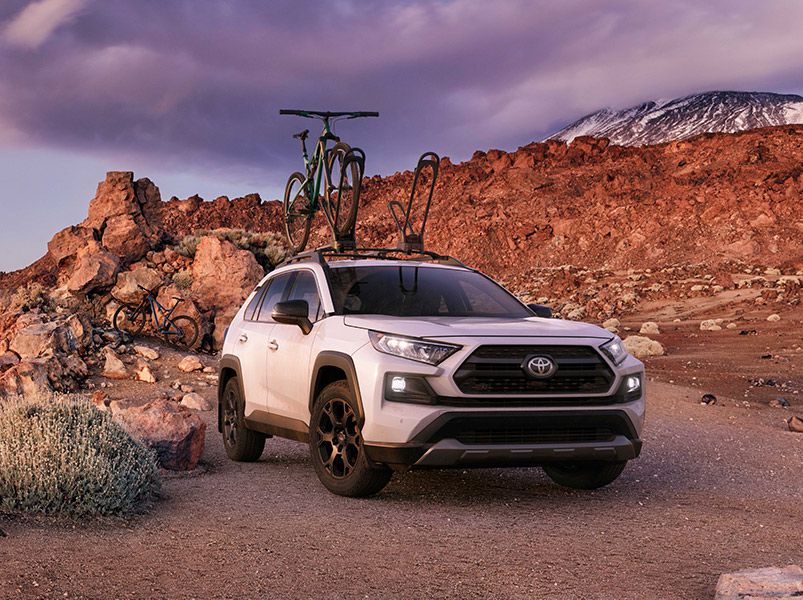 Photo by Toyota
5. 2020 Subaru Outback
The Subaru Outback has spent the past 25 years blurring the line between crossover and station wagon — and demonstrating that the difference is somewhat academic. With standard all-wheel-drive, a healthy 8.7 inches of ground clearance, and a usefully spacious interior, it's a functional and comfortable competitor to more clearly defined crossover SUVs like the Ford Edge and Honda Passport.
The difference is that the Outback delivers unusually generous standard equipment, standout fuel economy (29 mpg with its base engine, 26 mpg with a newly available turbo), and a low starting price of $26,645. This year brought a redesign with improved ride and handling, better gas mileage, and a more modern cabin, but the familiar hardy vibe remains in place. What's more, if you're outside of Subaru's core markets — generally, if you're in the South rather than in the mountains — you may get two years or 25,000 miles of free scheduled maintenance.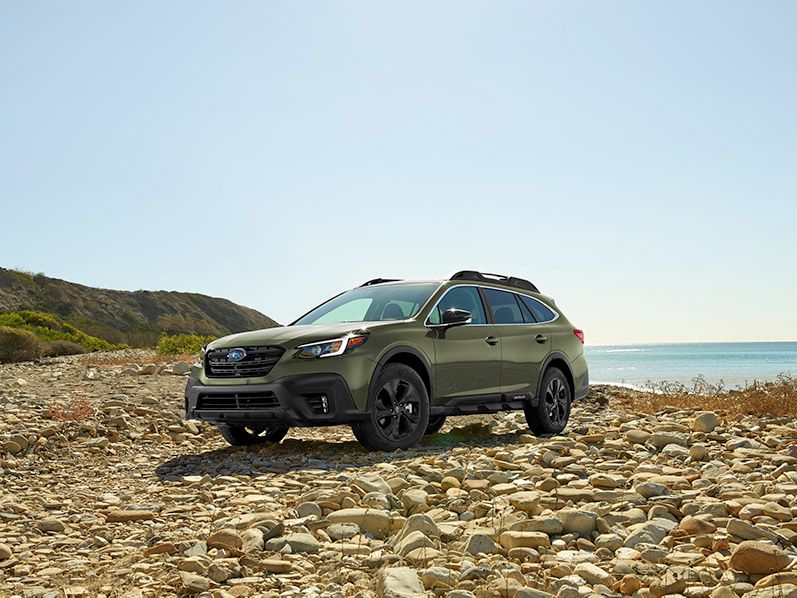 Photo by Subaru
6. 2020 Toyota Highlander
The 2020 Toyota Highlander is a crossover SUV with seating for up to eight passengers across three rows of seats, and it should be among the least expensive of them to maintain. In addition to Toyota's two years or 25,000 miles of free scheduled maintenance that we mentioned earlier, the Highlander delivers standout fuel economy and a sterling reliability reputation.
Freshly redesigned for 2020, the Highlander comes standard with a powerful yet decently fuel-efficient V6 engine, with EPA ratings of up to 24 mpg in mixed driving — impressive for a quick and spacious crossover. Better still is the Highlander Hybrid, whose four-cylinder gas-electric powertrain scores an astounding 36 mpg rating. The Highlander isn't the cheapest crossover you can buy ($34,600 and up for the gas model, $38,400 and up for the hybrid) and some competitors are roomier, but you won't find another eight-passenger SUV that costs less to operate.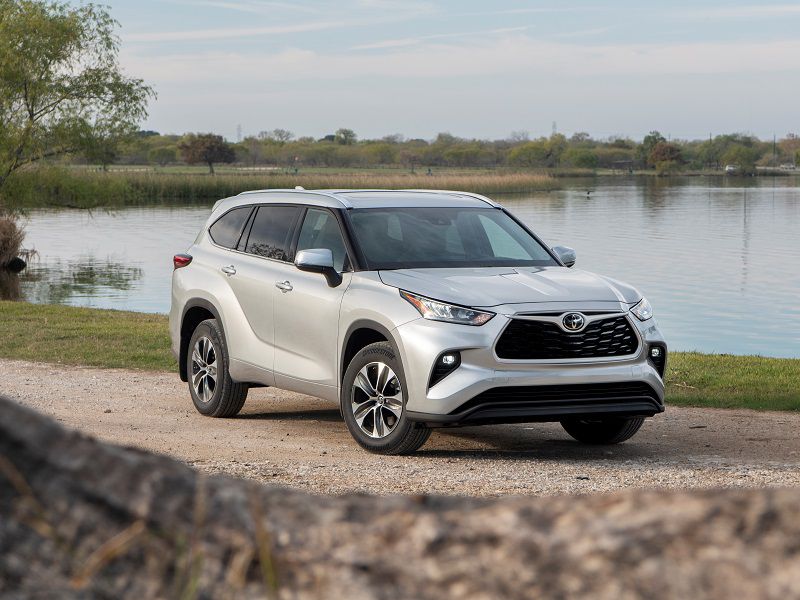 Photo by Toyota
7. 2020 Jeep Wrangler
The Jeep Wrangler is known for its rock-climbing, mud-dominating off-road ability more than its long-term value for the money. Indeed, it's one of the most expensive mid-size SUVs you can buy that lacks a luxury badge, starting near $30,000 even for a two-door model with minimal creature comforts.
But the rugged Wrangler has also gotten surprisingly fuel-efficient, which is great news if you're looking for something more capable than a light-duty crossover. Aerodynamics have improved in its most recent redesign, and its roster of powertrain options now includes impressively economical four-cylinder and diesel engines. The Wrangler now gets up to 25 mpg in mixed driving, better than some Jeep crossovers. And while we're not focusing on depreciation in this article, note that the Wrangler typically holds its value extremely well — even at ages where ordinary SUVs would be practically worthless.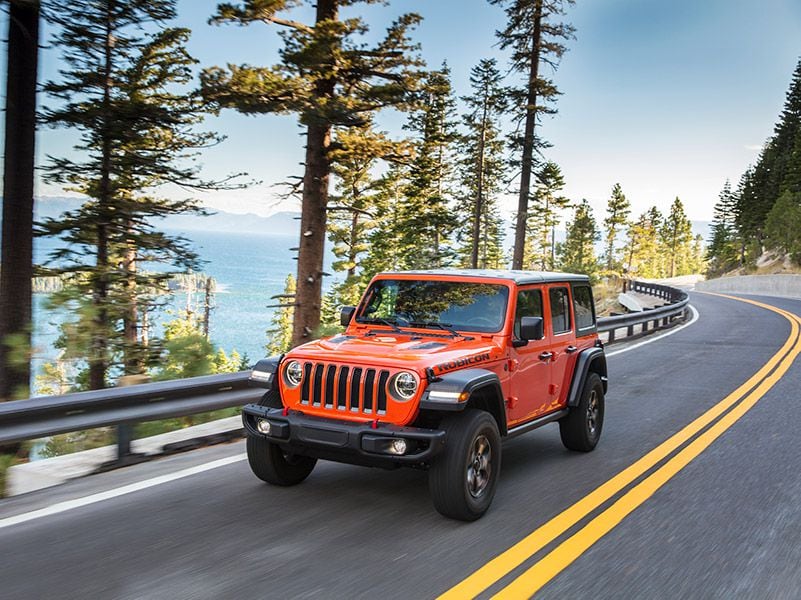 Photo by Fiat Chrysler Automobiles
8. 2020 BMW X1
While luxury vehicles are known for being expensive to maintain, they sometimes include perks like free scheduled maintenance. Take a look at German carmaker BMW, which provides three years or 36,000 miles over coverage. That means the typical BMW lease customer won't pay for a single oil change or tire rotation.
Our choice today, the 2020 BMW X1 subcompact crossover, also shouldn't be expensive to maintain even after those three years have passed. Its four-cylinder engine gets a respectable 27 mpg (albeit on premium-grade fuel) and it has amassed a good reliability reputation. Plus, you get the other advantages of a BMW — sporty handling, peppy acceleration, and a high-tech interior — along with a roomier interior than most competitors. Beware of optional "sport" packages with more expensive tires and brakes, though. X1 prices start at just $35,200.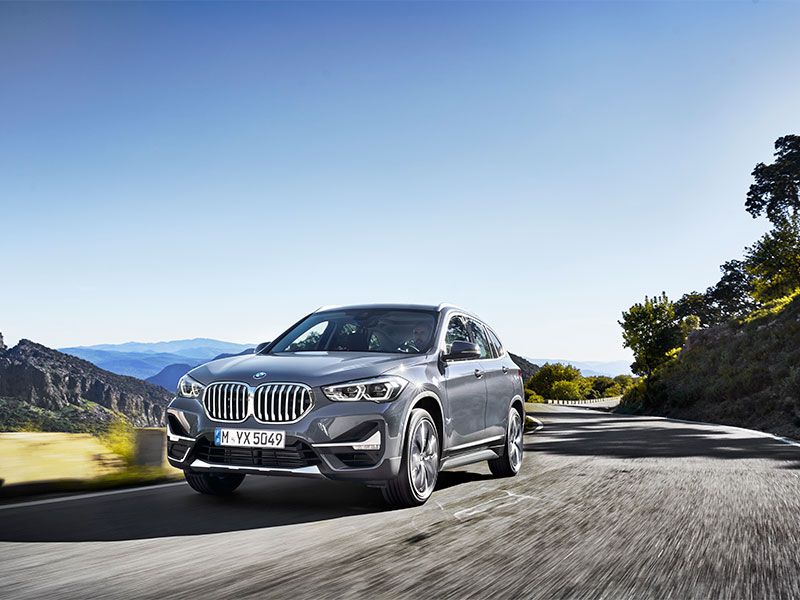 Photo by BMW
9. 2020 Jaguar E-Pace
If you're looking for a new SUV with minimal maintenance costs, Jaguar is a big winner. The British luxury brand provides five years or 60,000 miles of free scheduled maintenance, the most of any brand sold in America.
For maximum value, the brand's entry-level subcompact crossover is the 2020 Jaguar E-PACE, which starts at $39,950. Even an entry-level Jaguar is still a styling standout, and the E-Pace also provides a sporty driving experience yet a posh interior. For low-cost maintenance, though, steer clear of the available 20-inch wheels — those tires won't be cheap to replace.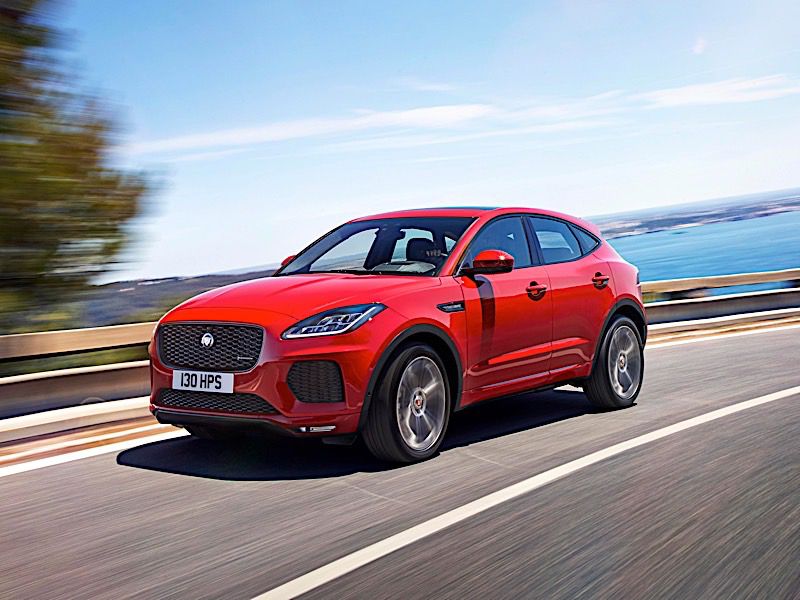 Photo by Jaguar Land Rover
10. 2020 Tesla Model Y
Electric vehicles are known for their low operating costs, since gasoline tends to be much more expensive per mile than electricity. But there's also another point that keeps them affordable to run: Electric vehicles also don't need oil changes or coolant, and their regenerative braking systems cause less wear on brake pads. There are also fewer components to an electric motor than a gasoline engine, which is good news for long-term repair costs as well.
There aren't many fully electric SUVs today, and several of them are more like hatchbacks with no all-wheel-drive or elevated ground clearance — like the Hyundai Kona Electric, Kia Niro EV, and Chevrolet Bolt EV. But the new 2020 Tesla Model Y is a fully electric direct rival to popular gas-powered small luxury suvs like the Acura RDX and Audi Q5. Prices start at $52,990, but once you've bought it, you shouldn't have to spend much to keep it going.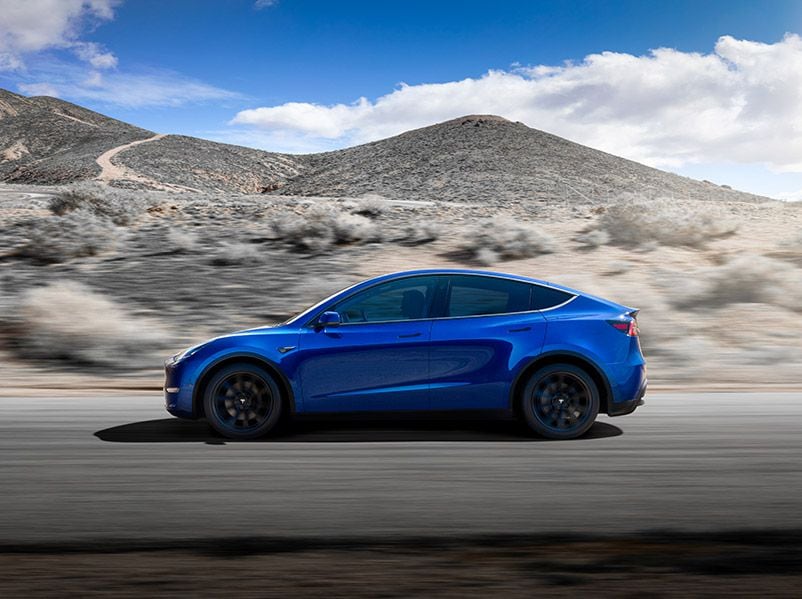 Photo by Tesla