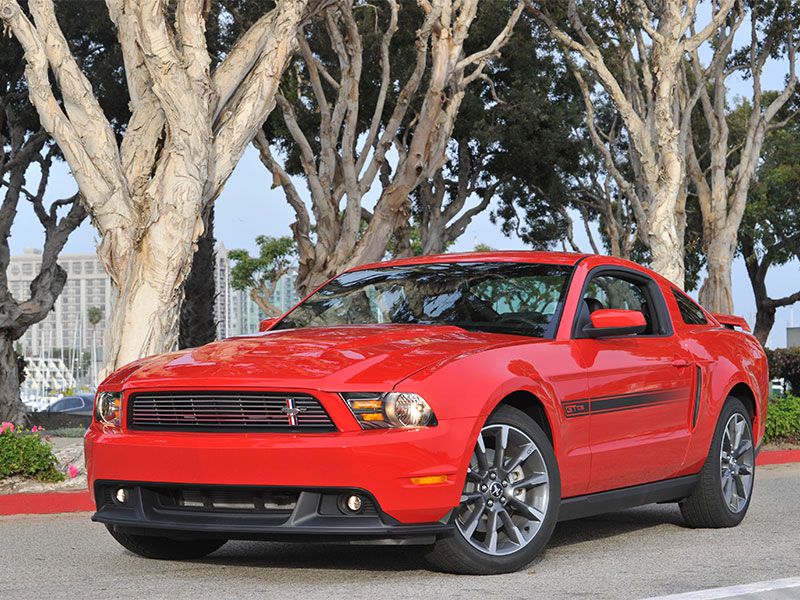 2011 Ford Mustang ・ Photo by Ford
When you're looking for a sports car, you may find your budget limited. Maybe this is a spare car that you'll save for warm spring weekends, or maybe you're budgeting for your sports car's higher insurance costs. The good news is, you can find many great choices even for less than $15,000.
Now, we know that everyone has a different definition for a sports car, but we're going to pick a broad one: basically, a car that was designed to first and foremost deliver some form of driving pleasure. This means we have everything from little two-seat roadsters to big V8-powered coupes to even a five-door hatchback. We have nearly new cars from mainstream brands and we have older luxury models. In short, we hope we've found something for everyone. Keep reading to see which of the best used sports cars under $15,000 could be perfect for you.
1. 2013 Mazda MX-5 Miata
The Mazda MX-5 Miata is a staple on anyone's list of the best affordable sports cars, and for good reason. This rear-wheel-drive two-seat roadster delivers one of the purest driving experiences you'll find in a modern mass-produced vehicle, and it does it cheaply, reliably, and efficiently. Brilliantly responsive handling and an intimate connection to the road make driving the Miata a pure joy.
For under $15,000, you're looking at the third-generation MX-5 Miata, sold from 2006 to 2015. It came with a 2.0-liter four-cylinder engine making 167 horsepower and 140 lb-ft of torque, paired to either a five-speed manual transmission, a six-speed manual (our pick), or a six-speed automatic. This output may sound small, but in a car as light and low as the MX-5, it's more than ample.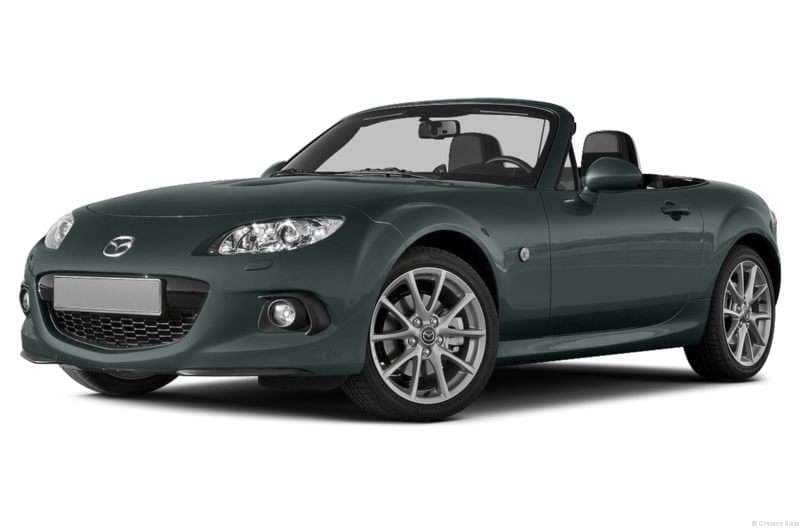 Photo by Mazda
2. 2014 Scion FR-S and Subaru BRZ
Picture a Miata with a roof and a tiny backseat, and you've arrived at the Subaru BRZ and its mechanical twin, the Scion FR-S (with was later renamed the Toyota 86). Introduced as 2013 models, the FR-S and BRZ are small rear-wheel-drive coupes with exceptionally responsive handling. And you can now find examples for under $15,000.
You wouldn't choose the FR-S or BRZ if you're looking for a luxurious experience or maximum power, or if you need to seat more than two people. But if you're looking for a slick-looking, sharp-driving coupe, they're standout options. The cars share a 2.0-liter four-cylinder engine with 200 horsepower, 151 lb-ft of torque, and a six-speed manual or six-speed automatic transmission.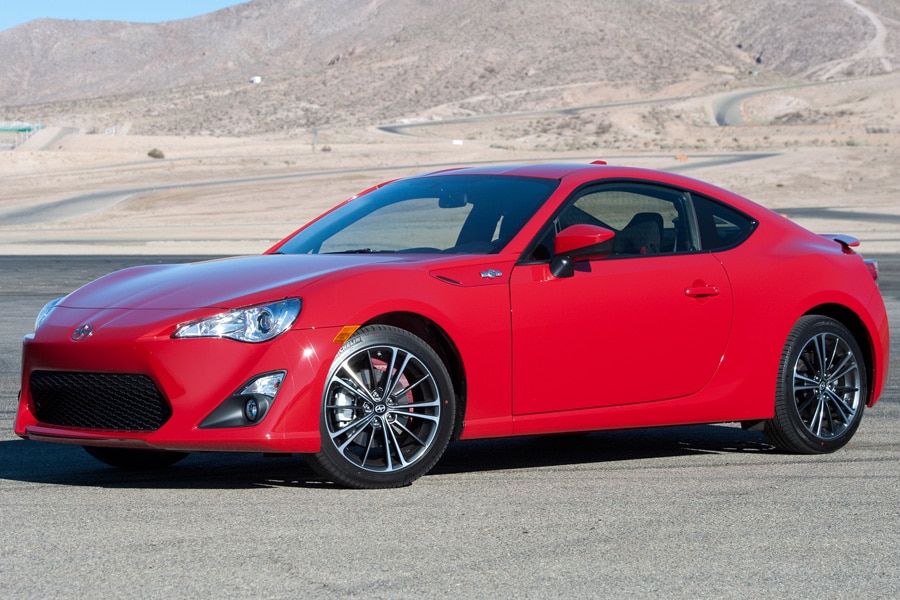 Photo by Scion
3. 2017 Ford Fiesta ST
Continuing our theme of small but fun-to-drive cars, we have an option that trades rear-wheel-drive purity for the functionality of a five-door body style. That's the Ford Fiesta ST, the performance version of Ford's subcompact hatchback.
The Fiesta ST wedges a turbocharged 1.6-liter four-cylinder engine under the Ford's little hood, and it's good for a mighty 197 horsepower and 202 lb-ft of torque. Suspension revisions make it agile in addition to quick, as a splendid example of a "hot hatch." And you can get a fairly new one for less than our budget. Just know that you'll need to be comfortable with a manual transmission, as no automatic is available. The Fiesta ST was sold from 2014 to 2019, and you should expect to get a 2017 model for under $15,000.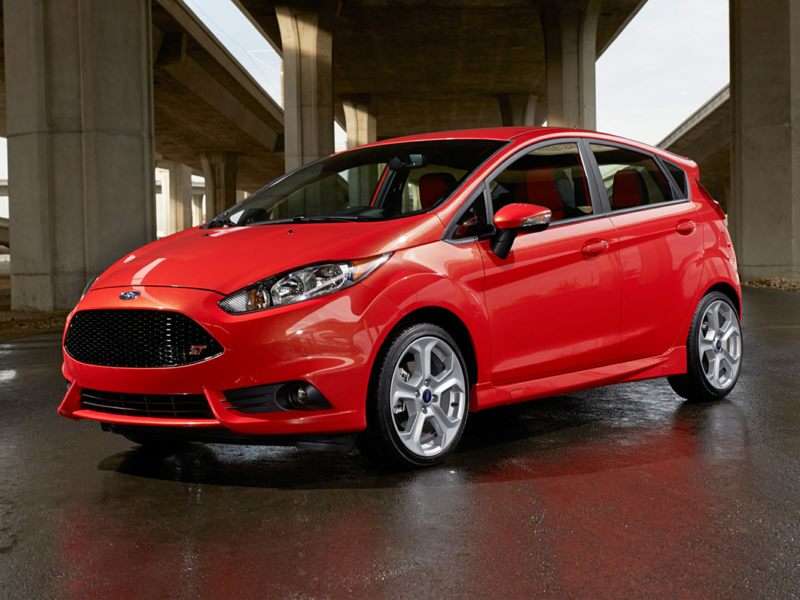 4. 2015 Volkswagen Golf GTI
Another leading "hot hatch" is the Volkswagen GTI, which invented the segment as a performance version of the Golf hatchback back in the 1970s. It's a size smaller than the Fiesta, less frenetic, and more upscale and comfortable overall, though it remains great fun to drive. Plus, you can get it with an automatic transmission — specifically, an excellent dual-clutch automatic — in addition to a manual.
The current-generation GTI arrived as a 2015 model, and that year is now available for less than $15,000. The 2015 GTI offered three-door and five-door body styles and used a turbocharged 2.0-liter four-cylinder engine with 210 horsepower and 258 lb-ft of torque.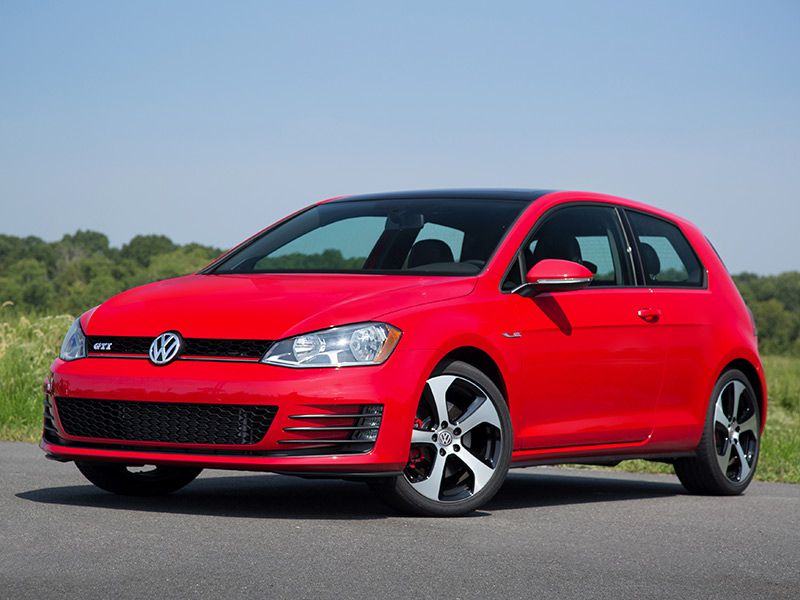 Photo by Volkswagen
5. 2011 Nissan 370Z
OK, horsepower junkies: You've waited through four little cars with little four-cylinder engines. Now we have the Nissan 370Z, a rear-drive two-seat coupe or convertible. Its 3.7-liter V6 provides 332 horsepower and 270 lb-ft of torque, sent through a six-speed manual or a seven-speed automatic.
The Z car isn't as light and agile as a Miata or FR-S, but it still has high handling limits and can rip its way to 60 mph in 5 seconds flat. The 370Z appeared in 2009 as a more powerful, slightly more polished replacement for the 2003-2008 350Z; we'd expect to find a good 2011 model today for under $15,000.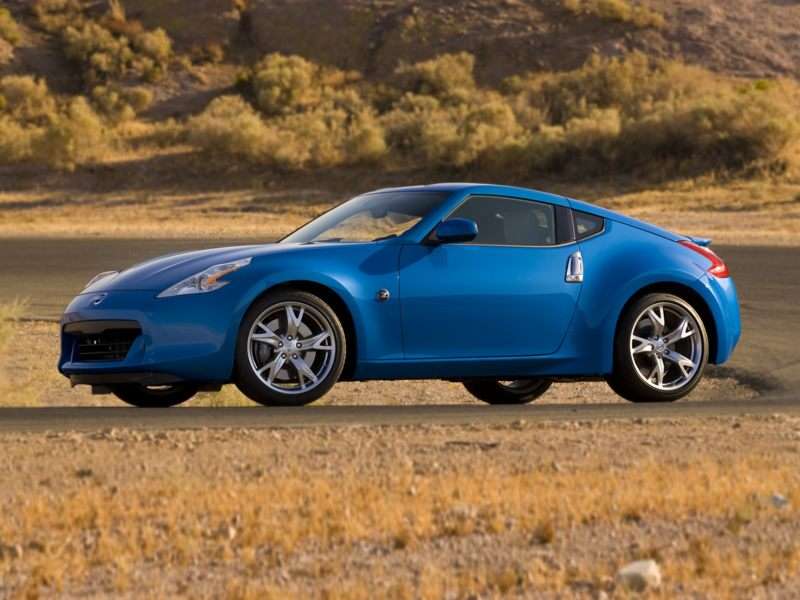 Photo by Nissan
6. 2013 Ford Mustang V6
Continuing with the formula of rear-wheel-drive and a 300-plus horsepower V6 engine, we come to the Ford Mustang. While six-cylinder Mustangs used to be for people who merely wanted to look fast, the 2011 model year brought a fantastic 3.7-liter unit with 305 horsepower and 280 lb-ft of torque.
It's still no V8, but you have to dig much deeper into the past to get an eight-cylinder Mustang — and by then, you're back into the 2005-2009 generation, which actually had less power (300 hp) than this V6. The 2011-2014 Mustang also brought more polished handling, a quieter ride, richer interior materials, and more advanced in-cabin electronics than prior generations. This retro-styled all-American performance car is available as either a fixed-roof coupe or a soft-top convertible.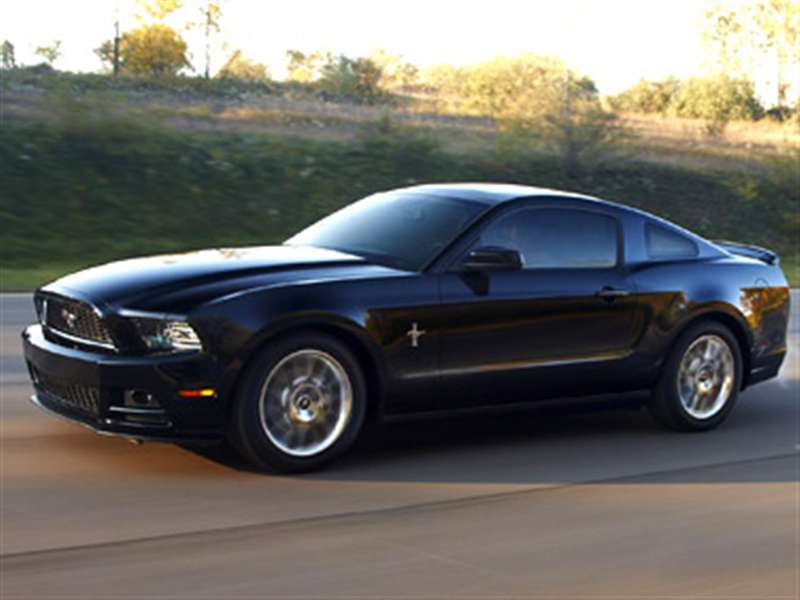 Photo by Ford
7. 2010 Dodge Challenger R/T
When a V8 is a big deal, the Dodge Challenger offers tons of straight-line performance for the money. This retro-styled rear-wheel-drive coupe hit the market as a 2009 model with a decently powerful V6 engine as standard equipment, but R/T model's 5.7-liter Hemi V8 is the real life of the party with 372 horsepower and 400 lb-ft of torque. (There's also the even more powerful SRT-8 version, but that will be hard to find for under $15,000.)
While the Challenger isn't as agile as the Mustang or its other closest competitor, the Chevrolet Camaro, it offers more power for the money along with a usefully spacious interior and a smooth, quiet ride.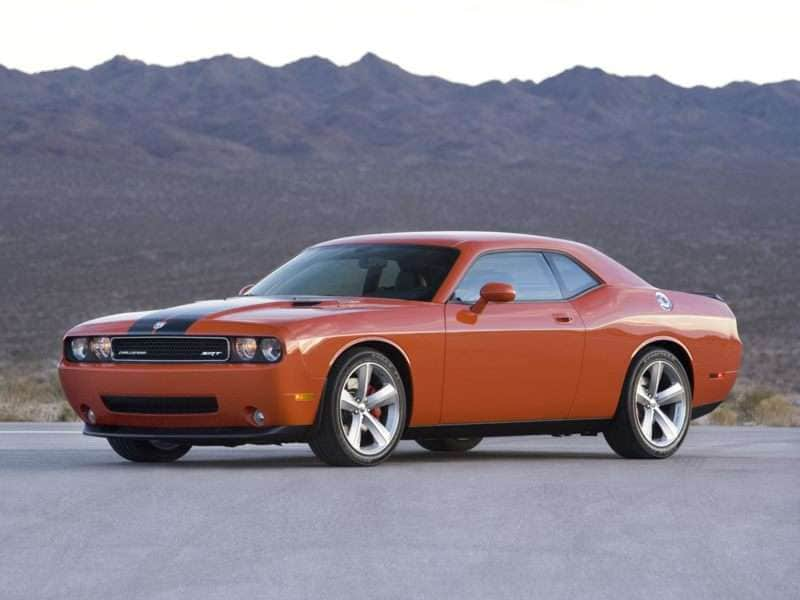 Photo by Dodge
8. 2010 BMW 135i
Shifting back to small, nimble cars, the BMW 1 Series is a rear-wheel-drive subcompact coupe and convertible with delightful steering and handling. And if you can find the 135i model, you get a zesty 300-horsepower 3.0-liter turbocharged inline-six engine as part of the bargain — along with a luxury-grade interior.
You may find only the less powerful 128i model under $15,000 when you're searching for a car, but that's not a bad choice either. It still has the same smooth 3.0-liter engine, but without a turbocharger, its output slips to 230 horsepower. Even so, that engine is quick enough to nicely complement the stellar steering and handling.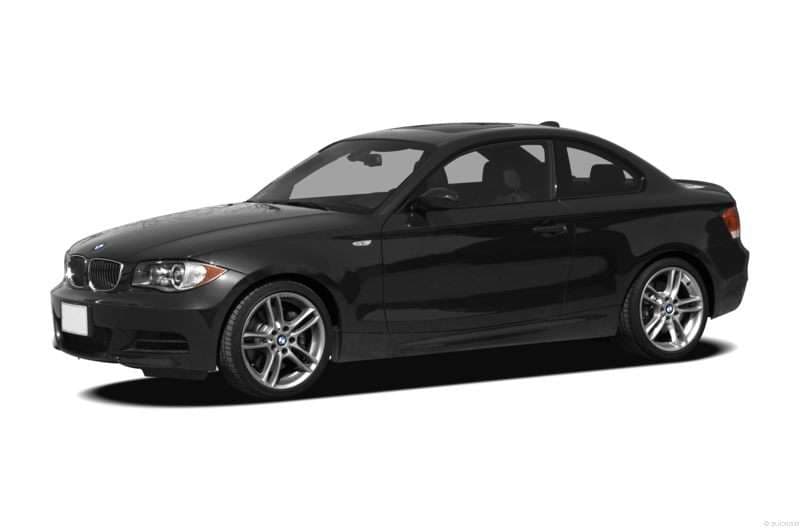 Photo by BMW
9. 2011 Audi S5
To combine the refined styling, elegant interior, and nimble handling of a European sporty car with the rumble of a big V8 engine, we recommend the 2008-2012 Audi S5 coupe. This all-wheel-drive two-door is the high-performance version of the Audi A5, itself a more stylish coupe version of the best-selling A4 sedan.
The S5 stands out for its 4.28-liter V8 with 354 horsepower and 325 lb-ft of torque. It's not the most fuel-efficient car you can buy, which is part of the reason Audi switched to a supercharged V6 in 2013. (The S5 convertible offered the V6 throughout.) But we'd pick the V8, ideally with the available manual transmission, and we'd expect the older model to be easier to find for less than $15,000 anyway.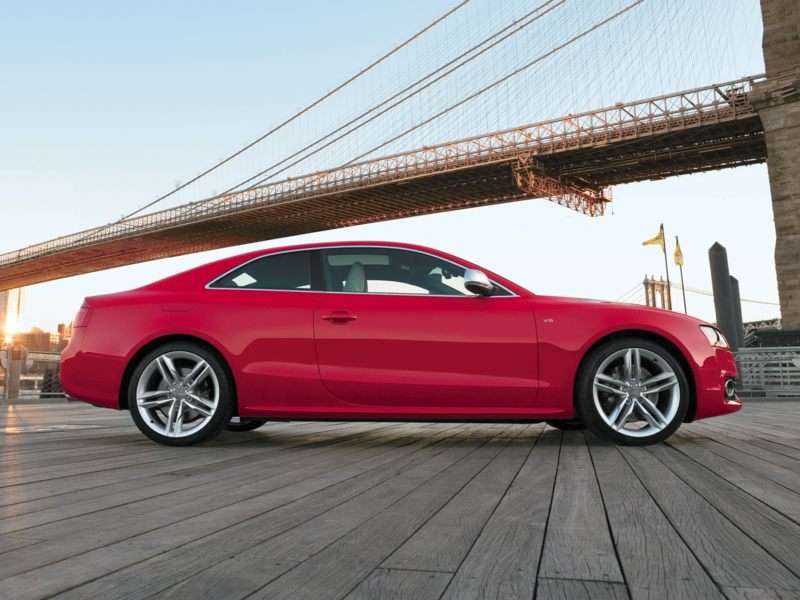 Photo by Audi
10. 2003 Chevrolet Corvette
The Chevrolet Corvette is a sports car icon, and that pedigree keeps even older-model examples above $15,000. Still, if you go back to the "C4" generation sold from 1999 to 2004, you'll find some beautiful examples of one of America's top performance bargains.
Every C4 Corvette is a rear-drive two-seater with a powerful V8 engine — a 350-horsepower 5.7-liter V8 on most models, paired to a choice of a four-speed automatic or six-speed manual transmission. A 20-year-old Corvette's acceleration and handling may no longer turn heads, and its never-amazing interior continues to be a sore point, but this remains a lovely car that's fun to drive fast.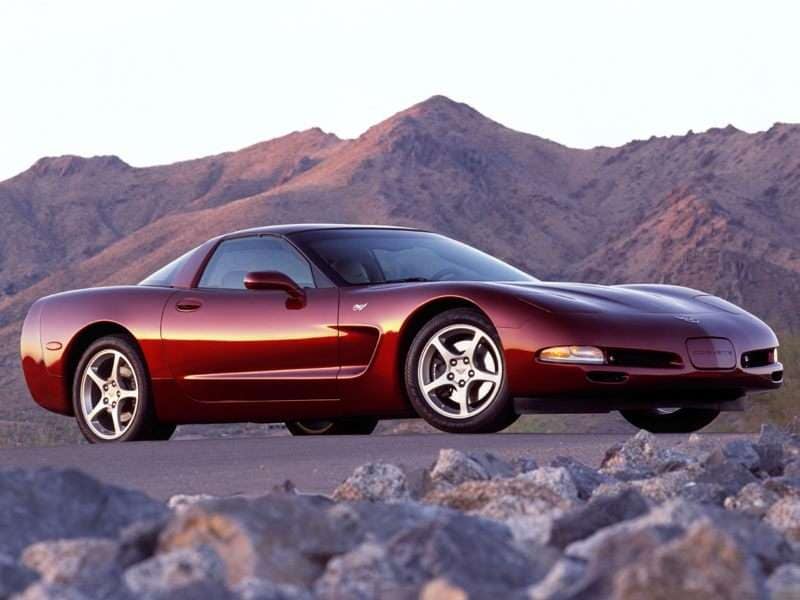 Photo by Chevrolet Media