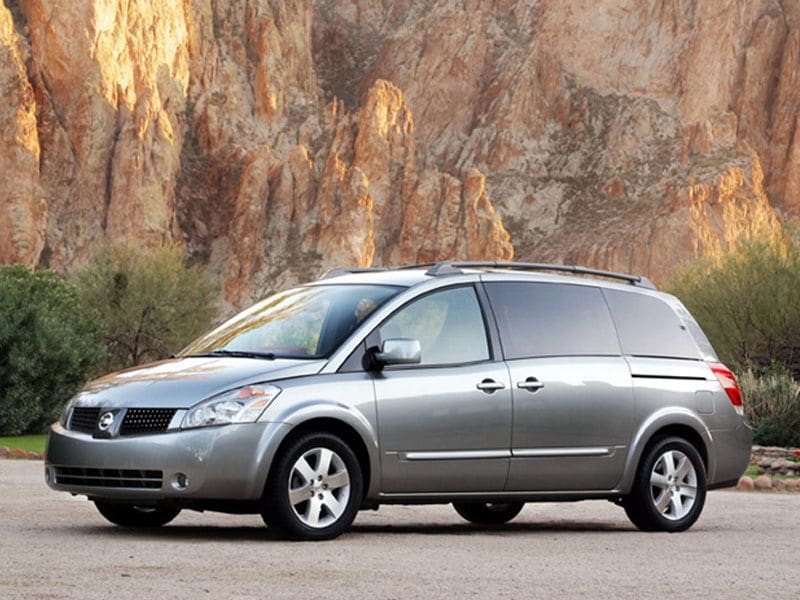 2004 Nissan Quest
Pricing for today's top people-haulers can exceed $29K just for starters, so the best used minivans under $5,000 can make for some compelling alternatives for customers on a budget. Of course, there are a few caveats, as you won't find modern-day driver-assistance measures or infotainment technologies for that kind of cash, nor are the government's safety ratings for pre-2011 minivans directly comparable to those for the current crop. Yet you will see some serviceable—albeit high-mileage—choices on the list, along with three selections with a surprising amount of potential as future classics.
2004 Honda Odyssey
The 2004 Honda Odyssey is a good starting place in a search for the best used minivans under $5,000, as it won Autobytel's "Consumer Choice Award" in the segment for the model year in question. Indeed, as our own Lyndon Bell has reported: "This generation of the Honda Odyssey was universally lauded as the best minivan money could buy during its model run"; the 2004 edition then represents the best of the best, since it's from the final year for that generation. Further bolstering that claim: It also snagged the 2004 segment trophy in J.D. Powers' Initial Quality Study, earned a 5-Star Overall Safety Grade from the NHTSA, and won Car and Driver's minivan comparison contest for the year. In terms of cargo capacity, the 2004 Odyssey delivers up to 146.1 cubic feet of space that's within 2.4 cubes of the current model's total.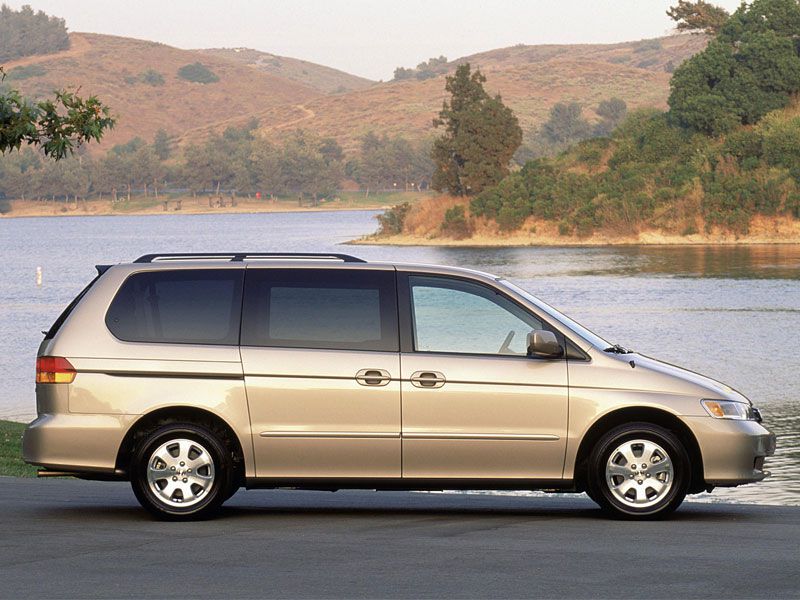 2005 Chrysler Town & Country
The 2005 Chrysler Town & Country is the first to offer the company's innovative "Stow 'n Go" second- and third-row seats, providing it with an effective advantage against other of the best pre-owned minivans under $5,000. With the Stow 'n Go setup, the back rows can be quickly and easily tucked away into dedicated in-floor storage bins, and when the seats are in use, said storage areas supply a total of 12 cubic feet of hidden cargo space. The 2005 Town & Country also introduced tip-forward second-row seats to the minivan market, with that row smoothly and simply moving out of the way to enable better access to the back row—which, in turn, can be flipped over to serve as tailgate seats. On the occupant-protection front, the 2005 model does have such highlights as a driver's-side knee airbag and a rear obstacle-detection system, but shoppers should be aware that only "later release" models have NHTSA's 5-Star Overall Safety Score.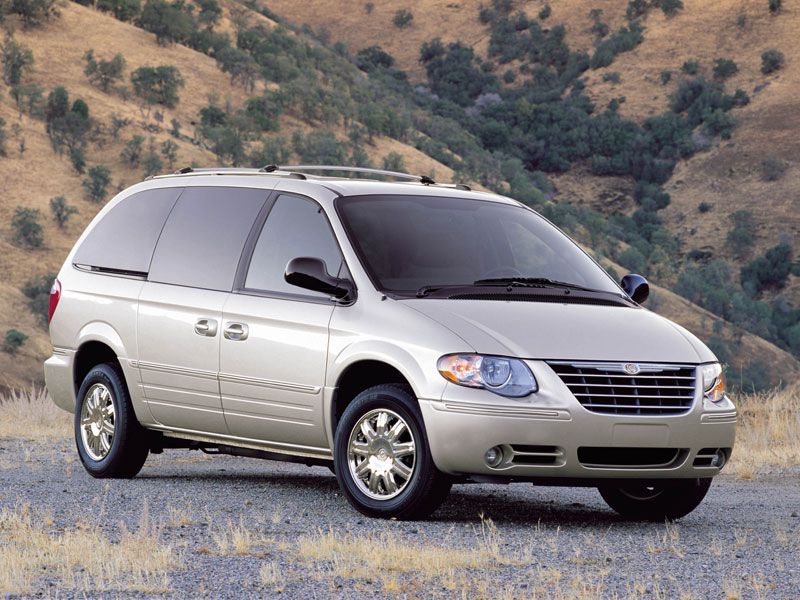 2006 Dodge Grand Caravan
Sharing much with the same-generation Chrysler Town & Country, the 2006 Dodge Grand Caravan also has the same Stow 'n Go seating with third-row tailgate functionality, and it carries the same 5-Star Overall Safety Score from NHTSA, too. But the jump to the 2006 model year brings with it some technology not found on older editions— like a Uconnect hands-free communications system with Bluetooth—that elevate its position among the best used minivans under $5,000. Autobytel also has particular advice about powertrains: The 2006 Grand Caravan was available with a four-cylinder engine and two V6 units, and although you might think one of them would be notably fuel efficient, such is not the case. The four-cylinder entry engine and the mid-range, 180-horsepower V6 each turned up EPA ratings of 17 mpg city/24 mpg highway/20 mpg combined, while the premium V6, making 205 horses and 240 lb.-ft. of torque, comes in at 16/23/18.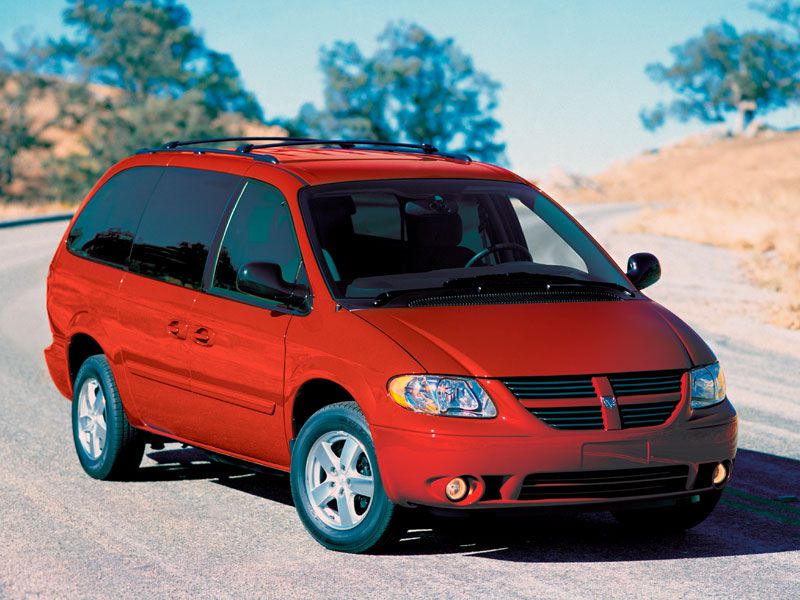 2003 Toyota Sienna
Originally launched in 1997, the first-generation Toyota Sienna was a state-of-the-art sensation at the turn of the millennium, winning multiple J.D. Power quality awards during its run and, in the form of the 2003 Toyota Sienna, being named the "Most Reliable Minivan" of calendar-year 2002 by Consumer Reports. Additionally, the Sienna matches the best used minivans under $5,000 by taking home a 5-Star Overall Safety Score from NHTSA. Customers, however, should keep in mind that this first-gen minivan puts slightly more emphasis on being "mini" than current models. Thus, the 2003 Sienna is about 8 inches shorter in length than the 2016 version, which translates into roughly 16.5 fewer cubic feet of cargo room behind the front row. That said, the older entry was lauded at the time of its debut for a car-like driving experience that comes courtesy of the same underpinnings as the contemporary Toyota Camry.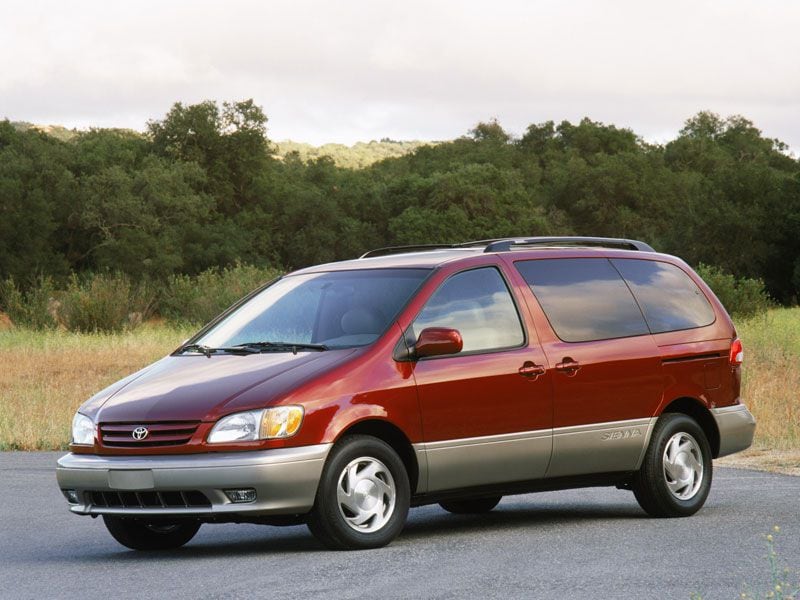 2006 Chevrolet Uplander
GM never really found its footing in the minivan category, leaving the segment after the 2008 model year, when it committed to positioning three-row crossovers as its family-friendly vehicles of choice. But first, the automaker tried a transitional step, deploying a fresh front-end design for the generation of minivans that debuted in 2005. It furnishes "the bold look of a sport-utility vehicle" for the 2006 Chevrolet Uplander, giving the Bowtie-brand product a distinctive appearance when compared to the other top minivans priced under $5,000. The Uplander also works the SUV angle with an available all-wheel drive system, yet additionally showcases what was for its time a leading-edge PhatNoise entertainment system with early voice-recognition technology as well as mass-media storage and playback capability for digital music and movies. Just note that the Uplander's 204-inch length and 136.5-cubic-foot cargo maximum are longer yet smaller than some other rivals from the 2006 model year.
2004 Nissan Quest
People have been complaining about the dull style of most minivans ever since the segment was invented, but that won't be a worry with the 2004 Nissan Quest—especially from behind the wheel. That's because the Quest has the exotic driver's environment you'd be more likely to find in a concept car than in one of the best used minivans under $5,000. The instrument panel, for example, has been moved from directly in front of the driver to the top center of the dash, and the transmission lever, climate vents and typical center-stack controls are mounted on the flat end of what seems to be a thick cylinder growing out of the minivan's floor. Meanwhile, the exterior of the Quest exhibits sinuous lines and touches like an available SkyView roof that puts four windows up top, for added interior light. The Quest's dramatic design also delivers nearly 212 cubic feet of total interior volume.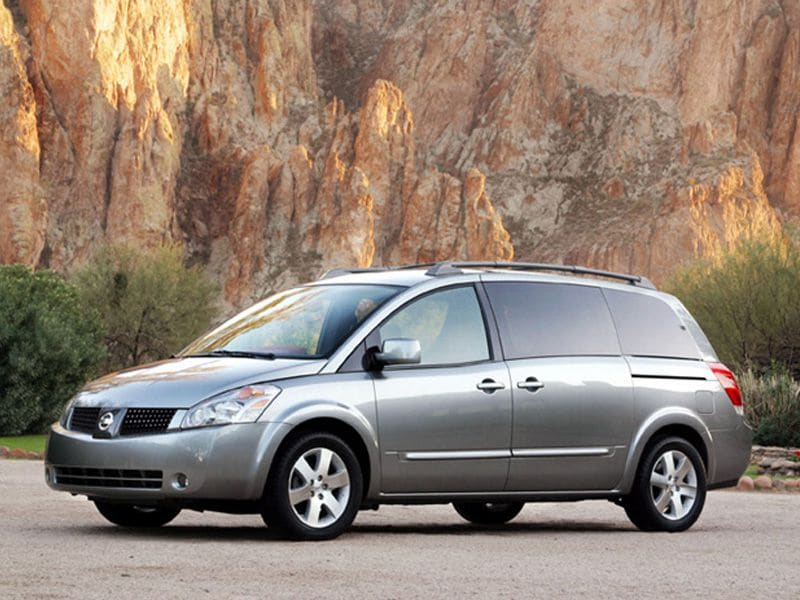 2006 Mazda MPV
Predictably enough, zoomy driving dynamics are a leading feature of Mazda's best used minivans priced under $5,000. Take the 2006 Mazda MPV. True, its 3.0-liter V6 engine serves up outputs that don't stand out today, with 200 horsepower and 200 lb.-ft. of torque on tap, but the MPV's curb weight of 3,772 makes it a veritable Lotus of minivans. Moreover, Mazda also deploys rack-and-pinion steering and a relatively sophisticated suspension system with MacPherson front struts, a rear torsion-beam axle, and stabilizer bars at each end. The company even calls out its driver's seat for the sort of "excellent lateral support" that comes in handy when carving the corners. The flip side to the MPV's nimble nature: not quite as much cabin space as some minivans. Yet with a length of 189.5 inches—a tad less than today's midsize sedans—the 2006 MPV does fit up to 127 cubic feet of cargo.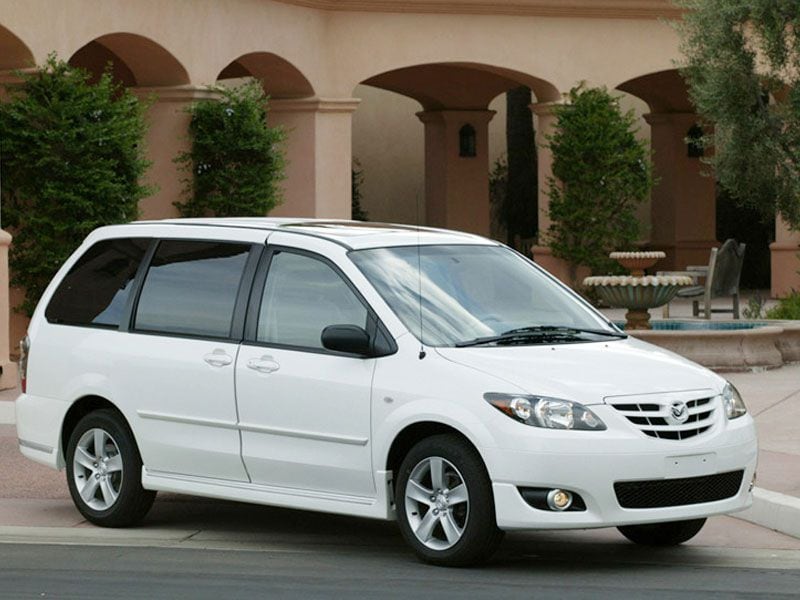 1990 Pontiac Trans Sport
It seems that some of the best used minivans for under $5,000 right now may be worth significantly more than that in the future. After all, early minivans already have begun popping up at the occasional collector's auction, and the vintage-vehicle experts from Hemmings have hand-picked GM's "dustbuster" trio as likely to join those ranks. And while all three—the Chevrolet Lumina, Oldsmobile Silhouette and Pontiac Trans Sport—share the same inimitable styling, Autobytel is all-in on the latter, which also was the first to market. As for what's beneath the Trans Sport's futuristic sheet metal, practical plastic body panels and massive greenhouse, well, the packaging isn't perfect, but the vehicle can manage up to 105 cubic feet of cargo within its 194.5-inch length. On a historical note, the Trans Sport and friends also introduced such features as space-frame construction and power-sliding side doors to the segment.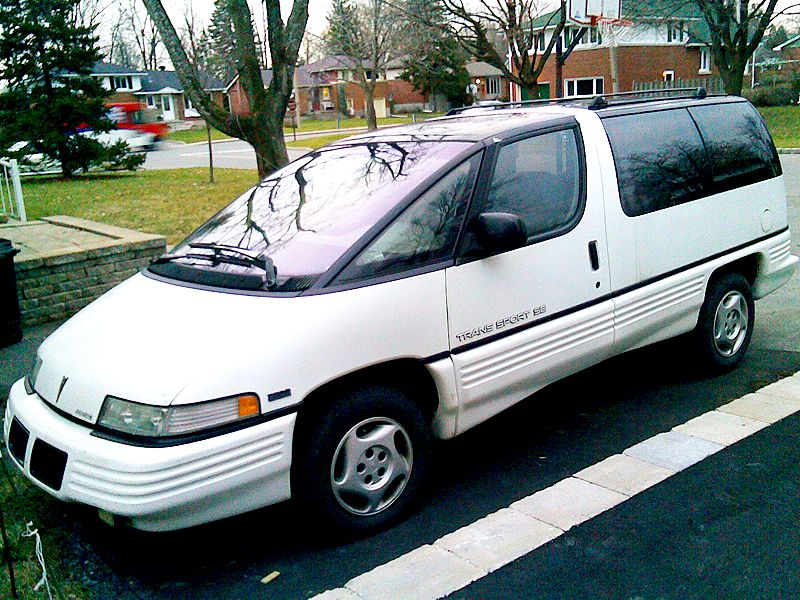 1994 Toyota Previa
At the same time that GM was premiering its radically designed "dustbuster" minivans, one of its arch-rivals was headed in the same direction, at least as far as appearance is concerned. The Toyota Previa, though, backed up its spaceship-like shape with equally advanced underpinnings, including a layout in which the vehicle's engine was installed beneath the front seats. Then, for additional collector appeal as one of the best used minivans under $5,000, the 1994 Toyota Previa debuted a supercharged engine to go with its previously available all-wheel drive system, checking three important boxes for enthusiasts: forced induction, a mid-engine design and all-wheel drive. And even with 138 horsepower and 150 lb.-ft. of torque, that powerplant pushes a light-ish 3,535 lbs., for competitive acceleration. It's also worth pointing out that, in J.D. Power competition, the Previa picked up six quality honors during its eight-year run, becoming one of the best used minivans under $5,000 by that measure.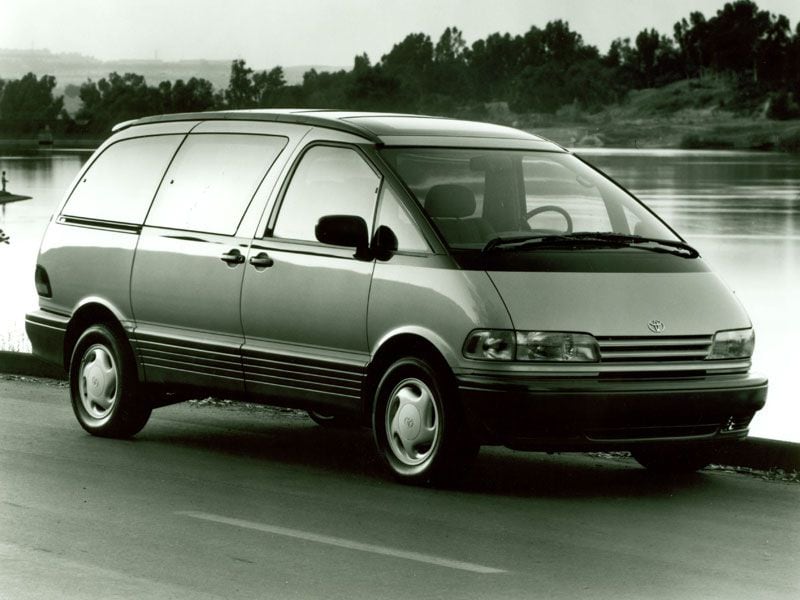 1989 Dodge Grand Caravan
We'll wrap up our analysis of the best used minivans under $5,000 by paying homage to the pioneering pair from what was then the Chrysler Corporation: the Dodge Caravan and Plymouth Voyager that went on sale in the 1984 model year. Fast forward five more years, and Dodge decided to quicken the 1989 Dodge Caravan with a turbocharged engine and five-speed manual transmission, creating what's become a cult classic in the process. True, the tale of the tape for that 2.5-liter, four-cylinder unit originally only came to 150 horsepower and 180 lb.-ft. of torque, but at least one driver has wrenched his way to a sub-12-second quarter-mile time in a track-tuned version. Woodgrain accents are available on some examples as well, for a certain suburban je ne sais quoi.