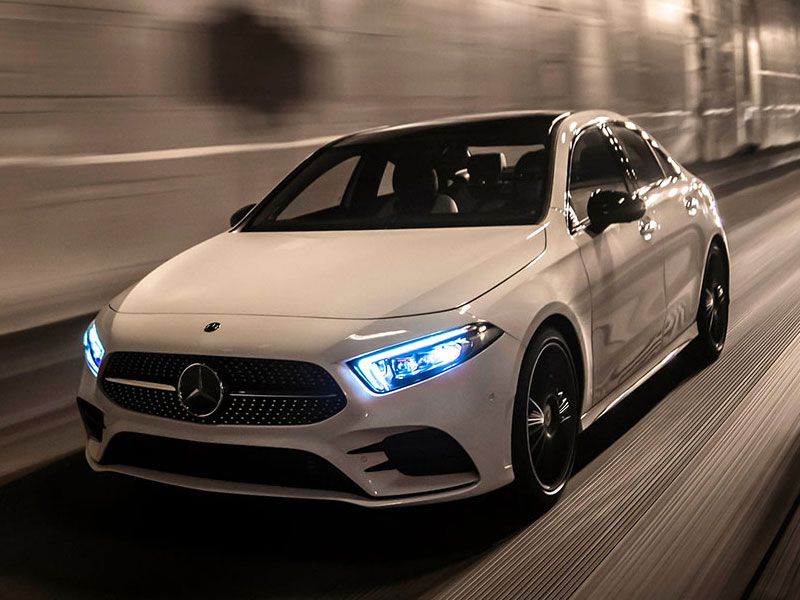 2019 Mercedes Benz A CLASS on street ・ Photo by Mercedes-Benz
This list of ten best luxury cars under $40,000 illustrate that it's possible to drive around in something prestigious without spending crazy money. For this list, we've focused on the most a buyer can get for the money with each brand. For example, both a new-generation 2019 BMW 3 Series and 2019 Mercedes-Benz C-Class start just above $40,000. However, both companies make smaller luxury cars as well, so they made the list. There's bound to be something here for the discerning shopper. Let's dive in.
2019 Acura TLX
The TLX is Acura's premium compact sedan, starting at $33,995. In its most affordable form, it's not exactly an enthusiast's dream since it only comes with 206 hp. But it is extremely well-equipped for the money, with plenty of safety features as well as more indulgent aspects. The ride quality is superbly comfortable yet controlled, while agility is enhanced by standard all-wheel steering. Spend a touch more, though, and the 290-hp V6 is within reach at $37,195. Or stick with the smaller engine and select the Technology package (featuring perforated leather upholstery, GPS-linked climate control and voice recognition) for a total of $37,695. Even the hybrid version comes in at $39,195. The TLX is a serious bargain.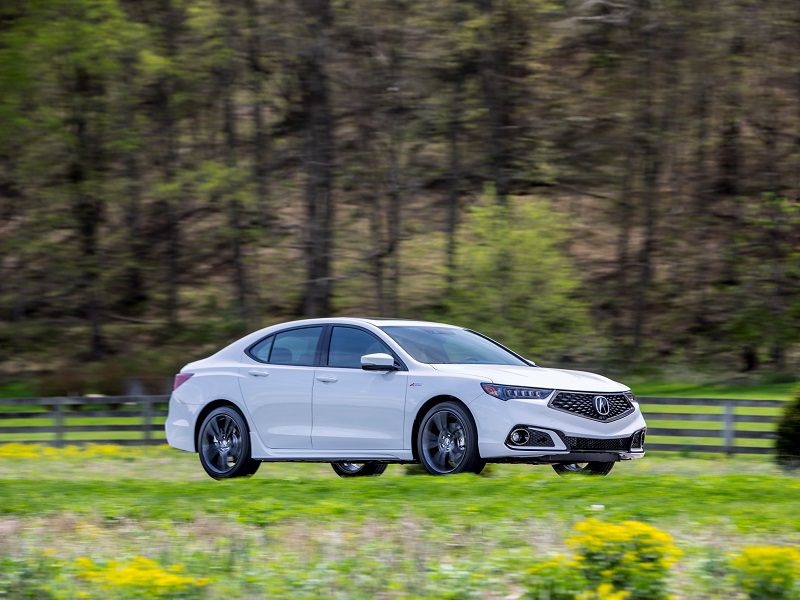 Photo by Acura
2019 Alfa Romeo Giulia
Not only has the Giulia won accolades like best design, best new luxury compact car and Top Safety Pick, it's also captured the hearts and imaginations of buyers who desire precise handling talents and gorgeous style in equal measure. This is a skill set at which European cars seem to excel. Our outlay brings the base-level 2019 Giulia just within our grasp, starting at $39,490, but that still includes leather upholstery, ambient cabin lighting, dual-zone automatic climate control and smartphone integration. On the performance front, the base Giulia enjoys an impressive 280 hp, while Brembo brakes (supplier to Ferrari and the like) are also standard. An affordable luxury car doesn't have to be German or Japanese.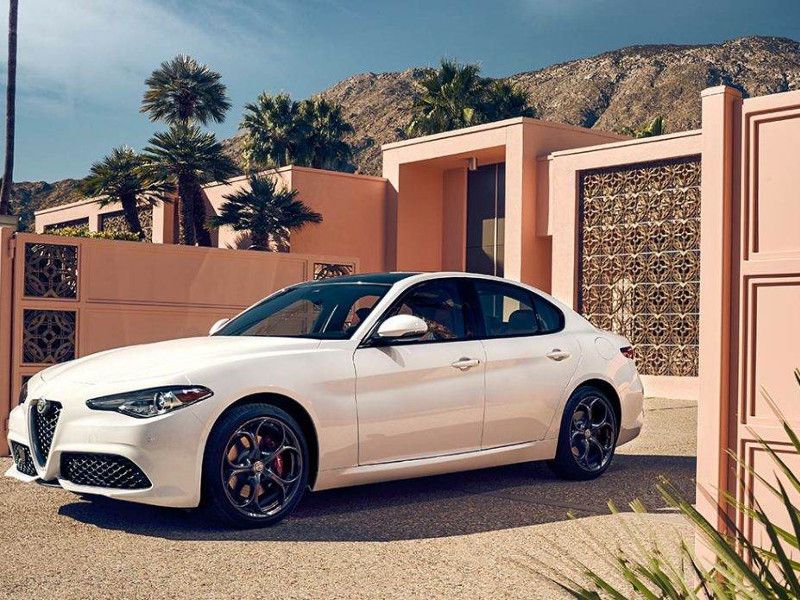 Photo by Fiat Chrysler Automobiles
2019 Audi A3
Admittedly, the larger and newer A4 starts under $40,000. But that's for the lower-powered/fuel-sipping Ultra version, which doesn't really qualify it as one of the best sub-$40,000 luxury cars. So that leaves us looking at Audi's smaller offerings. The A3 subcompact premium sedan starts at $33,495. It has all that distilled design philosophy that's an integral part of the marque's aura, plus leather upholstery, panoramic sunroof, and a ride quality to eat up the miles. This figure brings some financial leeway to spend extra on something like all-wheel drive. More good news, the 2019 A3 Cabriolet (convertible) also starts at a smidgen under $40k ($39,895).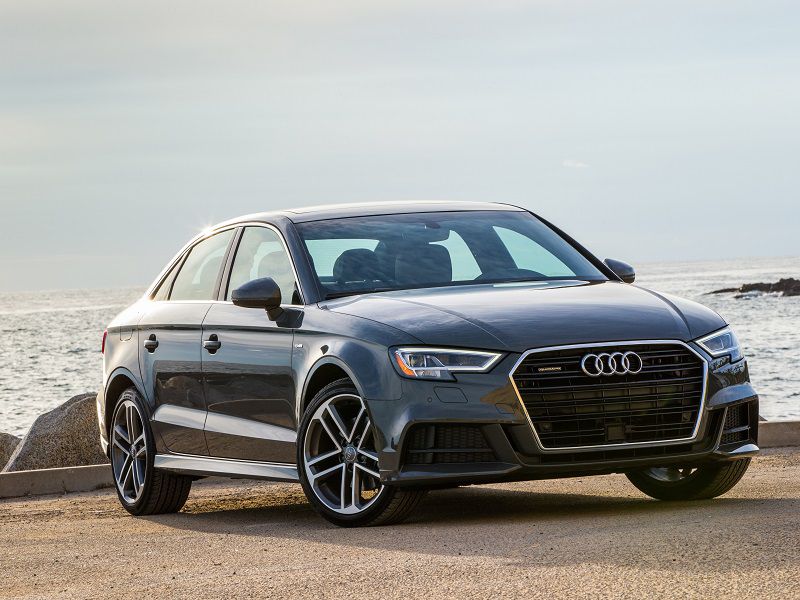 Photo by Audi
2019 BMW 230i
Luckily, this list is about 10 of the best luxury cars under $40,000, and "cars" doesn't always mean sedans. The 2 Series range consists of a premium subcompact coupe and a convertible (although the soft-top version starts above our fiscal ceiling). Both offer particularly rewarding and involving driving experiences that include strong engines, fabulous handling and luxury touches. The 2019 230i coupe enjoys 248 hp and several advanced safety features for a starting price of $36,295, which also includes an 8-speed automatic transmission (a 6-speed manual transmission is a no-cost option). That leaves a little left in the budget to opt for the xDrive all-wheel drive system ($2,000), if desired.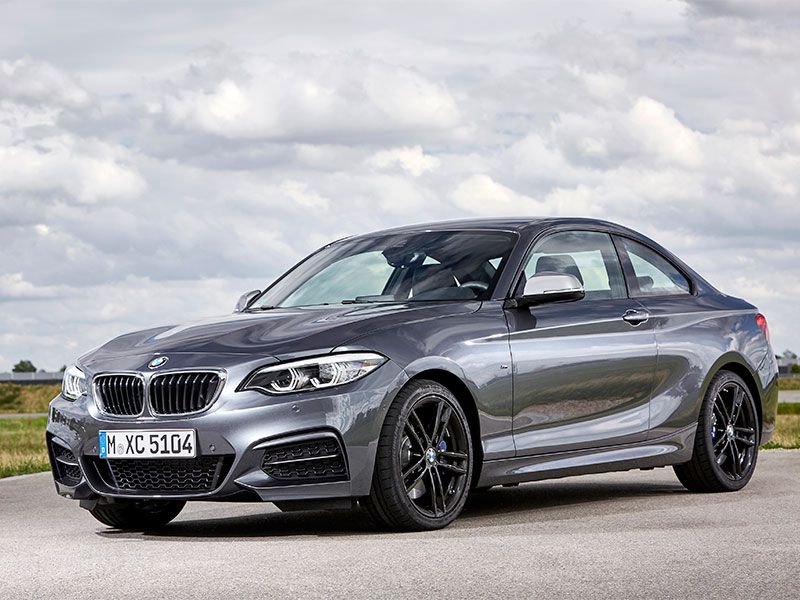 Photo by BMW
2019 Genesis G70
The Genesis marque doesn't carry the same upscale weight as, say, Mercedes-Benz. But anyone seeking premium quality and design, plus a well-tuned driving experience and a boat-load of standard equipment at a profoundly reasonable $35,895 should devote a fair amount of their research time to the 2019 G70 2.0T Advanced (with a gutsy 252-hp engine). Many items that are pricey extras in rival cars, like blind spot monitoring and smartphone integration, are all part of the package that also comes with a 10-year/100,00-mile powertrain warranty and three years free service valet. Genesis is going all-out to stake its claim as a legit premium marque. Still want to go with some better-established name?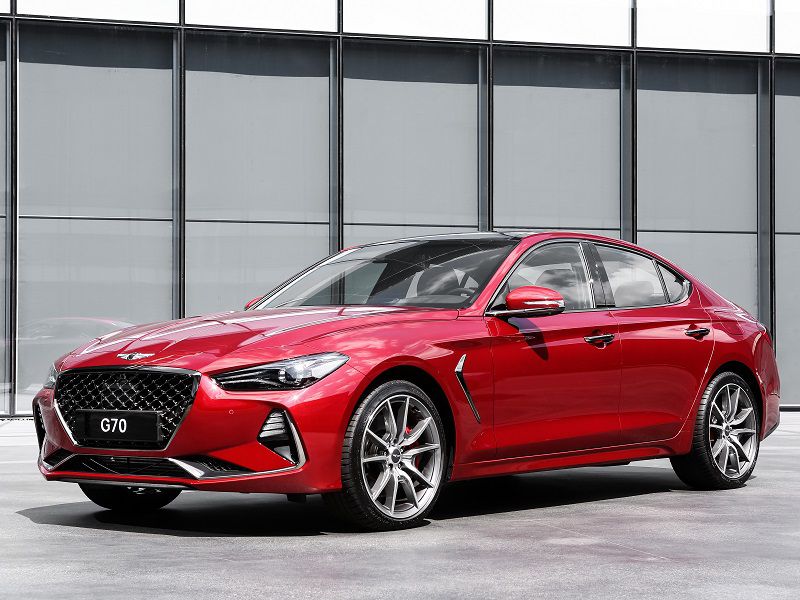 Photo by Genesis
2019 Jaguar XE
The XE premium compact sedan is among our 10 of the best luxury cars under $40,000 not just because of its starting price: $37,990. The suspension is sublime. It has the long-distance comfort that is a hallmark of luxury cars yet somehow mixes in the elements of precision and control, while avoiding any hint of harshness. Owning an XE brings up a dilemma: should you jump in and go somewhere just for joy of it, or stare out the window while it's parked in the driveway and admire its graceful lines and proportions? The entry level version wears the 25t badge, which means a 247-hp turbocharged engine, 8-speed automatic transmission, and rear-wheel drive.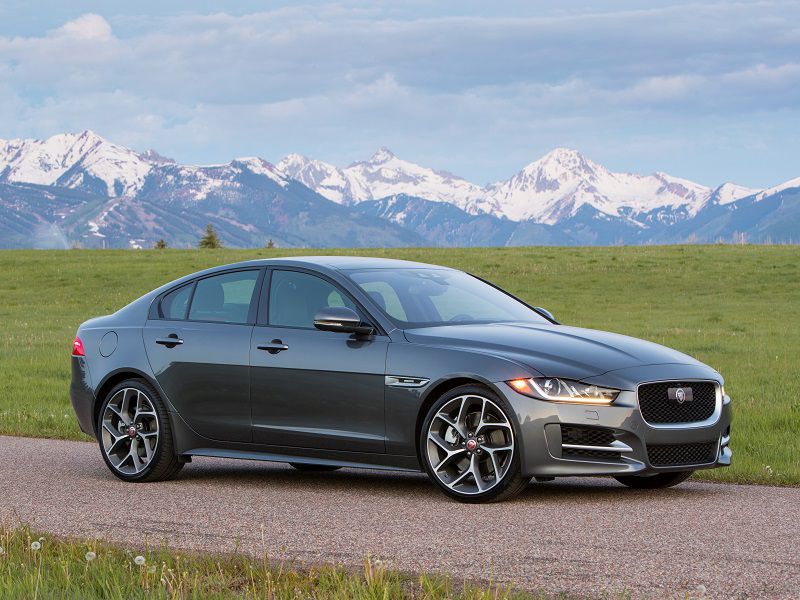 Photo by Jaguar
2019 Lexus IS 300
The IS premium compact sedan is far from the freshest ride of this bunch. It's due for replacement soon. But there are certain aspects of all Lexus vehicles that are timeless. Such as superb build quality, fine cabin materials, generous levels of standard equipment and some of the most enviable resale values in the business. The rear-drive 2019 IS 300 has a 241-hp turbocharged 4-cylinder engine that averages 26 mpg, a refined 8-speed automatic transmission, adaptive cruise control, lane-keeping assistance, and many luxury touches. It just squeaks under our limit, at $39,335, but that will be the only squeak an IS would make in an otherwise quiet and well-assembled cabin.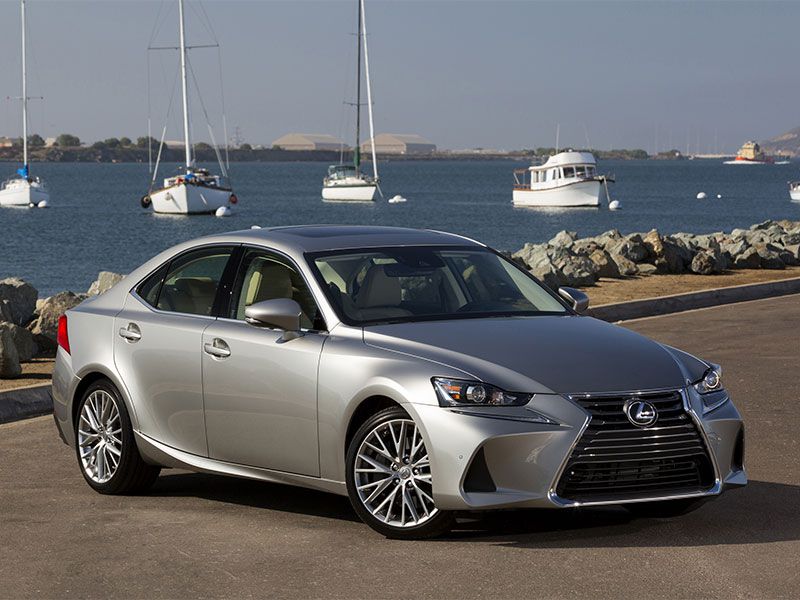 Photo by Lexus
2019 Lincoln MKZ
For $36,995, the 2019 MKZ comes with some lavish luxury equipment, such as an adaptive suspension (try getting one of those in German car for this kind of money) plus a broad array of advanced driver aids. And this is one of the few examples where a car company doesn't load up the price for the hybrid variant. The MKZ hybrid is capable of 48 mpg in the city. Any version will provide a calm cabin, unruffled ride and a suitably upscale environment. This model year sees a reorganization and re-naming of trim levels, but looking for a luxury car under $40k doesn't mean being short-changed just because the affordable entry level model doesn't have "Reserve" in its title.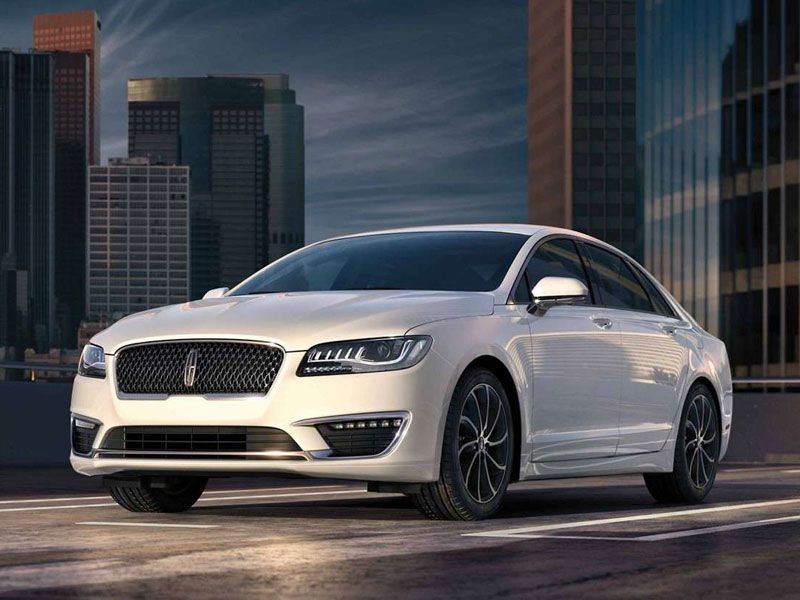 Photo by Lincoln
2019 Mercedes-Benz A-Class
If we can't afford a C-Class, we can still acquire the 2019 A 220 for around $30,000. This is an all-new model arriving in the United States early 2019 and it's a subcompact sedan. The already-familiar (and previously known as the least expensive Mercedes-Benz vehicle this side of the Atlantic) CLA-Class is considered a "4-door coupe" in Mercedes-Benz world. It has the limited rear passenger space of a coupe, while the new A-Class is more accommodating. This price level means being able to afford some driver aids and perhaps a few luxurious extras. The interior takes design cues from bigger and more expensive cars in the Mercedes-Benz stable, so it should still feel pretty special.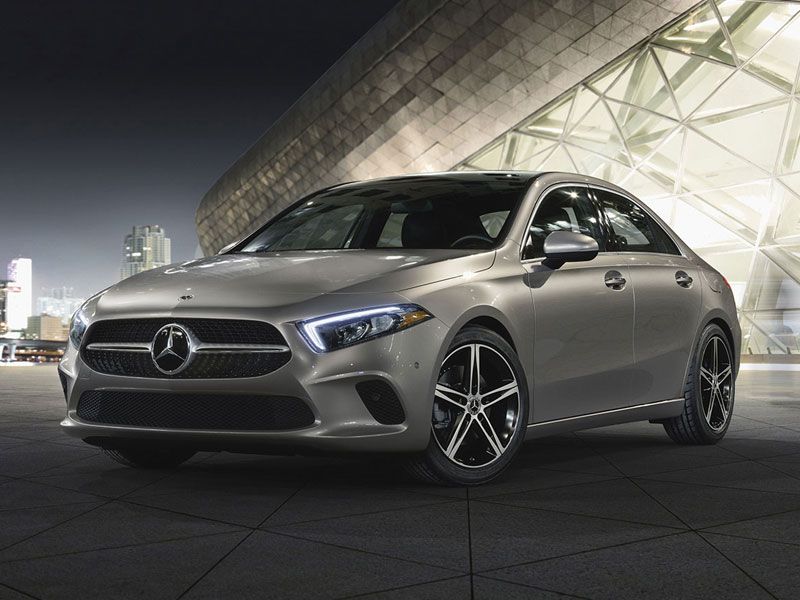 Photo by Mercedes-Benz
2019 Volvo S60
The S60 is a prime contender for our 10 of the best luxury cars under $40,000 lineup, because this premium compact sedan is all-new for the latest model year. It wears the current Volvo family design that has found many admirers (including us) and comes with standard safety features that are impressive in their number as well as their abilities, including a hazard detection system that can perceive cyclists, pedestrians and large animals. The interior is yet another example of smart, unfussy styling that's become another Volvo hallmark. Pay $36,795 for a 250-hp 2019 S60 T5 Momentum and get a panoramic sunroof, 18-inch alloy wheels, and some of the most comfortable seats available.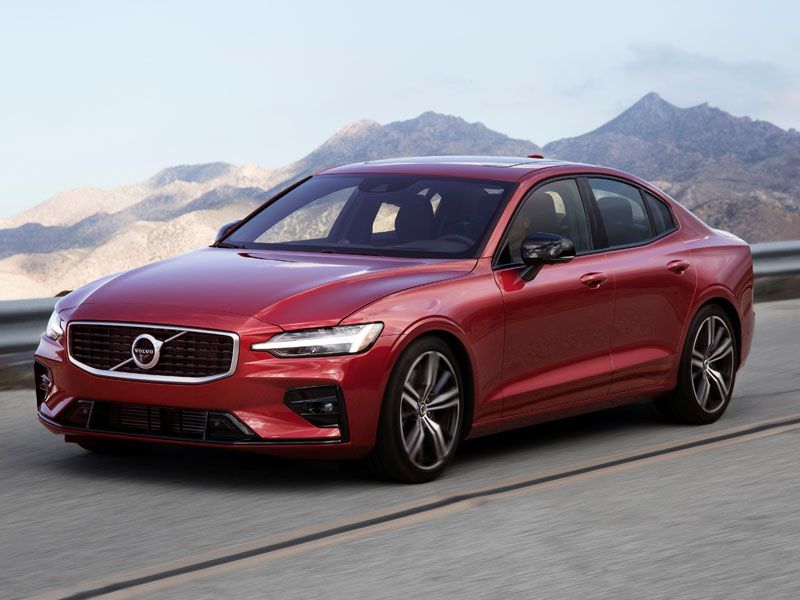 Photo by Volvo