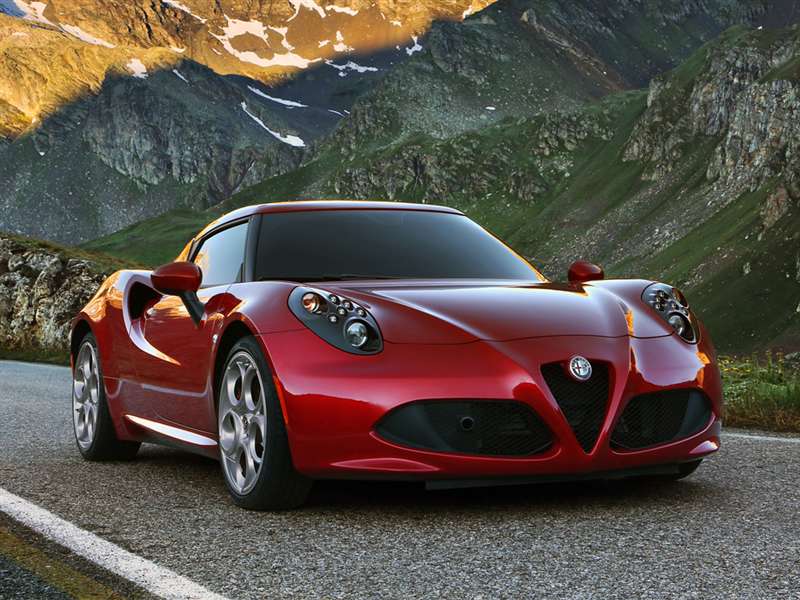 2015 alfa romeo 4c
Europe is the continent on which the modern sports car arguably originated, with roots linking the hot coupes and roadsters plying the roads today with their German and British predecessors of fifty years ago. Heading back across the Atlantic reveals a European sports car tradition that is still very much alive, with a wide range of companies continuing their tradition of building exciting and stylish high performance automobiles. Let's take a quick look at 10 of the best European sports cars and see what their unique personalities have to offer.
1) 2015 Porsche Boxster
The 2015 Porsche Boxster has become a critical darling amongst those who admire its ability to present uncompromising roadster performance at a more affordable price point than its 911 cousin. The open-air Boxster's lighter chassis allows it to grip the road with greater confidence, and two engine choices - a 2.7-liter, six-cylinder good for 265 horsepower and a 3.4-liter six-cylinder rated at 315 and 330 horses (in the Boxster S and GTS, respectively) - help to motivate the European sports car with considerable aplomb  A six-speed manual transmission is standard with the Porsche Boxster, but a seven-speed PDK dual-clutch automated manual is also available for those who want to execute gear changes faster than is humanly possible.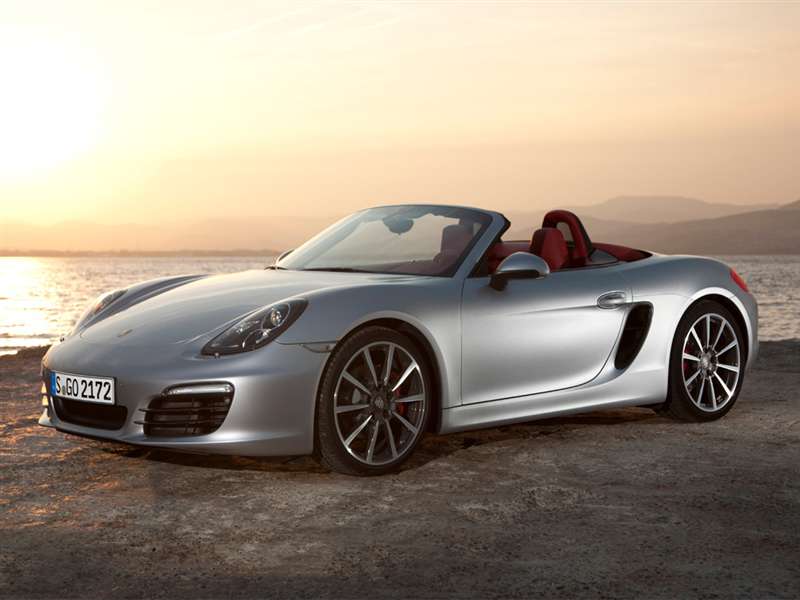 2) 2015 BMW Z4
The 2015 BMW Z4 is in some ways a competitor to the Boxster, but in another sense it appeals to a different set of sports car buyers. With a retractable hardtop as standard equipment, the BMW Z4 can be thought of as more of a year-round option, and its suspension system is not quite as focused on all-out performance. Instead, the Z4 is a comfortable sport roadster that can deliver spurts of outstanding driving when the situation warrants. Power is also excellent from the BMW Z4's range of available engine options. Entry-level editions of the car are powered by a turbocharged 2.0-liter four-cylinder that generates 240 horsepower, while the sDrive35i model gains a 3.0-liter six-cylinder twin turbo that provides 300 horses. For even more thrills, the sDrive35is cranks up the boost on the 3.0-liter mill to offer up an additional 35 horses and 32 lb-ft of torque. Six-speed manual, seven-speed dual-clutch automated manual and eight-speed automatic transmissions are the order of the day for the BMW, depending on which version of the car is ordered.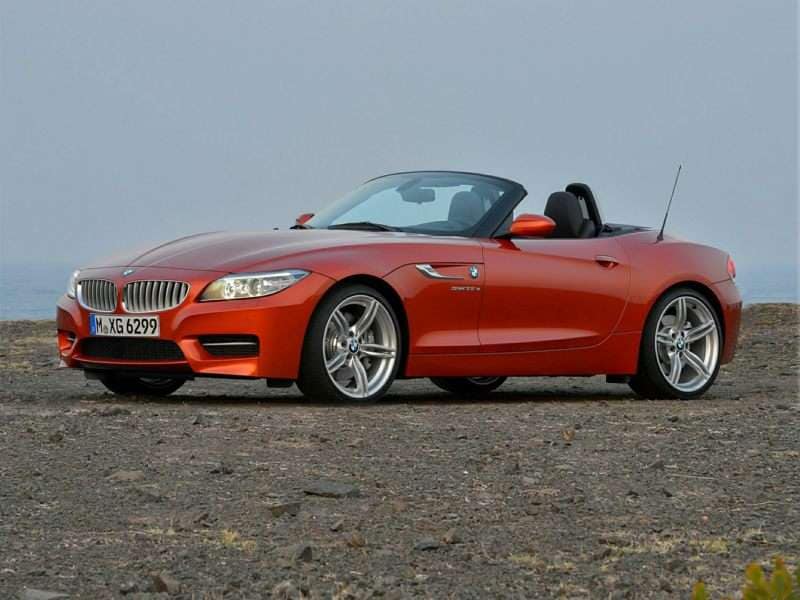 Photo by BMW Media
3) 2015 Ferrari 458 Italia
The 2015 Ferrari 458 Italia is one of the latest heartthrobs to emerge from Maranello, a purpose-built exotic sports car that hammers home its high performance message by way of a high-revving, 562-horsepower 4.5-liter V-8 engine that is mounted to the rear of the driver. A seven-speed, dual-clutch automated manual transmission transmits that output to the back wheels, and the Ferrari 458 Italia's finely-tuned chassis adeptly steps exactly where the driver tells it to. 60 mph arrives from a standing start in a scant 3.4 seconds, which makes the Italia one of the quickest automobiles on the planet.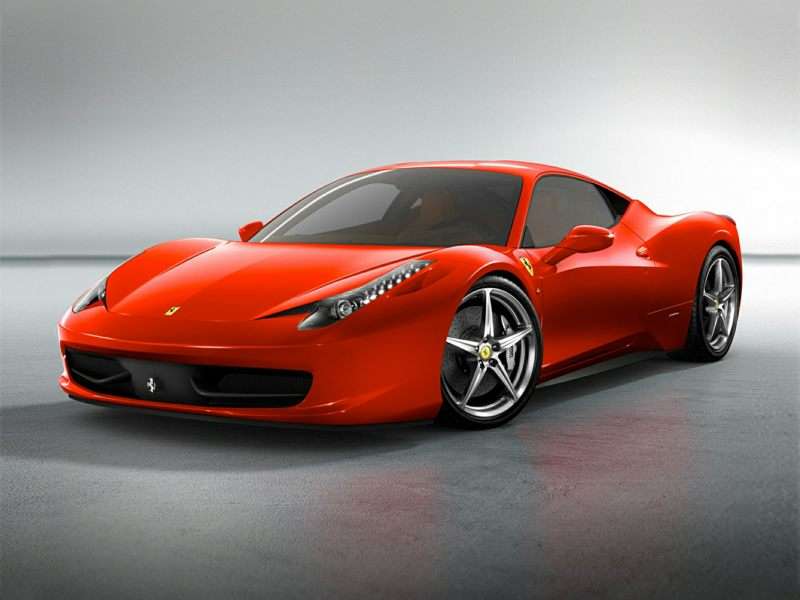 4) 2015 MINI Cooper John Cooper Works
At the other end of the price spectrum - at least in comparison with the Ferrari 458 Italia - is the 2015 MINI Cooper John Cooper Works. The MINI Cooper John Cooper Works edition of the subcompact hatchback provides buyers with the most aggressive version of the car's suspension and braking package. The MINI's engine comes in the form of a 1.6-liter, four-cylinder mill that generates 208 ponies by way of a turbocharger, and paired with its standard six-speed manual transmission this is more than enough to give the lightweight vehicle a spring in its step that sports car fans will appreciate.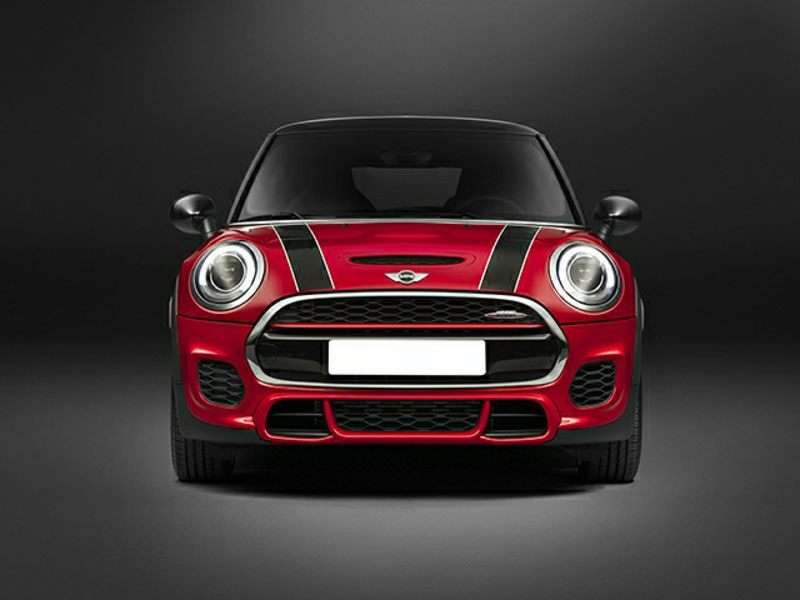 5) 2015 Audi R8
The 2015 Audi R8 looks like an exotic European sports car, and thanks to some shared DNA with corporate sibling Lamborghini, it is able to deliver a high performance experience that matches its body work. The Audi R8 features a rear-mounted engine and standard quattro all-wheel drive, which gives it superb grip and a more forgiving personality at higher speeds.  A 4.2-liter V-8 that produces 430 horsepower is the entry-level mill for the R8, but a 5.2-liter V-10 capable of churning out 525 horsepower and 391 lb-ft of torque can also be installed in the coupe. Each engine can be paired with the choice of either a six-speed manual or a seven-speed dual-clutch automated manual transmission. Stepping up to the V10 Plus trim introduces a 550-horsepower version of the V-10 engine.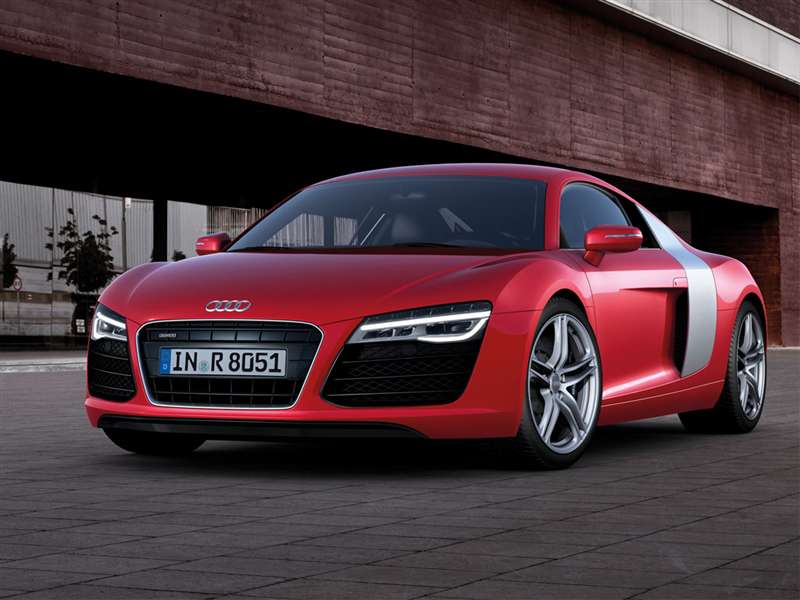 6) 2015 Lamborghini Aventador
The 2015 Lamborghini Aventador is the kind of car that, given a pair of wings, would most likely catch flight while soaring down the highway at its top speed of well over 200 miles per hour. Designed with brutal performance in mind, the Lamborghini Aventador is not a vehicle to be taken lightly, and getting the most out of the machine requires driving skills beyond what mere mortals are typically gifted with. A 6.5-liter, twelve-cylinder engine sits to the rear of the Aventador's cockpit, and when the gas pedal is depressed 691 horsepower and 508 lb-ft of torque pour out of it via a seven-speed dual-clutch automated manual transmission. All-wheel drive and standard launch control help the Lamborghini hit 60 mph in less than three seconds.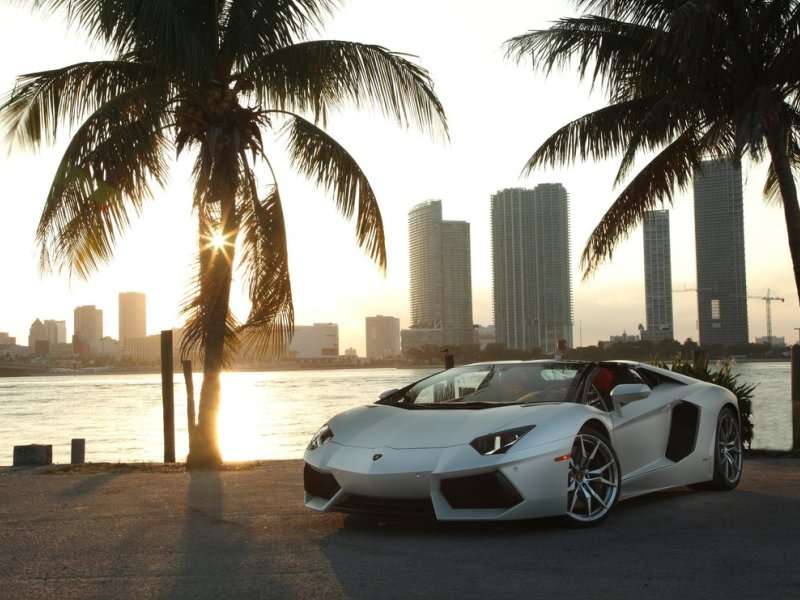 7) 2015 Jaguar F-Type
The 2015 Jaguar F-TYPE is a recent entry into the European sports car derby from an automaker that hasn't played in the compact performance car segment in several decades. The Jaguar F-Type is a small car that features the choice of either a 3.0-liter supercharged V-6 (in 340- and 380-horsepower editions) or a 5.0-liter supercharged V-8 that generates a hefty 495 horsepower. An eight-speed automatic transmission is standard. The supercharged V-8 version of the Jaguar F-Type tops out at just under 190 mph. The F-Type was introduced in convertible form, but a coupe version has been added to the lineup for 2015.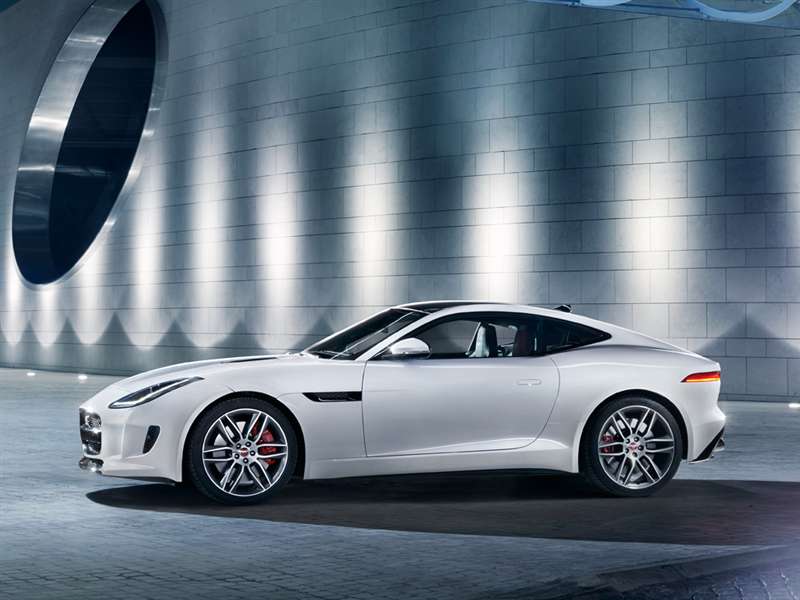 8) 2015 Mercedes-Benz SLS AMG
Mercedes-Benz is a brand with a significant amount of engineering clout, and this is well-represented by the 2015 Mercedes-Benz SLS AMG supercar. The Mercedes-Benz SLS AMG coupe is the first vehicle to have been designed from the ground up by in-house hot rod tuners AMG, and its gull-wing doors are far from the most exciting characteristic that it has to offer. An all-aluminum chassis ensures a low curb weight, and a 6.2-liter V-8 engine - built by hand, no less - delivers 583 horsepower and 479 lb-ft of torque. A seven-speed automated manual transmission is standard with the coupe, which can reach 60 mph in a very rapid 3.8 seconds.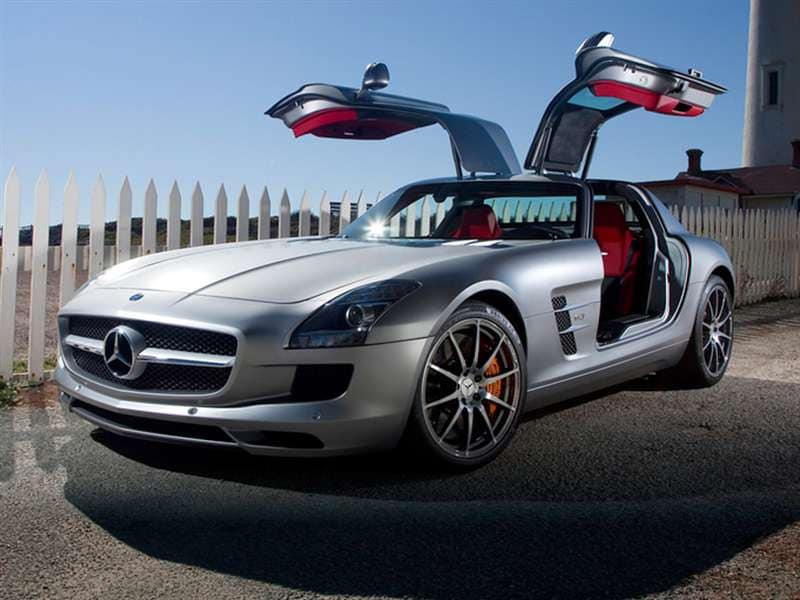 9) 2015 Alfa Romeo 4C
Aston Martin hadn't sent any cars Stateside for about 20 years, but the 2015 Alfa Romeo 4C marks the brand's triumphant return. This aggressively styled two-seater, available in coupe and convertible body styles, boasts 237 horsepower and 258 lb-ft of torque thanks to a 1.7-liter turbocharged four-cylinder engine. A six-speed automated manual gearbox sends the power to the rear wheels. Compared to some of the other vehicles on this list, the 4C's output is on the modest side, but there's more to the story than just those two numbers. The 4C features extensive use of lightweight carbon fiber in its svelte construction, helping it to trim down to a weight of just 2,465 lbs. This light weight means the 2015 Alfa Romeo 4C can achieve the 0-60 run in just 4.3 seconds.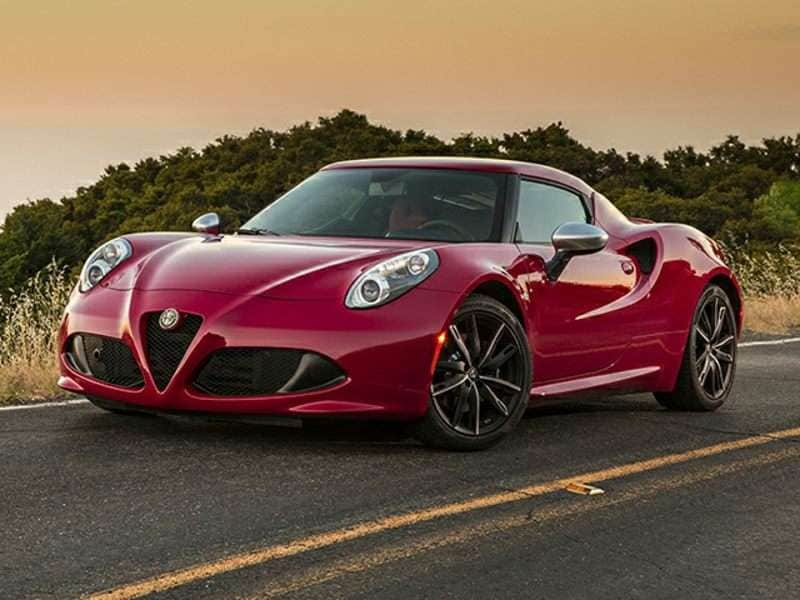 10) 2015 Lotus Elise
The Lotus Elise, which has been totally revised for the 2015 model year, is even more hardcore than before. This extremely stripped-down coupe tips the scales at a scant 1,931 lbs, making it one of the most lightweight cars available. The Elise's stiff suspension and firm chassis make it more of a weekend track toy than a daily commuter, although there's something to be said for giving up creature comforts in favor of pure driving delight. The 2015 Lotus Elise features a 1.6-liter, four-cylinder engine that produces 134 horsepower and 133 lb-ft of torque. The Elise S yields 217 horses and 184 lb-ft of torque from the same mill, thanks to the addition of a supercharger, enabling it to make the 0-60 sprint in just over four seconds. Both models come with a six-speed manual transmission.