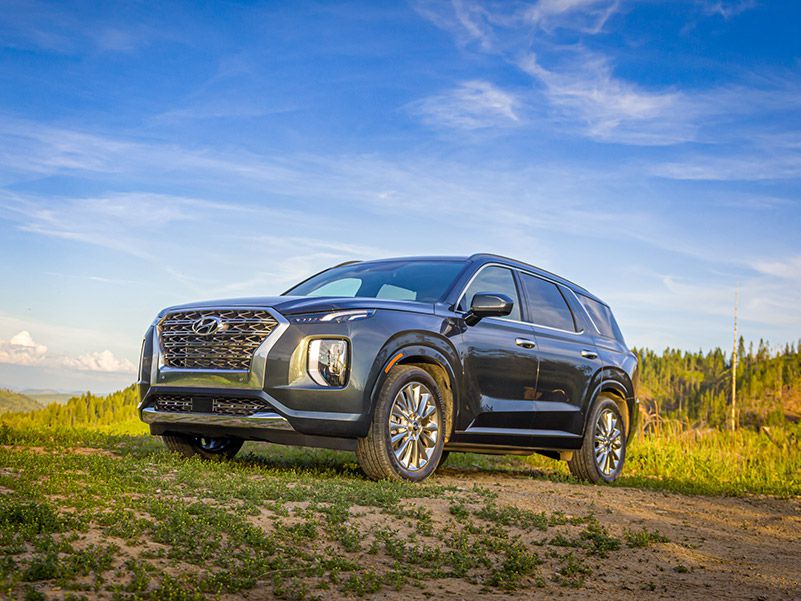 2020 Hyundai Palisade ・ Photo by Hyundai
Whether you have a big family or just like the flexibility to squeeze in a couple of extra people, three rows of seats can be an incredibly handy feature in a crossover SUV. That's especially true if you choose one of the best crossovers with third-row seating. 
When you only need a third row for occasional use, you can get a modestly sized, modestly priced crossover with few downsides over a five-passenger vehicle. When you need more generous third-row space, extra-roomy options also abound. Whether you want an affordable ride or a family-friendly luxury ride, one of our selections will have you covered. We've listed them in order of price, starting with the cheapest. 
1. 2022 Mitsubishi Outlander
The Mitsubishi Outlander has for years been one of the smallest and most affordable crossovers you can buy with third-row seating. And a complete redesign for the 2022 model year makes it better than ever. 
Bolder styling, improved ride and handling, and a more luxurious interior define the 2022 Outlander experience. Thanks to a partnership between the two automakers, you can think of the Outlander as a seven-seat version of the best-selling Nissan Rogue. Don't expect this compact crossover to offer incredible spaciousness, but for $25,795 and with an EPA-estimated 27 mpg in mixed driving, the Outlander is an affordable, economical, easy-to-drive way to sometimes squeeze in a couple extra kids.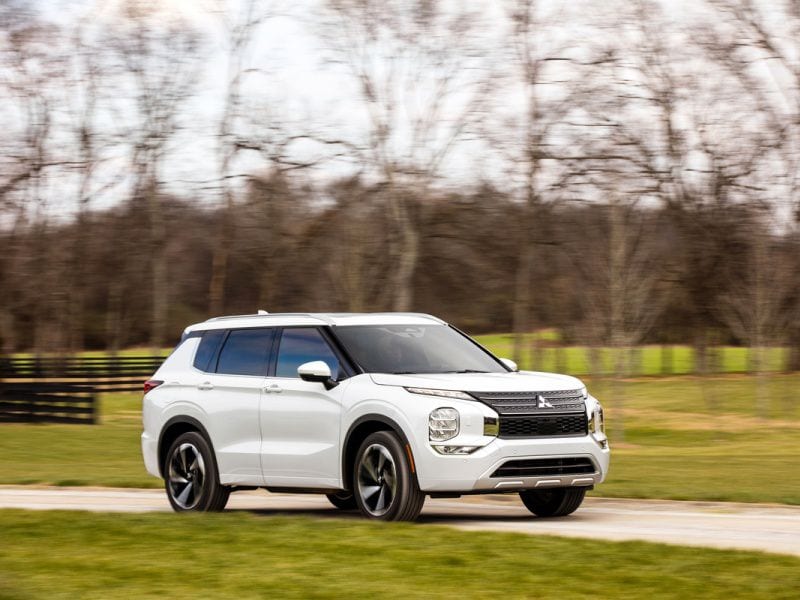 Photo by Mitsubishi
2. 2021 Kia Sorento
The Kia Sorento is about half a size bigger than the Outlander, and it's big enough that you can wedge even a couple of adults into its third-row seat. Fortunately, it's still an affordable crossover, starting at a reasonable $29,390. 
With responsive handling, an optional 281-horsepower turbo engine, and a solidly built interior, the Sorento is a desirable mid-size crossover even when you won't need its third-row seating. Like the Outlander, you won't get much cargo space when the third row is in use. But if you'll normally keep it folded down, you get to drive a less expensive, less bulky, more fuel-efficient vehicle during all those days you don't need to carry more than four or five people inside. Certain trim levels even offer a gas-electric hybrid powertrain, whose EPA-estimated 37 mpg makes the Sorento Hybrid the most economical three-row vehicle that you never have to plug in. Choose between six- and seven-passenger versions, though all higher-end trim levels seat just six.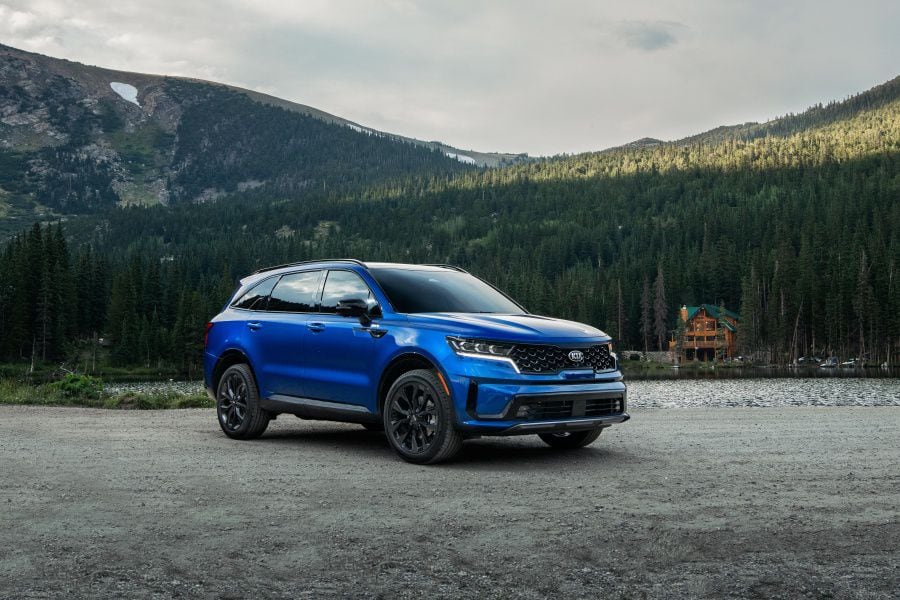 Photo by Kia
3. 2021 Volkswagen Atlas
Now we'll get into a three-row crossover that needs no asterisks about its third row. The 2021 Volkswagen Atlas is a hugely spacious vehicle that can fit seven adults with minimal fuss. 
If you think you have to pay a ton to have a roomy crossover with third-row seating, the Atlas will be a pleasant surprise. It starts at just $31,555. What's more, while you'll feel this SUV's bulk if you have a narrow driveway or need to park on the street, it's never cumbersome to drive. Its German roots shine through with agreeably composed handling. You can choose between a decently economical four-cylinder engine that's rated for an EPA-estimated 22 mpg in mixed driving, or a powerful but thirsty V6 that scores 19 mpg. A couple other downsides for some families: First, VW limits the vehicle to a choice of six- and seven-passenger capacities (depending on whether you choose a second-row bench seat or captain's chairs), while most crossovers this big let you choose between seven and eight. And secondly, the sturdy-feeling interior isn't especially upscale.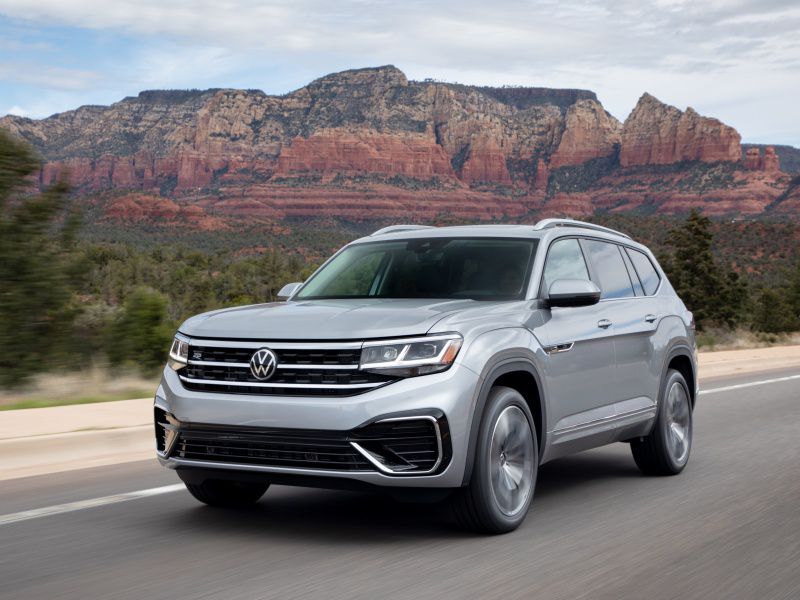 Photo by Volkswagen
4. 2021 Hyundai Palisade
You can also get great three-row crossovers that combine spaciousness, luxury, and value for the money. Consider the 2021 Hyundai Palisade, which is roomier, quieter, and more elegantly finished than most of its competitors. Yet it's also packed with family-friendly touches, from its open center console space — perfect for a purse — to its in-vehicle intercom system. 
Starting at just $32,675 and fully loaded costing less than $50,000 in its extra-luxe Calligraphy trim, the Palisade is a great family car for the money even before you consider its high-end appeal. You can also consider the mechanically related Kia Telluride, which has more SUV-like styling than the Palisade but a bit less cabin storage. Either vehicle seats a maximum of either seven or eight passengers, depending on whether you choose second-row captain's chairs or a bench seat.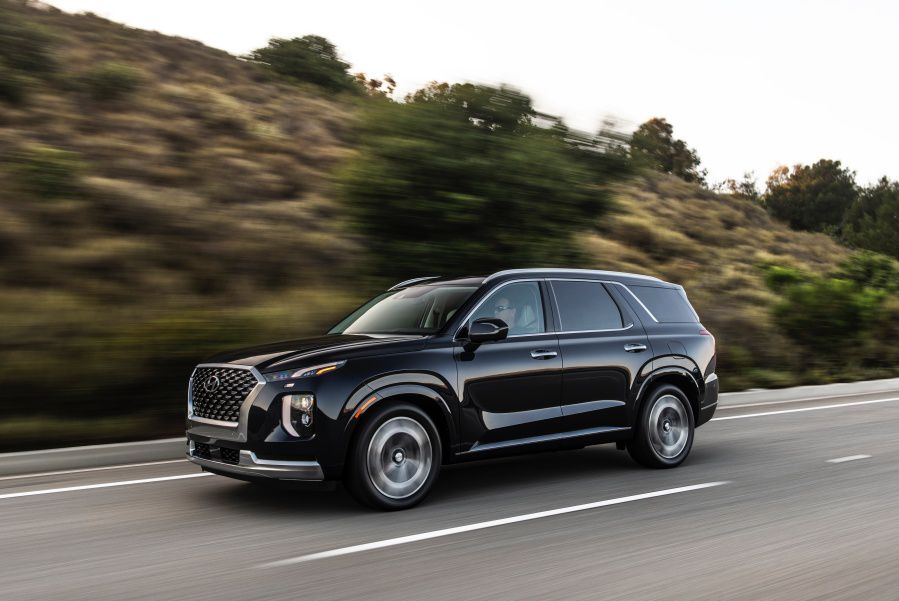 Photo by Hyundai
5. 2021 Mazda CX-9
For some buyers, driving enjoyment is a necessary ingredient to a luxury crossover — even one with three rows of seats. But you don't have to spend a huge amount of money to get a premium brand name. You can buy the 2021 Mazda CX-9, a well-equipped crossover with third-row seating and lots of high-end features that's priced from just $34,160. 
The CX-9 is a sharp-looking crossover whose svelte shape and cozy-feeling driver's seat disguise its seven-passenger bulk. This isn't the vehicle to buy if you need maximum space or prefer an open, airy, SUV-like feel, but the CX-9 delivers sharp handling and a beautiful interior at reasonable prices. It's economical for its size, too; the EPA rates it at up to 24 mpg in mixed driving.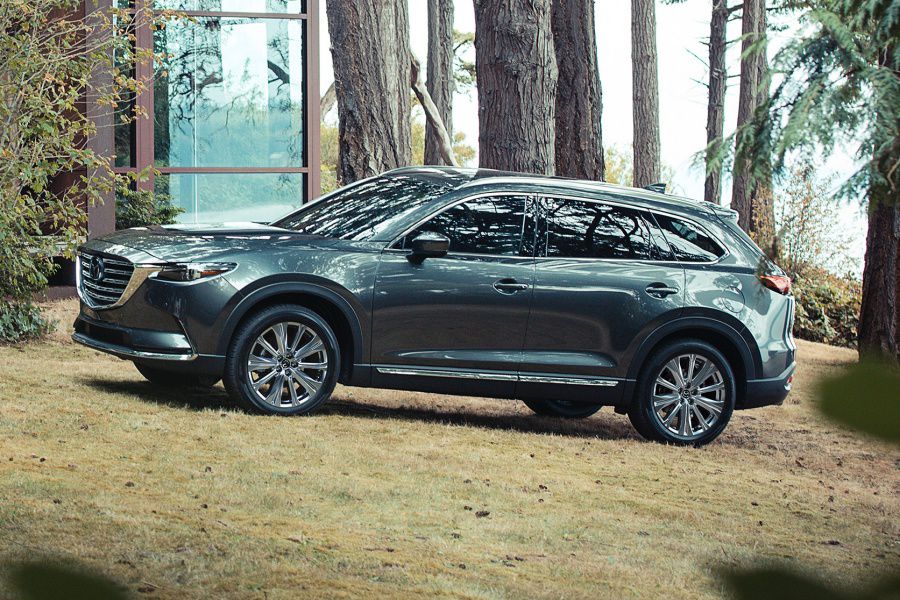 Photo by Mazda
6. 2021 Toyota Highlander Hybrid
It's hard to find a crossover with third-row seating and great gas mileage. If you need both, the Toyota Highlander Hybrid is the leading option. It's not cheap, with prices starting at $38,735, but it gets outstanding EPA ratings of up to 36 mpg in the city and 35 mpg on the highway. 
Attentive readers will note that the Kia Sorento Hybrid, which we discussed a few pages back, gets even better mileage. It's also less expensive. But the Highlander seats up to eight passengers while the Sorento Hybrid tops out at six seats, and the Toyota also has more cargo space and the choice to buy all-wheel drive. The standard Highlander comes up a bit short for spaciousness, driving dynamics, and overall value for the money, but the hybrid model offers a hard-to-match combination of fuel efficiency and versatility. That said, if you're interested, also consider the Toyota Sienna minivan; it's roomier than the Highlander Hybrid, it costs less, and it has a slightly nicer interior and slightly better gas mileage.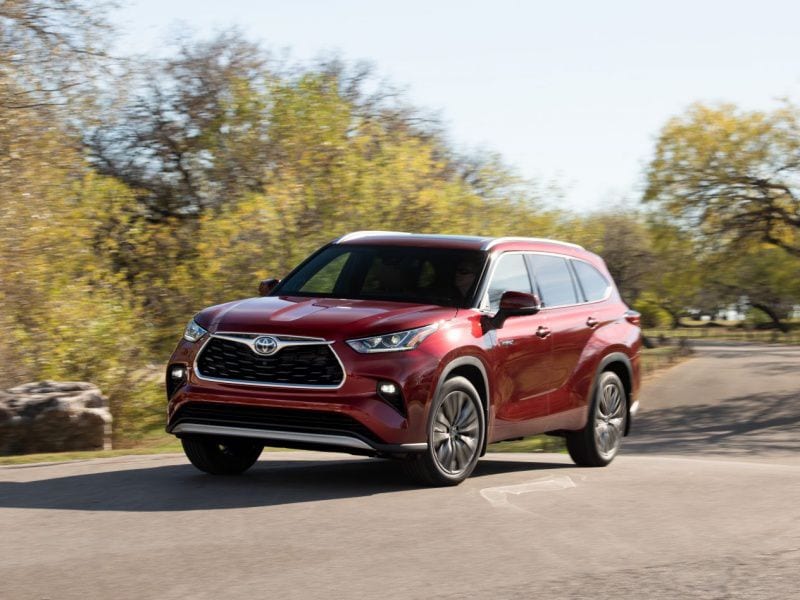 Photo by Toyota
7. 2022 Acura MDX
Newly redesigned for 2022, the Acura MDX offers a lot for the money in the luxury seven-passenger crossover segment. With a standard V6 engine, sharp handling, and a smooth ride, it delivers a high-end driving experience — comfortable yet engaging, and with livelier acceleration than most four-cylinder competitors. 
The MDX also has a more comfortable third-row seat than most of its competitors, and its second row is reconfigurable between captain's chairs and a bench seat (you can remove the center position). Prices start at $46,900. We wish some dashboard materials were fancier, and we aren't huge fans of its touchpad-based infotainment controls. But overall, the MDX is a value winner for the luxury segment.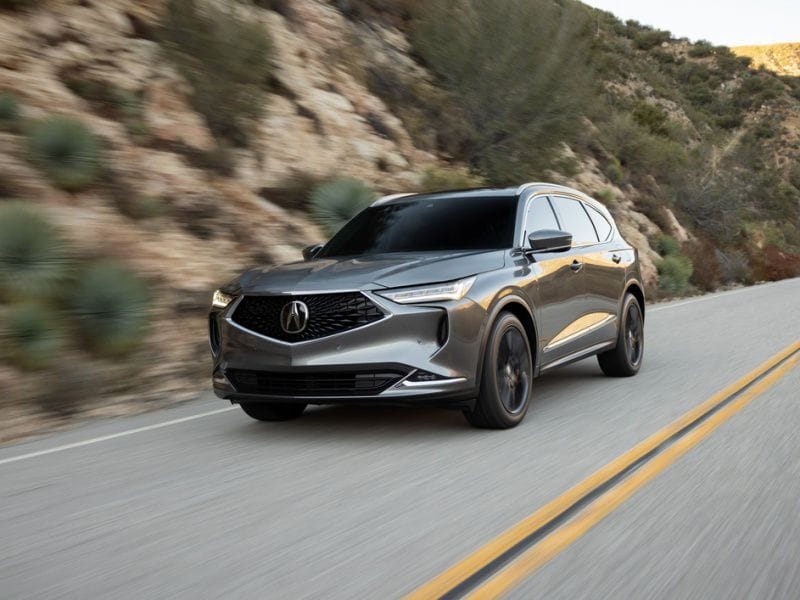 Photo by Acura
8. 2021 Volvo XC90
With elegant styling, a gorgeously finished cabin, zippy yet relatively economical four-cylinder engines, and a roomier interior than most luxury competitors, the Volvo XC90 is a classy luxury ride that also fits either six or seven passengers. You can also get a plug-in hybrid model that can travel up to 18 miles on solely electric power before its gasoline engine switches on to average a still-respectable EPA-estimated 27 mpg. 
The XC90 — which starts at $49,000 — doesn't have the ride and handling polish of the world's best luxury SUVs, and some competitors have even more room. But overall, this is a well-rounded three-row luxury crossover that's no mere kid-hauling bus.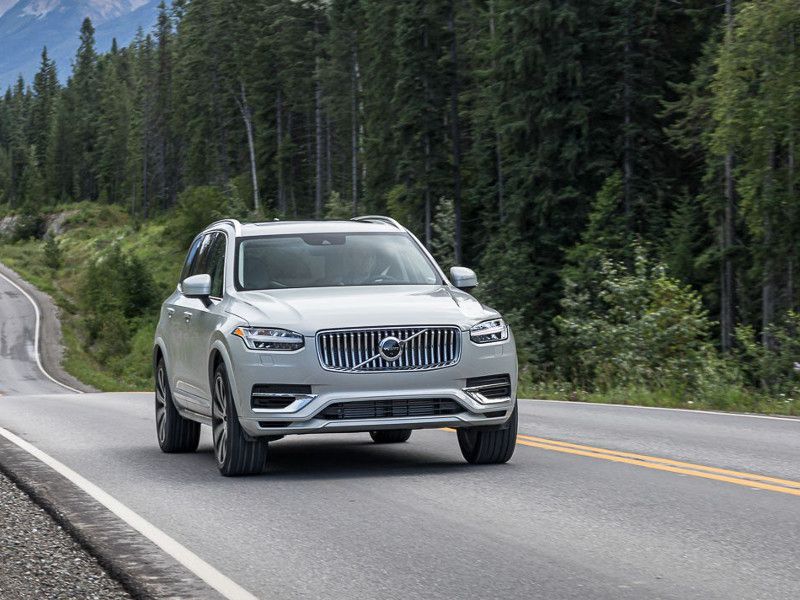 Photo by Volvo
9. 2021 Lincoln Aviator
Whether you think of the Lincoln Aviator as a more luxurious Ford Explorer (its mechanical origins) or a scaled-down Lincoln Navigator (its stylistic heritage), it's one of the best crossovers with third-row seating. 
The Aviator stands out for its brash styling, including an interior that deftly marries old-school American luxury, modern technology, and user-friendly controls. It also delivers a choice of two mighty engines: a 400-horsepower V6 and a 494-horsepower plug-in hybrid. The latter goes an EPA-estimated 21 miles per charge before averaging 23 mpg. The Aviator isn't the smoothest-riding, sharpest-handling, or roomiest crossover you can buy, but it makes a big visual splash and goes fast — for much less money than similarly potent European competitors. Prices start at $50,660.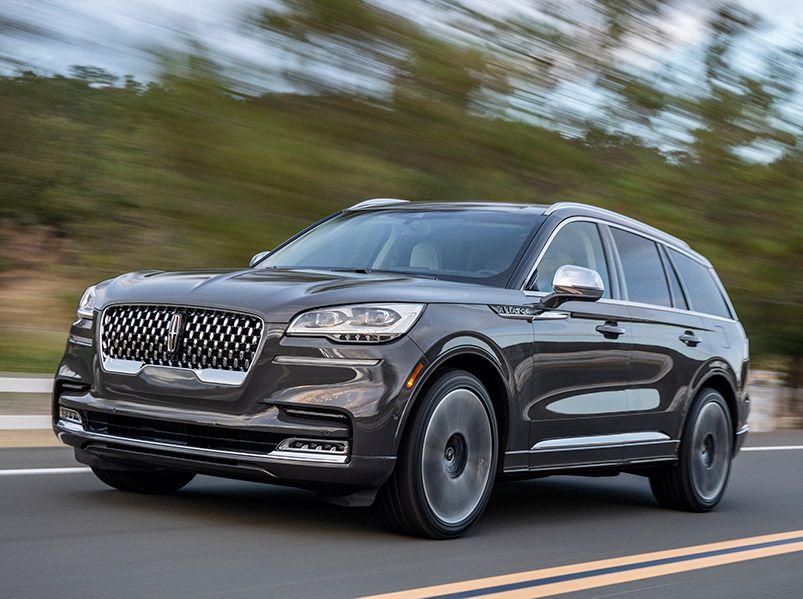 Photo by Lincoln
10. 2021 Mercedes-Benz GLS
When you want the best crossover with third-row seating and cost isn't a concern, we suggest the Mercedes-Benz GLS. It's roomier than most German luxury vehicles, yet it retains their superb driving experience and exquisitely finished interiors. 
As the name suggests, the GLS is the S-Class of crossovers: big, serene, and more powerful than any big luxury vehicle needs to be. The choice of engines starts with a 362-horsepower V6 and goes all the way up to 603-horsepower V8. Prices start at $76,000 and can top $160,000. Do you need to spend that much for a great crossover with third-row seating? Not at all. But if you have the means, Mercedes delivers a top-notch vehicle. 
Photo by Mercedes-Benz