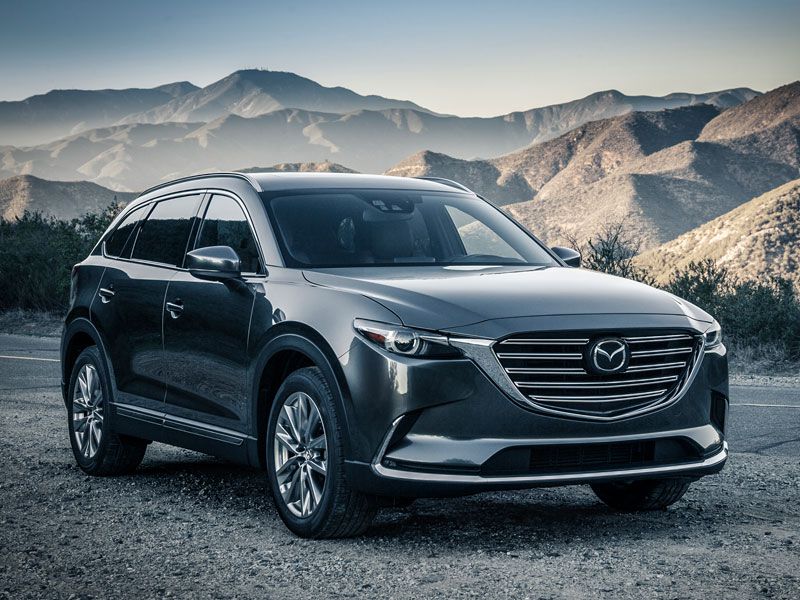 2016 Mazda CX 9 ・ Photo by Mazda
When you need to haul at least 7 people from point A to point B, you're going to have to step out of the world of passenger sedans and choose either a minivan or an SUV. The best 7-seater SUVs are vehicles that can not only transport people but also an impressive amount of cargo, all the while providing a commanding view of the road ahead as well as the added security of available all-wheel or four-wheel drive. Given their amazing practicality, it's no surprise that 7-seater sport utility vehicles represent one of the most popular segments of the current automotive market. Let's take a quick look at 10 of the best 7-seater SUVs.
2016 Lincoln MKT
The 2016 Lincoln MKT is capable of seating 6 or 7 occupants, depending on how it's equipped, and it's been pretty well established that those lucky passengers will be treated to an enjoyable ride. The Lincoln MKT offers a competitive level of comfort and class, in addition to technology such as a well designed infotainment system and a number of innovative safety features (including inflatable seatbelts). Total cargo space inside the MKT is a respectable 75.9 cubic feet. Under the hood, the MKT's base 3.7-liter V6 generates 300 horsepower, while the EcoBoost model's twin-turbo 3.5-liter V6 is good for 365 ponies. All-wheel drive is optional with the entry-level V6 and standard with the turbo unit, and a 6-speed automatic transmission handles the gear shifting duties for either edition of the SUV.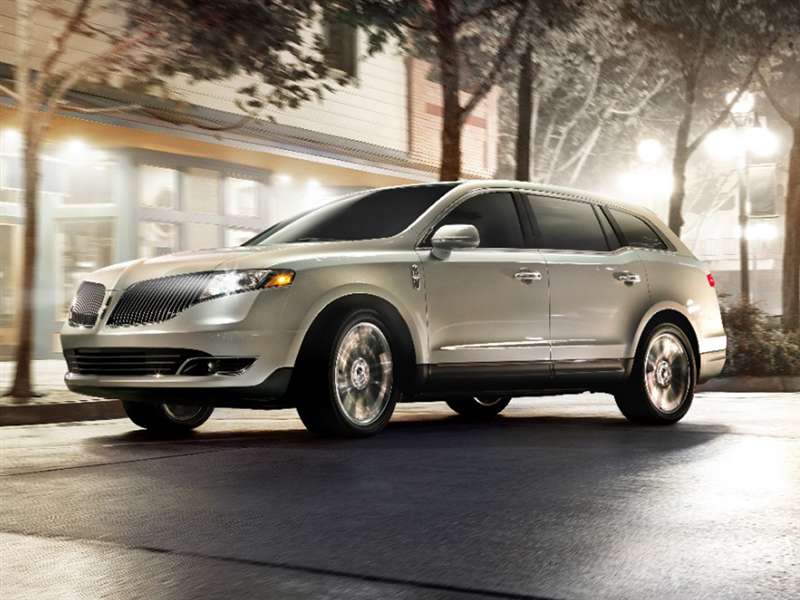 Photo by Lincoln
2016 Buick Enclave
The 2016 Buick Enclave goes better than 7, offering passenger room for up to 8 as well as an enormous 115.2 cubic feet of total space for stowing luggage with the second and third rows out of the picture. The Buick Enclave's premium confines are generous in all seating positions, and it also provides excellent get-up-and-go thanks to its standard 288-horsepower, 3.6-liter -6. This mill, which can be had with or without all-wheel drive, is managed by a 6-speed automatic transmission. The Enclave is also a capable tow vehicle, able to lug up to 4,500 lbs of trailer weight.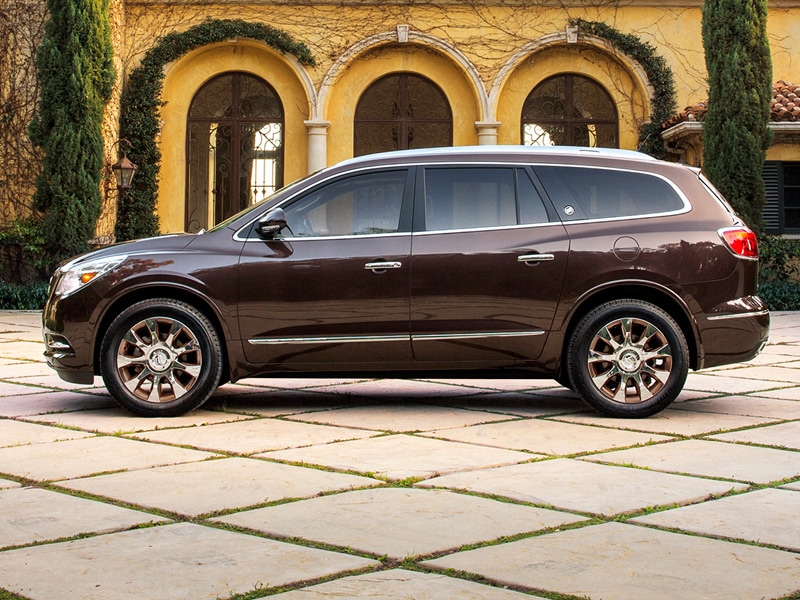 2016 Ford Flex
The 2016 Ford Flex is a 7-passenger SUV that flaunts the unwritten design rules of its segment, choosing instead to embrace a boxy, wagonesque profile that counts a long, flat roof, slab sides, and a massive nose as its most prominent features. Beyond that, the Ford Flex is roomy inside, offering 3 rows of seating plus 83 cubic feet of available cargo space. Buyers can choose between either a 287-horsepower, 3.5-liter V6 or a optional 3.5-liter, twin-turbo EcoBoost V6 that produces 365 horses. All-wheel drive is standard with the EcoBoost mill and optional with the base engine, while a 6-speed automatic transmission is included across the board. Fuel mileage for the Flex tops out at 18 mpg city and 25 mpg highway with the base model.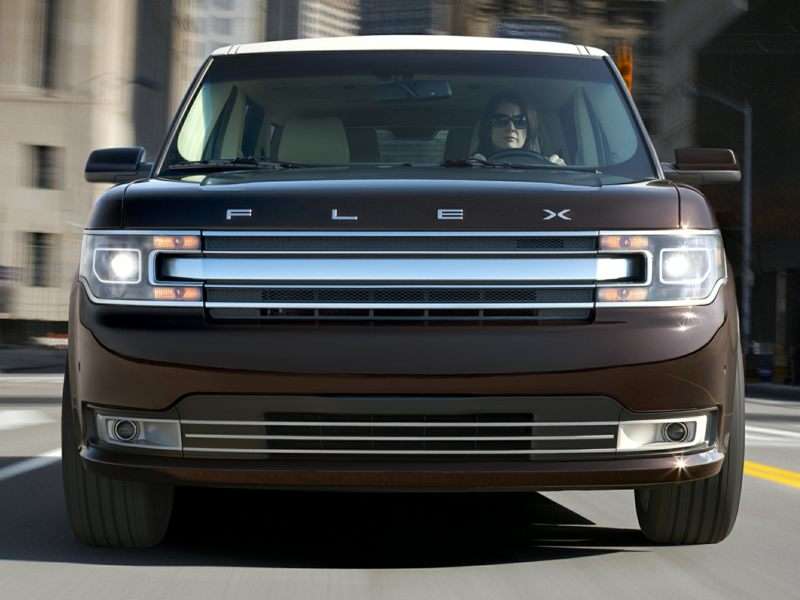 Photo by Ford
2016 Acura MDX
The 2016 Acura MDX is unique on this list thanks to its standard Super Handling All-Wheel Drive System (SH-AWD). SH-AWD is capable of not only adding traction while traversing wet or snow-slicked roads, but it can also improve handling by shifting engine output from one side of the car to the other while cornering for maximum grip. The Acura MDX's luxurious and high tech features are complemented by a 290-horsepower, 3.5-liter V6 engine that is also good for 267 lb-ft of torque. A new 9-speed automatic transmission is the SUV's exclusive transmission choice, and total cargo space checks in at 90.9 cubic feet.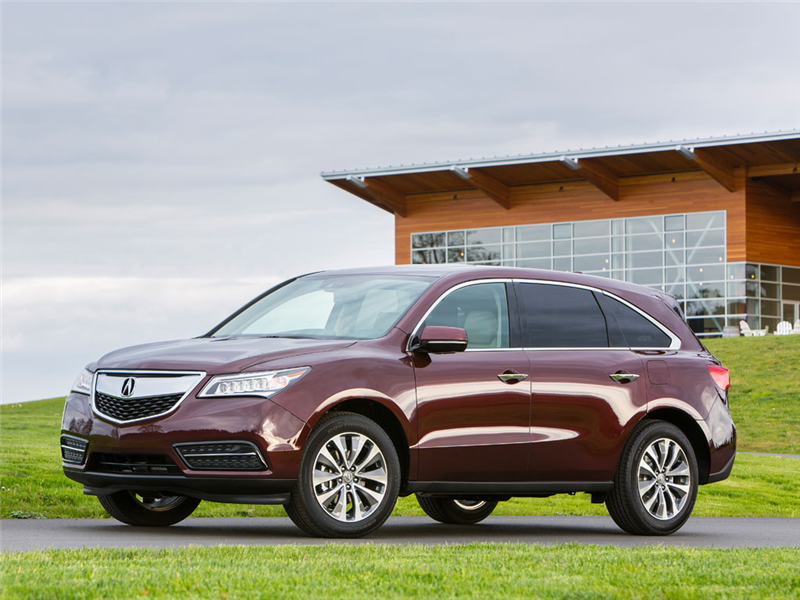 2016 Ford Expedition
The 2016 Ford Expedition is another 7-seater SUV that can stretch all the way up to 8 passengers should the need arise, thanks to the availability of bench or bucket accommodations in the second and third rows. The enormous Ford Expedition can also swallow up to 108 cubic feet of gear with those same rows out of the picture, and tow a staggering 9,200 lbs when properly equipped. All Expeditions are motivated by a 3.5-liter EcoBoost V6 engine that puts out 365 horsepower and 420 lb-ft of torque through a 6-speed automatic transmission, and for those who want to enjoy a little off-roading. The SUV is available with low-range 4-wheel drive.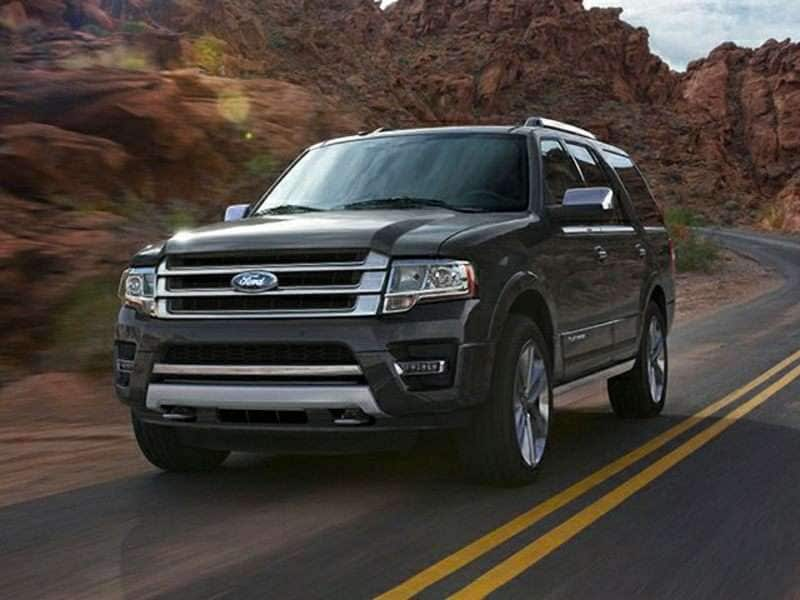 Photo by Ford
2016 Honda Pilot
The redesigned 2016 Honda Pilot is a big, 8-passenger SUV that can also transport a significant amount of luggage if desired. Folding down the Honda Pilot's seats (behind the driver and front passenger) reveals 87 cubic feet of storage, and the boxy design of the vehicle makes it a cinch to load it up to the brim (although it's a bit less angular than the previous design). The Honda Pilot is sold in both front-wheel drive and all-wheel drive models, and both are hitched to the same 3.5-liter, 280-horsepower V6 engine that can also churn out 262 lb-ft of torque. The base Pilot comes with a 6-speed automatic transmission; higher trim levels get a 9-speed automatic unit.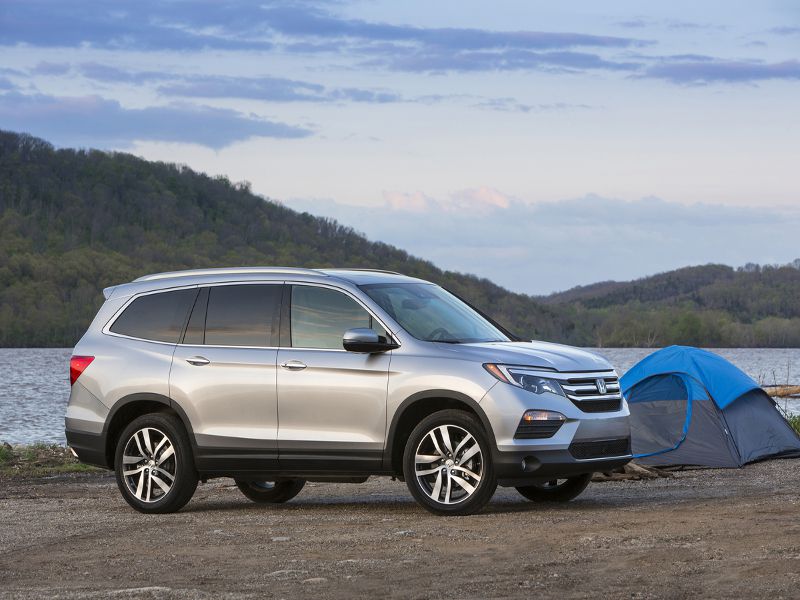 Photo by Honda
2016 Infiniti QX60
The 2016 Infiniti QX60 goes after premium 7-passenger SUV customers who prioritize luxury and comfort over sportiness. It's also worth nothing that the QX60 can be loaded to the brim with advanced safety features such as a collision mitigation system and a blind spot monitor, and as much as 76.5 cubic feet of cargo can be stuffed inside its plush environs. A 265-horsepower, 3.5-liter V6 (that also generates 248 lb-ft of torque) is the sole engine offered between the Infiniti's front fenders, and all-wheel drive is available via the options sheet. The QX60's fuel mileage is rated at 21 mpg in city driving and 27 mpg on the highway.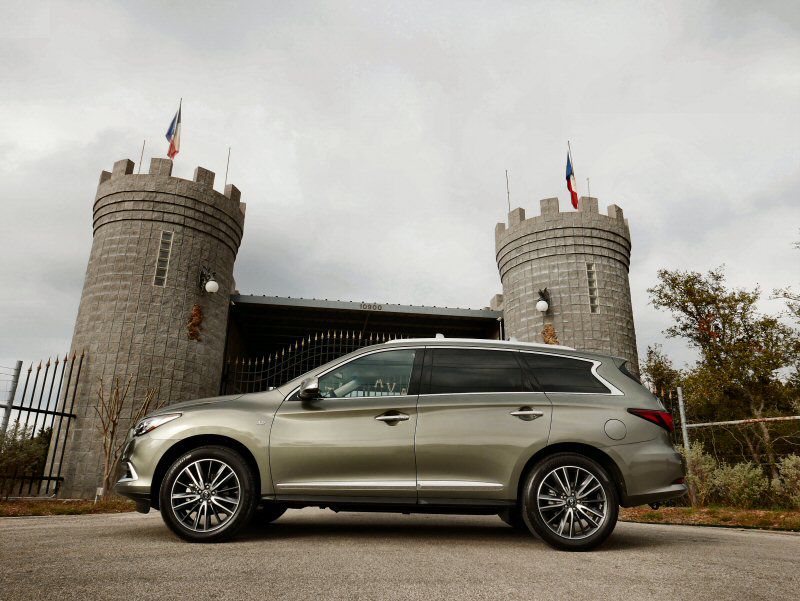 2016 Mazda CX-9
Like the Acura MDX, the redesigned 2016 Mazda CX-9 is one of the rare 7-seater SUVs on this list that also offers a modicum of sporty driving to go with its solid utility. The Mazda CX-9's suspension and chassis tuning springs forth from the same philosophy that guides vehicles like the Mazda Miata, which means that this is one SUV that doesn't give up the ghost in the corners. The Mazda is outfitted with a 250-horsepower, turbocharged 2.5-liter 4-cylinder that also produces 210 lb-ft of torque. A six-speed automatic transmission is standard, and all-wheel drive is optional.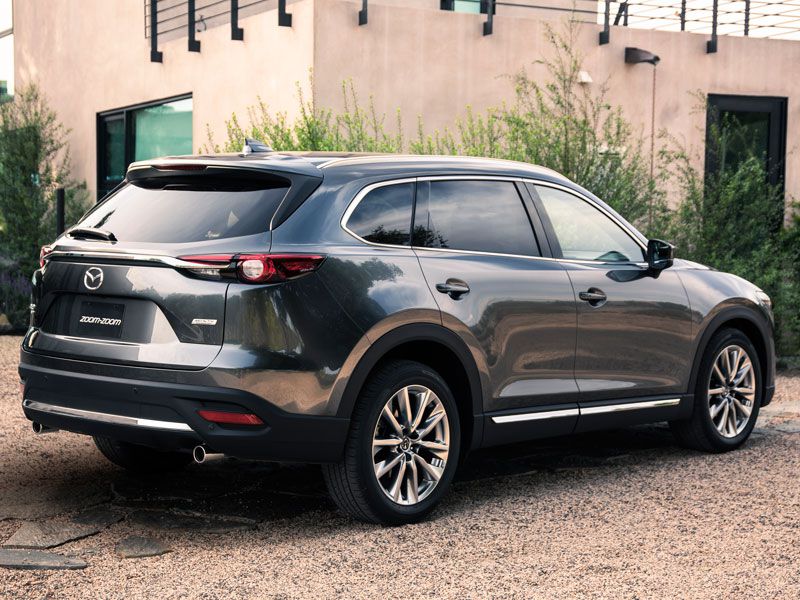 2017 Nissan Armada
The upcoming, fully redesigned 2017 Nissan Armada is one 7-seater-plus-1 SUV that lives up to its name. The Nissan Armada is an enormous behemoth of a vehicle, with slab sides and macho hard angles helping to define its road presence. Generous exterior proportions translate into a great big interior that can accommodate plenty of cargo in addition to passengers. The Armada's still a few months out from its official release, but we know power is provided by way of a 5.6-liter V8 that throws down 390 horses and 401 lb-ft of torque, providing towing capacity of up to 8,500 lbs.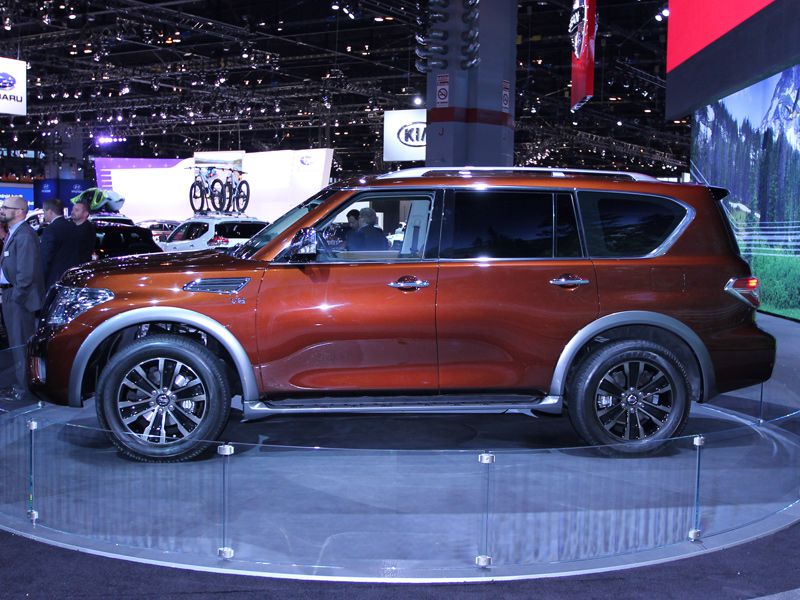 2016 Chevrolet Suburban
The Chevrolet Suburban is a mainstay of the 7-seater or more SUV segment. With the ability to handle as many as 9 passengers in its extended wheelbase version, the Chevy Suburban might seem more like a bus than a sport utility vehicle when viewed from the inside. This impression is further backed up by its 121.1 cubic feet of storage space. The Suburban comes with a 5.3-liter V8 engine that develops 355 horsepower and 383 lb-ft of torque, the option of 4-wheel drive, and a 6-speed automatic transmission. Towing capacity maxes out at a hefty 8,300 lbs.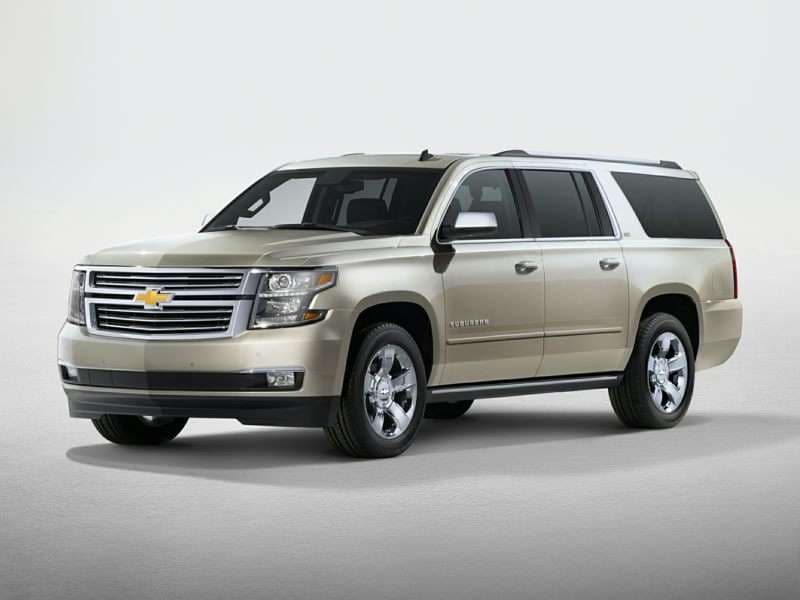 Photo by General Motors