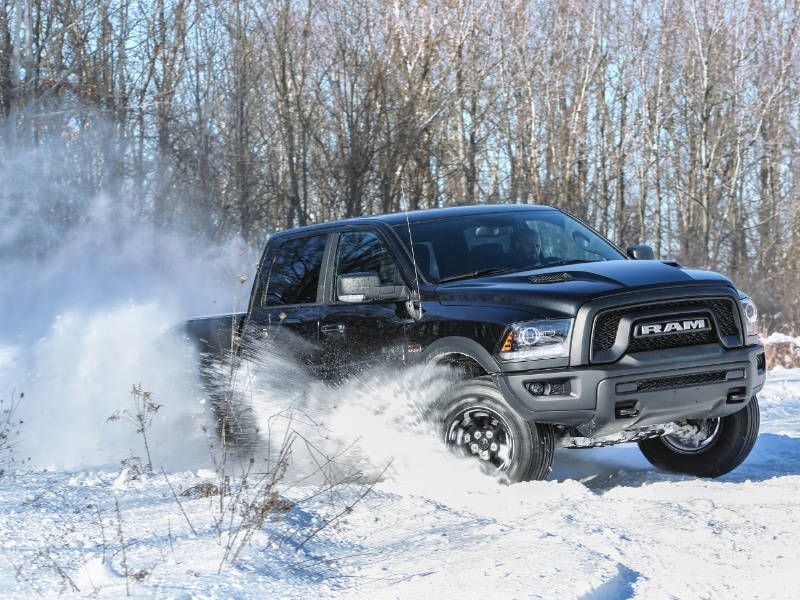 2017 Ram Rebel profile kicking up snow ・ Photo by Ram Trucks
People buy 4x4 pickups for all sorts of different reasons, whether it's to have fun off-road, to work in a field or for towing capacity to name a few. No matter what your planned use is, our expert editors have scoured the web and come up with a list of 10 of the Best 4x4 Trucks for 2017. The trucks selected offer a mix of off-road capability and on-road utility (with a focus on the 4x4 aspect,) and come in several sizes and with an assortment of engines, but all are rough and tough 4x4s ready to get down to work. Read on to discover our choices and see if one of them is right for you.
2017 Ford Raptor
If this list were about the ten best trucks solely based on off-road capability, the 2017 Ford Raptor would probably have taken the top spot, but there are other reasons to have a 4x4 pickup, and unfortunately, the Raptor is a bit of a let down in the utility department. The Super Cab has a payload capacity of 1,000 lbs. and a maximum towing capacity of only 6,000 lbs. (1,200 and 8,000 lbs. respectively for the Super Crew.) For most truck users, a regular Ford F-150 4x4 would be a better option, but then you'd lose the ground clearance that makes the Raptor so useful in 4x4 situations (and the prestige that comes with Raptor ownership.)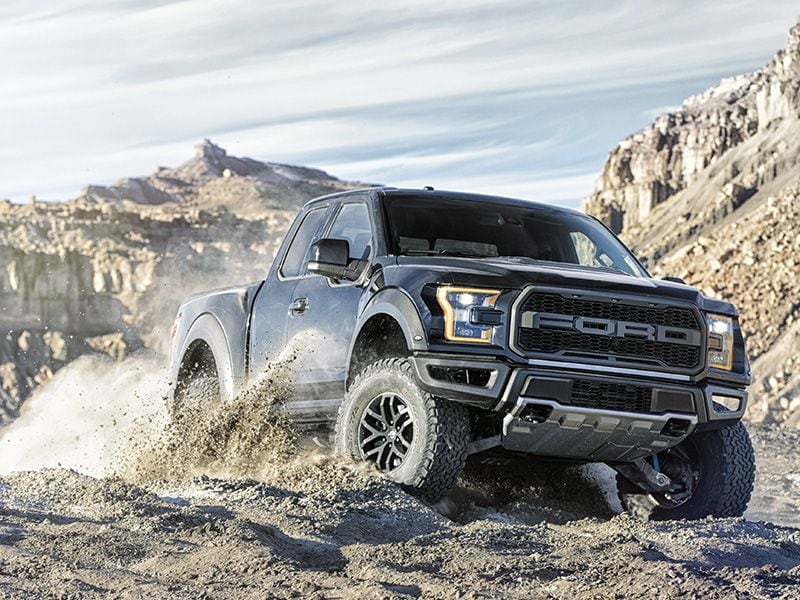 Photo by Ford
2017 GMC Sierra All Terrain X
The 2017 GMC Sierra All Terrain X is General Motors' most capable full-size truck when it comes to 4x4 performance (despite a large front bumper that improves aerodynamics but can seriously impede even light off-road progress.) Standard inclusions are an underbody transfer case shield, 18-inch Goodyear Wrangler DuraTrac MT tires, an Eaton automatic locking rear differential, a cat-back performance exhaust system and a black bed-mounted sport bar. Like the other trucks on our list, if you don't spend the majority of time off-road, the regular version will offer the same or greater capability on road, but we're assuming that if you buy a 4x4 you plan on using it.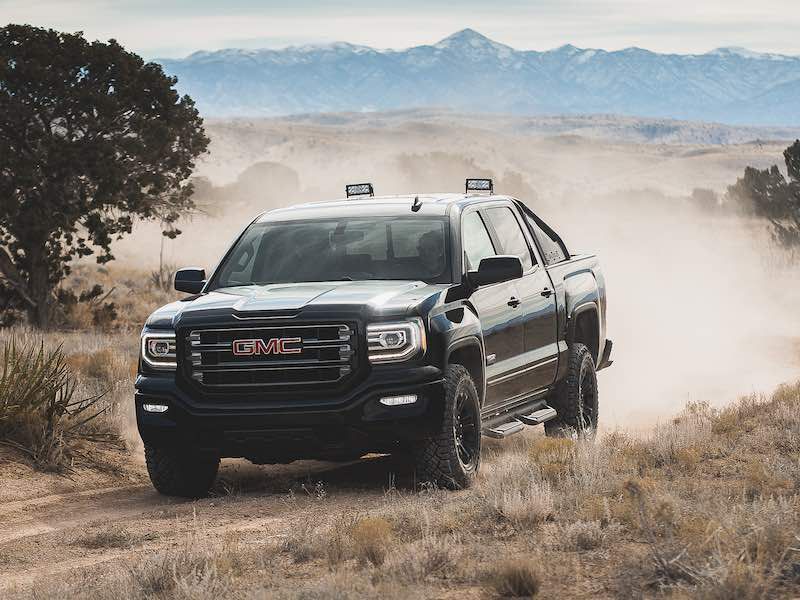 Photo by GMC
2017 Ram 1500 Rebel
The 2017 RAM 1500 Rebel comes with front and rear Bilstein monotube performance shocks, 17-inch all-terrain tires and a unique front bumper that allows for more ground clearance and a better approach angle than the other models in the Ram lineup (which feature larger more aerodynamic bumpers.) All that comes without too much sacrifice in the way of payload or trailer towing, payload capacity is a bit light at 1,200 lbs. but towing capacity is a respectful 9,350 lbs. If you plan on using your Ram in a field or anywhere off-road, the Rebel model is the way to go, but if you don't ever get into tricky 4x4 situations a Laramie would probably be just as good.
Photo by Ram Trucks
2017 Chevrolet Colorado ZR2
The 2017 Chevrolet Colorado ZR2 includes the features that you want in a compact 4x4 truck that isn't afraid to get dirty. Off-road suspension with Multimatic shocks, front and rear electronic locking differentials and good approach, breakover and departure angles should keep you from getting stuck, while the rock sliders and skid plates should protect crucial components from damage. On road, the ZR2 is capable of hauling and towing all that you'd ask of a compact truck, though comparatively, it is lower than other models in the range with a max payload of 1,100 lbs. and a tow rating of 5,000 lbs. It is available with either a 3.6-liter V6 or a 2.8-liter four-cylinder turbodiesel engine.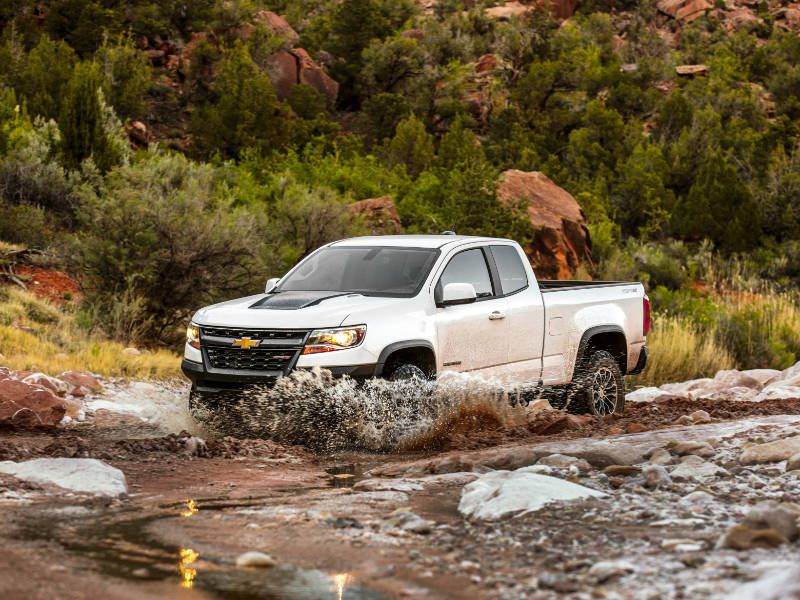 Photo by General Motors
2017 Toyota Tundra TRD Pro
The changes to the Toyota Tundra TRD Pro aren't quite as significant as the changes to the other models in the TRD Pro lineup, but the 2017 model is still quite capable on and off-road. Included are Bilstein shocks with external remote reservoirs, TRD-Tuned Front Springs, TRD Pro Stainless Steel Dual Exhaust and a ¼-inch TRD Aluminum Front Skid Plate, as well as the legendary durability associated with Toyota's trucks. Toyota doesn't appear to be offering a 2018 Tundra TRD Pro at the moment, so if you want one, you'll need to act fast and pick up a 2017 model.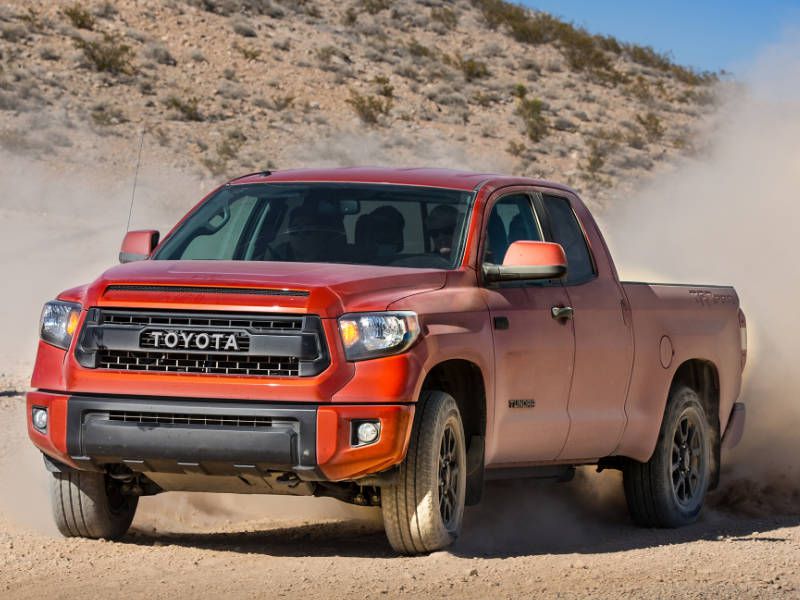 Photo by Toyota
2017 GMC Sierra 2500 HD All Terrain
The 2017 GMC Sierra 2500 HD All Terrain probably isn't the best choice if you plan on doing lots of off-road rock crawling or high-speed dune jumping, but if you need a 4x4 truck that can pull its own weight look no further. The All Terrain package includes the Z71 Off-Road Suspension, underbody shields, and Rancho Tenneco shocks. Available with either a 6.0-liter gasoline V8 or the powerful 6.6-liter turbo-diesel V8 engine, the 2500 HD All Terrain can haul 2,513 lbs. and tow up to 13,000 lbs. (or 13,500 lbs. if you're using a gooseneck or fifth wheel hitch.) The All Terrain package is also available on the 3500 HD, but with slightly different features.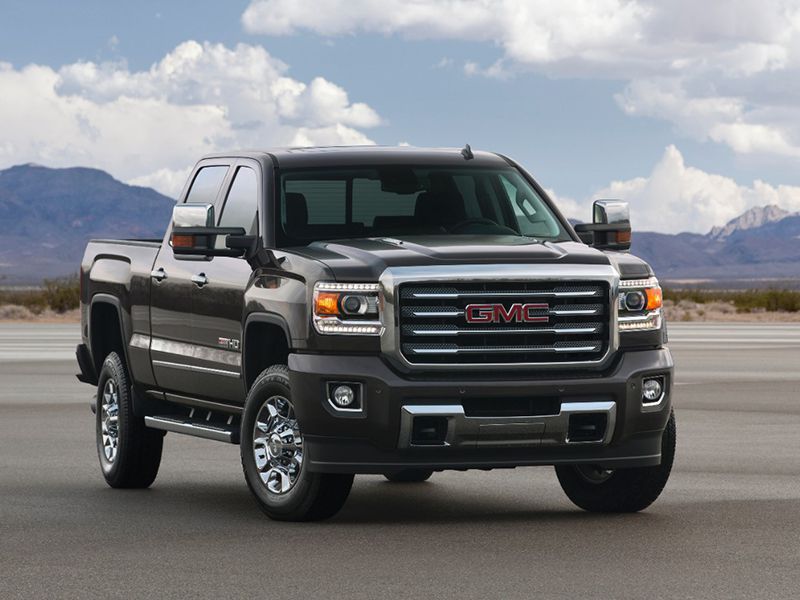 Photo by GMC
2017 Nissan Frontier PRO-4X
The 2017 Nissan Frontier PRO-4X improves on standard versions of the truck with Bilstein off-road performance shock absorbers, and also comes with an electronic locking rear differential, skid plates for the oil pan, fuel tank, and 4x4 transfer case. Maximum payload capacity is 1,180 lbs. and max towing capacity is 6,450 lbs. (down only 180 and 50 lbs. respectively compared to the standard truck.) It may not be the prettiest truck or the most up to date, but if you want a truck that can perform in 4x4 situations, then the PRO-4X is a great (and affordable) option.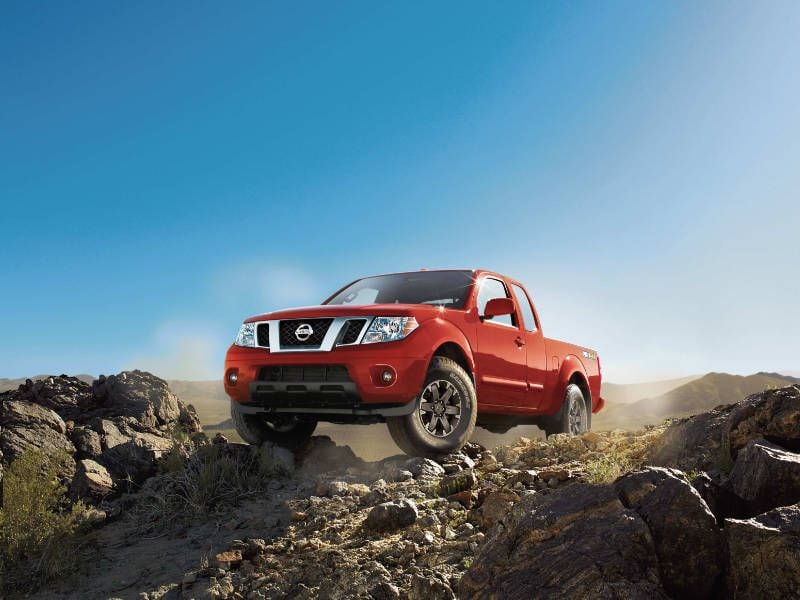 Photo by Nissan
3) 2017 Toyota Tacoma TRD Pro
The 2017 Toyota Tacoma TRD Pro provides very good off-road capability thanks to its 16-inch Kevlar-reinforced Goodyear Wrangler tires, electronically controlled locking rear differential and a suspension system that provides more ground clearance and increased suspension travel. partially in thanks to FOX Internal Bypass shocks with 2.5-inch aluminum housings, oversize shock shafts, and remote reservoirs in the rear. Due to Toyota's reliability and a TRD-engineered ¼-inch aluminum skid plate, a Tacoma TRD Pro should last a long time in all but the most overzealous of hands. Plus unlike some other trucks the payload and towing capacity aren't affected by the TRD Pro package (Toyota lists max payload at 1,175 lbs. and max towing at 6,400 lbs.)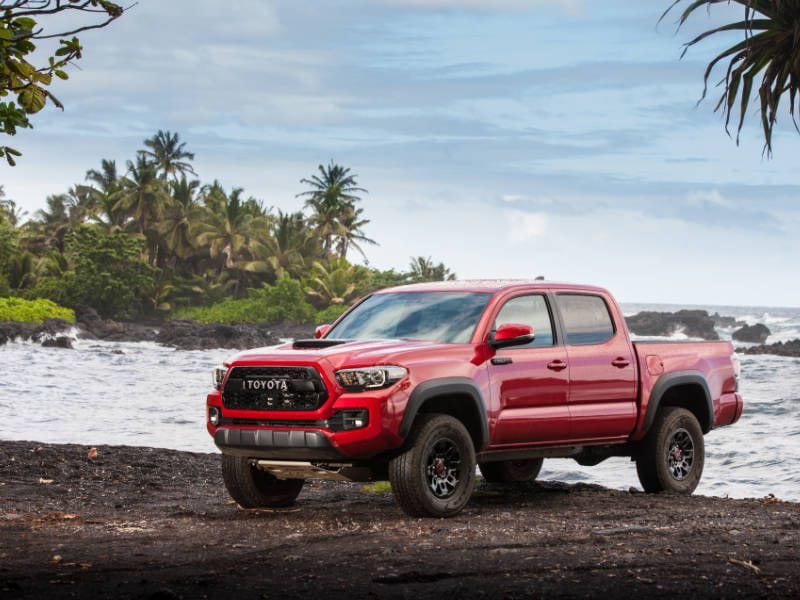 Photo by Toyota
2017 Ram 2500 Power Wagon
The 2017 RAM 2500 Power Wagon can just about do it all. It is incredibly capable off-road thanks to its electronically disconnecting front sway bar, Bilstein shocks, electronically lockable front and rear axles, fuel tank and transfer case skid plates, 12,000 lb. Warn winch and Goodyear all-terrain tires. It's also a ¾ ton truck so it can haul up to 1,444 lbs. and tow up to 9,790 lbs. (which is less than standard 2500s but still a significant amount.) The only downside is that the powerful Cummins turbo-diesel isn't available in this model. However, the Power Wagon offers a great combination of versatility and capability overall.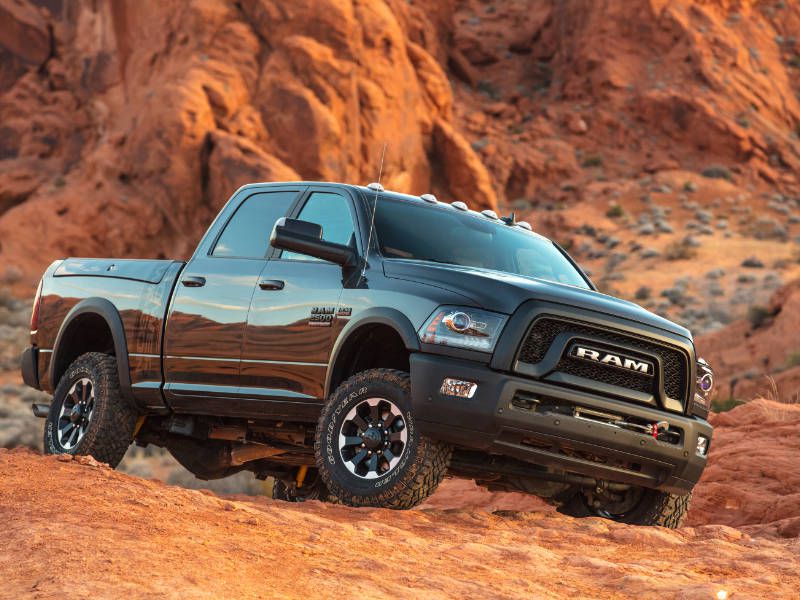 Photo by Ram Trucks
2017 Nissan Titan PRO-4X
The 2017 Nissan Titan PRO-4X comes with loads of equipment to make off-road excursions less stressful. Included are Bilstein off-road performance shocks, and electronic locking rear differential and transfer case, and lower radiator skid plates. It's also very capable, with a payload capacity of up to 1,490 lbs. and a max towing capacity of 9,110 lbs. If you need even more capability, the Titan XD PRO-4X offers the same off-road features plus an available Cummins V8 turbo-diesel engine and payload and towing limits that rival the heavy-duty trucks on this list. If you need to haul heavy loads off-road, the Titan PRO-4X is up to the task.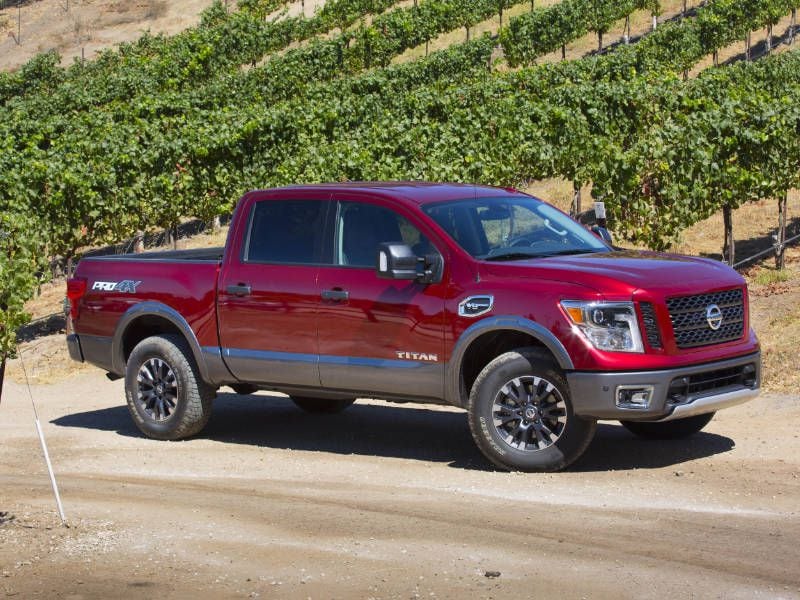 Photo by Nissan