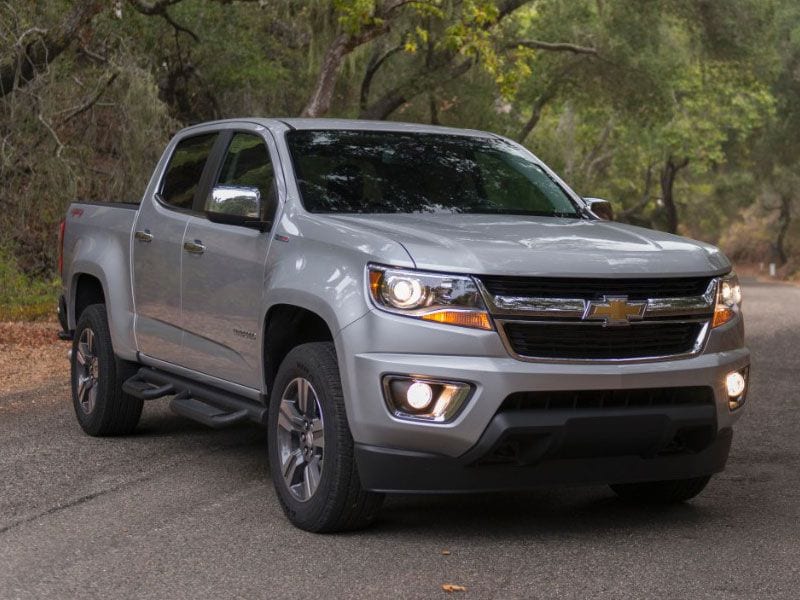 2016 Chevy Colorado Diesel ・ Photo by General Motors
There's a reason most big trucks use diesel power: They produce lots of pulling power and get better fuel economy than gasoline engines of similar output. It's for those very same reasons that diesels are a good choice for pickups and vans. Here are 10 new trucks that can be had with diesel engines.
Chevrolet Colorado/GMC Canyon
The Chevrolet Colorado and GMC Canyon (the two are nearly identical, with the GMC getting a more upscale interior) are among the latest pickups to join the diesel club and the only new compact/midsize pickups to offer a diesel option. Bearing the same Duramax trade name as its fullsize cousin, the Colorado's diesel is a 2.8-liter 4-cylinder engine developed in conjunction with Italian enginemaker VM Motori. With 181 horsepower and a staggering 369 lb-ft of torque, the 4-cylinder Duramax offers V8-like pulling power and yields excellent fuel economy when running light. These trucks combine the work ethic of a fullsize truck, the easy parking of a midsize, and the fuel economy of a diesel.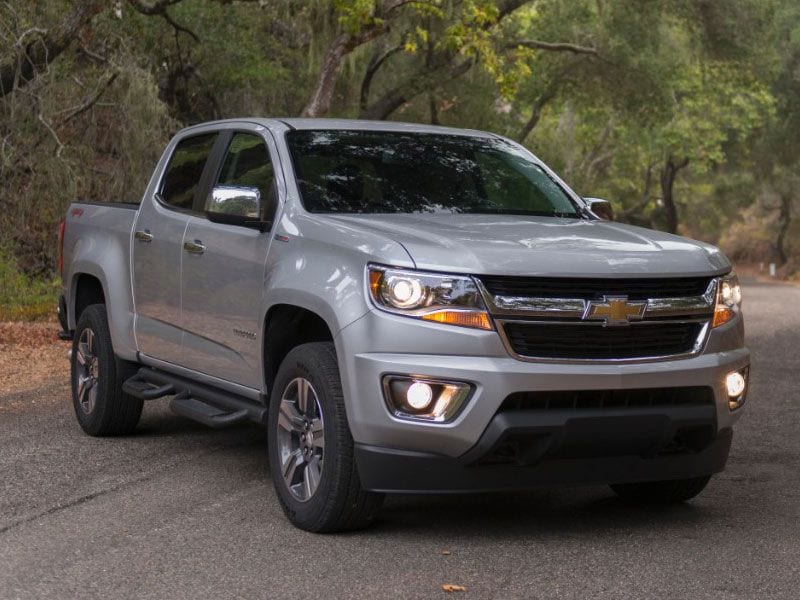 Photo by General Motors
Chevrolet Express/GMC Savana
While Ford and Chrysler (Ram) have switched to European-style vans, General Motors soldiers on with their American-designed vans complete with low roof and a massive "doghouse" engine compartment that crowds the driver's footwell. But there is one big change coming: For the 2017 model year, GM will switch the diesel option from the big 6.6-liter V8 found in their fullsize pickups to the 2.8-liter 4-cylinder diesel used in the Chevrolet Colorado and GMC Canyon. If you want a GM van with a V8 diesel, you'd better hurry—once the 2016 models sell out, they're gone.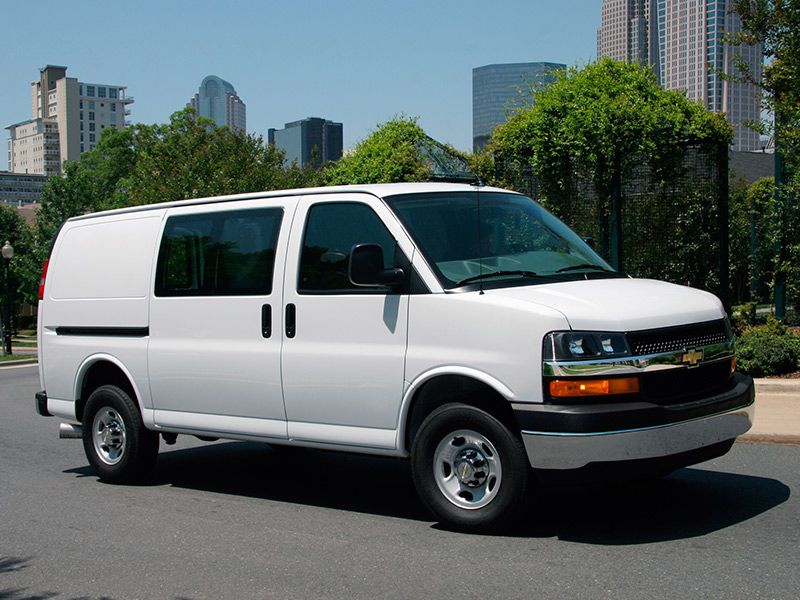 Photo by Chevrolet
Chevrolet Silverado HD/GMC Sierra HD
While GM's heavy-duty (2500 and 3500) pickups won't change much for 2017, their Duramax V8 diesel engine will. The new version of the engine retains its 6.6-liter displacement, but most of the internal bits have been updated to accommodate an increased power output. The new engine develops 445 horsepower and 910 lb-ft of torque, 90% of which is available between 1,500 and 2,850 RPM. The updated engine is more refined, quieter at idle, and has improved emissions equipment to ensure it can stay current with ever-changing anti-pollution standards. Also new and notable for the trucks themselves: A hood scoop that separates out water, delivering dryer air to the engine even in rain and snow.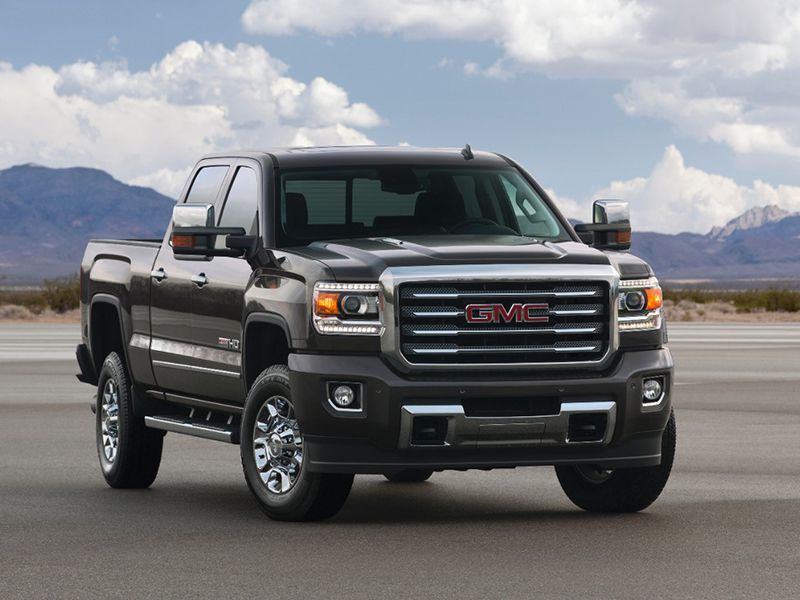 Photo by GMC
Ford F-Series Super Duty
News for the F-Series Super Duty is opposite that of Chevy and GMC: The truck is all new for 2017, but the 6.7-liter Power Stroke diesel engine is largely unchanged. Ford has completely redesigned its heavy duty pickup line, with an aluminum body and bed and enough electronic gadgets to keep Bill Gates occupied for at least a day. Though the turbodiesel engine is largely a carryover, fitting it to the new F-Series Super Duty allowed engineers to optimize intake and exhaust systems, which provided a power bump: 440 horsepower and a best-in-class 925 lb-ft of torque. Properly equipped, the F-Series will out-tow any other fullsize pickup truck.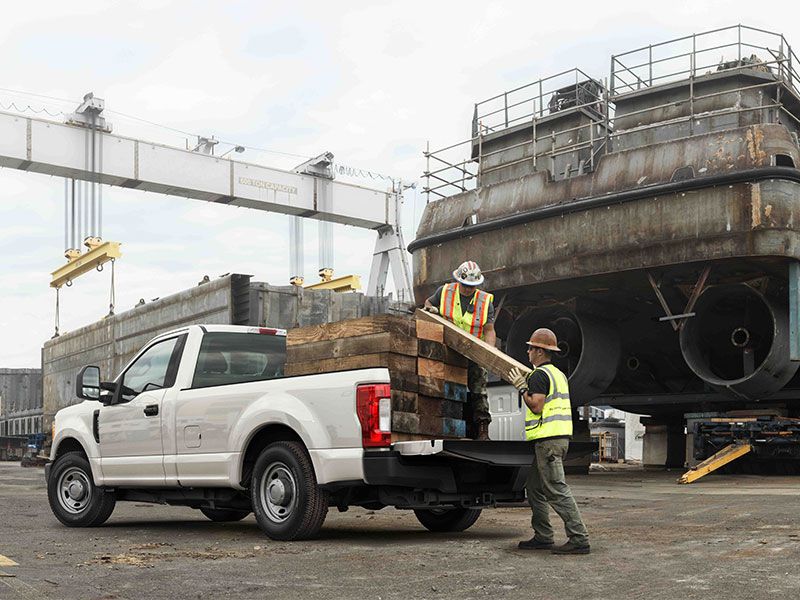 Photo by Ford
Ford Transit
The Transit has been Ford's van offering in Europe for decades, but it's only been available in the United States for a couple of years. Ford has done a great job "Americanizing" the Transit, forgoing small gasoline engines in place of two stout V6s. But they do offer a diesel engine, and it's an interesting one—a 3.2 liter 5-cylinder (yep, that's right, five cylinders!) that produces 185 horsepower and 350 ft-lbs of torque. It wears the same Power Stroke label as the big V8 diesels used in the pickup trucks. We've been impressed by the power of Ford's 5-cylinder turbodiesel; it does just as good a job propelling the big Transit as the V6 offered in Mercedes' Sprinter, though it is noticeably louder both at idle and under load. Still, the Power Stroke returns good fuel economy, and high-mileage van drivers may be able to lower their operating costs by opting for diesel power.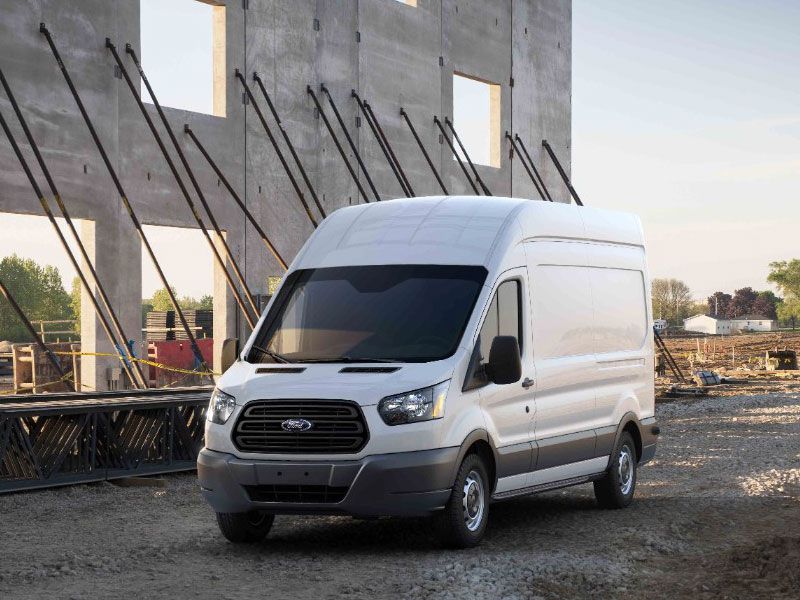 Mercedes-Benz Sprinter
Mercedes was the first to introduce commodious and capable European-style vans to the United States, and the Sprinter remains one of our favorites. Mercedes offers the Sprinter with two diesel powertrains, a 161-horsepower 2.1-liter 4-cylinder and a 188-horsepower 3.0-liter V6. You'd expect a massive difference between them, but from behind the wheel it's hard to tell them apart; both engines accelerate at about the same rate. How can that be? Mercedes fits the V6 with a 5-speed transmission, while the 4-cylinder gets a 7-speed trans, and the extra gears make up for the lack of power. If you are buying a Sprinter for seriously heavy towing or hauling—or if you are buying one equipped as an RV—the V6 is probably the way to go; for everyday vanning, though, the 4-cylinder should be fine.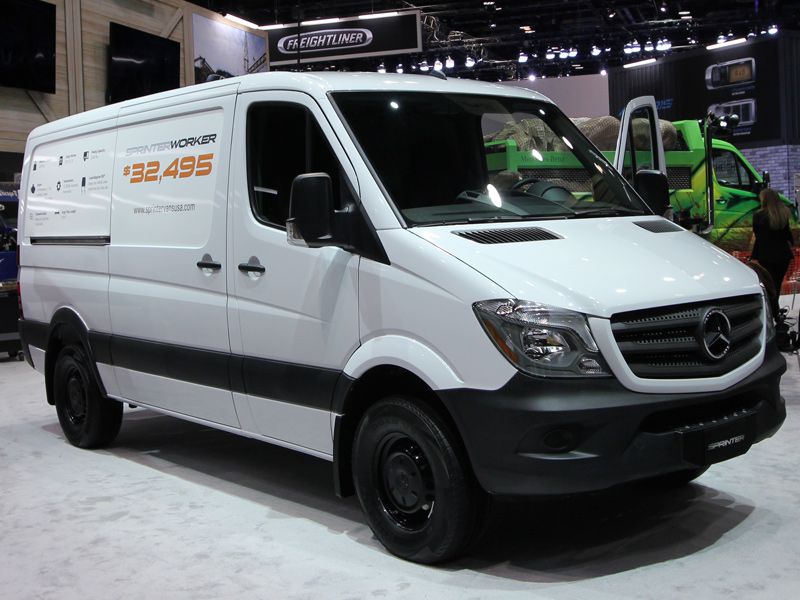 Nissan Titan XD
The Titan XD is an intriguing truck: It offers more towing and hauling capability than a typical half-ton (150/1500 class) pickup, but without the extra-large size and hard ride that are characteristics of heavy duty (250/2500 and 350/3500) trucks. More importantly, the XD offers Cummins diesel power—a 5.0-liter V8 that produces 310 horsepower and 555 lb-ft of torque, and allows the Titan XD to tow up to 12,310 lbs. We've towed with the Cummins-powered Titan XD; we were very impressed with the power, but fuel consumption was quite a bit higher than we expected from a diesel pickup. The Titan XD combines heavy duty towing abilities with half-ton comfort, and that's why we like it.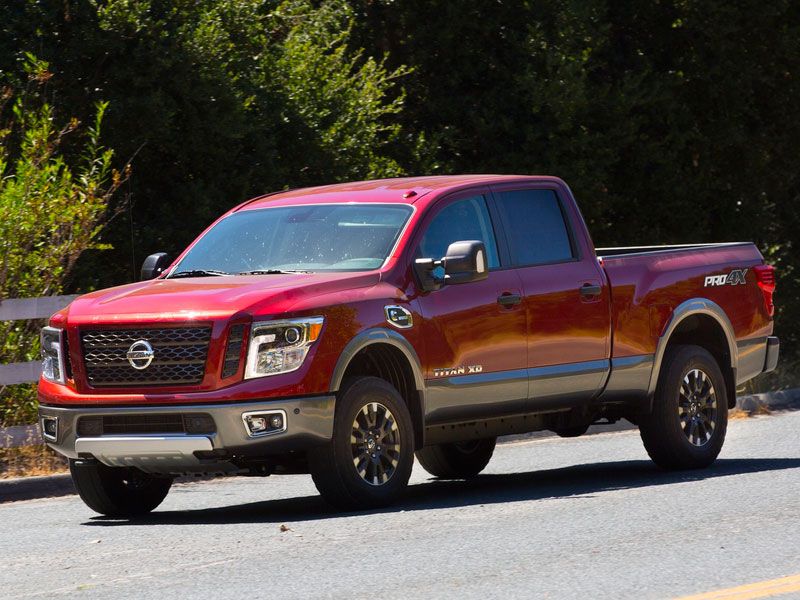 Photo by Nissan
Ram 1500 EcoDiesel
The Ram 1500 is the only half-ton pickup truck to offer diesel power (assuming you regard the Titan XD as a bit more than a half-ton truck), and while its big siblings, the Cummins-powered Ram 2500 and 3500, use engines designed for raw pulling power, the 1500's engine is designed for fuel economy—hence the name EcoDiesel. The engine is a 3.0-liter V6 designed by VM Motori, and it's a gem: It goes about its business quietly and without fuss and delivers spectacular fuel economy, with EPA ratings up to 20 MPG city and 28 MPG highway. Despite its economy-minded mission, the Ram 1500 EcoDiesel isn't afraid to get its hands dirty. The engine delivers 240 horsepower and 420 lb-ft of torque, and a 1500 EcoDiesel can tow up to 9,210 lbs when properly equipped.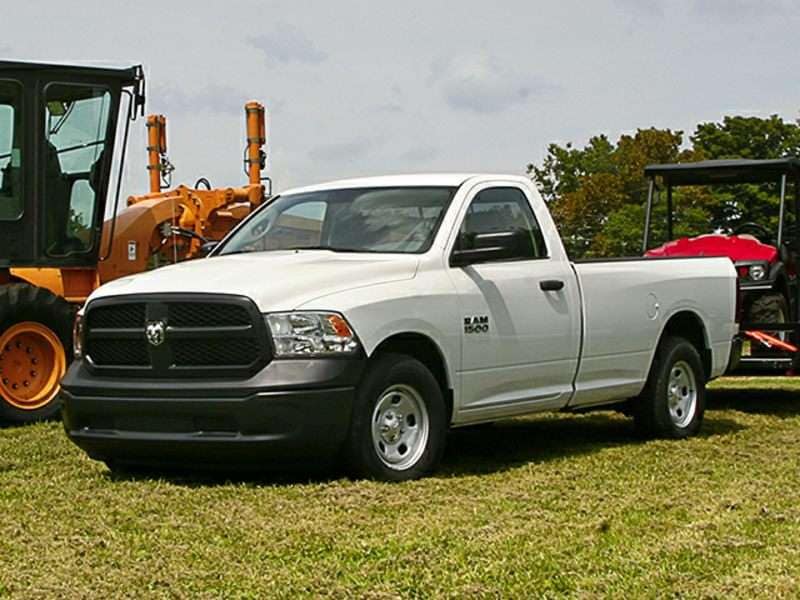 Photo by Ram Trucks
Ram 2500/3500
One could argue that it was the Ram (then known as the Dodge Ram) that put diesel pickups on the map. Credit the Cummins straight-6 diesel that Chrysler first fitted to the Ram back in the late '80s, which looks, feels and sounds like the massive diesels that power 18-wheelers. The latest iteration as found in heavy-duty Ram pickups displaces 6.7 liters and produces 370 to 385 horspower and 800 to 865 lb-ft of torque. It's also the only diesel-powered HD pickup still available with a manual transmission. Ram is no longer the towing champ—the latest iteration of the Ford F-Series Super Duty tows more—but no other pickup delivers the sound and experience of the straight-6 Cummins.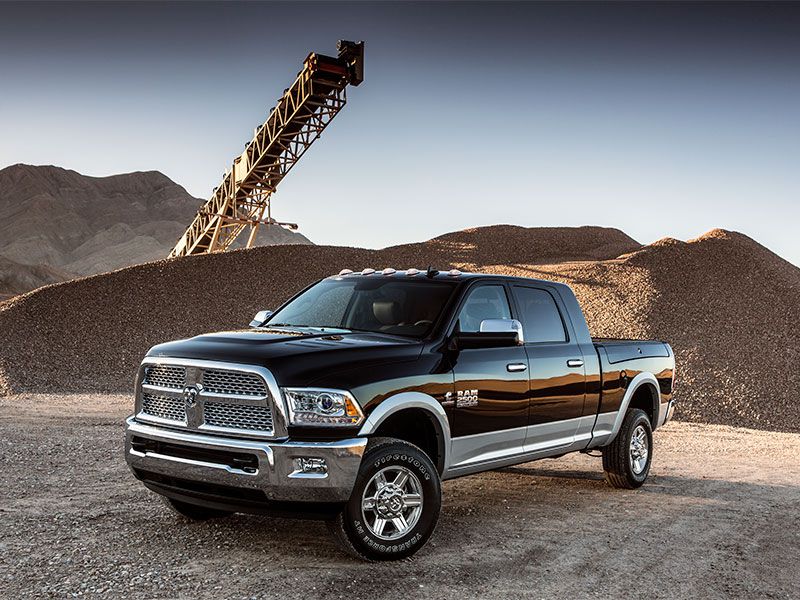 Photo by Fiat Chrysler Automobiles
Ram ProMaster
Ram's newest van is a European design based on the Fiat Ducato, and like most European vans, it offers a diesel option: A stout 3.0-liter 4-cylinder turbodiesel tuned for 174 horsepower and 295 lb-ft of torque. What sets the Promaster apart (and not in a good way) is the transmission, which is an automated-manual unit—basically a manual transmission that does all the clutching and shifting for you. There's also no "Park" position; drivers must park in Neutral and remember to set the parking brake. (For 2017 Ram has fitted an electric parking brake that applies itself if the driver forgets.) The Promaster is a good van, but it's better with the powerful and fuel-efficient gas V6.