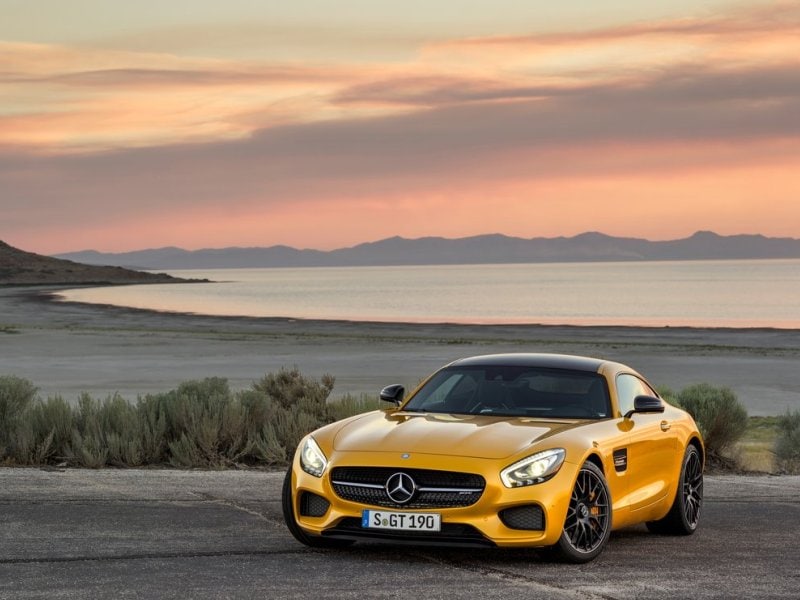 2016 Mercedes-Benz AMG GT ・ Photo by Mercedes-Benz Media
One thing's for sure when it comes to our top 10 New Sports Cars of the Year: There is no shortage of vehicles out there that offer increasingly growing output totals and continually shrinking 0-60 times. And many have found a way to combine straightline performance with track-credible handling, too. But it's also worth pointing out that a surprising number of those hi-po entries don't fit the traditional definition of a sports car, with examples like the Charger Hellcat sedan making for an infernally powerful case in point. 
Which, in turn, explains both why that car is off the list and why other choices that may push the ol' sports-car envelope are on it. 
These New Sports Cars all showcase key segment features, however, like rear-wheel drive, two-door body styles and sharply driver-focused cabins, and they had to deliver something "new" for the 2015 calendar year, too.
2016 Acura NSX
The 2016 Acura NSX Sport Hybrid will be backed by what the brand touts as the "most sophisticated, technologically advanced and intelligent powertrain in the supercar universe," and that's good enough for at least a provisional position on the New Sports Cars starting grid.
True, details are lacking at this point, but when the NSX does hit the road late in 2015, it's supposed to showcase a midship-mounted twin-turbo V6, a high-efficiency battery pack, a nine-speed dual-clutch transmission, two electric motors for the front, and a rear direct-drive electric motor at the back. Working together, those components will then deliver a next-gen iteration of the Acura Super Handling All-Wheel Drive system, as well as dynamic torque vectoring and nearly-instant responses to driver feedback.
The NSX further breaks new ground as the first supercar with an all-aluminum body.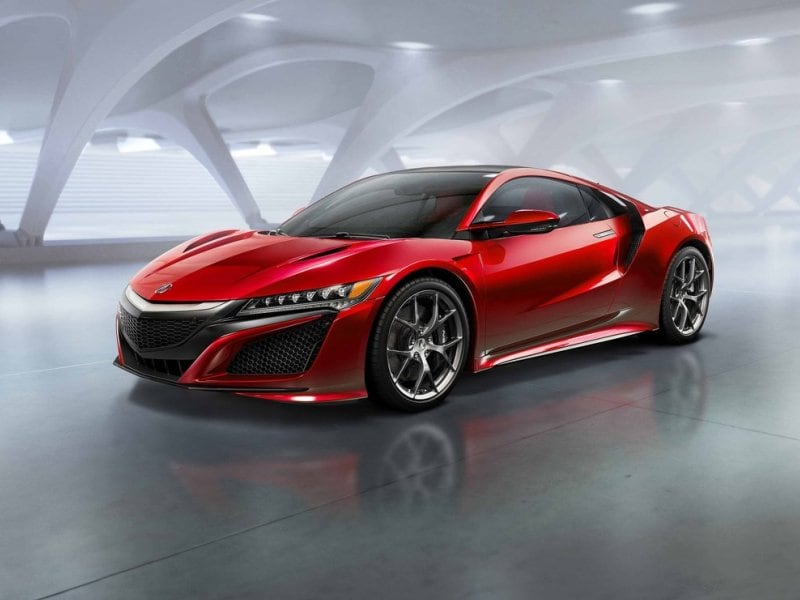 2015 Alfa Romeo 4C
The 2015 Alfa Romeo 4C is perhaps the epitome of the best New Sports Cars of the Year, or any year for that matter, checking off nearly all the boxes: It's a two-seat, rear-wheel-drive high performer that isn't outrageously expensive, it relies on light weight instead of brute force for its athletic capabilities, and it's even Italian, with exactly the kind of looks you'd expect from a super-model born in Milan. 
In terms of numbers, the 4C—also Autobytel's overall 2015 Sports Car of the Year—is powered by a high-tech 1.75-liter turbo engine, with four cylinders that fire up with a relatively modest 237 hp and 258 lb.-ft. of torque. But thanks to its minuscule curb weight of just 2,465 lbs., and a six-speed twin-clutch automatic transmission, drivers still see 0-60 times of 4.1 seconds and a top speed of 160 mph.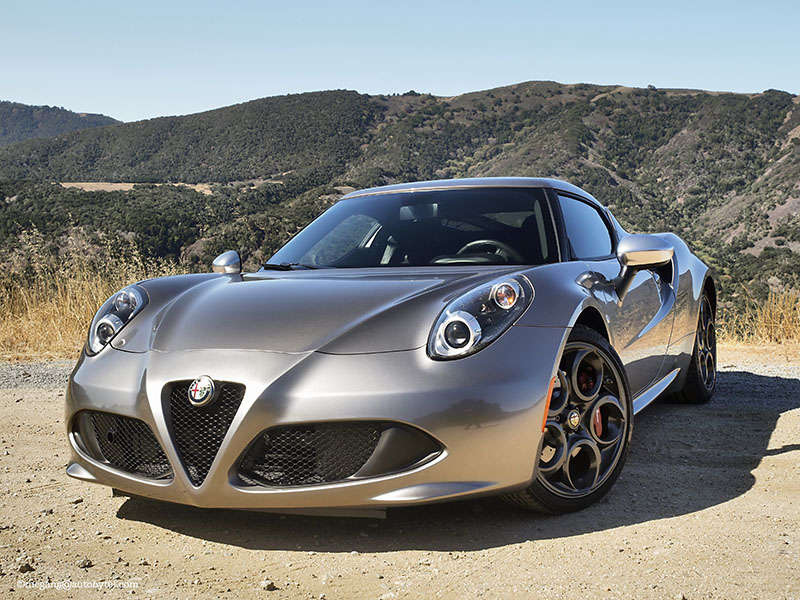 Photo by Megan Green
2016 Audi R8
Recently revealed at the Geneva Motor Show and immediately ushered into the ranks of most exciting New Sports Cars of the year is the all-new 2016 Audi R8.
The second-generation supercar doesn't look drastically different than the original, although its "carbon blade" design elements have been transformed into more traditional cooling ducts, but there have been radical improvements where it counts. The 2016 R8's aluminum-intensive body structure has helped engineers reduce up to 110 lbs. from the car's curb weight, depending on model, and top engine outputs rise by 60 hp and 15 lb.-ft. of torque, to reach 610 horses and 413 lb.-ft. of torque in the 2016 R8 V10 "plus."
With that powerplant delivering a top speed of 205.1 mph and a 0-60 time of under 3.2 seconds, this will be the fastest series-production model ever unleashed by Audi.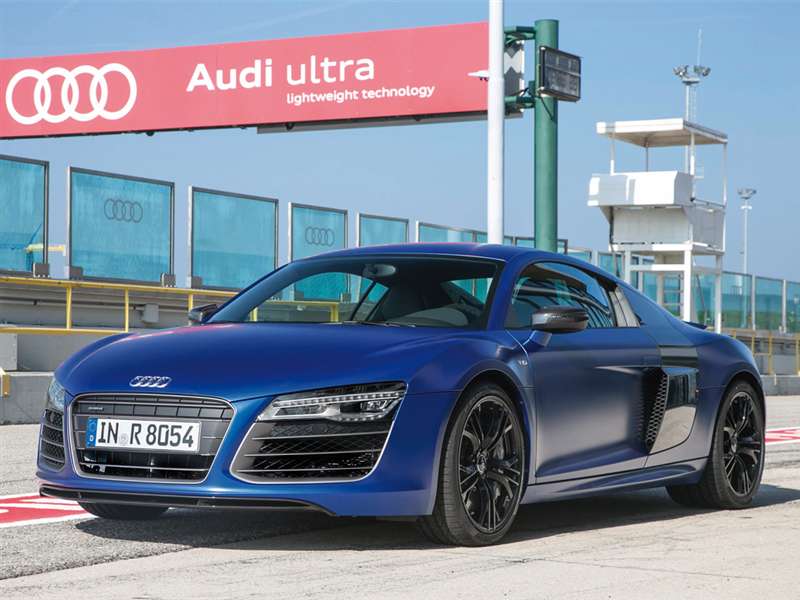 Photo by Volkswagen of America
2015 Chevrolet Corvette
The current Chevrolet Corvette Z06 is the "most capable" Corvette ever sold by the Bowtie brand, as well as the most powerful production ever built by GM, and its debut for the 2015 model year makes it an excellent choice as one of the top New Sports Cars on the market today. 
Of course, so do features like a supercharged 6.2-liter V8 that serves up 650 hp and a like number of lb.-ft. of torque. When the Z06 is further upgraded with the Z07 ultra-high-performance package—and paired with an available eight-speed automatic transmission—drivers can reel off 0-60 runs of a mere 2.95 seconds, complete the quarter-mile in 10.95 seconds and also decelerate from 60-0 in 99.6 feet; per GM, no production car it's ever tested could stop shorter. 
And yes, a manual transmission remains standard on the Z06.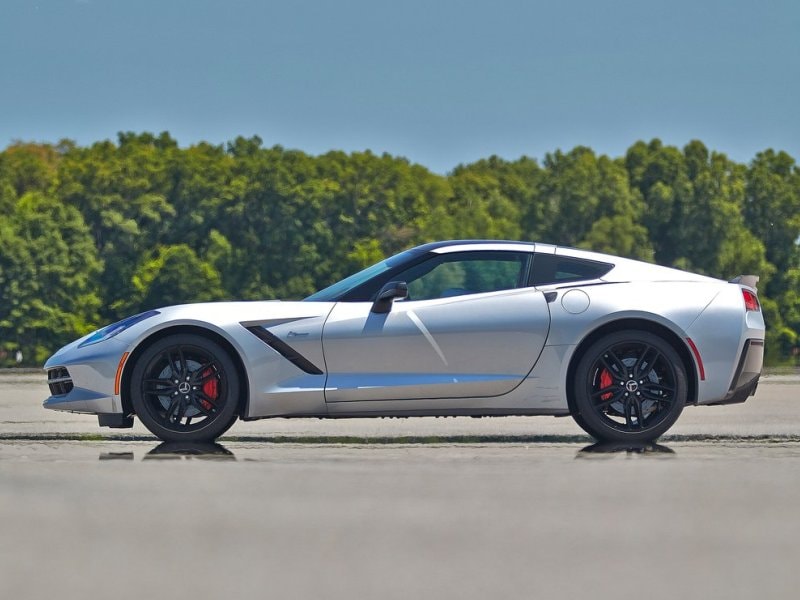 2016 Ferrari 488 GTB
The spiritual successor to the legendary 308 GTB—and a direct replacement for the 458—the 2016 Ferrari 488 GTB also represents the brand's response to recent changes in Formula 1 engine guidelines: With F1 now mandating turbo power, Ferrari has followed suit in the new car by launching a 3.9-liter V8 that can dial up the boost for 661 hp and 560 lb.-ft. of torque. That works out to increases of 10.7 and 40.7 percent as compared to the best-performing 458, while the 488 GTB also ups the performance ante with a 205 mph top speed and the ability to race from 0-60 in fewer than 3 seconds. 
Engineers have fine-tuned some of the Ferrari's driver-assistance measures, too, highlighted by an enhanced version of the company's slip-angle control system that helps noticeably improve acceleration in the curves.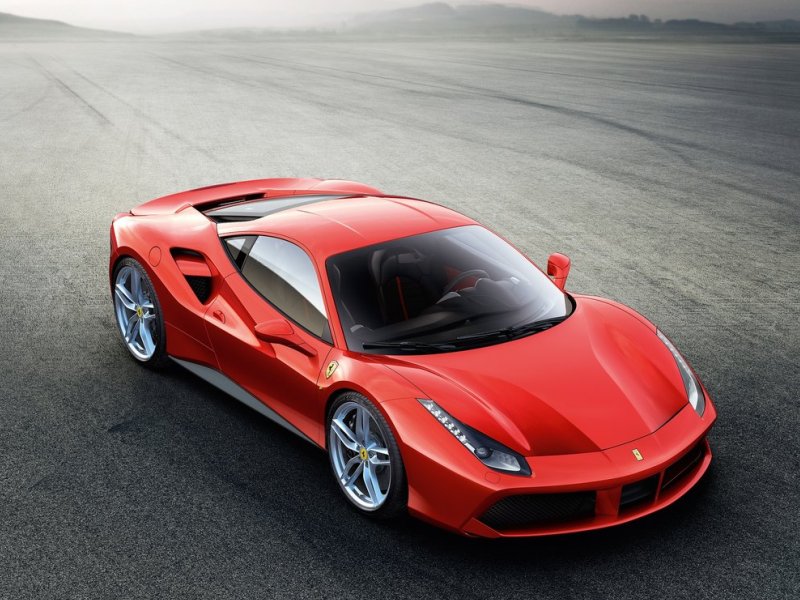 Photo by Ferrari
2015 Ford Shelby GT350 Mustang
Okay, the Ford Mustang is, technically, a "pony car," but the upcoming Shelby GT350 can out-sport a number of New Sports Cars and it does represent more than just a souped up GT.
For one thing, there's a brand-new powerplant in the engine bay, in the distinctive shape of a 5.2-liter V8 with a flat-plane crankshaft. Engineered specifically to help improve cylinder breathing, this unique crank design also enables the big V8 to produce more than 500 hp and 400 lb.-ft. of torque, making it the most powerful production engine ever offered by the Blue Oval.
Additionally, to fit the bigger engine, the GT350 wears its own exclusive hood and front fascia, too. Among the handling highlights: Ford's very first continuously controlled MagneRide dampers, which can read and react to changes in road conditions in as few as 10 milliseconds.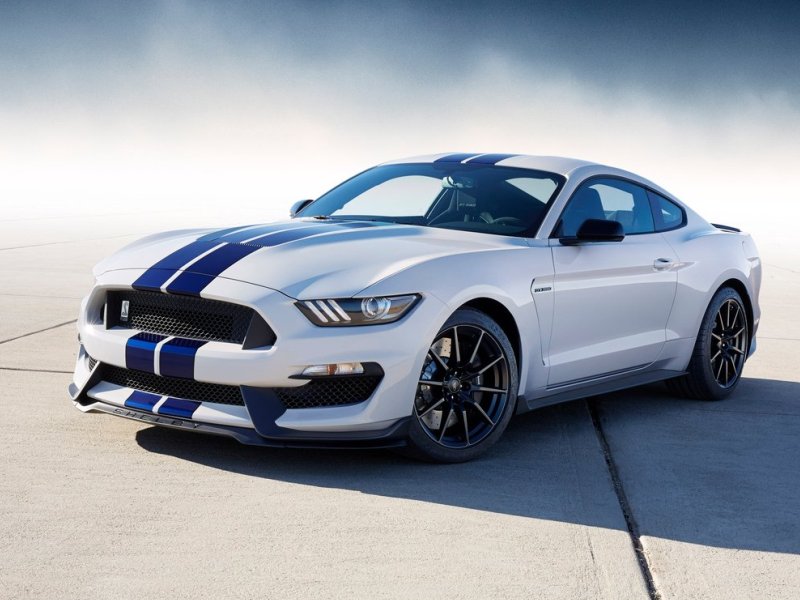 Photo by Ford
2015 McLaren 675LT
Next up on the New Sports Cars list is the 2015 McLaren 675LT, positioned as the "most track-focused" of the McLaren Super Series entries. Now, that is quite a boast when the roster already features the 650S, but this latest, "long-tail" McLaren has been significantly upgraded, with new, more aerodynamic bodywork and a major engine makeover as compared to its teammate; indeed, the automaker claims that more than half the components in the 675LT engine are new and different from that of the 650S. 
As a result, the 675LT can squeeze a diabolical 666 hp and 516 lb.-ft. of torque from its 3.8-liter twin-turbo V6, with that power routed through a seven-speed SSG (sequential shift gearbox) automatic transmission for optimum performance—as well as a terminal velocity north of 204 mph and 0-60 runs south of 2.9 seconds.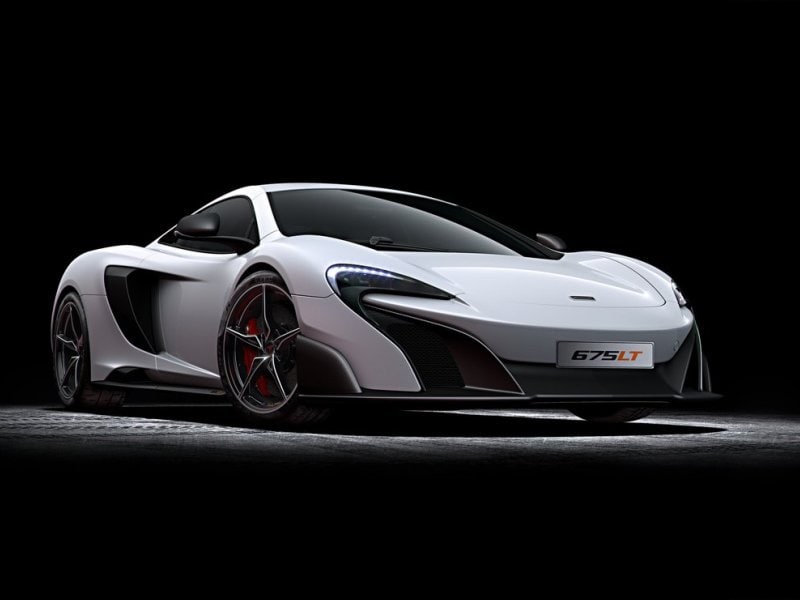 Photo by Newspress USA
2016 Mercedes-AMG GT
After years dedicated to supporting the Mercedes-Benz lineup, the AMG performance-engineering division has begun designing its own vehicles from the ground up, including one of the hottest New Sports Cars to hit the pavement this year: the 2016 Mercedes-AMG GT. 
The successor to the SLS AMG has, sadly, done away with the former model's gull-wing doors, but the GT does do some serious bar-raising in all other departments—including the most important ones: Motivated by 4.0-liter bi-turbo V8 engine, the potent GT S, out in April, is up to 503 hp and 479 lb.-ft. of torque, with a 0-60 time that has shrunk to 3.7 seconds; the standard GT, coming later this spring and limited to a mere 456 hp and 443 lb.-ft. of torque, is two ticks slower to 60, but will no doubt be less expensive than the $129,900 GT S.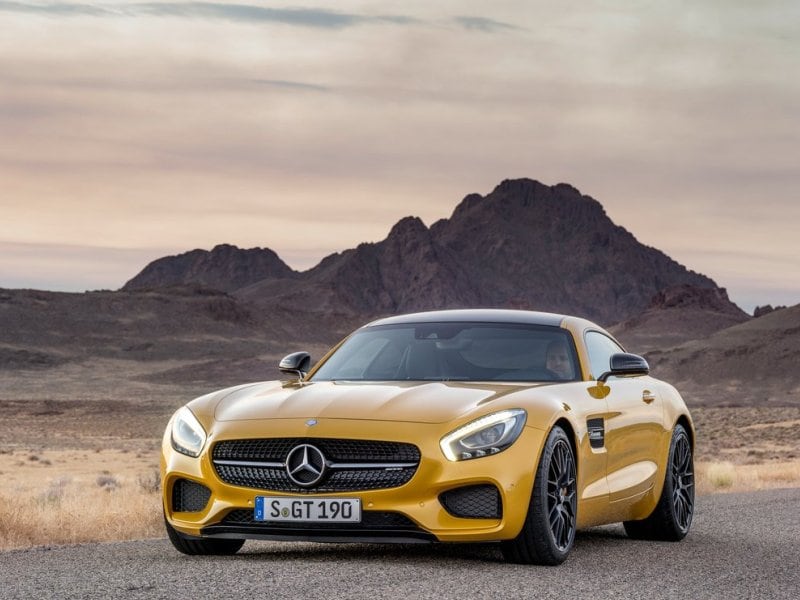 Photo by Mercedes-Benz
2015 Nissan GT-R
The ongoing horsepower renaissance has raised even Godzilla from his sleep, as Nissan's NISMO performance partners have propelled the 2015 GT-R to a particularly prominent place in Autobytel's New Sports Cars portfolio.
Well, that propulsion actually comes from a 3.8-liter twin-turbo V6, but engineers have extricated another 55 hp and 18 lb.-ft. of torque from its heart, which now pumps out 600 hp and 481 lb.-ft. of torque. Yet NISMO-fication means more than just increased power; it also brings a comprehensive suspension retuning, a unique carbon-fiber aero kit, a NISMO racing-style steering wheel, and front bucket seats from Recaro.
Further, for what it's worth, a "time-attack" GT-R based on these specs was used for development at the notorious Nurburgring racetrack, where it set a "volume production car" record with a lap of 7:08.679.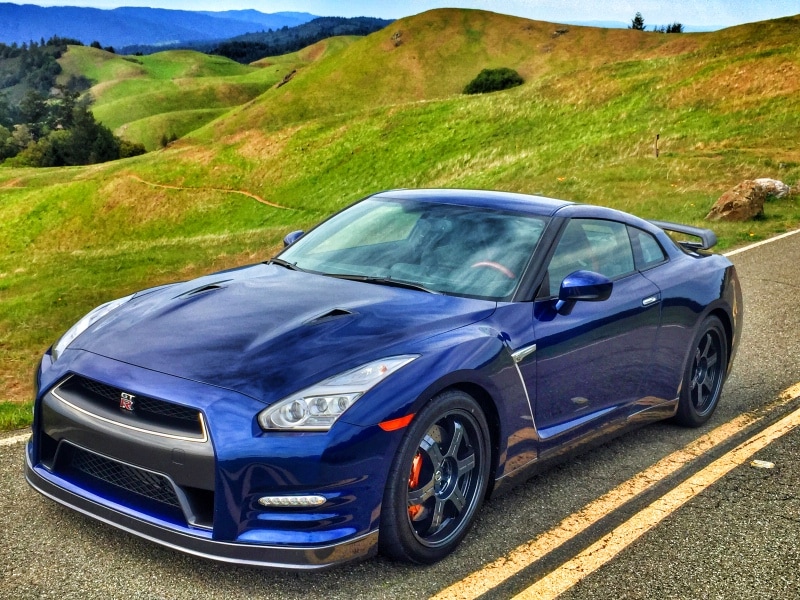 2015 Porsche Cayman
While a number of our New Sports Cars can match up pretty well against the current Porsche 911, the icon itself has been booted from the list by one of its own brand-mates. That would be the mid-engined 2015 Porsche Cayman GT4, especially since the new range-topping Cayman is officially quicker, more powerful and less expensive than the entry point to the 911 lineup.
The tale of the tape here includes a 3.8-liter flat six-cylinder engine that makes 385 hp and 309 lb.-ft. of torque, along with a 0-60 sprint time of 4.2 seconds and a top track speed of 183 mph—and a Nürburging lap time of 7:40 that exactly matches the 2011 performance of a 911 GT3.
Also notable: Those numbers are with a six-speed manual transmission that is the only choice on the Cayman GT4.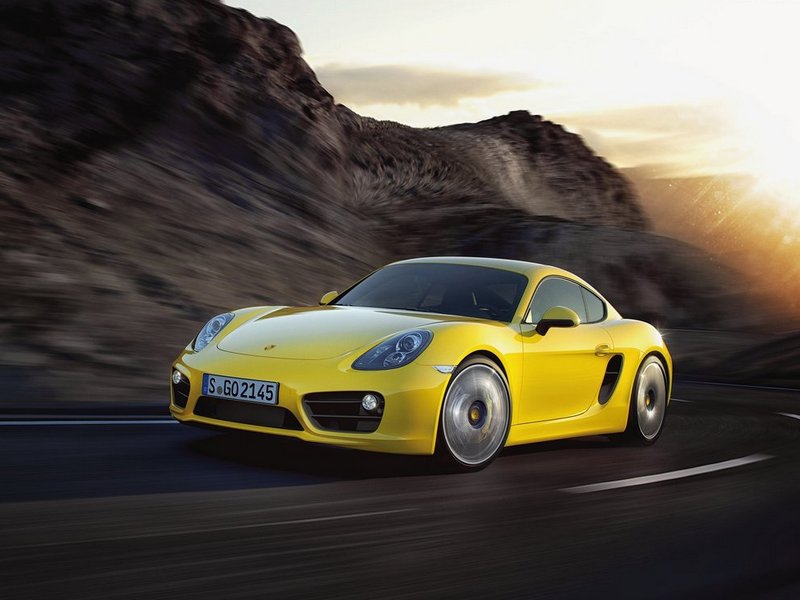 Photo by Volkswagen of America