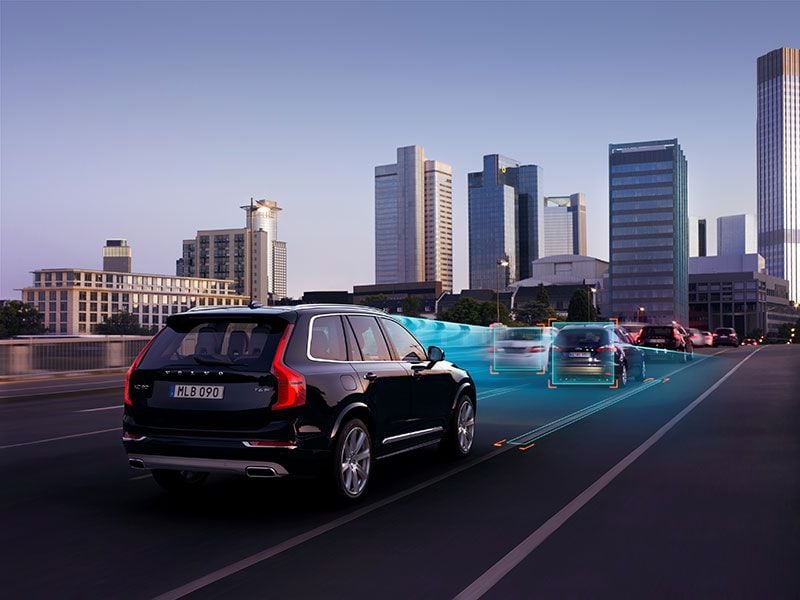 2016 Volvo XC90 Adaptive Cruise Control with Queue Assist ・ Photo by Volvo Cars
Car manufacturers invest a lot of time in developing innovative safety systems, not just to keep their customers more secure, but to provide a competitive edge against rivals. It's big business—entire marketing campaigns have revolved around new systems—but it's a net positive for new car shoppers. The newest cars are laced with delicate sensors and cameras that provide all-around views, monitor surroundings, and nearby traffic, and give drivers critical information. Many of the new safety features we'll examine initially debuted with luxury brands or in higher-end models, but are becoming more affordable and available in mainstream models. Let's take a look at 10 new safety features that are becoming popular options in our vehicles.
Adaptive Cruise Control
Regular cruise control might someday be a thing of the past, replaced by one of our favorite 10 new safety features in cars. While it's nice to set a speed on an empty highway and simply steer, how often does anyone really come across an empty highway anymore? Adaptive cruise control takes care of the "creep" problem, when a car set to cruise creeps up on the car in front deceptively quickly. And, while we're not suggesting the driver shouldn't stay alert and take responsibility, it's nice to have a reminder via more advanced technology. Put simply, adaptive cruise control uses laser or radar sensors on the front of the car to scan for traffic, then automatically adjusts the cruise control speed to stay a safe distance behind the pack leader, like the system offered in the 2016 Volvo XC90.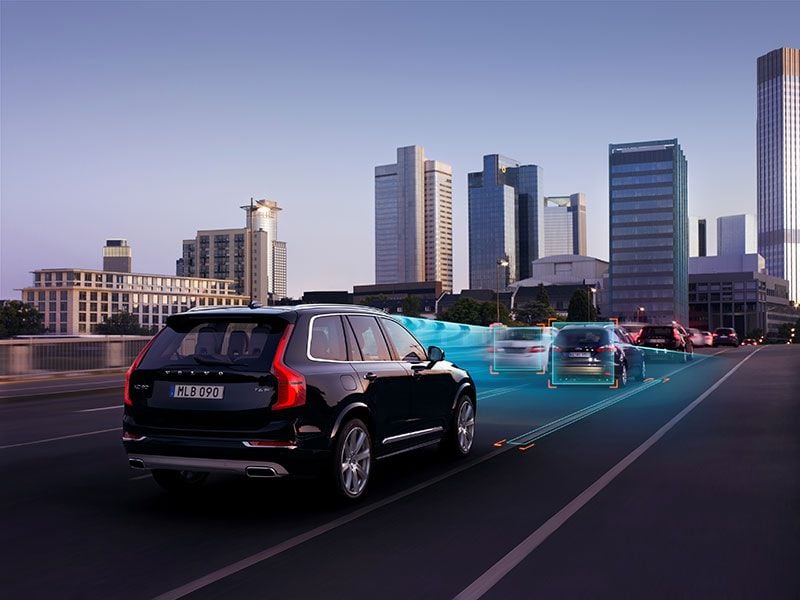 Photo by Volvo Cars
Automatic Braking
Automatic braking, also known as forward collision prevention, is a new safety feature in cars that uses the same scanning technology employed in adaptive cruise control, except it's active all the time, not just when cruise is engaged. If the system detects an obstacle in front of the car while traveling at low speeds, the car brakes automatically in hopes of avoiding the collision entirely at best, or reducing the severity of the impact at worst. Though advanced safety systems such as automatic braking are sometimes controversial at first, data can help convince holdouts and support new research. One such example, the Volvo City Safety automatic braking system, shown in the 2016 Volvo V60, helps prevent minor front-end collisions, according to the Insurance Institute for Highway Safety.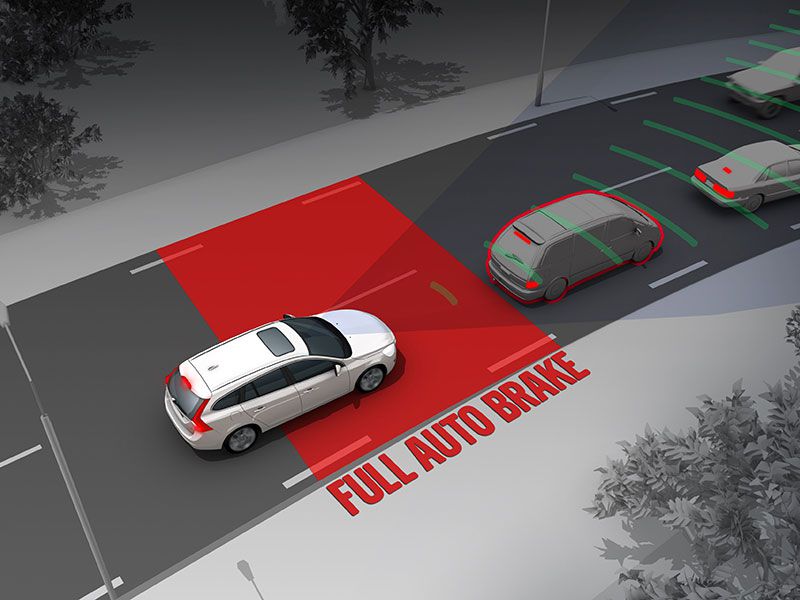 Photo by Volvo Cars
Brake Assist
There are a lot of new safety features in cars that involve braking, and with good reason. Brake assist uses the same sensitive network of sensors that monitors for obstructions around the car, and if the system senses an imminent threat, it primes the brakes for a harder stop. Put another way, brake assist is prepared for a potential problem before the driver even sees it, and can help a car stop faster and harder than a driver can do on his or her own. This new safety feature, like the one in the 2016 Volvo XC90, is designed to help cars avoid collisions or lessen impact by being a step ahead of the driver, simply by taking advantage of technology that's already there.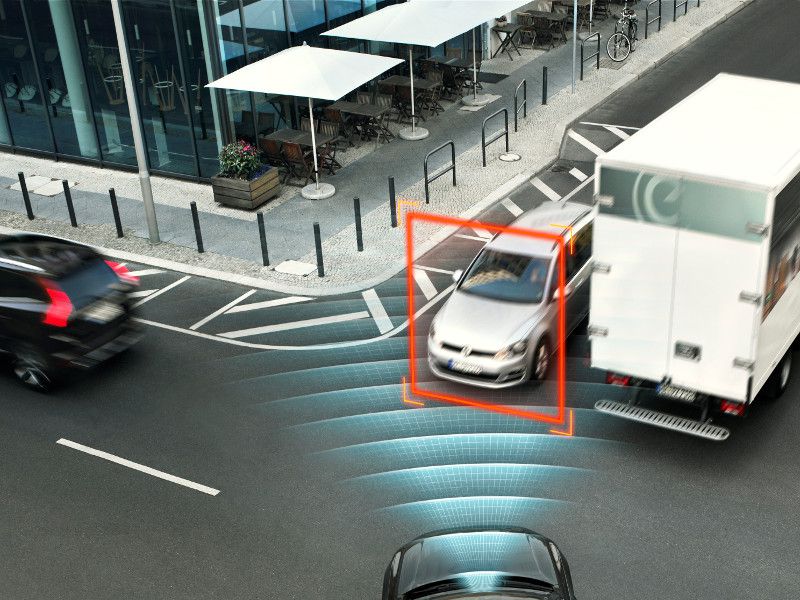 Photo by Volvo Cars
Adaptive Headlights
Headlights are all about seeing and being seen. So why did it take so long for someone to invent a system that enables headlights to point where the car is—or will soon be—going? Adaptive headlights are one of our 10 favorite new safety systems for their sheer simplicity. When the steering wheel turns, the headlight beams automatically shift to illuminate the new path ahead. Other high-tech lighting features include LED lamps, which have been around for a while but are now being more commonly used thanks to their longevity and efficiency, as well as their style. And some cars, like several BMW models, use sensors to automatically turn on or disable headlights and high beams, based on the car's surroundings.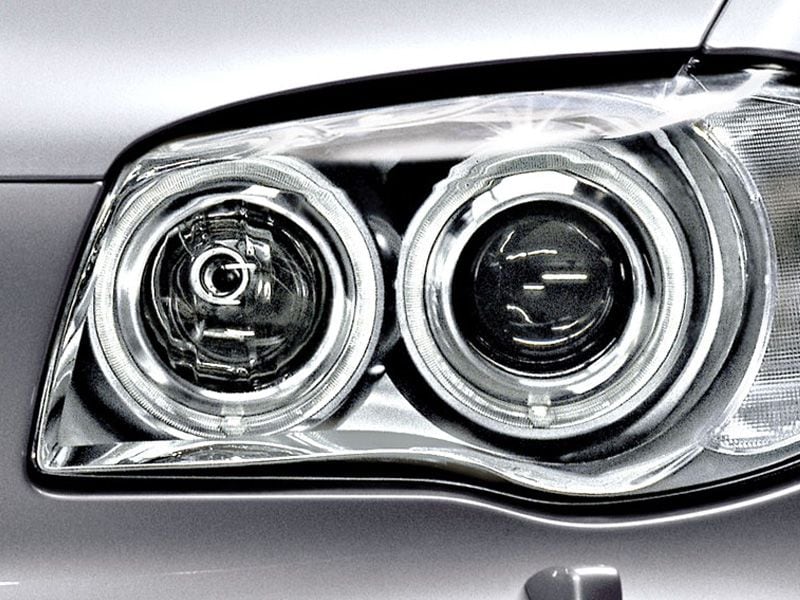 Photo by BMW
Rearview Cameras
Rearview cameras, also known as backup cameras, transmit an image of the area around and below the car's rear bumper. The image, which usually appears on the center console display or infotainment system screen, gives the driver a better idea of what's happening behind the car and reveals obstructions that may not be seen via the side mirrors, rearview mirror, or simply glancing through the rear windshield. When the car is in reverse, many rearview camera displays, like the one shown here in the 2016 Honda Civic, project guidelines to show the area the car will occupy as it travels backward. This new safety feature has proven so useful in cars that it will actually be mandatory in all new cars sold, starting in the spring of 2018.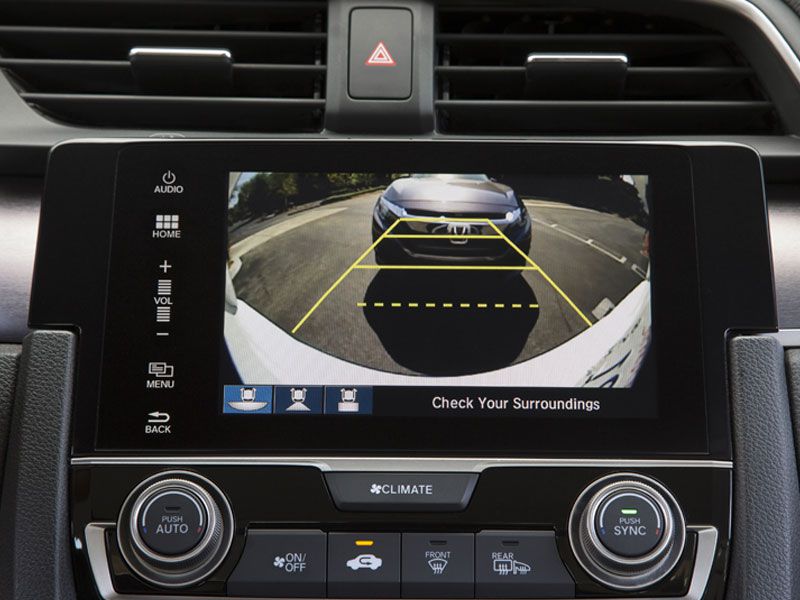 Photo by Honda
Smartphone Integration
Smartphone integration isn't the newest among the 10 new safety features in cars that we're discussing, but it's reaching new users every day. Smartphone integration is being included in more new cars every year, and it's constantly being improved—Android Auto and Apple CarPlay are two examples of next-gen telecommunications systems in cars. These systems improve safety by allowing the driver's smartphone to network wirelessly to the car, so that drivers can do everything hands-free: make and receive calls, make and receive texts, listen to music, and ask the navigation system for directions. And, as our smartphones continue to get more advanced, it stands to reason our cars will soon be able to do even more.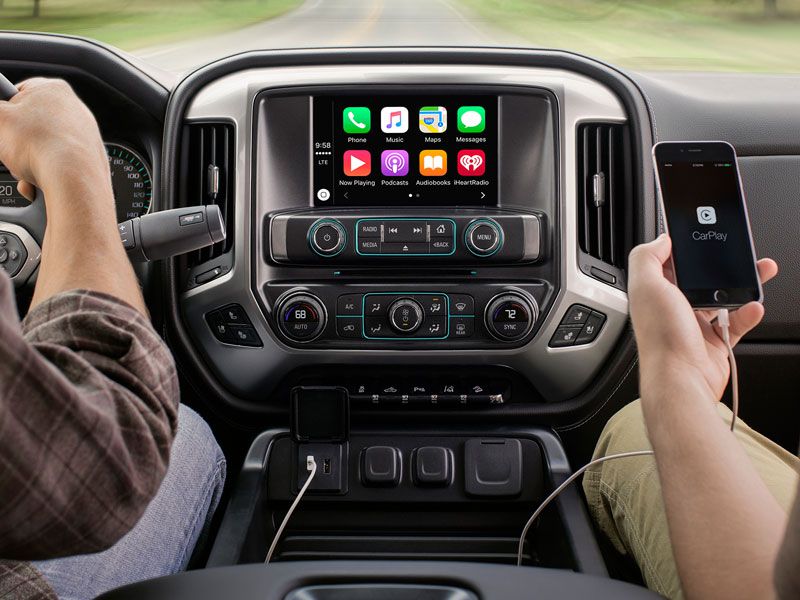 Photo by General Motors
Blind Spot Warning
Also known as lane change assist, blind spot warning systems use sensors similar to those in adaptive cruise control and front collision prevention systems. Except, like the one shown here in the 2016 Volkswagen Jetta, these sensors monitor the sides of the car while traveling, scanning adjacent lanes to look for vehicles traveling in the car's blind spots. Cars equipped with blind spot warning systems have indicators near the car's side mirrors, so when the driver checks the mirrors in preparation for a lane change, he or she will know to be extra vigilant about the hidden obstacle lurking in the shadows. The delicate sensors used for this new safety feature can also be used for other, similar types of new safety systems, as you'll soon see.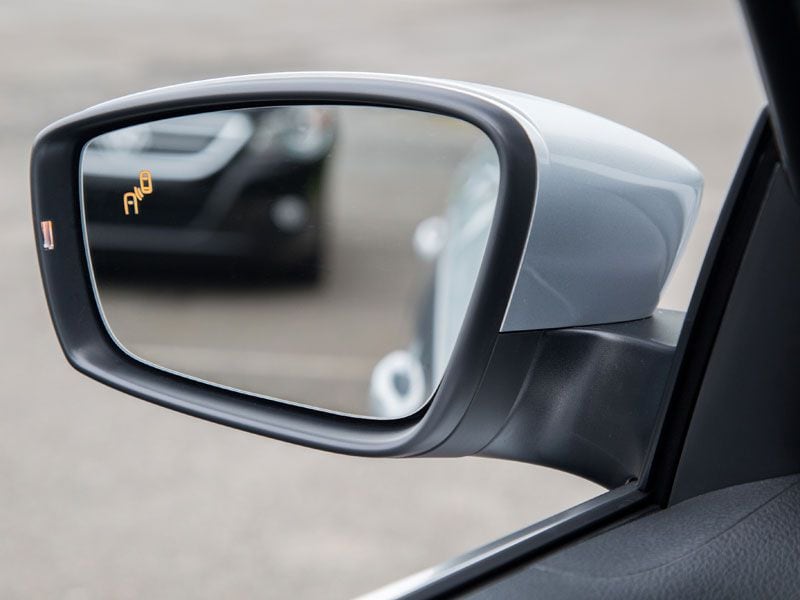 Photo by Volkswagen
Lane Departure Warning
Like lane change assist, lane departure warning systems use sensors placed along the side of the car. This top 10 new safety feature helps prevent collisions by helping the car stay in its lane. If the lane departure warning system detects the car drifting to the side—using its sensors to monitor the lane divider—it alerts the driver to wake up and pay attention. Different auto manufacturers have different methods. A chime or tone is a common type of alert, but some manufacturers prefer to install a vibrating mechanism in the driver's seat. And some go another step, taking measures to bring the car back to the center of the lane if the driver doesn't respond promptly, like in this 2017 Audi A4.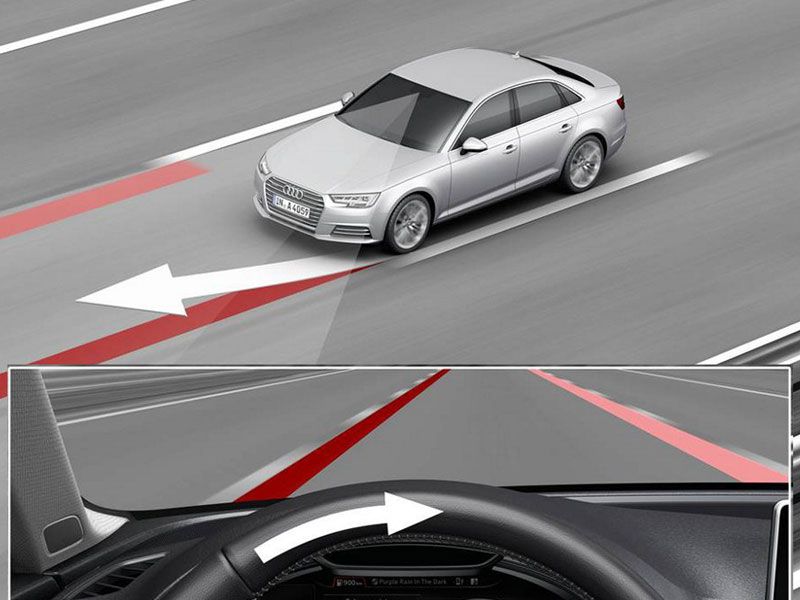 Photo by Audi
Active Park Assist
Active park assist is another of our 10 favorite new safety features in cars. This type of safety system can vary widely from manufacturer to manufacturer, so we're providing just an overview. Because some systems are easier to use than others, readers who will soon be in the market for a new car and want an active park assist system should be sure to check it out as part of the test drive process. In essence, an active park assist system uses the car's sensors and cameras to help the driver identify a parking spot large enough for the car, and then it actually helps guide the car into place, therefore reducing the chance of a collision. Shown here is the 2017 Chrysler Pacfica's ParkSense feature.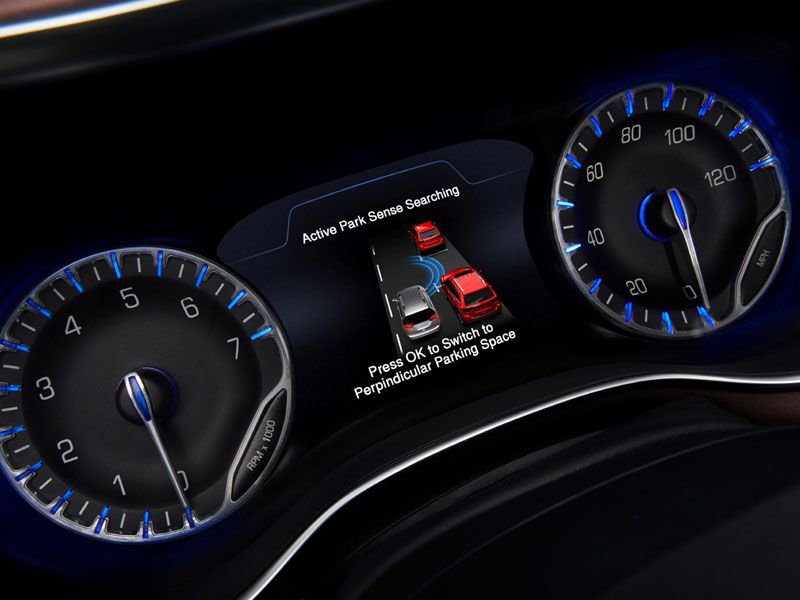 Photo by Fiat Chrysler Automobiles
360-Degree Cameras
Also known as around view or surround view systems, 360-degree cameras kind of bring it all together. Compared to all the complicated new safety features we've already examined, a 360-camera is actually pretty basic, and exactly what it sounds like. The car's laced with an intricate network of cameras and sensors anyway, right? Why not use them to give an all-around perspective? Nissan and Infiniti were among the first manufacturers to bring such a system to mainstream, affordable cars, using four different viewpoints of the car to stitch together a virtual, but real-time, aerial image of the car's surroundings like the one shown here in the 2016 Toyota Sienna. At some point, we might realize that new safety features give the driver too much information, but right now, automakers are still trying to find that line.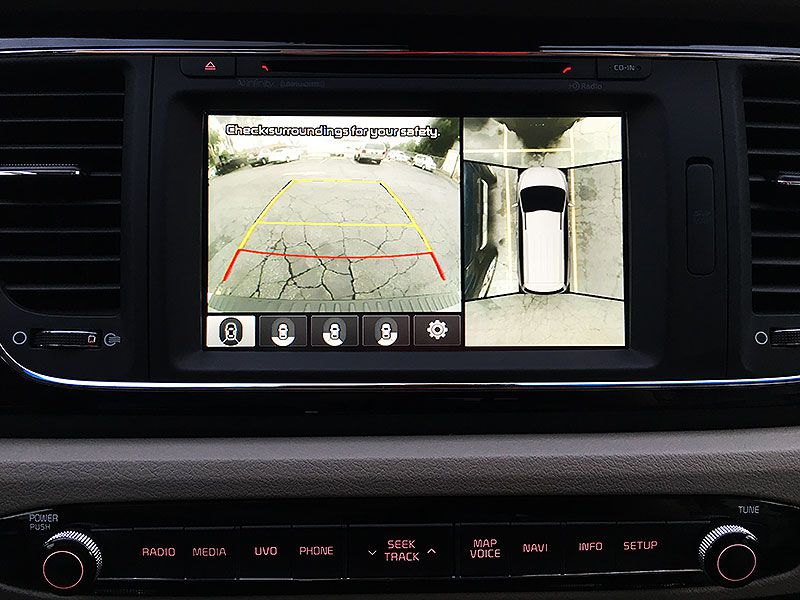 Photo by Carrie Kim