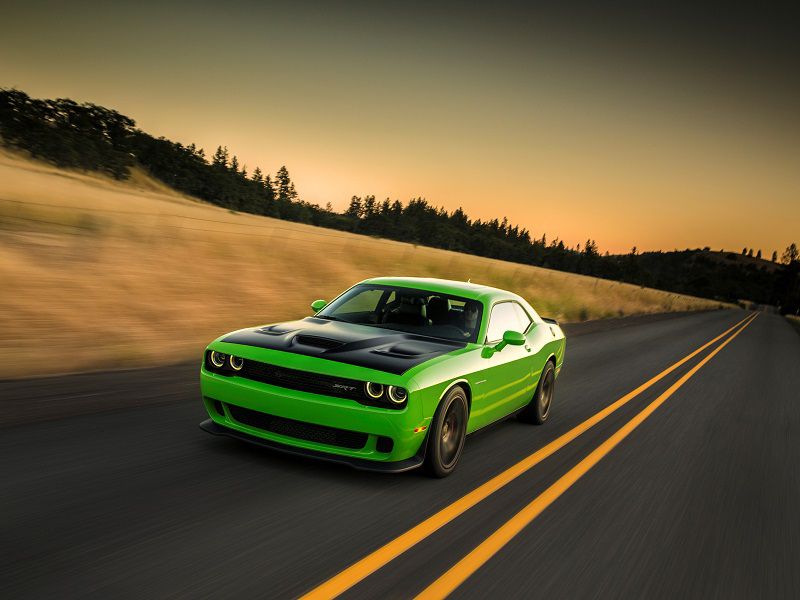 2016 Dodge Challenger SRT Hellcat ・ Photo by Dodge
A two-door car can be a beautiful thing. In exchange for the practicality of a three-door hatchback or four-door sedan, a coupe has stylistic freedom. And by rejecting practicality, a coupe can offer inherent fun. 
Still, you don't necessarily want your coupe to be pitifully cramped. Maybe you occasionally want to carry someone in the backseat, or you want a trunk that's big enough for a road trip or Costco run. That's why we've rounded up the 10 most spacious coupes. These are all traditional two-door coupes — not the four-door "coupes" that have become popular lately; these may be stylish sedans, but to us, they're sedans. Sedans are indeed typically roomier than coupes, but when you want two doors, here are the 10 most spacious coupes you can buy today, ranked by their EPA-protocol interior volumes.
1. 2021 Rolls-Royce Wraith
If you want the roomiest coupe on the market, be prepared to pay up. It's the Rolls-Royce Wraith, which has a base price of $330,000 — and you probably wouldn't buy it without adding a few four- and five-figure options. 
With 99 cubic feet of passenger space and 13 cubic feet of cargo room, the Wraith is only about as roomy as a Hyundai Elantra economy sedan. But that still makes it unusually generous for a coupe. Drivers will never feel cramped behind the wheel of this 624-horsepower, 207-inch-long luxury yacht. It has the size and imposing feel of a full-size SUV, just without the high seating position. And when you open up the rear-hinged doors, even two adults can wriggle into the back.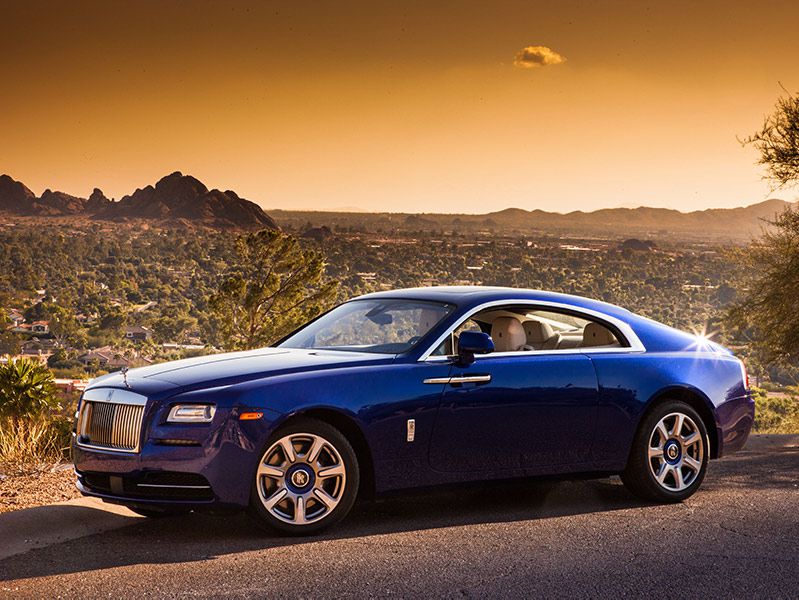 Photo by Rolls-Royce
2. 2021 Dodge Challenger
If you want a big, roomy, road-dominating coupe, you don't need a Rolls-Royce. For just $28,870, you could take home a 2021 Dodge Challenger. It's a retro-styled two-door version of the more modern-looking Dodge Charger full-size sedan, and while the Challenger gives up a bit of space and versatility, it's still a cut above most fellow coupes. The EPA quotes it at 94 cubic feet of passenger space and 16 cubic feet in the trunk. 
The base Challenger has the same menacing face as upper-level models, and its 303-horsepower V6 is hardly sluggish. Still, for truly raucous performance, you want one of the optional V8 engines: a 375-horsepower 5.7-liter, a 485-horsepower 6.4-liter, or a supercharged 6.2-liter making 717 to 807 horsepower. This is the last old-school big performance coupe, and it's the rare chance for four adults to go fast together in a two-door car.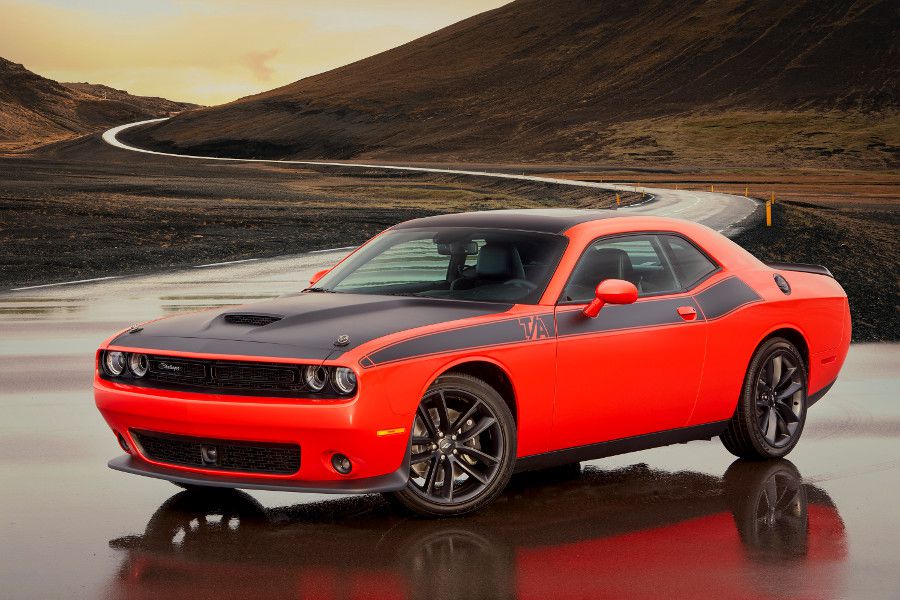 Photo by Dodge
3. 2021 Mercedes-Benz S-Class
If you want a taste of Wraith on a less obscene budget, act fast: 2021 is the last year of the Mercedes-Benz S-Class coupe, a lower-slung two-door version of the stately S-Class full-size sedan. 
The S-Class coupe combines the graceful driving experience, sumptuous cabin, and extra-spacious driver accommodations of the S-Class sedan with more exuberant styling. Still, this is a full-size car, not a light and tossable sports coupe. That's good news for interior space compared with most coupes, but it means this big Benz drives similarly to its four-door sibling. The S-Class coupe starts at $131,400 in S 560 form, which brings a 463-horsepower V8 engine. Interior volumes measure 90 cubic feet of passenger space plus a 10-cubic-foot trunk.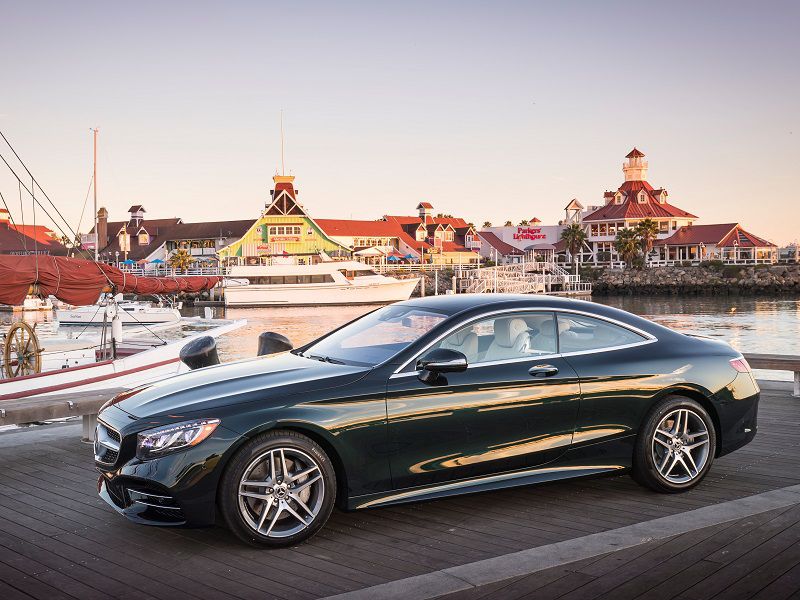 Photo by Mercedes-Benz
4. 2021 Mercedes-Benz E-Class
For less road presence than the S-Class but nearly identical EPA interior volume, you can save big by choosing the 2021 Mercedes-Benz E-Class coupe. It starts at $64,950 with a choice of V6 engines making either 362 or 429 horsepower. 
Newly updated for 2021, the E-Class offers unflappable driving composure and a beautifully finished (if technologically daunting) interior. More graceful than outright sporty, even in its performance-focused AMG model, the E-Class is a classic example of a luxury coupe with a usable (if not huge) backseat. Total EPA volume measures 89 cubic feet for the passengers and 10 cubic feet for cargo.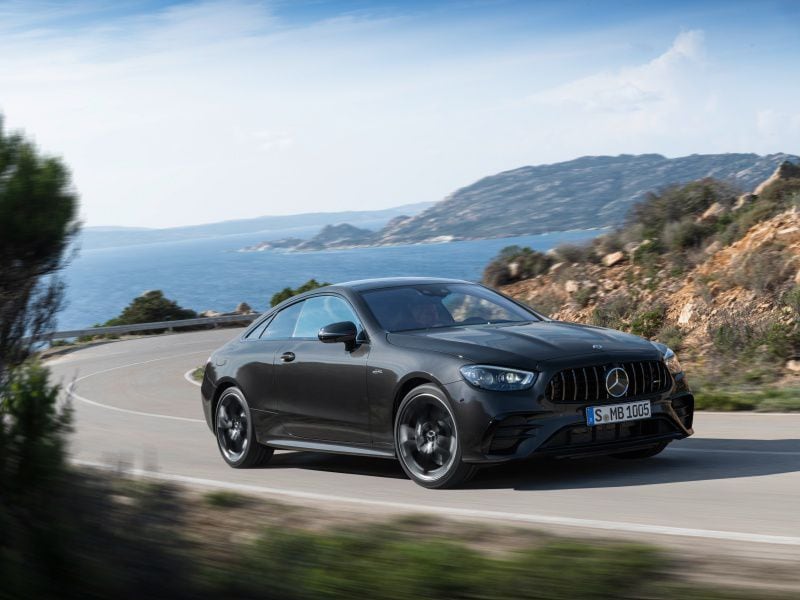 Photo by Mercedes-AMG
5. 2021 BMW 2 Series
The EPA measures interior space from the floor to the ceiling, and that's good news for the 2021 BMW 2 Series. This little coupe, the smallest vehicle in the BMW lineup, has a higher roof and more upright profile than its larger siblings and most other modern coupes. That gives it the same 89 cubic feet of passenger space and 10-cubic-foot trunk as the Mercedes E-Class. 
No, you won't stretch out in this little BMW, especially not in the backseat. But the EPA's measurements aren't entirely useless. They do underscore that adults don't have to worry about fitting inside this well-priced and fun-to-drive little coupe. Thanks to its smaller dimensions, the 2 Series corners with a gleeful agility that's missing from most roomy coupes. If you do fit inside, it's definitely worth your attention. Prices start at $35,900, and buyers can choose among a 248-horsepower four-cylinder engine, a 335-horsepower six-cylinder, or a 405-horsepower six-cylinder.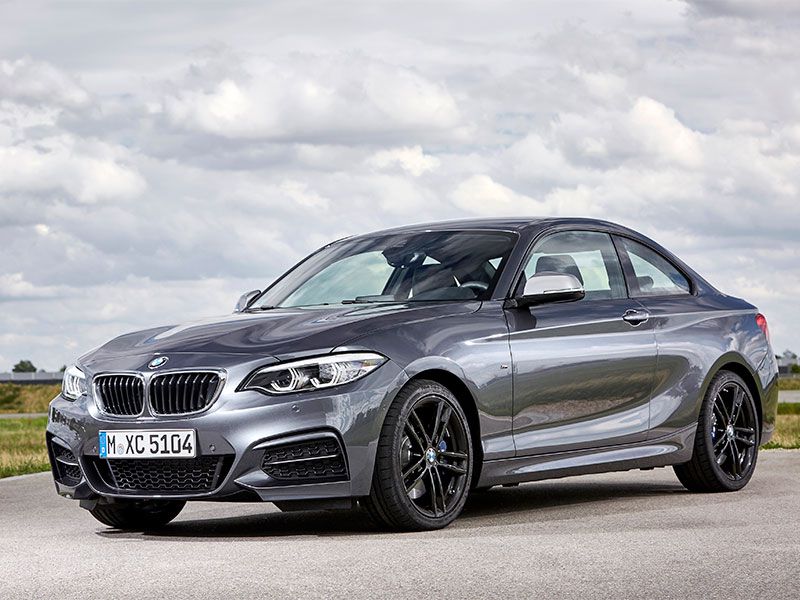 Photo by BMW
6. 2021 Bentley Continental GT
The Bentley Continental GT slots between the Rolls-Royce Wraith and the Mercedes-Benz S-Class coupe. It has the Wraith's British style, exclusivity, and extra-heavy feel. But at a base price of $202,500, it's priced closer to the Benz than the Rolls. 
This is a big car with generous room for the front passengers and not as much for the rear. If you're just looking for plenty of driver space, you can move the Continental GT up a couple slots in our ranking order. In total, the EPA puts it at 87 cubic feet of passenger space and 11 cubic feet in the trunk. But the important part is how this Bentley drives. The base engine is a 542-horsepower V8, and you can get another 84 horsepower if you switch to a W12. And despite its size and weight, the Bentley never wallows down the road.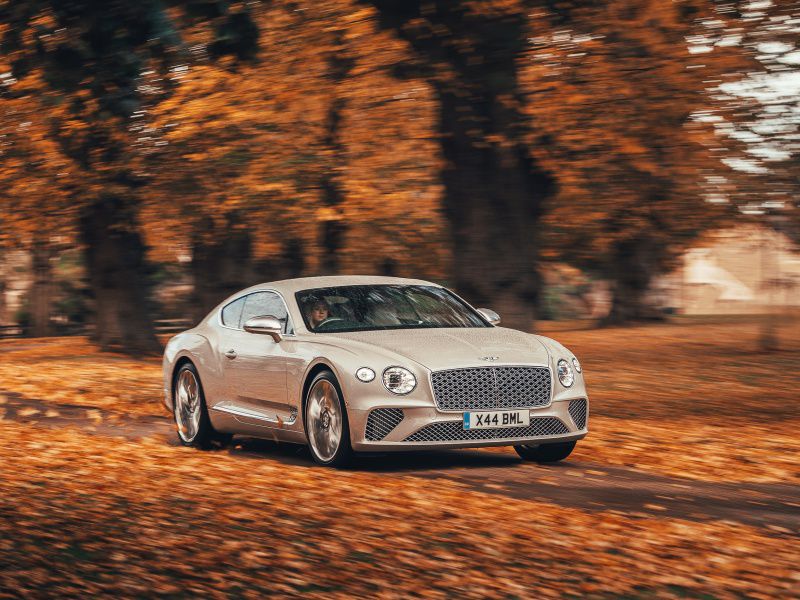 Photo by Bentley
7. 2021 BMW 4 Series
Turning back to a more reasonably priced option, the BMW 4 Series is a sharp-handling coupe with a small but usable backseat and trunk, and a $45,600 starting price. It can't match the value or even the driving enjoyment of the smaller, less expensive, and (theoretically) roomier BMW 2 Series. Still, the 4 Series combines a sporty look with a more relaxed ride, a posher interior with more sophisticated infotainment technology, and more space for a driver to spread out. 
Per the EPA, the 4 Series has 86 cubic feet of passenger space and 12 cubic feet of trunk space. Base models use a 255-horsepower four-cylinder engine, but you can speed up this coupe with a six-cylinder that makes 382 to 503 horsepower depending on the trim level.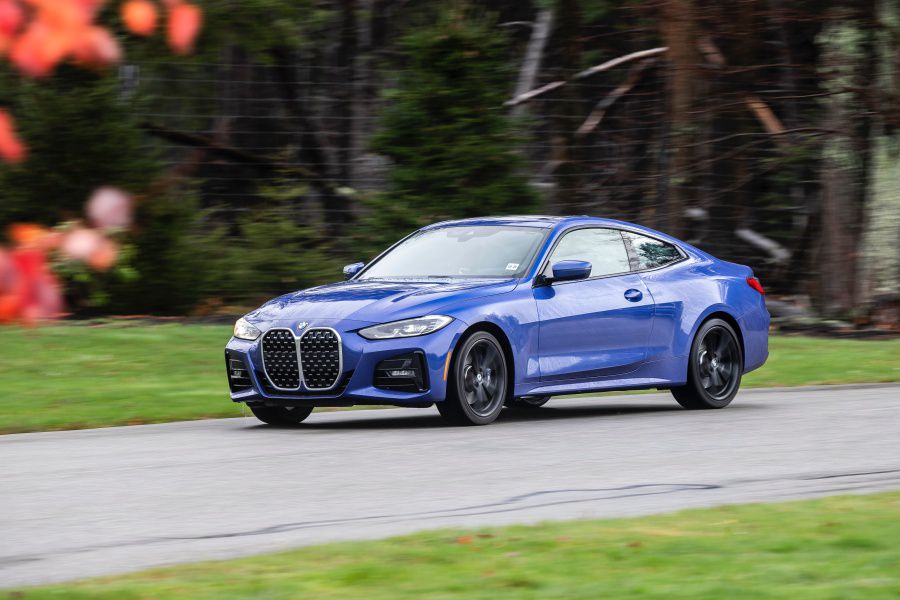 Photo by BMW
8. 2021 Ford Mustang
The 2021 Ford Mustang is a chief rival to the Dodge Challenger, and the only other relatively affordable vehicle on our list of the 10 most spacious coupes. Still, if spaciousness is important, the Ford can't come close to the Dodge. Its 85 cubic feet of passenger volume are focused on the front seats, while even children will have to squeeze into the back. (There's also a decent-sized 12-cubic-foot trunk.)
That said, you'd buy the Mustang over the Challenger if you value sporty handling. The big, heavy Dodge is a straight-line winner, but the Ford is much more agile. It also has a more fuel-efficient base engine: a 310-horsepower turbocharged four-cylinder. We're not describing a delicate little sports car, though; you can also get a 460-horsepower naturally aspirated V8 or a supercharged V8 with 760 horsepower. Mustang prices start at $27,205.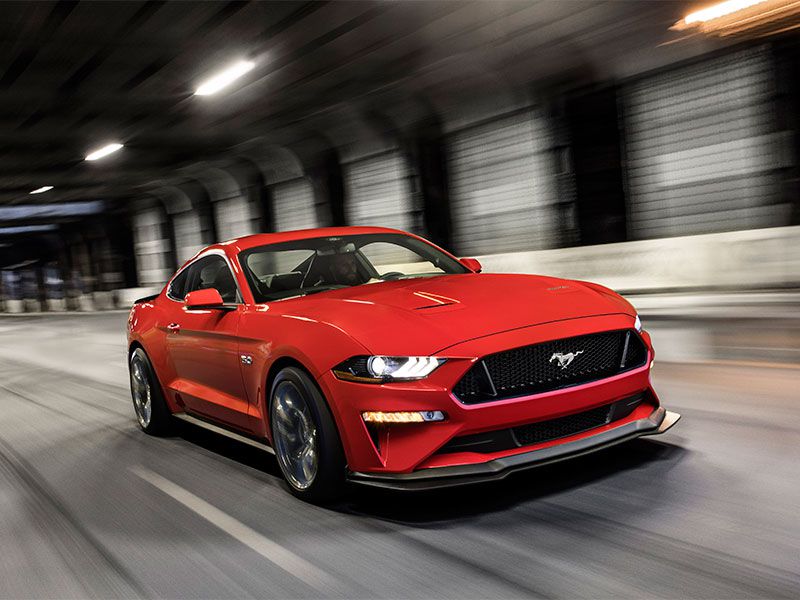 Photo by Ford
9. 2021 BMW 8 Series
The BMW 8 Series is the brand's biggest coupe, but it has the smallest interior. Blame the extra-racy roofline, which makes plenty of room in the front seats but closes in on the little backseat. 
As a styling statement and a luxurious ride, the 8 Series can excel. Priced from $88,000, the 8 Series is another big coupe that balances a smooth ride with moderately athletic handling. You just won't carry adults in the back as easily as you would in an S-Class or even an E-Class coupe. Total passenger volume is a mere 81 cubic feet, though it's road-trip-ready with a 15-cubic-foot trunk. Engine choices are a 335-horsepower six-cylinder and a 532-horsepower V8.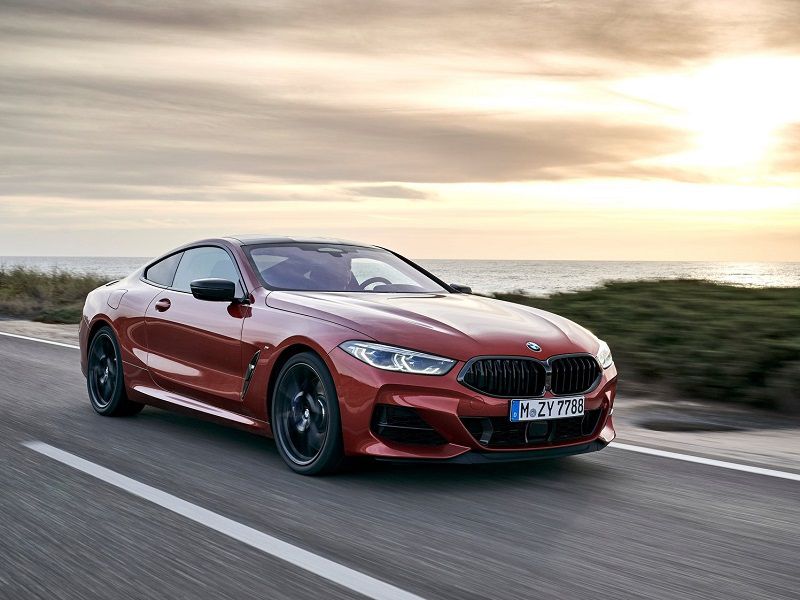 Photo by BMW
10. 2021 Audi A5
We'll close out our list of the 10 most spacious coupes with the 2021 Audi A5. And that just shows how few spacious coupes you can buy, since the A5 is hardly roomy. It's a compact car with a compact-sized rear seat and trunk, along with perfectly fine but unremarkable front-seat space. 
The A5 is a poised, polished, meticulously finished, technologically advanced coupe, a more stylish two-door version of the Audi A4 sedan. But if you're looking for genuine spaciousness, the A5 (and its performance-focused S5 and RS5 variants) won't quite make the grade. Prices for the A5 coupe start at $44,000, and its official EPA volume measures 84 cubic feet for passengers and 11 cubic feet for cargo.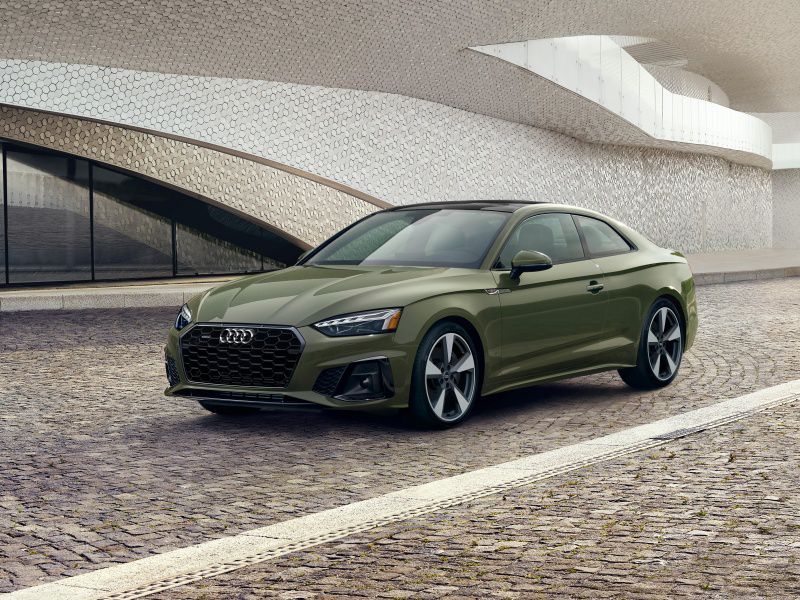 Photo by Audi