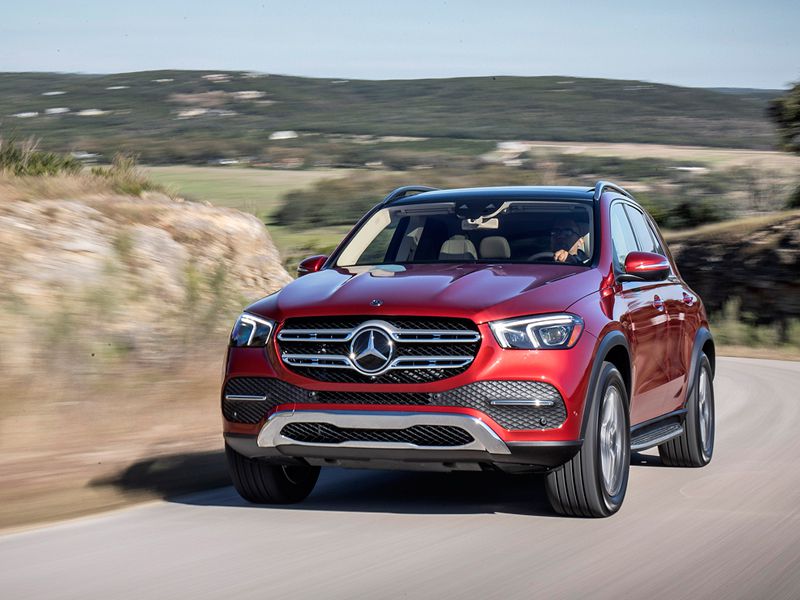 2020 Mercedes Benz GLE450 ・ Photo by Mercedes-Benz
Ah, the three-pointed star! It is an icon, a talisman, a sign of strength, power, and perfection. Mercedes-Benz claims to have manufactured the first car. Now the company also claims "the best or nothing." One thing that is certain — through the decades Mercedes-Benz has built very desirable automobiles, many with remarkable records of longevity. Today the brand is world-renowned for its technological prowess, engineering excellence, and penchant for innovation. In addition, in the past decade, Mercedes-Benz has put an added emphasis on design, and in doing, so it has introduced some of the best-looking vehicles of the past 10 years.
What we're saying here is we can't blame you if you want to buy a Mercedes-Benz. We certainly want to buy one, too. And though Mercedes-Benz models are not known for bargain prices, these days you can get a number of highly competent Benzes for less than you might imagine. Here are the 10 least expensive Mercedes-Benz models for 2020.
The Ground Rules
As we just said, we're going to give you a list of the 10 least expensive Mercedes-Benz models for 2020. What we want to do here is explain what this list is and how we arrived at it.
You see, we could have looked at the Mercedes-Benz lineup and then filled this list with all the variations of the Mercedes-Benz A-Class, its least expensive model line. That would've filled five or six spots on this list, and then we could've added some GLA crossover SUV variants and called it a day. But we don't think that would help you very much. So we have chosen a list of 10 that is representative of several models within the M-B lineup. Variations of those 10 models are plentiful, so choose wisely. Mercedes-Benz is a fruit tree filled with golden apples.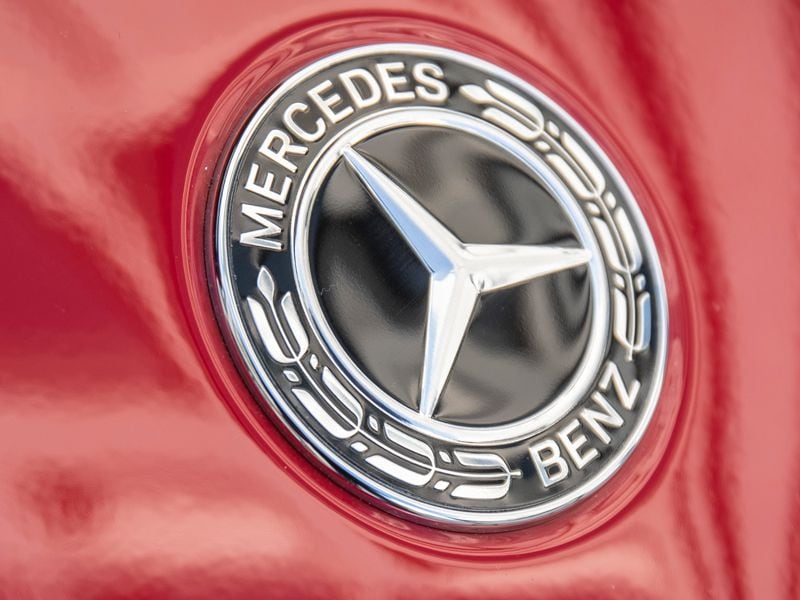 Photo by Mercedes-Benz
2020 Mercedes-Benz A 220 Sedan
When the precursor to the current A 220 sedan was introduced to the U.S. marketplace a few years ago, there was a great deal of skepticism about it. Could a front-wheel drive vehicle be a "true Mercedes-Benz?" many asked. Well, the short answer to that is, yes, it can.
The A 220 sedan is everything a Mercedes-Benz should be — stoutly built, technically innovative, and good-looking inside and out. It is powered by a 2.0-liter 188-horsepower intercooled turbocharged four-cylinder engine, which transmits its power through a seven-speed automatic transmission that allows manual operation if desired. It is equipped with a comprehensive array of safety equipment, and its interior leaves no doubt you're in a premium car. It has a base price of right around $33,000.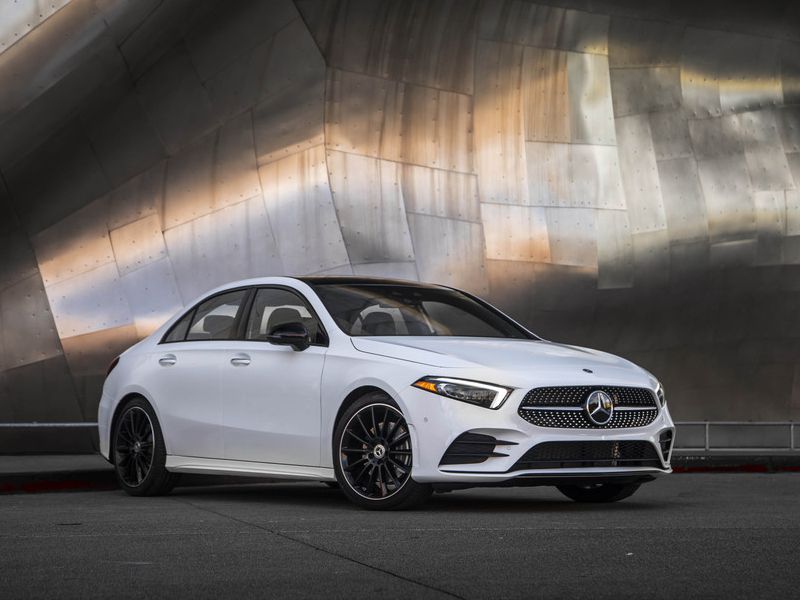 Photo by Mercedes-Benz
2020 Mercedes-Benz GLA 250 SUV
Essentially the crossover SUV version of the A-Class, the GLA 250 combines the usefulness of an SUV with exceptional exterior style. We have to admit we prefer its looks to the A-Class sedan and the more expensive CLA four-door coupe.
Like the A-Class sedan, the GLA is powered by a turbocharged four-cylinder engine, but in the GLA application output has been upped to 208 horsepower. As you might guess it is a front-drive vehicle, though other, more expensive iterations of the GLA can be had with all-wheel drive. Even in its basic form, the GLA is stuffed with comfort and convenience features, including multi-zone automatic climate control, cruise control, and power-adjustable front bucket seats. The five-passenger GLA 250 is a joy to drive, with handling that rivals many sports sedans. It has a base MSRP a bit over $34,000.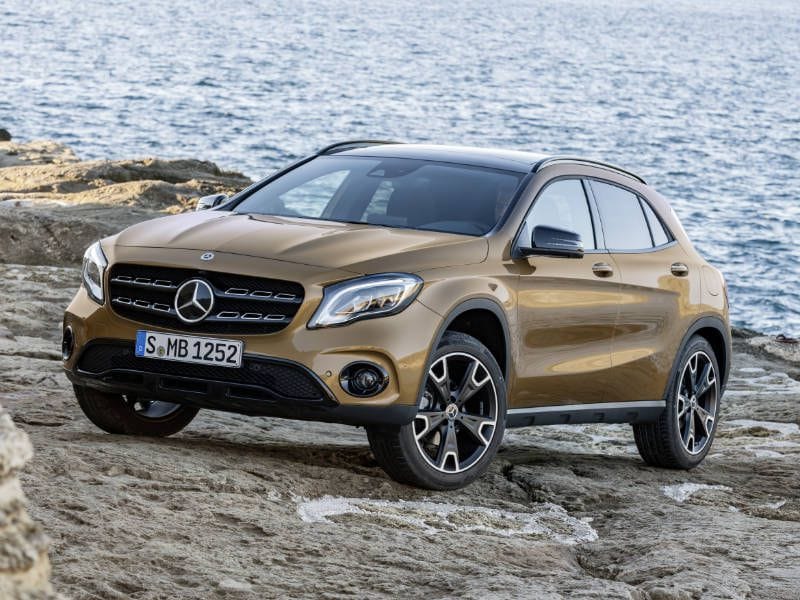 Photo by Mercedes-Benz
2020 Mercedes-Benz CLA 250 Coupe
There was a time when a "coupe" was a two-door configuration, but several of the German manufacturers have stood that on its ear. They introduced four-door vehicles with looks so swoopy and daring that they evoke the emotions of a coupe while retaining the utility of four-door entry and egress.
So it is with the CLA 250 Coupe, a five-passenger vehicle with four doors and, to our eyes, outstanding styling. In terms of mechanical items, the CLA shares much with its stablemate the GLA 250, including the same 2.0-liter turbocharged engine that delivers 208 horsepower. Also shared is the seven-speed transmission. The base CLA 250 is a front-drive car, while the 4MATIC version features all-wheel drive. At Mercedes-Benz, you pay extra for coupe-like looks. The CLA 250 has an MSRP that starts around $36,000.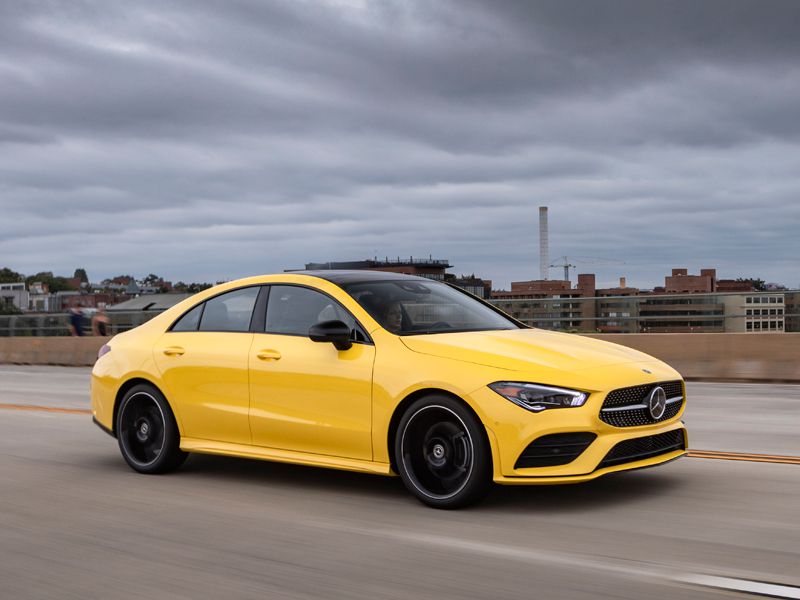 Photo by Mercedes-Benz
2020 Mercedes-Benz C 300 Sedan
Back a decade or so in Mercedes-Benz history, the C-Class was the "entry-level" car in the United States and, as such, regarded as kind of a junior Mercedes. That reputation has certainly gone out the window recently. The strikingly handsome five-passenger sedan is as solid as the safe at Wells Fargo and as imposing as a security guard outside a pop singer's dressing room.
Mechanically, the C 300 lives up to the promise of its looks. In C 300 form it is a rear-wheel drive vehicle, though 4MATIC all-wheel drive is available as well. Behind the grille-mounted three-pointed star is a 2.0-liter intercooled turbocharged four-cylinder engine that pushes out 255 horsepower. The transmission of choice is a highly sophisticated nine-speed automatic. Five passengers will find the C 300's interior a mighty fine place to be. Retail prices start at $41,400.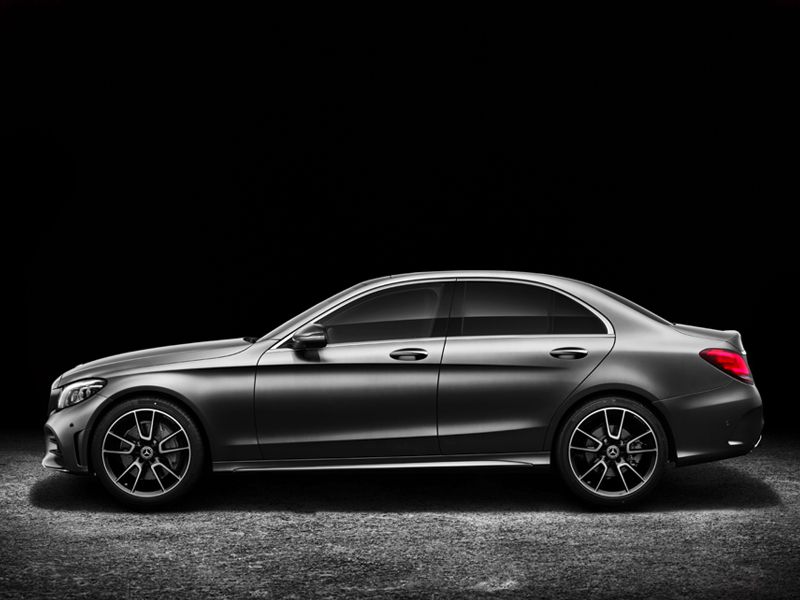 Photo by Mercedes-Benz
2020 Mercedes-Benz GLC 300 SUV
Forgive us if there is a sense of "lather, rinse, repeat" to our descriptions of the GLC SUV and (to follow) the C 300 Coupe. Mercedes-Benz has a method to the way it rolls out models, and that method runs largely true to form in the A-Class and C-Class. Thus, you have probably intuited that the GLC is based on the C-Class rear-drive platform with all-wheel drive available for those of you who have to slog through snow or muck.
The GLC 300's engine and transmission are identical to those in the C 300 sedan — a 255-horsepower 2.0-liter turbocharged four-cylinder backed up by a nine-speed automatic transmission. Mercedes resisted the temptation to make the GLC a three-row vehicle and wisely equipped it to handle five passengers in sumptuous comfort. It has a base MSRP of right around $42,500.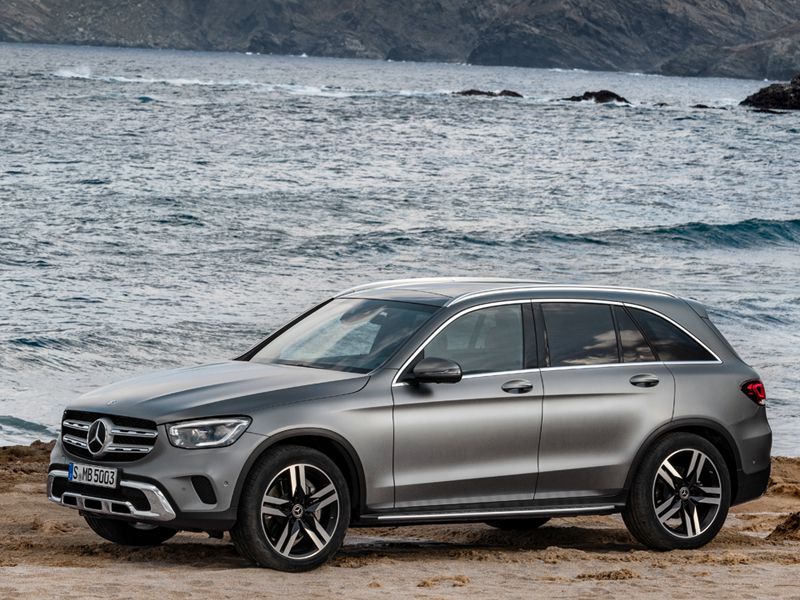 Photo by Mercedes-Benz
2020 Mercedes-Benz C 300 Coupe
Remember what we said earlier about the CLA Coupe having four doors but coupe-like styling. Well, the C 300 Coupe has utterly coupe-like styling because it is a true coupe, meaning it has two doors, one on each side of the vehicle. So total chaos does not reign — at least not yet.
The C 300 Coupe is an exceptionally good-looking car in the classic tradition with a sharply tapering roofline that limits headroom for the rear passengers. So what? You'll be driving up front. The sleek four-passenger C 300 Coupe shares its basic mechanicals with the C-Class sedan, including the 2.0-liter 255-horsepower engine. It too is rear-drive with all-wheel drive available at added cost. In basic form, it is well-equipped with an MSRP of about $46,000.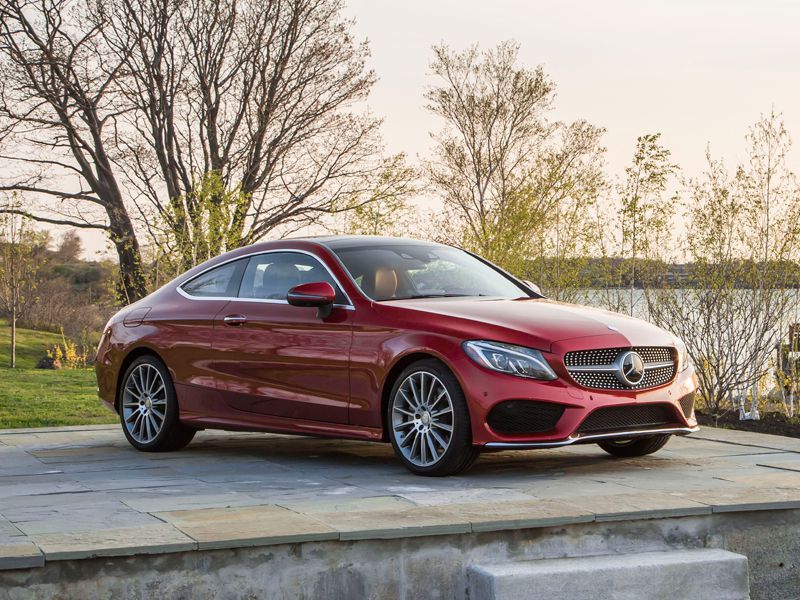 Photo by Mercedes-Benz
2020 Mercedes-Benz GLE 350 SUV
The Mercedes-Benz GLE crossover suv represents a bit of a curveball in the otherwise fairly straightforward pricing and model strategy. Why? Because the crossover GLE has a lower base price that the E 350 sedan. This might have something to do with where it is built and where it is most popular: The USA.
The GLE is a five-passenger rear-wheel drive SUV that offers sparkling good looks and a wide variety of safety systems designed to protect occupants. It is powered by the 2.0-liter 255-horsepower four-cylinder engine that is one of the carmaker's workhorses. Of course, all-wheel drive is available, and other, more expensive versions of the vehicle offer significantly more horsepower. In GLE 350 form, the vehicle starts around $53,700.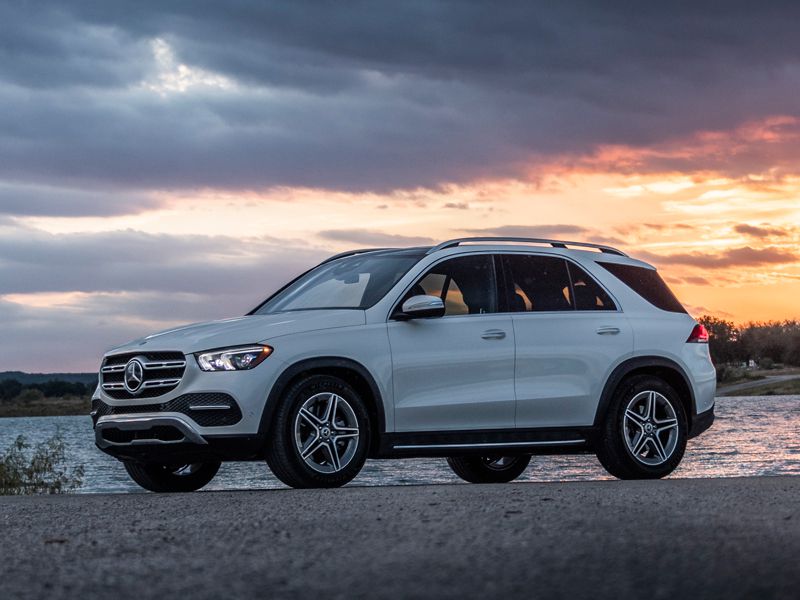 Photo by Mercedes-Benz
2020 Mercedes-Benz C 300 Cabriolet
It might seem a bit silly to run a convertible in a list of the 10 least expensive Mercedes-Benz models, but to us makes perfect sense to include the cabriolet version of the C-Class. This four-passenger convertible is one of the most striking of the current line of Mercedes-Benz cars.
No, it isn't the most practical or even the most comfortable, but there is a je ne sais quoi about it that a closed car can never match. We imagine you've already guessed the car is powered by the 2.0-liter turbo engine backed by the nine-speed transmission. It exhibits very sweet, rear-drive-biased handling characteristics we like very much. And its base price is a ravishing $53,950.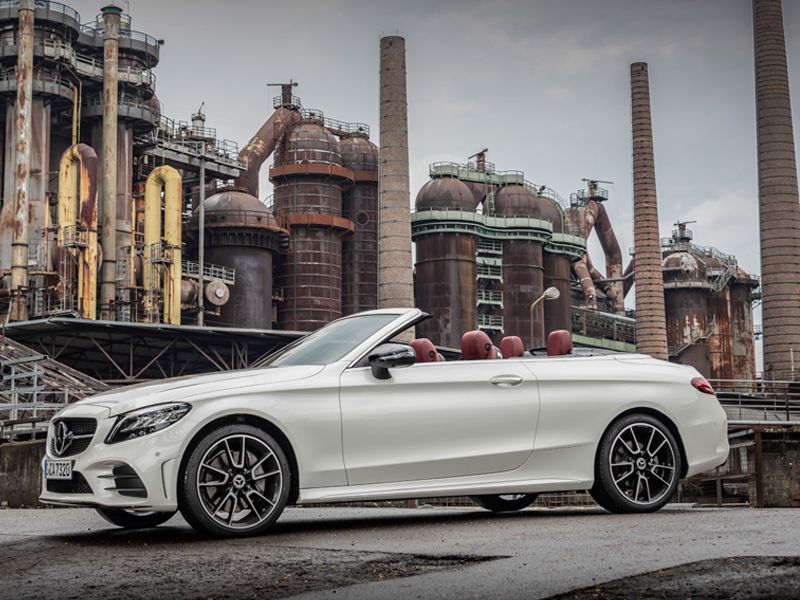 Photo by Mercedes-Benz
2020 Mercedes-Benz E 350 Sedan
The E-Class is kind of the dead-middle of the Mercedes-Benz line around which all the other planets rotate. We believe the E-Class is among the best cars in the world. Even the lowest-priced E-Class, the E 350, demonstrates that, and frankly, you are right to expect a great deal from a mid-size sedan that has a base price just over $55,000.
Happily, the E-Class delivers. First, the car has the well-tailored good looks of a proper "executive sedan." Inside, the car offers very entertaining widescreen graphics that you can configure to suit your whims. The E 350 is powered by the same 2.0-liter intercooled turbocharged four-cylinder engine that is used in a variety of other M-B models. It uses rear-wheel drive architecture and can also be equipped with all-wheel drive.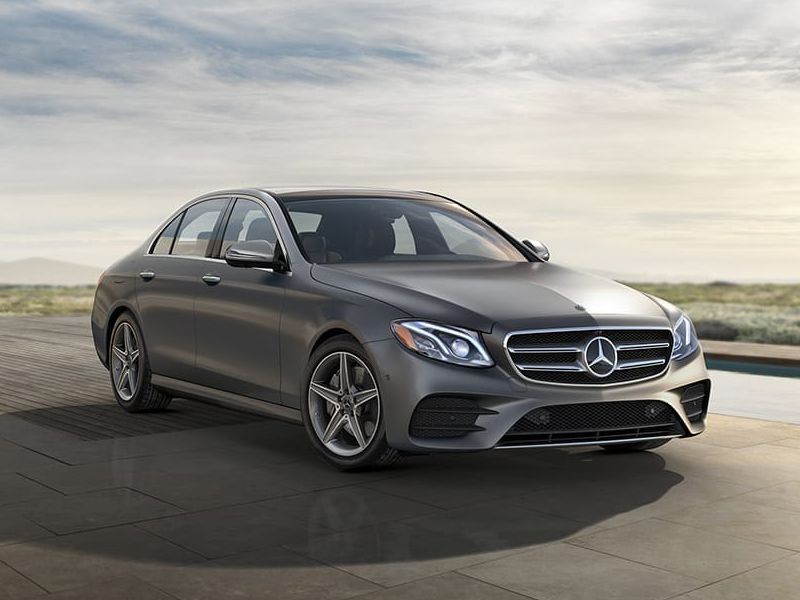 Photo by Mercedes-Benz