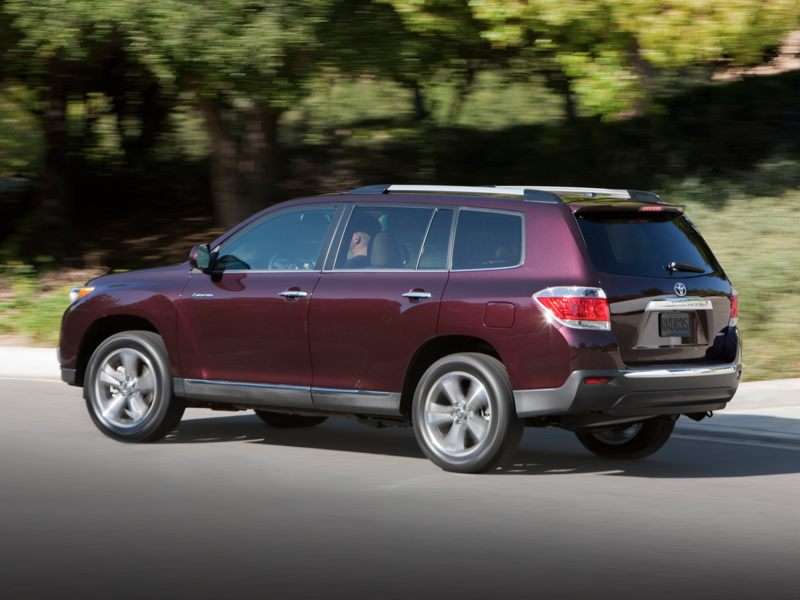 Japanese crossovers have a well-earned reputation for being affordable, reliable, and practical, with a few even edging over to the luxury side of the daily driver equation. When searching for family fare that can handle the rigors of commuting with the entire brood in tow, it helps to get a handle not just on what the market has to offer but also what exactly you need in a crossover vehicle. With options ranging from two to three rows of seating, huge to modest cargo areas, and quick to frugal drivetrains, the list of Japanese crossovers is as diverse as the buyers combing through showrooms for the perfect ride. Let's take a quick look at 10 Japanese crossovers from big to small and see what they have to offer for 2016.
1) 2016 Toyota Highlander
The 2016 Toyota Highlander provides big seven-passenger transportation in the Japanese crossover class, featuring a three-row design that also delivers 83.7 cubic feet of cargo room when not carrying a full load of riders. Do yourself a favor and ante up for the 270-horsepower 3.5-liter V-6 when ordering the Toyota Highlander - it gets almost the same fuel mileage as the weaker 2.7-liter, 185-horsepower four-cylinder motor (20 mpg compared to 22 mpg combined), but is much more capable when dealing with the crossover's weight. All-wheel drive is only available with the V-6.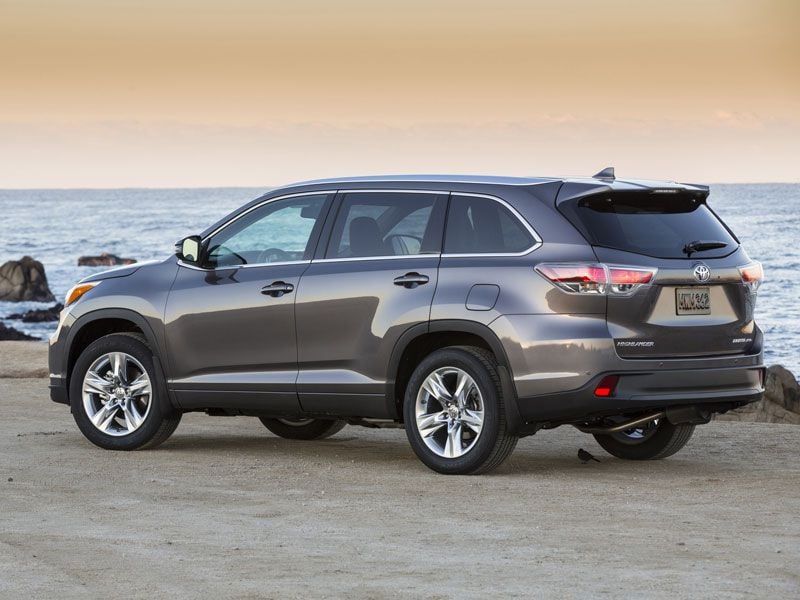 Photo by Toyota
2) 2017 Mazda CX-9
The 2017 Mazda CX-9 breathes new life into the automaker's flagship people mover. The redesigned Mazda CX-9 drops its V-6 in favor of a 2.5-liter turbocharged four-cylinder engine that's good for 227 horsepower and 310 lb-ft of torque, but it maintains its same weight-conscious platform that translates into better cornering ability than one would expect from a full-size three-row crossover. Fuel efficiency has yet to be released for the CX-9, but the seven-passenger hauler is claimed to be 20 percent thriftier at the pump than it was the year before (even with all-wheel drive installed).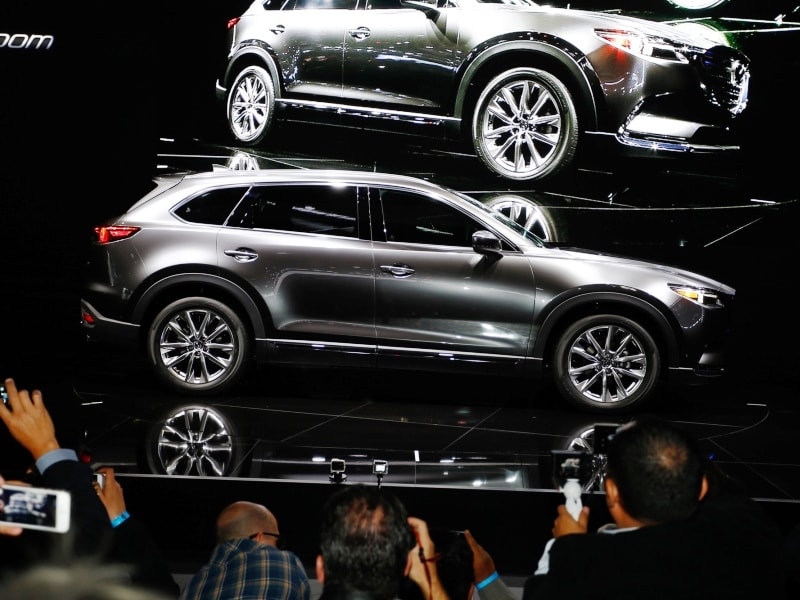 Photo by Rex Torres
3) 2016 Lexus RX 350
The 2016 Lexus RX 350 is a fresh take on what has traditionally been the strongest-selling vehicle in the entire Lexus line-up. The Lexus RX 350 gains new looks, an upgraded interior, and a more spacious five-passenger cabin, with the latter delivering 56.3 cubic feet of total cargo room. Under the hood both front-wheel and all-wheel drive editions of the RX 350 are motivated by a 3.5-liter V-6 that improves to 295 horsepower and 267 lb-ft of torque for 2016. Fuel economy for the comfy Japanese crossover is listed at 20 mpg in stop and go driving and 28 mpg on the highway.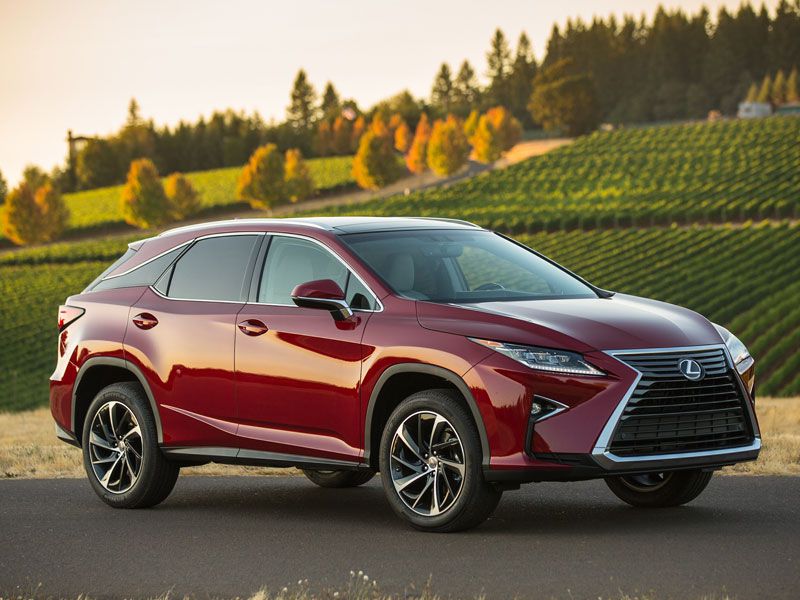 Photo by Lexus
4) 2016 Honda CR-V
The 2016 Honda CR-V soldiers forward as one of the go-to choices for families seeking a compact but utility-laden daily driver. The Honda CR-V swallows five passengers with ease, and its flat load floor can accept up to 70.9 cubic feet of luggage, sports equipment, and other gear. A 2.4-liter, four-cylinder engine is standard across the board for the CR-V, and its output of 185 horsepower and 181 lb-ft of torque can be fed to either the front or all four wheels via the option of all-wheel drive. Fuel mileage for the Honda crossover checks in at 26 mpg around town and 33 mpg during highway cruising.
Photo by Honda
5) 2016 Toyota RAV4
The 2016 Toyota RAV4 has been significantly redesigned for the current model year, with the appearance of a sportier SE model and the availability of a hybrid drivetrain joining the Japanese crossover for the first time. The five-passenger Toyota RAV4 enjoys either 176 horsepower from a 2.5-liter four-cylinder, or 194 ponies from the four-cylinder/dual electric motor setup offered by the RAV4 Hybrid. Fuel efficiency for either model is strong, with the Hybrid coming out on top thanks to its 33 mpg combined rating. It also offers standard all-wheel drive (optional with the base RAV4).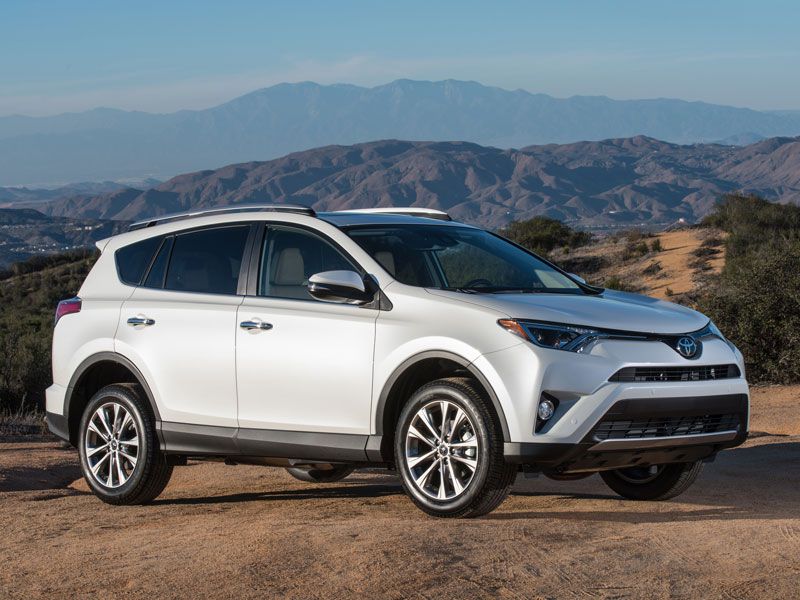 Photo by Toyota
6) 2016 Subaru Crosstrek
The 2016 Subaru XV Crosstrek provides entry-level crossover fare that includes standard all-wheel drive and a hefty amount of cargo room for its size. Dropping the XV from its name for 2016, the Subaru Crosstrek continues to offer up to 29 mpg combined from its 148-horsepower, 2.0-liter engine - a solid figure for a compact AWD vehicle - alongside just under 52 cubic feet of total cargo space with its second row of accommodations folded forward. The Crosstrek also delivers a modicum of off-road ability thanks to its substantial ground clearance (over eight inches).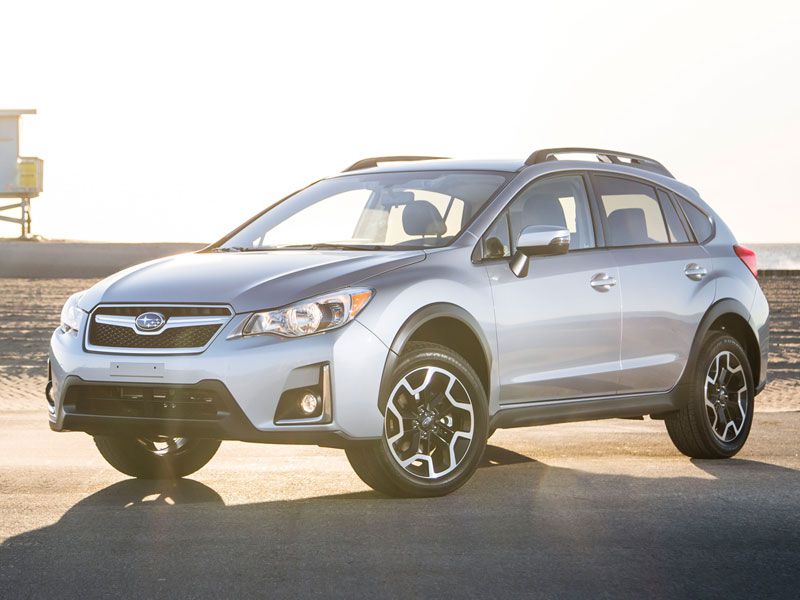 7) 2016 Nissan Rogue
The 2016 Nissan Rogue is one of the rare compact Japanese crossovers that stuffs an available third row of accommodations onto its options list, expanding passenger capacity from five to seven. Of course, that final set of seats is reserved exclusively for children - legroom is a bit tight - but it's still a nice-to-have feature for occasional bus duty in the Nissan Rogue, and one that folds flat into the floor (along with the second row) to offer 70 cubic feet of cargo space. All versions of the Rogue come equipped with a 2.5-liter four-cylinder engine that provides 170 horsepower and 175 lb-ft of torque, along with a fuel mileage rating of 26 mpg city and 33 mpg highway. Adding all-wheel drive to the mix drops a single mile per gallon from each respective measure.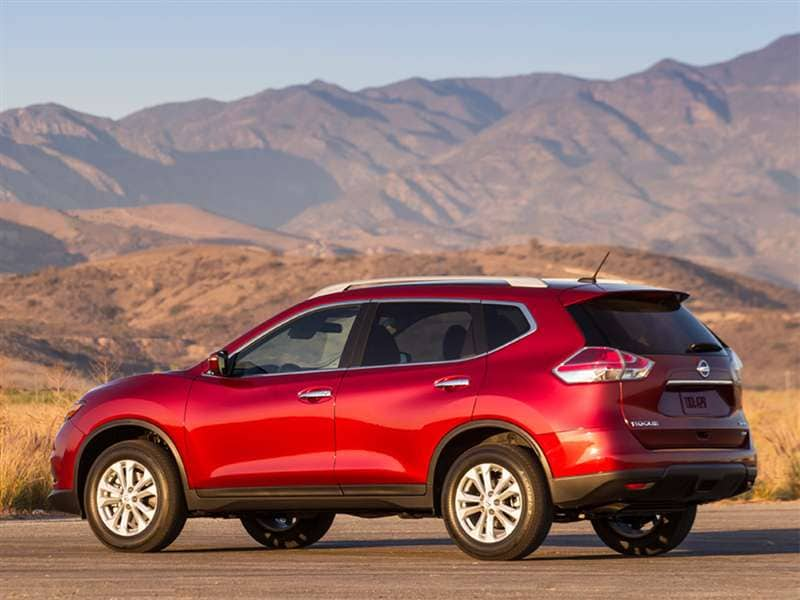 Photo by Nissan
8) 2016 Honda HR-V
The 2016 Honda HR-V steps into the subcompact crossover void left behind by the CR-V when it climbed up into the compact segment several years ago. All-new for the current model year, the Honda HR-V adopts the same Magic Seat feature found in the Honda Fit hatchback with which it shares much of its mechanical DNA. This means that despite its small size, the HR-V is capable of hauling nearly 60 cubic feet of gear (when not loaded with five passengers), a number the equals many larger SUVs on the market. 141 horsepower and 127 lb-ft of torque are on tap from the Honda's 1.8-liter four-cylinder engine, which translates into 25 mpg city and 34 mpg highway for front-wheel drive models (all-wheel drive is of course optional).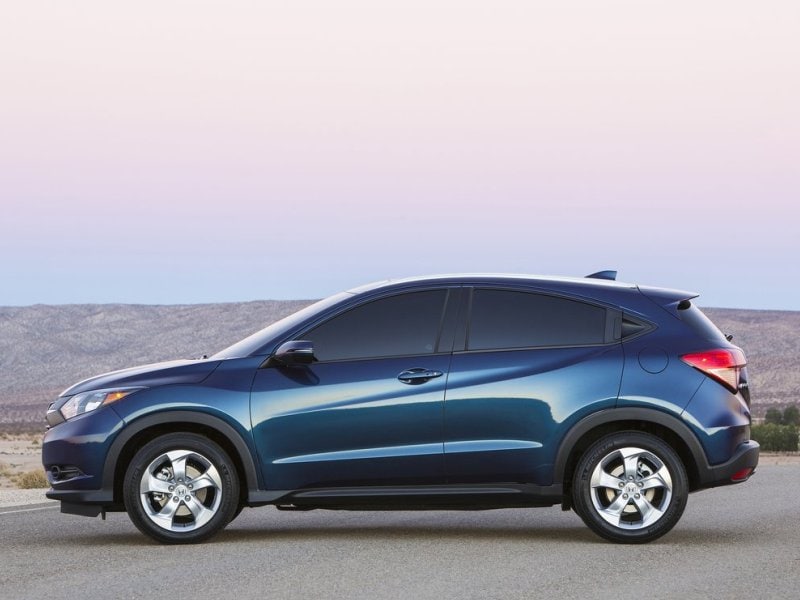 Photo by Honda
9) 2016 Mazda CX-3
The 2016 Mazda CX-3 joins the growing chorus of pint-sized crossovers, only it plays to a very different audience as compared to the equally-new Honda HR-V. Rather than maximize interior volume, the Mazda CX-3 instead prioritizes fun, adopting a well-tuned chassis and a lightweight platform to display better-than-average handling for its class. It's a bit cramped in the second row of the CX-3, and 44.5 cubic feet of internal storage are low on the scale, but with a target market of couples rather than families, the Mazda's small form factor fits well into an urban environment. The crossover's 2.0-liter four-cylinder engine offers 146 horsepower and 146 lb-ft of torque, alongside 31 mpg in combined fuel efficiency, and all-wheel can be had as an option.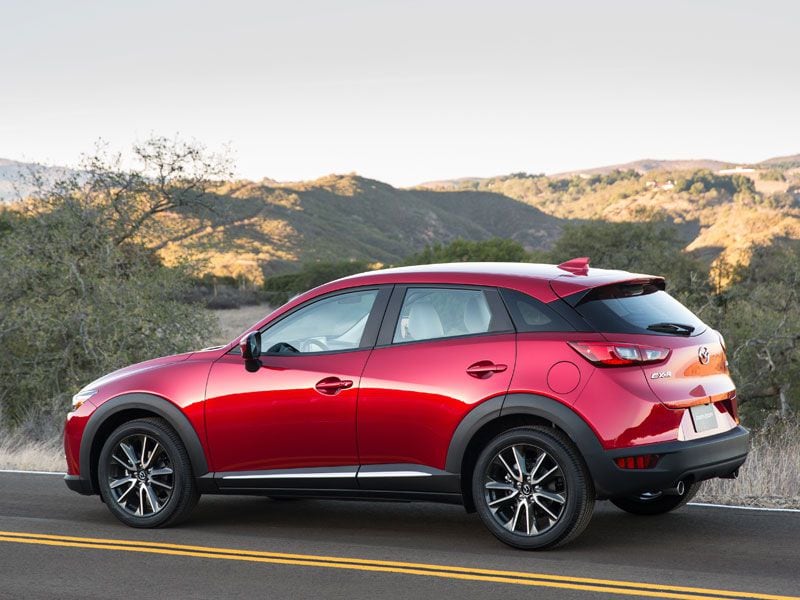 Photo by Mazda
10) 2016 Nissan Juke
The 2016 Nissan Juke makes the brash claim that fun and performance aren't forbidden concepts when shopping for a subcompact crossover. With unusual styling that stands out from the rest of the crowd, and featuring the availability of a 1.6-liter turbocharged four-cylinder engine that produces between 188 and 215 horsepower (depending on trim level), the Nissan Juke has managed to build a cult crossover following. Its nimble on-road character is matched by its fuel-sipping ways, with the Juke posting 30 mpg in combined driving for front-wheel drive models (and 28 mpg combined for all-wheel drive editions).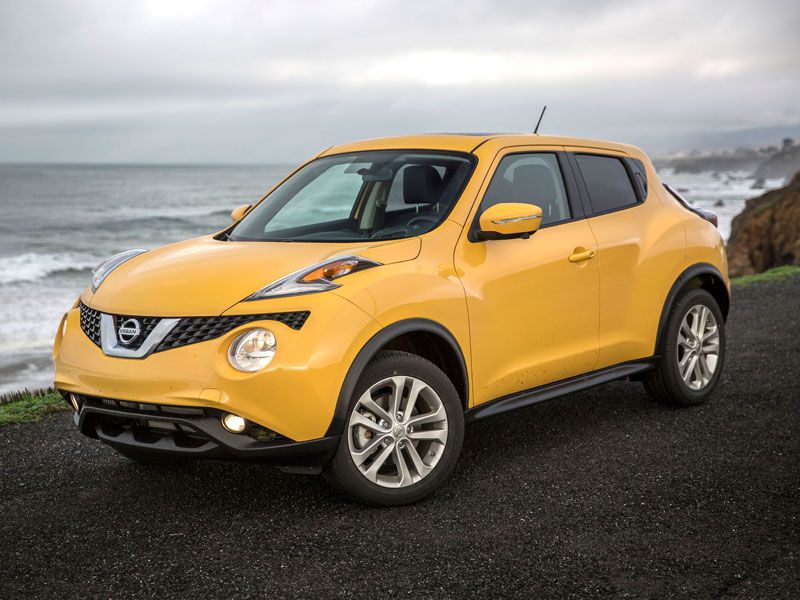 Photo by Nissan USA