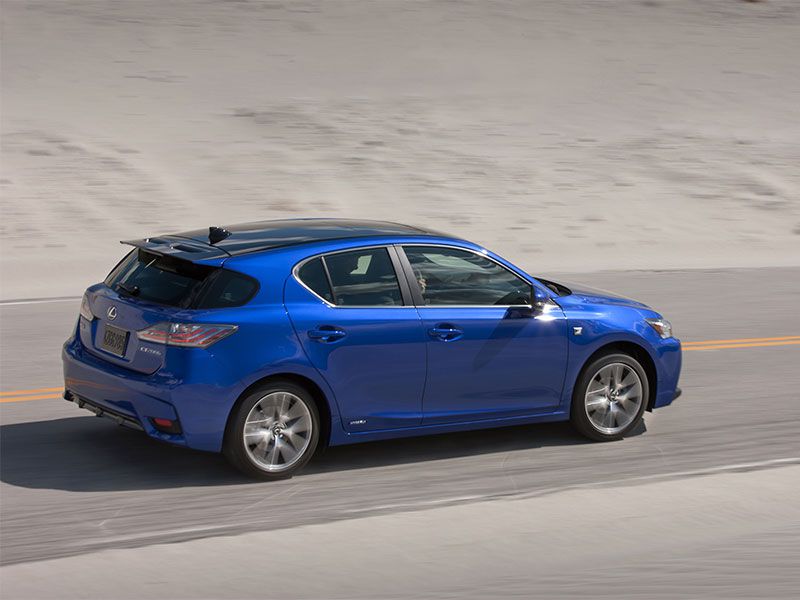 2016 Lexus CT 200h F SPORT ・ Photo by Lexus
Hybrids and hatchbacks go together like cheese and crackers, for the simple reason that the hatchback's teardrop shape improves aerodynamics — and that, in turn, reduces fuel consumption, which is the hybrid's raison d'être. Here are 10 cars that combine the practicality of a hatchback body with the efficiency of a hybrid drivetrain.
Toyota Prius
Although the very first Prius was a sedan, most people know the Prius as a hatchback, and no doubt that is part of its appeal; besides being extraordinarily fuel efficient, the Prius has a hatchback opening so big you can practically lower a piano into the trunk. The latest iteration of the Prius looks more sedan-like, but don't let those visual cues fool you — it's still a hatchback, and it's more fuel efficient than ever.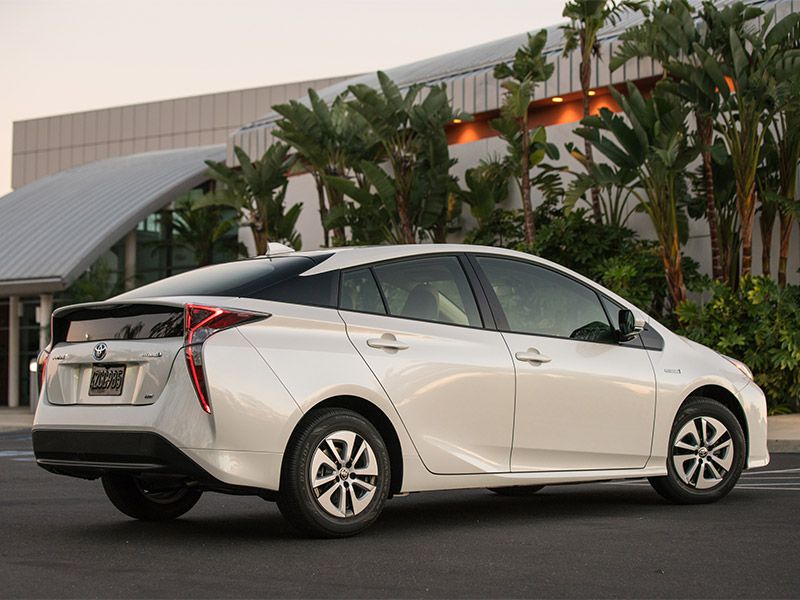 Photo by Toyota
Lexus CT 200h
Though more upright than the Prius, the Lexus CT 200h has the mini-wagon profile popular among hatchbacks found in Europe; in fact, that's the market for which the CT 200h was originally designed. Though based on the previous-generation Prius, the CT 200h still gets respectable fuel economy, and it also happens to be the least-expensive Lexus you can buy — and yet it offers the same posh interior and quality feel that has made Lexus one of the most successful luxury brands on the market.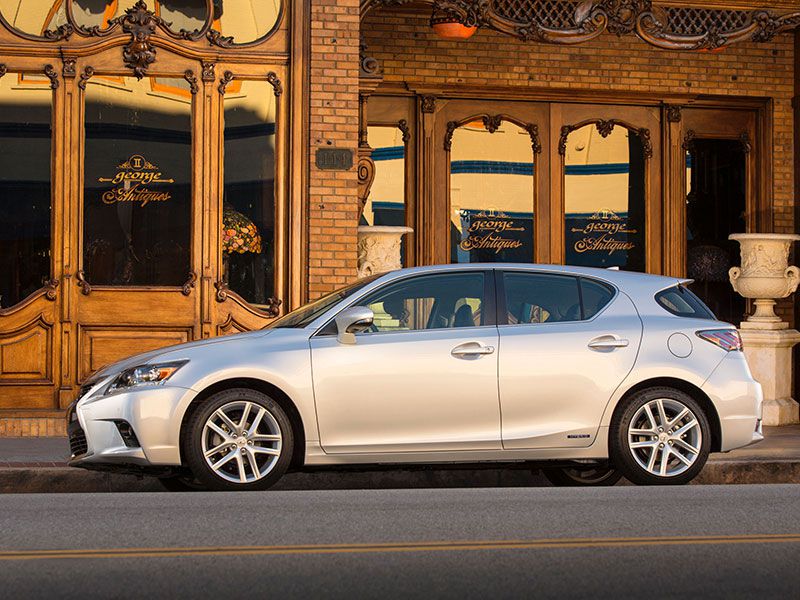 Photo by Lexus
Toyota Prius c
The Prius c is the smallest member of the Prius family, yet it stows away quite a bit of luggage thanks to its smartly-designed hatchback body. The Prius c does its best work in town, where the EPA rates it at an astounding 53 MPG, though with careful driving (and we mean really careful driving), we've been able to nurse it up to 60 MPG. The squared-off shape means the c isn't as aerodynamic as the regular Prius, so it's not quite as fuel efficient on the highway, but it's a great way to save fuel if you do most of your driving in the city or the suburbs.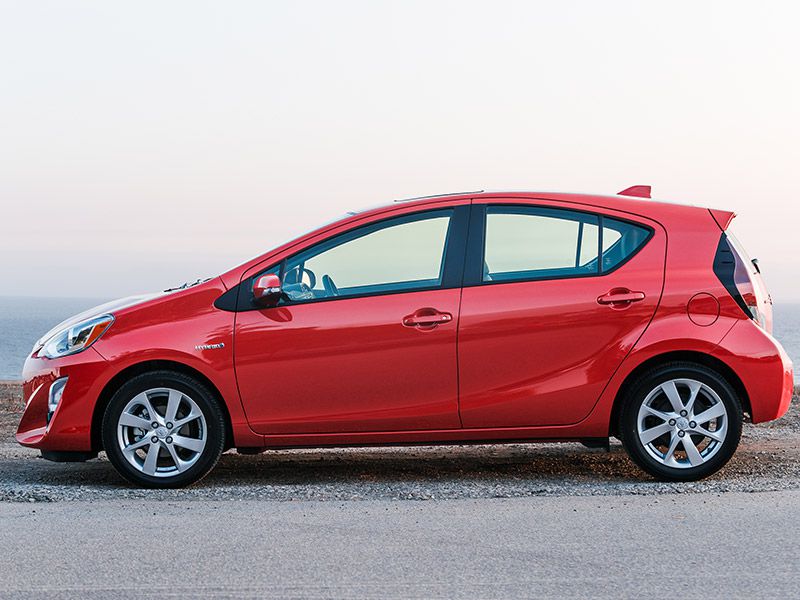 Photo by Toyota
Honda CR-Z
The 2-seat CR-Z is the spiritual successor to the CRX, a 2-seat hatch that Honda sold in the late 1980s and early '90s. The original CRX was sold in three versions: Fuel-efficient HX, hot-rot Si, and daily-driver LX. What's cool about the CR-Z is that its hybrid system lets it emulate all three at the flip of a switch: Its Eco, Sport and Normal modes do a faithful imitation of the CRX triplets. And here's an added bonus: The CR-Z is, so far as we know, the only new hybrid vehicle you can buy with a manual transmission.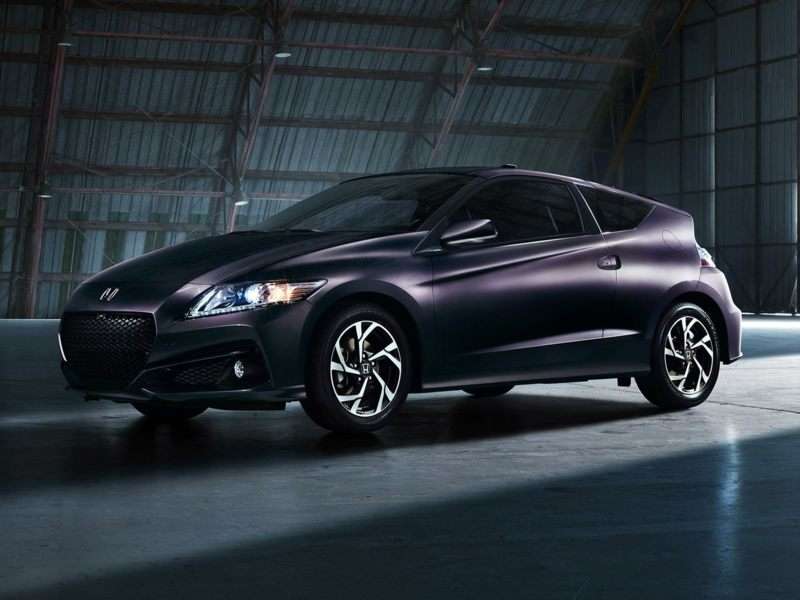 Photo by Honda
Subaru Crosstrek Hybrid
One might consider the Subaru Crosstrek to be more of an SUV than a hatchback, but it's based closely on the hatchback version of Subaru's compact Impreza, so we say it counts. Both Impreza and Crosstrek make use of Subaru's road-gripping all-wheel-drive system, and the Hybrid benefits from an electric motor that boosts both power and fuel economy, and with no significant loss of cargo space. We call that a win-win.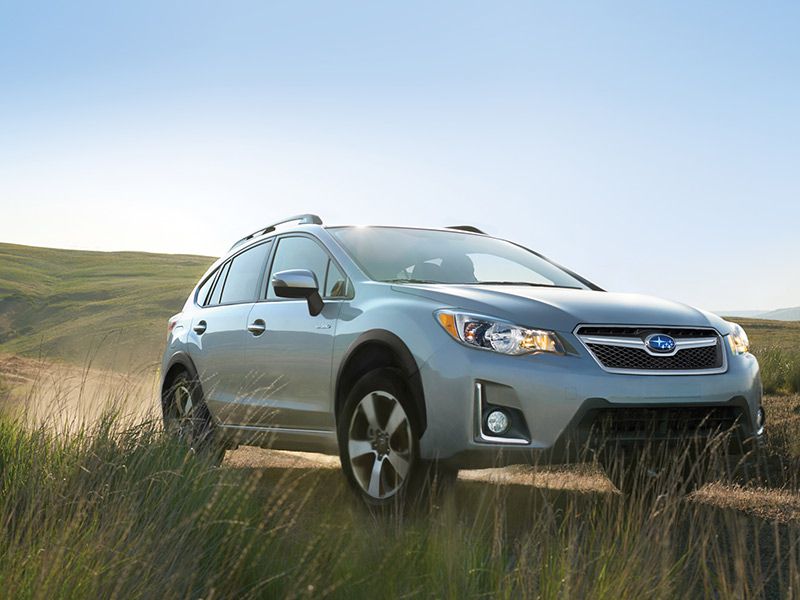 Photo by Subaru
Toyota Prius v
Hey, it's another Prius! The v is the family-friendly version of Toyota's ubiquitous hybrid, the one that provides the space of an SUV with the fuel economy you'd expect from America's favorite gas-electric car. The Prius v is sized and shaped for cargo rather than aerodynamics, which affects its fuel economy, but it's got a big back seat and you can stuff in about as much cargo as a 5-seat SUV would take — but no 5-seat SUV can manage the kind of fuel economy the Prius v delivers.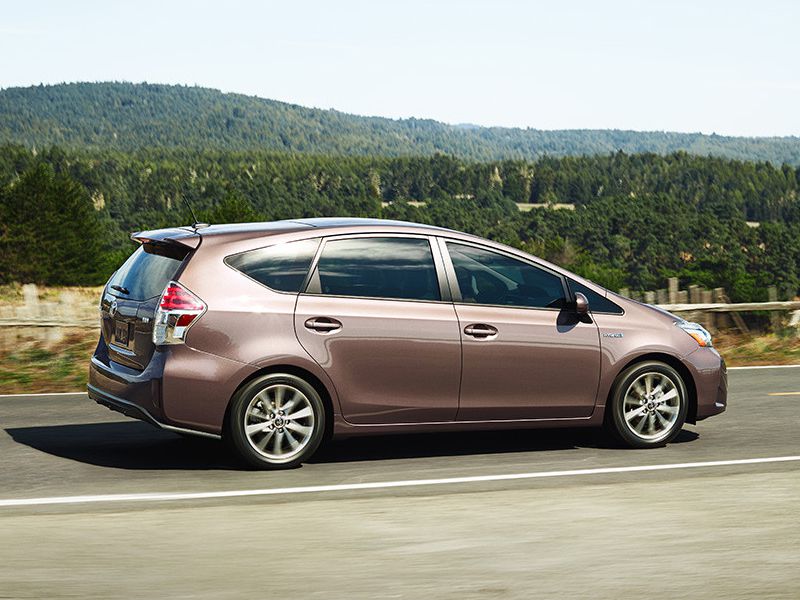 Photo by Toyota
Ford C-Max
The only real competitor to the Prius v is Ford's C-Max, a vehicle originally designed for hatchback-happy Europe, where it is sold in conventionally-powered form. Here in the States, the C-Max is sold in two versions, standard Hybrid and Energi — the latter a plug-in hybrid with a bigger battery that can store up a charge and deliver electric-only driving when power demands are low. One drawback to the Energi is that the larger battery eats up some cargo space, a problem that the Prius v (designed from the get-go as a hybrid) does not have. Still, we are impressed by how much cargo this family-friendly Ford can hold.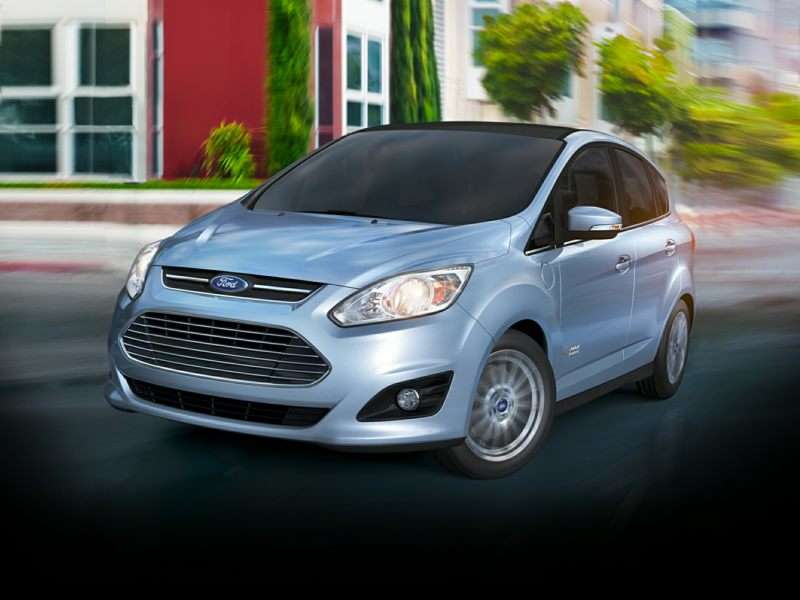 Photo by Ford
Audi A3 Sportback e-tron
The name may be big, but the A3 Sportback e-tron isn't — it's the smallest Audi you can buy, and like the C-Max Energi, it's a plug-in hybrid. The e-tron system was designed for European cities that offer financial breaks to electric cars; once plugged in and charged up, it will deliver about 12 miles of electric-only driving. By carefully selecting your driving modes, you can run it in hybrid mode, parlaying that stored electricity into better fuel economy, or use green battery power for those short drives to the store.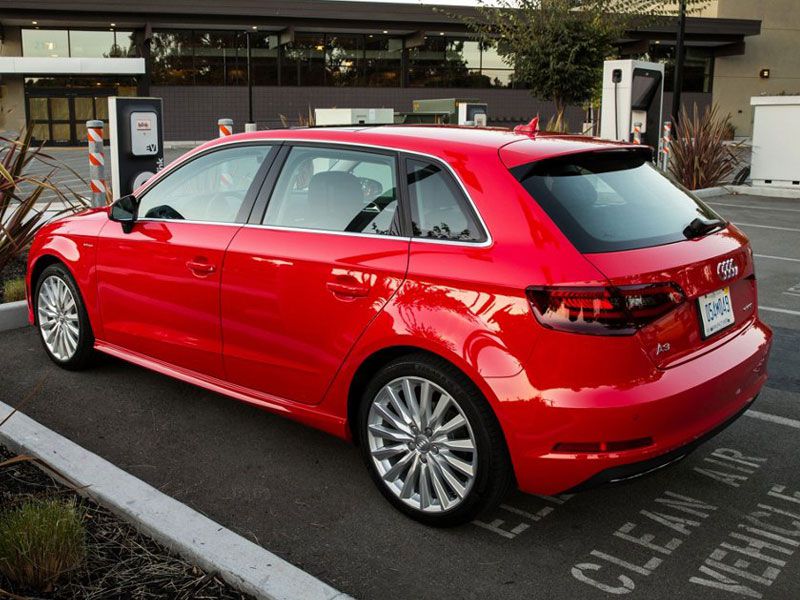 Photo by Audi
Porsche Panamera E-Hybrid
What, you were expecting a list full of Priuses? The Panamera is a hatchback, and it is a hybrid, so it belongs on this list. Granted, the Panamera uses its battery not so much for fuel economy as speed; with both engine and battery feeding the wheels, this is one seriously quick car — but like the Audi A3 Sportback e-tron, it's also a plug-in hybrid that can run on smooth, silent, pollution-free electricity for up to 20 miles… or until you decide to boot the gas and run it up to its 167 MPH of speed.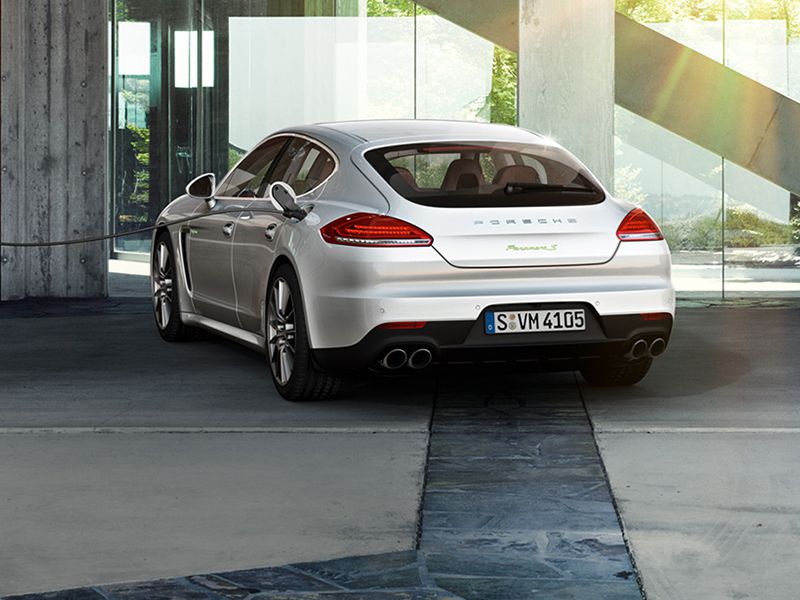 Photo by Porsche
Chevrolet Volt
Technically, the Volt isn't a hybrid; rather it's an electric car with a range extender. Plug it in, charge it up, and the Volt will deliver just over 50 miles of pollution-free motoring; then and only then will its gasoline engine start up and begin producing power. The Volt nicely bridges the gap between plug-in hybrids and pure electric cars, and while its back seat is a little tight (the T-shaped battery pack runs down the center of the car, sacrificing a rear seating position in the car's first generation), the hatchback improves its aerodynamics and makes good use of what cargo space is available.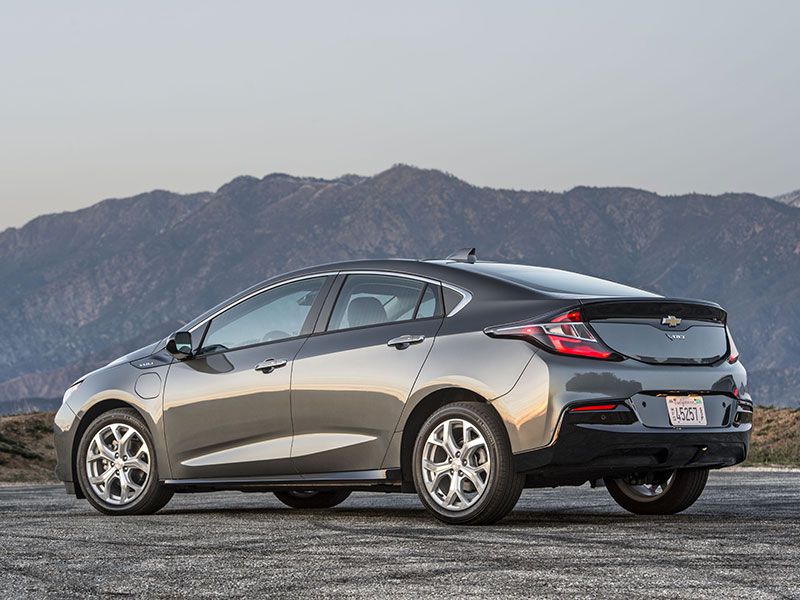 Photo by General Motors