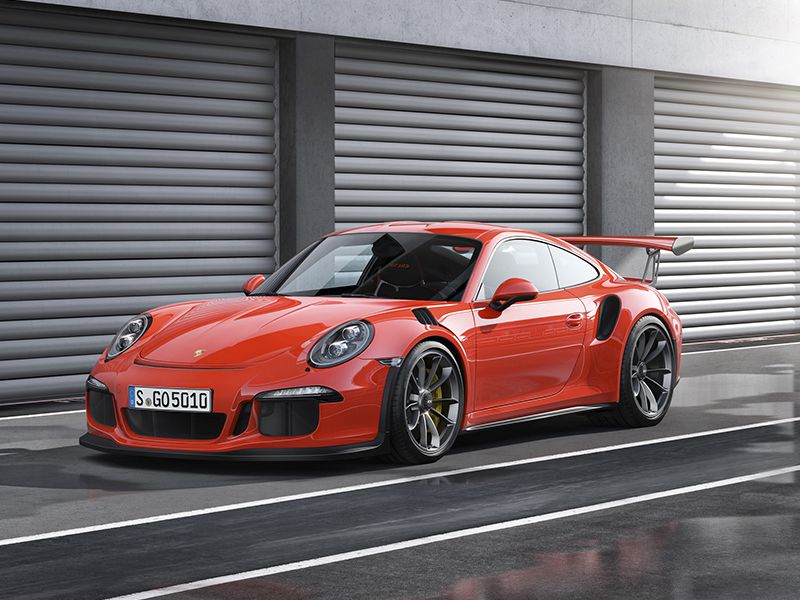 911 GT3 RS profile 800x600 ・ Photo by Porsche
High-tech sports cars have become increasingly popular in recent years, as customers continue to demand the latest infotainment and safety systems to go with their high-performance rides. As a result, there are cars today that are as equally at home getting off the line with potent powerplants as they are going online with mobile Wi-Fi hotspots. But shoppers also should keep in mind that a high price tag doesn't guarantee all the newest gadgets; many exotic supercars skip the potentially distracting electronics for a more pure driving experience. And on the flip side, some relatively affordable sports cars can serve up nifty tech benefits because those features have reached the mainstream. Just consider the cars we've got for you here. 
2017 Audi R8
The 4-rings brand has built a strong reputation for offering high tech sports cars, and the all-new 2017 Audi R8 certainly burnishes that reputation. For starters, the redesigned model is the first R8 equipped with an Audi Connect infotainment system, which is highlighted by a mobile Wi-Fi hotspot and navigation backed by Google Earth maps. Enhancing that nav setup is the automaker's Virtual Cockpit; this 12.3-inch screen replaces typical gauges with customizable digital readouts, even displaying the navigation map closer to the driver's line of sight. Meanwhile, the top-trim R8 V10 Plus is the fastest, most powerful Audi production model ever, thanks to 610 horsepower, 413 lb.-ft. of torque, and a top speed of 205 mph.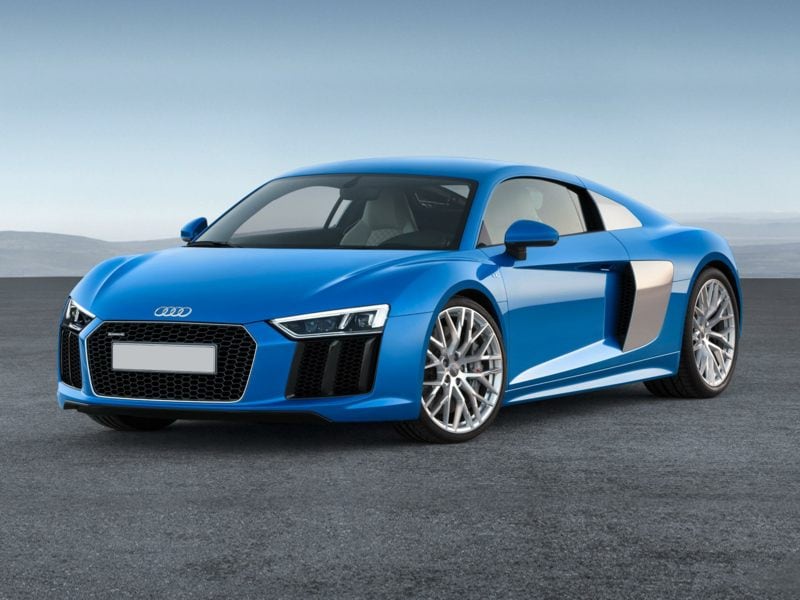 Photo by Audi
2017 Acura NSX
The 2017 Acura NSX follows in the high-performance tire tracks of its predecessor, which originally ran with the high tech sports cars of the early 1990s. Of course, in the previous millennium, "high tech" meant borrowing Honda's VTEC valve technology. In the revived NSX, racecar-like acceleration comes from a cutting-edge hybrid propulsion system. Further, though the NSX is efficient enough to be named the Green Car Journal's Luxury Green Car of the Year, it also furnishes supercar-levels of output: 573 horsepower and 476 lb.-ft. of torque. The NSX then checks in with Android Auto and Apple CarPlay smartphone integration, Acura's Satellite-Linked Navigation System, a multi-angle rearview camera, and a 9-speaker, 580-watt ELS Studio Audio System.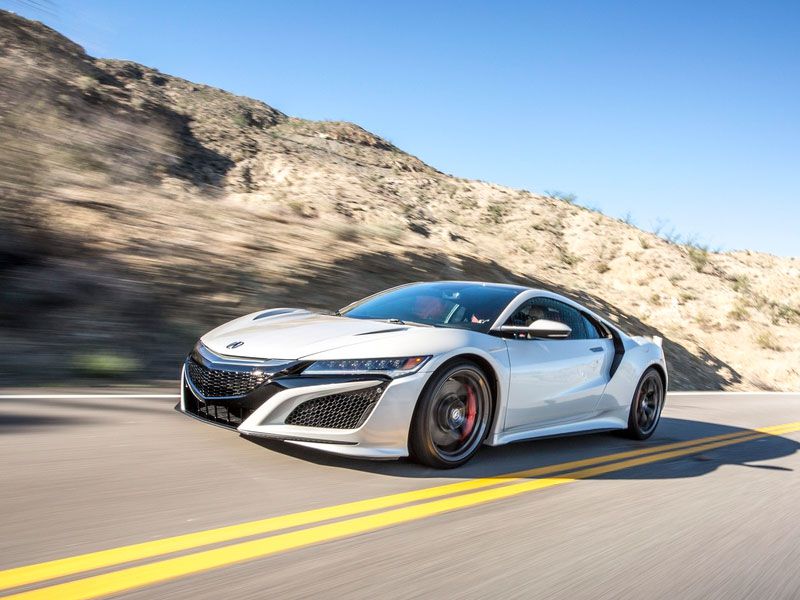 Photo by Acura
2017 Chevrolet Camaro
Though the original muscle cars were more known for brute force than anything else, the modern-day variants are decidedly more sophisticated. A case in point is the 2017 Chevrolet Camaro. The Bowtie brand's high performer has what it takes to thrill enthusiasts even in its standard trim, which packs a responsive 2.0-liter turbocharged engine that can deal out 275 horsepower and 295 lb.-ft. of torque. Yet it stands out as one of the least-expensive high tech sports cars in the country. The Camaro's MSRP of $25,905 covers not only turbo-powered performance, but also a standard infotainment system with a mobile Wi-Fi hotspot, 4G LTE connectivity, and Android Auto and Apple CarPlay smartphone integration.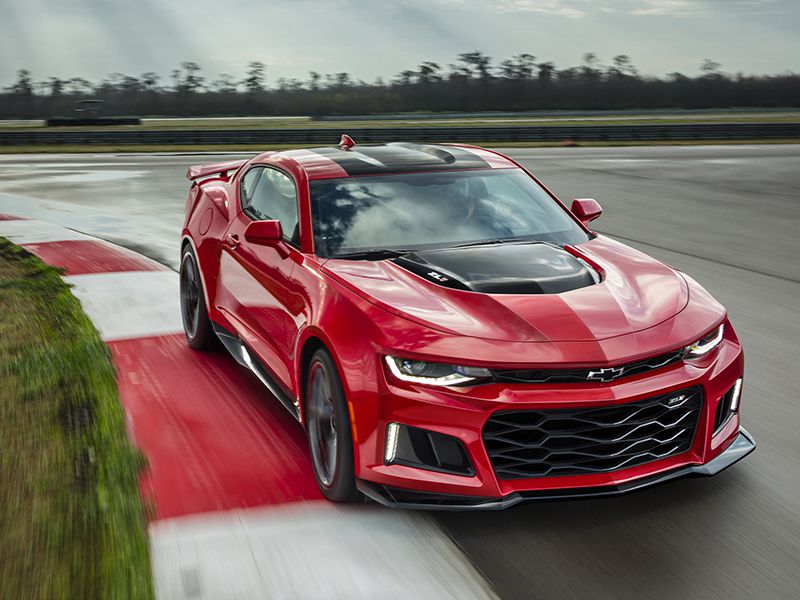 Photo by General Motors
2017 Subaru WRX
The 2017 Subaru WRX does indeed provide old-school Subaru hallmarks such as a standard boxer-style engine and symmetrical all-wheel drive. The rally-bred WRX, however, also can be ordered with one of the brand's new signature features: an EyeSight Driver Assist Technology package. With this bundle, the car relies on dual forward-facing cameras to enable adaptive cruise control, lane-keeping assistance, pre-collision throttle reduction, and pre-collision braking; moreover, all that is matched with blind spot detection, lane change assistance, steering responsive fog lights, and reverse automatic braking, a fresh technology that's just entering the marketplace. Also in the mix is a 268-horsepower turbocharged engine and an MSRP of $34,415 with all those goodies, qualifying the WRX with the more affordable high tech sports cars.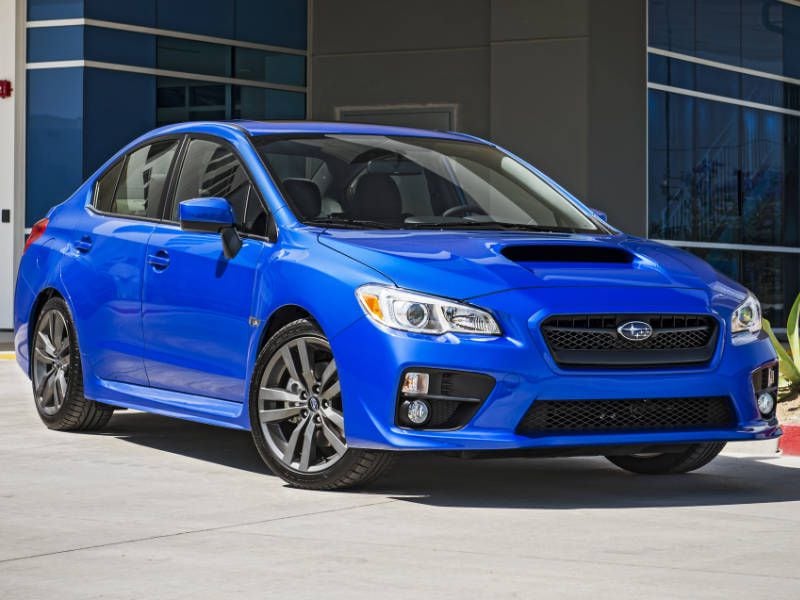 Photo by Subaru
2017 Cadillac CTS-V
Another fairly new-to-the-market driver-assistance system being introduced in high tech sports cars can be found in the 2017 Cadillac CTS-V. The strikingly designed CTS-V is one of the first cars in the industry with a rear camera mirror instead of a traditional unit. Previously named a "Best of What's New" technology by Popular Science, Cadillac's rear camera mirror replaces the regular reflected image with high-resolution streaming video that's been digitally enhanced to "see through" the car's rear pillars. All told, the camera mirror expands the driver's visibility by some 300 percent. You can expect that rear camera setup to come in handy, too, since most traffic will end up behind you when you're driving the 640-horsepower CTS-V.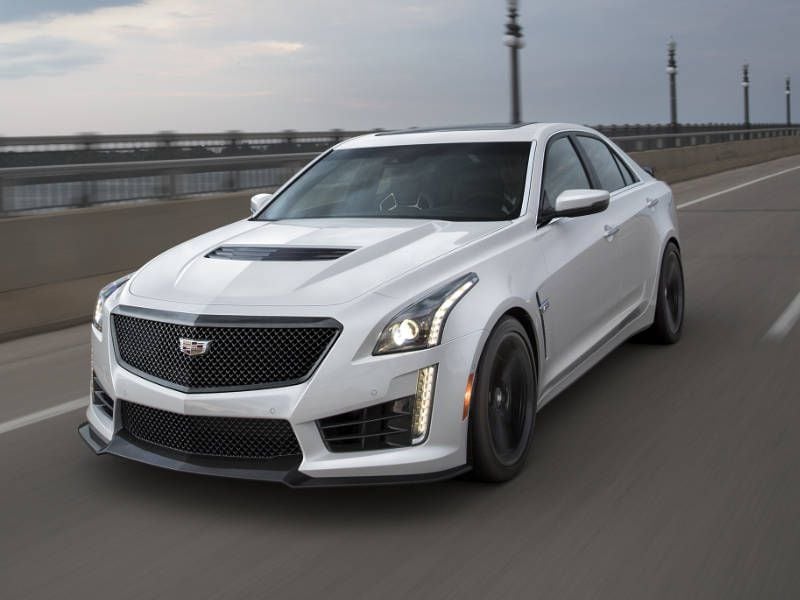 Photo by Cadillac
2017 Mercedes-AMG S65 Cabriolet
High tech sports cars that supply an open-air driving experience include the mighty 2017 Mercedes-AMG S65 Cabriolet. What you've got here is essentially the super-powered version of the S-Class convertible, so it's well-stocked with technologies from M-B's S-Class flagship model. More specifically, on board in the S65 drop-top is the comprehensive Driving Assistance Package Plus, complete with all the safety measures expected at this price range. A Burmester 3D surround-sound system also is standard, for a listening experience that will satisfy even the most discerning audiophiles. An extra aural advantage—and 0-60 times of 4 seconds flat—are delivered by a standard V12 engine that can release a roaring 621 horsepower and 738 lb.-ft. of torque.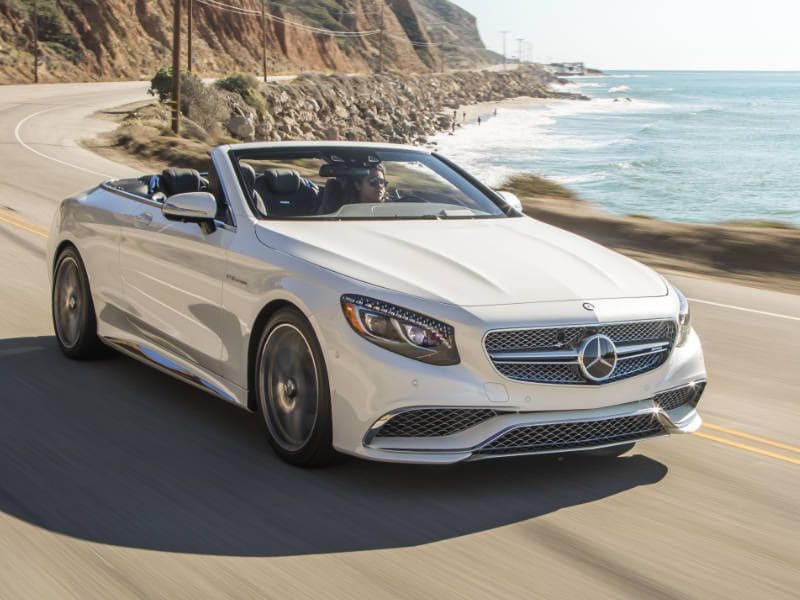 Photo by Mercedes-AMG
2017 BMW i8
It makes sense that most of the high tech sports cars represent brand-new or updated models, as those are the ones you'd expect to get the freshest innovations. The 2017 BMW i8, on the other hand, was so advanced in its original 2014 configuration that it still showcases leading-edge technologies today, despite not being significantly upgraded recently. For example, the i8's propulsion system, combining a small turbo gas engine and a robust electric motor, guarantees blistering 0-60 times of 4.2 seconds, an all-electric driving range of 14 miles, and an overall range of 330 miles—while achieving 28 mpg in combined travel. The car also more than looks the part, from its butterfly doors to its radical shape to its all LED exterior lighting.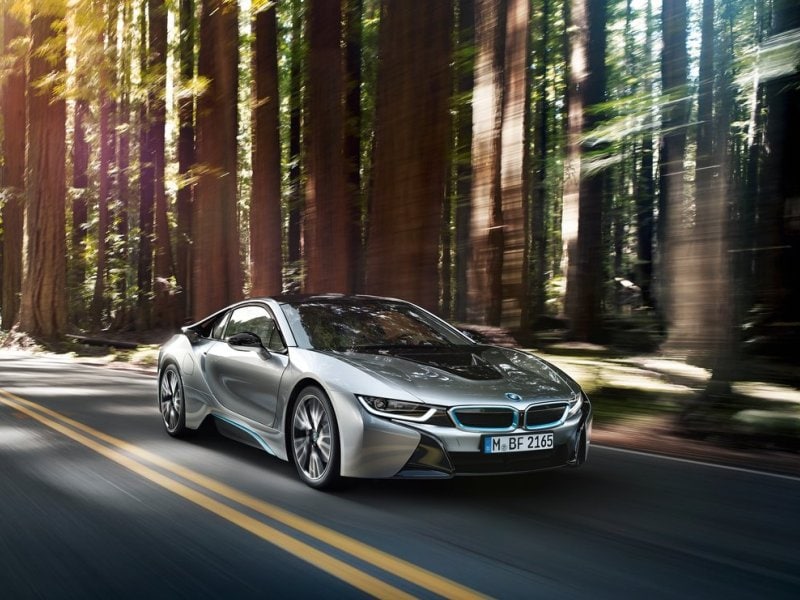 Photo by BMW
2017 Porsche 911
Like the muscle cars, the iconic Porsche 911 was born in the 1960s with a sharp performance focus and has since evolved to fit in among the high tech sports cars of the early 21st century. That's primarily because each model of the 2017 Porsche 911 lineup, beginning with the 370-horsepower Carrera trim, boasts a Porsche Communication Management (PCM)—with a navigation module as standard content. Naturally, the PCM supports a mobile Wi-Fi hotspot with 4G LTE connectivity, Apple CarPlay smartphone integration, and the Porsche Connect app suite, and it can be controlled through voice recognition or a frameless 7-inch touchscreen with multi-touch gesture control. An 821-watt Burmester audio system can complement the PCM.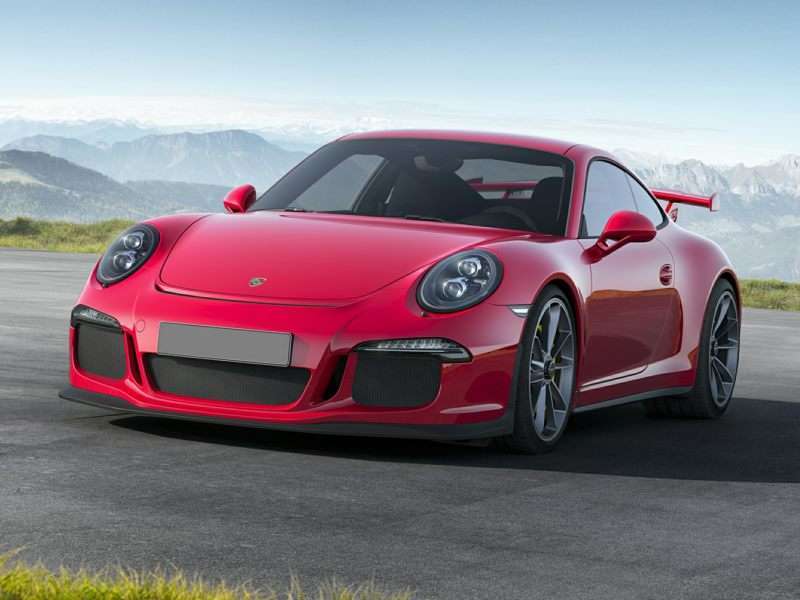 Photo by Porsche
2017 Volkswagen GTI
Our roster of high tech sports cars with affordable pricing also includes the 2017 Volkswagen GTI as a member. After all, VW's hot hatch has an MSRP of $25,595, and that brings a standard Car-Net App-Connect infotainment system with Android Auto and Apple CarPlay smartphone integration. Again, not to beat a dead horse, but this technology both greatly boosts connectivity resources and remains missing from pricier rivals. Additionally boosted is the GTI's engine output: The car's turbocharged 4-cylinder engine kicks out 210 horsepower and 258 lb.-ft. of torque. Next, to help drivers make the most from that powerplant, all GTI trims have a standard XDS+ Cross Differential System and a specific high-performance electronic-stability control mode, for superior hot-hatch handling.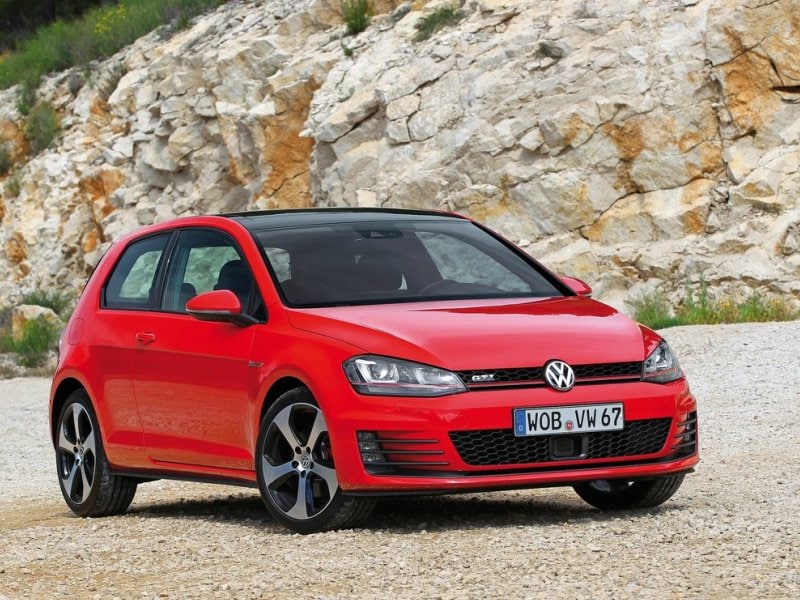 Photo by Volkswagen
2017 Tesla Model S
Well, no roll call of high-tech sports cars is complete without mentioning the 2017 Tesla Model S. The all-electric sport sedan dazzles with its Autopilot self-driving technology, a digital instrument cluster, a massive 17-inch touchscreen, and a high-performance, high-efficiency powertrain. Nor is that final part of the equation mere hype. Thus, the Model S in its P100D configuration—with a 100-kWh battery pack and all-wheel drive—can go up to 315 miles on a single charge. Or, if range isn't a priority, it can leverage a Ludicrous Speed Upgrade and Smart Air Suspension to go from 0-60 mph in 25 seconds; the Model S will then keep going up to a top speed of 130 mph.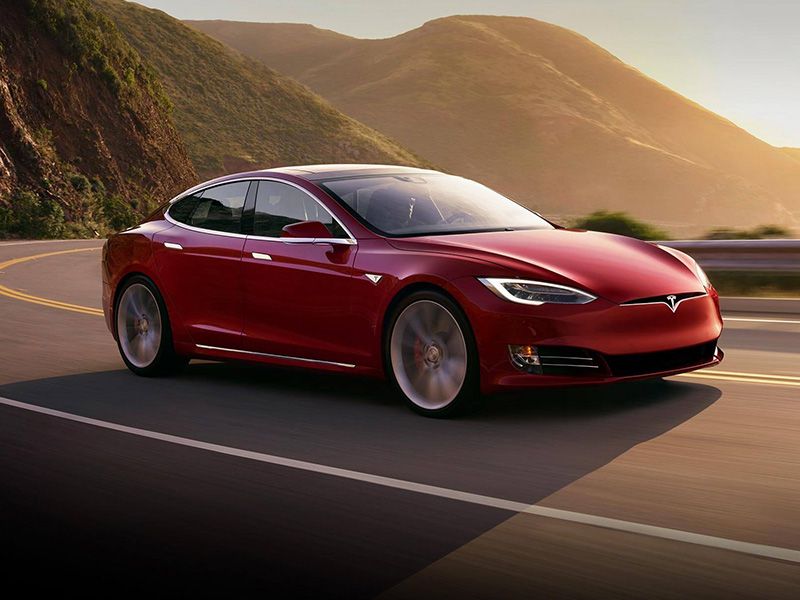 Photo by Tesla